34 Memorable and Meaningful Gifts for the Mother of the Groom
When it comes to buying wedding party presents, moms deserve something extra special. These gift ideas for the mother of the groom are just the ticket.
We have included third party products to help you navigate and enjoy life's biggest moments. Purchases made through links on this page may earn us a commission.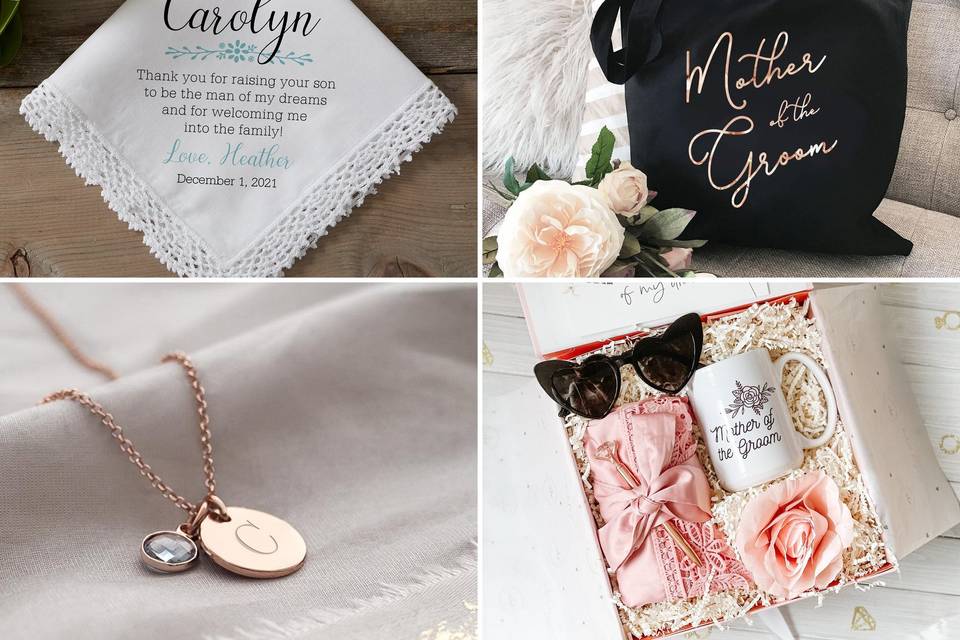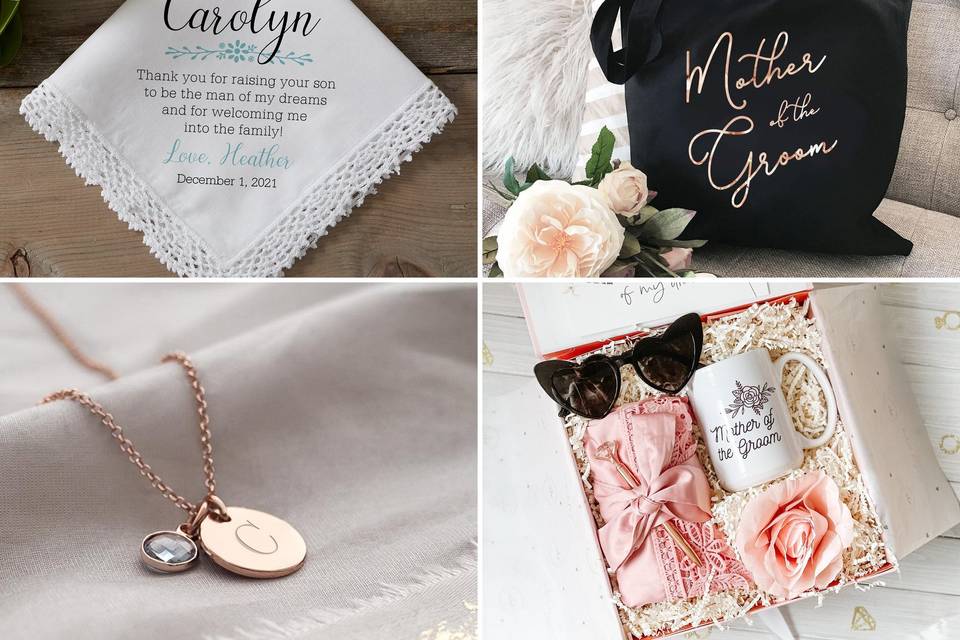 Watching your son grow up and get married is an incredibly special experience for any parent. Acknowledge the role your mom played in getting you to this moment by picking out a thoughtful mother of the groom gift she can use to celebrate or hold onto as a memento. We're sharing all the best gift ideas for mothers of the groom, whether you're shopping for your own mom or you want to thank your future MIL for helping out with the wedding. We've thought of something for every kind of mother, from keepsake jewelry that'll always remind her of your special day to pampering products that'll help her wind down afterward.
Who buys the mother of the groom a gift?
It's considered proper etiquette to buy gifts for both sets of parents at a wedding, no matter who is picking up the bill. While it's totally fine to buy a shared present for both the mother and father of the groom, getting separate gifts for both of your parents (or parents-in-law) is a little more personal. But who should be responsible for buying and giving the mother of the groom a gift? Ultimately, that's up to you and your partner to decide.
Some soonlyweds choose to give the mother of the groom a gift as a couple, while others prefer to take care of their own parents' presents. It's also acceptable for the groom's S.O. to buy the mother of the groom a gift, especially if she really went the extra mile in fulfilling her wedding duties. Last but not least, the mother of the groom may also receive gifts from close friends to help her celebrate the special occasion.
Our Favorite Gift Ideas for the Mother of the Groom
You don't have to break the bank to buy your mom or future mom-in-law a unique gift. We're sharing some of our favorite ideas to suit a range of styles and budgets. Keep reading to find the perfect wedding gift to give the mother of the groom.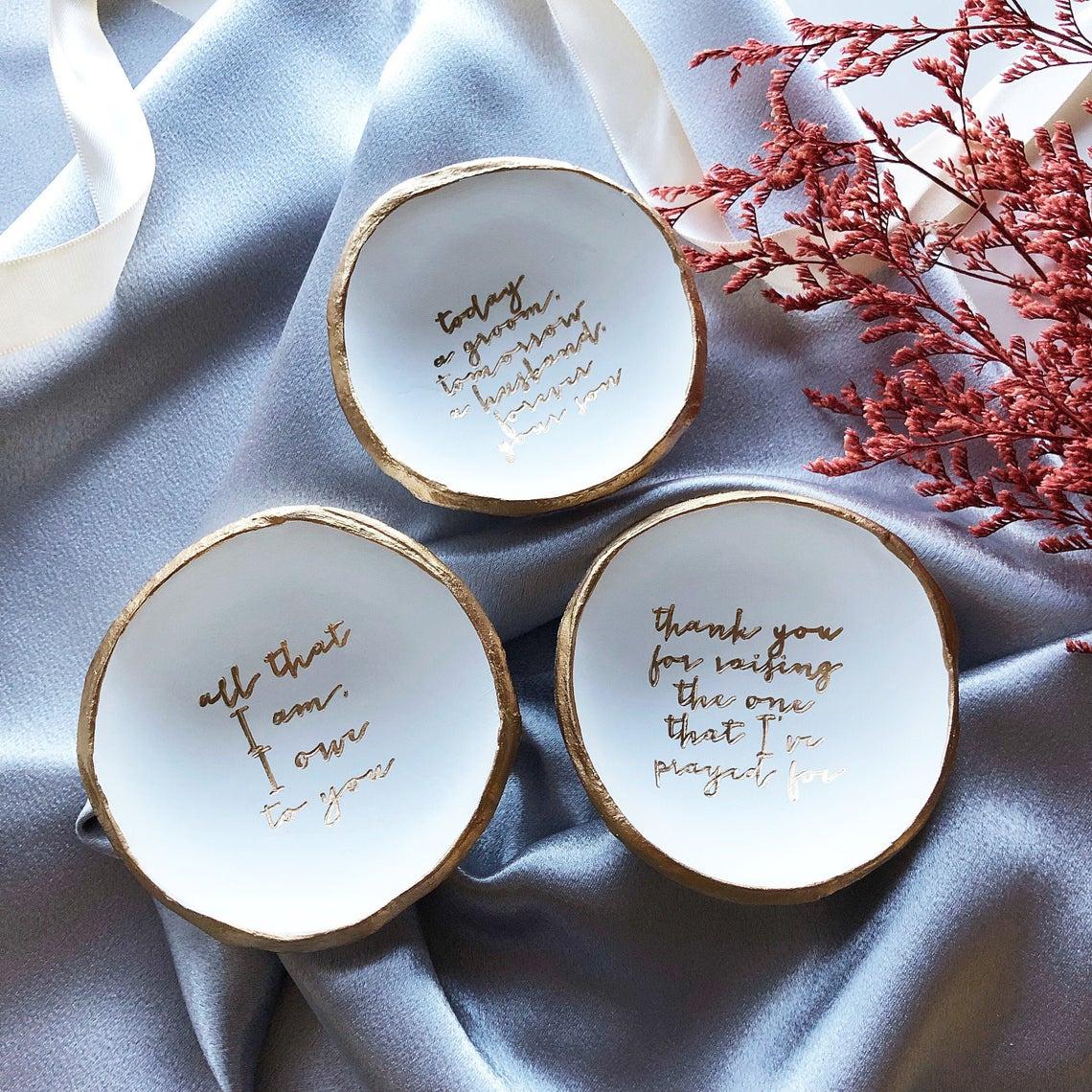 Beautiful trinket dish
A ring dish is one of our favorite bridal party gift ideas and this one is pretty much perfect for the mother of the groom. If you're shopping for your own mom, have it hand-painted with a sweet phrase like: "All that I am, I owe to you." Or, if you're looking for a present for your partner's mother, go with: "Thank you for raising the one that I've prayed for." The pretty gold lettering is the icing on the cake.
The Painted Press mother of the groom gift jewelry dish, $23, Etsy
Meaningful wedding hankie
You and your S.O. probably won't be the only ones who cry happy tears on your wedding day—it's normal for your parents to get a little emotional too. Give your future mother-in-law this dainty handkerchief complete with a sweet, personalized message. It's a great gift for the mother of the groom from the bride (or the other groom) to thank her for welcoming you into the family.
Personalization Mall mother of the groom personalized wedding handkerchief, $15, Personalization Mall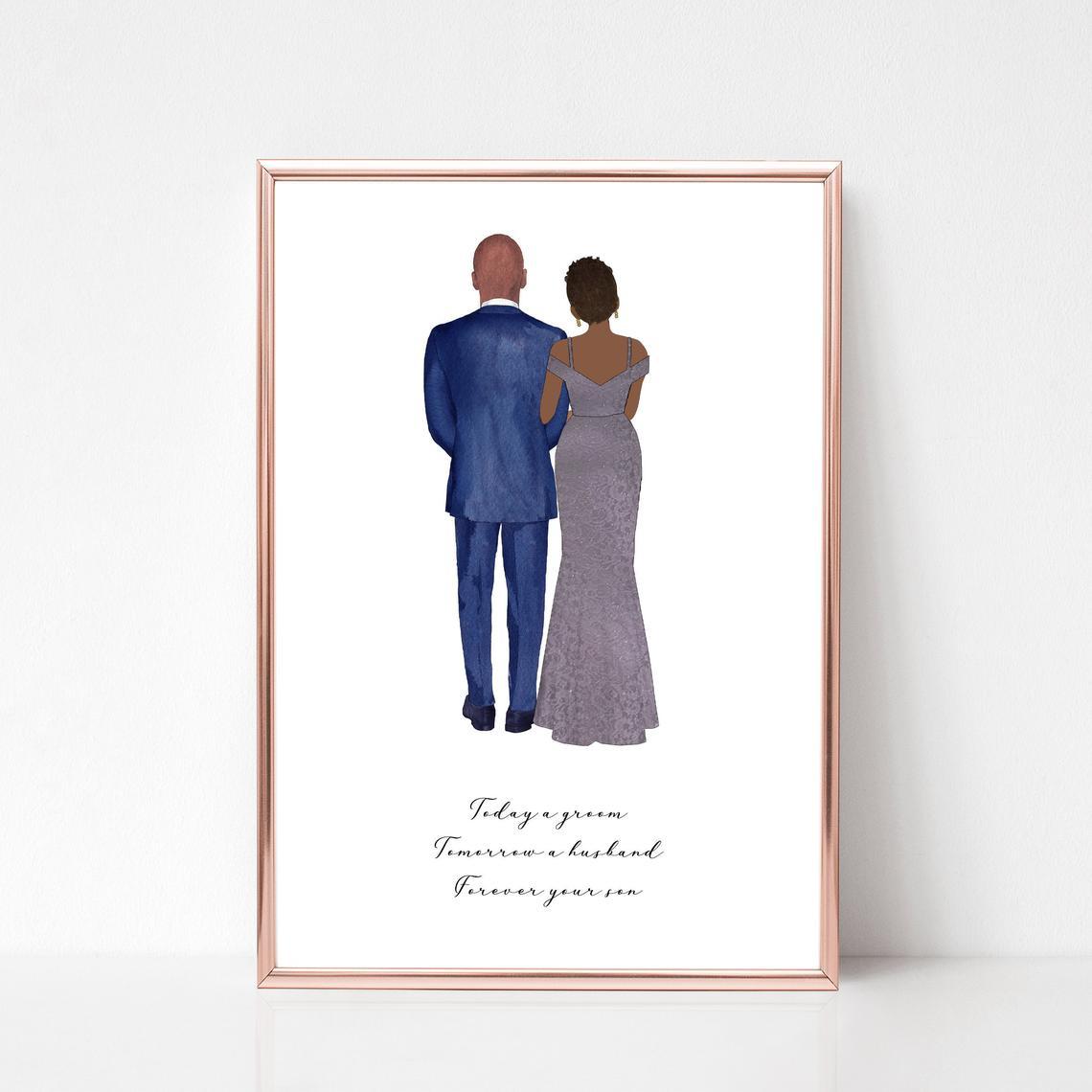 Custom illustrated print
A custom illustration of the two of you on your wedding day is a great gift for a son to give his mom. If you want to hand it over on the morning of the wedding or before the big day, you'll need to know a little bit about her wedding outfit and hairstyle. Alternatively, you can wait until after the nuptials and send the Etsy seller a photo. Both digital and print options are available to suit your budget and timeline.
Pretty Printed Co. mother of the groom wedding keepsake, from $15, Etsy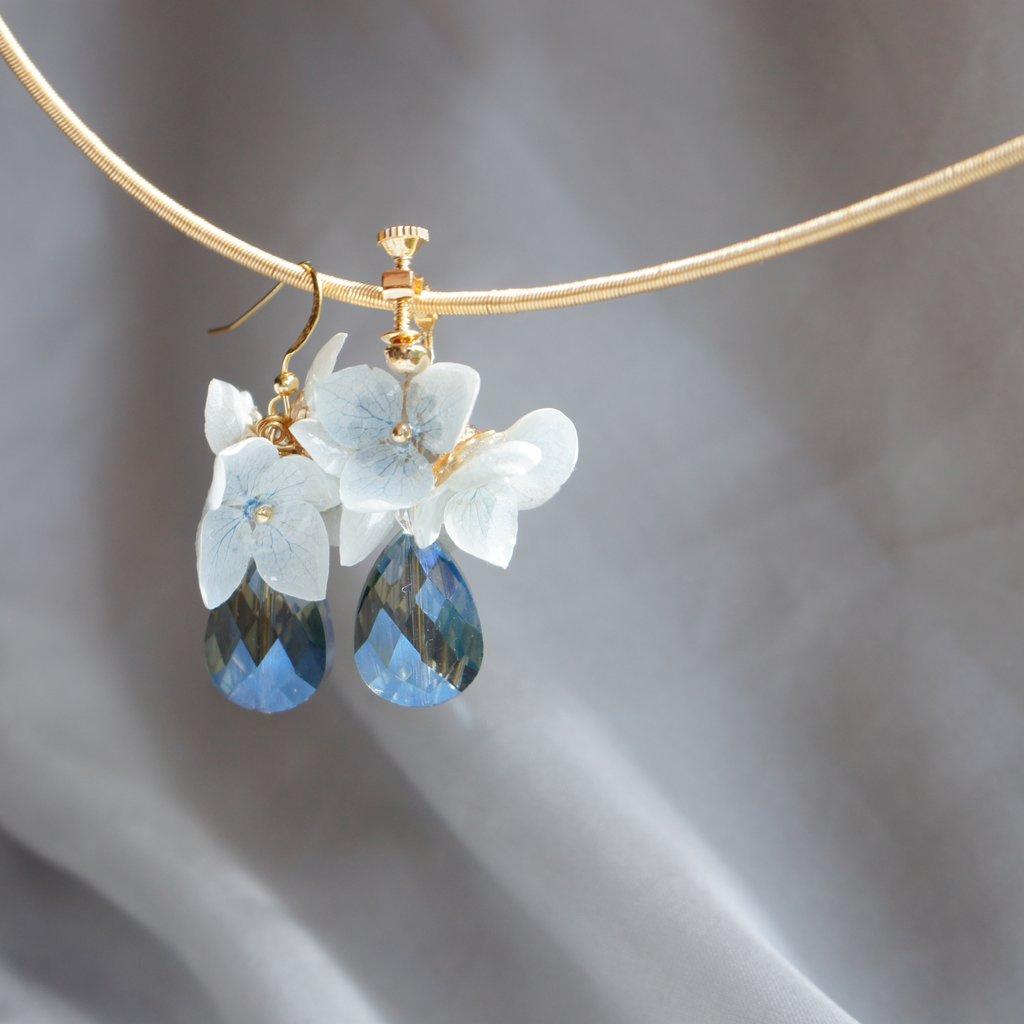 Unique floral earrings
These gorgeous earrings are made with real hydrangeas that have been carefully trimmed, cleaned, and preserved in resin. Want to know what makes this statement jewelry such a special gift for a parent? Hydrangeas symbolize appreciation and gratitude.
I'MMANY London In the Dusk hydrangea and crystal drop earrings, $245, I'MMANY London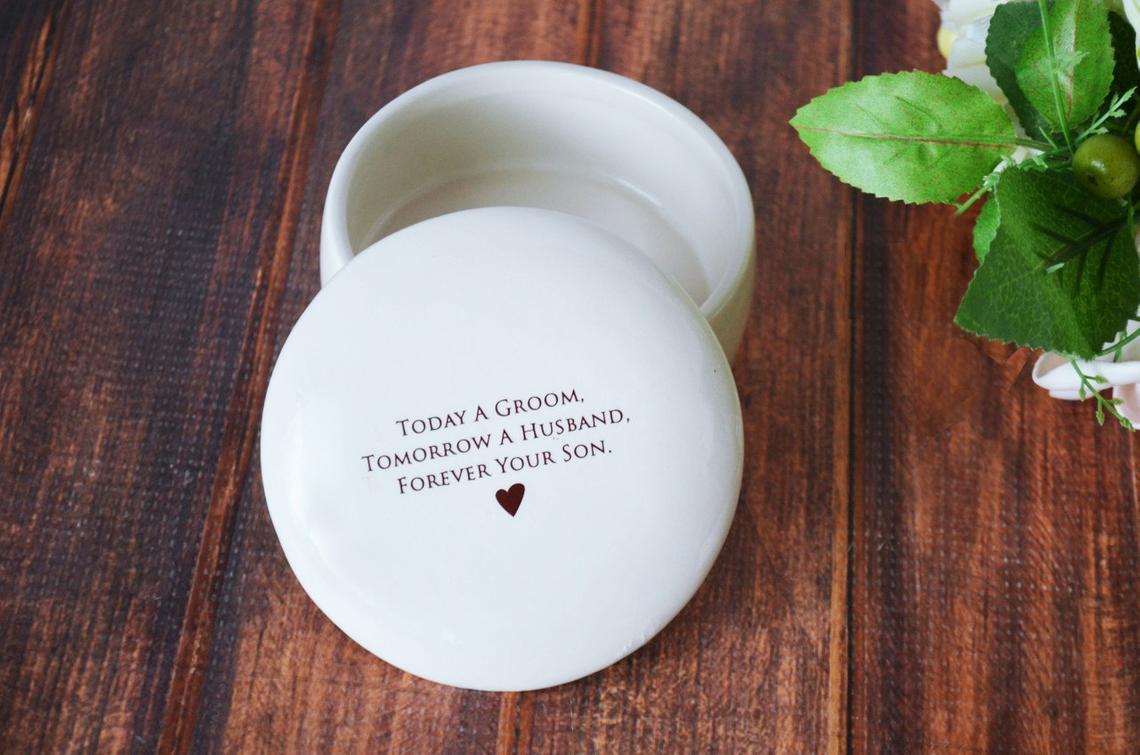 Sentimental keepsake box
Looking for more mother of the groom gift ideas from a loving son? Check out this lovely ceramic keepsake box. The lid is printed with a sentimental phrase that'll let her know you'll always be there for her.
Susabellas Today a Groom, Tomorrow a Husband, Forever Your Son keepsake box, $53, Etsy
Fancy wine chiller
The best gifts for the mother of the groom are the ones she'll use time and time again. Any wine lover will appreciate this sleek bottle chiller that keeps vino at the perfect chilled temp without taking up too much table space.
Vinglacé wine bottle chiller, $90, Food52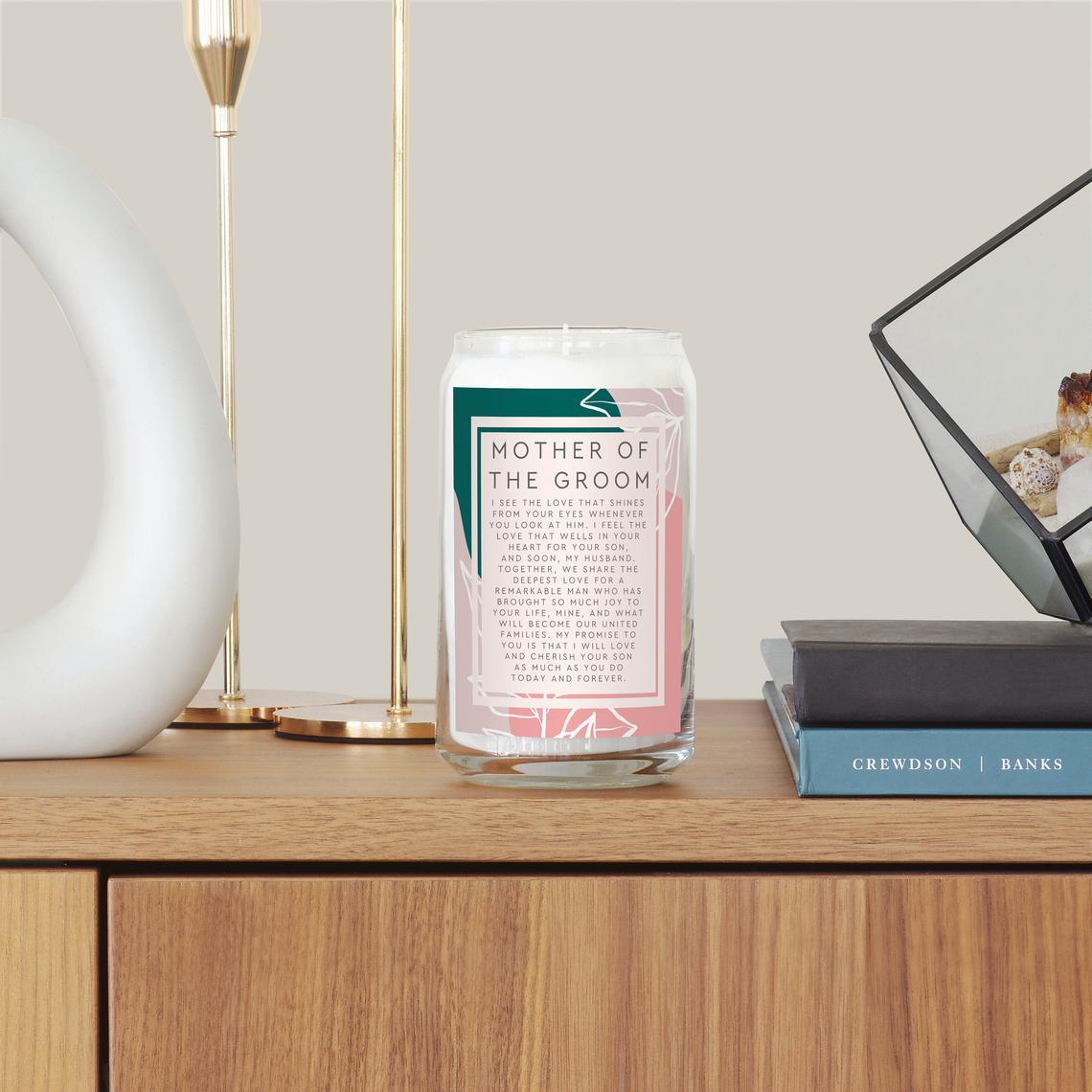 Meaningful scented candle
When it comes to wedding party gift ideas for the mother of the groom, don't overthink it. Sometimes a simple (but beautifully scented) candle is all you need to get the message across. This one comes with a lovely note promising to love and cherish her son as much as she does.
Dear Ava Gifts natural soy candle parent of groom wedding gift, $30, Etsy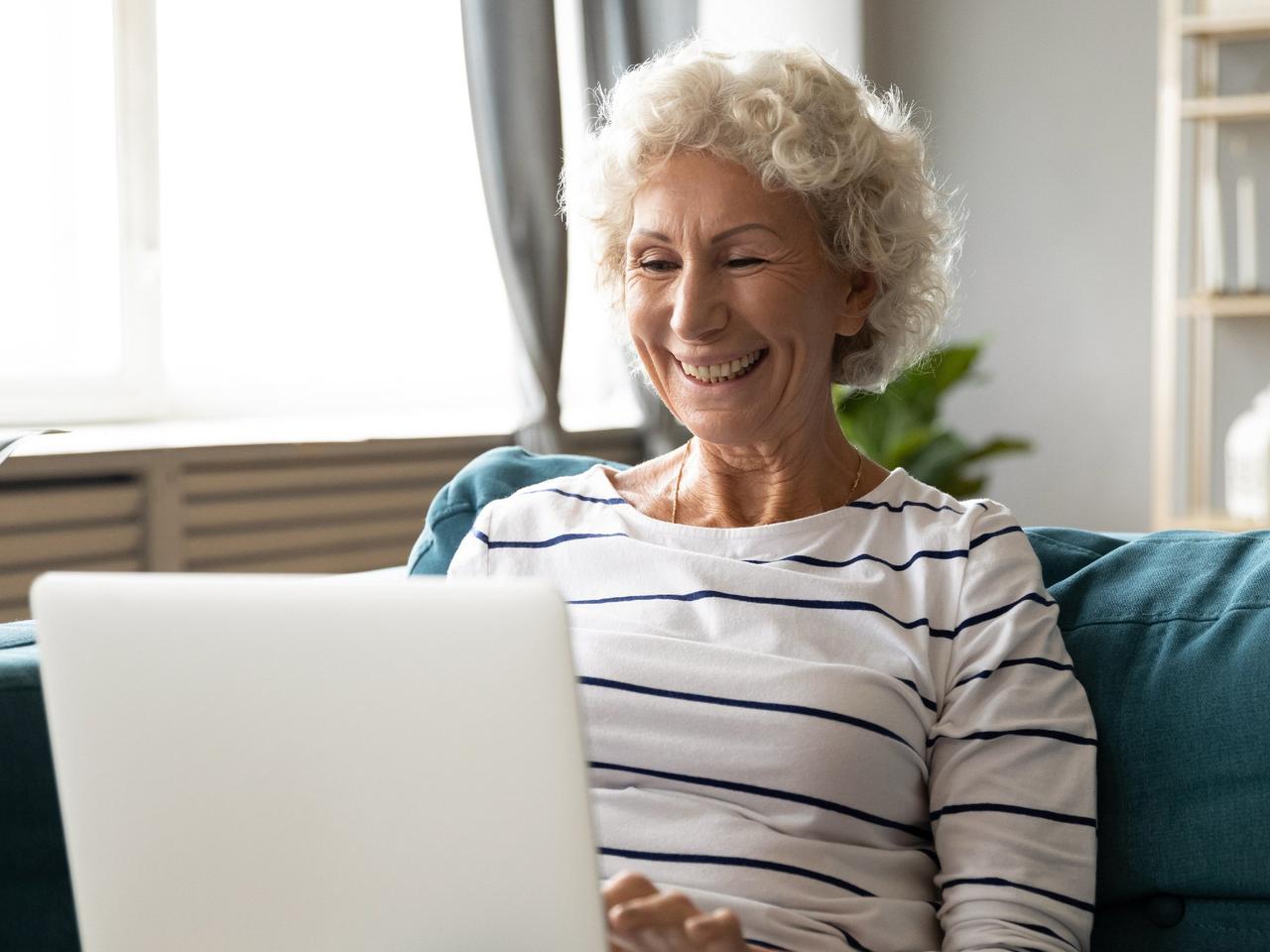 Heartfelt video montage
Get your loved ones in on the action by inviting them to put together a montage of video messages for your mother. Tribute lets you send an email invitation to everyone you want to include, and helpful prompts make it easy to reflect on funny anecdotes and favorite memories. Once they've uploaded their videos, you can use the online editing tools to put it all together. It's easily one of the best gift ideas for the groom's mom.
Tribute collaborative video montage, from $25, Tribute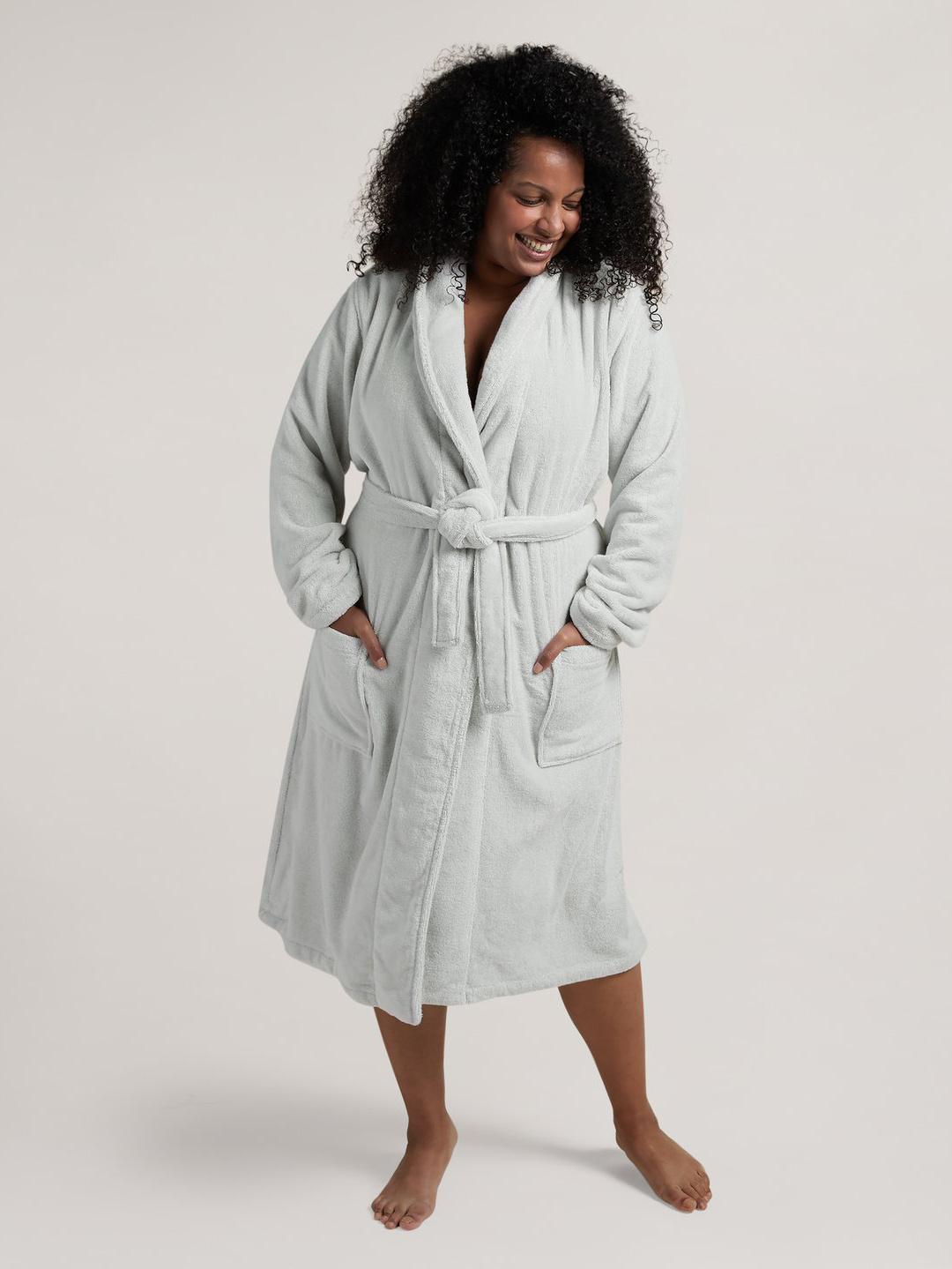 Luxe cotton robe
Who doesn't love receiving a plush new bath robe? She'll be extra glad of this cozy loungewear the morning after the wedding.
Parachute classic Turkish cotton robe, $99, Parachute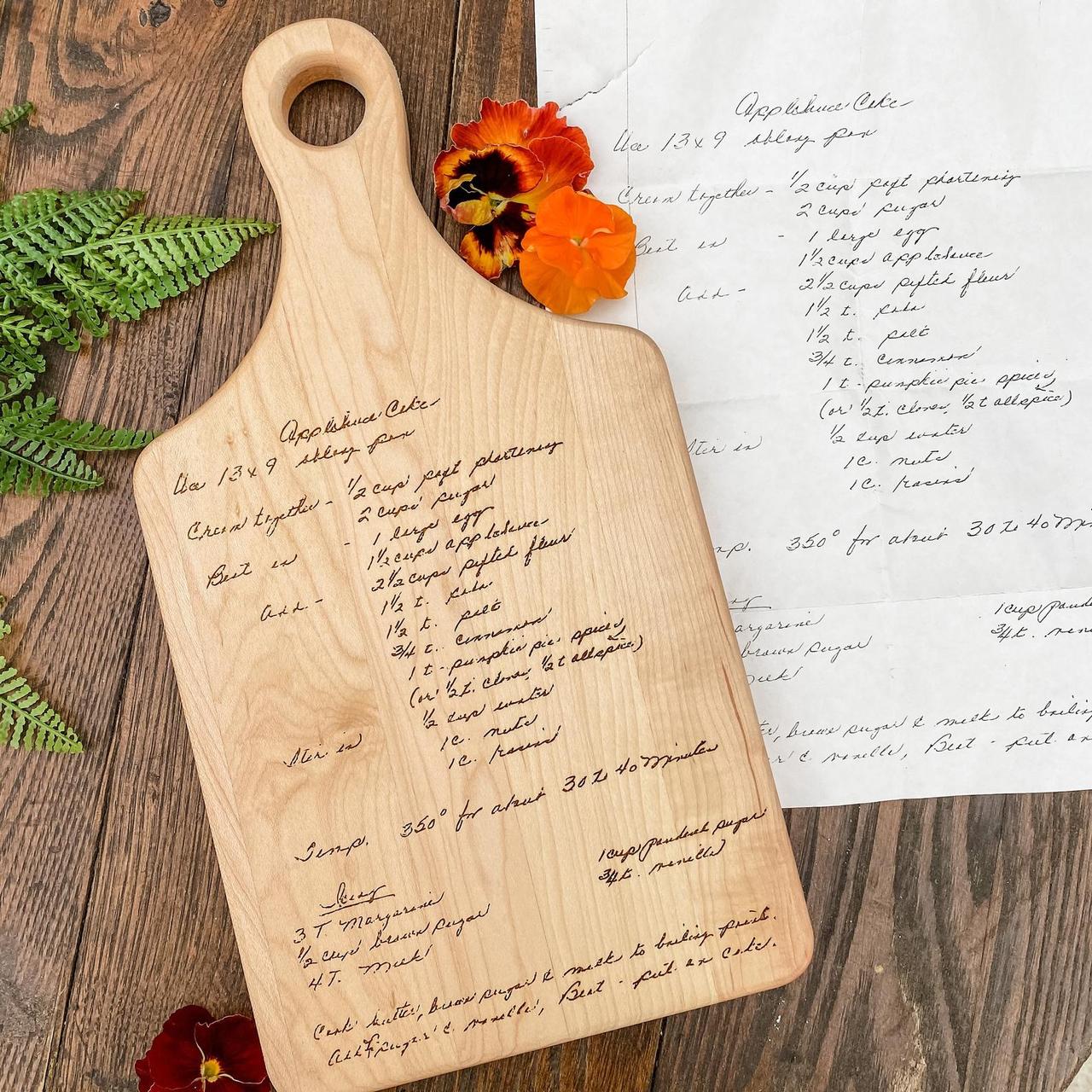 Engraved cutting board
Searching for a unique gift idea for the mother of the groom? Let her know you still plan on swinging by for dinner with a maple or walnut serving board engraved with one of her famous recipes.
Little Flock Design Co. handwritten recipe engraved onto a cutting board, from $35, Etsy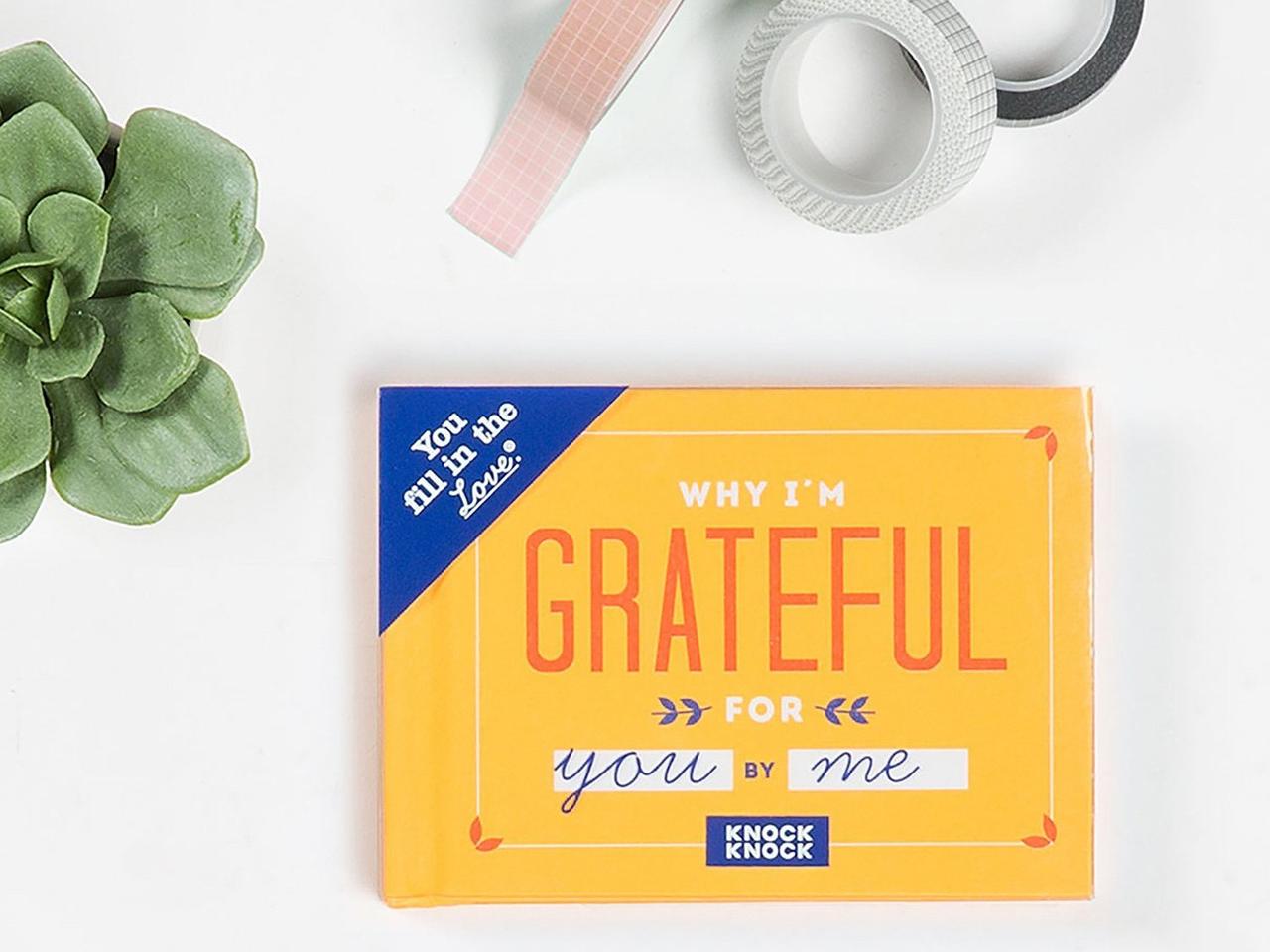 Sweet fill-in-the-blanks book
Like we said before, you don't have to break the bank to buy a meaningful present. If you're looking for inexpensive gifts for the mother of the groom, check out this cute and colorful fill-in-the-blanks book. It's chock full of opportunities to let your mom or MIL know how grateful you are for everything she does.
Knock Knock Why I'm Grateful for You fill in the love book, $10, Knock Knock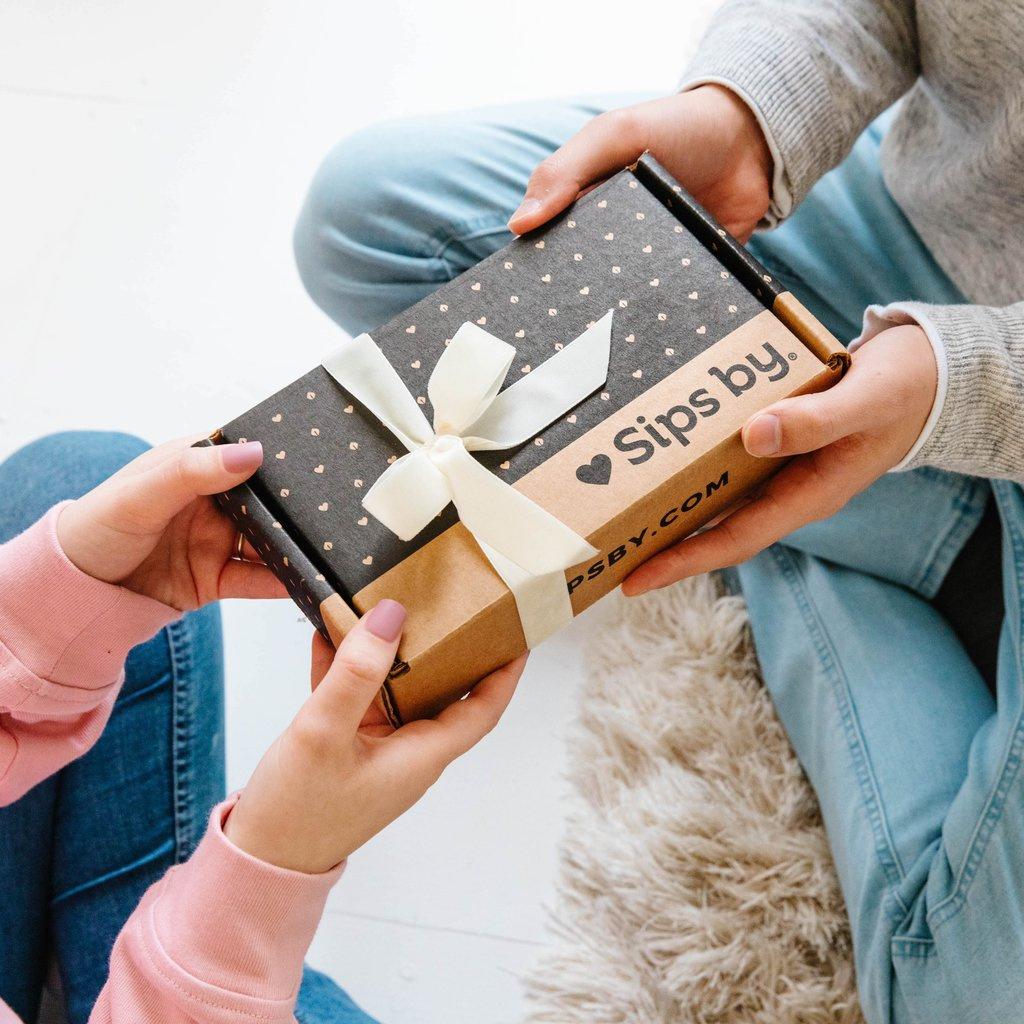 Delicious tea subscription
How about this creative mother of the groom thank-you gift? It's a monthly tea subscription tailored to her personal tastes. Each month, she'll receive some delicious brews to sample from around the world. Talk about a great way to wind down after helping out with wedding planning!
Sips by personalized tea gift card, from $48, Sips by
Special star map
A personalized map of the night sky might not be the most traditional mother of the groom present, but hear us out. Gifting Mom a snapshot of the stars from the day you first came into her life is a special keepsake she'll never get tired of looking at. There's space at the bottom to add a nice personal note. This one reads: "Thank you for being my heart's first home."
Twinkle In Time custom star map, from $60, Twinkle In Time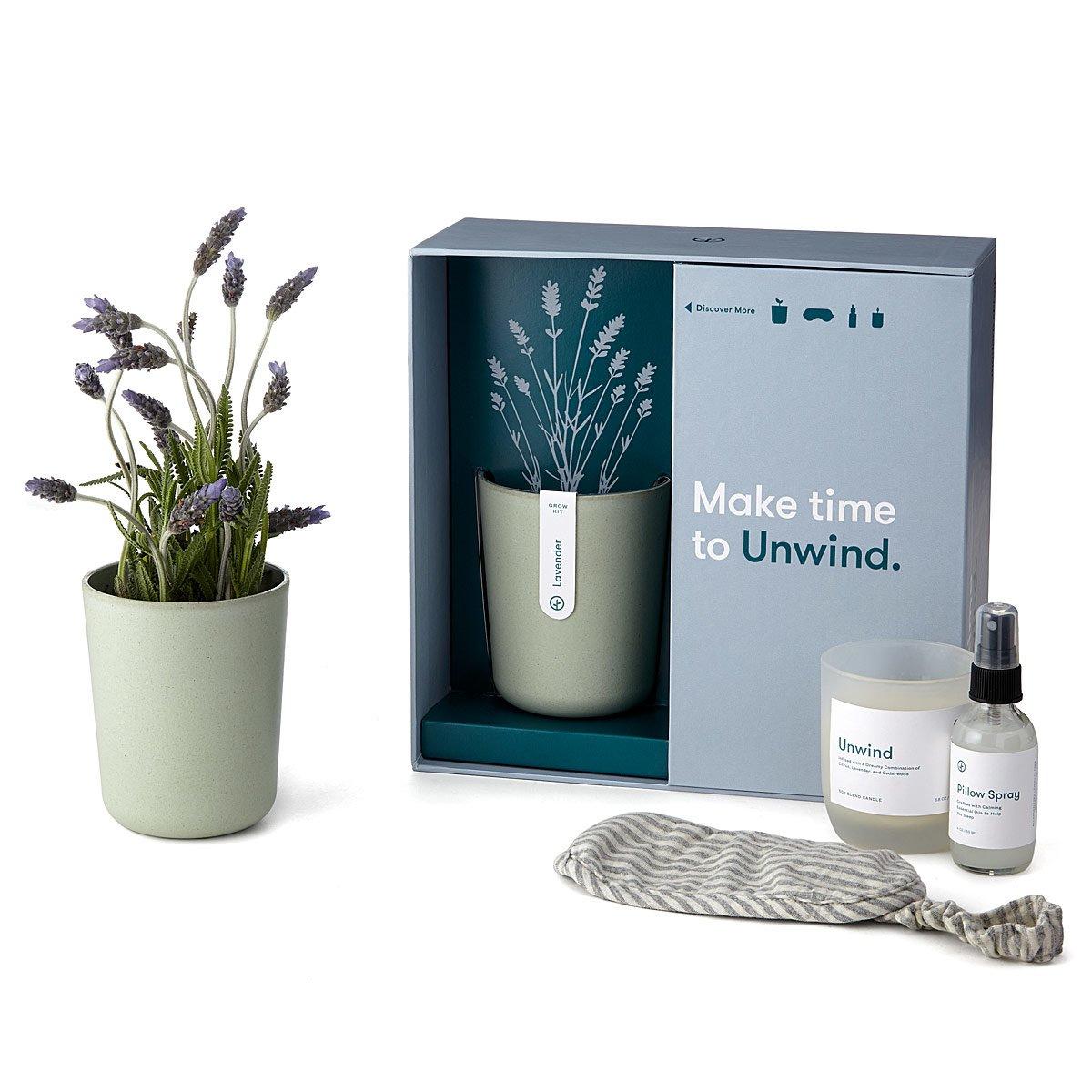 Lavender gift set
What could be more relaxing than the soothing scent of lavender? Treat your mom or soon-to-be mother-in-law to this pampering gift set that includes a sleep mask, pillow spray, candle, and lavender grow kit.
Sarah Burrows and Nick Behr Unwind lavender gift set, $55, Uncommon Goods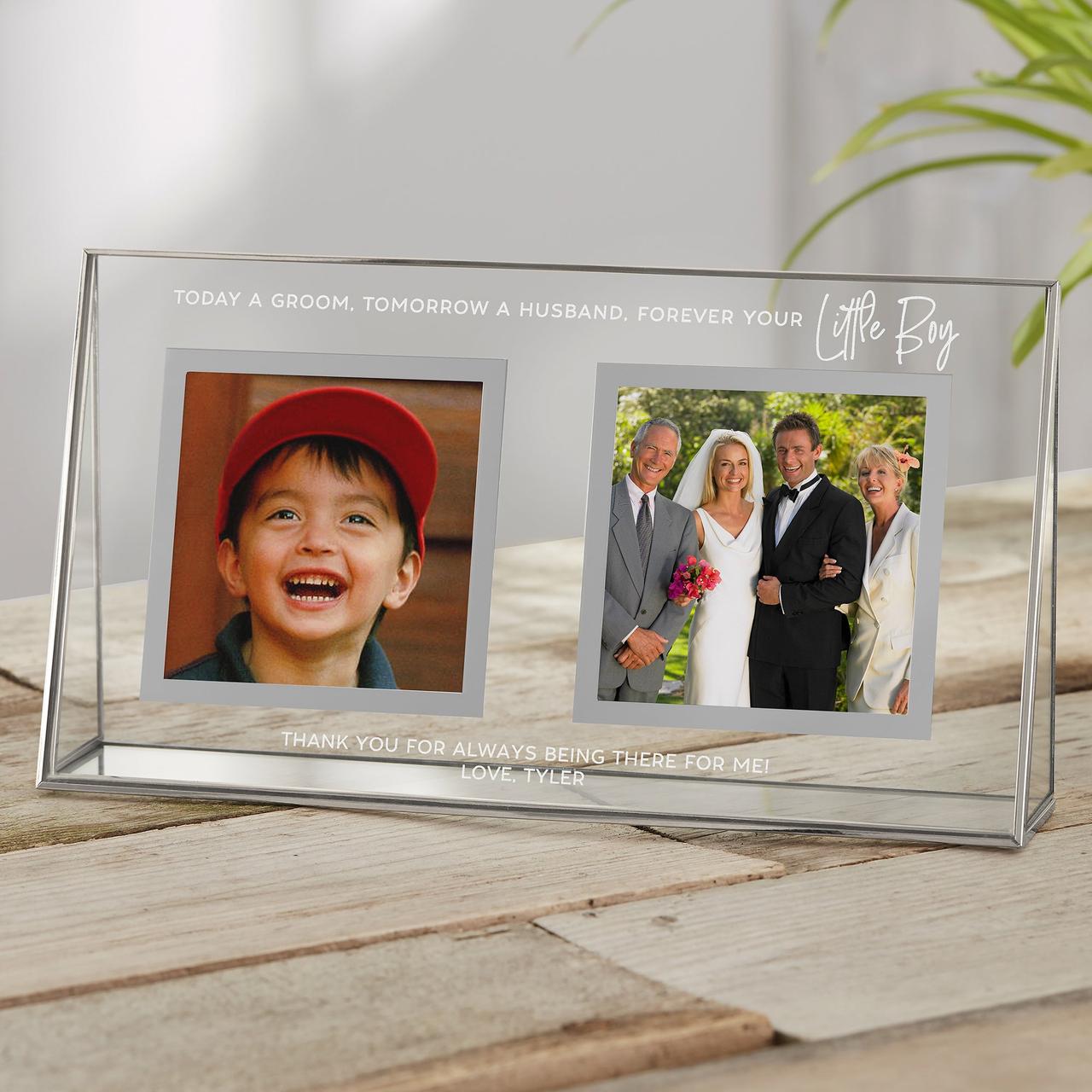 Double picture frame
A personalized mother of the groom gift shows her that you went above and beyond to get her a nice present. This timeless photo frame has spaces for two photos so you can include one of you with your mom on your wedding day and one of you and your new spouse. Or, use the second space for a photo of you and your mom when you were younger. Either way, it'll be a super-sweet gift. The bottom of the frame can be customized with a personal message thanking her for always being by your side.
Personalization Mall Your Little Boy personalized wedding double photo glass frame, $40, Personalization Mall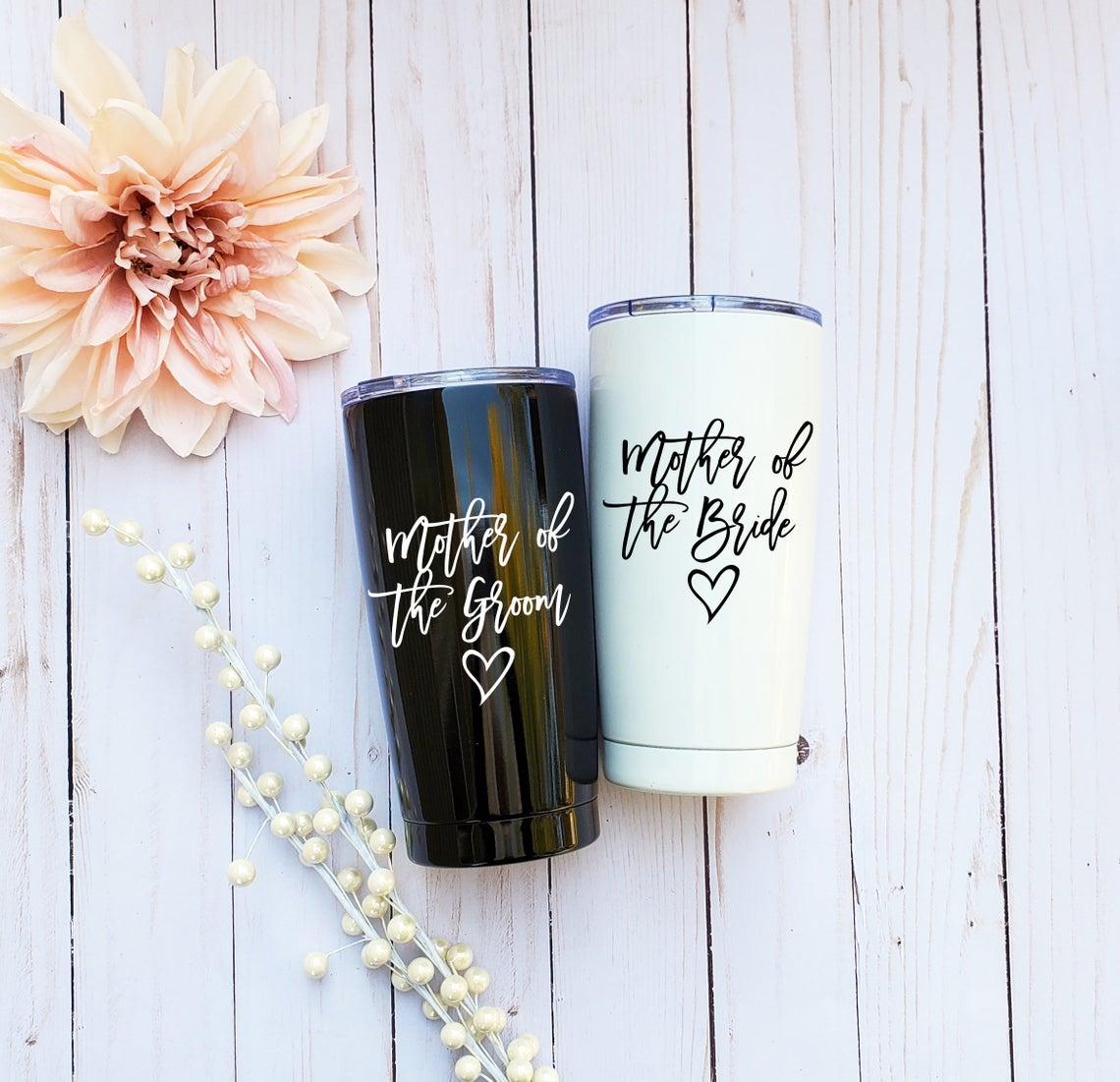 Travel coffee mug
If coffee is the main ingredient of your mom's go-getting energy, help her keep a pep in her step with one of these stylish travel tumblers embellished with her wedding title. (Psst, if you're also shopping for mother of the bride gifts, there's an option for her too.)
Weddings by Leann Mother of the Groom coffee mug, $16, Etsy
Elegant jewelry set
We're big fans of jewelry as a gift for the mother of the groom. This affordable set includes a matching necklace and earrings made from sparkly Swarovski crystals. Equal parts classic and understated, she can easily add them to her everyday wardrobe.
WeddingWire Shop personalized bridal party crystal jewelry gift set in Mother-In-Law, $26, WeddingWire Shop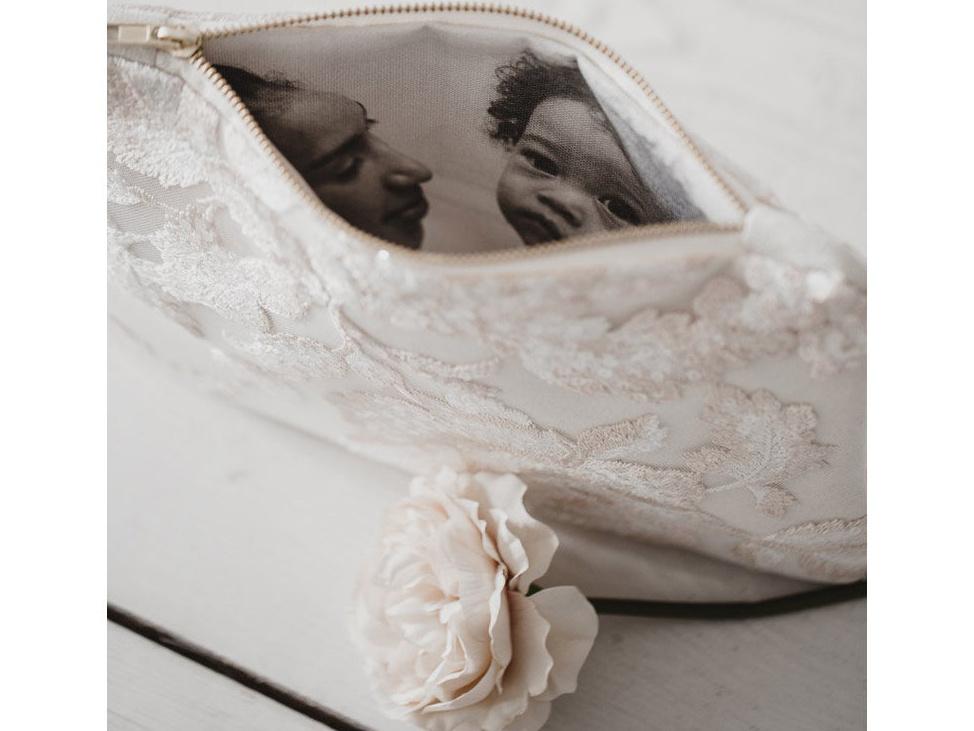 Hidden photo purse
Etsy has tons of good gifts for mothers of the groom, especially if you're looking for something on the sentimental side. This elegant lacy purse is beautiful on the outside, but it's what's on the inside that makes it truly special. The interior lining can be personalized with a favorite photo of you and your mom.
Meshka Design personalized photo lining purse, $59, Etsy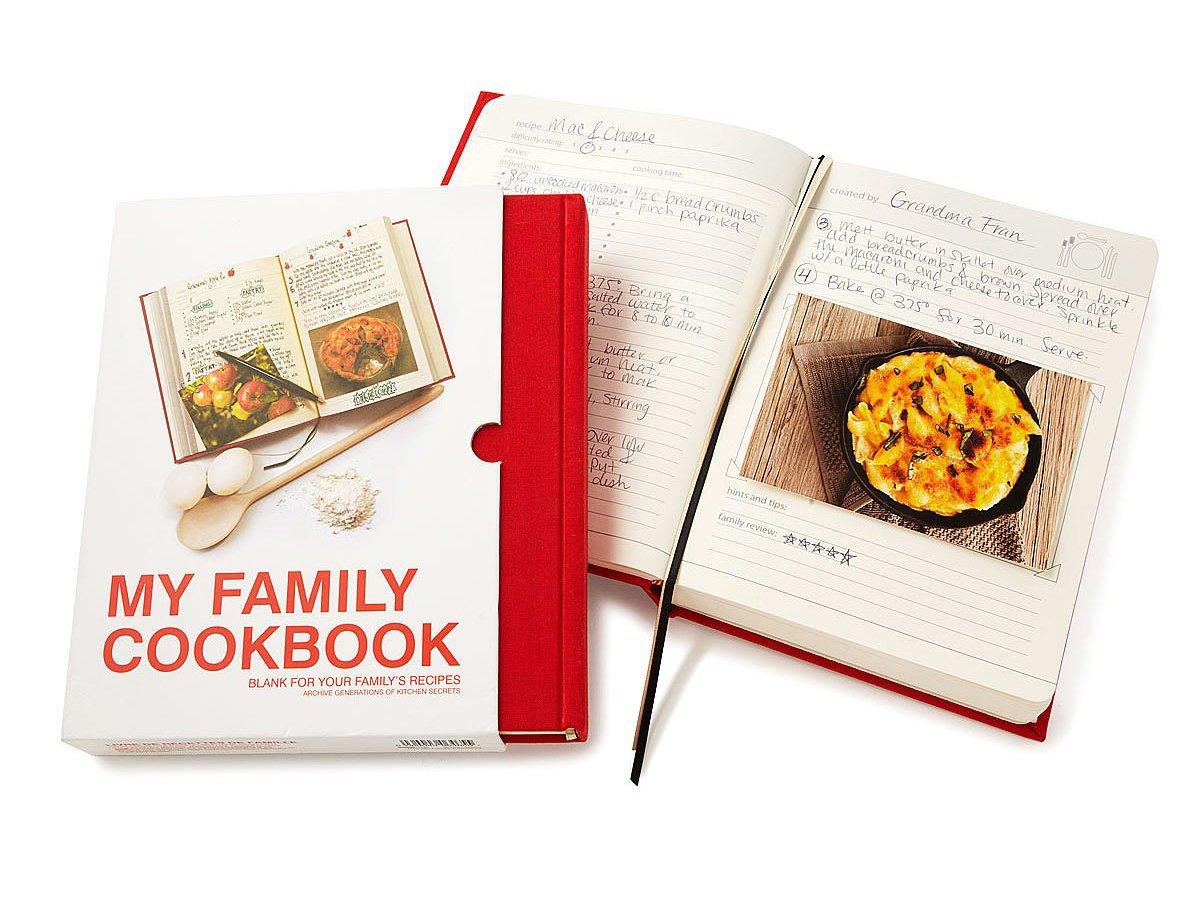 Family recipe book
Tell her you're interested in learning how to recreate some of her delicious dishes with this blank cookbook. There's space to jot down lots of signature family recipes so they can be easily passed down to future generations.
Uncommon Goods My Family Cookbook, $30, Uncommon Goods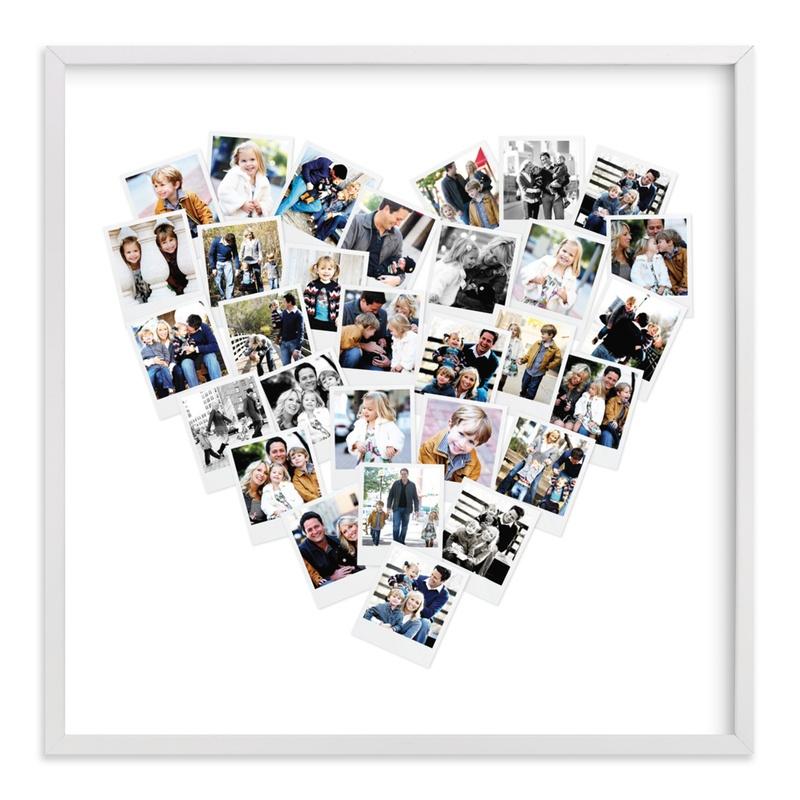 Heart-shaped photo collage
You can never have enough photos of your loved ones. This heart-shaped collage is a lovely way to present your mom with all of your favorite memories together. Make sure to add a frame before you check out so it's ready to put on display as soon as it arrives.
Minted Heart Snapshot Mix photo art, from $29, Minted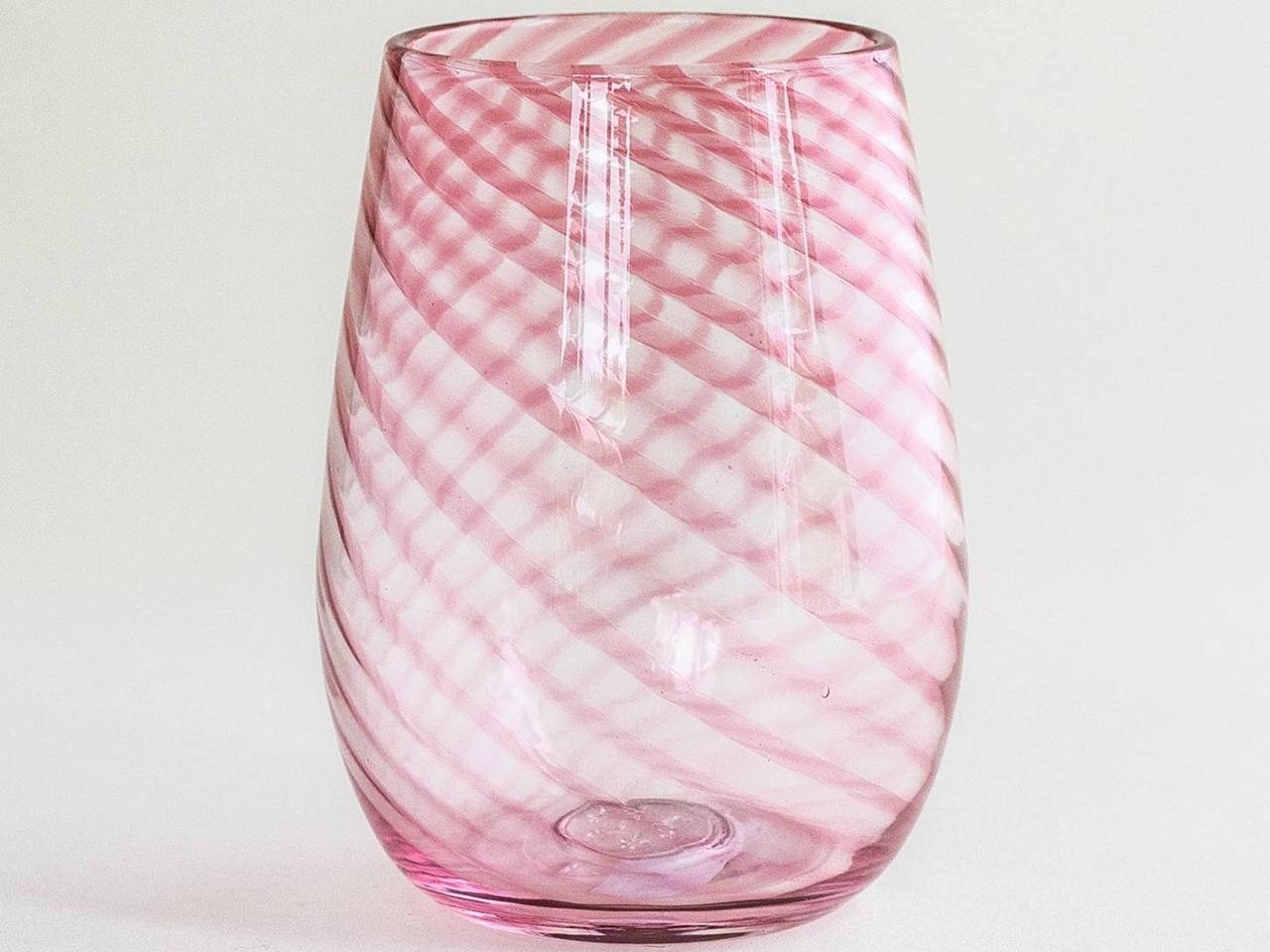 Contemporary wine glass
Your S.O.'s mom probably doesn't have a wine glass like this one. Everything about this glassware is chic and contemporary, from the bright colorways to the unique twisted design.
Saban Glass hand blown Twisty wine glass, $60, Anthropologie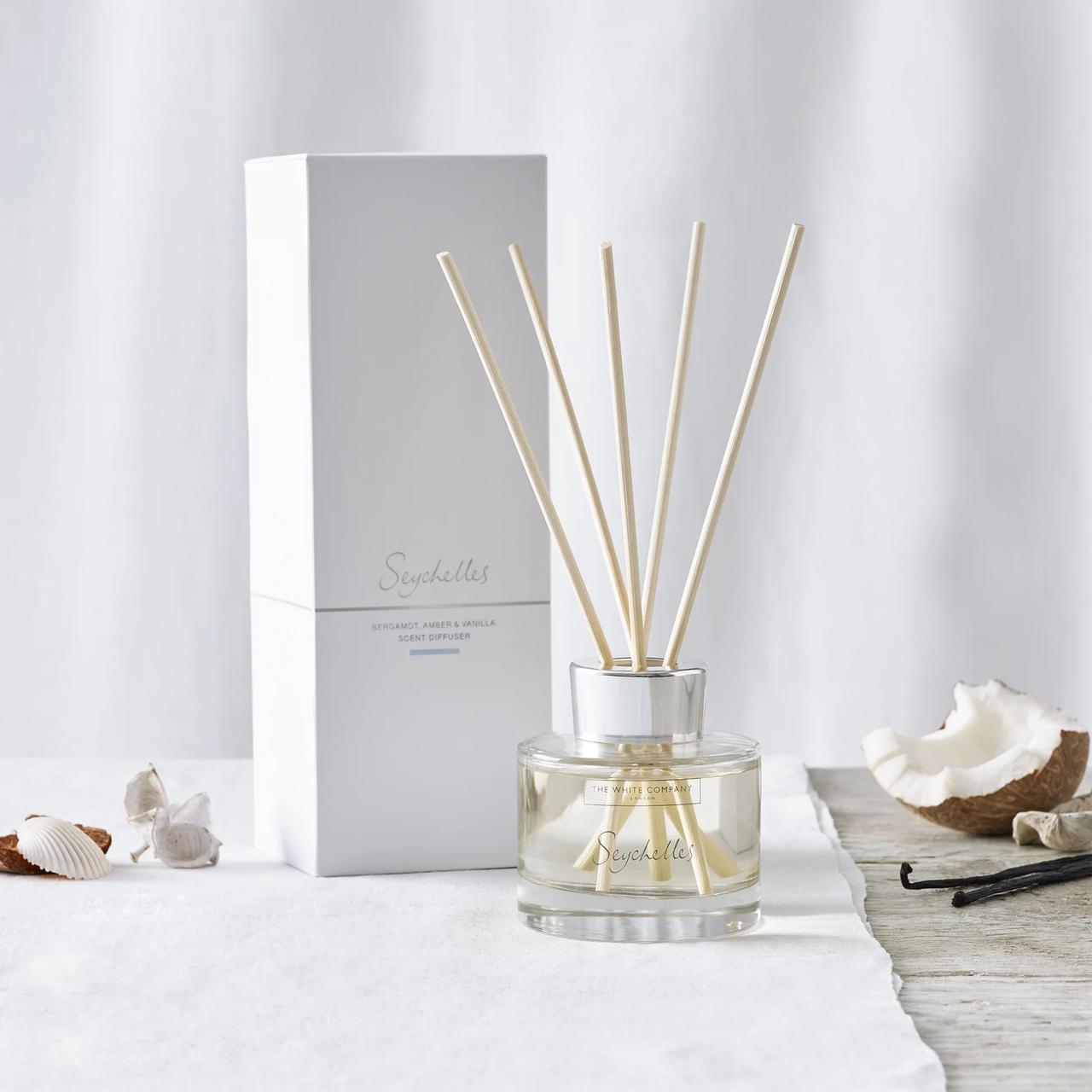 Refreshing scent diffuser
Luxurious scented candles and diffusers are great birthday, holiday, or Mother's Day gifts if any of those special occasions are coming up before your wedding. This diffuser boasts a fresh, tropical island-inspired scent that'll instantly transport her to paradise.
The White Company Seychelles diffuser, $39, The White Company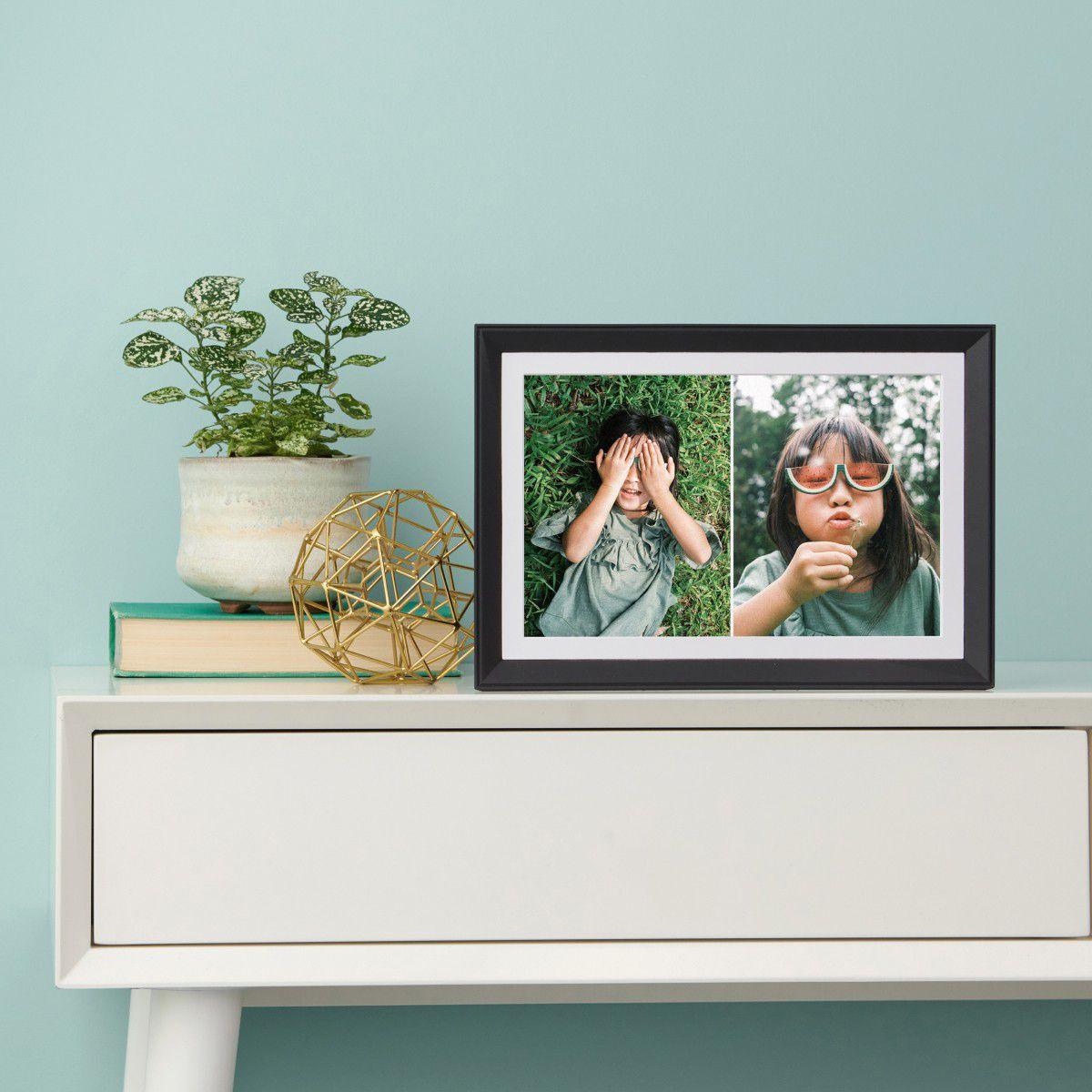 Digital photo frame
A nice picture frame is already a thoughtful gift, especially if you take the time to pick out a lovely photo. But if you want to up the ante a little, we suggest giving the mother of the groom a digital photo frame loaded with a selection of smiling snapshots of her loved ones. Want to keep her up to date with all your latest adventures? You can continue to upload images from anywhere using the Aura app, website, or your email.
Aura Carver digital picture frame, $199, Aura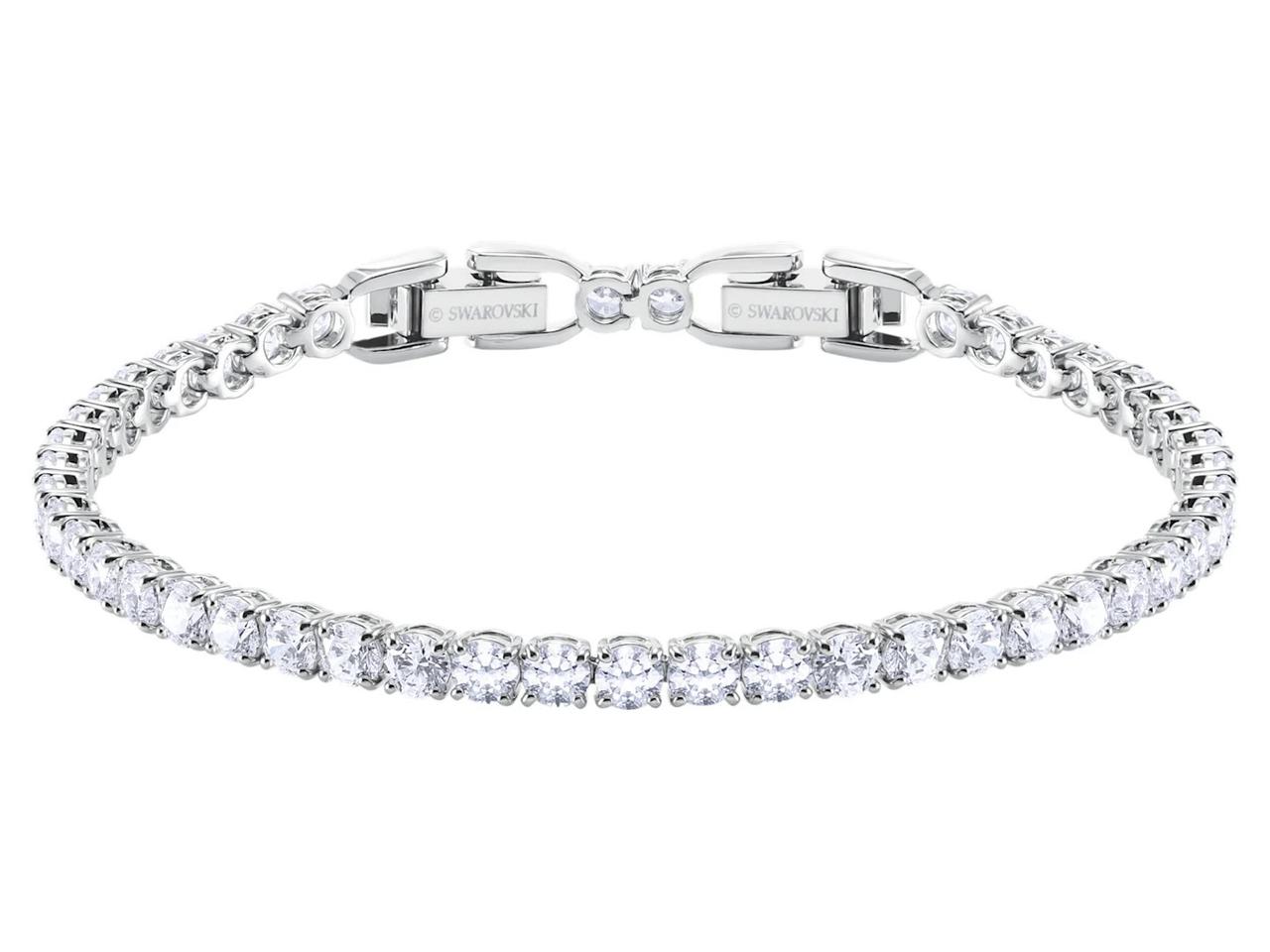 Stunning tennis bracelet
This dazzling Swarovski crystal tennis bracelet will make her feel like a million bucks (without actually costing you a million bucks). Round-cut stones and a shiny rhodium plating create an eye-catchingly timeless look.
Swarovski round white rhodium-plated tennis deluxe bracelet, $169, Swarovski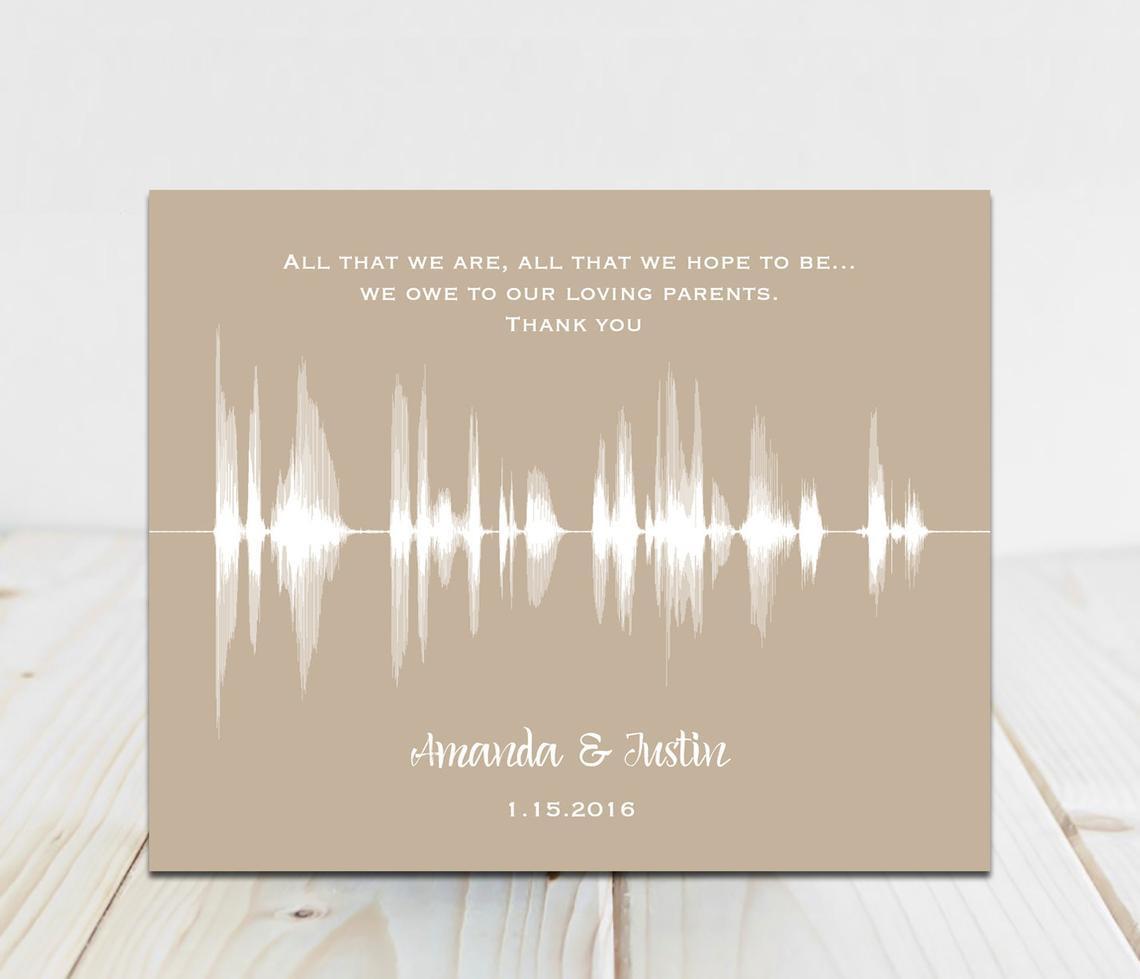 Thoughtful sound art
Giving a joint gift to the mother of the groom? Capture the artistic sound waves of a personal message, meaningful song lyrics, or a favorite quote on this unique print that'll let her know how grateful you both are for her. This one reads: "All that we are, all that we hope to be...we owe to our loving parents."
Artsy Voiceprint wedding thank-you gift, from $35, Etsy
Gorgeous bouquet delivery
A bouquet of flowers can convey so many important feelings. Take your gift to the next level by treating Mom to a monthly subscription. Every time they arrive on her doorstep, she'll feel like the best mother in the world.
Urban Stems The Classic Plan, $55 per delivery, Urban Stems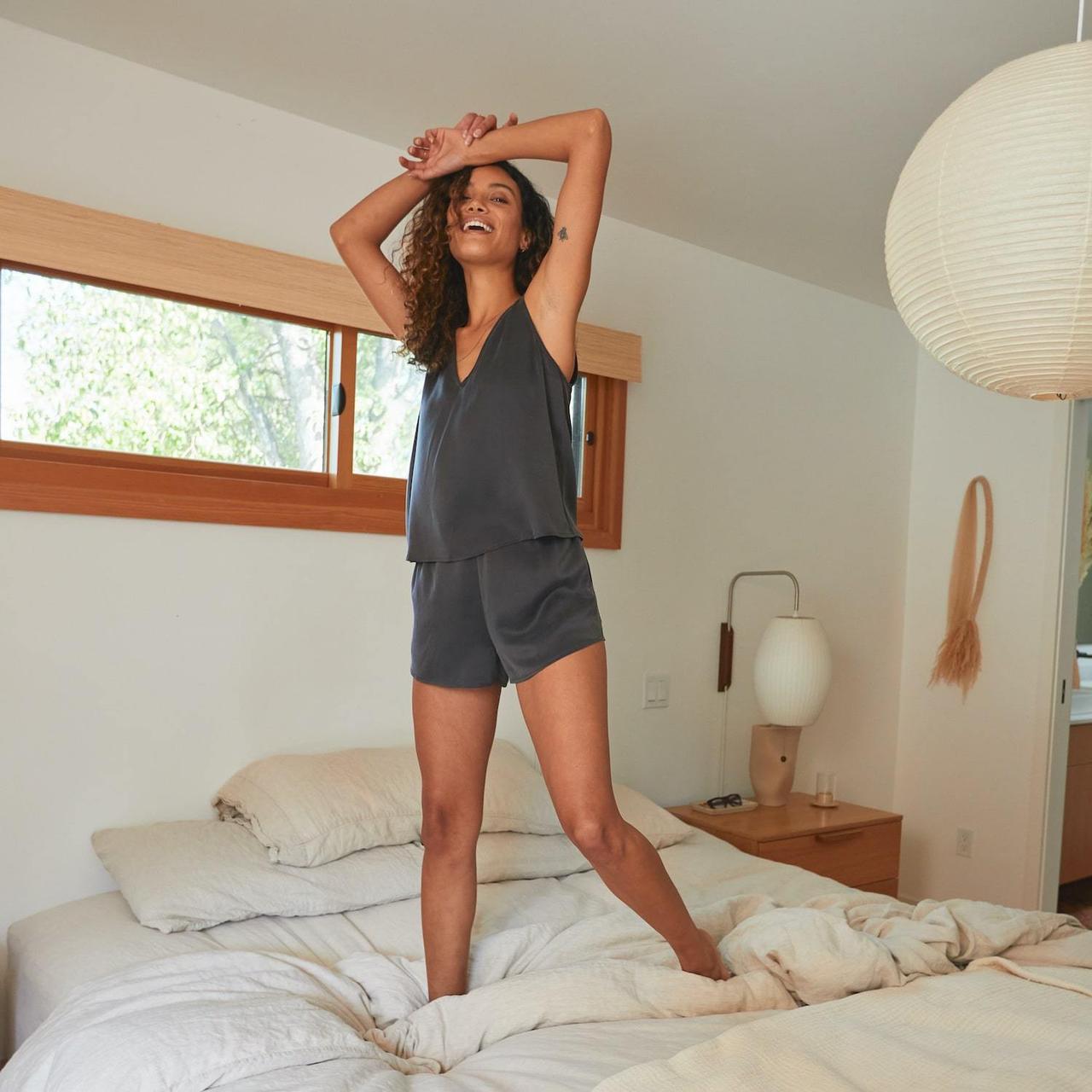 Luxury silk pajamas
Feel like splurging on something extra luxurious? A pair of super-soft PJs is the perfect way to pamper your mom. The best part? This stylish silk loungewear is machine washable.
Lunya washable silk tank set, $178, Lunya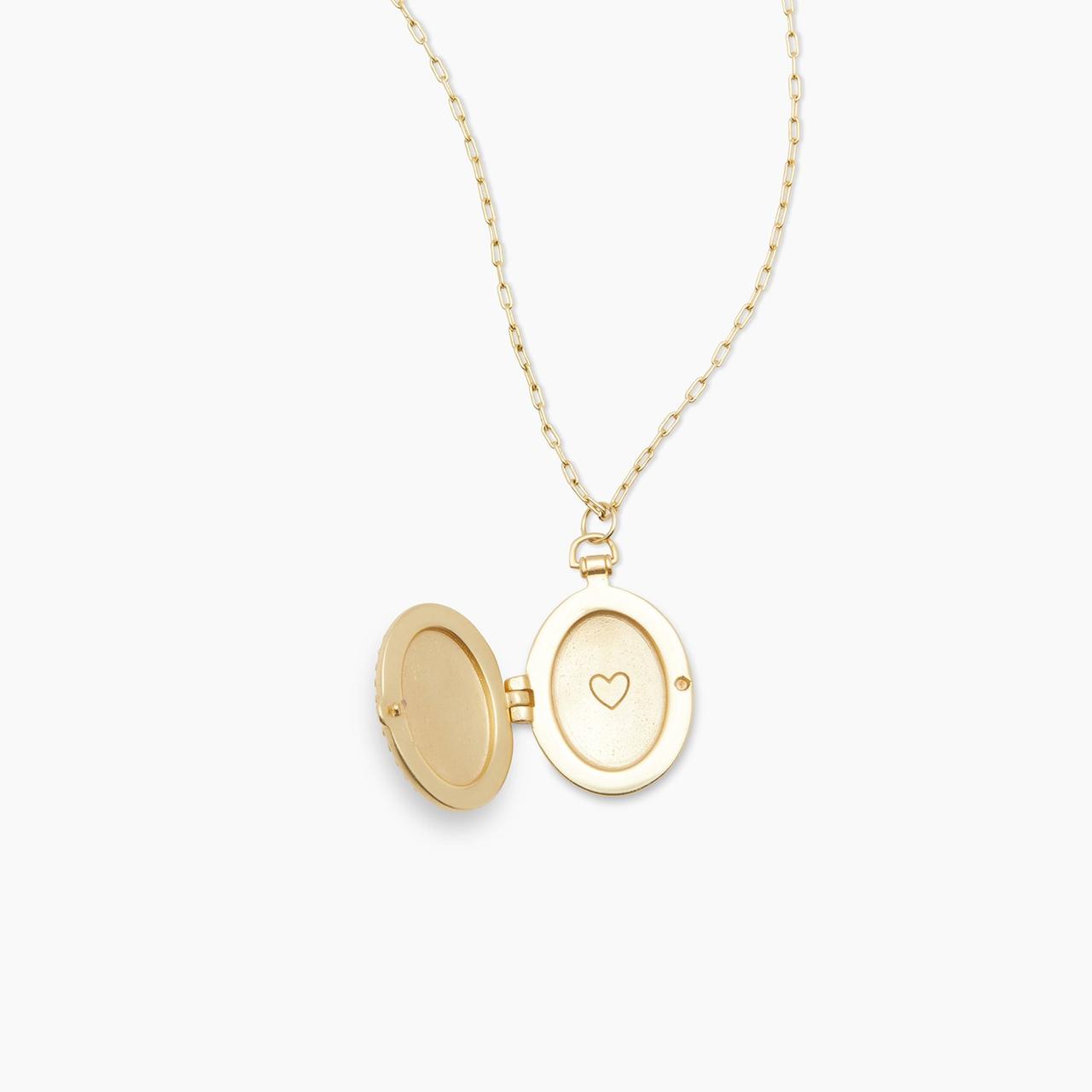 Keepsake gold locket
Inspired by classic antique jewelry, this yellow gold locket is another unique way for your mom to cherish a special photo of you both. Gift the mother of the groom this sentimental necklace so she can always carry you close to her heart.
Gorjana Bali antique locket necklace, $65, Gorjana
Floral measuring cups
If your favorite memories with your mom are helping her bake delicious treats in the kitchen (or even just enjoying the results), this set of pretty floral measuring cups is a lovely tribute to your relationship.
Anthropologie Dagny measuring cups, $32 for a set of 4, Anthropologie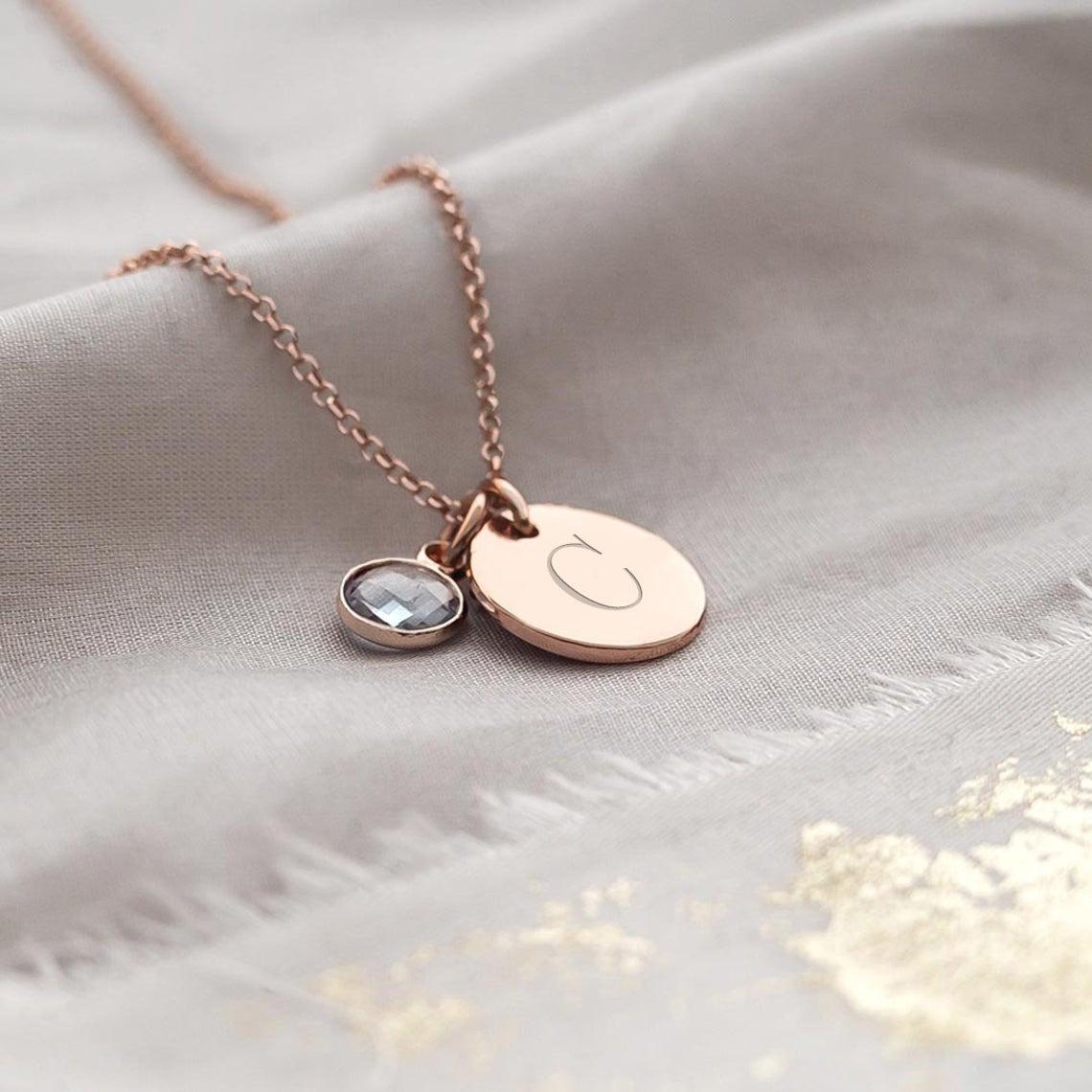 Personalized birthstone necklace
When it comes to gifts for the mother of the groom from a future son- or daughter-in-law, it's a good idea to choose something that shows how well you know her. Birthstone jewelry is a great way to do just that. This pretty pendant can be personalized with her special gemstone and first initial. To complete the look, choose between a silver, rose gold, or yellow gold finish.
Bloom Boutique initial and birthstone necklace, $26, Etsy
Chic makeup bag
If the mother of the groom loves to travel (or just has an impressive makeup collection), this one-of-a-kind toiletry bag will be put to great use. Choose between six different colorways and have it customized with her first name for a personalized gift she can enjoy again and again.
WeddingWire Shop personalized cotton waffle makeup bag, $13, WeddingWire Shop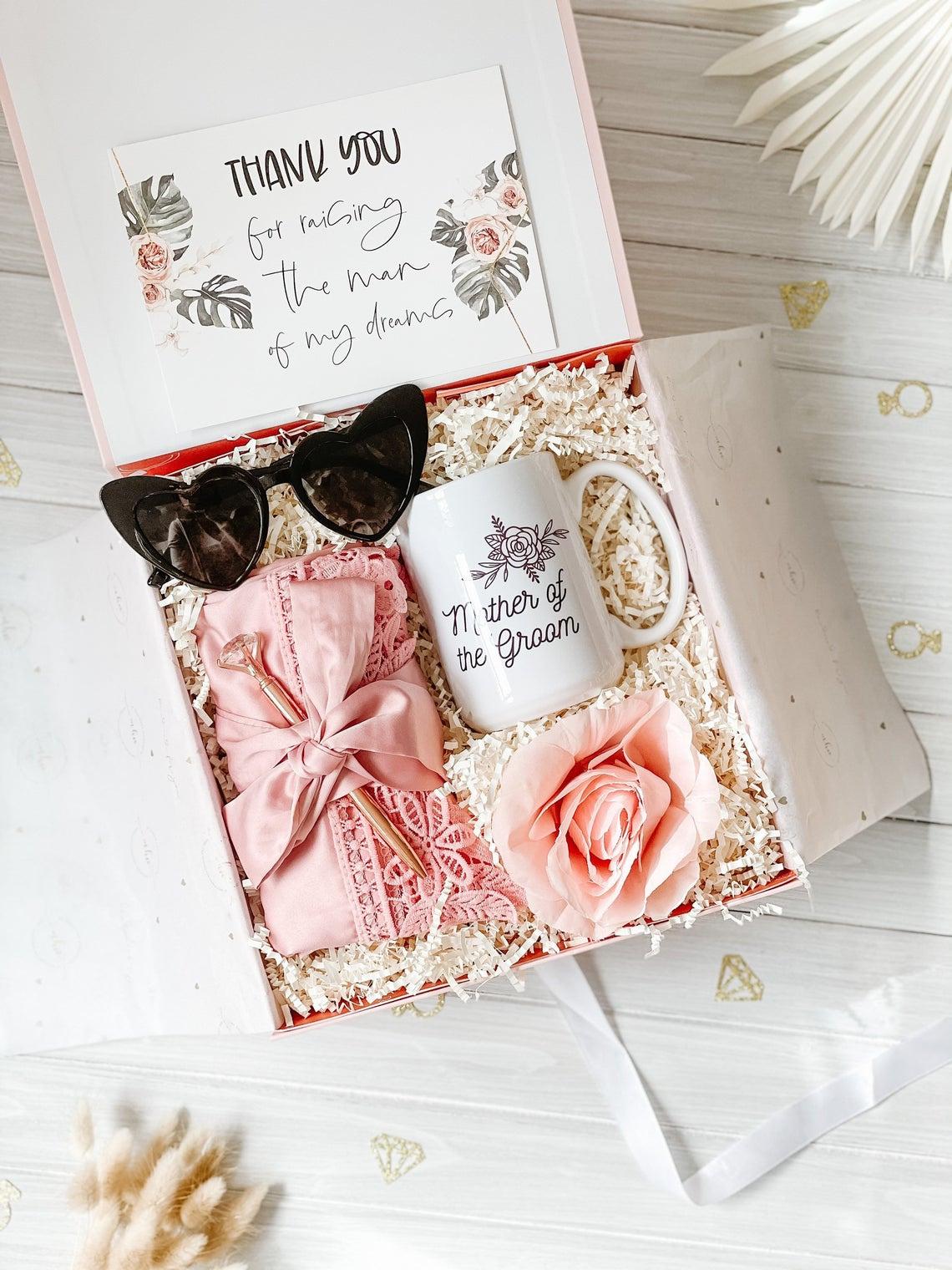 Celebratory gift box
Putting together a gift box or basket for the mother of the groom is a lovely gesture, but it can be a little time consuming to DIY. Luckily, there are some great options you can shop online that are ready to hand over right away. This lovely gift box includes a soft satin robe, "Mother of the Groom" coffee mug, heart-shaped sunglasses, and diamond-themed pen. An artificial rose and personalized thank-you note add the finishing touches.
My Handmade Wedding Co mother of the groom gift from bride, from $79, Etsy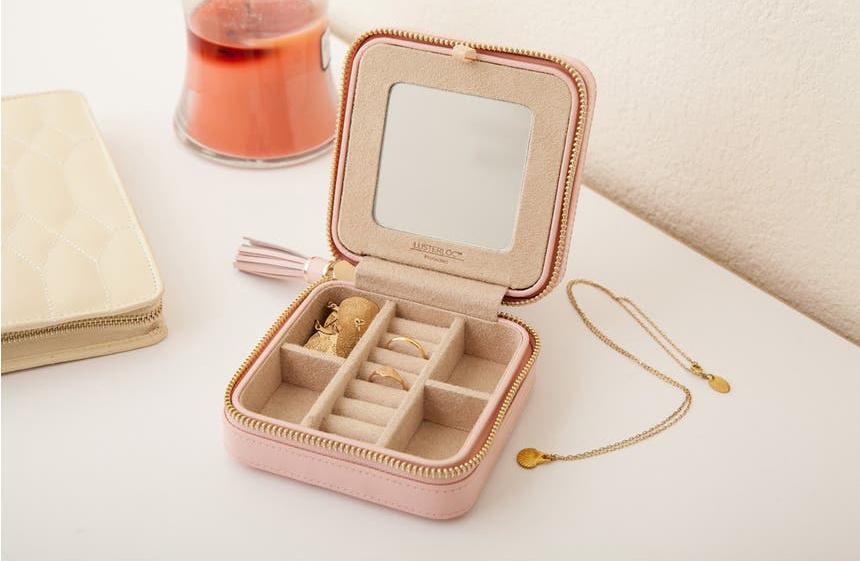 Useful jewelry case
Help her keep her jewelry safe with this stylish travel case with space for rings, earrings, necklaces, and bracelets. There's also a handy mirror to help her elevate her look while she's on the go. It's the perfect gift for moms who never travel without their favorite accessories.
WOLF Caroline travel jewelry case, $105, Nordstrom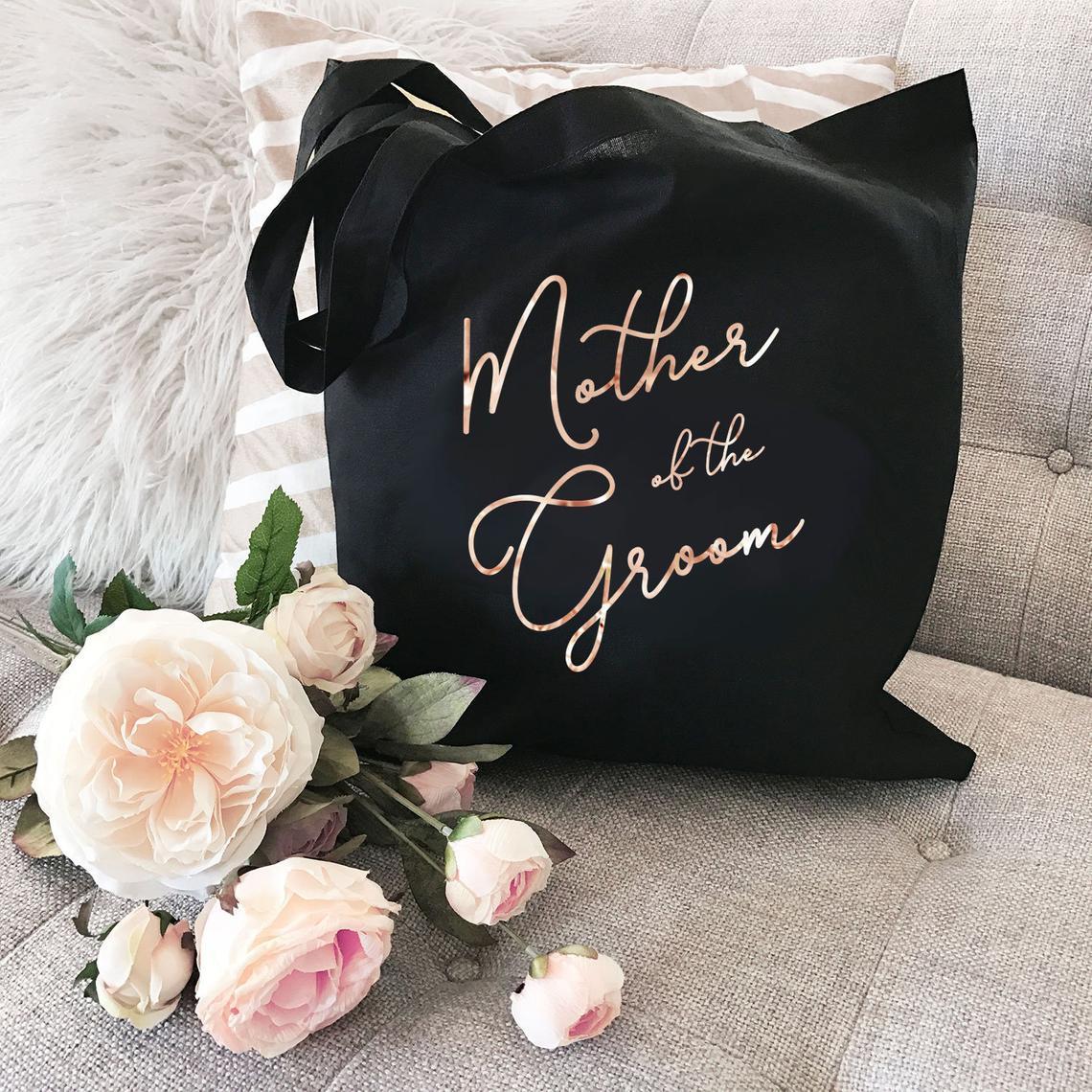 Stylish tote bag
Turn this pretty tote into a gift bag for the mother of the groom by stocking it with a few nice tokens such as her favorite chocolates, a mini bottle of champagne, and a nice thank-you note.
Mod Party Mother of the Groom tote bag, $12, Etsy