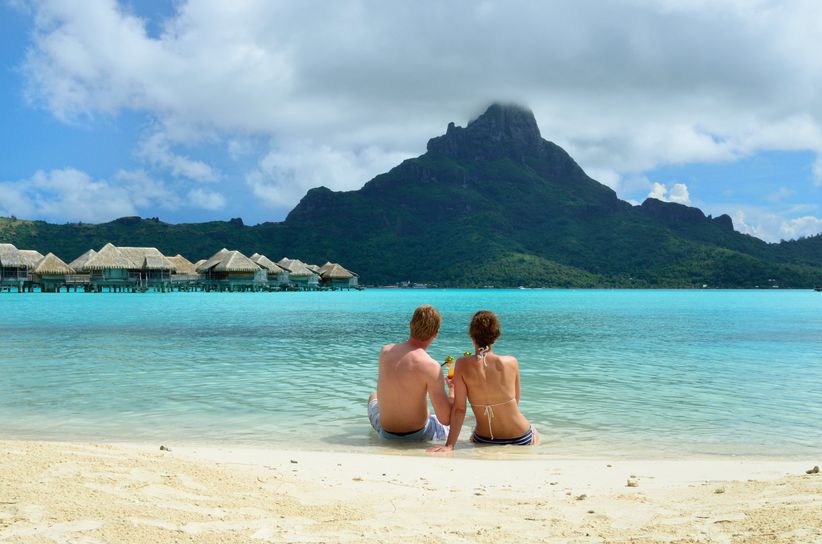 There's something traditionally romantic about August. Not only does it bring back those golden memories of passing the summer days sans-schools but as the last lingering days of the year's warmest season, you take more time to cherish each sunrise and outdoor evening under the stars. You can keep this steamy, sultry and loving feeling going when you opt to travel to one of the best honeymoon destinations in August.
From Tahiti and Mexico to California and beyond, start wanderlusting over the best honeymoon destinations in August.
Bora Bora, French Polynesia
Truth be told, you can't go wrong with the opaque, turquoise waters in the French Polynesia region, no matter what month you visit. This destination is home to one of the most sought after honeymoon destinations Bora Bora, known for distinctive luxury resorts, scuba diving and flavorful culinary immersions. For those who want to have near-perfect weather, the months between June and August are prime, since it's the region's winter season, meaning you'll have less rain and more bearable temperatures. Summer on the other hand - which is November through April - can sometimes be uncomfortably hot and wet.
Where to Stay: Bora Bora Pearl Beach Resort & Spa
Elegantly situated a ten-minute boat ride from the airport is the Bora Bora Pearl Beach Resort in Motu Tevairoa. Here, you can book a suite or a villa, depending on your budget, that will take the idea of an oasis to another level. With hands-on attention from a knowledgeable staff that will ensure your just-married wishes come true and breathtaking views to wake up to each morning, you might be tempted to stay on the property the whole time. Because it's a smaller resort - just 80 rooms - you'll get the benefit of added privacy and more availability to book a table at their on-site restaurants or toast to your marriage over the water at sunset.
Los Cabos, Mexico
Right on the southern tip that connects Mexico and California is Los Cabos, the fastest growing resort area and one of the best honeymoon destinations in August. In addition to beaches that give you the seclusion you crave after the demands of wedding planning, you and your new spouse will also enjoy a laid-back nightlife scene for blowing off steam, and plenty of restaurants to satisfy foodies of all flavors. Though you can choose to stay in California and forgo the passport, travelers often prefer the Mexico side, since it offers more swimmable beaches and higher end resorts that honeymooners not only want, but hey, have earned.
Where to Stay: Chileno Bay
Even if you and your partner haven't saved up enough for a down payment on a house one day, you can use your first excursion as a married duo to pretend like you have. The beauty of the boutique residences of Chileno Bay is how they combine contemporary luxury with the comfort of being at home. Splurge on a villa that features a minimum of 3,000 square feet that's ripe with indoor and outdoor living spaces, floor-to-ceiling mirrors, private, vase terraces and of course, ocean views you'll want to share on Instagram. To add to the charm, each beach villa also comes with a personal concierge, a visit from housekeeping twice a day, in-room spa treatments and more.
Lake Tahoe, California
If instead of the snow peaks, you and your spouse-to-be crave the sound of crickets chirping as you drift to sleep, rethink your opinion of Lake Tahoe and consider it as one of the best honeymoon destinations in August. Here, the adventure-seeking couple can fill their days with a plethora of hikes, kayaking excursions, private boat tours and more. As a way to escape the chaos of your everyday life, you'll enjoy those sun-drenched mornings as much as you'll love cheersing to your new life together under the stars that are uninterrupted by buildings.
Where to Stay: The Ritz-Carlton, Lake Tahoe
If there's ever an excuse to splurge for The Ritz, it's your honeymoon. Here, they'll cater to your every whim — regardless if you want to have breakfast in bed every morning of your Lake Tahoe honeymoon or organize your own boat for the week. Since they offer direct access to the lake itself via their Lake Club, you won't have to worry about finding your way to the shore. We suggest taking the time out of adventuring to waste away at the spa with treatments inspired by the area.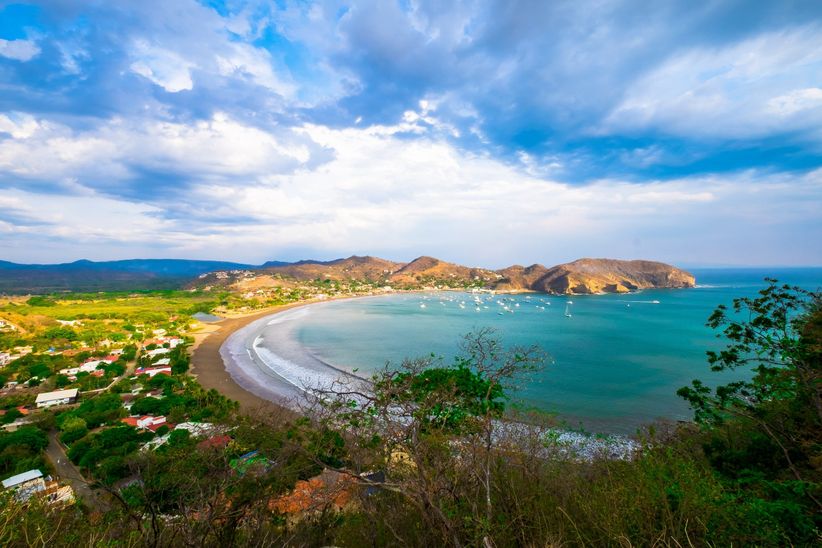 Nicaragua
Once you see what a Nicaragua honeymoon has to offer, you'll certainly want to make it your August honeymoon destination. Though it's technically rainy season, you'll appreciate the short-lived 30-minute daily rainstorm that'll cool down the temperatures while you're lounging by the beach. In between the Caribbean Sea and the Pacific Ocean, this Central American destination attracts honeymooners, surfers and surfing honeymooners! Here, you can dip your toes in those bodies of water, as well as the impressively large Lake Managua. And for adventure-seekers, climbing a volcano will be a memory you won't forget.
Where to Stay: Rise Up & Surf Nicaragua
As a twist on the traditional luxury honeymoon, consider booking a week-long excursion with the renowned Rise Up & Surf Nicaragua. With everything included - from your airport transfer to chef-prepared meals - you'll have a getaway that's truly off the grid. Since WiFi is expensive in this area, you'll take a break from the constant scrolling to learn ow to surf with daily lessons. Add in some yoga for a good 'ole stretch and upgrade to the private room so you really feel like you're away from everything. In addition to coming back sporting those wedding bands, you'll also be proud beginner surfers, ready to wade through the waves of marriage.