Though you were over-the-moon to marry your-one-and-only — the chaos of wedding planning is hard for even the happiest of couples. That's why one of the best ways to unwind post-nuptials is to plan a Mother Nature-inspired getaway, like a Lake Tahoe honeymoon. For those duos who don't want to leave the country — but want to be captivated by beauty — a Lake Tahoe honeymoon is a beautiful, stateside choice. This largest freshwater lake in the Sierra Nevada Mountains spans both California and Nevada, and attracts travelers far and wide. From the unbelievable blue hue of the water in the summer to the plethora of winter fun when the snow falls, there is plenty to experience in this high-end, rustic destination.
If you're considering a Lake Tahoe honeymoon, here's everything you need to know — plus top recommendations for your hotel, restaurant reservations and more.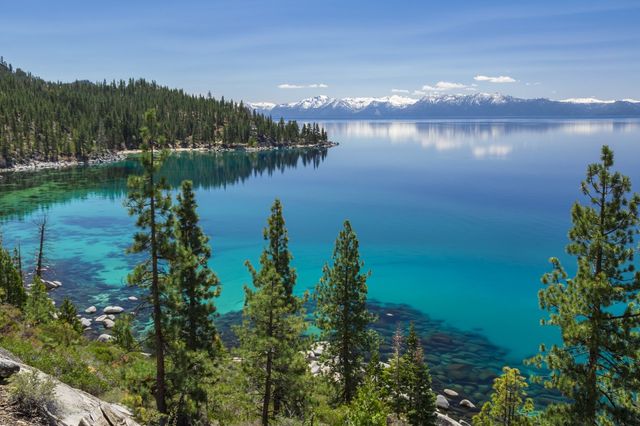 How Long to Stay in Lake Tahoe
There's no magical number on how many nights you should spend exploring this impressive body of water during your honeymoon in Lake Tahoe, but since you only get hitched once (hopefully, anyway), we suggest at least a week. The time of year places a factor in your schedule, too, since Lake Tahoe is a year-round hotspot. The ideal for fun-in-the-sun is from May to September, with the heavy-tourist season falling in July and August—Lake Tahoe honeymoons in summer are super-popular. If you visit in October, you will be wowed by the change of seasons — and the cheaper, off-peak rates. As soon as the snow starts to fall in November though, the powder game is on as snowbirds commute to hit the slopes.
What to Do On Your Lake Tahoe Honeymoon
The better question is what can't you do on your honeymoon in Lake Tahoe? For avid hikers, boat enthusiasts and water babies, this stretch of earth will feel like a playground. Start by exploring the legendary Emerald Bay State Park which was created by glaciers millions of years ago. You'll feel entranced by ancient trees with flowering limbs, endless trails to trek and lookouts to capture on Instagram.
On the western shore, ten miles from Tahoe City, is the legendary Squaw Valley. If you love to ski or snowboard, you've definitely heard of this area since it's often in the top 10 list of five-star ski resorts. During the winter, you have more than 4,000 acres (with 70 percent ideal for beginners or intermediate skiers) to explore. It was also the site of the 1960 Winter Olympics, in case you need a fact to write in a postcard.
Another nature wonder to feast your newlywed eyes on is Donner Memorial State Park and the Emigrant Trail Museum. In case you forget from your history class, the Donner Party were a class of pioneers who were wiped out, thanks to two intense winter seasons. Now, there's a museum honoring their legacy, and many of the most gorgeous parts of Lake Tahoe. Don't miss Balancing Rock, which as the name suggests, is a 250,000-pound boulder held up by a tiny piece of granite.
Though a Lake Tahoe honeymoon isn't really about the city life — it's worth it to take an afternoon stroll through Tahoe City. This unincorporated community has an artsy, hippy vibe, and offers local eats, artisan crafts and of course, brews. Keep in mind you'll want to adjust to the altitude here if you aren't used to being high above sea level, since Tahoe City is at 6,250 feet.
Last but not least, you can't leave Lake Tahoe in the summer without, well, swimming! From renting a boat and taking a tour to trying your water sport talents and going for a hot air balloon ride, there's ample opportunity for adventuring couples.
Where to Eat On Your Lake Tahoe Honeymoon
When it comes to dining out on your Lake Tahoe honeymoon, you'll want to set your search to the South. This is where the biggest culinary scene is bustling, complete with many flavors from all around the world. Even if you aren't staying at Basecamp Hotel, make sure to check out Basecamp Beer Garden open day and night, and offering fire pits, corn hole and live music.
For a romantic — yet laid back — evening, have a sunset dinner at Lakeside Beach House Restaurant. It's recommended to opt for the Santa Maria-style barbecue, which is known as a lighter version of what you're used to. Order a bottle of bubbly, and enjoy the view of the cascading sky — and one another.
Another spot that will have you starry-eyed over the fare and the company is The Boathouse on the Pier. You can arrive for their afternoon happy hour to save money on a round of drinks, and then head to your table before the sun leaves the sky. If you can, ask to sit on the top deck for an uninterrupted glimpse over the water.
For when you're on the go but need a quick bite, go to Sprouts Cafe, a long-standing local fave. You can grab a sandwich, a veggie bowl or a fresh-squeezed juice to amp up your day — or jumpstart your afternoon.
Where to Stay on Your Lake Tahoe Honeymoon
If there is one time to go big, it's when you've officially become spouses and promise forever-and-ever (amen) to someone. That's why we suggest going for gold with your Lake Tahoe honeymoon, and staying at a luxury hotel.
Lake Tahoe Hyatt Regency has all of the serene vibes you'd hope for, but also many amenities inside and outside the property. Nearly every room has a view of the Sierra Mountain Range, and you can indulge in spa treatments, kayaking excursions and plenty of great food.
For a winter-time Lake Tahoe honeymoon, The Ritz-Carlton Lake Tahoe is your best bet. There's nothing quite as beautiful as this property, a hop and a skip from the slopes, when it's covered in snow. Upgrade to a suite featuring floor-to-ceiling windows, and curl up together by the in-room fireplace. Swoon!
Fun fact: the Resort at Squaw Creek was the location for the Winter Olympics in 1960, and it has been full of quintessential charm ever since. No matter what season you book your stay for, each room has character and top-tier features that set it apart from others. Many people describe the experience like having their own home — but inside of a thoughtful hotel. Win-win!
Article by Lindsay Tigar