California Honeymoons
There's so much to see and do during your California honeymoon. Here's everything you need to know for your trip of a lifetime.
The Best California Honeymoon Destinations
There's a reason this Western United States destination is coined the Golden State. With year-round sunshine, beautiful vistas and exciting seaside towns, a California honeymoon will have you and your number one starry-eyed. What's remarkable about this region of the country is its diverse landscape — offering beaches with dramatic cliffs, forrest blooming with redwood trees, vineyards with irresistible wine, cities with celebrities and so much more. For those newlyweds-to-be who are considering a honeymoon in California, there are plenty of uber-romantic spots to choose from. Though, sure, for a traditional trip, you gotta hit up Los Angeles and San Francisco — these California honeymoon ideas will have both of you in awe of the land (and one another!).
Here, everything you need to plan an unforgettable, once-in-a-lifetime California honeymoon.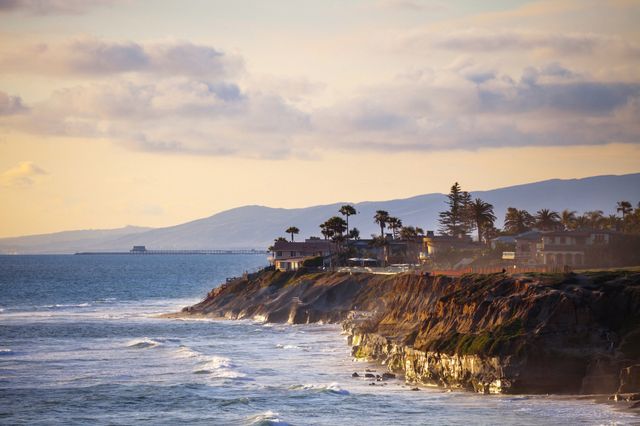 When to Go on Honeymoon in California
Good news if you simply can't decide on the best wedding date: the sun is always out in the Golden State! No matter where you decide to venture or what month you pick for your nuptials, you can expect the weather to be warm. However, if you want to be at your most comfortable, consider a spring or a fall California honeymoon and avoid the heat of the summer, where temperatures can reach double-digits. Though it is never too bad compared to cities on the East Coast, January is considered the most difficult in Cali. You can experience near-daily rain, even if it only lasts ten minutes. If you're a wine fan, make sure you cater your California honeymoon to when the vines are ripe and Instagram-worthy, from August to October.
Where to Go On Your California Honeymoon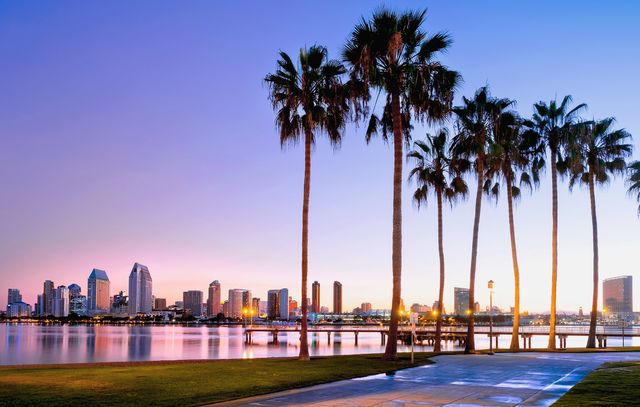 San Diego
On the Pacific Coast of the state, this California honeymoon destination is known for its diverse culture, interesting culinary offerings and it's variety. Consider a San Diego honeymoon a way to have a 'surfer's beach' without having to head to Nicaragua or Costa Rica. You and your new spouse can spend a day or two walking around the heart of the city — dining in Little Italy, dancing in the Gaslamp district — before heading off for a few-night stay at the many beaches. Here, you can choose from a handful of high-end hotels or rent an Airbnb with direct shore access. For the art-lovin' couple, look for galleries and studios to pique your interest. Last — and definitely not least — pack your passport! You can easily drive over the United States/Mexico border here — just to get tacos and return.
Must See: If you want to work up a bit of a sweat on your California honeymoon (and no, not just like that!) — plan a nearby hike. All within easy driving distances, many vistas offer sweeping views of the area.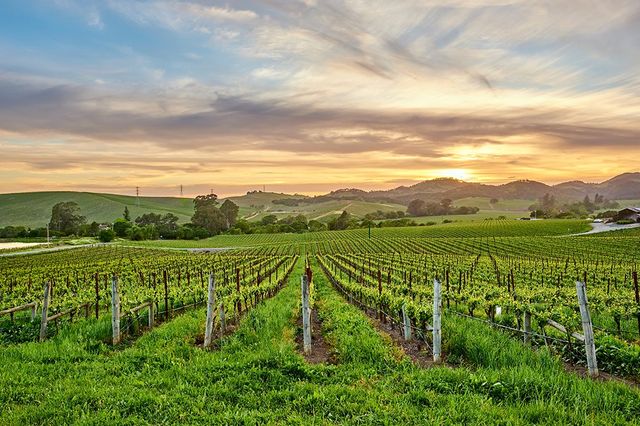 Sonoma and Napa Valley
Of all of the states, a honeymoon in California offers the deepest immersion into wine-making. In Sonoma and Napa Valley, you and your perfect person can finally find that perfect bottle of wine for your tastebuds. Though it'll be a tad hot, there's no better season than late summer and early fall for this California honeymoon destination. Most couples will start in San Francisco (since it's only a few hours away) and drive up to the Napa and Sonoma Valley area. Then, you can spend a few days in each before figuring out what's next on your getaway. We highly suggest making time for the historic city of Sonoma, right in the heart of their vineyards. Here, you can walk around galleries, eat at nationally-renowned restaurants and if you go in the summer, browse through their farmer's market.
Must See: All aboard… the wine train! For a way to breeze by many wineries, eat a great meal and experience the beauty of the area, book two first-class tickets on the Napa Valley Wine Train.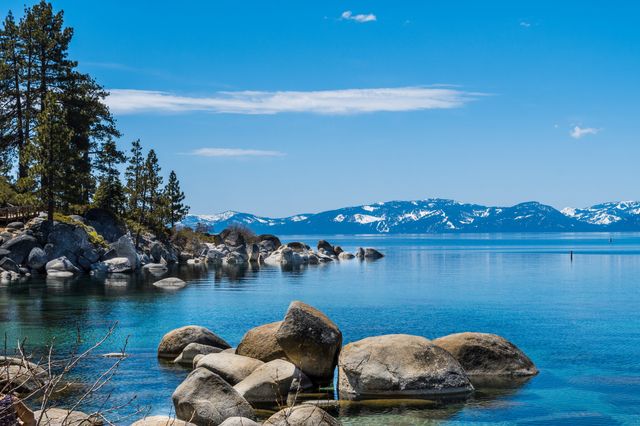 Lake Tahoe
If you grew up anywhere near this beautiful body of water, you have likely stood in awe of it's glamour. A gift from Mother Nature herself, Lake Tahoe is the largest freshwater lake in Sierra Nevada Mountains, and overs two states. For those earth-loving newlyweds, Lake Tahoe might be one of the best California honeymoon ideas since it offers a sweet, rustic escape. In the summer, enjoy outdoor activities — from hiking to jet skiing and beyond. And in the winter, buckle up your boots and hit the slopes, for some of the best skiing in the region.
Must See: In addition to renting a boat in the summer or a cabin in the winter — don't miss out on Lake Tahoe Nevada State Park for some beautiful hiking paths.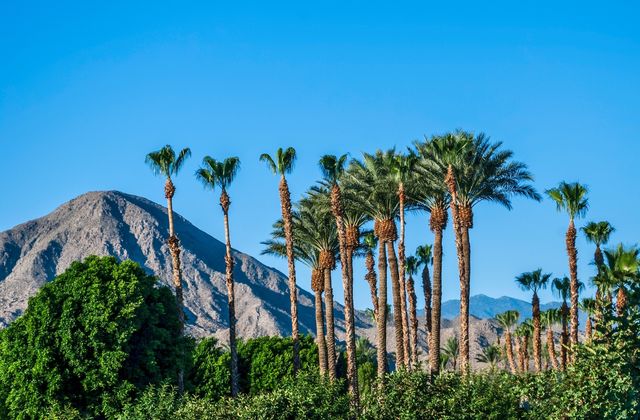 Palm Springs
Of all of the California honeymoon ideas, Palm Springs is easily the most romantic. As a luxury destination in the Sonoran Desert of southern California, you and your partner will feel like royalty when you celebrate the start of your marriage here. It's most beloved for its mid-century modern architecture — which will have design-obsessed couples snapping away photos. Make sure you splurge on a stylish hotel and book at least a day or two at the spa, since most of the time, all treatments are held outside. Though you'll want to avoid Coachella dates, most of the time, this area is romantic and serene. To connect with the great outdoors, tour through the valley by bike, horse or your own two feet.
Must See: A sunset from your hotel, overlooking the desert land behind you. We suggest a nice bottle of local white wine as your pairing.
Sample California Honeymoon Itinerary
Once you fly to California, we suggest renting a car for the rest of the journey. It makes it easier to get around, and you can always leave it in the parking garage of your hotel. If you want to do some major jumping around, you can book one-way tickets — but you'll save on hard-earned cash with a rental.
So how should you map out your trip? Here's what we think:
Get the exhausting part of the trip out of the way first by flying straight to San Diego.
After a few days, hit the road and drive toward Los Angeles. If you want to make a pit stop to see the Hollywood sign and stay a night, go for it. But the next stop on your schedule is Palm Springs.
After some adventuring in the desert (and plenty of R&R), hop in your car and make the journey to San Francisco. You can also fly this, but if you're not in a rush, we suggest driving. How come? It's the iconic California Highway One that takes you through Big Sur.
After a night in Big Sur, and one in San Francisco, drive toward Napa Valley.
When you've had your fill of wine, it's time to keep heading north toward Lake Tahoe.
Finish your honeymoon absorbing the beauty of the lake — and soak it all up.
Flight 3
- Remove Flight
+ Add Flight
Flight 4
- Remove Flight
+ Add Flight
Get access to travel deals when you book your honeymoon through WeddingWire