Wine is only the beginning for a Napa Valley honeymoon! Indulge yourself in luxurious resorts with lavish spas or hide away in romantic bed & breakfasts. This is foodie heaven with the freshest farm to table dining, lively gastro-pubs or Michelin starred restaurants that cater for the most diverse palates. If you've had your fill of food and wine (and that's a big if!) take a romantic hot air balloon ride or lose yourself along the wild pacific coastline on the iconic Highway 1. Culture vultures will find no shortage of museums, theaters, live music, art galleries and even a castle! The valleys offer the perfect mix of elegance, glamour and rugged west-coast charm. It's luxury and demure but rustic and boho all blended together like a fine wine with memories that will last a lifetime.
Ready to plan your Napa Valley honeymoon? Check out our advice for planning your trip to California wine country.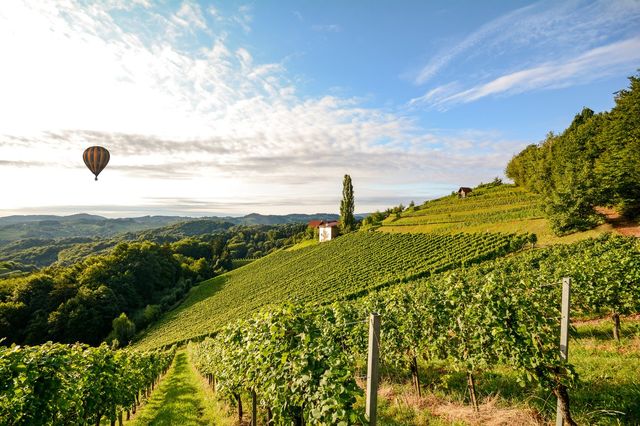 When to Go
The climate is mild all year-round which makes a Napa Valley honeymoon ideal. The Harvest is a great time to visit and get a full insight into the art and romance of the winemaking process before the dramatic changes in the fall foliage at the end of autumn but, it can also be the busiest. The summer months will be crowded and you'll pay more for hotels but there are a host of festivals as tourist and locals mix at numerous events. Spring sees nature in full bloom with a chance for beautiful hikes and the Sonoma International Film Festival and good value stays can be had. The winter months are the best time to visit to take things at a more leisurely pace and avoid the premium prices but there may also be a few scattered days of rain.
Top Sights and Activities
Hot Air Balloon: Soar over vineyards, mountains and castles
Private Wine Tour: By limo, town car, horseback or butler, let the experts craft the perfect private wine journey for Napa Valley honeymooners
Bicycle Wine Tour: Pedal your way off the beaten track through vineyards and country lanes
Work on your handicap: With some of the best golf-courses in the world, tee off and find love on the green!
Visit the Culinary Institute of America: Cooking and wine classes, demos, bootcamps and an award winning restaurant
Napa Valley Wine Train: Embark on a culinary journey on this vintage train which pairs exquisite food and boutique wines on a 3-hour journey through the valley—such a special Napa Valley honeymoon experience.
See the vineyards from the water: Take to the river by paddleboard, kayak or canoe for a different look at Napa Valley
Buy olive oil: Napa Valley is home to some superb artisan olive oil and you can tour and taste the estates when you are all wined out!
Pick up some cooking tips: Take a lesson from the professionals at the Silverado Cooking School
Enjoy the Natural Springs: Take a mud bath or mud wrap and indulge in this ancient Native American tradition
Take a road trip on Highway 1: Drive part of one of the world's most iconic drives from Jenner to Inverness along the wild pacific coast
Visit Rutherford Hill: Go underground and explore some of America's largest wine caves