Star-chasing couples who like the glitz and glamour of Hollywood will love a Los Angeles honeymoon. L.A is known for being the center of the nation's film and television industry and is the perfect destination for honeymooners looking for a bustling city to explore. Visitors can rub shoulders with the stars, or at least walk along the iconic Walk of Fame as well as capture a must-have photo of the Hollywood sign. Shopping opportunities abound and range from high-end luxury and haute couture shopping along Rodeo Drive to one of the world's most well-known farmers markets, The Original Farmer's Market. Strolling the Venice Beach boardwalk is a relaxing way to spend part of a day, and you're sure to encounter some interesting and eccentric people along the way. L.A. boasts several world-class theme parks, as well, including Universal Studios Hollywood and Disneyland. Whether you're looking to bump into your favorite celeb or hoping to shop till you drop, a Los Angeles honeymoon doesn't disappoint when it comes to providing couples with endless activities to enjoy during their stay.
Start planning your Los Angeles honeymoon with this handy guide.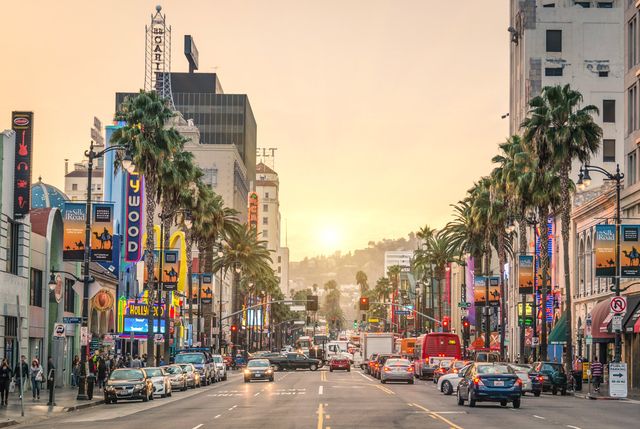 When to Go
Los Angeles has great weather any time of year. However, the best time to visit is between March and May or September to November. The air is clearer and the city is less crowded. Temperatures are comfortable which makes walking to and around attractions much more enjoyable.
Top Sights and Activities
Universal Studios: Hollywood A large movie-themed amusement park featuring thrilling rides and attractions.
Disneyland: Famous Disney theme park with 8 themed lands and days worth of rides, shows and amusements.
Hollywood Walk of Fame: More than 2,500 figures from the entertainment industry are honored with stars in the sidewalk.
Venice Beach: A popular beach with boardwalk. Cultural hub known for streetball as well as attracting eccentric people.
Getty Center: Impressive art museum which is renown for its vast collections, architecture, gardens and views of the city.
Rodeo Drive: High-end designer shopping (or window shopping) alongside Hollywood stars.
Take a Walking Tour: Several companies operate walking tours of the top sights in L.A.
Los Angeles Museum Row: A 20 acre complex with several buildings featuring the collections of the Los Angeles County Museum of Art.
Walt Disney Concert Hall: Stylish and classy auditorium which hosts a variety of concerts throughout the year.
The Original Farmer's Market: World famous farmer's market with over 100 vendors.
Hollywood Sign: Visitors can hike near the sign or visit several scenic overlook spots in the city to get a great photo.
Mulholland Drive: Scenic drive with several overlooks. The route can be driven in less than an hour including stopping for pictures.