How to Nail Summer Wedding Style as a Guest
Trying to figure out what to wear to a summer wedding? Beat the heat and look your best by following these summer wedding style tips, outfit ideas, and more.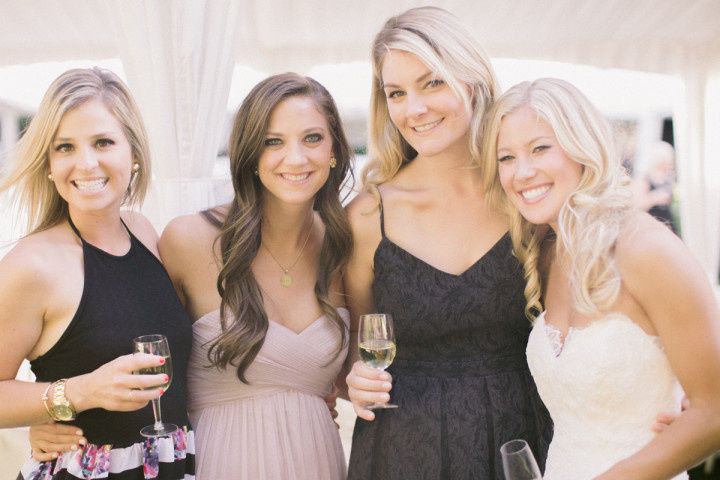 Summer wedding style, or just guest attire in general, can leave a lot of people stumped on what exactly they should wear to the big event. We get it — the weather can be hot or humid, making getting all foofed up not as easy as other seasons. But in reality, many guests don't realize that summer wedding attire is actually one of the most playful seasons when it comes to fashion trends and statement pieces. Summer wedding outfits for guests give you a bit more freedom when it comes to prints and colors you can wear, as well as endless possibilities for styling your lovely locks. So don't let the heat kill your summer vibe! Whether you've been invited to a formal country club reception or a casual beach ceremony, you can easily nail summer wedding style as a guest by checking out these helpful tips and tricks.
Consider these expert summer wedding style tips so you can look smoking hot at any event this season.
Opt for fun patterns
From polka dot bow tie options to sundresses covered in various shapes of fruit, summer wedding attire let's guest be a little bold when it comes to patterns and prints. Men can easily pull off a statement look by accessorizing with a tie or pocket square that features a unique print, like mini anchors, for a summer wedding. As for the ladies, don't turn your head from a cocktail dress that's covered in watermelons or another cutesy print, either. Summer wedding style means these offbeat patterns can be worn as long as the item of clothing meets the proper dress code for the big event. Worried the pattern may be too loud for a black tie or dressy wedding? As long as it's a luxe fabric, like silk charmeuse, you should be in the clear. If you're still feeling stuck on whether the outfit is too out there for the big day, just check out our wedding attire cheat sheet here to ensure your look meets expectations.
Bright colors are a must
If patterns and prints are too preppy for your everyday style, but you still want to rock a summery frock or suit, don't fret. Some of our favorite summer wedding outfits for guests include a piece of clothing that's solid, bright, and colorful. Jewel-toned dresses — like yellow topaz or emerald green — are a great choice for anyone hoping to look sun-kissed and ravishing at a summer soirée. Just make sure you avoid any of these colors when choosing your summer wedding attire and you're in the clear. Guys can wear a color other than black if they're attending a more casual wedding, too. Gray, khaki, or even royal blue look awesome at a beach or backyard affair and is often much cooler than a dark-colored suit.
Keep your hair off your face
On a scorching summer's day or muggy summer's evening the last thing you'll want is your hair to become, well, a hot mess. Therefore, we suggest ladies wear an updo so they can keep their locks in place throughout the bash. A fishtail braid or even a loose romantic 'do will not just keep you from messing with your hair all day long, but will also add a whimsical feel to your summer wedding style. As for guys, you too can stay cool with your hairstyle by getting groomed a few weeks before the wedding. Keeping the hair short, neat, and off the face (with the help of some kind of grooming gel) will definitely have you looking stylish and fresh at any summer event.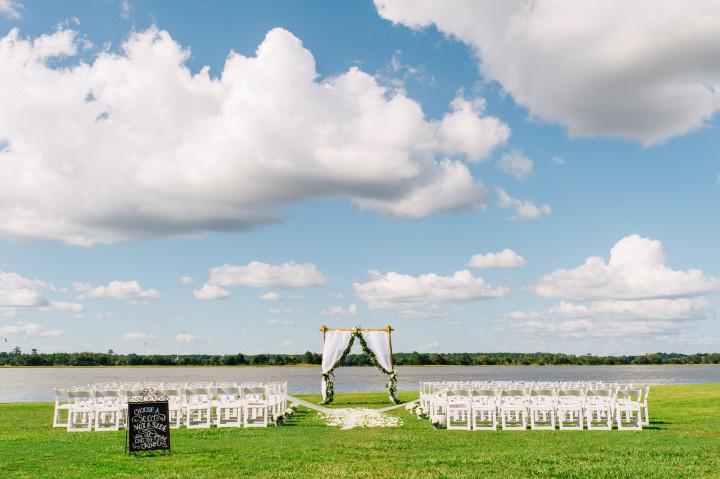 Consider wedges rather than heels
Guys have it easy when it comes to shoewear for a summer wedding. All they really need to do is avoid wearing flip-flops and stick to some kind of dress shoe. Girls, on the other hand, can have a range of shoe options. From heels, wedges, to flats it can be difficult to decide which will be perfect for your summer wedding style. Our go-to for summer wedding attire, however, is wedges. A wedge or block heel can be worn to almost any type of summer wedding and will definitely keep you from sinking into the ground if the event is outdoors. It's also much more comfortable than a stiletto and pairs well with a daytime or nighttime celebration.
Complement your look with the right accessories
After you've picked out your summer wedding attire, you'll need to find the right accessories that will go with the overall look. For gals, it can be hard to find the right jewelry that matches your patterned dress or brightly colored jumpsuit, but don't let that turn you off from accessorizing! You can almost always complement a summer look with a quirky or statement-worthy piece. Just make sure you don't choose anything that's over-the-top or clashes with your prints or colors. From double drop earrings, to abstract shapes, to even dangling pom poms, playful earrings, necklaces, and bracelets can definitely enhance your summer wedding style. Sea-inspired jewelry, like starfish studs, is also a must for guests attending a beach wedding — just sayin'.
As for handbags or clutches, you can absolutely bring something that is a little flashy as well. An embellished clutch with unique beading or rhinestones is guaranteed to get other guests asking you where you found such a killer bag. Not to mention, It's also great for keeping your go-to personal items, like your I.D., lip gloss, or travel-size perfume.
Stick to a soft makeup look
Sometimes less is more when it comes to perfecting your summer wedding style, so we suggest going with a (sort of) naked makeup look. Sticky and stuffy summer weather can cause makeup to smudge and smear — especially if you're trying to hit up the dance floor at the reception. Therefore, opting for light, neutral tones and just a bit of highlighter, of course, will let you achieve a beachy glow that's fabulous for a summer wedding. You can easily enhance your look with a pop of magenta pink or dusty rose color on your lips and cheekbones, too. Our only rule of thumb for summer makeup is to avoid any products that are too heavy or dark, so you can avoid a summer meltdown.