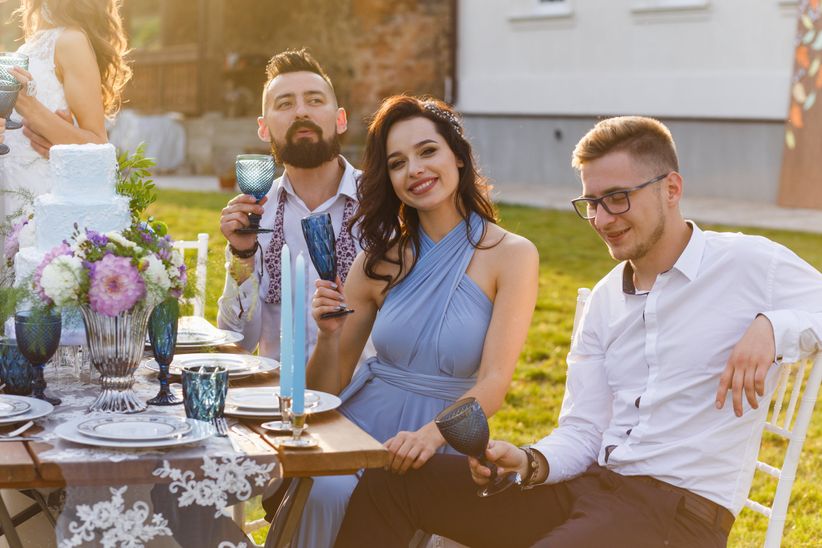 Let's be real: guys have it easy when it comes to casual wedding attire. All you really need to wear are some nice dress pants paired with a clean button-down or polo. For women, however, casual wedding attire can mean a lot of different outfit options. From jumpers to shift dresses to even flowy maxis, casual wedding attire for guests can not only be difficult to figure out but hard to buy, too. Ladies, we decided to help a girl out and round up some of the best online stores for you to find a killer outfit. Happy shopping!
Nail your casual wedding attire by shopping at one of these trendy stores.
Francesca's
Francesca's is a great choice for finding special occasion dresses, rompers, and jumpsuits for a casual wedding dress code. The popular boutique store has over 700 stores and a website where you can find an endless selection of eclectic clothing. Styles include feminine floral patterns, flirty ruffled sleeves as well as embroidered jumpsuits that are all totally fit for a relaxed reception. With new arrivals almost daily, you're guaranteed to find an outfit that will not only have you feeling good but will have other guests asking, "Where did you get that?"
South Moon Under
With 28 locations, an online boutique, and popular labels like Free People and Elizabeth & James, South Moon Under is the perfect place for fashion-forward guests to find casual wedding attire. South Moon Under carries a variety of dresses and rompers—from everyday styles to more dressy date night looks—that are all ideal for a casual fête. Each look evokes a beachy, boho vibe that you can easily dress up with a few accessories—like with some bangles or hoop earrings—to really amp up your party look.
Madewell
Shoppers looking for an effortlessly chic outfit to wear to a casual wedding should definitely check out Madewell. Known for having great jeans, Madewell also houses a ton of womenswear clothing that guests can totally jazz up and wear to a backyard wedding or laid-back event. Their dress selection includes trendy midi dresses as well as styles with flutter sleeves, abstract patterns, and other looks accessorized with sweet and delicate touches. If you're hoping to wear something other than a dress, Madewell also has an array of jumpsuits and rompers that are perfect if you have an offbeat or quirky style.
Lulus
Trendsetters trying to find casual wedding attire will love Lulus. Lulus is an online store that has a wide variety of casual and cute dresses that you can wear to any type of wedding. Simply browse through their "Wedding Guest Dresses" where you can scroll through various statement-worthy looks and find a dress that's short and playful. The best part is all of these modern styles and pieces are priced affordably! So, if you're hoping to wear a Insta-worthy dress (or even a jumpsuit!) that gives off a relaxed vibe, definitely shop at Lulus.
Tobi
Another online retailer that carries casual wedding attire for guests is Tobi. Tobi provides guests with a huge selection of outfit options, thanks to their "Dresses," "Jumpsuits," and "Rompers" categories. From summery, off-the-shoulder styles to evening dresses, you can find the hottest trends at this fast-fashion retailer. Worried about what shoes to wear to the big event? Tobi has a shoes and accessories section that shoppers can browse to complete their overall look. Whether you're hoping to find a sleek bodycon dress or perhaps looking for a strapless jumpsuit, Tobi is a one-stop shop for wedding guests.