The 12 Best Wedding Registry Websites Ever
So, where should you register for your wedding? Here's how to decide on the best wedding registry websites so you can choose your perfect gifts.
We have included third party products to help you navigate and enjoy life's biggest moments. Purchases made through links on this page may earn us a commission.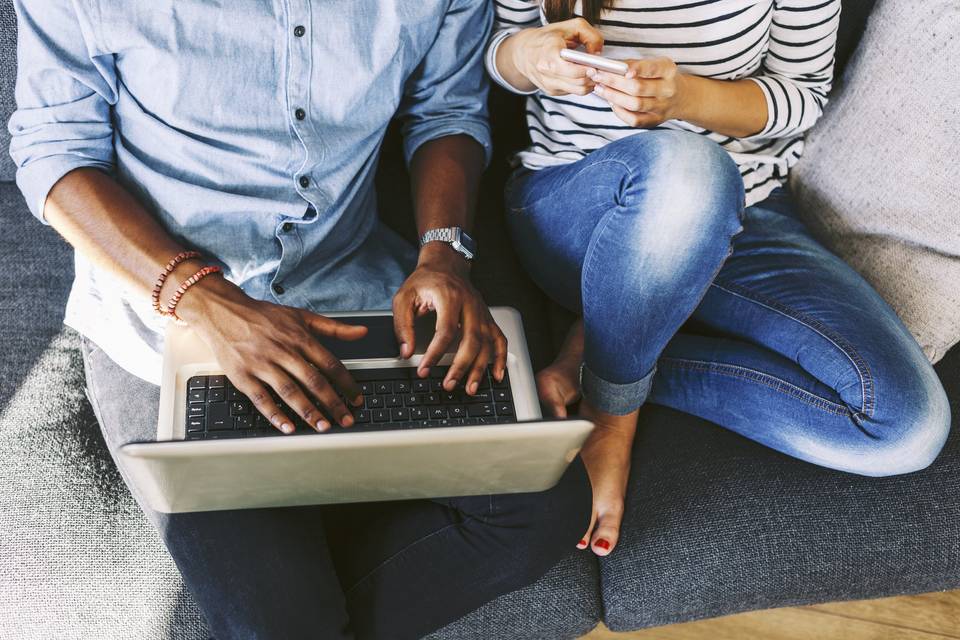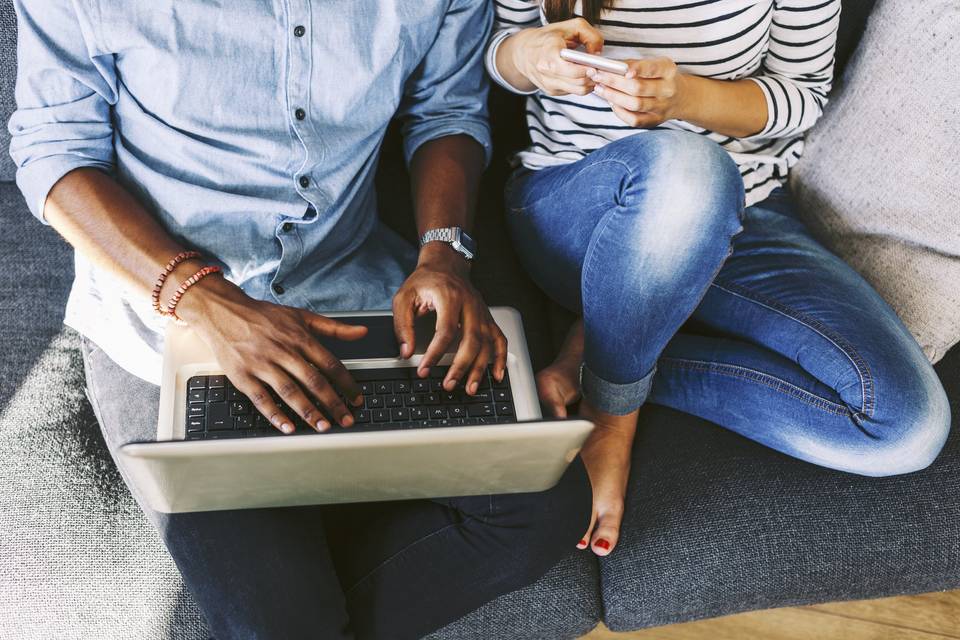 Creating your wedding gift registry online makes the whole process easy and stress-free—and luckily, some of the best wedding registry websites are ones you probably already know (and love!). Nowadays, couples are choosing to mix and match their registries—registering for traditional gift items, sure, but also adding honeymoon experiences, cash funds, and charitable donations to their universal wedding registry, as well. While having so many registry options is indeed a good thing, deciding where to start and finding the best wedding registry websites can be a bit daunting. So, where should you register for your wedding gifts? Here's how to decide.
First things first, create a universal registry.
Instead of focusing on individual retailers at first, focus on finding the best universal wedding registry. WeddingWire Registry lets you add and manage traditional retail registries at both online and brick-and-mortar stores from Amazon to Bloomingdale's (hello, china and champagne glasses!), while also allowing you to add experiences (think: honeymoon airfare or massages, or even theater tickets) and cash gifts (perfect if you're planning a major purchase, like a house or a car) in the very same online wedding registry. The process is super-simple—and the fact that you'll have a single, streamlined wish list will make things easier for your guests, too. Now comes the fun part—choosing the best wedding registry websites from which you'll choose all the gifts you'll receive. Don't forget to share your registry information on your wedding website so your guests know exactly where to shop!
The Best Wedding Registry Websites
Amazon
Whether you need to fully stock a new home or would prefer to create a gift registry that includes nontraditional items, Amazon is a great place to start. You'll find everything from homewares to luggage, electronics, and more. You're probably already familiar with Amazon's fast shipping—great for couples who are getting married on a shorter timeline—and easy returns. And if you're an Amazon Prime member, you'll receive a one-time 20% completion discount for any items left on your registry after your big day. Amazon also makes purchasing group gifts a breeze, perfect for those larger, more expensive items you'd like to register for.
Bloomingdale's
You can get a lot done at Bloomingdale's department store for your wedding—from choosing registry gifts to buying that perfect rehearsal dinner outfit. But that's not the only reason it's one of the best wedding registry websites. Aside from offering one of the widest selections of home goods out there, you'll have access to experienced registry consultants who can help you pick the right registry items for your newlywed home. You'll also receive 20% off certain wedding-related attire before the big day, as well as a 20% completion discount after your wedding date. And Bloomingdale's also offers fun in-store events for registry customers, like spa days and men's styling consultations (a perfect break from wedding planning!). Plus, their partnership with The Travel Siblings gives you access to honeymoon planning and additional benefits.
Bed Bath and Beyond
If you and your partner are starting from scratch when it comes to outfitting your home, Bed Bath & Beyond is one of the best wedding registry sites for you. With so many store locations, you can scout out the items you want to add to your online registry in advance. And since your wedding guests are probably familiar with Bed Bath & Beyond already, they will love the ability to use their frequently-offered coupons on your wedding gifts! Bed Bath & Beyond also offers a discount on any items you don't receive from guests that you may want to purchase yourself post-wedding.
Wayfair
Is home decorating your passion? If so, you should definitely set up your wedding gift registry at Wayfair, which has an incredible array of home décor, furniture, and of course, registry staples like kitchenware, linens, and more. Wayfair also makes it easy for your guests to purchase those big-ticket items (new couch!) by allowing for easy group gifting. And if you need help with your registry, they have a dedicated team of registry specialists ready to assist you. Wayfair also offers a 10% completion discount.
Crate & Barrel
We love the modern and clean aesthetic of Crate & Barrel's product line—plus all of the retailer's affordable price points and unique wedding registry perks. For example, you'll get a 10% discount for a full six months after your wedding—not just on products you register for, but on pretty much anything from their store (including furniture!). Your friends and family will love receiving free shipping on any registry purchase over $99. Special gifts and events are added bonuses, too! If you're interested in furniture and home decor, head over to Crate & Barrel's sibling store, CB2, which offers many of the same wedding registry benefits.
Target
If you're a fan of the red bullseye, you'll be delighted to know that setting up an online registry at Target is a breeze—it's one of the best registry sites around. There's a wide variety of products to choose from—lots registry staples, of course, but also items you won't find at other retailers. Plus, you'll be able to reap the benefits of Target's easy return policy—you can return and exchange items from your registry for up to a year after your wedding. Target also offers a 15% discount on anything left on your registry after you tie the knot.
Williams Sonoma
Whether you're an aspiring chef or just a Top Chef fan, Williams Sonoma is among the best wedding registry websites for foodies and those who want to ensure their kitchen is stocked with the best cookware. You'll be able to make a one-on-one free appointment with a registry specialist to help walk you through all of the store's offerings. You'll also be eligible to receive free gifts, attend private shopping events, and get a 10% discount on unlimited purchases up to 6 months after your wedding day. Oh, and you can register for gift cards, which can be used at Williams Sonoma's sibling stores, Pottery Barn and West Elm (returned merchandise credit can be used at those retailers, as well).
REI
If you and your future spouse love the great outdoors, REI may be the perfect registry for you! You'll find everything on your outdoorsy registry checklist here, from camping gear to fitness-related items and much more. And after your event date, you'll receive 10% off any remaining items in your gift registry for one year. D
Sur La Table
One of the best wedding registry websites to fully outfit your kitchen, Sur La Table also has some amazing benefits for couples. You'll have access to a registry concierge to help you pick the right cookware and other products, and in-store registry events. Plus, there are some truly incredible bonus gifts, including a free popcorn maker for those who register for more than $150 in Cuisinart products—even more gifts are available after wedding gifts are purchased. And there's a 10% completion discount after the big day.
Pottery Barn
Pottery Barn's commitment to quality, sustainability, and style makes it a fabulous wedding registry website to consider. There are so many gift ideas to choose from, including bedding, furniture, outdoor items, dinnerware, and much more. To help you decide exactly what you want and need, you'll have access to Pottery Barn's registry specialists and special events. There's also a 10% completion discount for any registry items purchased after your wedding date.
Anthropologie
If your taste runs more whimsical than traditional, Anthropologie may be the best wedding registry website for you to create your gift list. You'll find some of the most unique wedding registry gifts out there, plus after your wedding date, you'll receive a 15% promotional code which you can use to purchase the remaining items on your registry for 90 days. We also love Anthropologie's simple-yet-chic gift wrapping.
Traveler's Joy
For couples who already have a fully-stocked home, a honeymoon registry may be an appealing option. With Traveler's Joy, guests can contribute to your honeymoon fund by purchasing products or services related to your trip of a lifetime. For example, your loved ones can pay for your airfare and accommodations, as well as dinners out, spa services, snorkeling expeditions, golf lessons, and more—and you'll receive the cash to make it all happen. A few benefits to registering with Traveler's Joy: They only charge a fee when a gift is paid for with a credit card (no fees for gifts provided via cash or check), no upgrade fees, freedom to arrange your travel however you'd like, and funds can be sent directly to your checking or Paypal account.