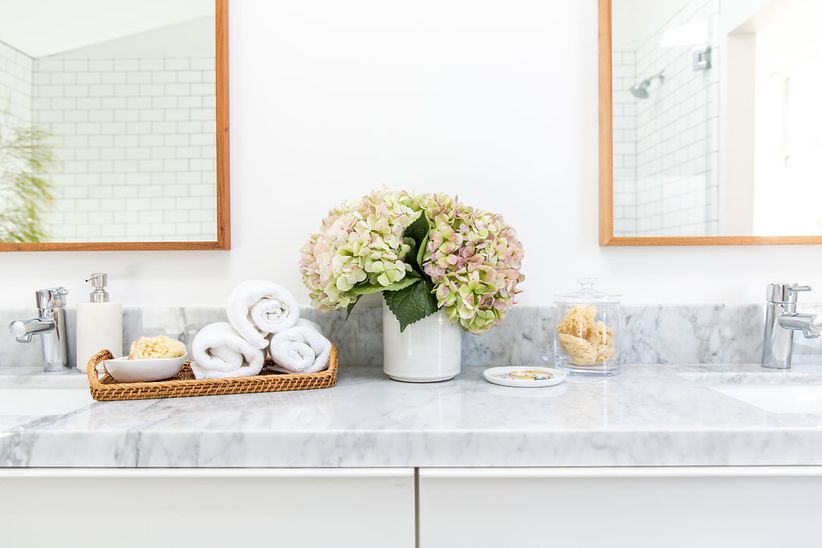 Your bathroom may be one of the smallest rooms in your home, but that doesn't mean it should be forgotten when it comes to choosing the best wedding registry items. In fact, by registering for towels and other bathroom accessories, you'll give a basic bathroom a luxurious, spa-like ambiance and upgrade. Fortunately, Crate and Barrel offers a variety of top-notch registry items for your bathroom to help turn your bathroom into a Zen haven.
Check out some of the best wedding registry items for your bathroom, all from our friends at Crate and Barrel.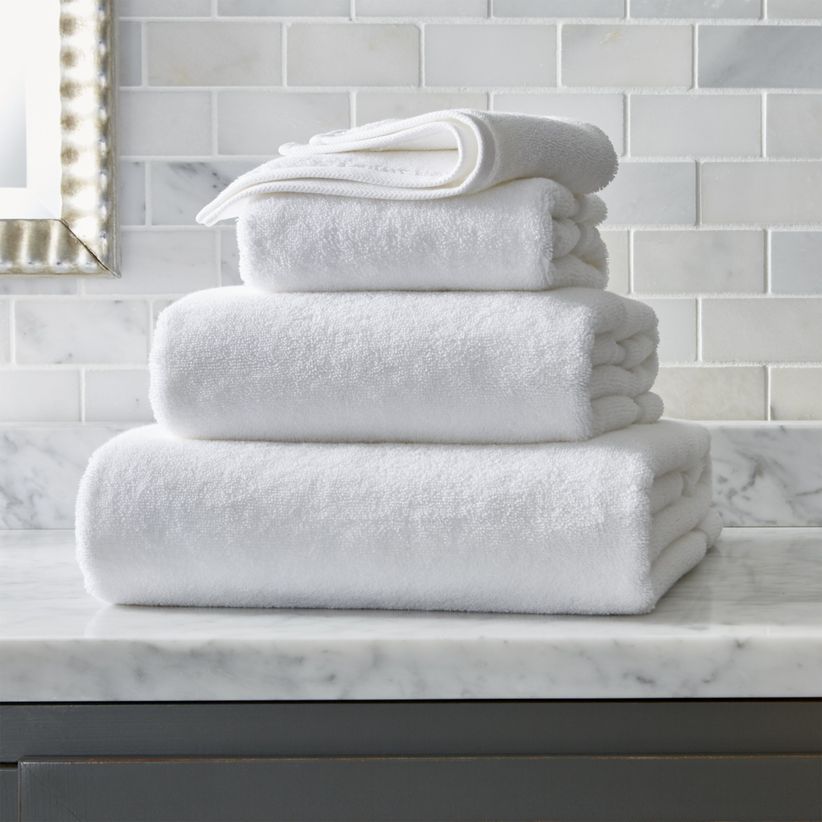 Towels
There's a reason why towels are among the best wedding registry items—they can instantly give your bathroom a major upgrade. We recommend registering for at least six bath towels, hand towels, and washcloths, and perhaps a few extra sets for guests and powder rooms. While white towels are the ultimate classic, feel free to choose a hue that matches your style and décor.
Turkish Cotton 800-Gram White Towels, Crate and Barrel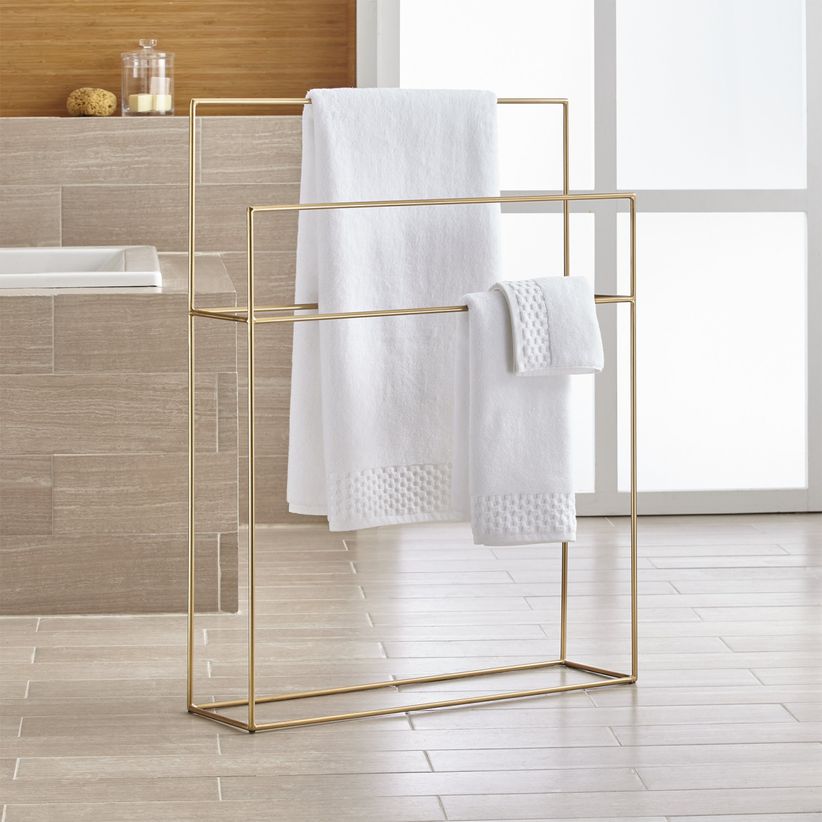 Towel Rack
Smaller bathrooms can be tricky to decorate. With such limited space, you might feel like your options are limited. But with a fashionable and functional gold towel rack, you'll not only have space to display and store lots of towels, you'll also have a modern décor piece that gives your bathroom a contemporary edge.
Jackson Brushed Gold Standing Towel Rack, Crate and Barrel
Canisters
If you're a product fiend, it can be difficult to keep your bathroom organized. These glass canisters are super-helpful in this regard. They come in a variety of sizes to fit everything from brushes to cotton swabs, combs to sponges in their place, but because they're transparent, you can easily see and access all of your bathroom accessories.
Glass Canisters, Crate and Barrel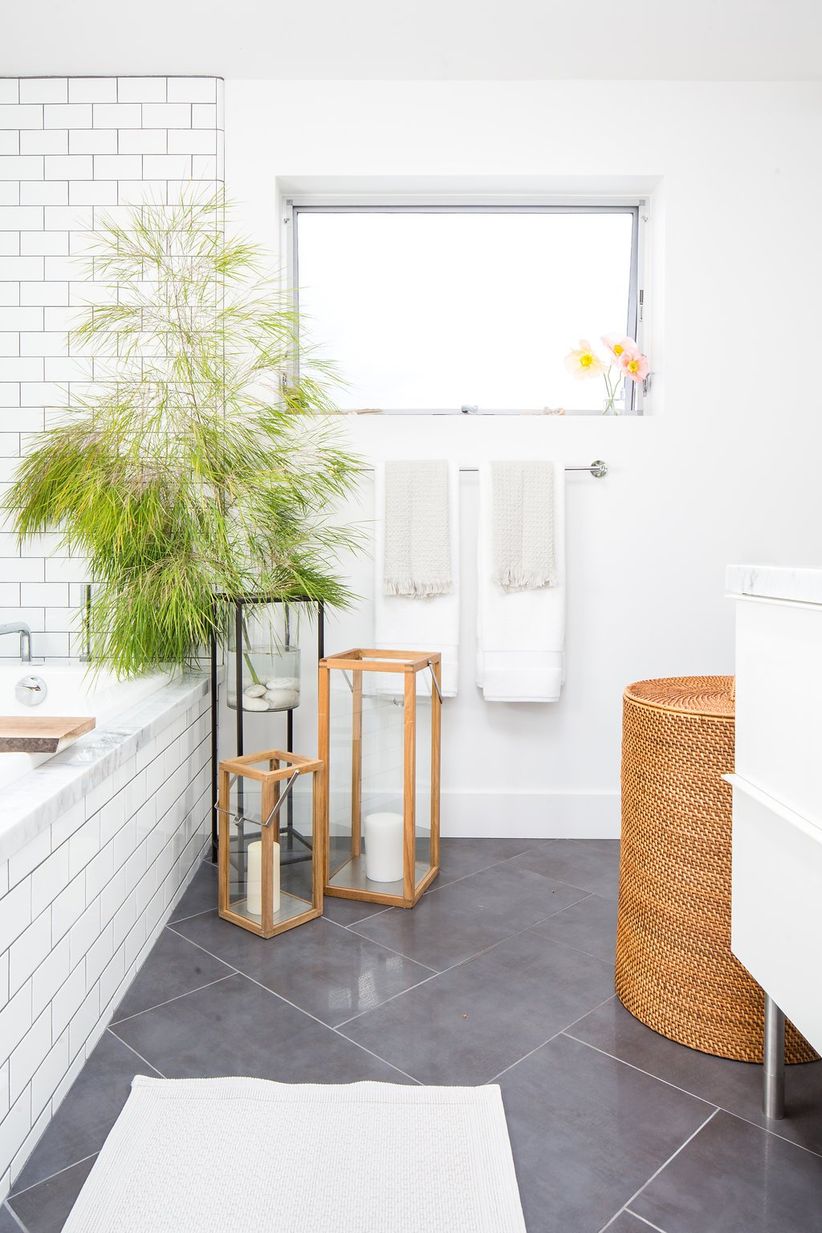 Hampers
Unless you're living in a college dorm, it's no longer acceptable have dirty clothes strewn all over your room—or in a ball in the corner of your closet. A rattan cylindrical hamper is not only a must to keep your house neat, it's also a pretty and stylish addition to your bathroom—definitely one of the best wedding registry items for your bathroom. Don't forget to register for hampers for guest bathrooms, as well!
Sedona Hamper in Honey, Crate and Barrel
Bathroom Décor
You spend a good deal of time in your bathroom so don't skimp when it comes to decorating this space. Of course, it's important to register for bathroom essentials, but décor items, like these teak lanterns can give your once-bare bathroom a major upgrade. Plus, these touches of décor add a real Zen feel to your bathroom, making it all the more spa-like.
Crosby Teak Lanterns, Crate and Barrel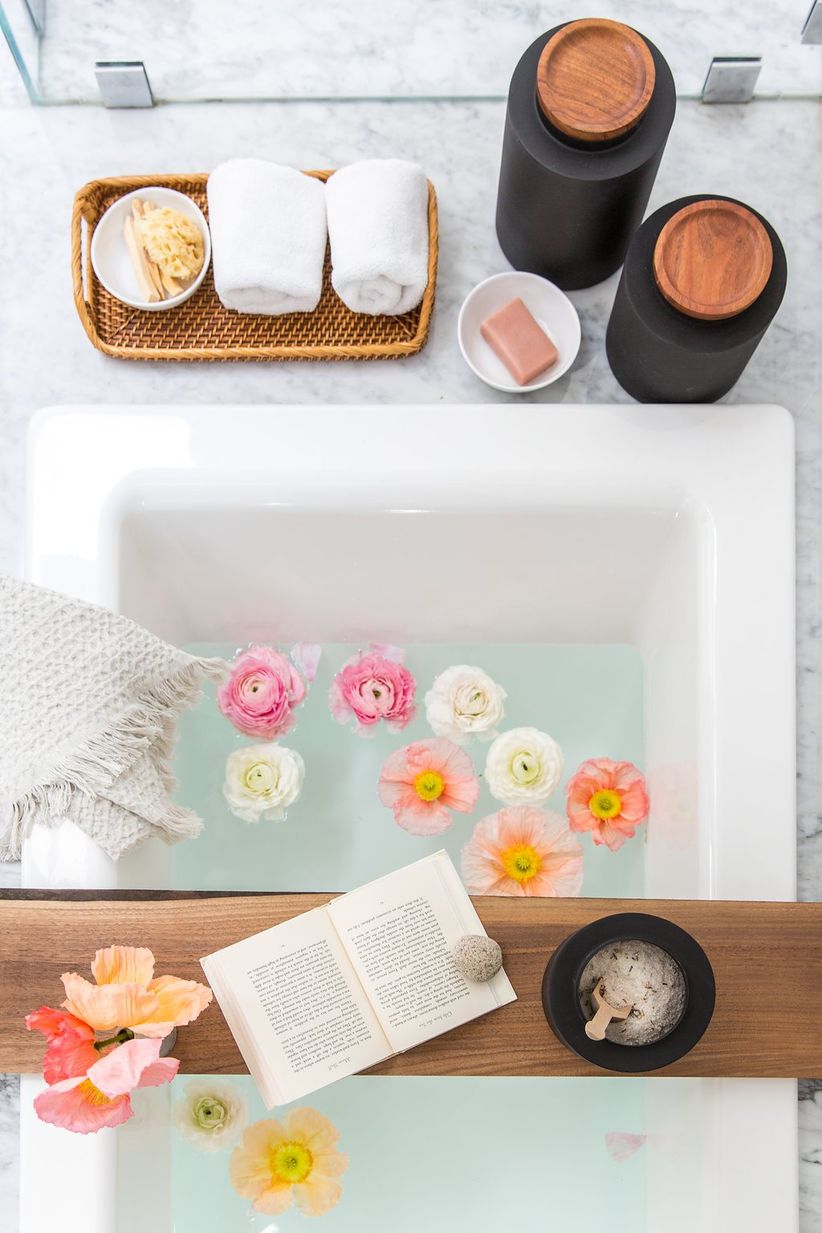 Vanity Tray
You might be asking "what the heck is a vanity tray?" Well, it's one of those items you didn't know you totally needed. A vanity tray is, yes, a tray that you can keep near your sink or bathtub to hold items like washcloths, hand towels, a ring dish, shaving accessories, beauty products, really whatever you want, so they're not just sitting on the countertop. It's one of the best wedding registry items to keep your bathroom looking put-together.
Sedona Vanity Tray and Clark Matte Black Canisters, Crate and Barrel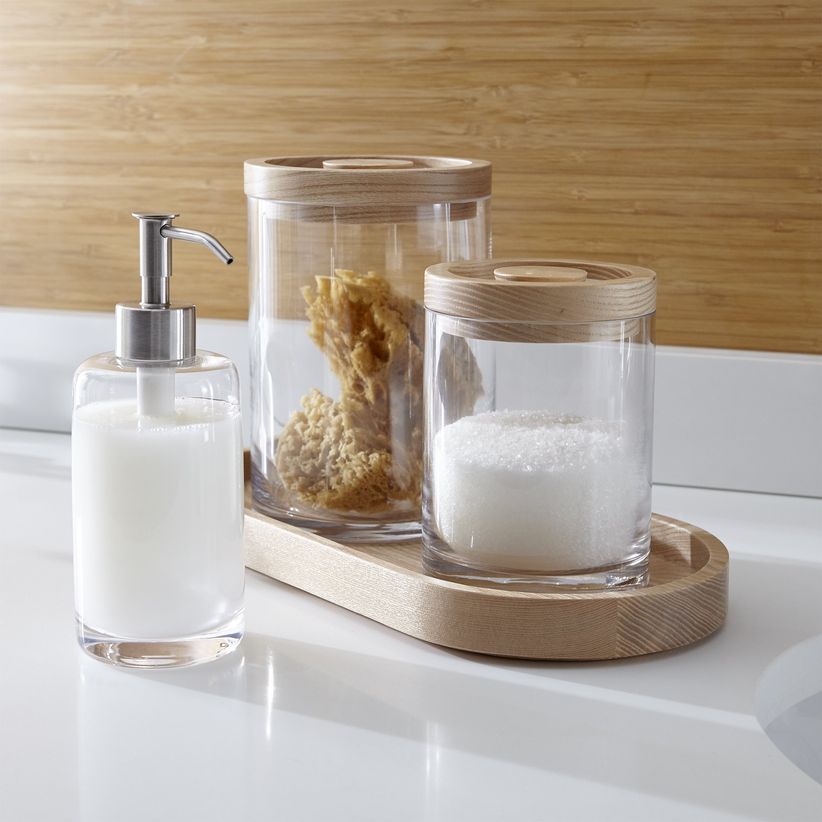 Soap Dispensers and Other Bath Accessories
Again, setting up your wedding registry is all about upgrading to a more functional and stylish lifestyle. Sure, you could keep your liquid soap in the plastic dispenser you got from the drugstore, but wouldn't a glass soap dispenser look so much nicer on your countertop? Bath accessories like soap dishes and dispensers, toothbrushes holders, tissues box covers, and waste baskets, might have seemed optional in the past, but now that you're married and living like adults, they're essential.
Ola Wood and Glass Bath Accessories, Crate and Barrel