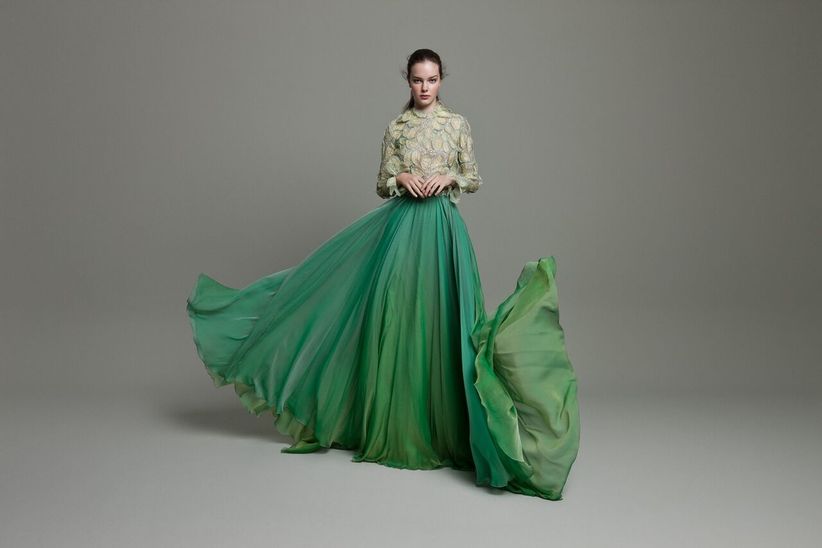 We first saw designers in the Spring showcase a variety of soft pastel-colored wedding dresses and it looks like this fad isn't going away anytime soon. Colors are just going to get brighter and bolder when it comes to 2019 wedding dresses, and we're totally here for it.
Wedding dresses with a pop of color can easily transform your bridal look into something spectacular and statement-worthy. So, if you're hoping to steer away from tradition by not wearing white on your wedding day, then check out these one-of-a-kind, colored wedding dresses.
Brides hoping to wow the crowd on their big day should opt for one of these colored wedding dresses.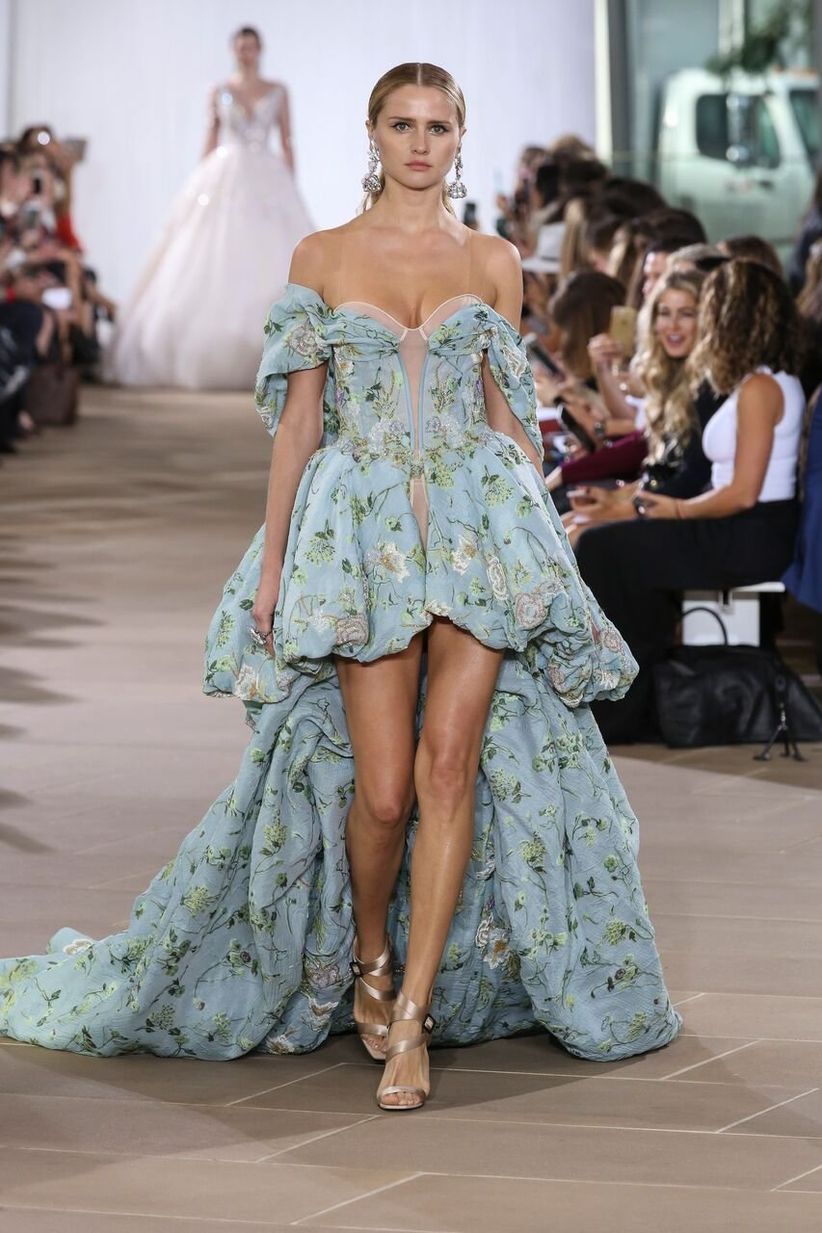 Dress: Ines Di Santo
Sky Blue
Along with Ines Di Santo's shocking high-low skirt, this sky blue colored wedding dress melts our fashion-obsessed hearts. The hue is richer and darker than muted colorful wedding dresses that we've seen in the past.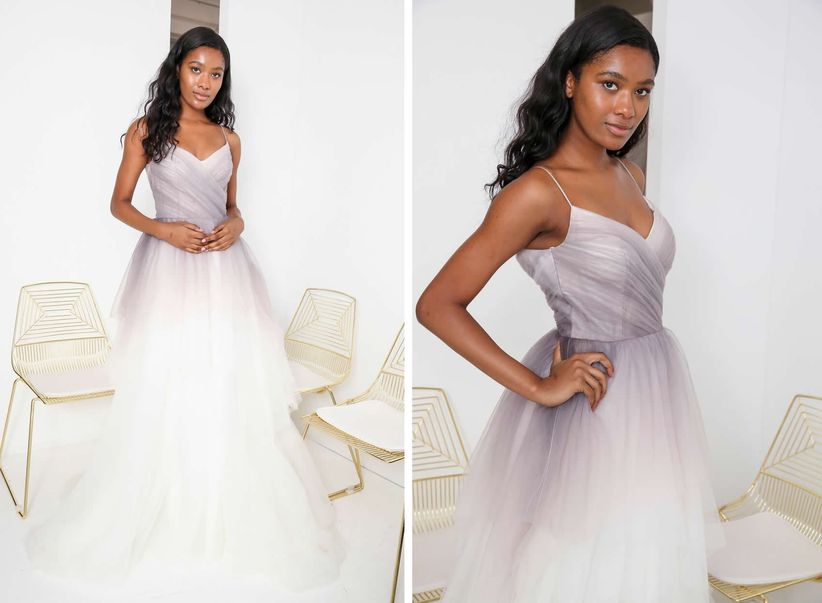 Dress: Ivy & Aster
Mauve Purple
The dark mauve purple ombre on this spaghetti-strapped, tulle layered gown is a definite must-try for trendy brides looking for a colorful wedding dress.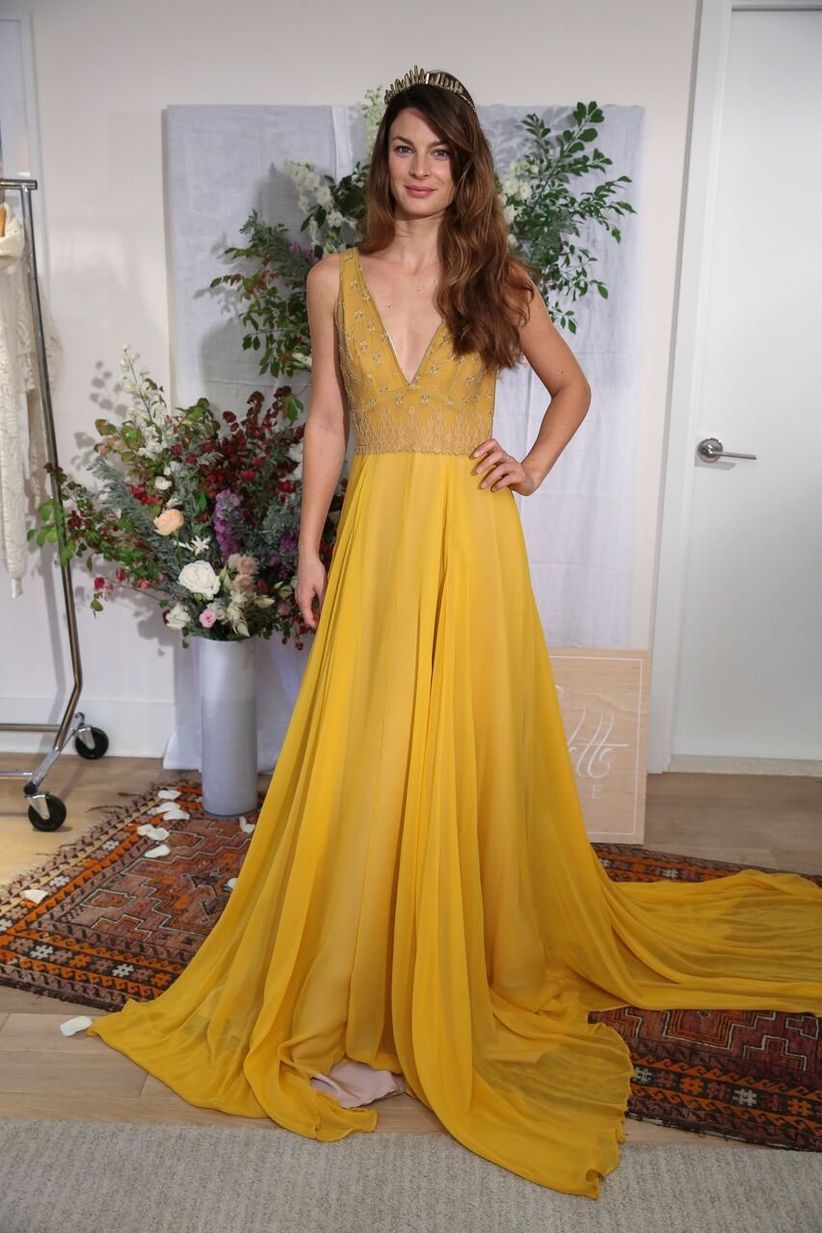 Dress: Loulette Bride
Bumblebee Yellow
Boho-chic brides will fall in love with this bumblebee-yellow colored wedding dress. The honeycomb color is even paired with mini (and adorable!) bumblebee embroideries, too.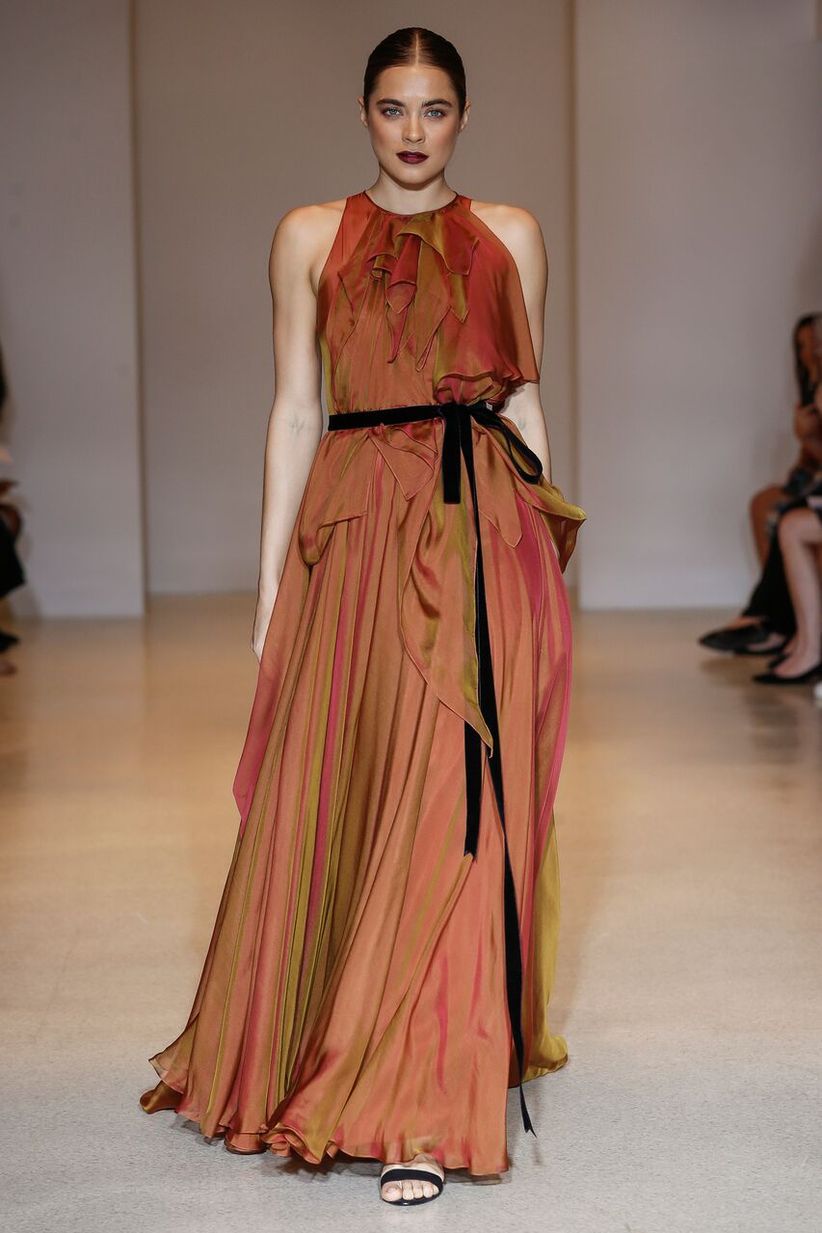 Dress: Carol Hannah
Burnt Orange
Don't think you can pull off the street stylin' safety orange, but still want to don a vibrant color? Opt for this more subdued burnt orange beauty. The rich color will definitely make your guests ooh and ahh over your wedding day look.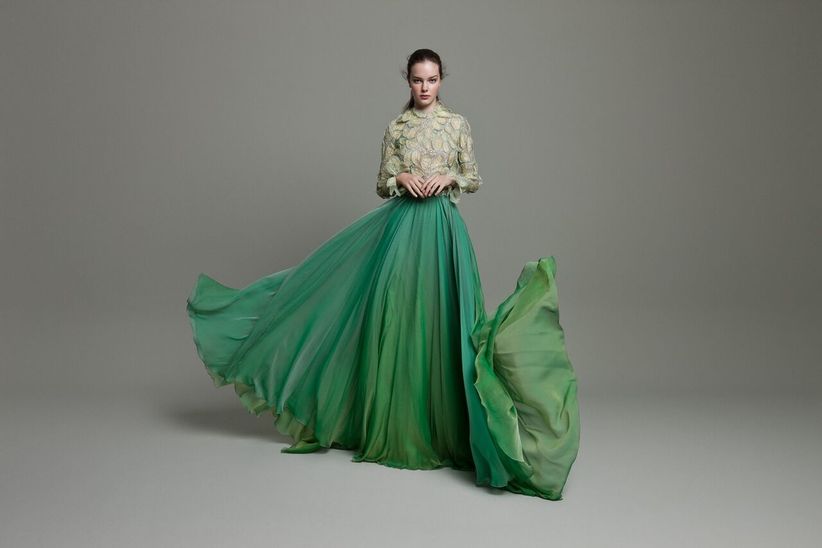 Dress: Daalarna
Emerald Green
If you're a fan of sultry jeweled tones, then we think this emerald green masterpiece is just for you.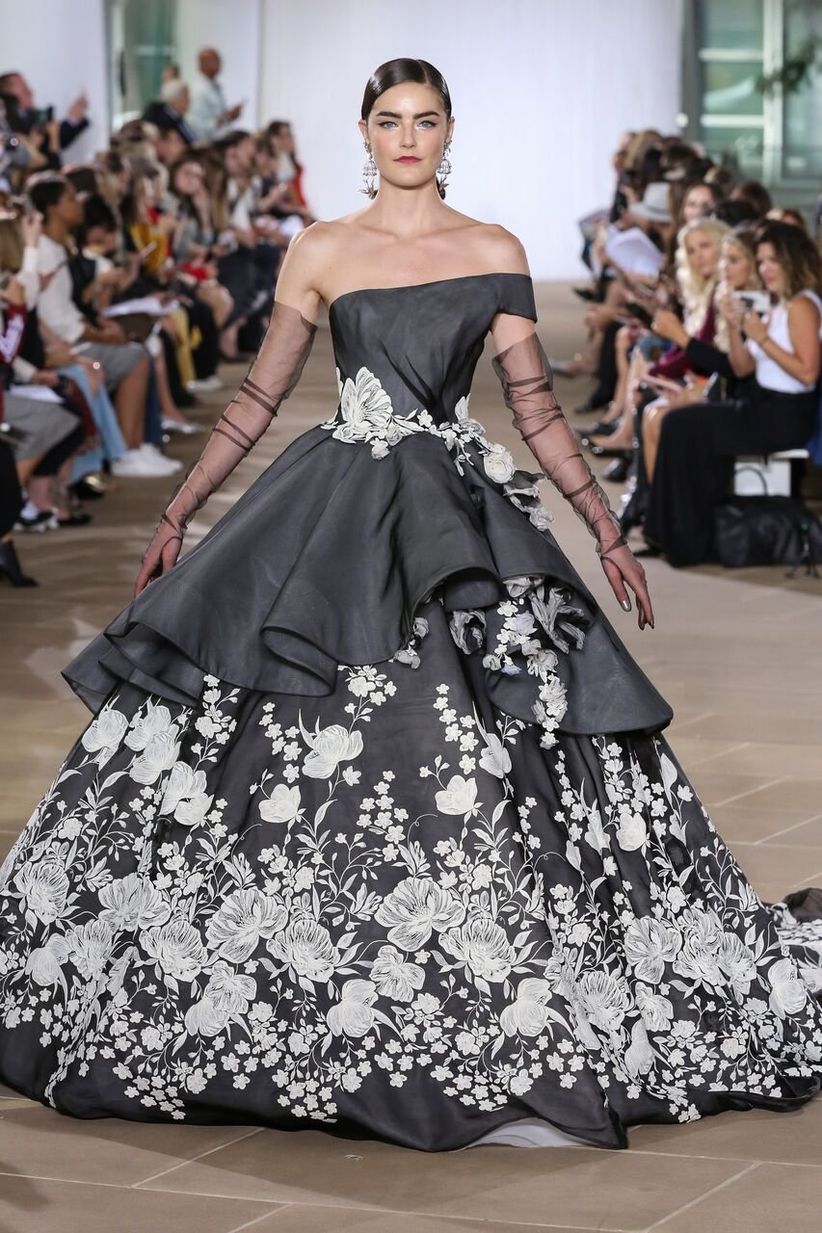 Dress: Ines Di Santo
Black
Black and white colored wedding dresses are perfect for classic brides wanting to give their traditional look a major upgrade.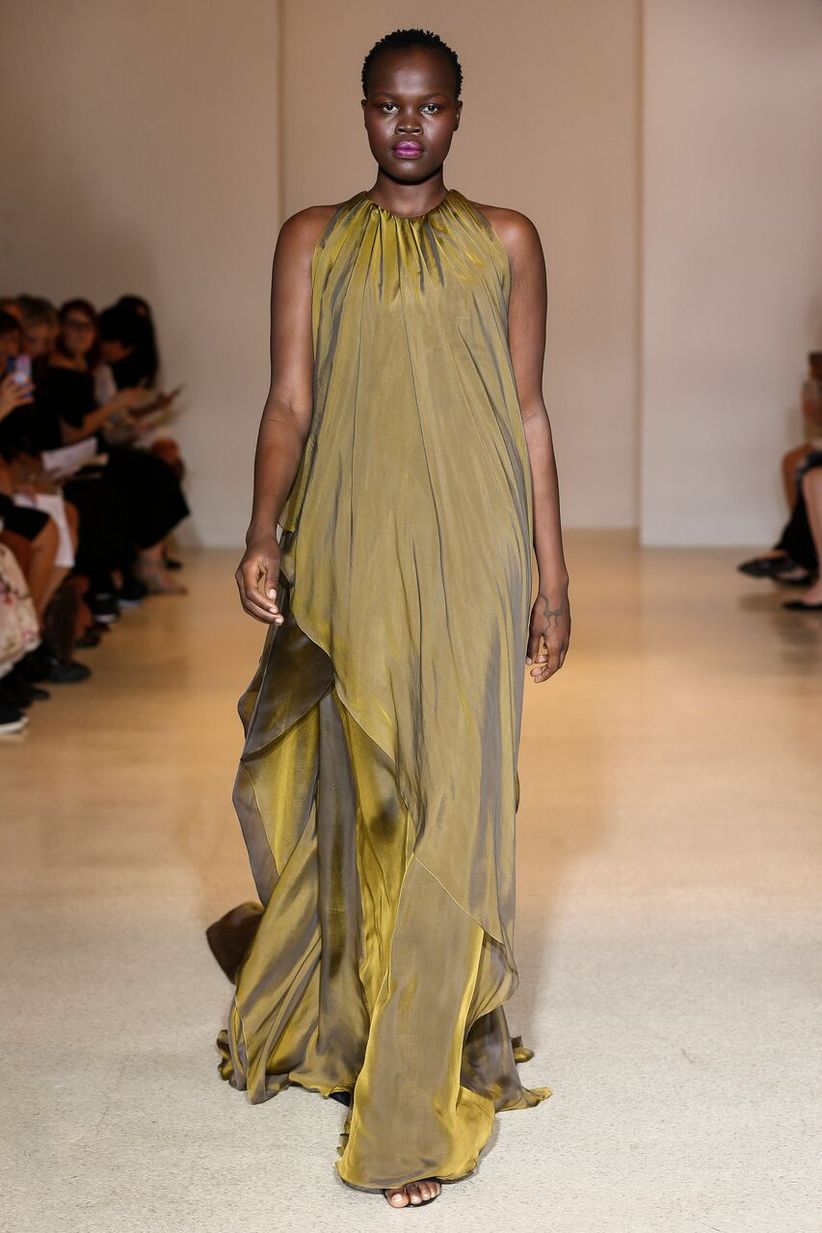 Dress: Carol Hannah
Olive Green
This olive green wedding dress is made for the fashion-forward bride. We especially love the draped chiffon fabric, too.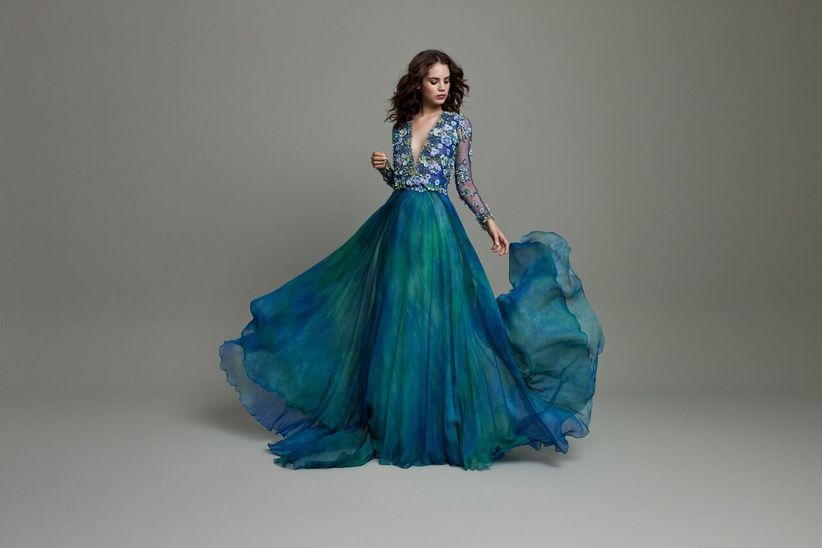 Dress: Daalarna
Sapphire Blue
Can't choose between two colors? Why not opt for this gorgeous sapphire blue and emerald green gown? It definitely gives us major garden vibes, thanks to the floral applique bodice and watercolor-inspired skirt.
Dress: Vera Wang
Safety Orange
It's true. Safety orange is the new black, or should we say white. So, we think this Vera Wang gown accessorized with a safety orange sash is a fab choice for 2019 brides.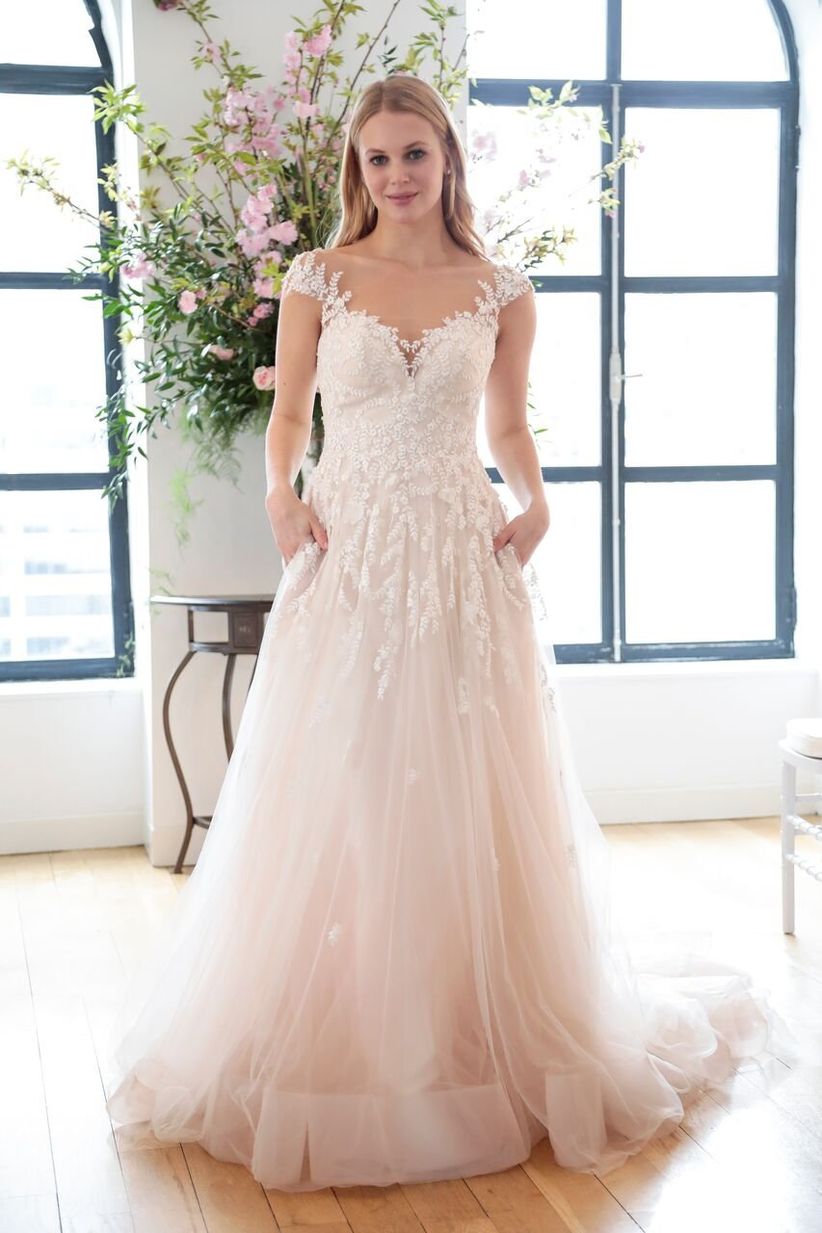 Dress: Kelly Faetanini
Blush
Looking for a color that's light and subtle? This soft pastel pink is a fabulous choice for brides looking to wear a hint of color on their wedding day. From feminine and flirty blush dresses to ombre skirts, this sweet and chic pink is a great choice for modern brides.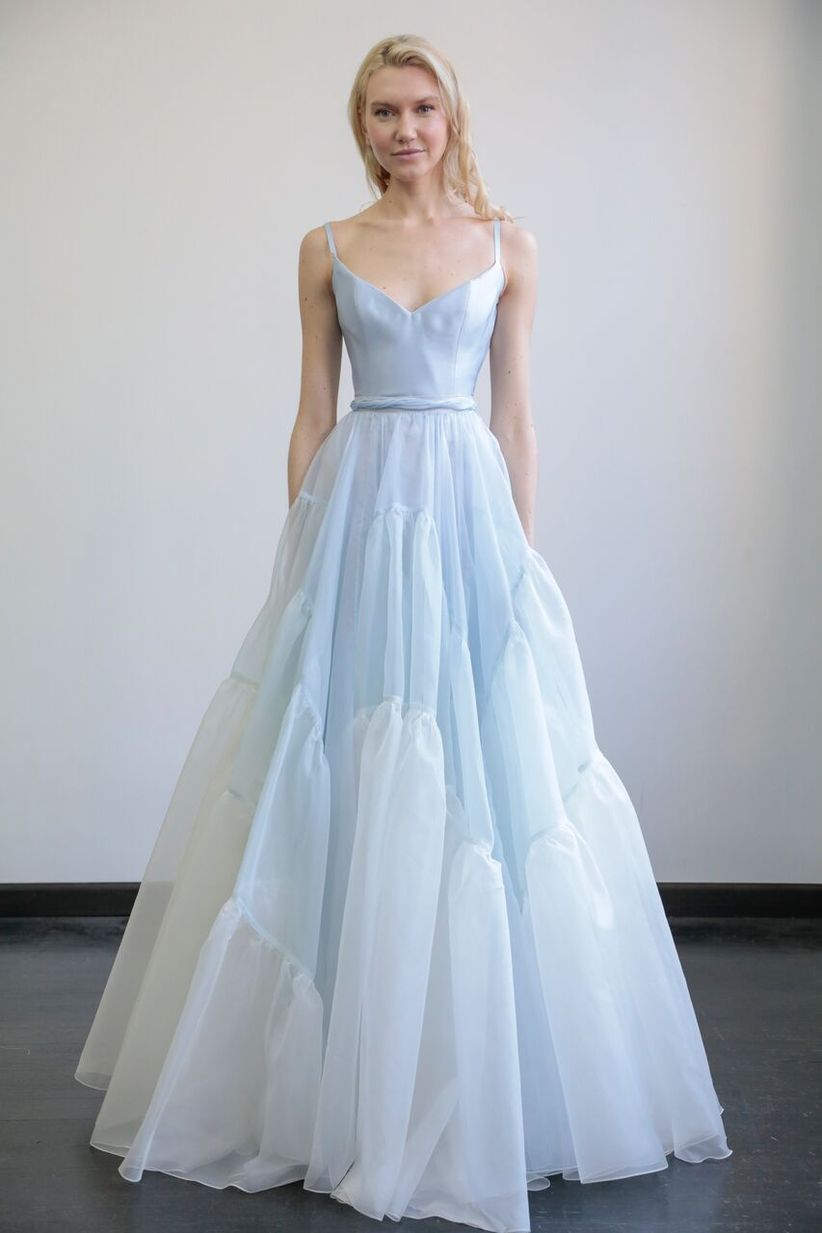 Dress: Leanne Marshall
Muted Blue
Another soft color choice brides will love wearing on their big day is muted blue. A pale blue wedding dress is a playful pick and is also perfect for a waterfront soiree. The best part? Your gown can double as your something blue, too!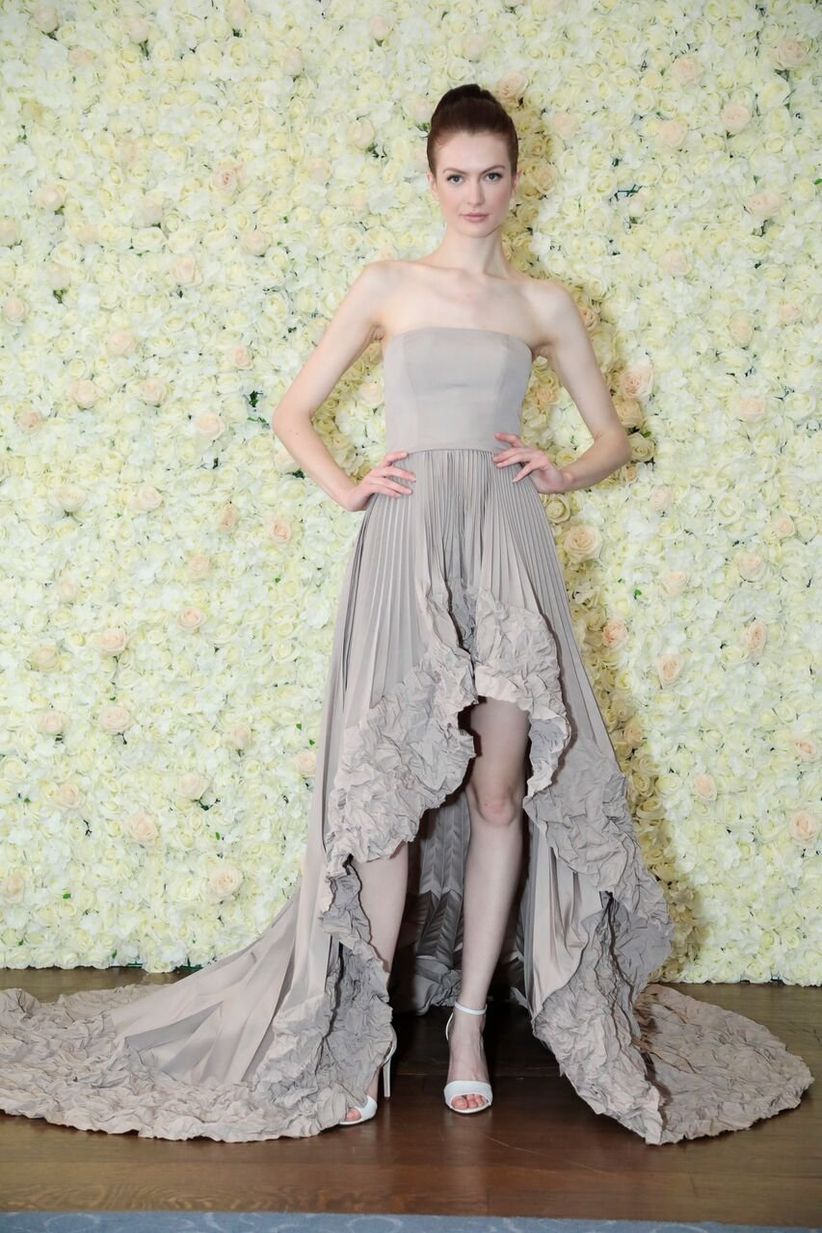 Dress: Sareh Nouri
Oyster Gray
Oyster gray, which used to be a popular bridesmaid dress color, is also a great choice for brides who're hoping to wear something other than white. The light gray (similar to dove gray), creates a boho look that's totally made for free-spirited or modern brides-to-be.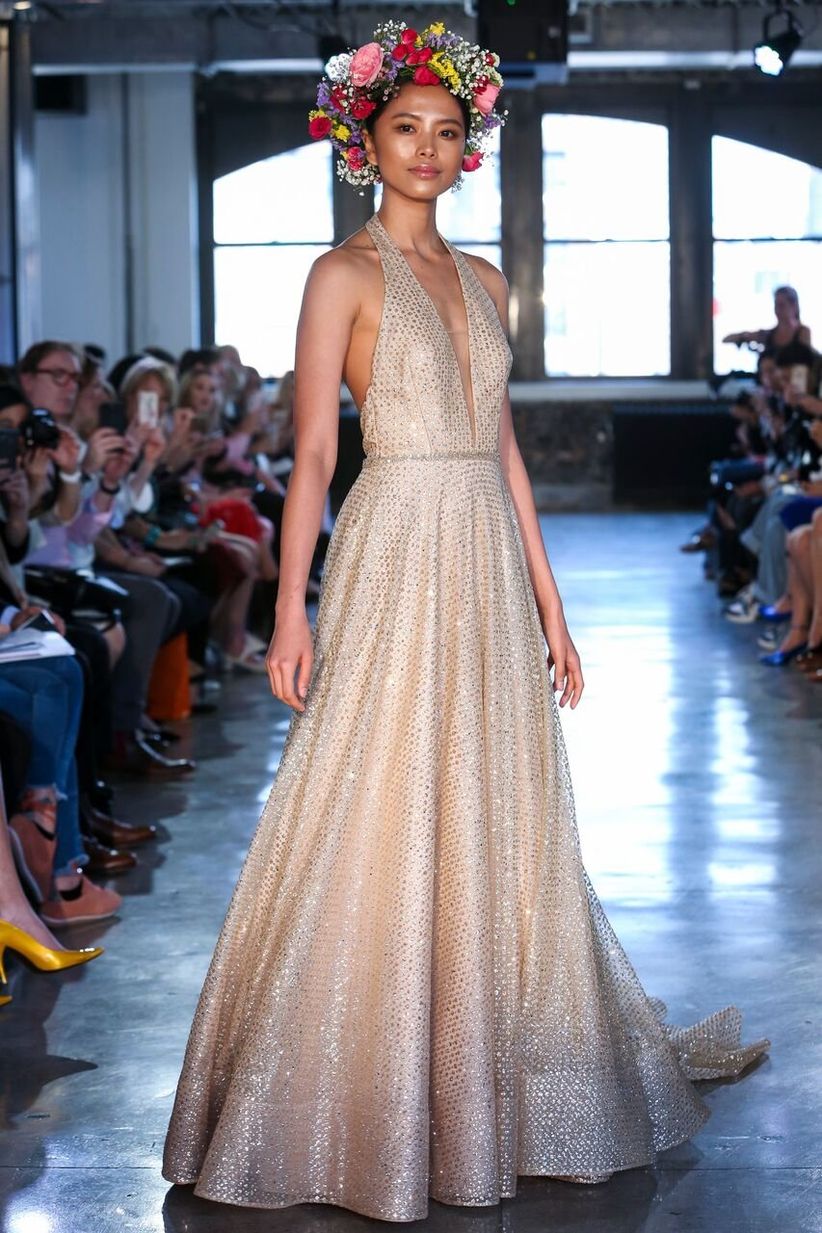 Dress: Wtto by Watters
Gold
Brides who love glitter, sequins or anything that's bedazzled should opt for a gold wedding dress. Gold wedding dresses create a dramatic bridal look that will definitely have your guests talking about your dress for years to come. Whether you go for a gown with gold embellishments or choose a dress that's covered in gold details, you'll feel like royalty wearing this color choice.
Dress: Galia Lahav
Silver
If you love metallics, but prefer silver over gold then why not opt for a silver wedding dress? Silver wedding dresses also create a show-stopping look that's fit for any glamorous bride-to-be. These dresses are ultra-chic and can easily create a sultry vibe with the help of shining silver embellishments and details.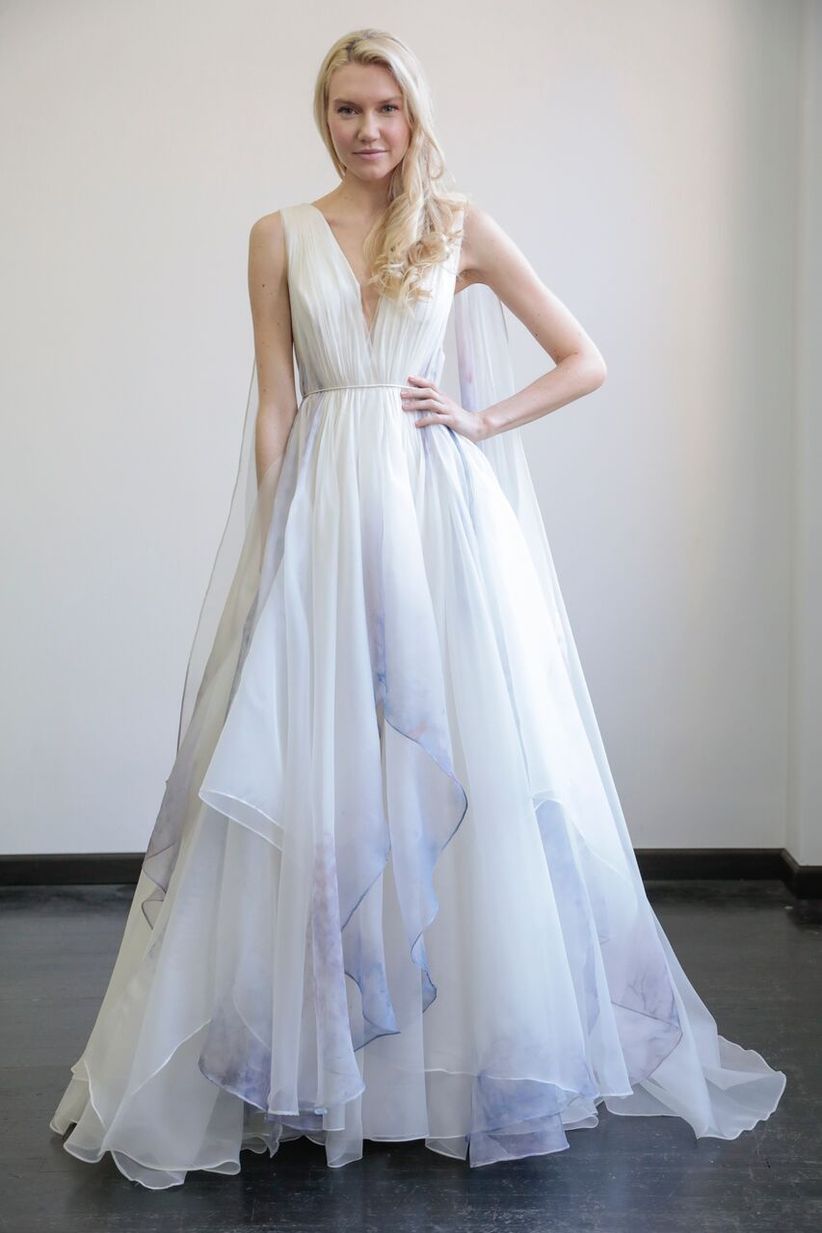 Dress: Leanne Marshall
Iridescent
Brides who love mythical creatures (like unicorns or mermaids) and are hoping to wear a wedding dress that's whimsical and playful should definitely look into an iridescent gown. Multi-colored wedding dresses create a dreamy look that will leave your future spouse wonderstruck. From gowns with iridescent fabric to dresses with multi-colored floral appliques, iridescent colored wedding dresses are fit for any unicorn-obsessed bride-to-be.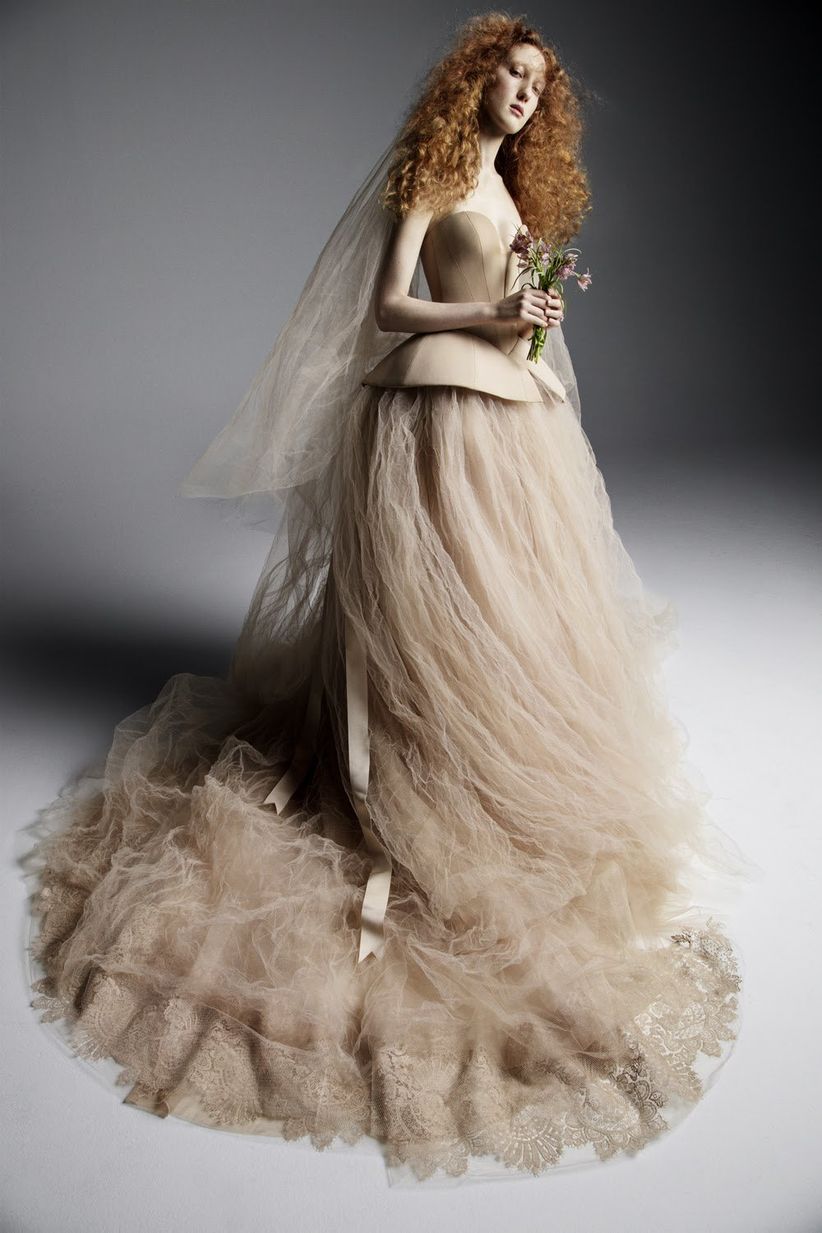 Dress: Vera Wang
Mocha Brown
A moody color choice, mocha brown is a rich hue that's fit for an autumn or winter celebration. The dark brown adds a sensual and mysterious look, since it's much darker than the traditional white wedding dress. Fashion-forward brides should definitely try a mocha brown wedding dress.