18 Colored Wedding Dresses for the Bride Who's Anything But Basic
We love a statement bridal moment. If a white gown isn't your style, these examples of unique wedding dresses with color will definitely speak your language.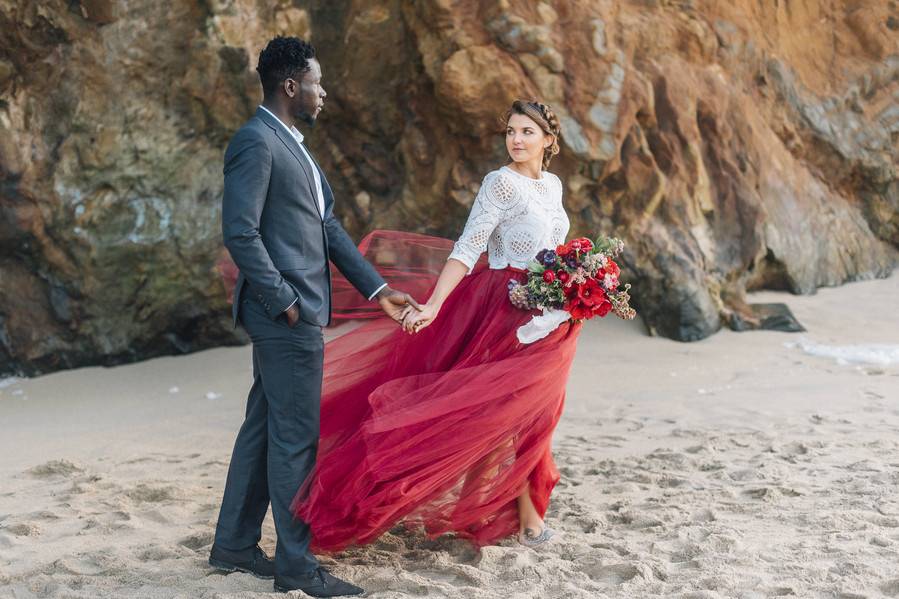 Wedding dresses with a pop of color can easily transform your bridal look into something spectacular and statement-worthy. If you're hoping to steer away from tradition by not wearing white on your wedding day, colored wedding dresses are the obvious choice, but picking a color and ultimately finding a gown style that reflects your vision can be easier said than done. Regardless of your wedding theme, it can be helpful to look at how real brides actually pulled off colored dresses to get an idea of what will or won't work for you—and you might even come across something you hadn't thought of yet. If you're hoping to wow the crowd on your big day, start by getting inspiration from these unique wedding dresses with color.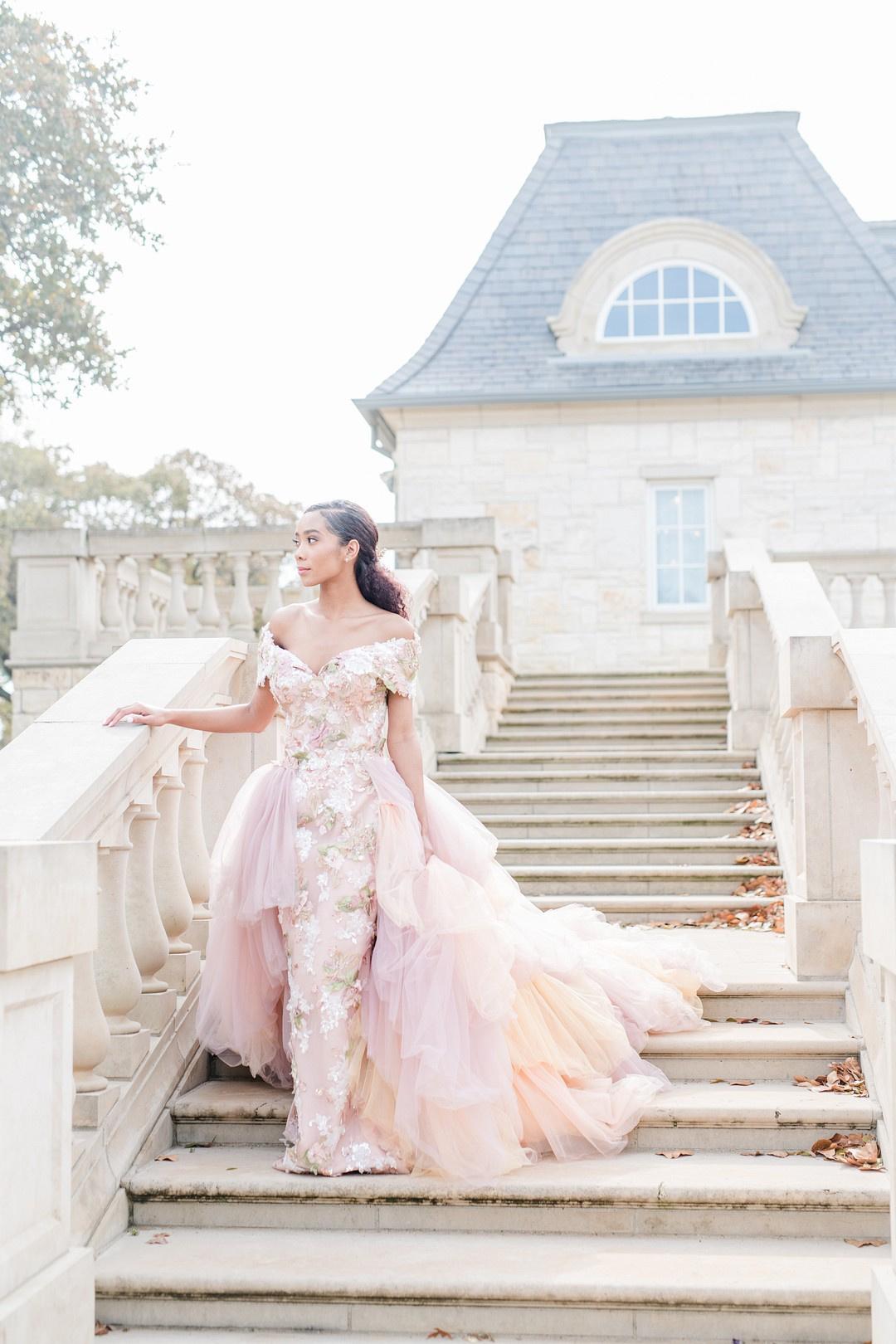 Pastel Wedding Dress
Straight out of our fairytale wedding dreams, this colored wedding dress features a detachable tulle overskirt with blush and cream tones. The pastel skirt accentuates the blush gown beautifully, but it would also be stunning against a white gown if you don't want head-to-toe color.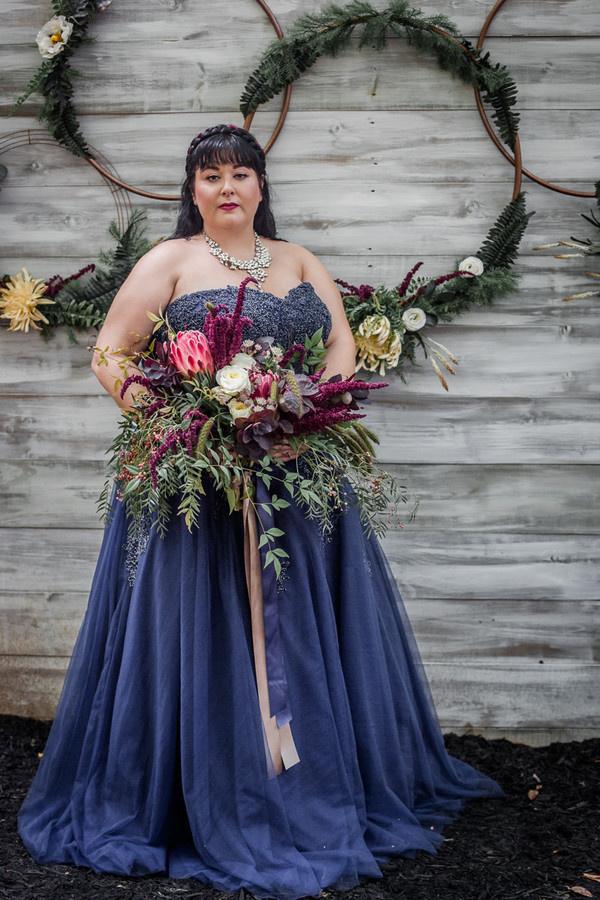 Navy Blue Wedding Dress
A deep blue wedding dress is perfect for creating a moody, dramatic bridal look (gothic wedding, perhaps?). This is one of our favorite different color wedding dresses for fall brides, since it pairs so well with other seasonal colors, like burgundy, emerald, and rust orange.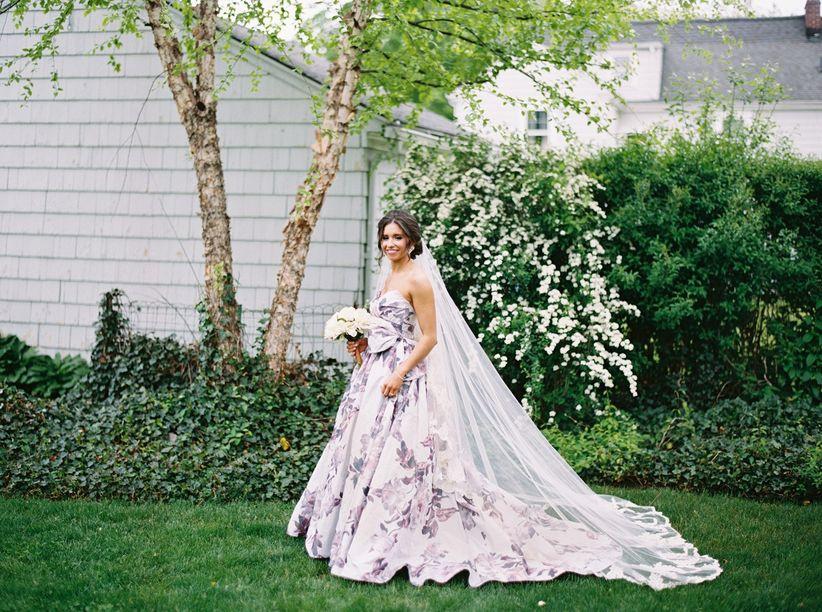 Floral Print Wedding Dress
Unique wedding dresses with color are guaranteed to make a statement, but patterned wedding dresses take the drama one step further. Patterns and prints are one of the most unique ways to incorporate color into your wedding day look, whether you choose a garden-inspired floral print or an abstract ombré gradient for your gown. Prints are also a chance to get on board with one of our favorite 2020 wedding dress trends, fil coupé, which is the technique of using contrasting metallic threads to create a pattern and add color.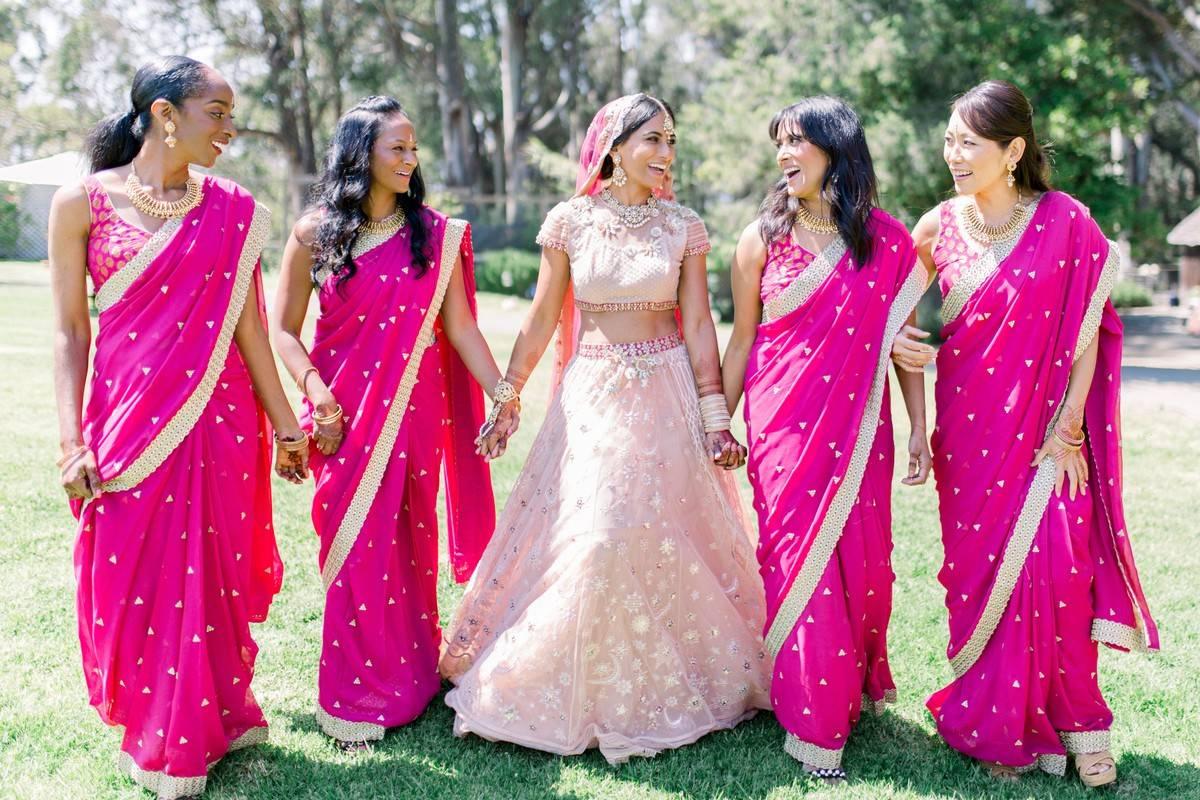 Culture-Specific Wedding Dress
In many cultures, white wedding dresses are actually seen as faux pas. If you're wearing a lehenga, hangbok, or saree, for example, you might choose from a traditional cultural color or a festive color that reflects your personal style. A bubblegum pink lehenga like the bride's above looks gorgeous alongside bridesmaids dressed in bright fuchsia.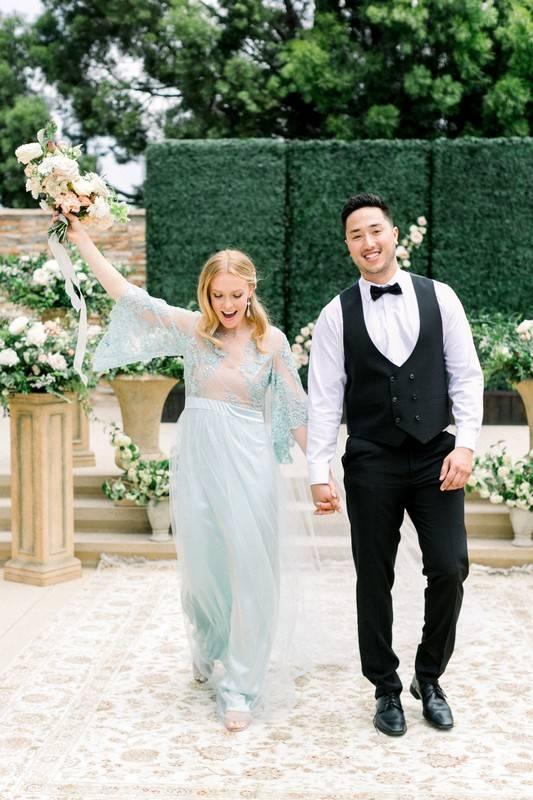 Mint Green Wedding Dress
For an unexpected take on color, try a mint green wedding dress. This pastel hue is ideal evokes vintage romance vibes, and it's versatile enough for all seasons depending how you style it (although we think it's especially lovely for spring weddings). And if you thought colored wedding dresses couldn't be formal, take a mental note of how chic this mint green dress looks next to a black tuxedo.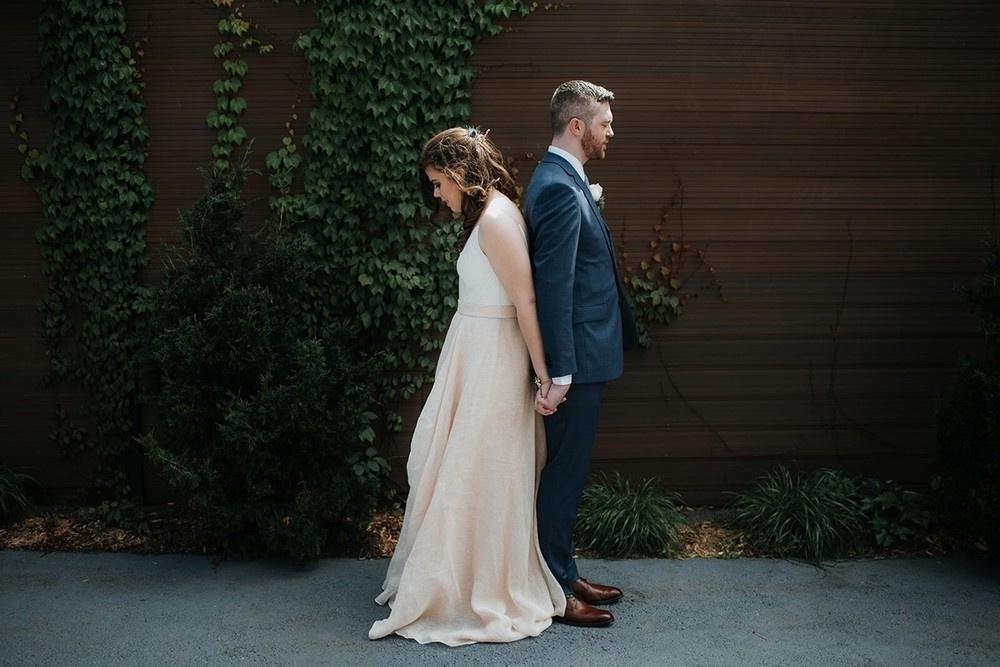 Two-Tone Wedding Dress
If you're feeling nervous about committing to a completely colored gown, try a two-tone style instead. You'll still get the hint of bridal white while also tapping into your fashionista side with an unexpected accent of color.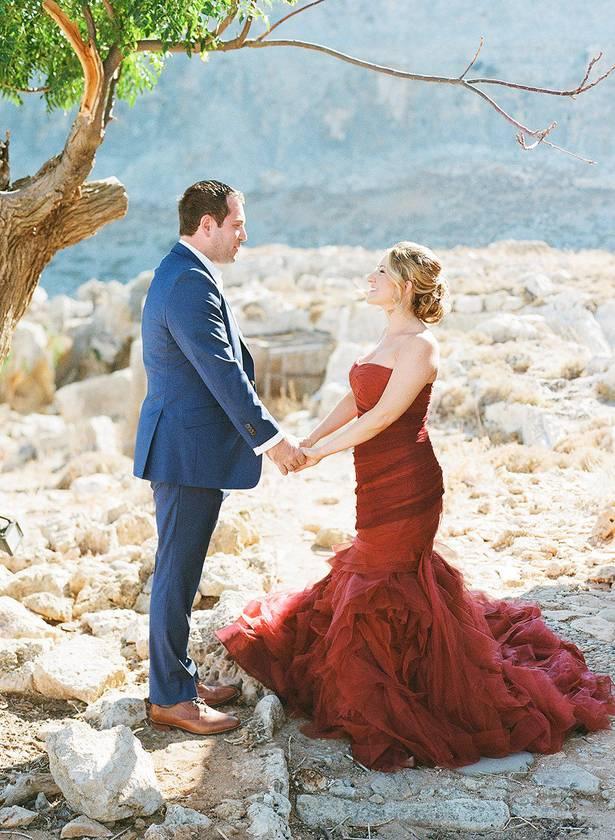 Red Wedding Dress
There's no question that you'll make a bridal statement in a show-stopping red wedding dress. This fiery color is probably the most dramatic one that you could rock on your wedding day, but when it's done right, the result is amazing. Because red is so vibrant, we recommend choosing a slightly muted version of the color and a silhouette that gives tonal depth, like this ruffled tulle gown. You'll also want to go easy on the accessories–a classic pair of shoes and understated jewelry will accent the dress, not overpower it.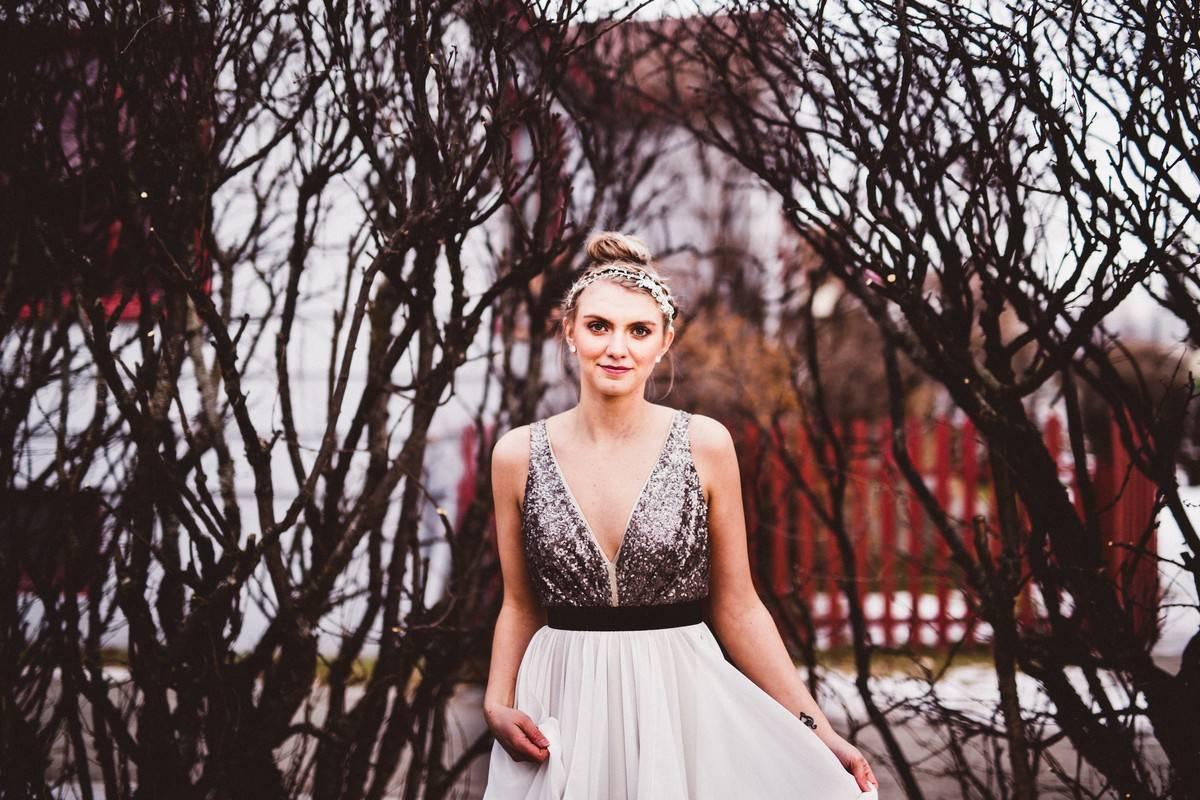 Sequined Wedding Dress
Go glam by choosing a wedding dress with colorful sequin embellishments. This is a great compromise if you can't decide on a colored wedding dress, since you can choose from partial or allover bedazzling. A silver sequined bodice can create contrast against a plain white skirt, giving you just enough sparkle to feel like royalty.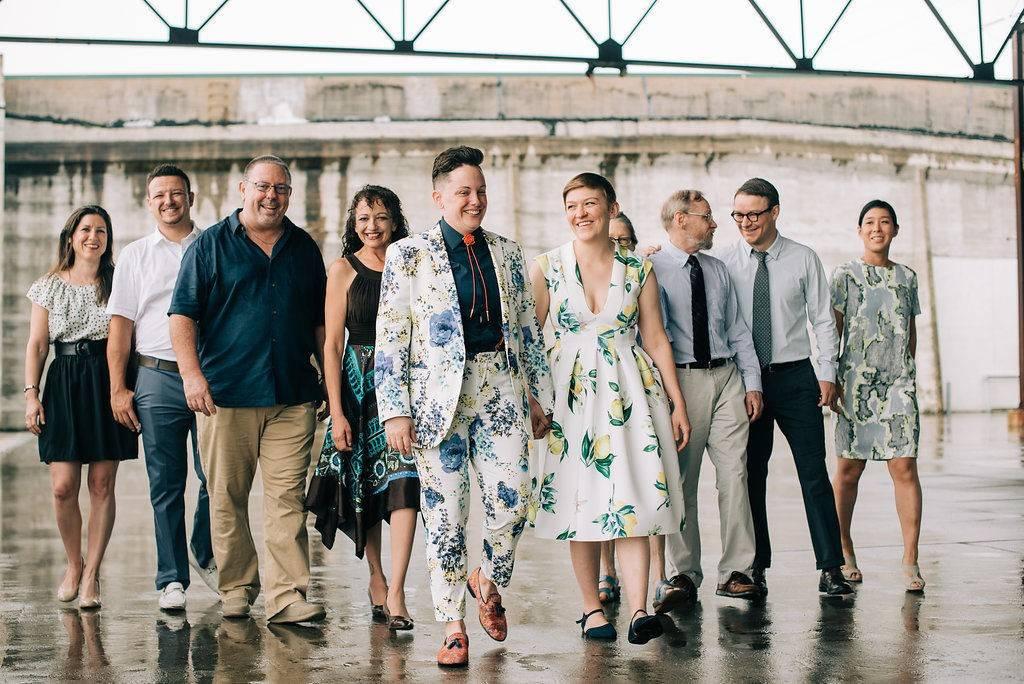 Patterned Wedding Dress
Mix and match prints with your partner and your wedding party to create an eclectic, one-of-a-kind look. Since most prints tend to be on the more casual side, you can play around with different wedding dress lengths, accessories, and bridal hair and makeup. When choosing the rest of your wedding party's attire, stick to a general color scheme so that your group still feels cohesive and planned out.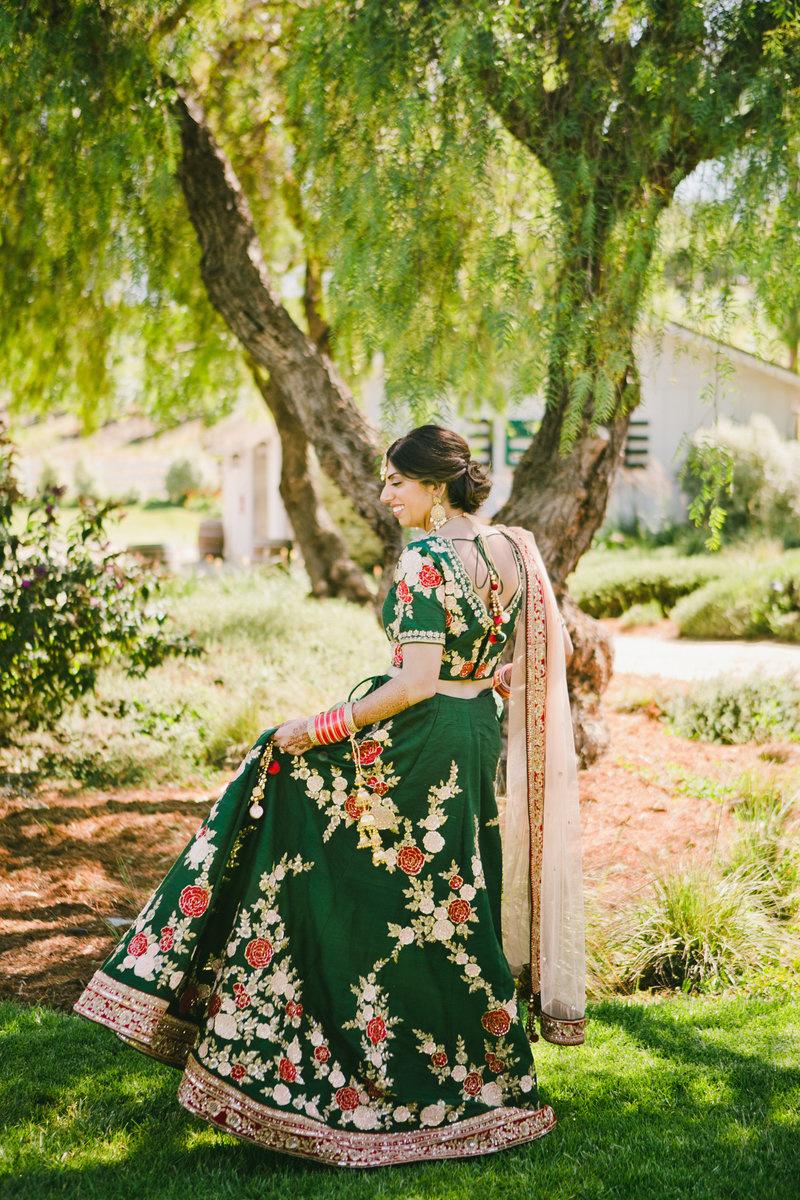 Emerald Green Wedding Dress
An emerald green hue is a stunning colored wedding dress choice for any season, but especially fall and winter celebrations. This rich color looks amazing paired with other jewel tones like sapphire, burgundy, and mustard yellow, plus metallic colors like gold and rose gold.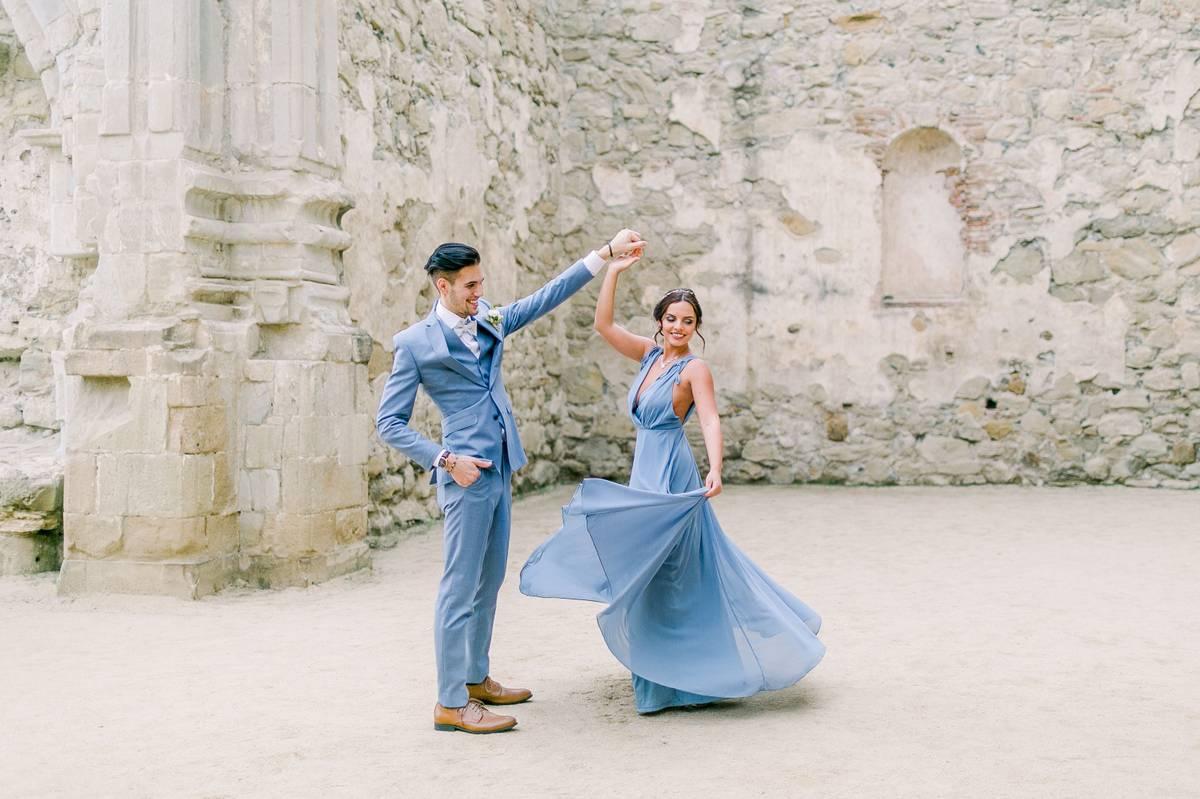 Sky Blue Wedding Dress
If you're having a summer wedding, we love this refreshing sky blue color. Not only is blue making waves as the 2020 color of the year, but the soothing hue works for all wedding styles, whether you're having a rustic barn wedding or an elegant ballroom reception. Complement a blue wedding dress by using gold accents and greenery in your decor for a laid-back aesthetic.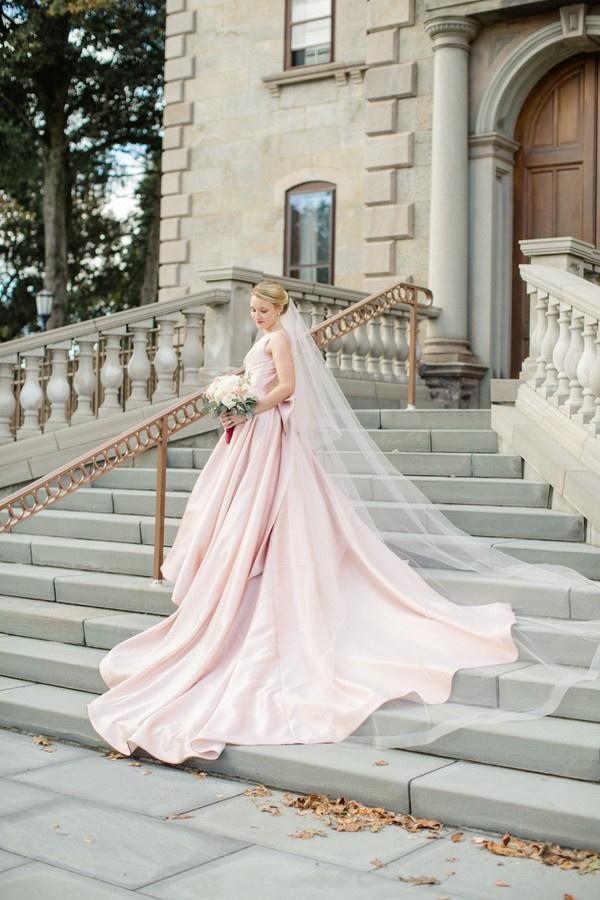 Blush Wedding Dress
Looking for a color that's airy and feminine? This soft pastel pink is a hands-down gorgeous choice if you only want to wear a hint of color on your wedding day. Blush is one of the most popular hues for colored wedding dresses, so you should have plenty of options when looking for your perfect gown. It's also one of the easiest colors to incorporate into classic and formal themes. Plus, it really pops against white bridesmaid dresses or darker, contrasting colors.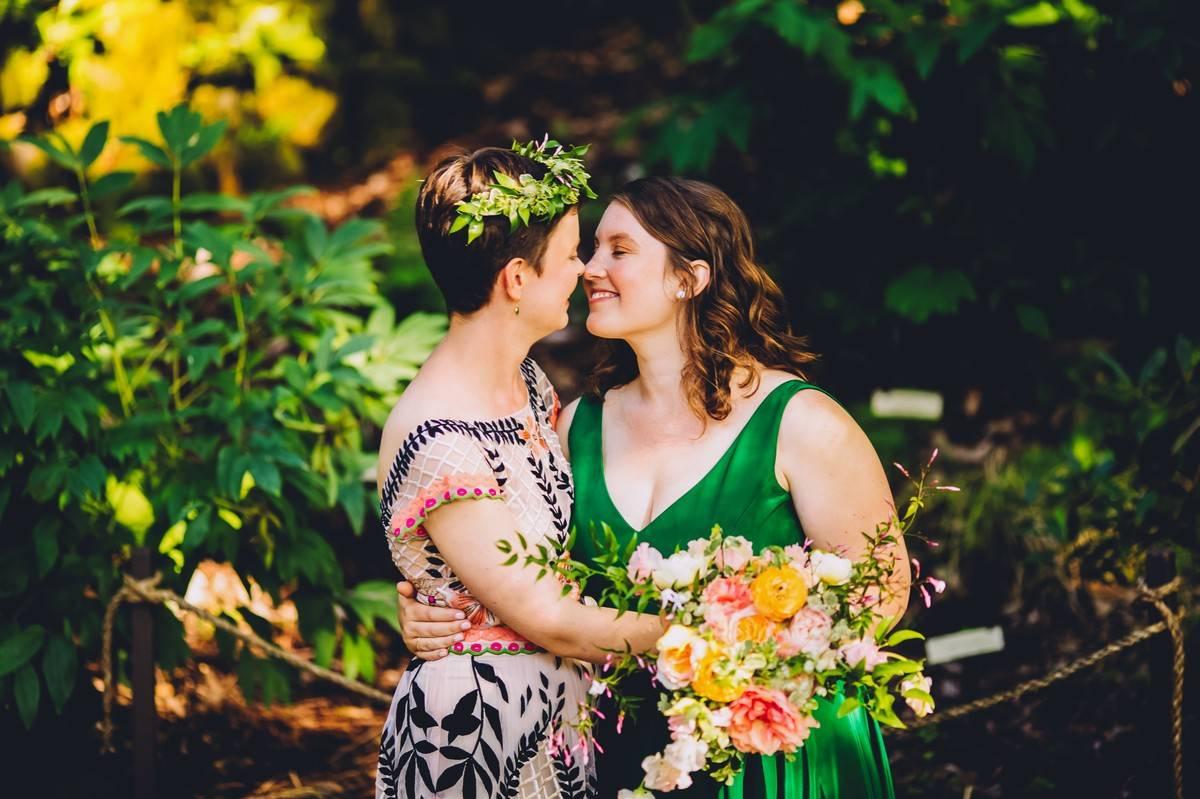 Embroidered Wedding Dress
Embroidery is another way to add color to your wedding dress while also giving it a whimsical, quirky finish. Most wedding dress embroidery is done in all white thread, but by choosing a dress with contrasting stitches in a geometric or floral design, you'll give this classic sewing technique a fashion-forward spin.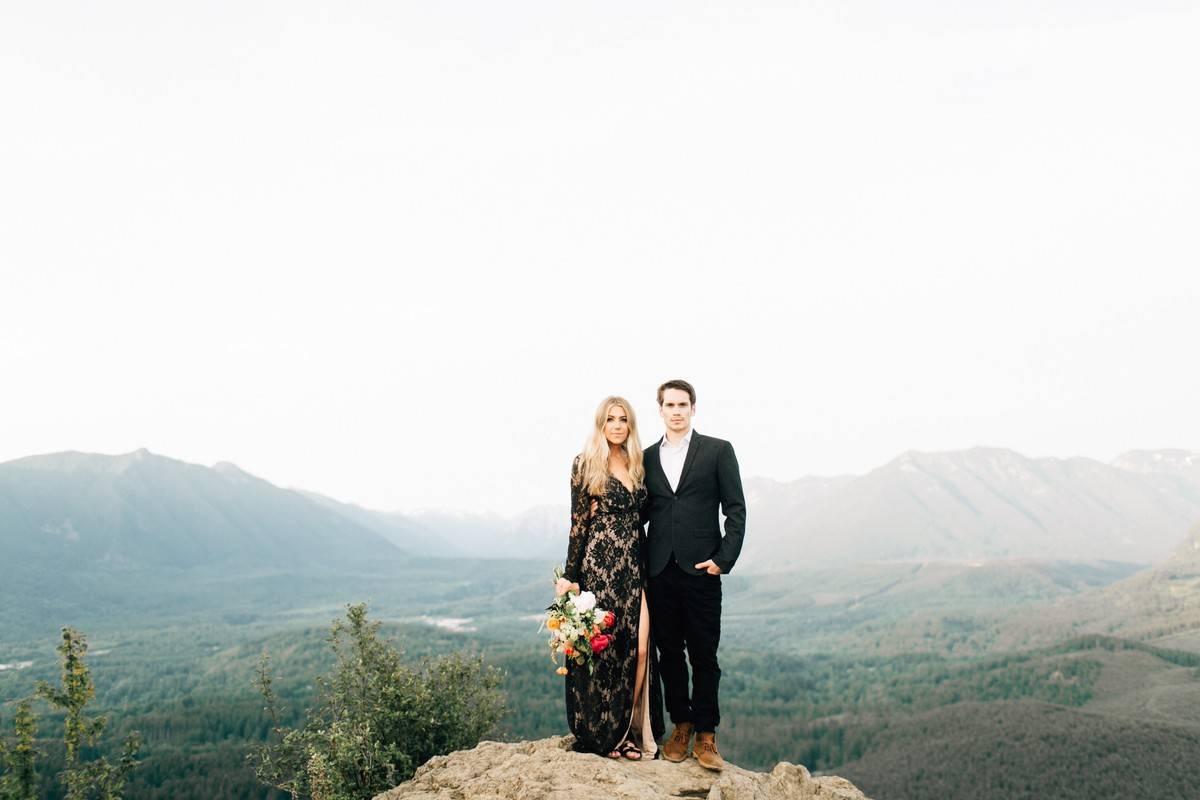 Black Lace Wedding Dress
Black colored wedding dresses sometimes get a bad rep for being too dramatic, but they can also be incredibly chic. If there's one tip that we can give you, it's that it all comes down to the styling. If you're on the fence about wearing a black wedding dress but worried about it being too overpowering, choose a more fitted silhouette, like this long-sleeve sheath style. Peekaboo lining can also be your friend—the nude color of the lining on this dress tones down the edginess of the black.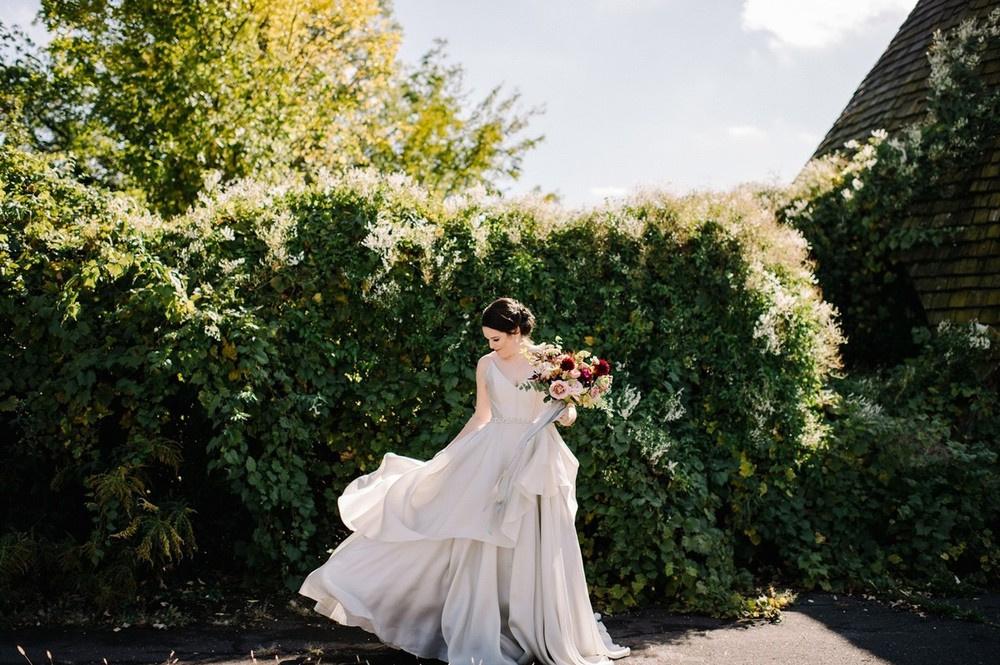 Gray Wedding Dress
A barely-there dove gray hue is one of the most classic ways to wear a colored wedding dress. This soft color is elegant while still feeling totally modern. Choose a gray fabric with a subtle iridescent finish for a celestial-inspired wedding theme.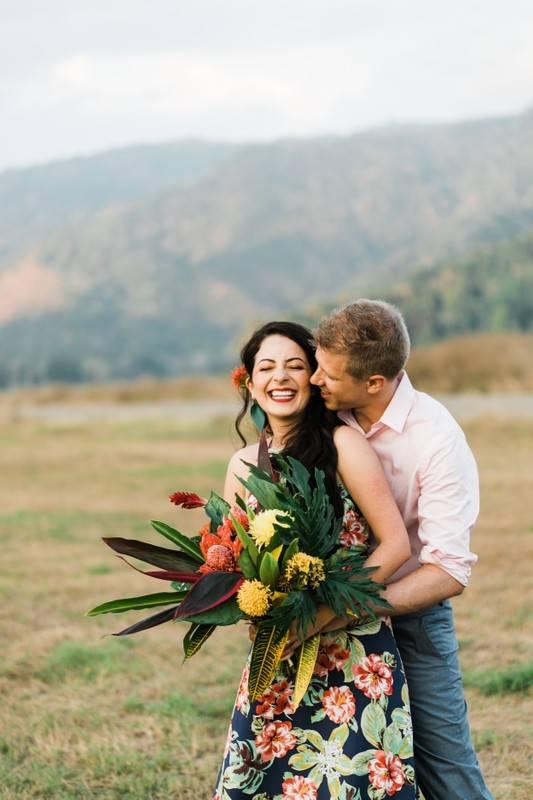 Tropical Wedding Dress
Having a destination wedding? Get creative and choose a colored or patterned wedding dress inspired by the local attire. This bride opted to wear a botanical printed dress for her Costa Rican rainforest wedding.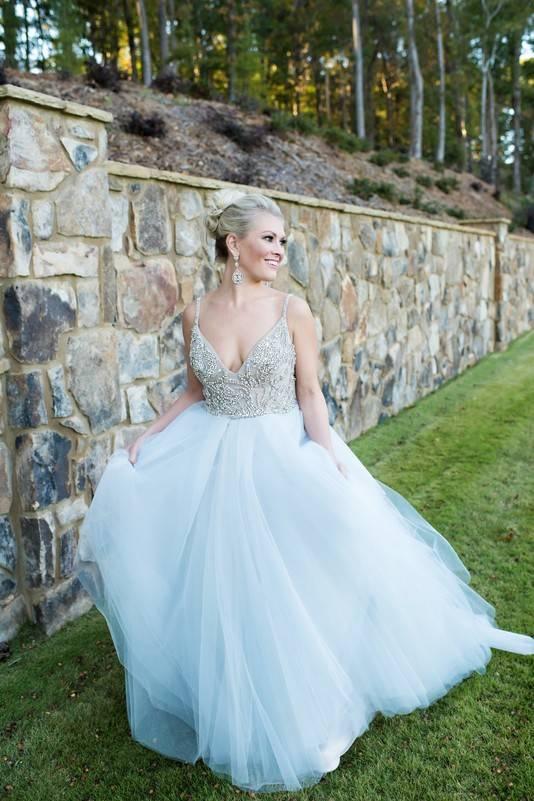 Icy Blue Wedding Dress
Calling Princess Elsa. A pale blue wedding dress with a tulle skirt and silver beaded bodice is straight out of a fairytale (and it doubles as your something blue!).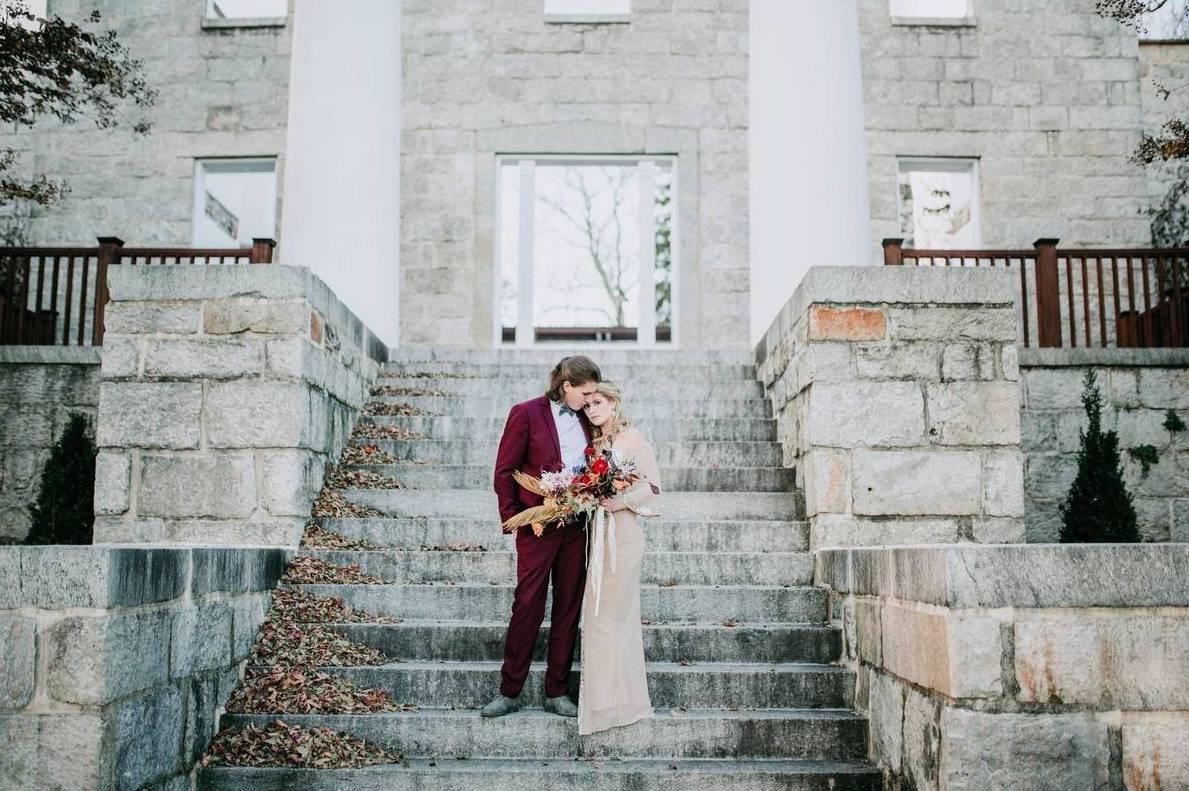 Champagne Wedding Dress
Wear a champagne or nude color wedding dress for a vintage-meets-boho aesthetic. This warm tone is easy to pair with some of the biggest wedding trends of the moment, from pampass grass to burgundy and orange color palettes.