20 Hanging Centerpieces to Spice Up Your Ceiling
From wreaths and overhangs to watering cans and terrariums, we've rounded up some stunning alternate chandeliers and hanging centerpieces to inspire your wedding.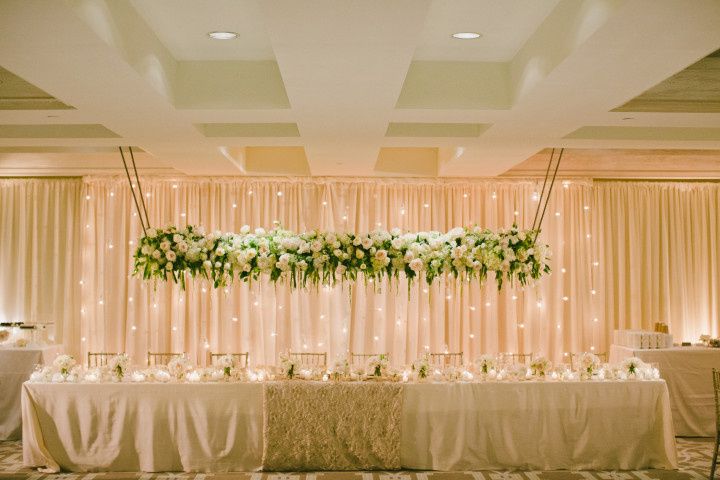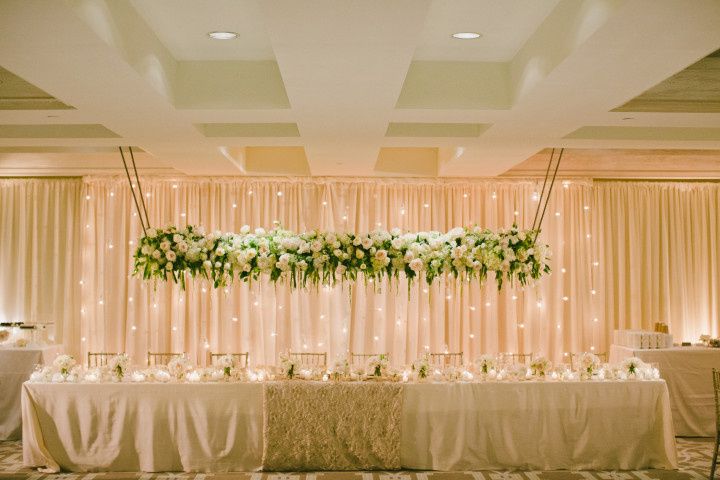 Photo: onelove photography
News flash: wedding reception centerpieces aren't meant just for the table — they're equally as stunning when suspended from the ceiling. This transformative dangling decor promises to make a statement over reception tables and dance floors while hiding any unsightly beams, rafters, or tent poles. Now, that's what we call double duty! The most popular installations are comprised of flowers and greenery, but lanterns, streamers, and the like also become their own masterpiece.
We've rounded up some stunning alternate chandeliers and hanging centerpieces to inspire your wedding.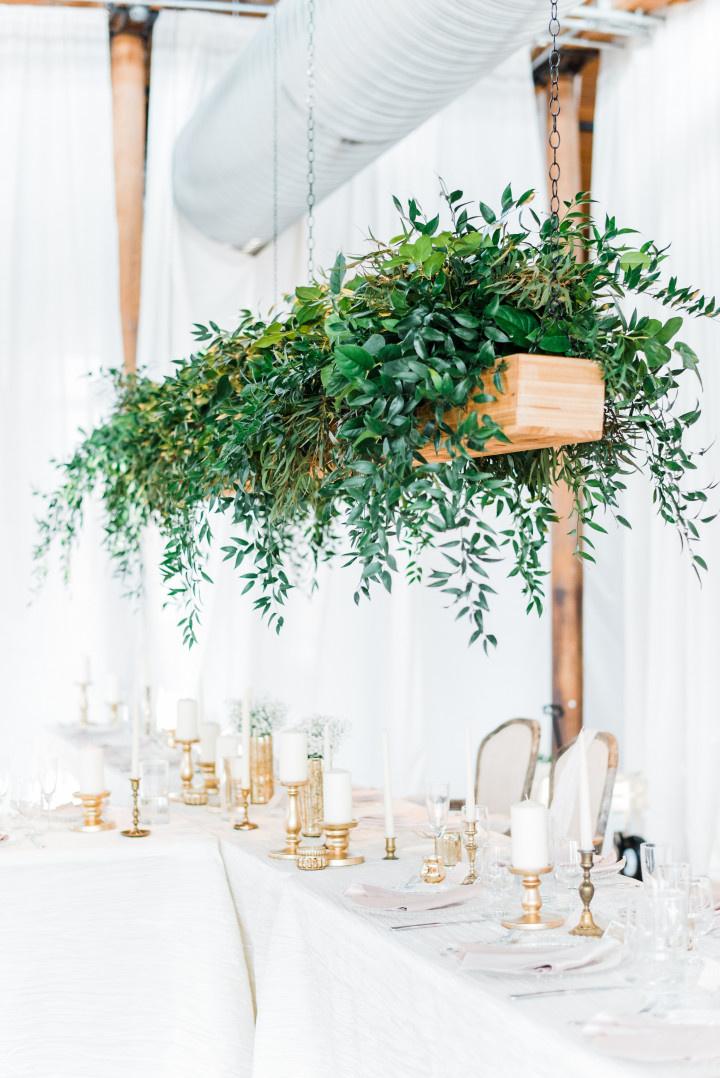 Photo: AJ Dunlap Photography
A luscious bed of overflowing greenery by Petal and Oak brings contemporary elegance and a breath of life to The Cotton Room, a neutral and minimalist venue in Durham, North Carolina.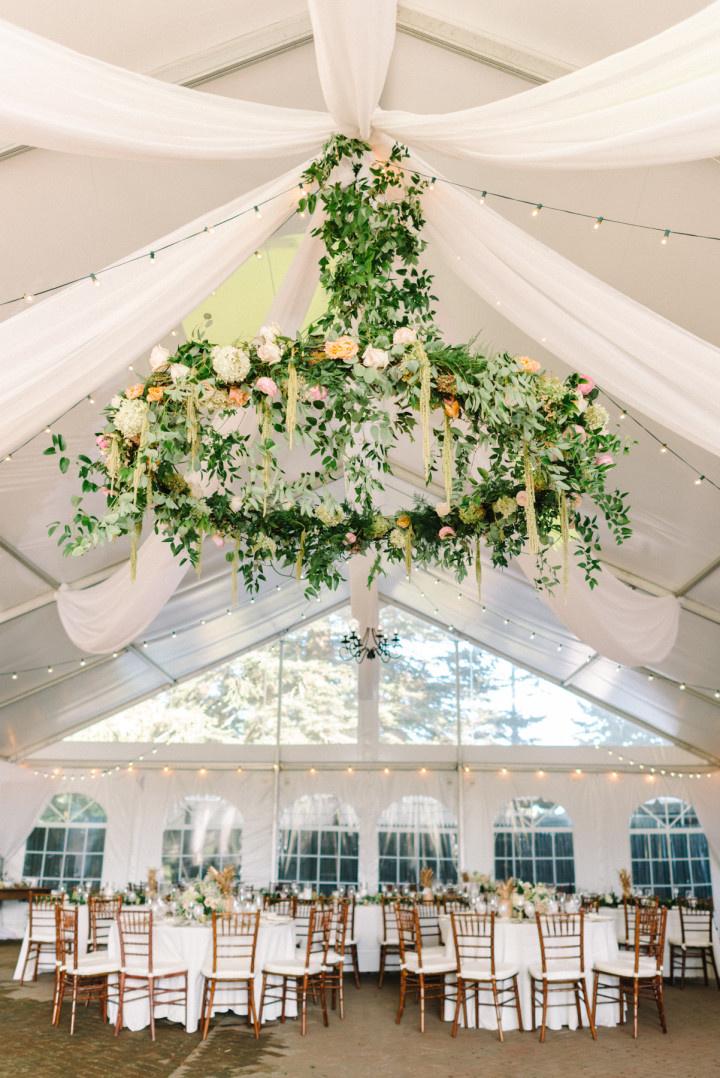 Photo: Michelle Lange Photography
A suspended floral wreath with springtime blooms is decadent in garden romance.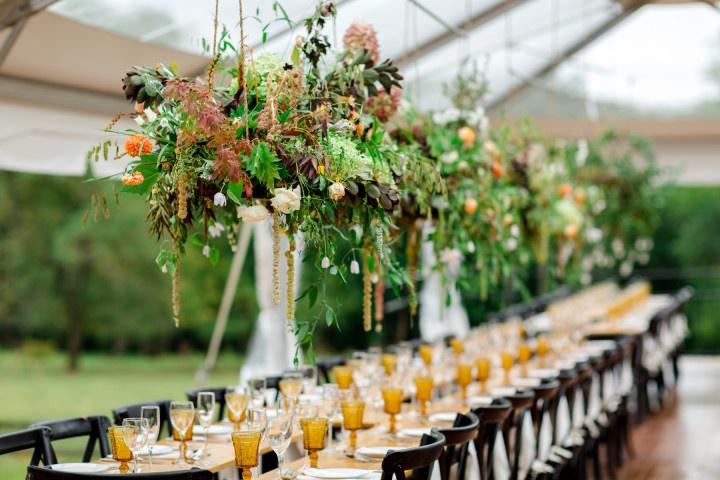 Photo: Judith Rae Photography
An overhang of richly hued wildflowers carries an autumnal rustic vibe.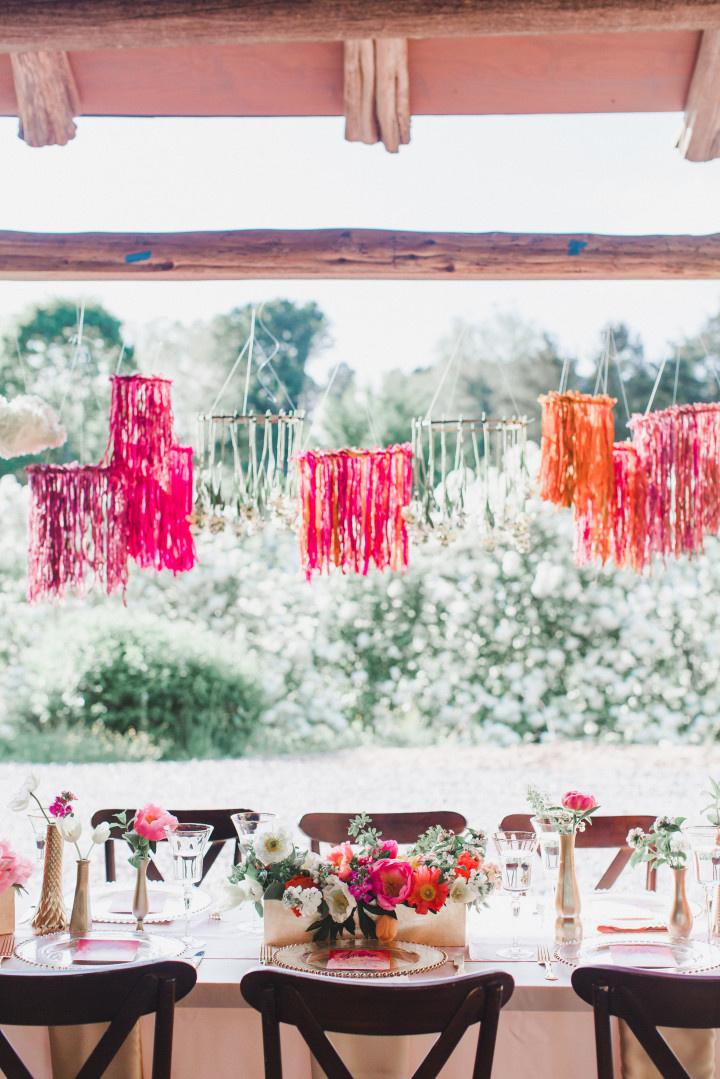 Photo: Annamarie Akins Photography
Mini chandelier streamers burst with color, adding a dash of playful whimsy.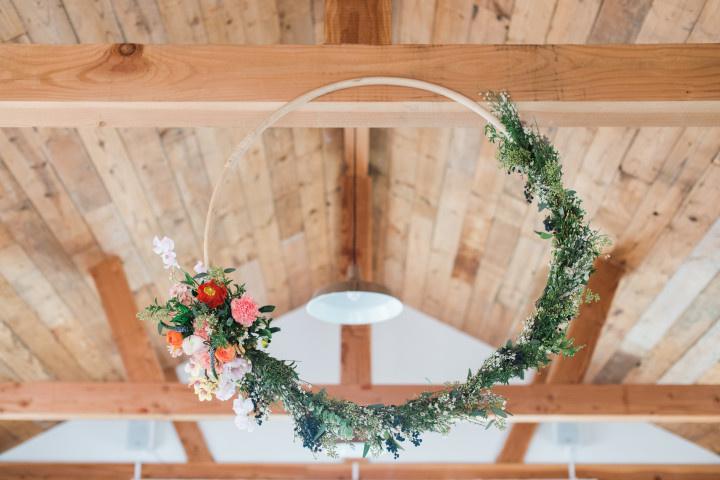 Photo: Wisteria Photography
This wreath-style ceiling centerpiece by The Bloemist is all boho chic, adorned halfway with a delicate wrap of flora.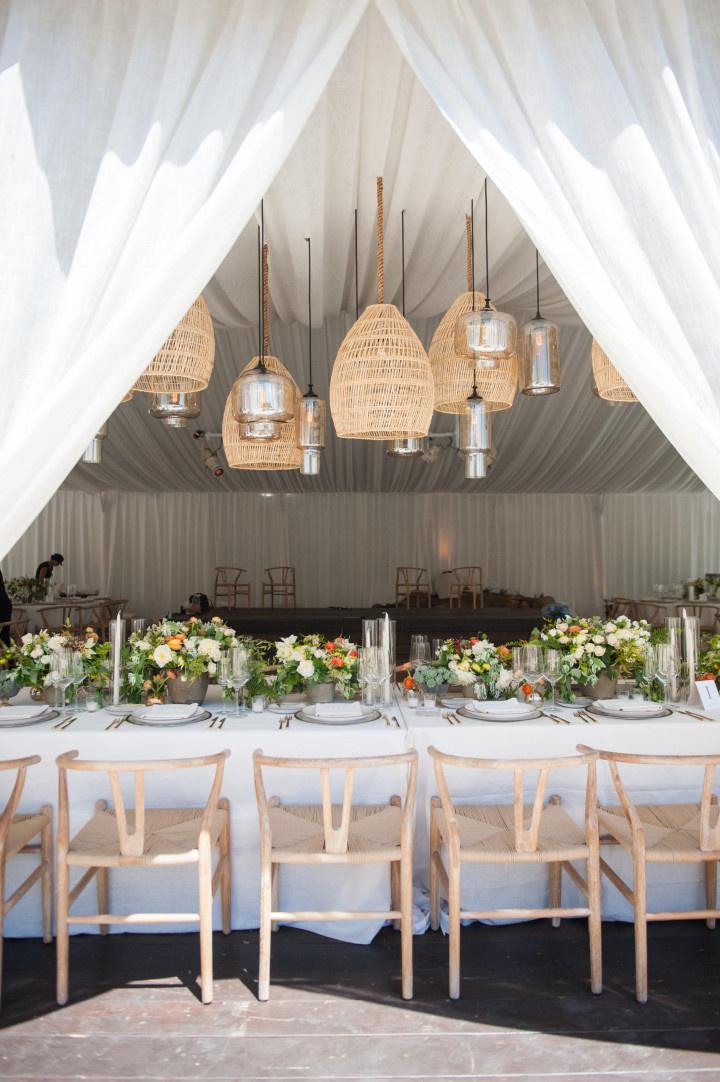 Photo: Melissa Gidney Photography
Woven and glass lanterns mix to make a statement, creating a modern feel over the reception table.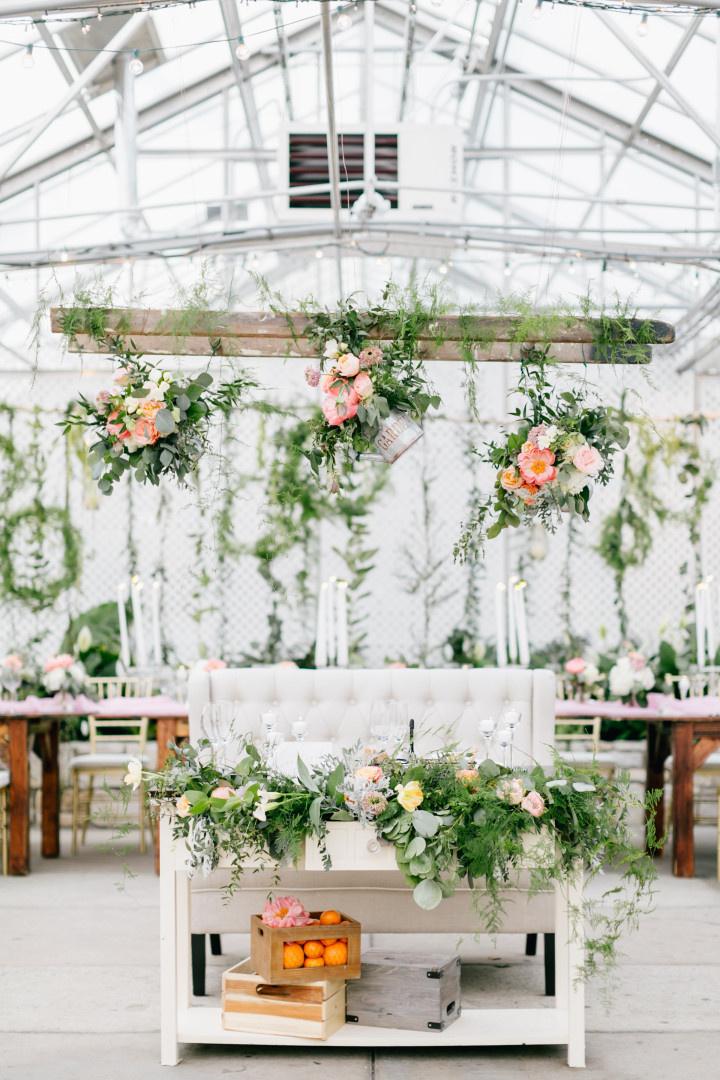 Photo: Emily Wren Photography
How adorable is this garden-inspired set-up? A rustic chandelier features hanging vintage watering cans stuffed with blooms for ultimate charm.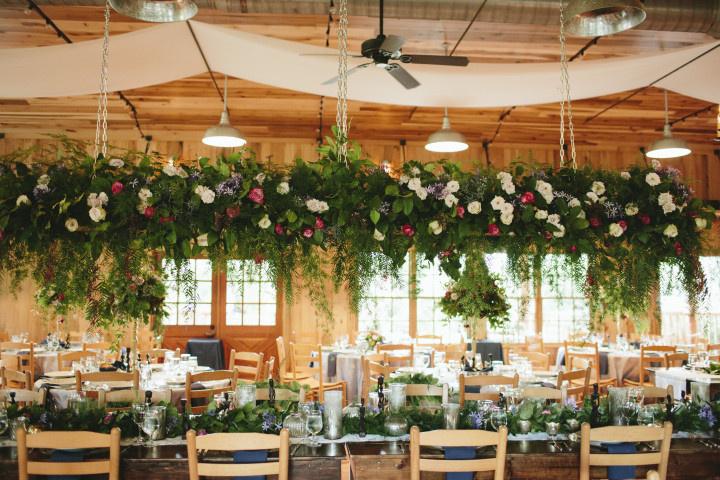 Photo: MorningWild Photography
A lush overhang peppered with white and jewel-toned blooms mirrors the runner of greenery below it in a feast of flora.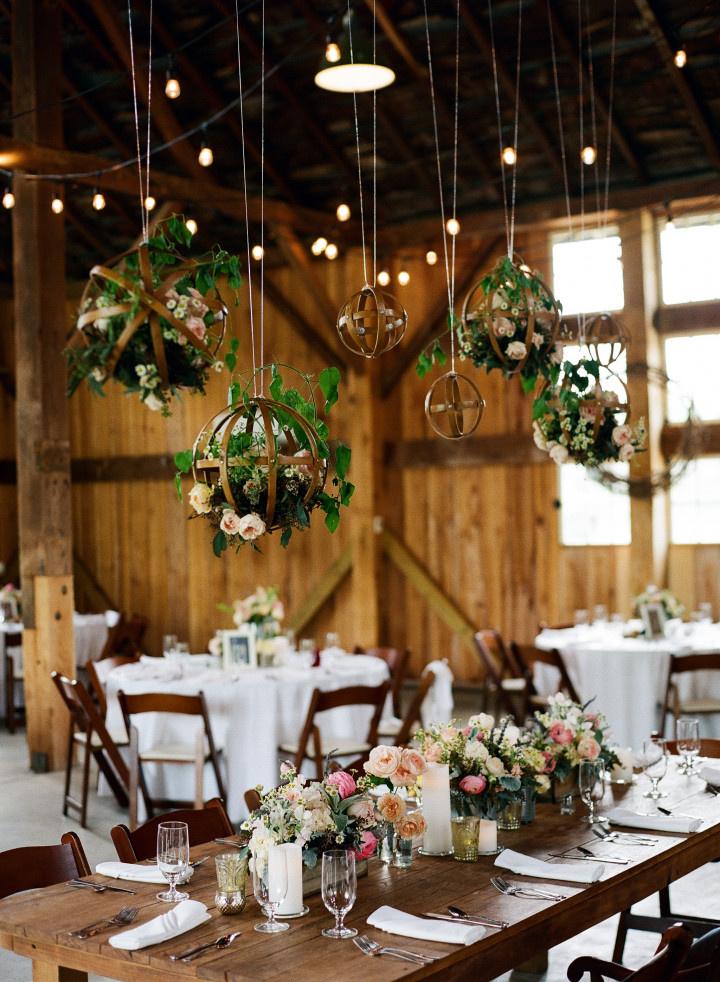 Photo: Ashley Cox Photography
Rattan spheres brimming with organics create a three-dimensional effect complete with ethereal rustic romance.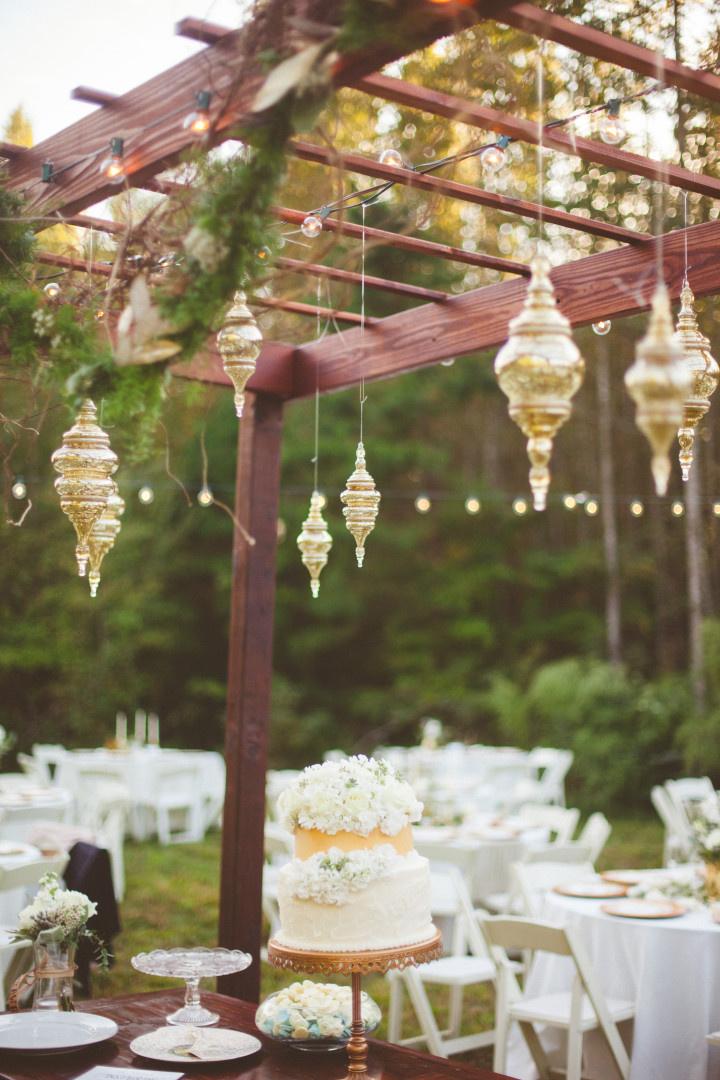 Photo: Kelly Maughan Photography
A trellis with gilded vintage ornaments creates a magical touch, bringing a hint of glitz and glam to a bucolic setting.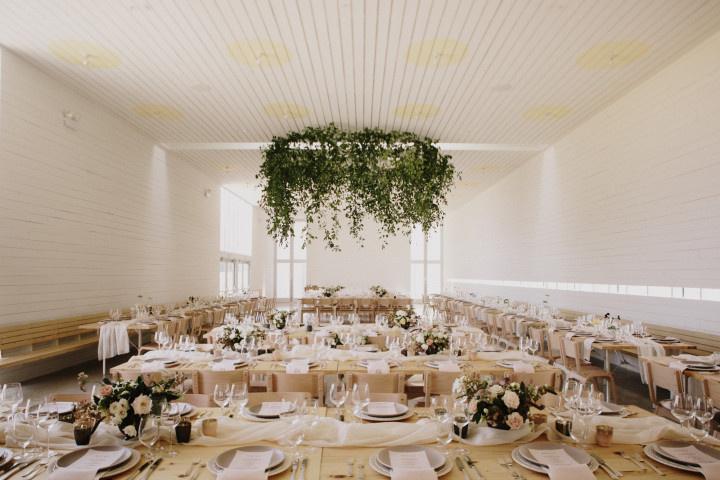 Photo: James Moes Photography
Who needs florals when an installation wreath dripping in greenery is just as spectacular? This one ties in perfectly with the relaxed, natural space.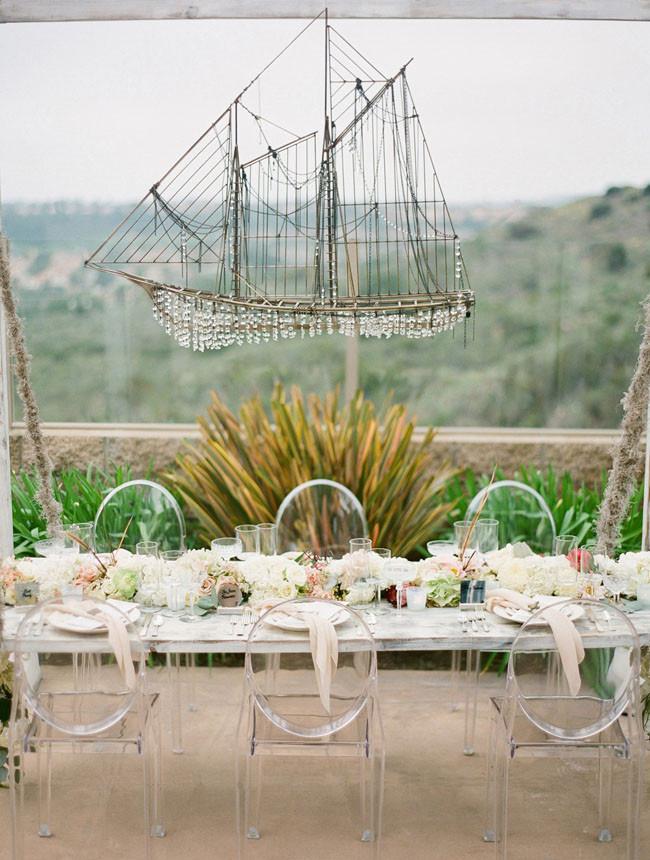 Photo: Jose Villa Photography
This chandelier gets a seaworthy bend as a glittering nautical-inspired masterpiece.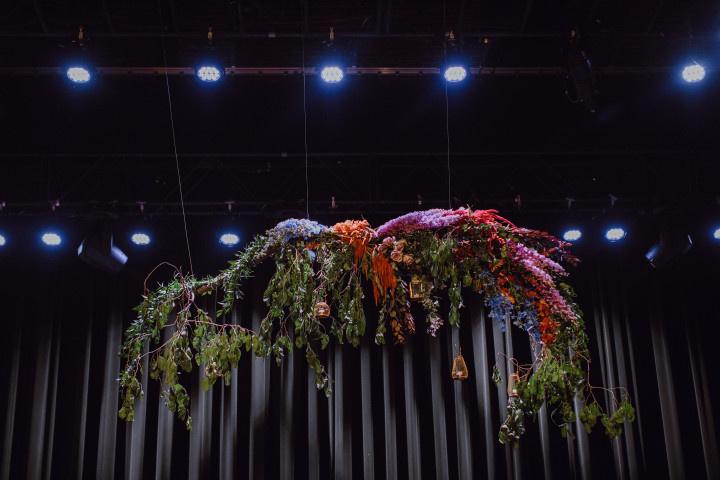 Photo: Megan Saul Photography
A branch festooned in jewel tones looks like it came straight out of a magical woodland.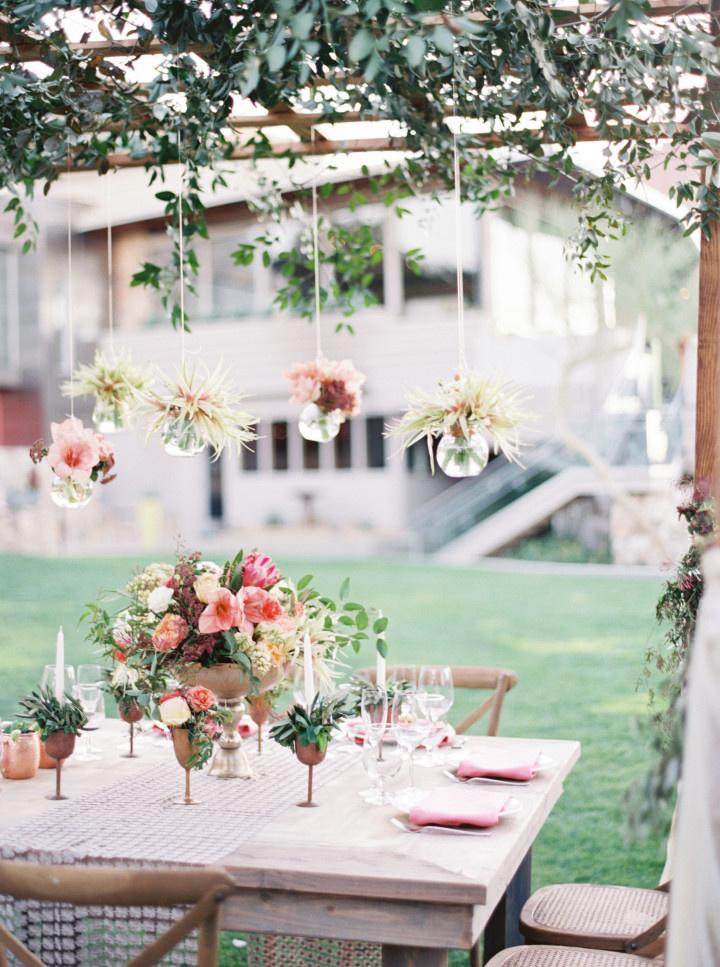 Photo: Melissa Jill Photography
Desert meets garden with a mix of flowers and xerographica in vases suspended from a trellis dressed in botanics from LVL Weddings & Events and Petal Pusher.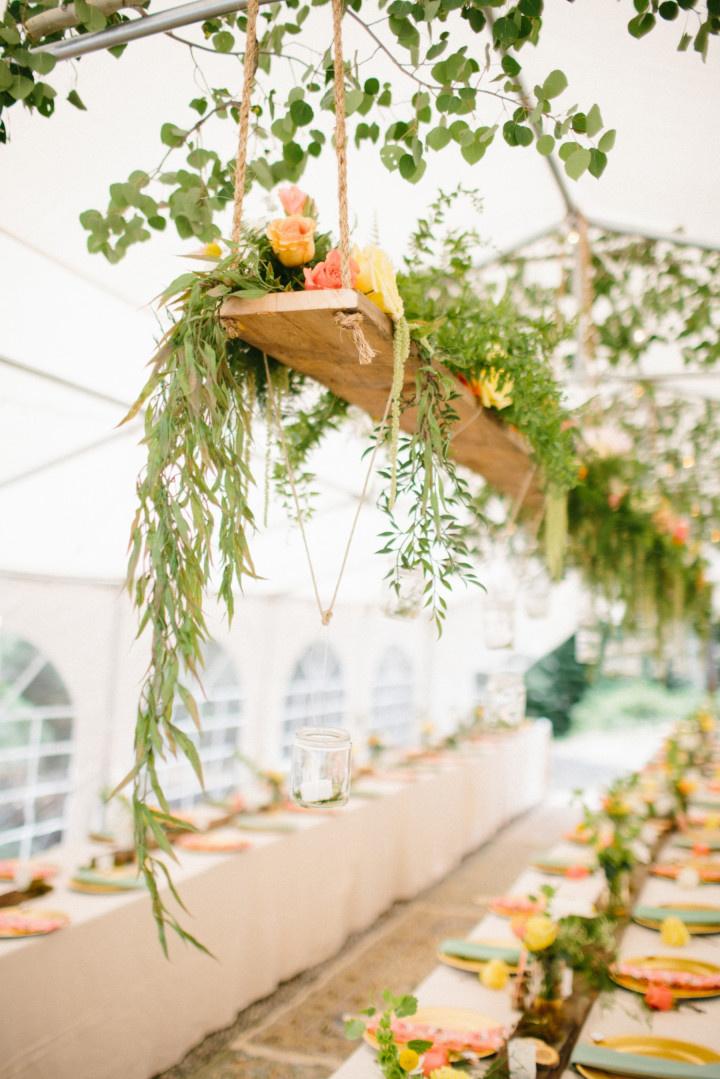 Photo: Ryan Price Photography
This wooden plank adorned with fresh foliage and peachy blooms gives off sweet springtime feels.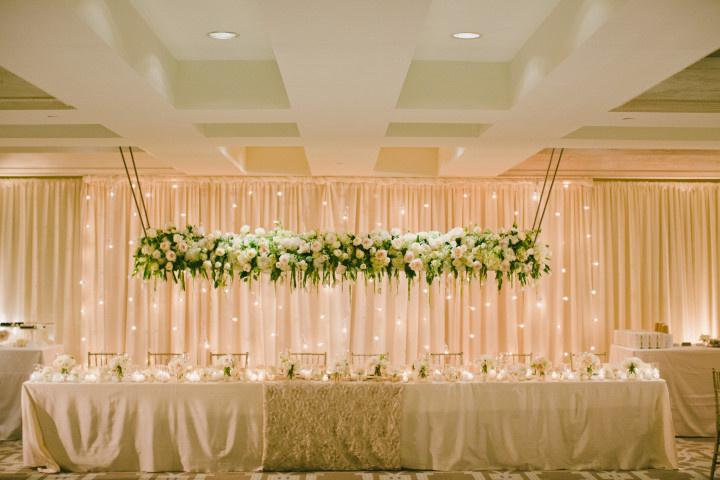 Photo: onelove photography
An elongated rose installation is timeless and classic, the ideal complement to this elegantly romantic reception.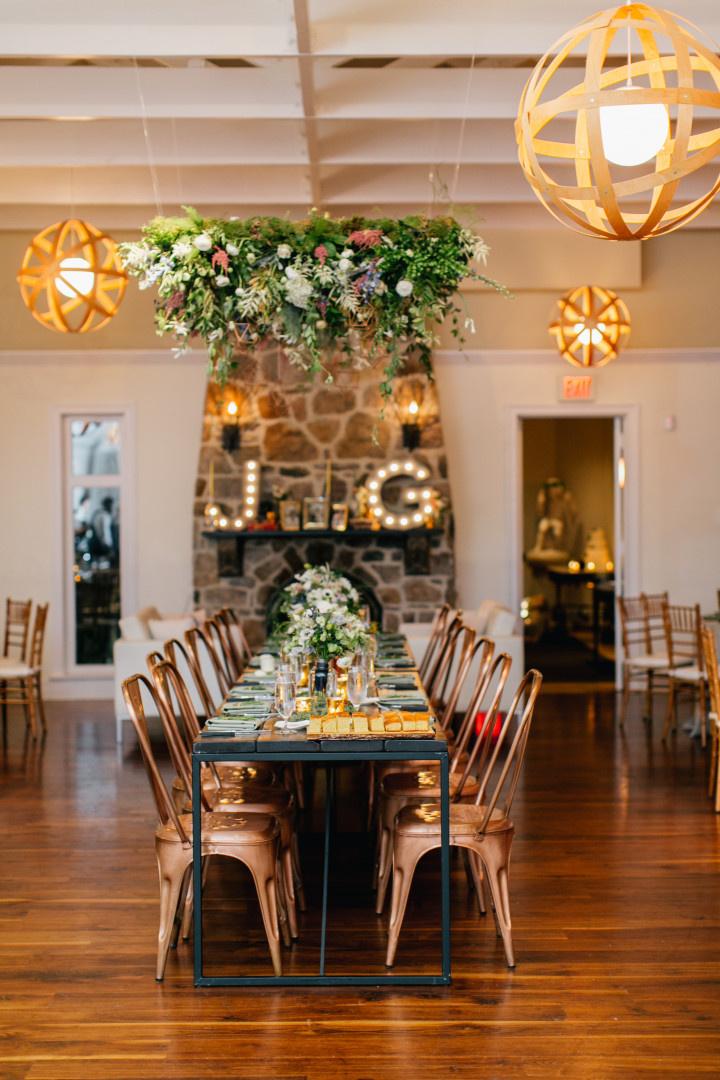 Photo: Emily Wren Photography
Open spherical lanterns surround a luscious chandelier centerpiece of flora and fauna, balancing modern and traditional looks.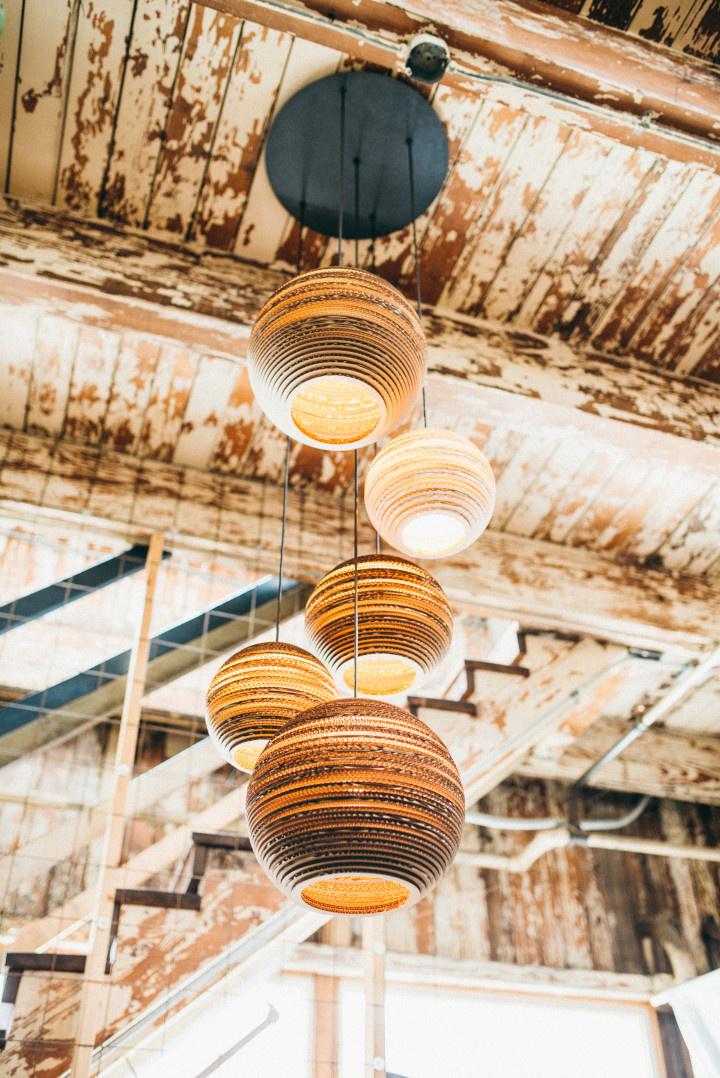 Photo: Shannon Rosan
A lantern chandelier in natural tones pairs a Moroccan feel with bohemian vibes.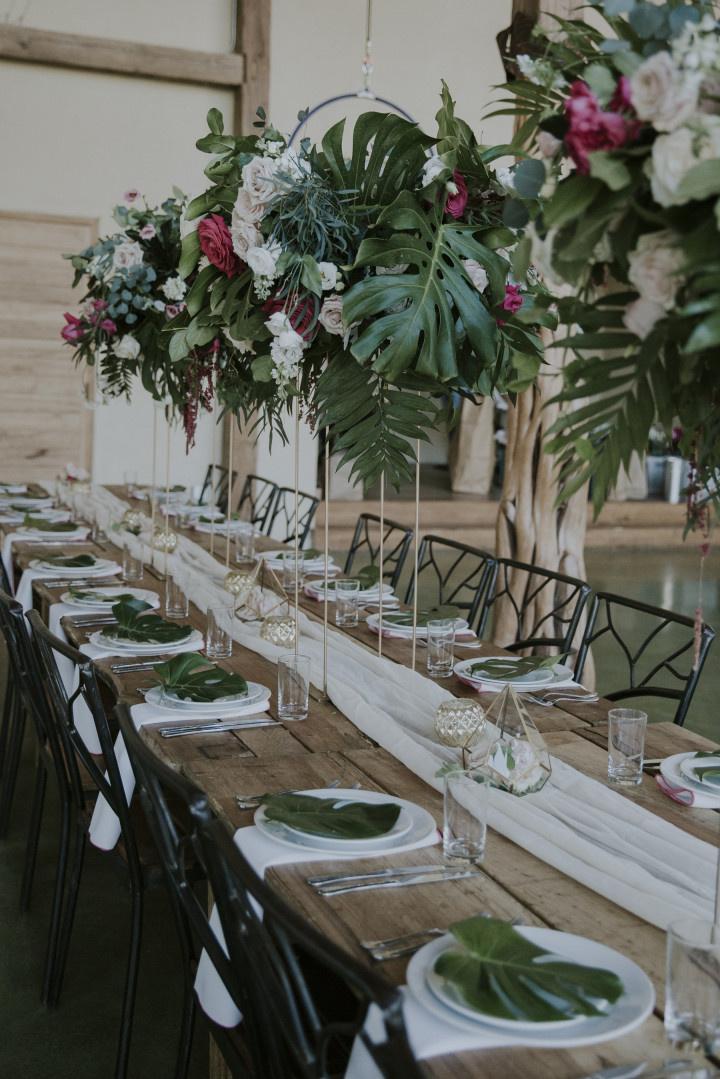 Photo: John David Weddings
Magnolia leaves and fuchsia blooms make a vibrant statement with a tropical edge.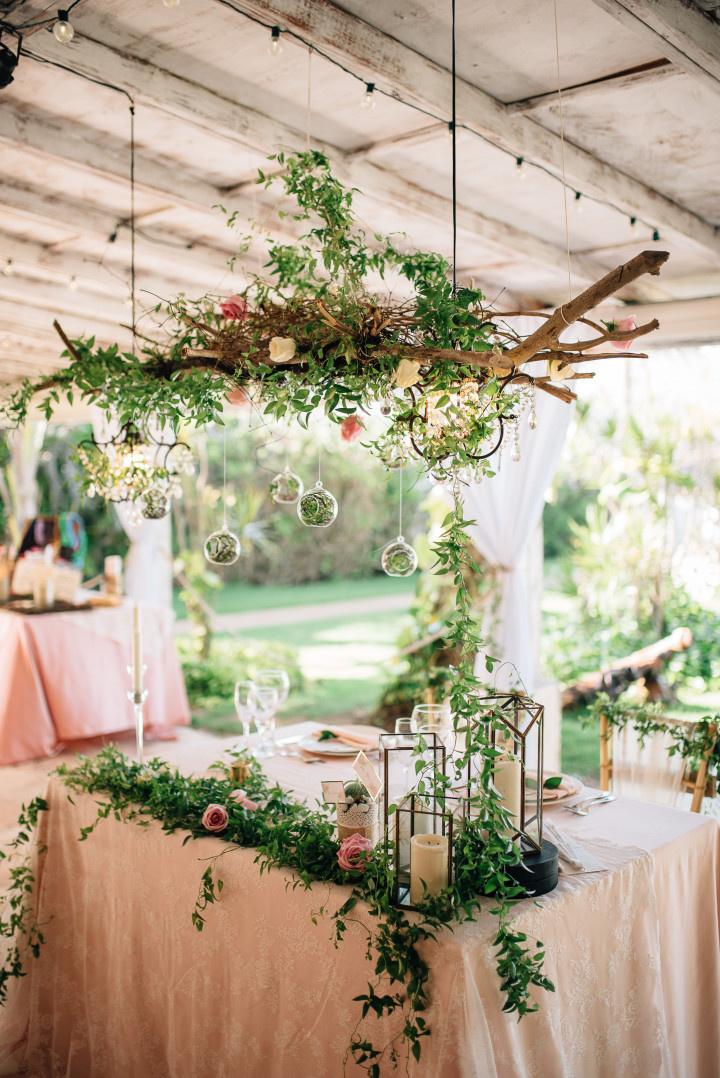 Photo: ShoeBox Photography
Wild branches, intertwining vines, and whimsical terrariums give this rustic ceiling centerpiece a botanical feel.