10 Waterfront Wedding Venues That Aren't on the Beach
Think the beach is the only place to get married by the water? Think again! Check out these waterfront wedding venues across the U.S. for other options.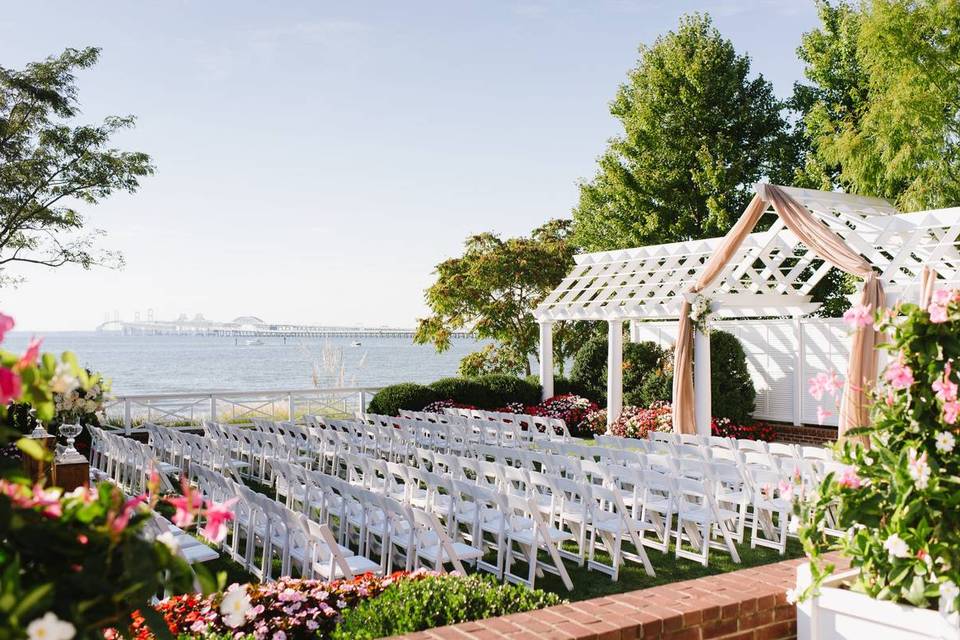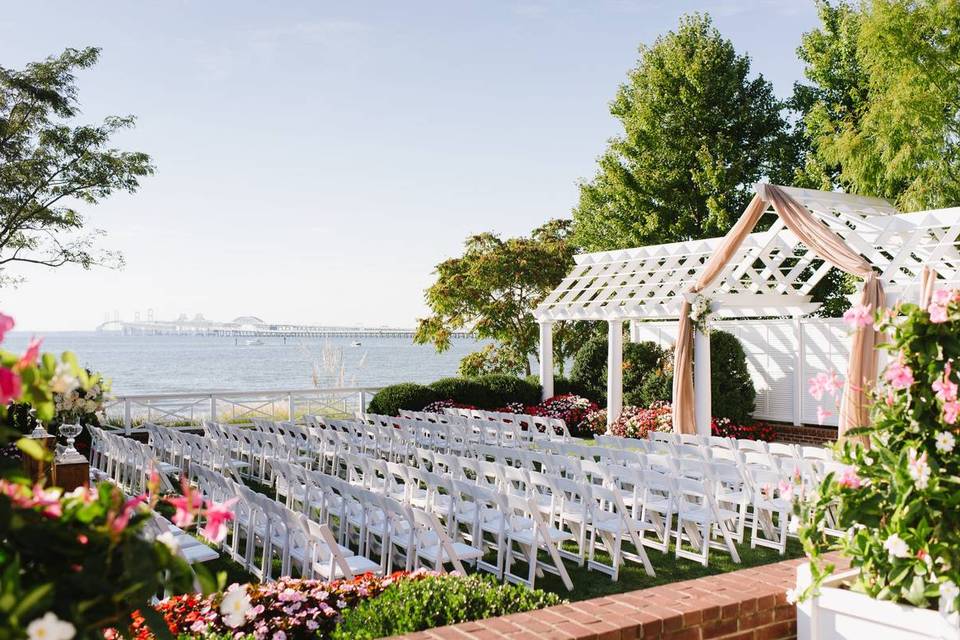 Beach weddings are wonderful in their own right (especially those of the destination type), but they're not the only way to take advantage of a gorgeous waterfront setting on the big day. From rustic lakeside cabins to clifftop mansions overlooking the ocean, there are waterfront wedding venues all over the country with incredible shoreline views and relaxing breezes — no beach required. We set out to find the best non-beach wedding venues on the water, and we think you'll be just as smitten with them as we are. Whether you're dreaming of a nautical-themed wedding or are in search of a scenic place to host your nuptials, you won't want to miss these waterfront locations.
Here are 10 waterfront wedding venues we love from coast to coast.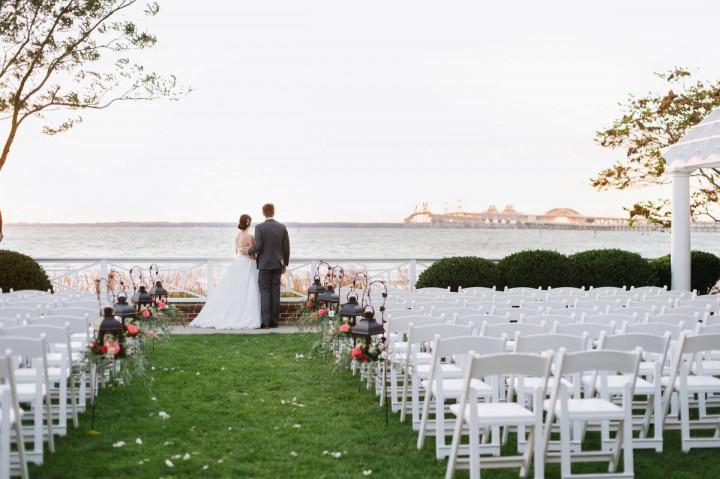 Chesapeake Bay Beach Club
Easton, Maryland
Get married in style at this waterfront wedding venue on Maryland's Eastern Shore. The Chesapeake Bay Beach Club, a multi-year WeddingWire Couple's Choice Award winner, is a local favorite for couples looking to host a nautical-meets-elegant wedding. While the venue technically does have a beach, the actual event spaces are much more than that. Choose from four newly remodeled ballrooms (inspired by classic New England design) or a quiet lawn at the edge of the Chesapeake Bay, with views of the Bay Bridge in the distance. The venue also has overnight accommodations and a spa onsite, giving you the ultimate reason to stay awhile and relax.
Learn more about Chesapeake Bay Beach Club »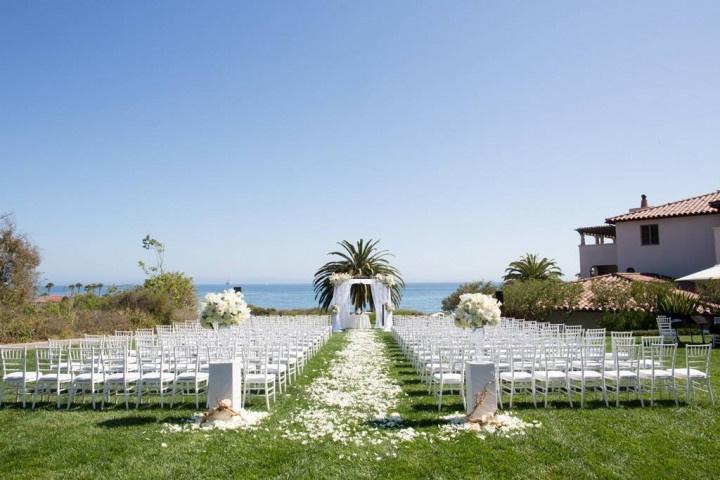 The Ritz Carlton Bacara
Goleta, California
Nestled on 78 acres of private coastline, The Ritz Carlton Bacara is one of the most elite wedding venues in Southern California. Spanish-style architecture gives the venue a laid-back SoCal vibe, while the resort's second-to-none amenities (like zero-edge pools, gourmet restaurants, and a holistic spa) will have you feeling like serious royalty leading up to your wedding. Two oceanfront lawns offer breathtaking views for an outdoor ceremony, while a majestic ballroom and open-air rotunda are gorgeous spaces for your reception. The Ritz Carlton Bacara can host weddings for up to 550 people.
Learn more about The Ritz Carlton Bacara »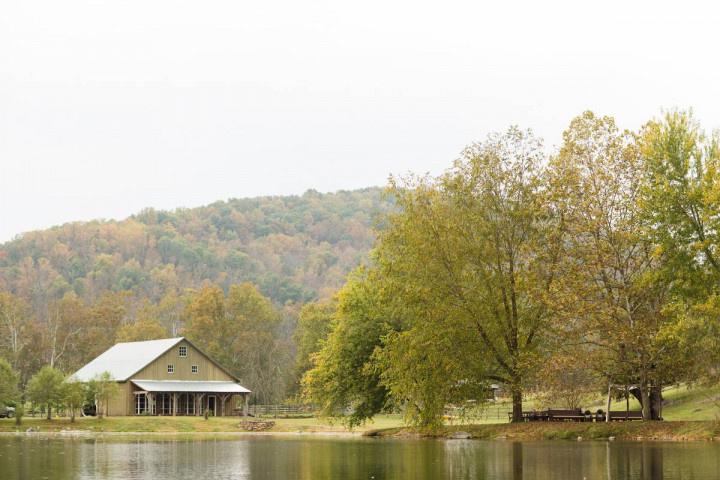 Big Spring Events
Lexington, Virginia
If you're in the DMV, this picturesque venue will win you over with its countryside charm. Just three hours from Washington, D.C. and two hours from Richmond, Virginia, Big Spring Events is perfect for city dwellers in search of a rustic waterfront setting for the big day. The venue sits at the edge of a 10-acre lake fed by natural springs, with views of rolling hills and the Blue Ridge Mountains in the distance.
Learn more about Big Spring Events »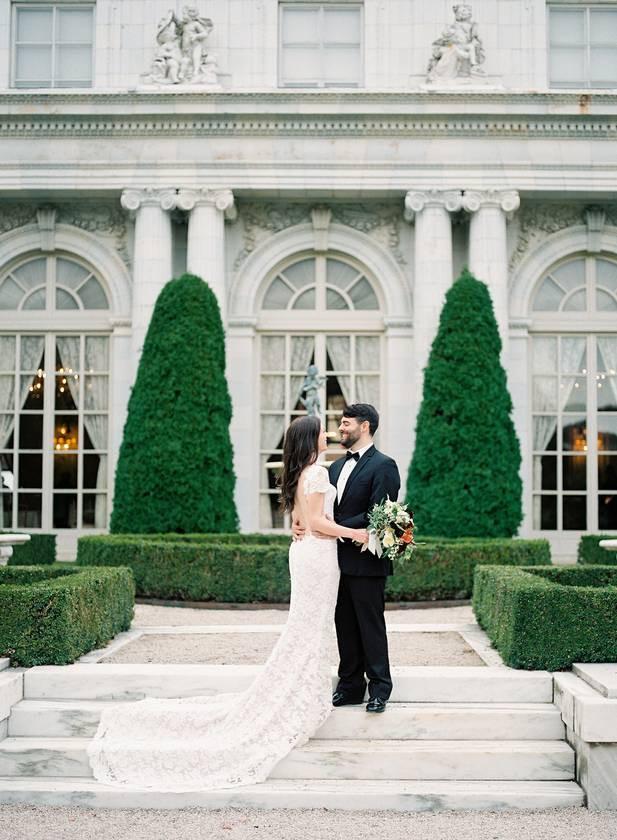 Rosecliff Mansion
Newport, Rhode Island
If you're looking for elegance and grandeur on the big day, this waterfront New England mansion is the epitome of sophistication. Rosecliff Mansion was built in 1902 and is modeled after the Palace of Versailles — with a seaside twist. Just off the mansion, a clifftop lawn overlooks the Atlantic Ocean and offers unparalleled views for a dreamy Rhode Island wedding. A French-style ballroom (complete with a cloud-painted ceiling) and intimate salon are two options inside the mansion for your reception. All that's missing? Macaron wedding favors and a croquembouche for added Parisian ambiance.
Learn more about Rosecliff Mansion »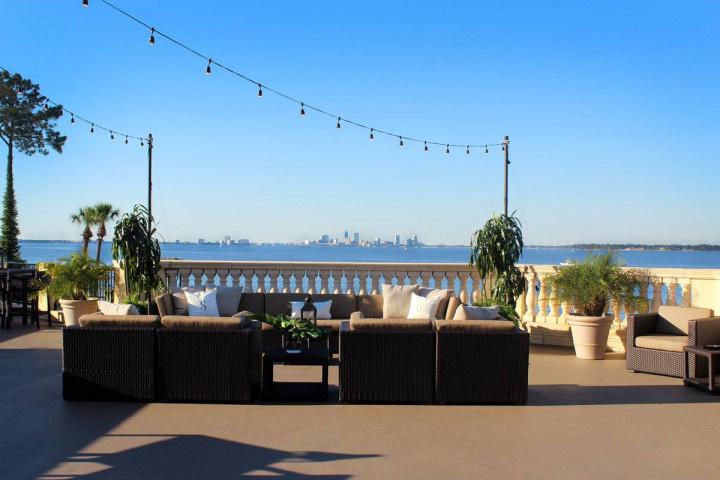 The Florida Yacht Club
Jacksonville, Florida
Looking for Florida wedding venues on the water? Beaches aren't your only option! There are plenty of non-beach venues across the Sunshine State that are ideal for hosting a nautical wedding. If you're in the Jacksonville area, check out The Florida Yacht Club, an elegant venue on the banks of the St. John's River. This waterfront wedding venue features a swanky rooftop porch with views of the river and downtown Jacksonville skyline.
Learn more about The Florida Yacht Club »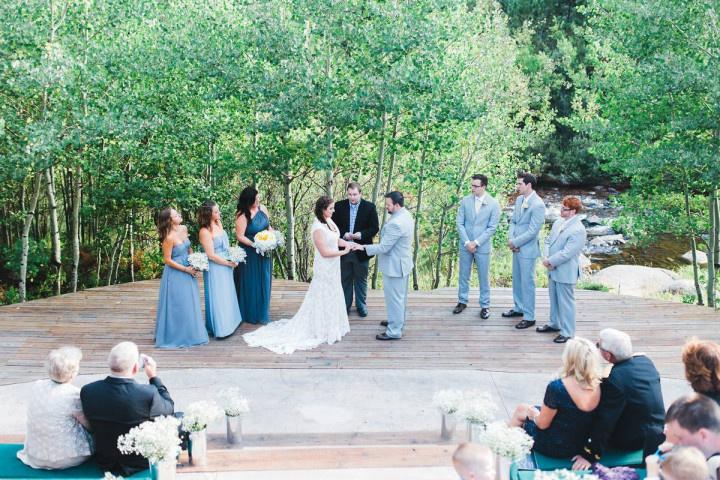 Wild Basin Lodge and Event Center
Allenspark, Colorado
You can find amazing waterfront wedding venues in landlocked states, too — just take the Wild Basin Lodge in Colorado as proof. We love this venue's riverside ceremony setting, which features amphitheater-style seating to ensure that each of your guests has an unobstructed view of the stunning mountain scenery.
Learn more about Wild Basin Lodge and Event Center »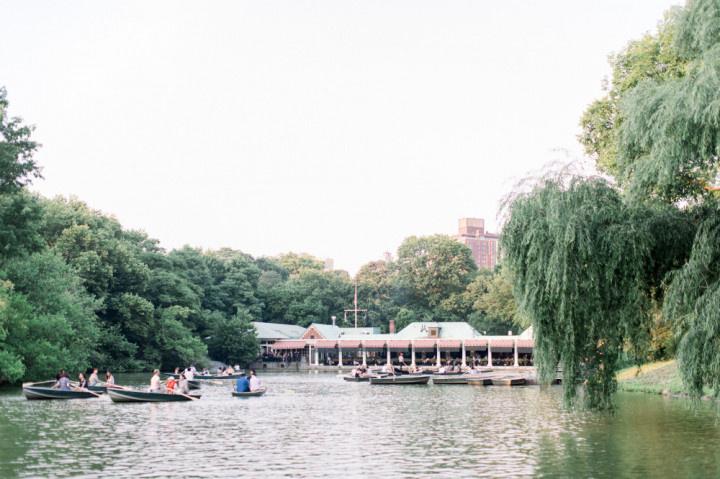 The Central Park Boathouse
New York, New York
It wouldn't be a proper list of waterfront wedding venues if we didn't include one of the most iconic options: The Central Park Boathouse. This famous 150-year-old boathouse is the only lakefront wedding venue in Manhattan, and it's also one of the most exclusive wedding venues in NYC. With its waterfront veranda, striped awnings, and authentic Venetian gondolas (yes, you can rent them!), The Central Park Boathouse is as charming as they come.
Learn more about The Central Park Boathouse »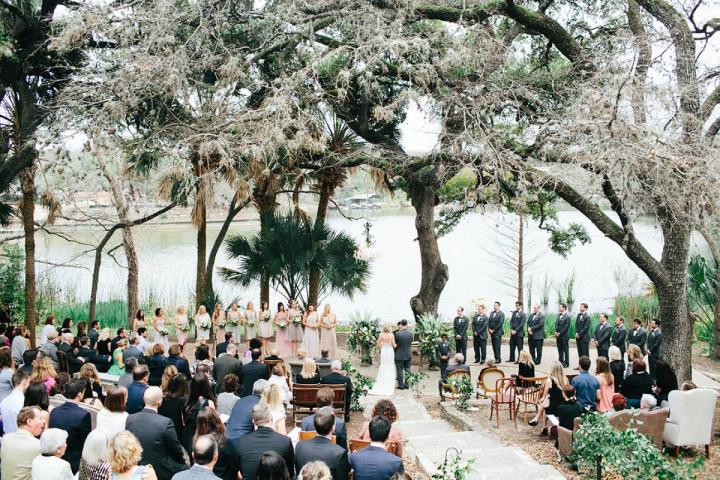 Laguna Gloria by The Contemporary Austin
Austin, Texas
Located on the shores of Lake Austin, this waterfront wedding venue blends timeless tradition with spunky ATX flair. Laguna Gloria is a Mediterranean-inspired villa that will have you second-guessing whether or not you've suddenly been transported to the European countryside (in the best way, obviously). The venue's lakefront amphitheater is surrounded by tall trees and palms that create an ultra-intimate setting, while the rest of the property features landscaped gardens, fountains, and a luxurious villa.
Learn more about Laguna Gloria by The Contemporary Austin »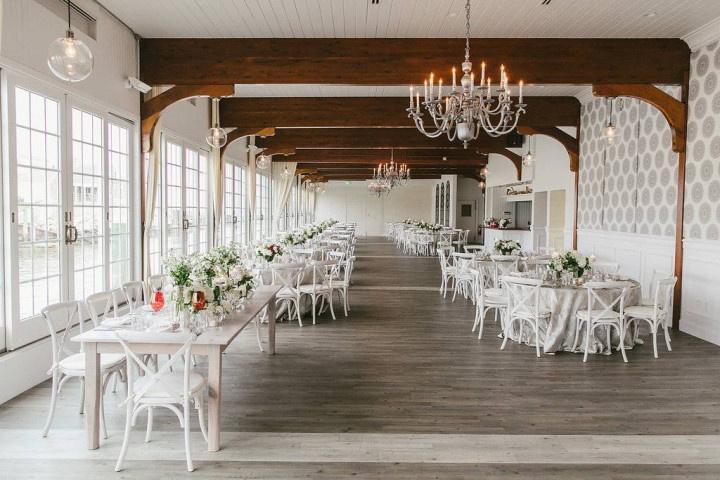 Wychmere Beach Club
Harwich Port, Massachusetts
The Harbor Room at the Wychmere Beach Club captures quintessential Cape Cod style. The bright and airy space, pictured above, features dark wood ceiling beams, glass pendant lights, hardwood floors, and wraparound French doors for unobstructed views of the marina. There's also a second-level banquet room with an adjoining rooftop deck, and a smaller banquet room that opens onto the club's oceanfront lawn. If you change your mind and want to have a beach wedding after all (we wouldn't blame you!), the venue's private stretch of sand is ideal for a sun-kissed ceremony, clam bake, or bonfire.
Learn more about Wychmere Beach Club »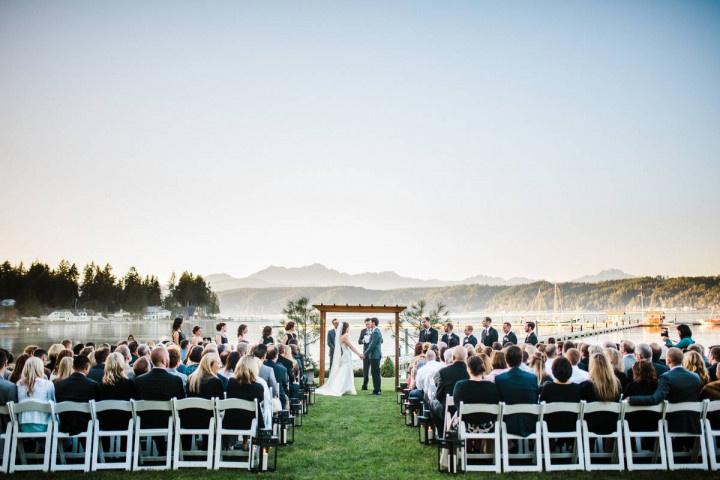 Alderbrook Resort & Spa
Union, Washington
The Pacific Northwest is home to some of the most beautiful coastline in the country, so naturally, this region is also an amazingly scenic choice for your wedding day. The Alderbrook Resort & Spa, located about two hours from Seattle and 40 minutes from Olympia, has a huge waterfront lawn overlooking Hood Canal with mountains in the distance. Once you've said 'I do', you can board a private yacht for a quick newlywed sail around the canal before heading into the venue's swanky ballroom for your reception!