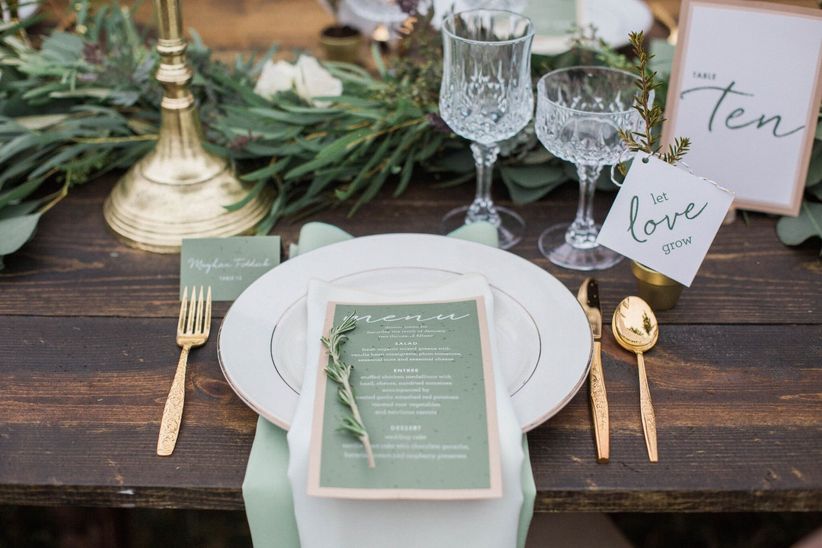 Photo: Lara Kimmerer
If you're saying "I do" by the sea, then get ready to set sail with nautical wedding style (pun intended). This style combines classic, preppy and beachy elements into one aesthetic that's timeless yet playful.


Read all about nautical wedding style here to find out if it's right for you.
Venue
The most obvious venue type for this style would be anything near the water, such as a river house, beachfront home, yacht club, or dockside banquet room. With the right decor, you can use nautical wedding style if you're getting married at a more traditional venue, such as a country club or estate garden.
Adventurous couples looking to wow their guests should consider getting married on a boat or ship (or at the very least, sailing off into the sunset at the end of the night). With any non-traditional venue, there are a few things you should consider first. Boats are usually limited on space, which means you'll have to stick to a smaller guest list, and don't forget about the possibility that some guests might be affected by seasickness.
Season
Nautical wedding style focuses on outdoorsy, beachy elements, which means that it works best during the spring and summer months—unless you live in a region that has warm temperatures year-round.
Color Palette
Your
color palette
should be grounded with classic hues. Start by choosing a few neutrals (white, gray, beige, black, silver, gold) and then add brighter pops of color here and there.
Navy blue is a staple when it comes to nautical wedding color palettes, and it looks great with just about any color. Adding red and white will create a preppy, all-American look. For a more beachy vibe, we love navy blue paired with coral, blush, orange, yellow, light blue, or mint green.
Photo: Stephanie Barnes Photography
Decor
Overall, the decor should be cheerful and welcoming. Beach-inspired items, such as anchors, sailing rope, maritime flags, and hurricane lanterns will all give your wedding an instant seaside flair. Mix in a handful of classic pieces (fine china, pillar candles, Chiavari chairs, etc.) to keep the look laid-back yet sophisticated.

Nautical weddings are also an opportunity to get a little creative and use your decor in unexpected ways. For escort cards, swap out paper for pieces of driftwood, miniature buoys, compasses, life preservers, or even clam shells. Create a makeshift guestbook out of wooden oars, a ship wheel, or have your guests leave you "messages in a bottle" using glass water jugs, which you can easily source from thrift stores or antique shops. Another unexpected material that we love is fishing net. Not only is it super versatile, but it's also super budget-friendly. You can tie it onto the backs of chairs at your ceremony/reception, drape it along banquet tables, or hang it as an accent throughout the reception.

Stationery
Stripes are a popular option for nautical wedding stationery, but you can also incorporate more subtle details, such as a single anchor motif or simple rope-inspired border. Watercolor invitations are on-trend and work well for nautical themes, especially if you use blue tones. For a truly nautical touch, calculate the exact latitude and longitude coordinates of your wedding venue and add those to the invitations.

Flowers
The wedding flowers should be fun and whimsical while staying relatively classic. You won't want anything that looks too trendy. Instead, stick with traditional styles and play up the arrangements with vibrant colors and playful accents.

Most types of flowers will look good for nautical weddings, but some of our favorites include ranunculuses, roses, hydrangeas, anemones, calla lilies, tulips, and peonies. If you are carrying a bouquet, ask your wedding florist to wrap the stems with sailing rope or trailing ribbons for a breezy effect.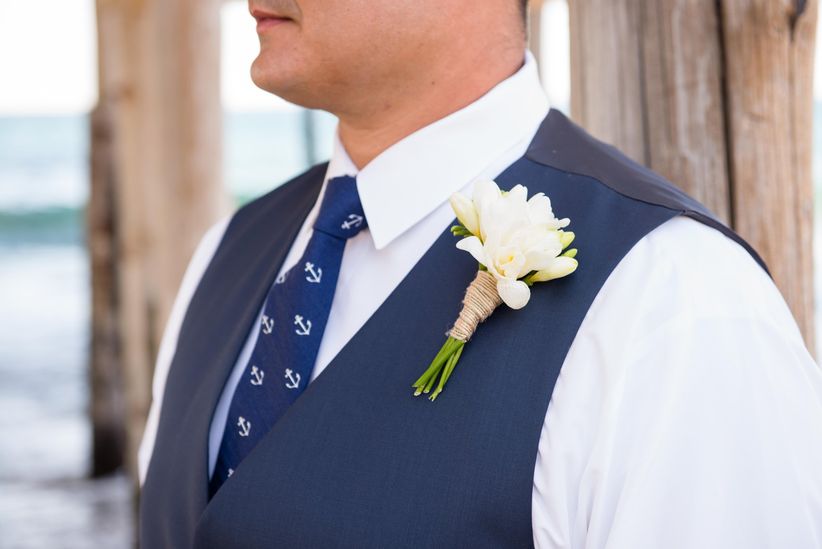 Photo: Kristi Midgette Photography
Attire
Nautical wedding style usually calls for attire that is more on the casual side, but you should consider your venue before finalizing a dress code. If you're getting married at the beach, it's totally okay to have a laid-back, informal dress code, but if your venue is more high-end, you'll need to dress accordingly.

Brides who want an overall classic look should opt for structured gowns with clean lines and minimal details. Feeling preppy? Gowns with statement bows, A-line skirts and bateau necklines are perfect for you. If you prefer a beachy, bohemian vibe, then choose a gown in a flowing silhouette with beading, embroidery or lace details.

While black suits are always in style, navy blue suits are a modern, on-trend alternative. Another option is a seersucker suit, which is nautical with a hint of Southern charm. You also shouldn't feel limited to matchy-matchy pieces. A navy blue sport coat with khaki slacks and a tie can look just as polished as a traditional suit. Don't be afraid to have a bit of fun with your accessories, either! Depending on your venue, you can wear boat shoes or stylish sneakers—just make sure that they're clean and in good shape first. Add pops of color to your look with plaid accessories, playful bow ties, pocket squares, and even patterned belts.

Cake and Dessert
When it comes to the wedding cake, the overall design should be streamlined and classic. Fondant icing will give the cake a smooth, clean look, which you can then dress up with different ribbons, piped designs, fresh flowers, or even your new married monogram!