20 Beach Wedding Centerpieces for a Tropical or Nautical Theme
Whether you want seashells, driftwood, tropical greenery, or citrus fruits, there are all sorts of ways to style your beach-themed wedding centerpieces. Here are some of our favorites.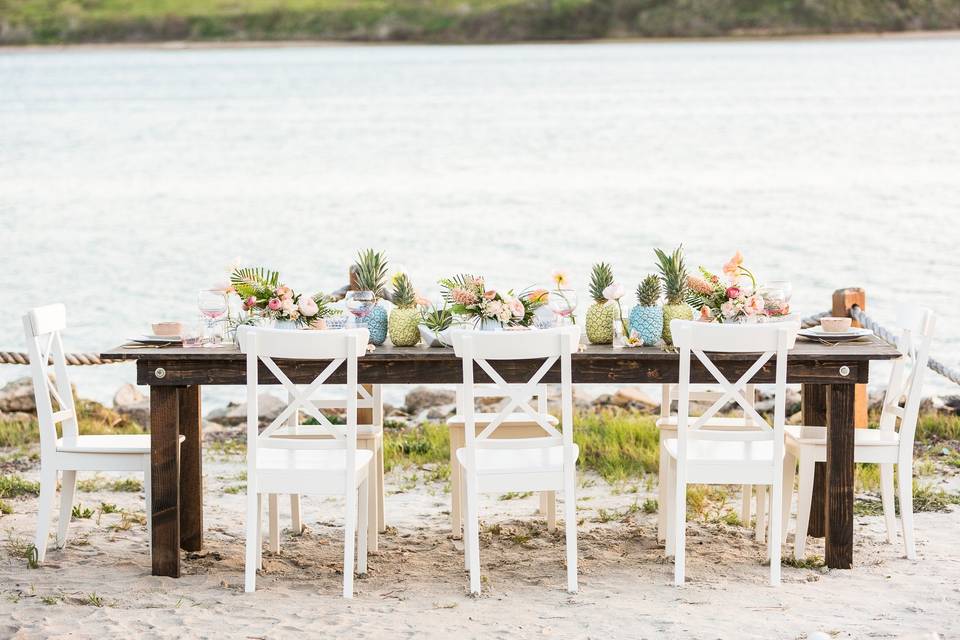 If you're getting married by the ocean or any other waterfront venue with a view, you won't need a ton of beach wedding decor (the scenery will do the work for you!), but no reception is complete without fabulous centerpieces. These beach-themed wedding centerpieces are just a few ways you can add to your tropical or nautical wedding theme. Check out these beach wedding ideas and centerpieces so you're ready to share them with your wedding florist when the time comes.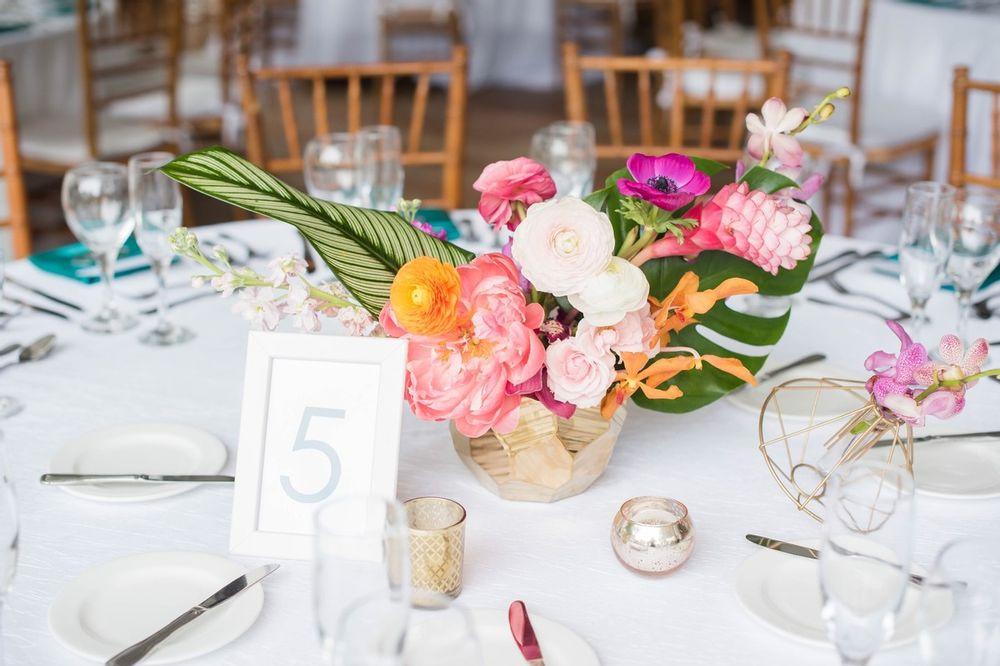 Pink and orange centerpiece with greenery
If you're having a destination wedding on a tropical island or want to bring a splash of color to your tablescapes, incorporate bold flowers like pink ginger torch, orange vanda orchids, and statement greenery.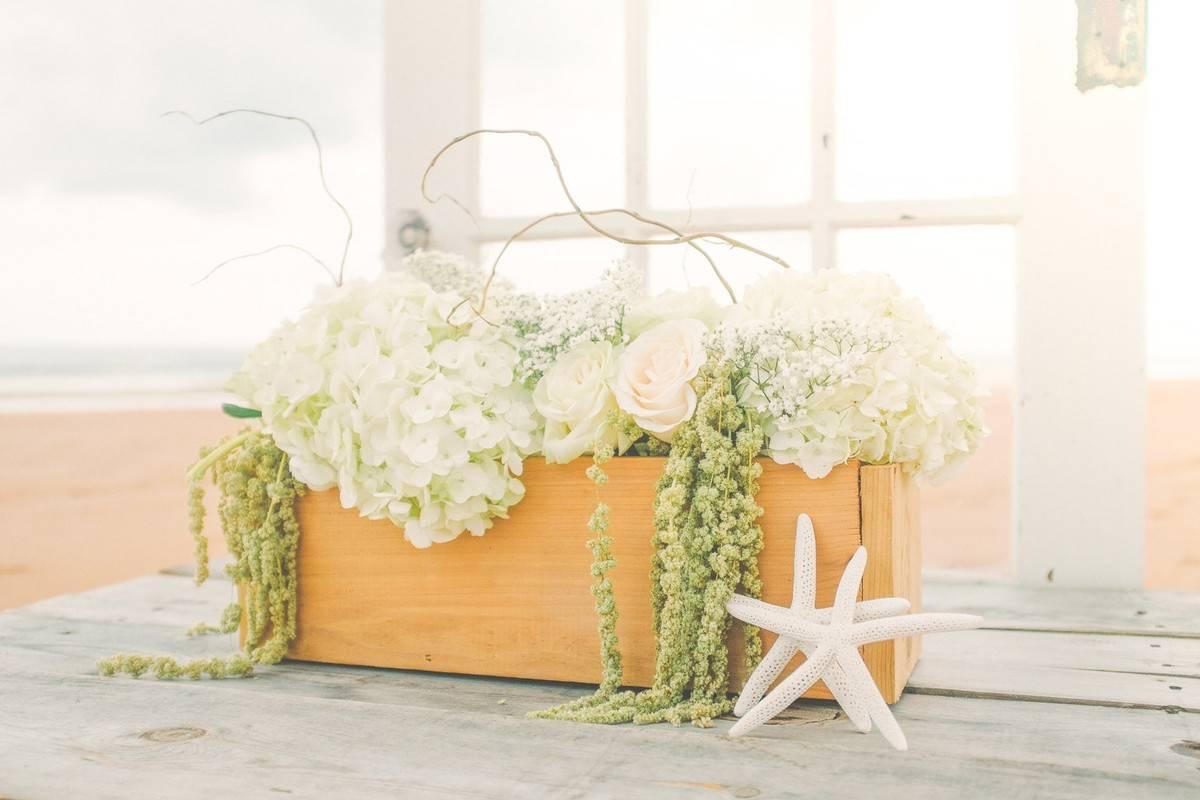 Beach wedding centerpiece with starfish
This centerpiece is ideal if you're going for a classic nautical or beach theme. Showcase soft flowers, like white hydrangeas, pale pink roses, and green amaranthus in a simple wooden trough and finish the arrangement with a few starfish.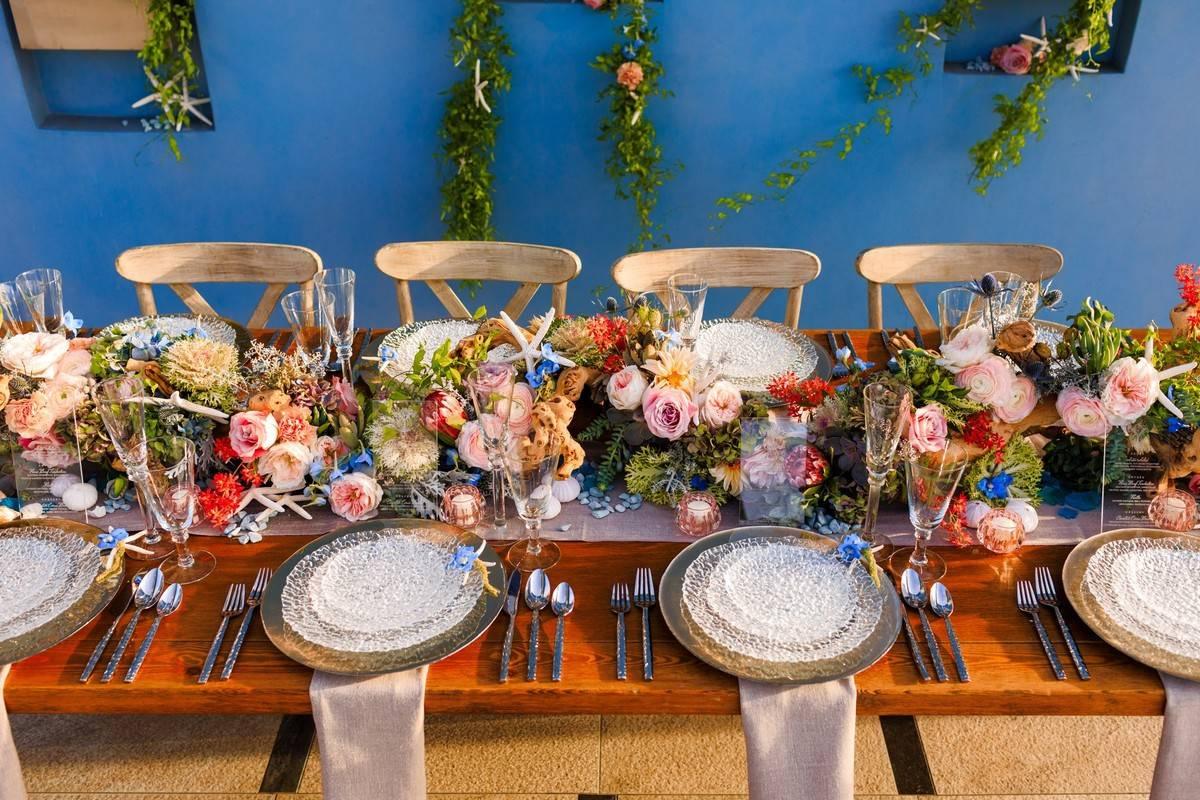 Colorful blue and pink wedding centerpiece
One of our favorite things about having a beach-themed wedding is the chance to go big with your wedding color palette. This floral table runner combines pink garden roses, blue delphinium, ranunculus, proteas, and starfish to create the effect of a living coral reef.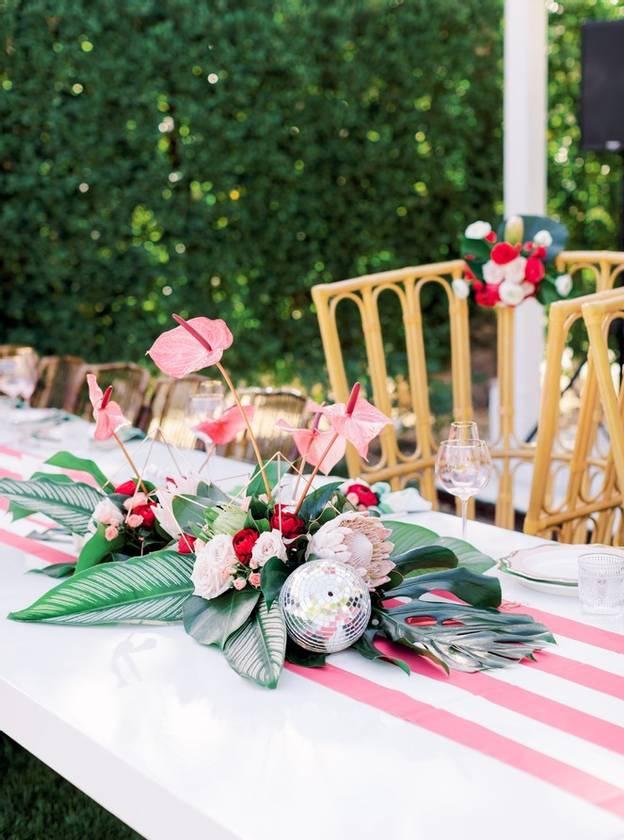 Modern tropical beach wedding centerpiece
Tropical weddings continue to trend, and this aesthetic is all about adding whimsical details to your decor. This miniature disco ball is an unexpected but fun way to jazz up a tropical centerpiece featuring pink anthuriums, calatheas, and monstera leaves.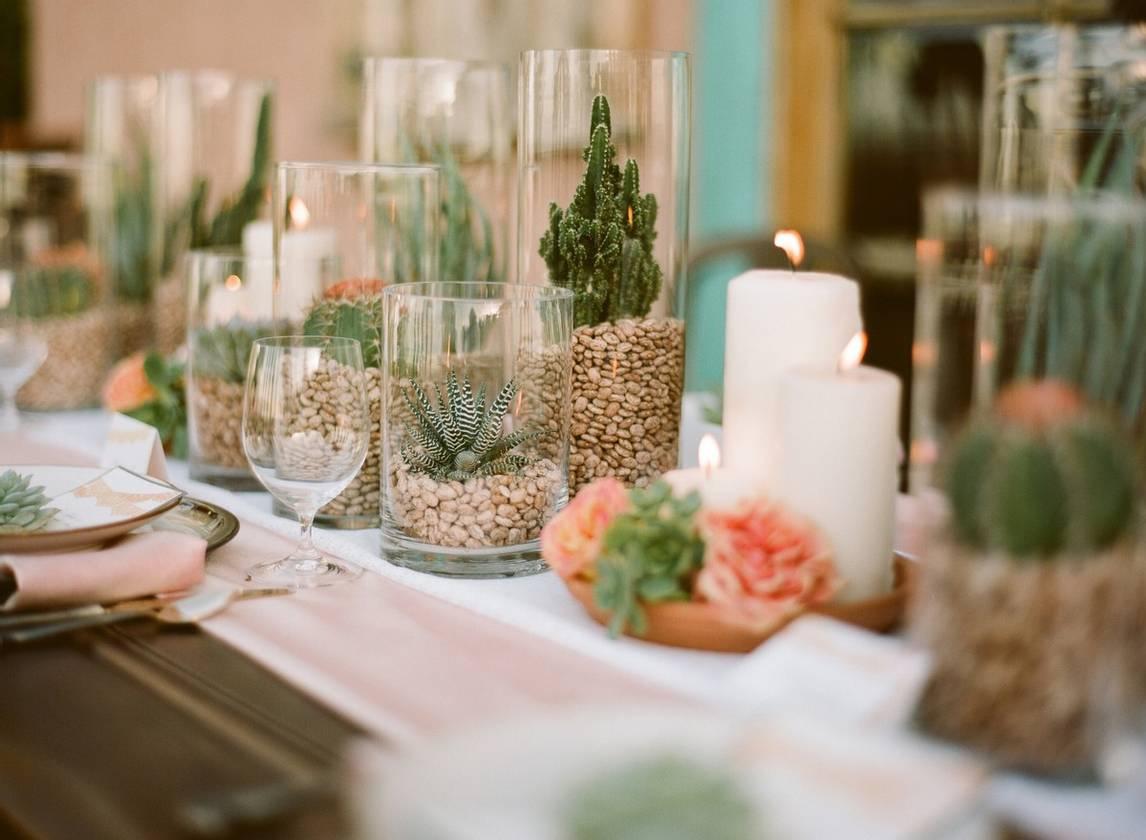 Succulent beach-themed wedding centerpiece
Succulents look great in any beach wedding centerpiece. Line your reception tables with succulents and cacti in mismatched glass cylinder vases for an easy and eco-friendly centerpiece. You can repurpose them later on as home decor or hand them out to guests at the end of the celebration as wedding favors.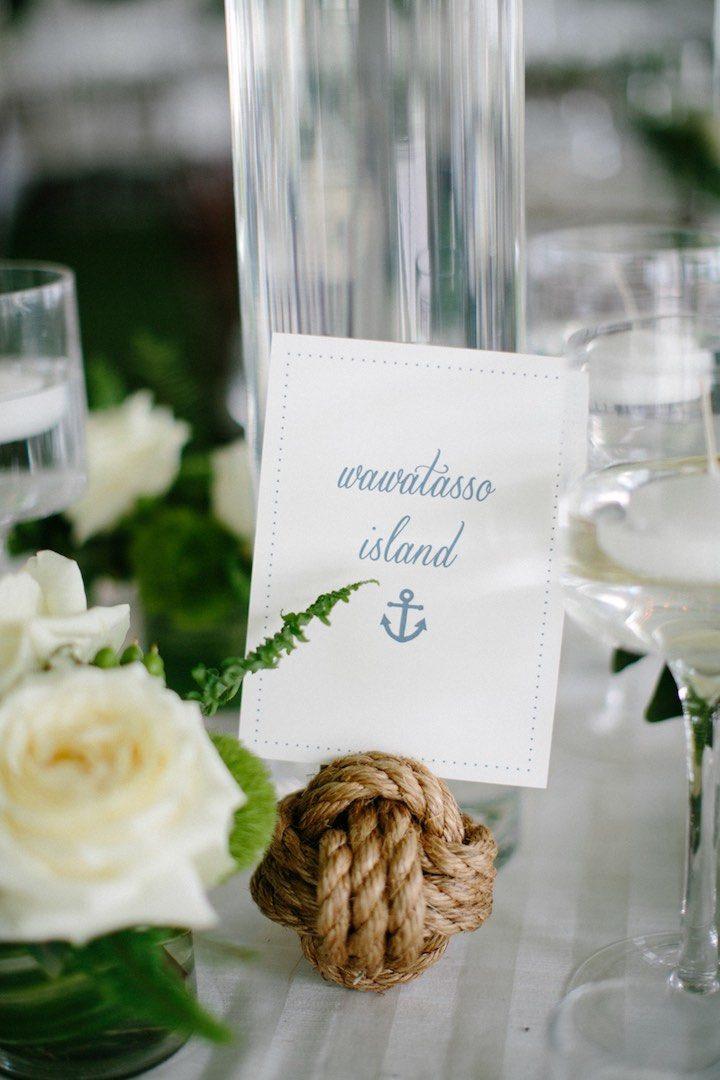 Nautical rope beach wedding centerpiece
Adding nautical details to your centerpieces, like this miniature rope ball holding a table name card, is another way to incorporate your beach wedding theme.
Pineapple wedding centerpiece with greenery
Pineapples are a symbol of hospitality and friendship, so they're perfect additions to your beach-themed centerpieces. Skip the traditional vases and use hollowed-out pineapples to display your flowers instead.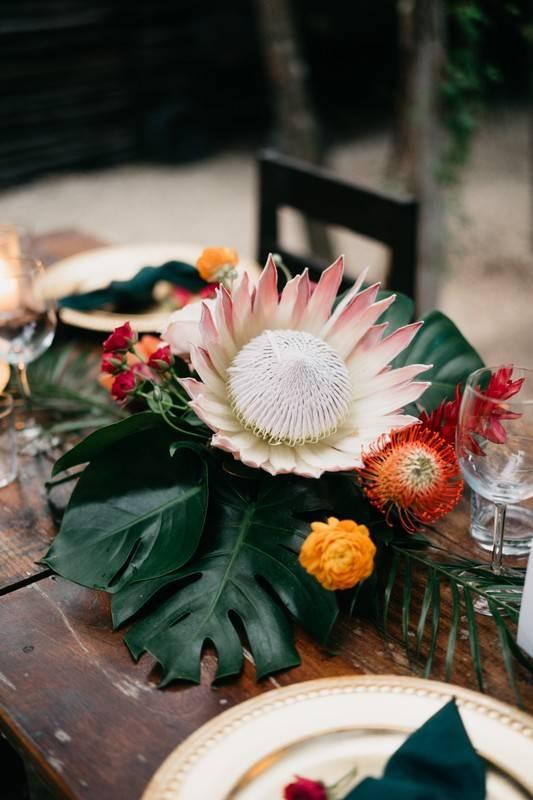 King protea centerpiece with monstera leaves
Proteas (the large, pink spiked flower in the center of this arrangement) are boho and beachy at the same time. Since these oversized blooms make a statement all on their own, you don't need to add much else—a few monstera leaves and flowers will do the trick.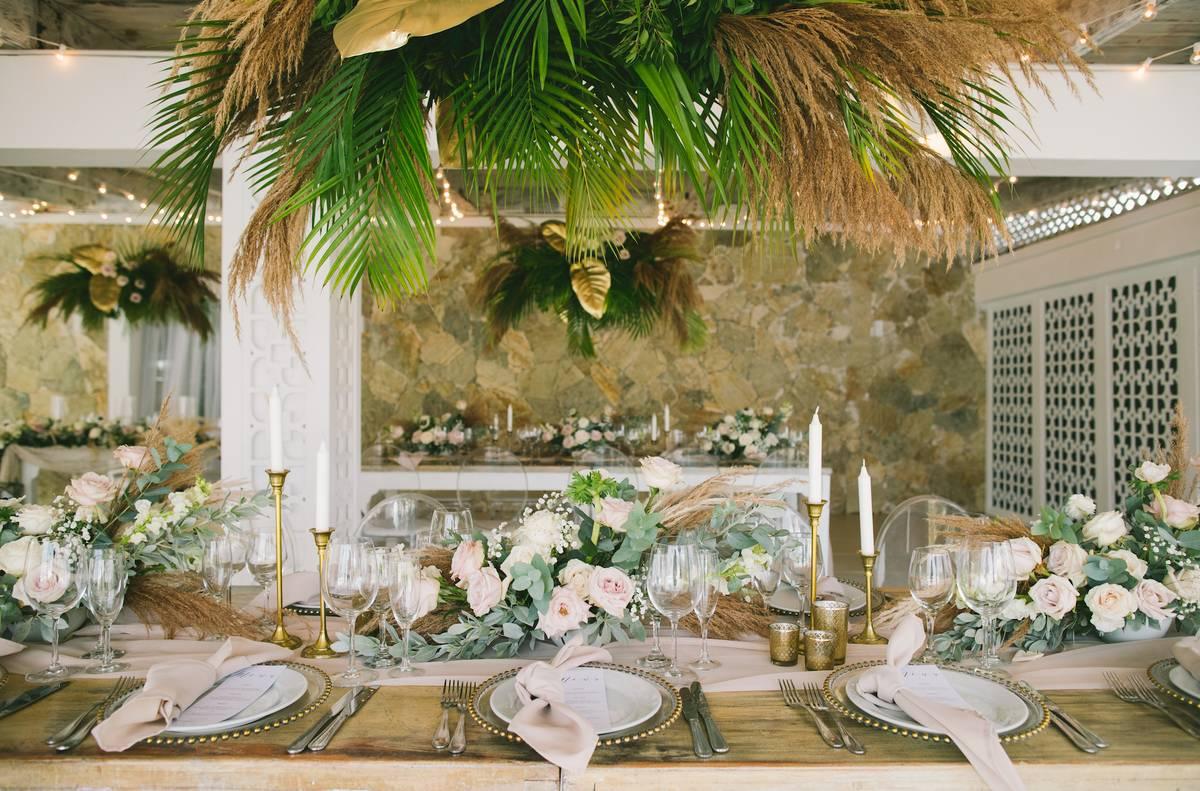 Romantic beach-themed wedding centerpiece
If you're going for a romantic beach theme on your big day, keep your centerpieces light and airy by using pale pink garden roses, eucalyptus, and pampas grass. Gold candlesticks add a hint of Old World glamour.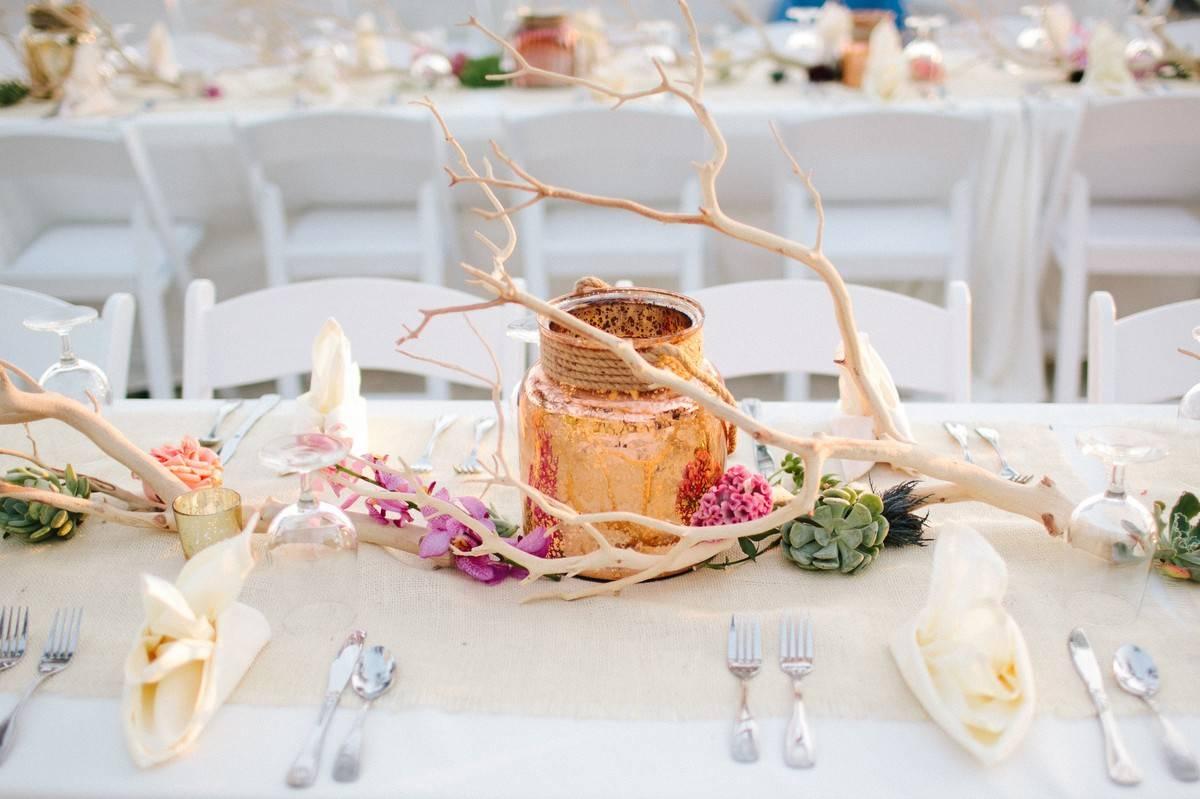 Driftwood and succulent centerpiece
This centerpiece is proof that a simple driftwood branch can instantly give your wedding decorations a beachy vibe. Pair the driftwood with gold candle holders, succulents, and pink orchids to recreate this tablescape.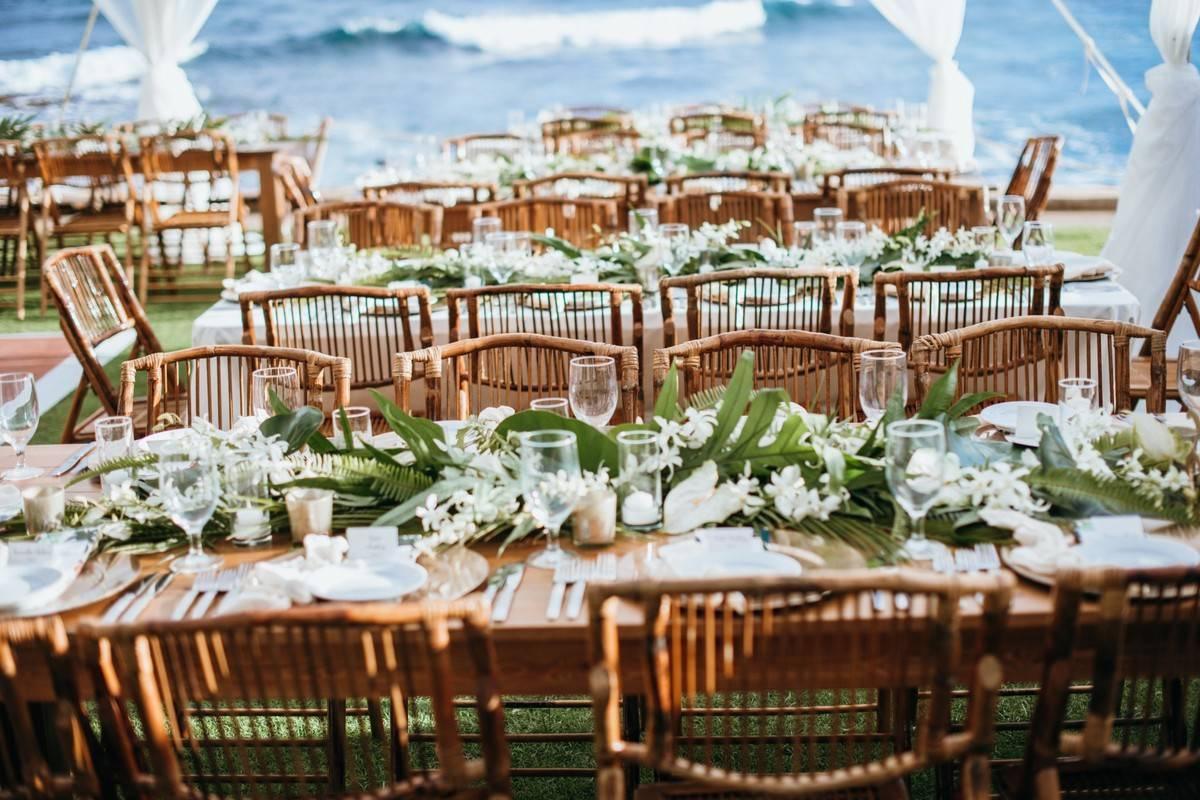 Simple beach wedding centerpiece
Want to keep things simple for your table decorations? Stick to a monochromatic green and white color palette and arrange the flowers directly on the tables, sans vases.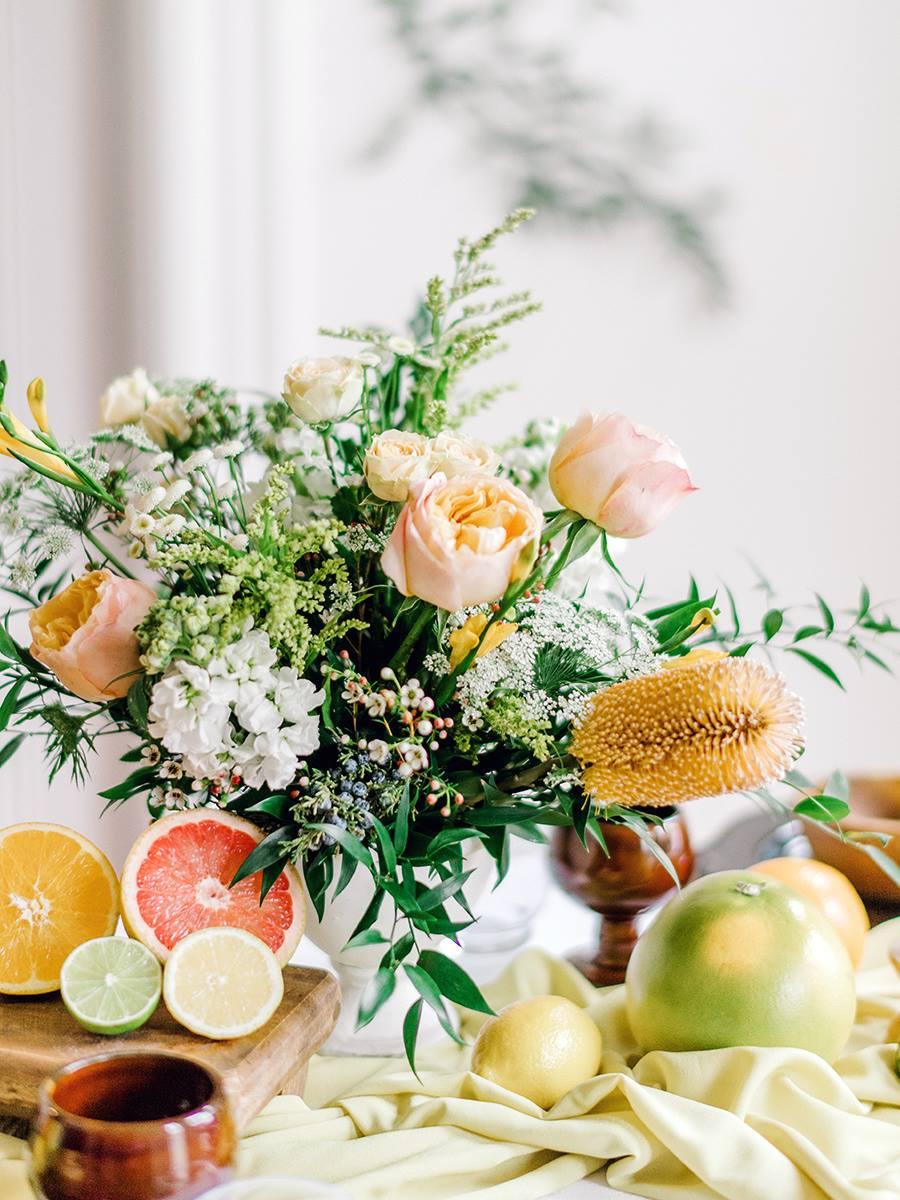 Citrus-inspired beach wedding centerpiece
Fresh fruit might not be the first thing that comes to mind when you're decorating your wedding reception, but it's actually perfect for a tropical or beach-themed wedding. Use citrus fruits like oranges, grapefruits, and limes to accent a colorful arrangement of roses, greenery, and eye-catching banksia flowers.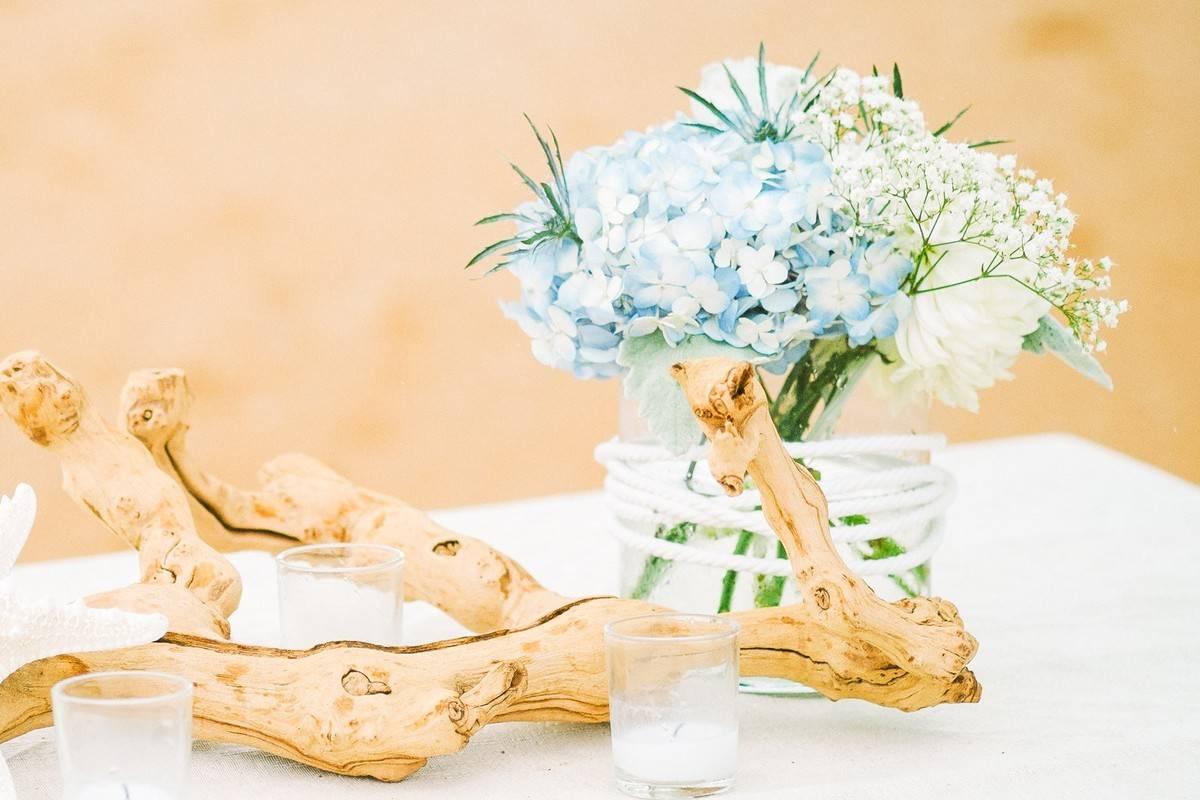 Hydrangeas and driftwood centerpiece
For a timeless beach theme wedding centerpiece, all you need are blue hydrangeas, votive candles, and driftwood. This chic and simple centerpiece would be oh-so-fitting for a wedding on Cape Cod or the Outer Banks.
Boho beach-themed wedding centerpiece
Add a bit of boho style to your beach wedding centerpieces by using painted sun palms and flowers in muted earth tones, like these brown cymbidium orchids and roses.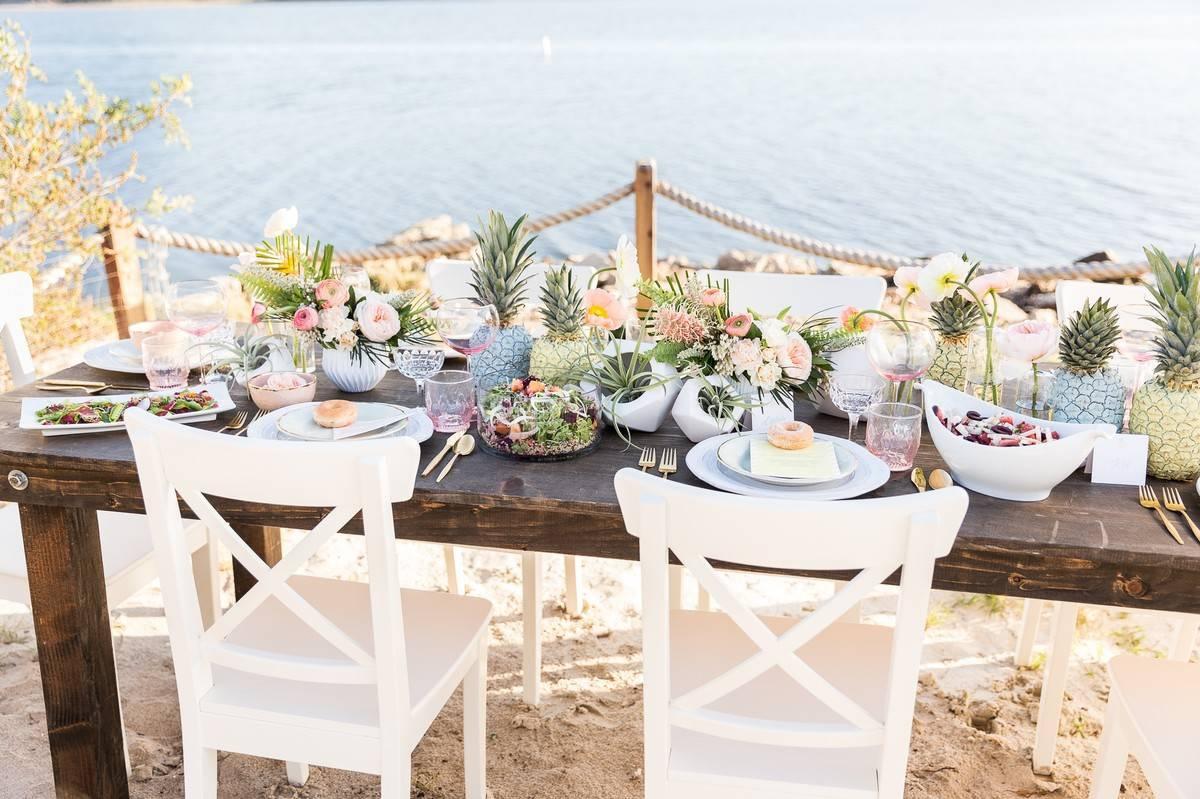 Long wedding table with painted pineapples
If you love the idea of using pineapples but don't love their bright yellow hue, paint them! These pale blue and green pineapples give off tropical island vibes while also blending into the rest of tablescape.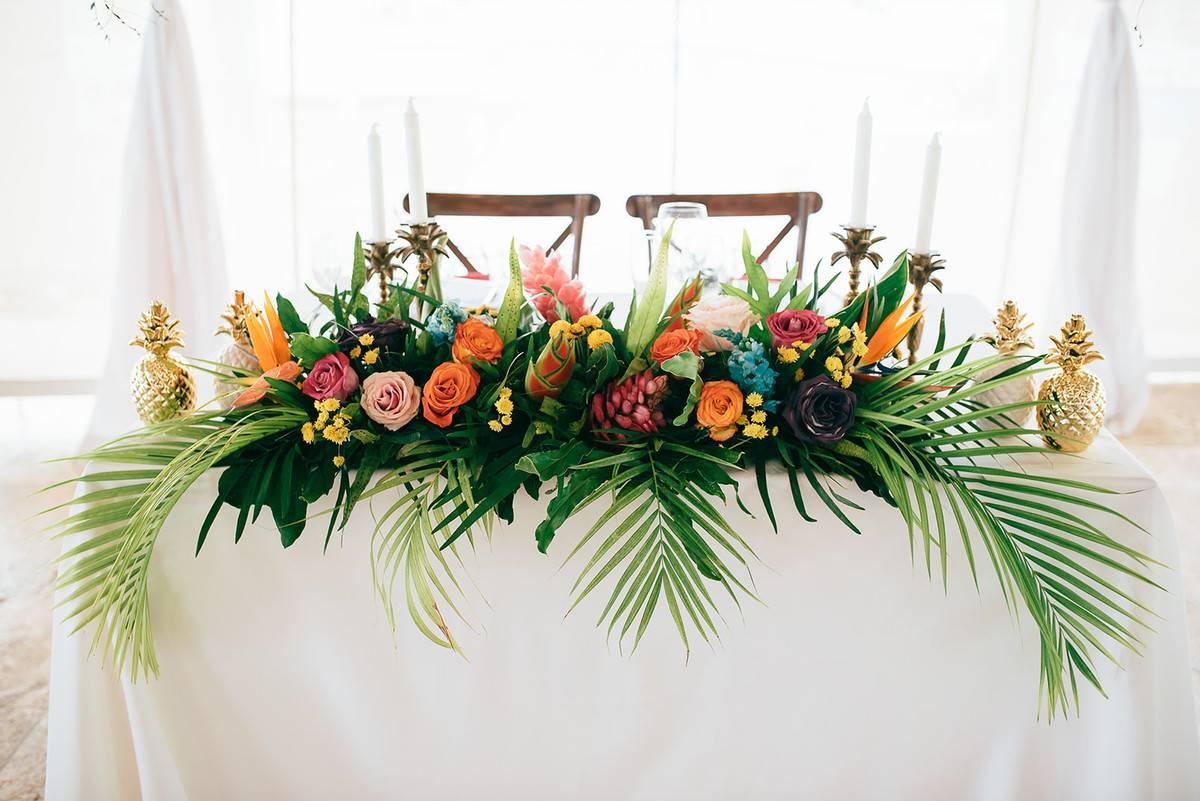 Beachy sweetheart table centerpiece
Decorate your wedding sweetheart table with a statement-making centerpiece, like this oversized arrangement of palm leaves, Birds of Paradise, roses, ginger torch, and brass candlesticks.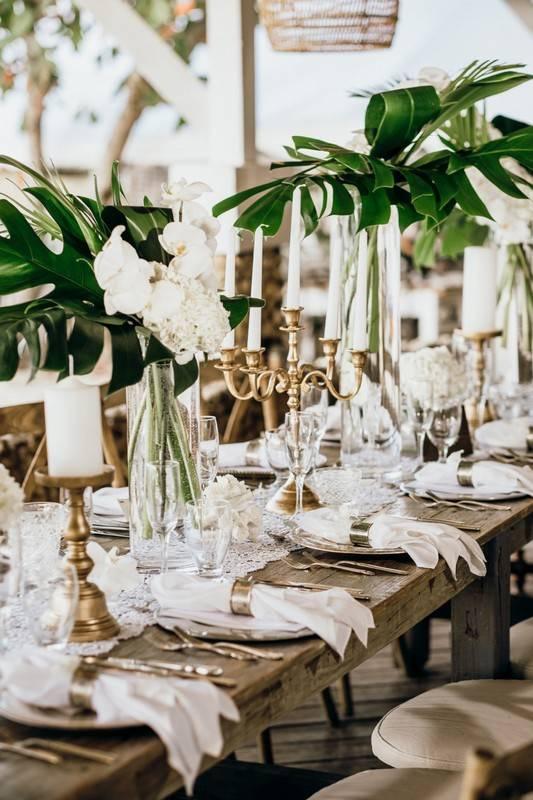 Elegant beach-themed wedding centerpiece
Use tall glass cylinder vases with white phalaenopsis orchids and monstera leaves to achieve an ultra-luxurious look. Finish your centerpieces with gold candelabras and white pillar candles.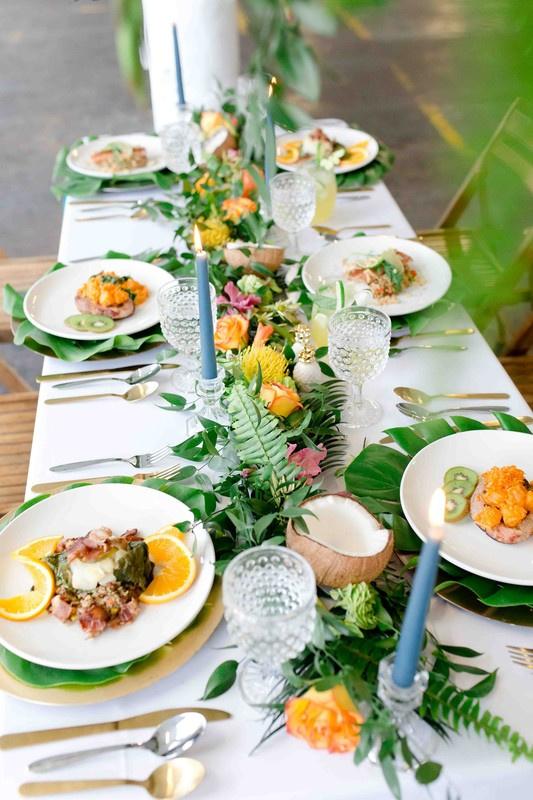 Beach wedding centerpiece with coconuts
Along with citrus fruits and pineapples, coconuts are another island-inspired element you can add to your beach-themed wedding centerpieces. Split them in half and use them next to tropical flowers and greenery.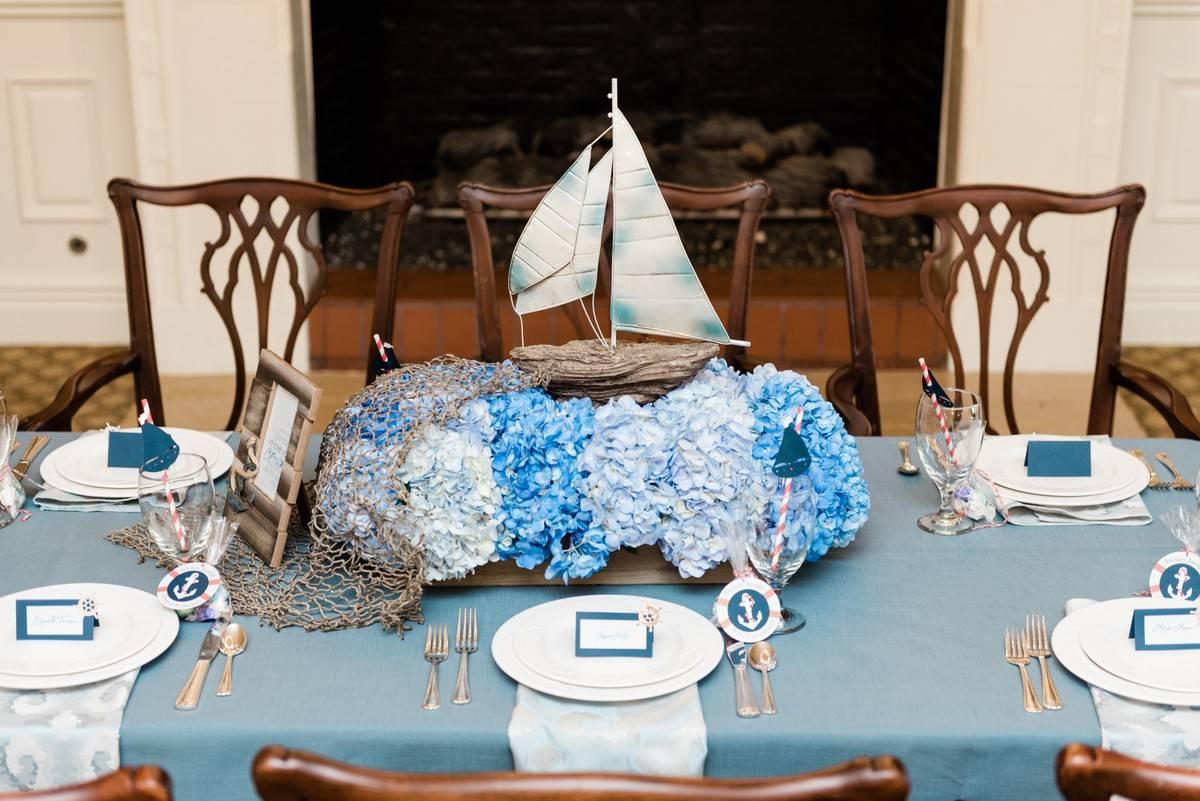 Sailboat centerpiece with hydrangeas
Miniature sailboats are a cute way to decorate your reception tables if you're having a beachside wedding or getting married at a yacht club.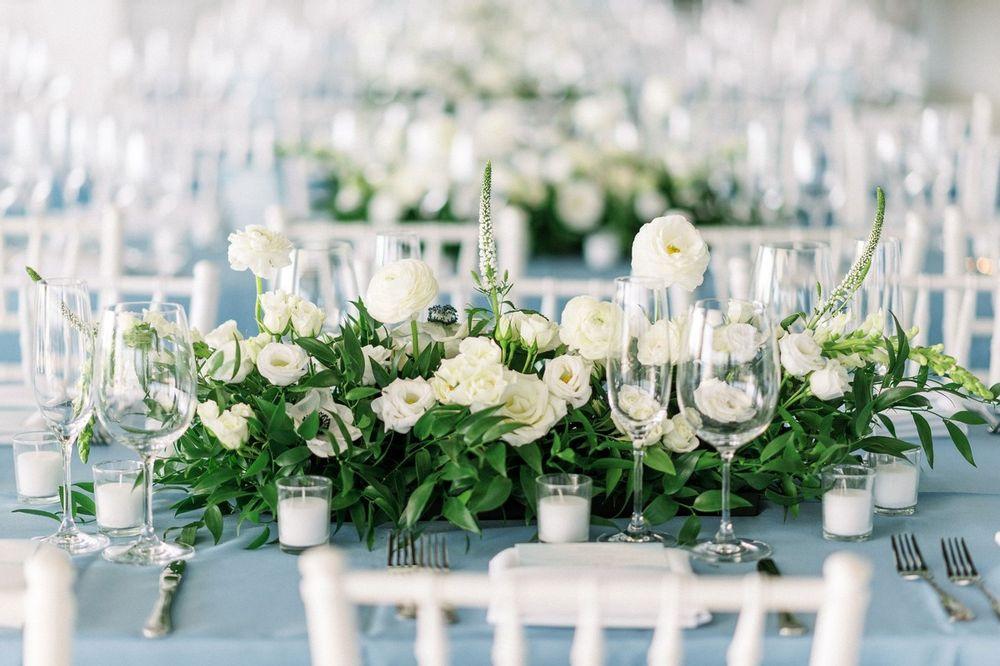 Simple white and blue beach wedding centerpiece
This airy, all-white centerpiece featuring ranunculus, lisianthus, and gooseneck instantly feels beachy when paired with a pale blue tablecloth.