First-Time Bridesmaids vs. Veterans: The Biggest Differences
The first-time bridesmaids and the vets are sure to handle your wedding a bit differently—here's a preview of how things may unfold.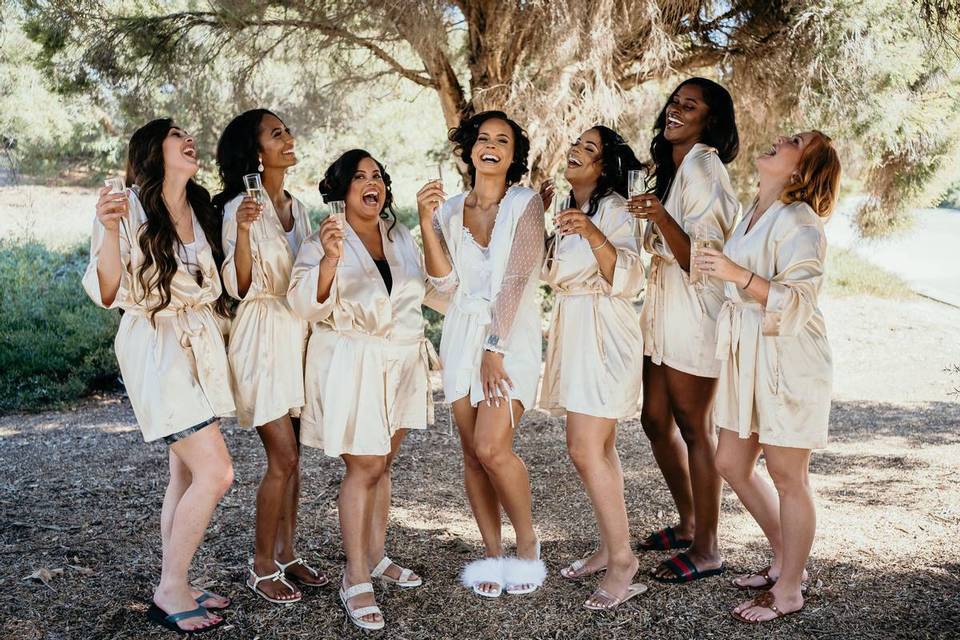 In most wedding parties, there are two types of bridesmaids: the seasoned experts, and the wide-eyed first-time bridesmaids. Even though they're all your best friends, the two bridal party camps tend to handle bridesmaid duties a little…differently. For the pros, every step of the way may seem business as usual, while the newbies may handle each wedding milestone as excitedly and nervously as any uncharted territory. So, what can you expect from your first-time bridesmaids and your vets as your wedding day unfolds? Keep reading for a preview:
Party Planning
If your maid of honor and bridesmaids will be tasked with planning the engagement party, bachelorette party and/or bridal shower, expect a pretty big difference in strategy between the veterans and the first-time bridesmaids. While the vets will be more experienced at throwing great pre-wedding events without spending too much cash on unnecessary extras, the rookies may be more apt to overspend and over-plan, in an effort to make everything even-better-than-perfect for their favorite bride. This can lead to a lot of stress and anxiety and maybe even a little (red alert!) pent-up resentment on the first-timers' behalf—mostly self-inflicted! If you're worried your rookie 'maids will overdo it on any of your parties, make it clear from the get-go that you don't want anyone spending too much of their own money, or too much time, on any event, and that your only expectations are that everyone gets together for a good time!
Bridesmaid Dress Shopping
Believe it or not, it's the veterans you may have to put in a little more work with when it comes to bridesmaid attire! First-time bridesmaids tend to be more by-the-books and eager to please, plus more excited overall about picking out their looks, veterans have more experience with the wedding timelines and flexibility within, so they'll be more apt to test the limits. The bottom line: Experienced bridesmaids just know more about what they can get away with! If anyone is going to need reining in when it comes to picking out her dress, or reminders to order by a certain day, it'll be a veteran, just because they'll likely be less overly cautious and over-prepared than their first-timer counterparts. A good way to keep all 'maids on the same page would be to simply share a Google doc with all the details about bridesmaid wardrobe, complete with links to dresses and/or color/length requirements, deadlines to order by, calendar alerts for dress fitting appointments, and vendor websites and phone numbers.
Wedding Planning Process
Your first-time bridesmaids may be more eager to help you plan, but your veterans may have the experience to make recommendations and provide insight. Delegate wedding-planning tasks wisely: You might ask your first-time bridesmaids to help you with DIY projects (they'll likely be willing to put in the time and effort), while your pros might be better suited to helping pick a wedding venue or choosing a wedding cake design, as they've been to enough events to know what to look for. You can also share any wedding etiquette dilemmas with your veterans—they can use their past experience to help come up with a solution.
Wedding Dress Shopping
If you're taking your BFFs dress shopping with you, chances are, bridesmaids who've been to this rodeo before will probably be less likely to sugarcoat their opinions on what you try on. Which: blessing and curse. Rookies are more likely to think that it's their job to say you look beautiful and perfect in everything you put on, even if it's heinous, while veterans will know that what you really want is honesty and that giving it to you won't make you run from the bridal salon weeping. Asking the whole group for measured honestly (i.e., be upfront with me, but don't be mean!) before you head into the first dress appointment should be enough to help your rookies open up, but if they still seem timid, don't sweat it—it's ultimately you who should be making the decision on which dress to buy, after all!
Last-Minute Emergencies
Unsurprisingly, been-there-before bridesmaids may handle wedding emergencies more calmly, because they've seen the other side of wedding emergencies already and they know that everything will get figured out in the end and your wedding will go off without a hitch. On the other hand, it's the over-prepared first-time bridesmaids who might be more likely to have exactly what you need in a pinch, because they're more likely to have read a ton of wedding-related advice articles and have whipped up a mean emergency kit full of bobby pins, body tape, antacids, Advil, and maybe a transatlantic plane ticket (just kidding about that last one). 'Maids who have done weddings before might have never seen an emergency kit get used, so they'll be less likely to bring one to the next wedding they're in. This just one more reason why it's always great to have both types of 'maids by your side on the big day—together they make an amazing team!
Toasts
Whether at the rehearsal dinner or during your reception, your MOH and bridesmaids may be tasked with giving speeches and toasts. It's likely that your first-time 'maids will want to go all out with their speeches (maybe even trying something creative, like a parody song) with the end result being a little, er, lengthy. More seasoned bridesmaids will know that guests tend to lose interest in longer speeches, and are more likely to keep their toasts short and sweet. Make sure to let all of your bridesmaids know if they're giving speeches well in advance of your special day, and give them a time limit for their toasts (around three minutes is a good rule of thumb).
Dance Floor
After you say "I do", it's time to party! One of the most important bridesmaid (and groomsman!) responsibilities is be among the first to hit the dance floor, and encourage other guests to do so! First-time bridesmaids might not realize that dancing is part of their responsibilities so may need a bit of a push from the veterans when it comes to taking the floor. But once the music is playing and the mood is up, it will take little encouragement for your entire wedding party to be celebrating together.