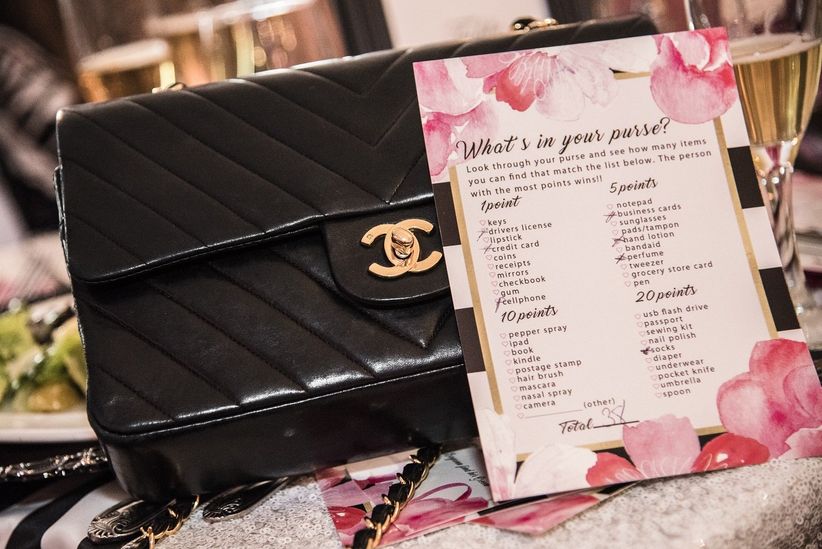 Photo: Ashley Halas Photography
No bachelorette party is complete without over-the-top decor, fruity cocktails (or mocktails!), and of course, bachelorette party games (some of which may cause a bit of blushing for the bride-to-be). These bachelorette party games, risky or not, definitely help break the ice for squad members as well as kick start the celebratory festivities.

So if you're planning a bachelorette party and are in need of some games to play with the gals to celebrate that last fling before the ring, we've got you covered. From adult truth or dare to scavenger hunts, you're in for endless laughs and memories with these bachelorette party games.


Liven up the bash with these silly and fun bachelorette party games and activities.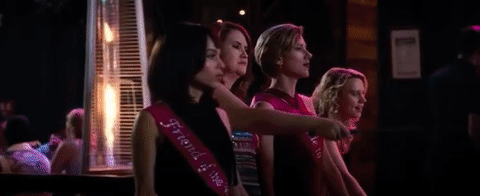 21 Questions
Kick off the night by playing this bachelorette party game of 21 Questions. Before the bash, have the bride's future spouse answer 21 questions about the bride. Then once you arrive at the bachelorette weekend, get everyone together and have the bride answer the same questions to see how well these nearly-weds really know each other. You can even spice up the game by making the bride have a drink for every question she misses!
Check Out Bachelorette Party Game 21: Questions here»
Bachelorette Bucket List
Similar to a scavenger hunt, The Bachelorette Bucket List game is a set of dares and challenges for the bride-to-be to complete throughout her bach trip. All you need to do is come up with a list of funny tasks—like get a random person's number—and then check off all the silly ones the bride-to-be actually decides to complete. Throughout the party you can document each task by taking a quick snap to share with the gang—but just make sure the challenges aren't too out there.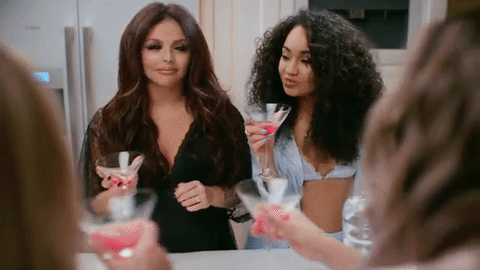 How Well Do You Know the Bachelorette?
This bachelorette party game (which doubles as a
bridal shower game
) is a great ice breaker if not everyone in your group knows one another. Print out a mix of generic and silly questions about the bride-to-be—like what's her fave song to blast in the car—and have all those attending the bachelorette party answer the questions with their best guesses. After everyone fills out the questions, get the bride-to-be to give her answers for each. Whoever has the most correct answers wins!
Never Have I Ever
Bring back this old school game at a
bachelorette party
to have lots of #tbt moments. Each person will start by saying the phrase "Never have I ever" and then follow with something they've never done. Whoever in the group that has actually done the task must either drink or tell everyone the juicy deets on what went down. These acts can be as risky or wild as you want, just make sure you know the crowd before you start playing.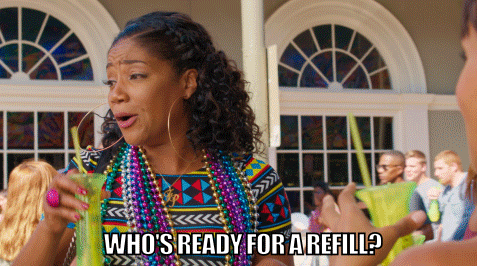 Bachelorette Libs
This bachelorette party game is a fun take on the iconic Mad Libs template. All you need to do is print out a wedding-inspired word template, (which you can find on sites
like Pinterest
) and then have the crew fill in the blanks with either adjectives, verbs or nouns. After everyone has filled out the template, go around the room and have each person read their story aloud. Don't worry, they probably won't make too much sense—but that's the fun part!
Ex - Charades
This charades game will definitely get the squad bonding and LOL-ing... as they act out the bride-to-be's most memorable exes! All you have to do is divide up into two teams and then take turns acting out an old crush or ex-lover of the bride. Whichever team gets the most correct guesses from the bride wins! Our only note for this game: Ask if the bride-to-be is cool reliving some memories of old flames.
Stud or Dud?
If your bach gang loves celeb heart throbs, this activity needs to be added to your bachelorette party games list. Print out pictures of celebrities that are on all ranges of the spectrum of hotness. Then go around the room and debate which celeb is deemed a stud or a dud. Some go-to celebrities for this game are Blake Shelton, Idris Elba and
Prince Harry
.
Kiss the the Stud
How many times at a birthday party growing up did you play the game Pin the Tail on the Donkey? If the answer is "more than you can count" than this bachelorette party game is a no brainer. Each player puts on a blindfold and tries to place a kiss sticker on a poster of a hot cut-out stud (instead of a donkey). You'll definitely get some giggles as you watch each player try to post their kiss pin.

Post-It Note Memory Game
If you want some of your bachelorette party games to have sentimental value or a sweet keepsake, then this memory game is perfect. Give everyone a pen and post-it note so they can write down their favorite memory they have with the bride. These can include all sorts of stories, like something embarrassing from college or sweet from childhood. Once everyone is done, gather the notes and place them on a poster board for the bride to read aloud to the gang. After each memory she has to guess who wrote it as well as explain the story to the rest of the squad.