Your Ultimate Guide to Bachelorette Party Planning During COVID
When it comes to hosting a bachelorette party during COVID, you have lots of options. Here's how to make a decision on how to proceed as well as our favorite ideas for ways to celebrate.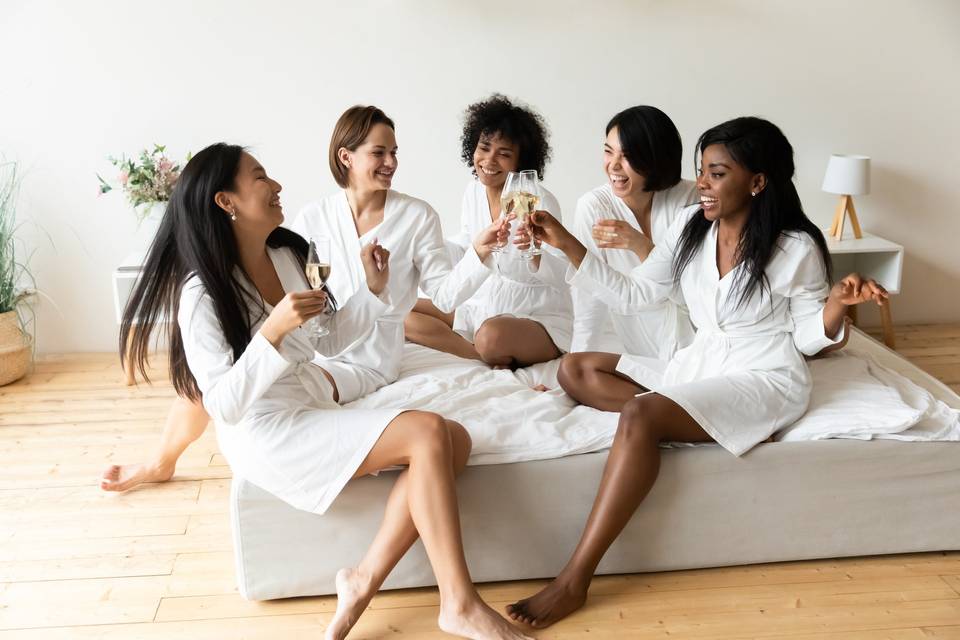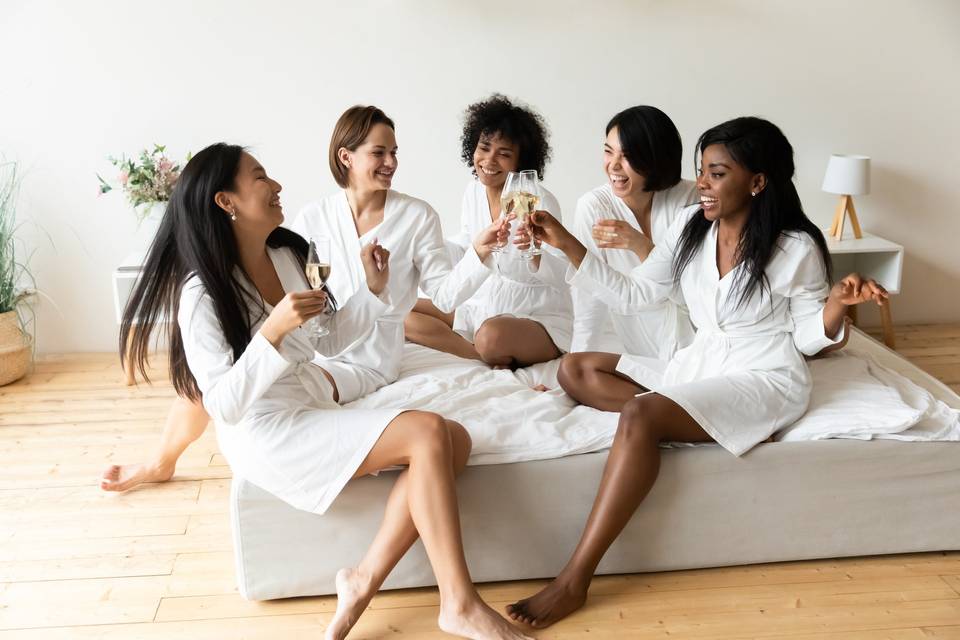 The coronavirus pandemic hasn't only put hundreds of thousands of couples' weddings on hold—but also the events that lead up to and surround their big day. One of those is the bachelorette party—a bride's one last hoorah, so to speak, to go out with her friends as a "single" woman. In the midst of a global pandemic, planning a bachelorette party during COVID can feel pretty close to impossible. There are so many factors to consider and be concerned about on top of the normal stresses involved in coordinating such an event. Leah Weinberg, of Color Pop Events in Long Island City, New York, points out that it's still not advisable or really safe to have these types of events in-person, so couples and their friends are forced to get creative when it comes to bachelor and bachelorette party ideas during COVID.
So what's a bride and her crew to do when they want to celebrate this momentous occasion while maintaining safety standards to keep everyone healthy and well? The answer, unfortunately, is not a simple one. The advice Weinberg has been giving to her couples and their friends is to first and foremost make sure that whatever they're planning is in compliance with the laws and guidelines in effect in their area. "That it takes into account the safety and comfort level of those attending (like asking people to travel to attend)," she says.
Sarah Quinlivan of Quintessential Events in Kansas City, Missouri agrees that safety must be a top priority. "I recommend all couples and their friends to really think through any decision before making it and delay it if they don't feel that it is safe," she says. "While it might not be ideal, waiting to have the bachelorette party you have been envisioning, is definitely something you should consider." If you do plan on going through with your party, she recommends following the CDC guidelines and staying as safe as possible, by utilizing some specific COVID bachelorette party ideas. To help answer some of your burning questions as you plan your bachelorette parties during COVID, we turned to the pros for some much-needed guidance as well as a few COVID bachelorette party ideas.
Should we throw a virtual bachelorette party?
The resounding answer was a "yes," from all of the experts we talked to. Much like many of the events we're having today—both professional and personal—this would be through a platform like Zoom or Google Hangouts and would allow guests to attend virtually, from the comfort of their home or wherever they are staying.
With states opening up, do you think a smaller bachelorette party is a better idea?
The answer to this question keeps going back to safety. It's really hard in this COVID climate to ensure safety for you and your guests if you're having a bachelorette party of any kind. "Ask yourself, will you be able to follow the guidelines after having an adult beverage or two? If the answer is no, then I would postpone," says Quinlivan. "Even though it might feel great to do it right now and finally see your people, it will feel even better celebrating when you know no one is at risk and you can go all out!"
Do we host another "last bash" to honor the new wedding date?
If you already had a bachelorette party but had to push your wedding date out quite a bit, your friends may want to throw another "last bash" to make it feel more authentic. If this is the case, however, Quinlivan recommends opting for something smaller the second time around. "If it's safe to do so, maybe you and your friends enjoy a nice dinner out or have a slumber party—simply some smaller way for you to all get together again and celebrate," she says. "If your bachelorette got postponed, then yes, do it! And do it even bigger than before!"
The Best Bachelorette Party Ideas During COVID
Throw a virtual bachelorette party.
There are some major plus sides to a virtual bachelorette party—one being that pretty much all guests could attend. "The barrier of entry is so low and there is so much opportunity to get creative!" says Valerie Gernhauser, owner, principal planner and designer of Sapphire Events, in New Orleans, Louisiana — and we just love her virtual-specific covid bachelorette party ideas. "Set a date time, and link, send it out with a bottle of champagne, fun personalized cups, and some drinking games—any excuse to get together with your ride-or-dies is a good one!"
Make your virtual bachelorette party feel just as special as the IRL event by sending out invitations, mailing bachelorette party favors and gifts in advance of the party. That way, your crew can all wear their bridal party tees or other swag for the virtual hang! Make an order of events, a signature cocktail (you can send everyone the ingredients!) — and don't forget the virtual bachelorette party games.
Another one of our favorite virtual bachelorette party ideas is a cooking competition. Host a Zoom brunch (with mimosas, of course) and see who can make the prettiest plate. We're talking Top Chef presentation style.
Keep it outdoors.
If the whole crew lives in the same area and won't have to travel, throwing a small and socially distanced outdoor bachelorette party is an option — with the impact of COVID, outdoor bridal showers are rising in popularity, too. Just make sure you're adhering to your local gathering guidelines, as well as recommendations by the CDC and WHO.
If you opt for an outdoor-only bachelorette party, we love the idea of a day of field sports, outdoor workout class or another active team bonding activity, or opt for a local camping bachelorette party destination with great hiking spots.
Host a fling after the ring.
You might be asking yourself: Should we throw a bachelorette party after the wedding instead? Our answer: Absolutely, yes! Quinlivan considers this to be a great bachelorette party idea during COVID for those brides who are doing smaller ceremonies now and larger parties later. "The usual order of events might be a bit different, but it doesn't mean you can't celebrate," she says.
One of Gernhauser's clients is planning a "night on the town after the gown" with her girlfriends that were planning to join her on her original bachelorette trip to NYC. "She had to cancel the plans for her bachelorette trip, had a micro wedding on her original date and is planning to reschedule her girls trip for later this year or early next," she explains. Her best advice for couples toying with the idea of postponing their bach party for after the wedding is to put things in perspective. "The memories will be worth it, and it will truly be the experience of a lifetime!"