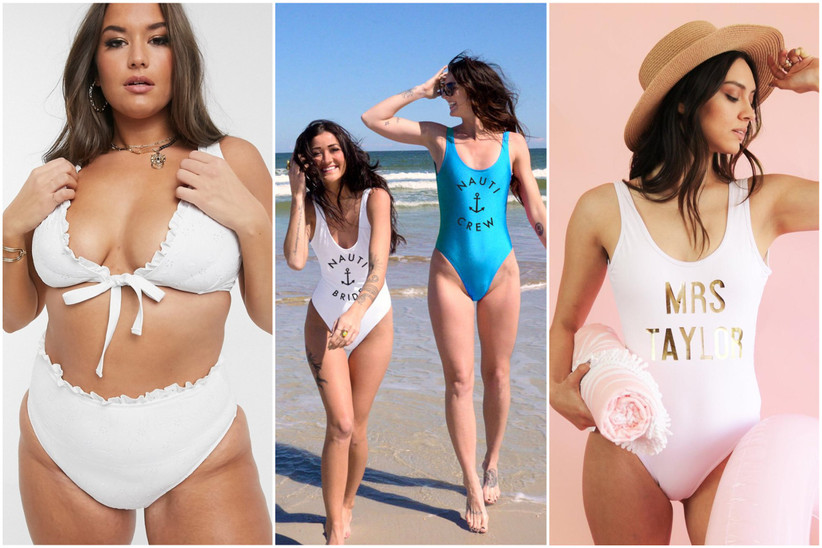 No matter where you're headed, the bachelorette party calls for plenty of cute outfits—and if you're celebrating by the water, that means cute swimsuits, too. No weekend getaway with your bride squad is complete without matching bachelorette party swimsuits, but with so many options out there, it can feel overwhelming if you're trying to make a decision.
We're kick-starting your search with some of our favorite bridesmaid and bridal swimsuits that you can order right now, from simple white bikinis to colorful retro-style one-pieces. If you're in charge of bachelorette favors or bridesmaid gifts for the party, you can surprise everyone with tote bags full of cute on-theme items, like bathing suits, coverups, sunglasses, and more.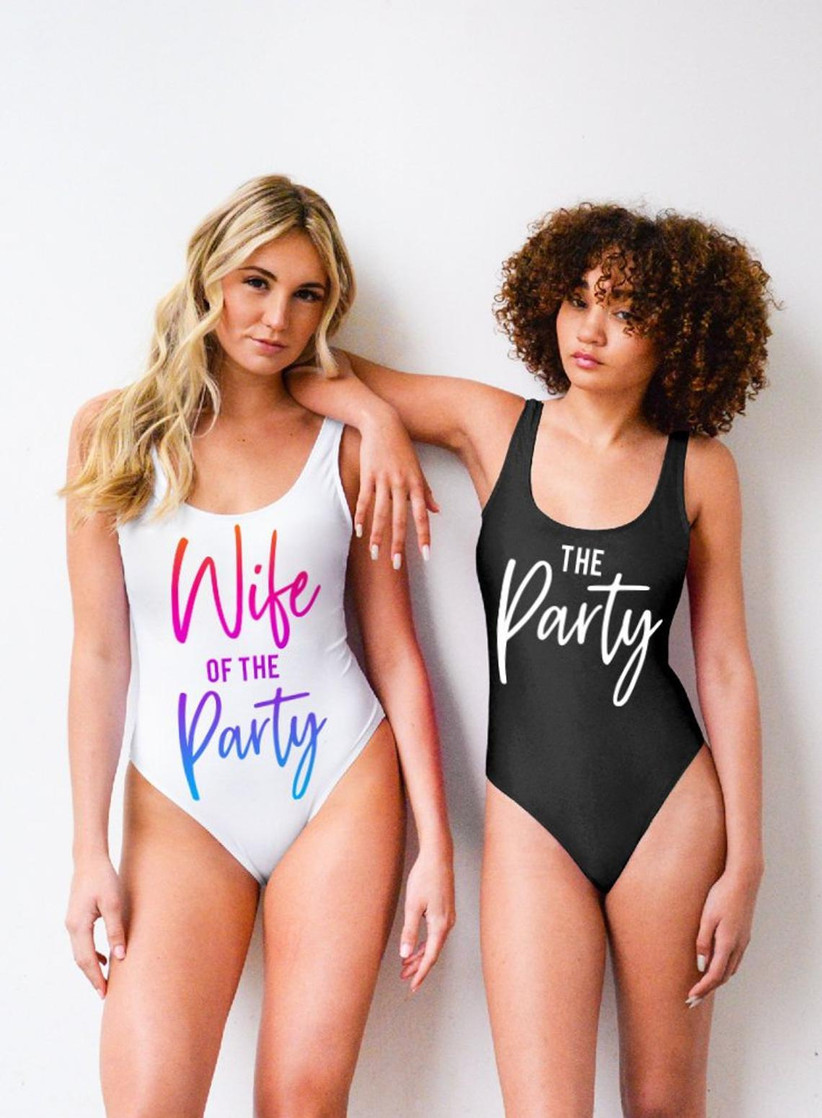 These bathing suits are made for the crew that loves to party. They're available in four colors: white, black, teal, and magenta, which you can customize with "wife of the party" for the bride and "the party" for bridesmaids.
ResisDentzDesign bachelorette party swimsuits, from $24, Etsy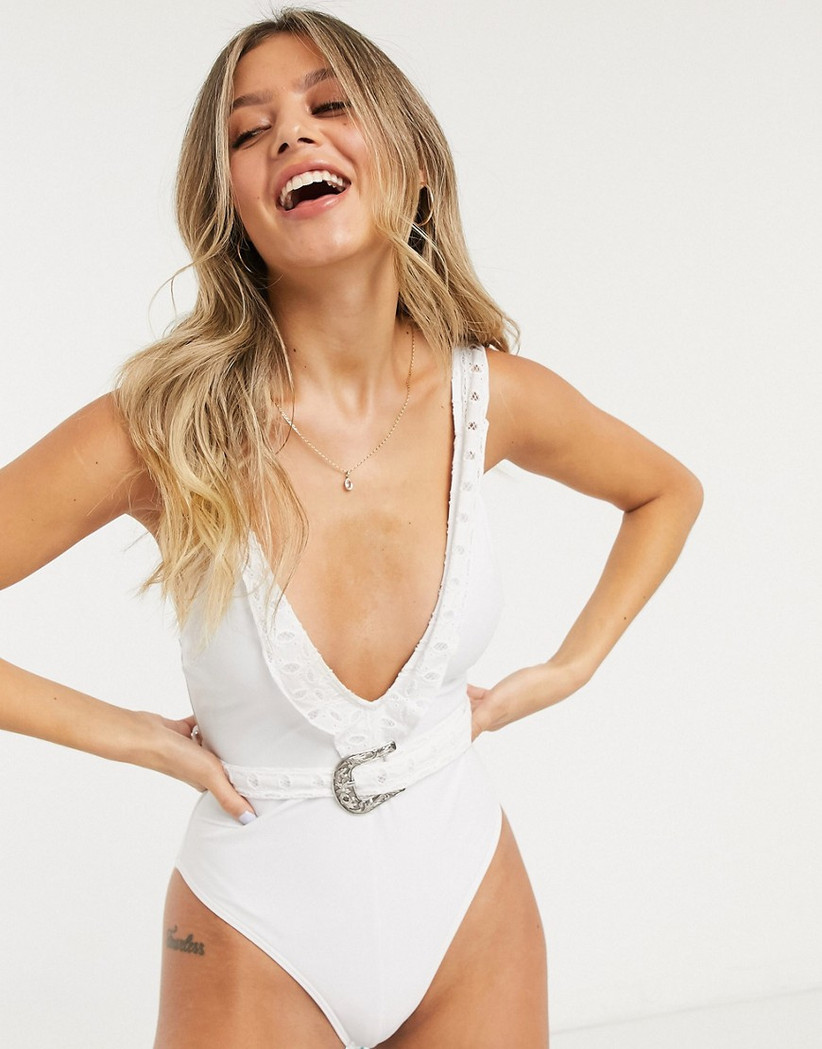 This plunging one-piece swimsuit is perfect for the bride who wants to stand out in white among the rest of her gals. The broderie lace trim is just sweet enough to balance out the sexy style.
Playful Promises broidery swimsuit, $106, ASOS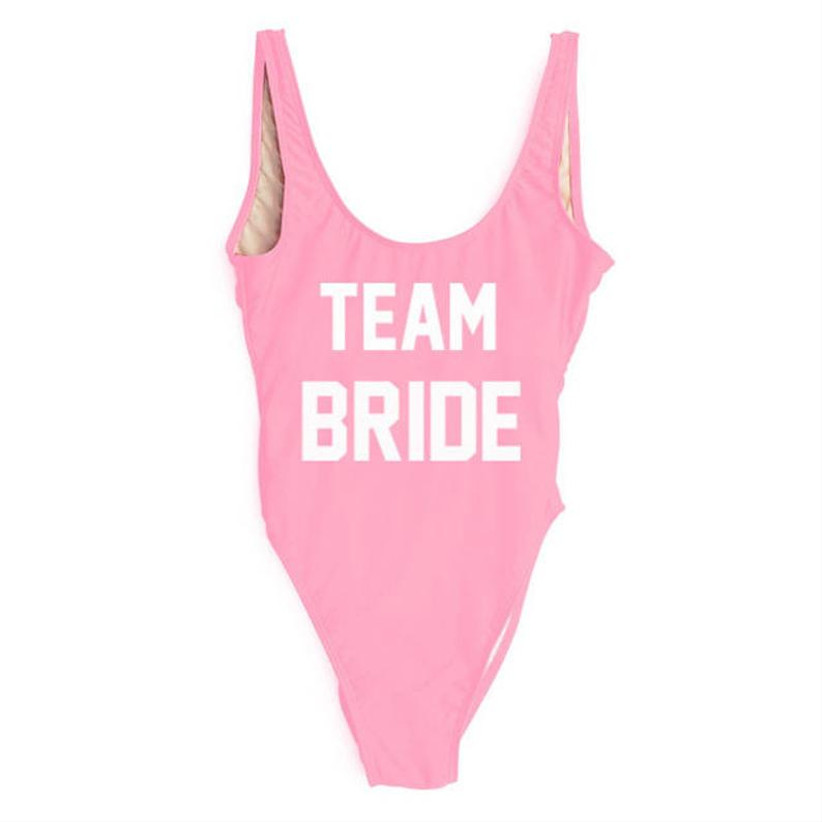 Dress the bridesmaids in matching pink "team bride" bathing suits to get your bride squad ready for all of those selfies and group photos. The bride can rock a contrasting color or patterned suit to stand out!
Strongnewsexy team bride swimsuit, $24, Etsy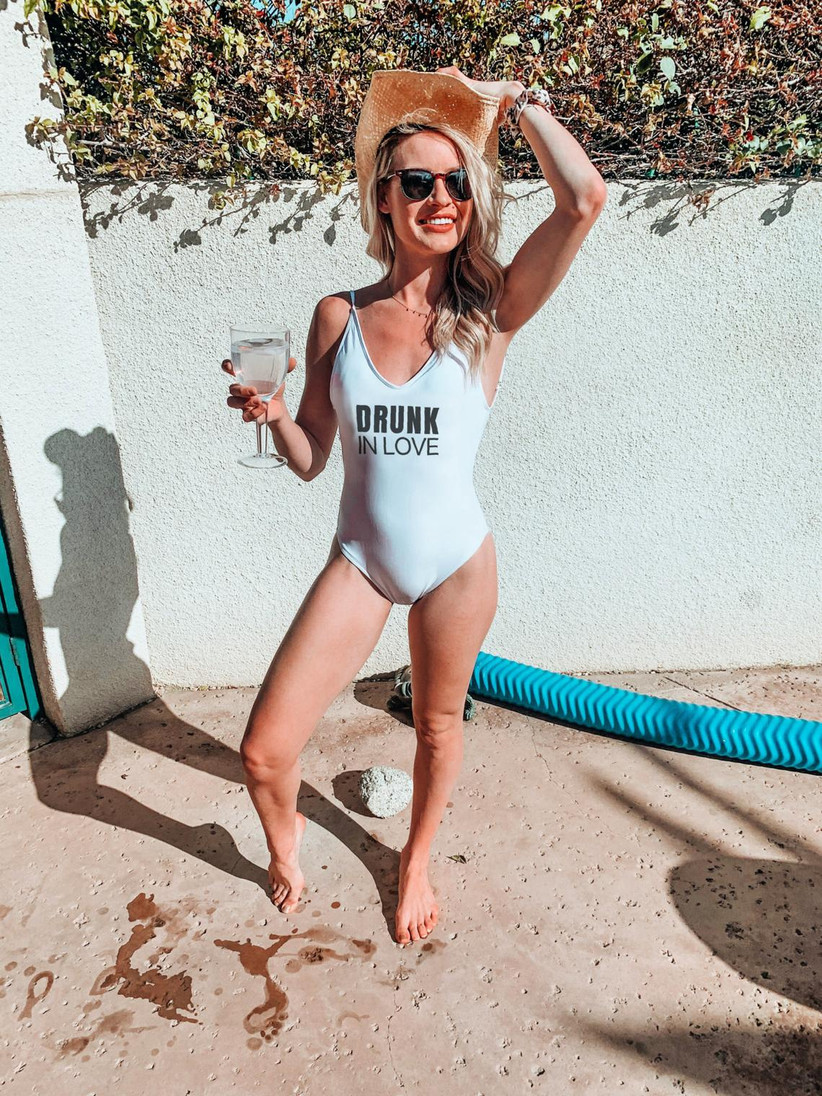 Blasting "Drunk in Love" while wearing this bachelorette party swimsuit: not required but highly encouraged.
LaceOnTheBeachCo. drunk in love swimsuit, from $53, Etsy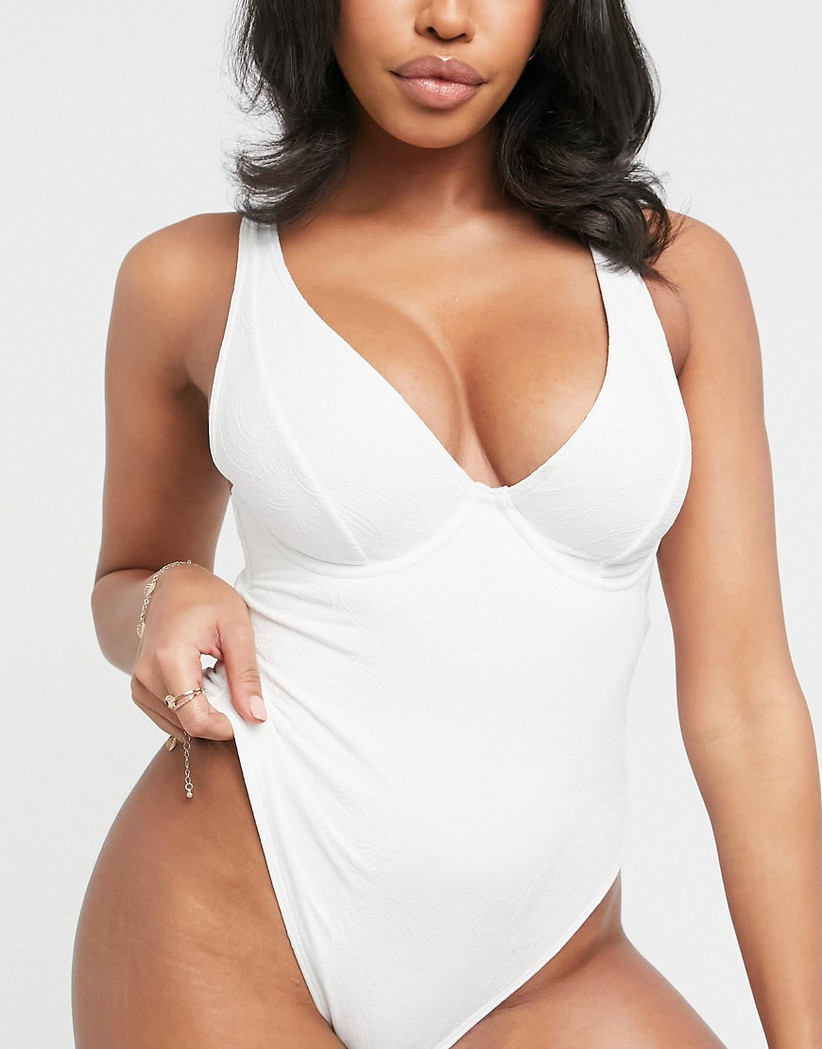 Searching for a bride swimsuit that gives a little extra support up top? This gorgeous white paisley number has underwire and adjustable straps to help you get the best fit while looking amazing.
Peek & Beau fuller bust underwire swimsuit, $57, ASOS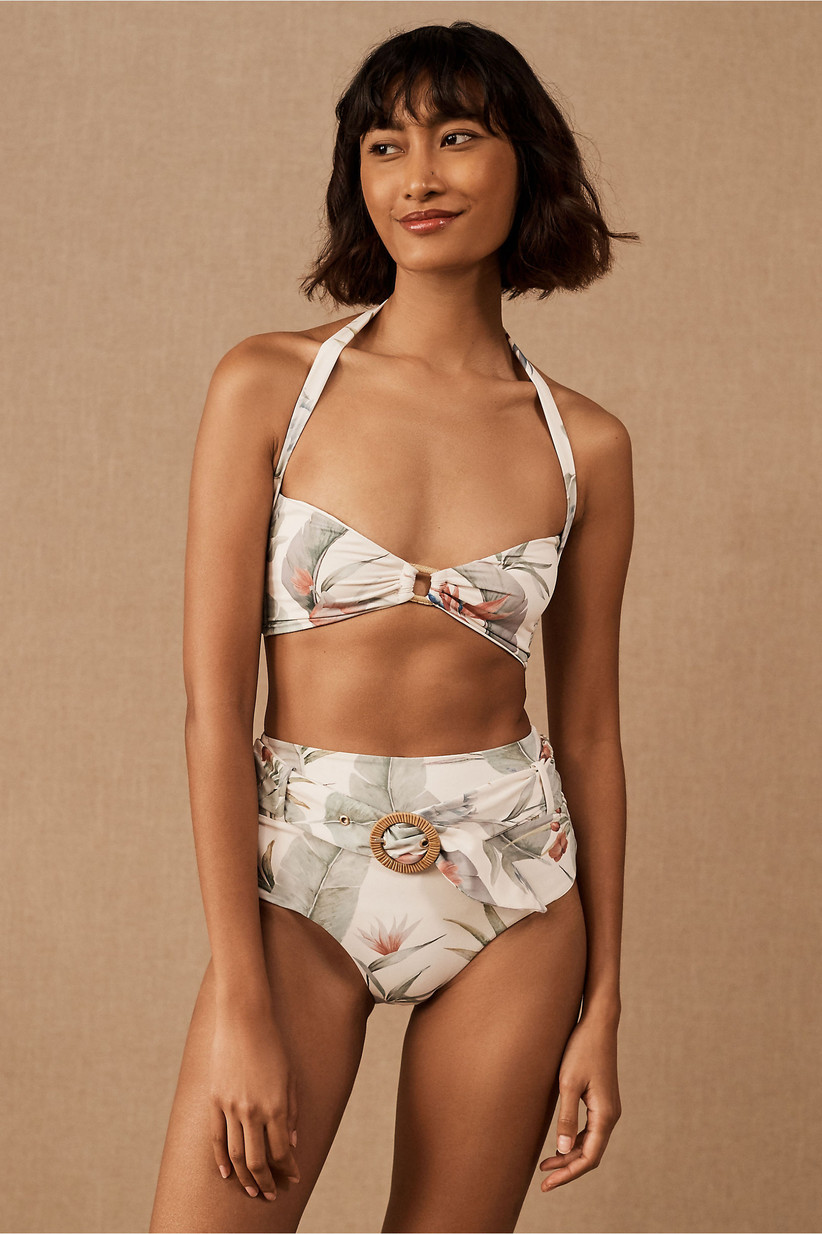 If you're headed somewhere tropical for your bachelorette weekend, this boho-chic bikini is our swimwear pick. The bandeau top and high-waist bottoms give the swimsuit an updated retro vibe.
Revel Rey Logan bikini top, $90, BHLDN; Revel Rey Quinn bikini bottom, $85, BHLDN
Get creative and put your own touch on these bridal party swimsuits. Customize the bridesmaids' suits with fun sayings like "babe" or "bride squad," then surprise the bride-to-be with a suit featuring "Future Mrs." or "I do."
ModParty personalized bachelorette party swimsuit, $22, Etsy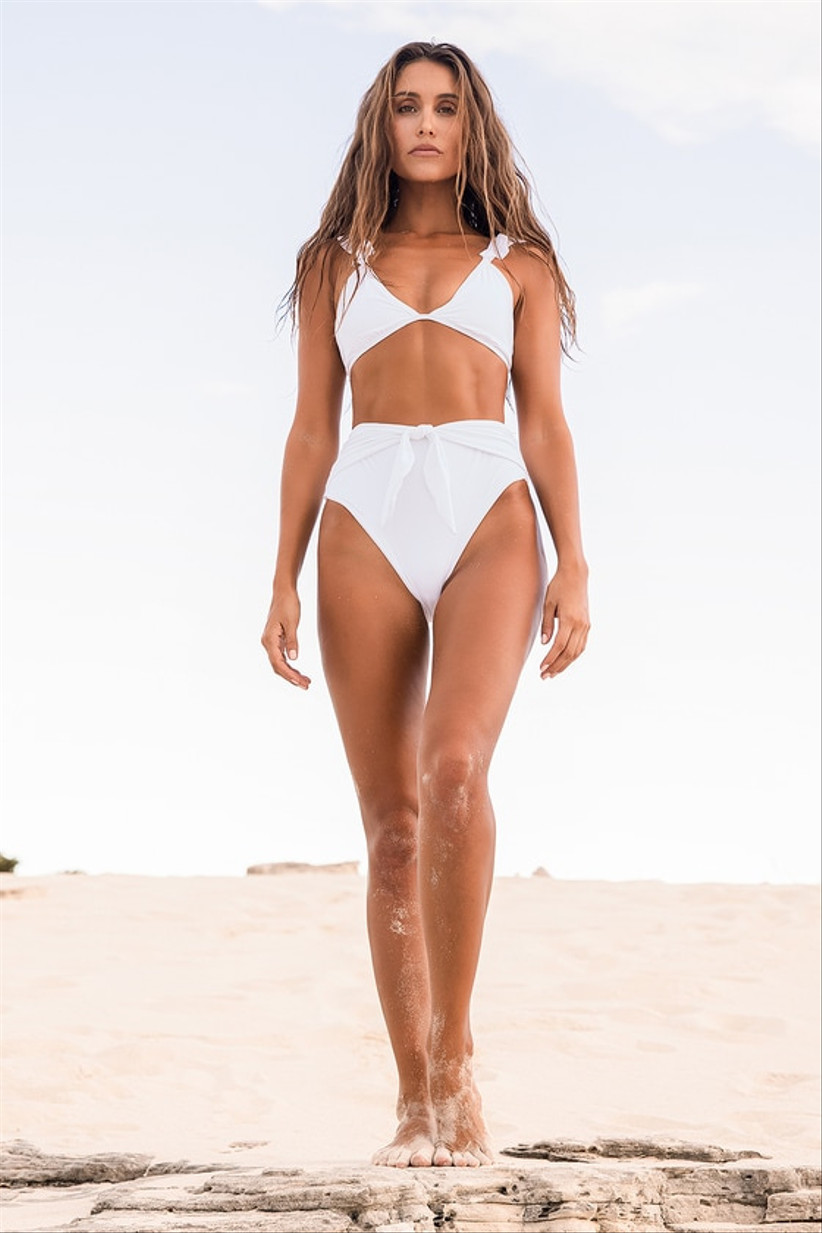 Whether you're the bride or you're shopping for matching bach swimsuits, you can never go wrong with a cute white bikini. We love the flirty ruffled straps on this style.
Lulus ruffled bikini top, $44, Lulus; Lulus tie-front bikini bottoms, $38, Lulus
Does your crew love rocking vintage clothes and thrift store finds? These retro-inspired bachelorette party swimsuits are a fun option if you're in the market for something unique. While you're at it, turn the entire bachelorette weekend into an '80s-style party with neon outfits, big hair, and colorful makeup.
ResisDentzDesign retro font bachelorette party swimsuit, $26, Etsy
Wear this simple but sexy bridal swimsuit now for your bachelorette getaway, and again later on for your honeymoon.
Lulus Myrtle Beach lace-up swimsuit, $76, Lulus
This playful swimsuit calls for plenty of bubbly (we doubt your crew will object).
Life'saBACH champagne campaign swimsuit, $22, Etsy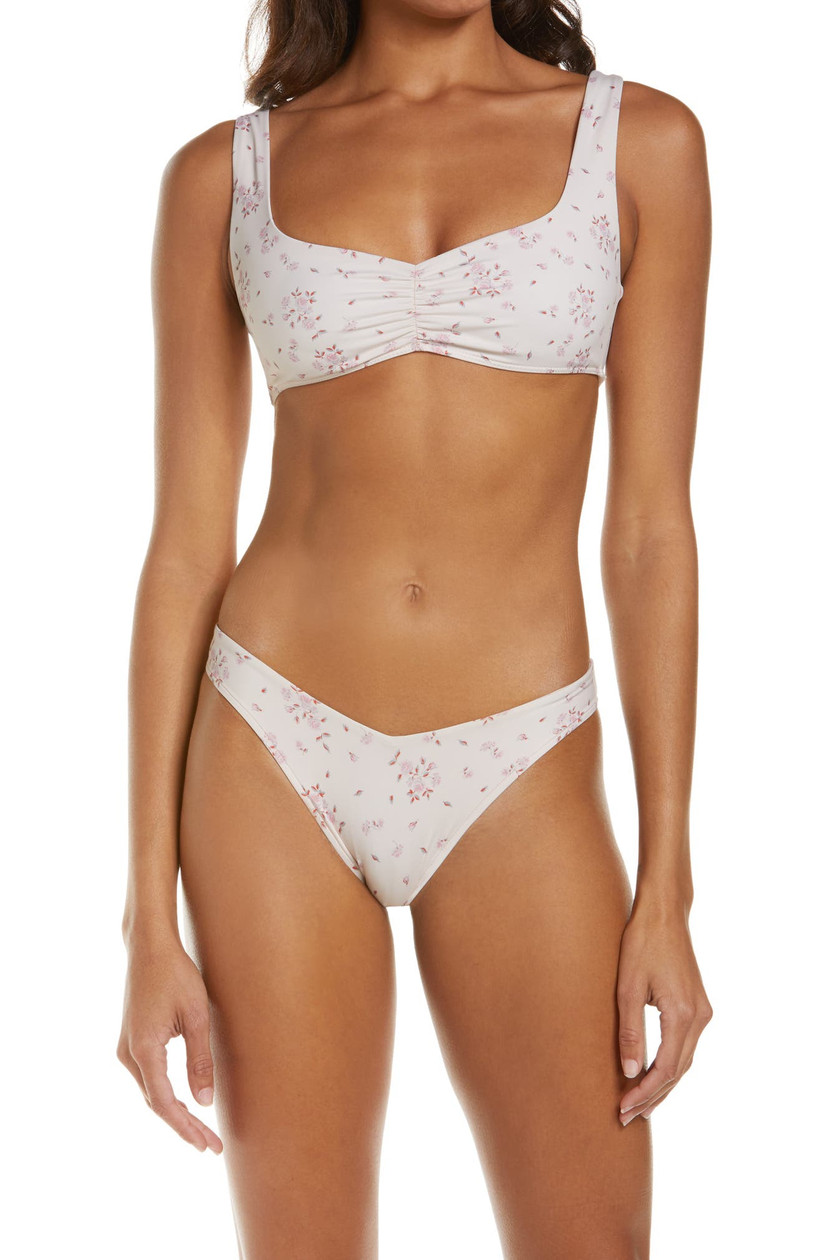 If you're looking for a bachelorette party swimsuit you can wear again and again, this one is guaranteed to look cute for years to come. The sweet floral print is ideal if you don't want a totally white bikini.
Frankies Bikinis Dexter top in sweet rose, $90, Nordstrom; Frankies Bikinis Enzo bottoms in sweet rose, $85, Nordstrom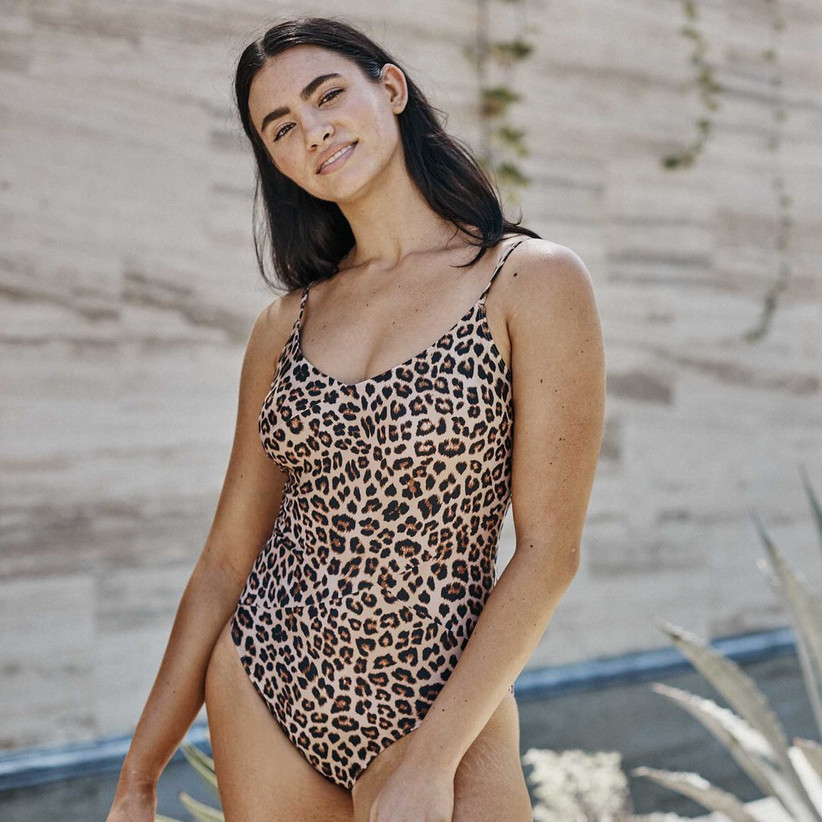 How cute will your BFFs look while rocking matching leopard print bathing suits all weekend long? Add novelty sunglasses to pile on the sass.
Summersalt Marina one-piece in leopard, $95, Summersalt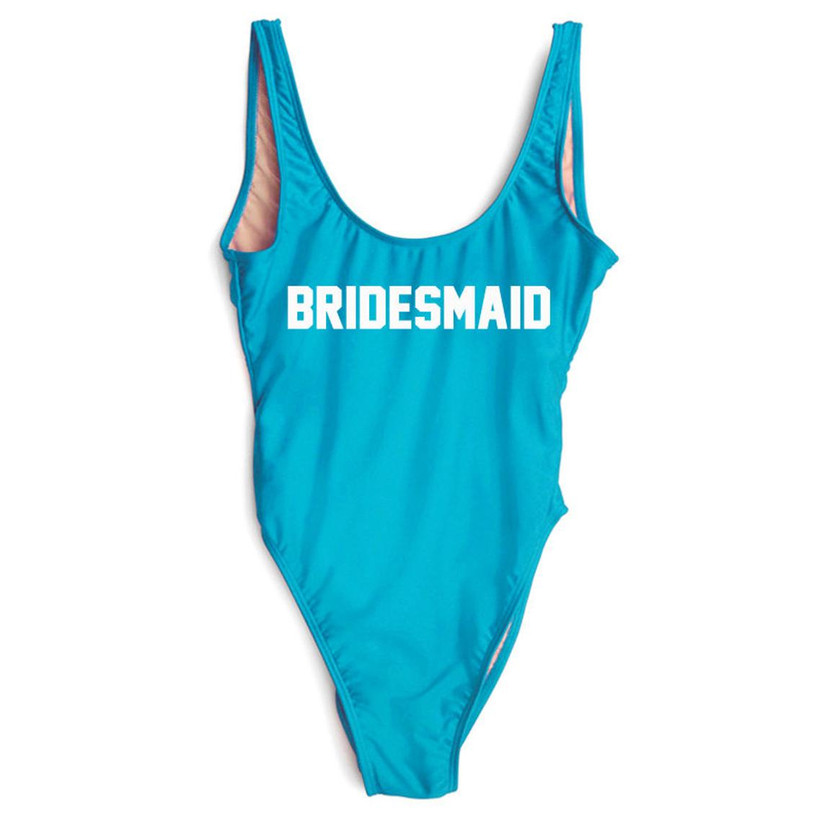 This basic bachelorette party swimsuit comes in eight different colors—outfit everyone in the same color to create a cohesive group, or let your friends choose their own.
Strongnewsexy bridesmaid swimsuit, from $24, Etsy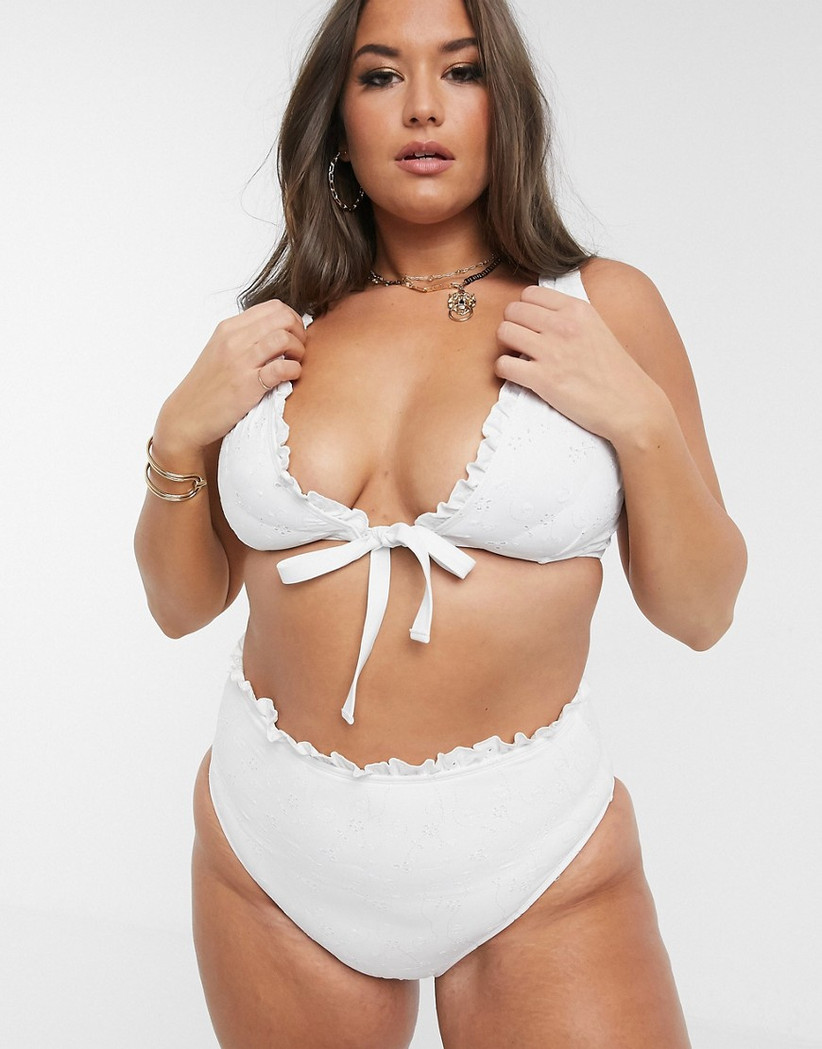 Rock this lacy ruffled bikini for a bridal swimsuit look that's sweet and sexy. Bonus: The high waist, high-cut bottoms will instantly make your legs look longer.
ASOS Design Curve broderie bikini top, $26, ASOS; ASOS Design Curve broderie high-waist bikini bottoms, $26, ASOS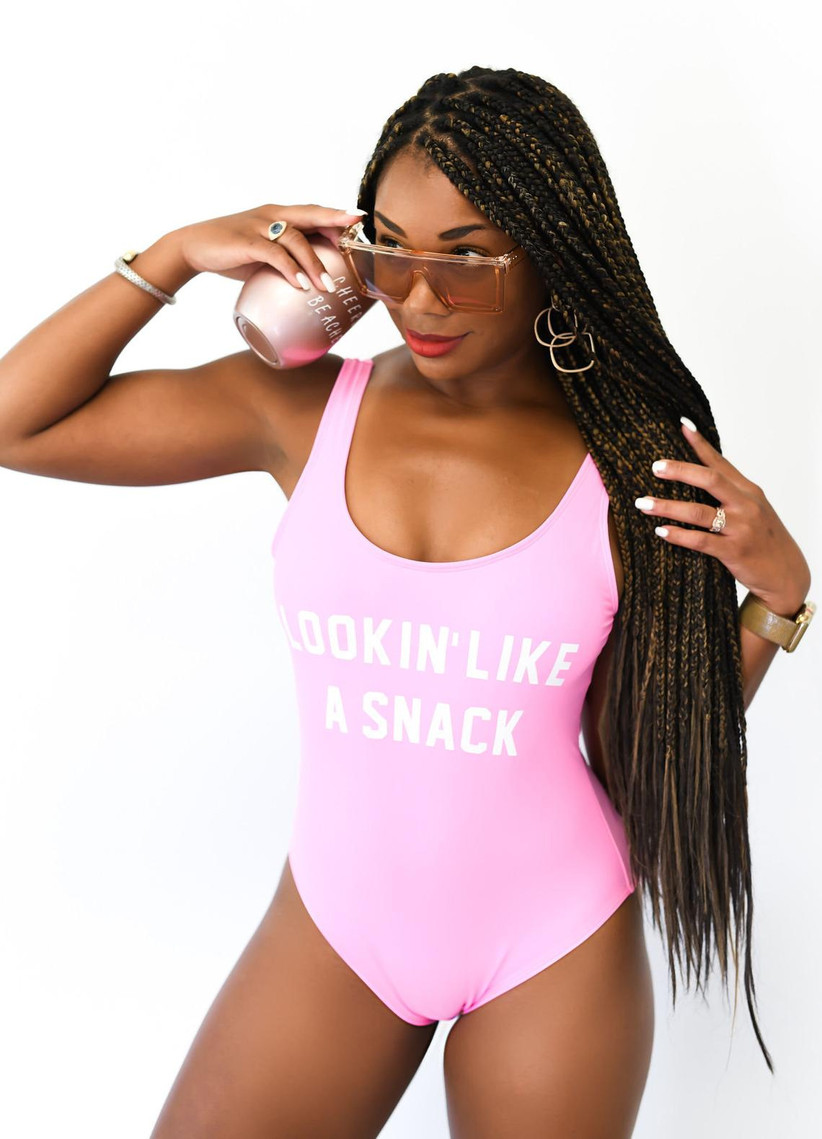 Don't be afraid to have a bit of fun with your bachelorette party looks! This "lookin' like a snack" one-piece will remind everyone in your bride squad that they're cute AF.
Life'saBACH lookin' like a snack swimsuit, $22, Etsy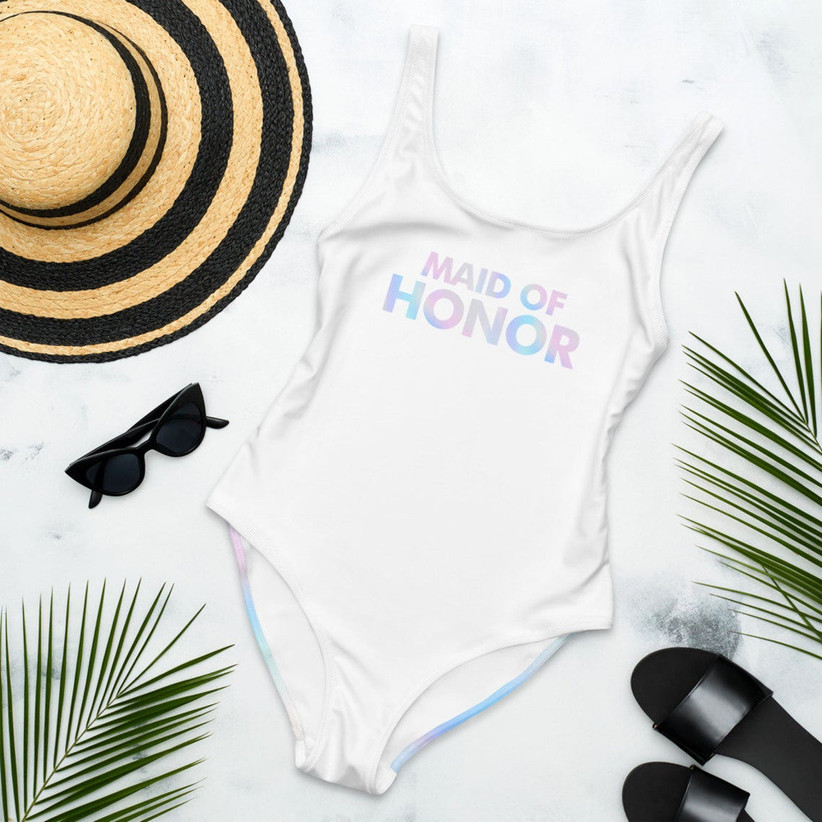 It's normal for the bride to rock a statement bathing suit during the bachelorette getaway, but your maid of honor deserves just as much love (especially since she's probably planned the entire party). This low back one-piece features "maid of honor" in a trendy holographic hue.
GSWTS maid of honor holographic swimsuit, $45, Etsy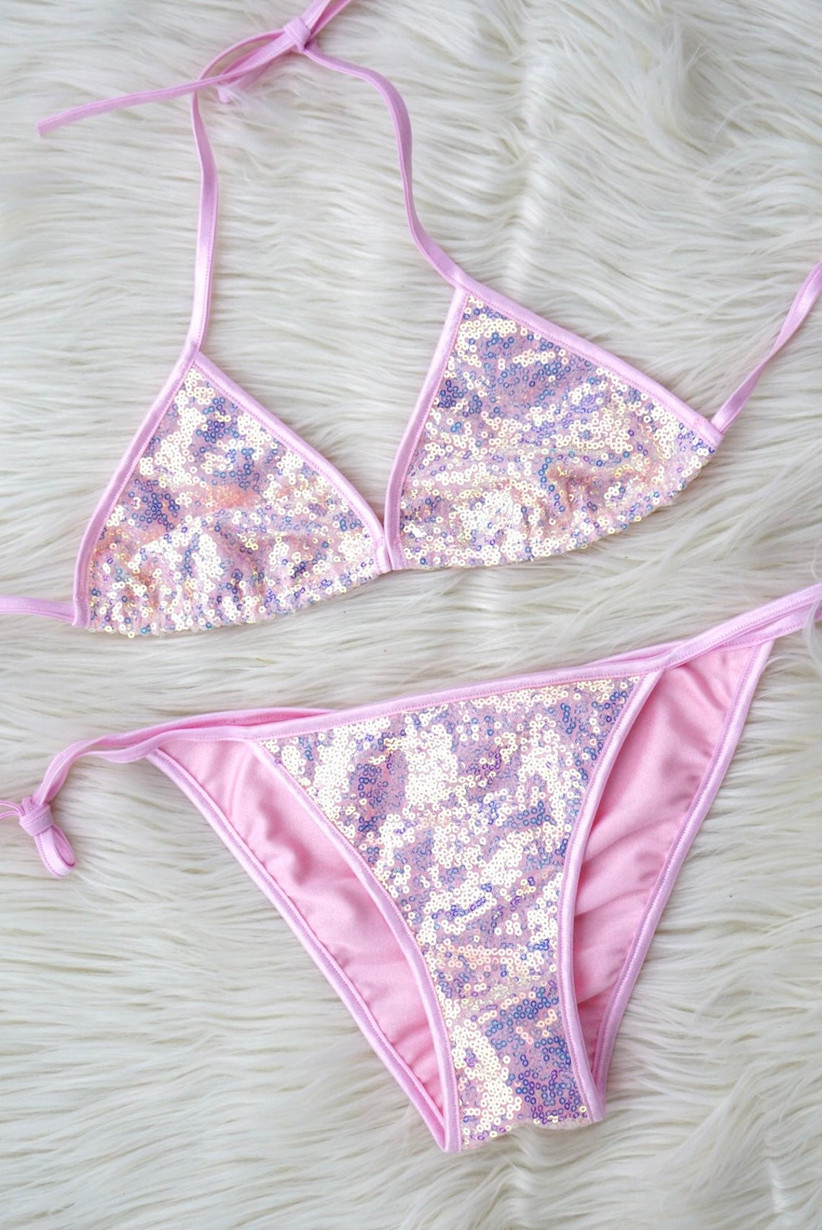 Get your girls glammed up for the bachelorette weekend with eye-catching sequin bikinis. We're not entirely sure that sand and sequins mix, so we'd recommend these for a poolside lounge session instead of the beach.
TheOneSwimwear iridescent sequin bikini, $65, Etsy
Not only are square necklines a huge trend right now, they're also extremely flattering for both small and large busts. This streamlined one-piece is serving major '90s throwback vibes.
ASOS Design square-neck ribbed swimsuit, $45, ASOS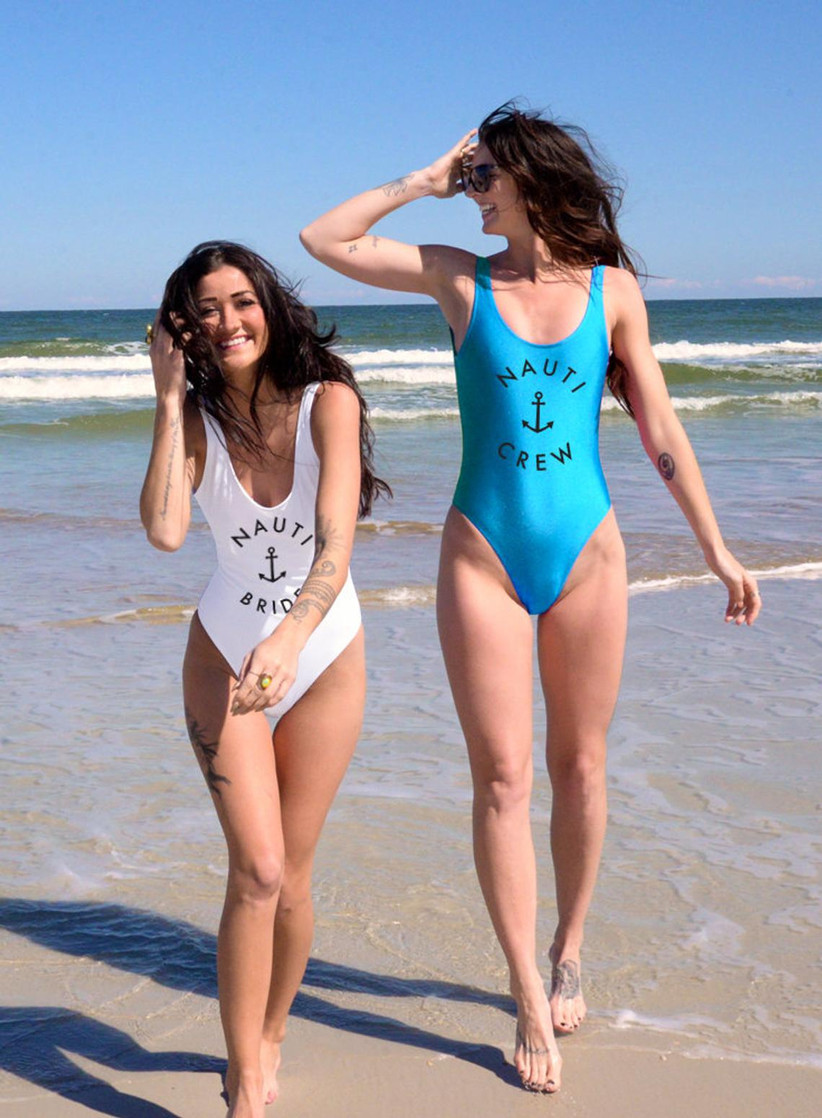 If you're renting a boat or having a nautical-themed bachelorette party, these "nauti" bride and bridesmaid suits are a cute option—and they come in four colors.
ResisDentzDesign nauti bride/crew swimsuit, $24, Etsy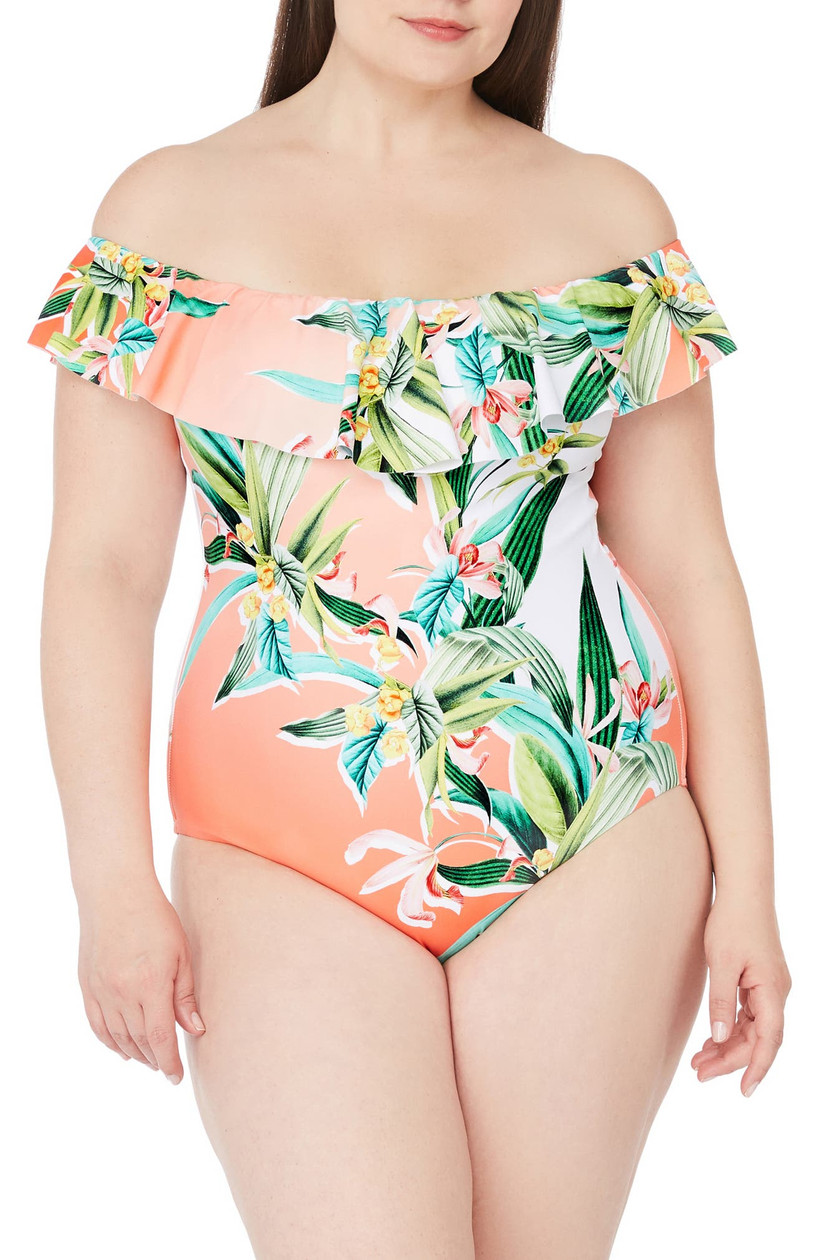 This tropical floral one-piece will transport you to a faraway island, even if you're just headed to your local beach or pool. Add a pair of denim shorts for a quick (and cute) outfit for grabbing drinks or coffee.
Trina Turk Costa de Prata off-the-shoulder swimsuit, $172, Nordstrom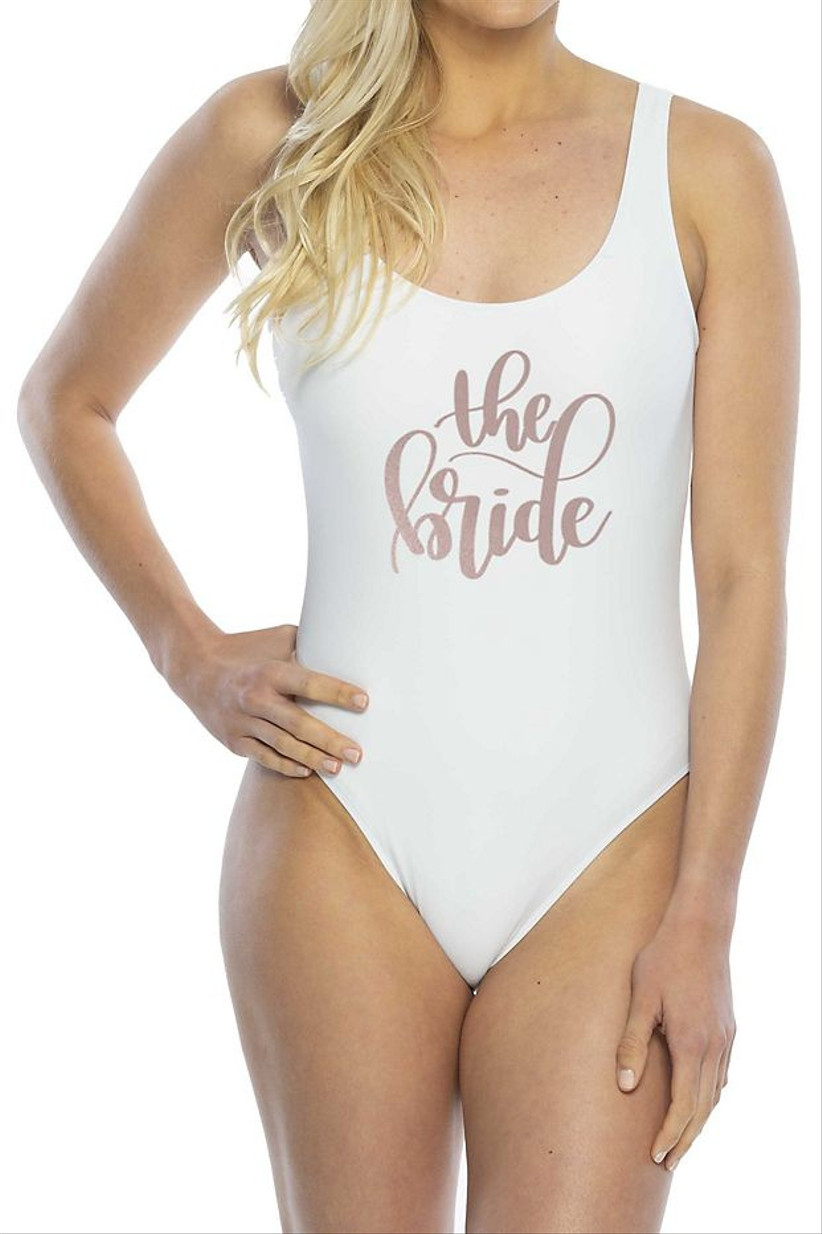 All eyes will be on the bride with this sparkly rose gold bridal swimsuit featuring a low back and thick, supportive straps.
David's Bridal bride one-piece swimsuit, $30, David's Bridal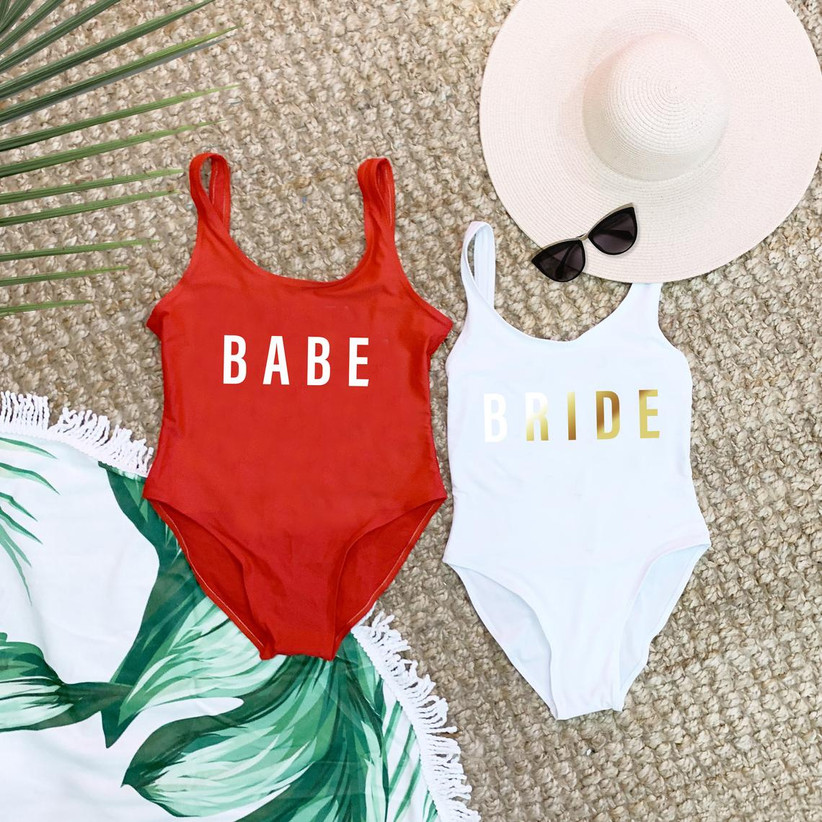 A red lifeguard-style swimsuit is perfect for a beach bachelorette party. Complete your bride squad with a white suit specifically for the bride.
RoseGoldRebel bachelorette party swimsuit, $24, Etsy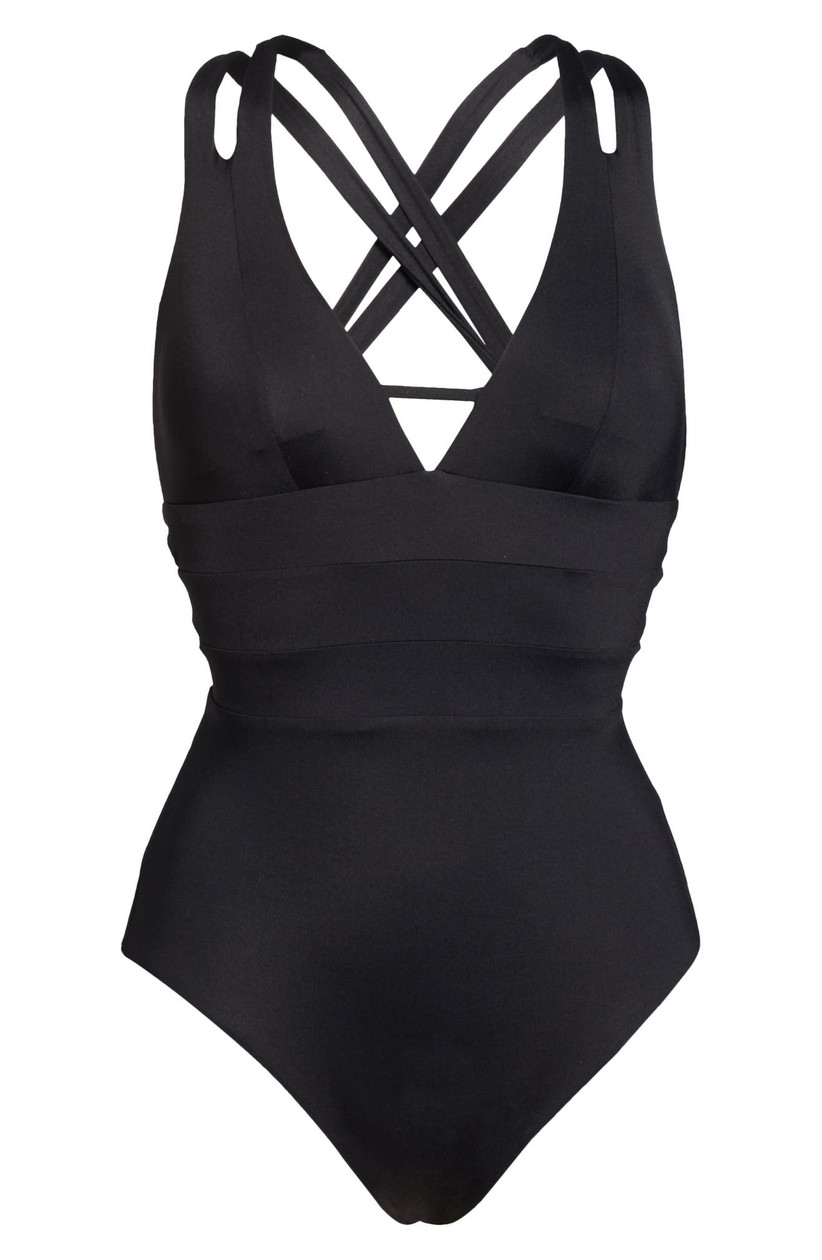 When in doubt, a simple black one-piece is always a chic go-to. If want to stand out as the bride, accessorize with a patterned sarong or floppy sun hat.
Becca color code one-piece swimsuit in black, $128, Nordstrom