How to Negotiate with Your Parents & In-Laws on the Guest List
Struggling to manage wedding guest list etiquette and pushy parents or in-laws? We're here to help.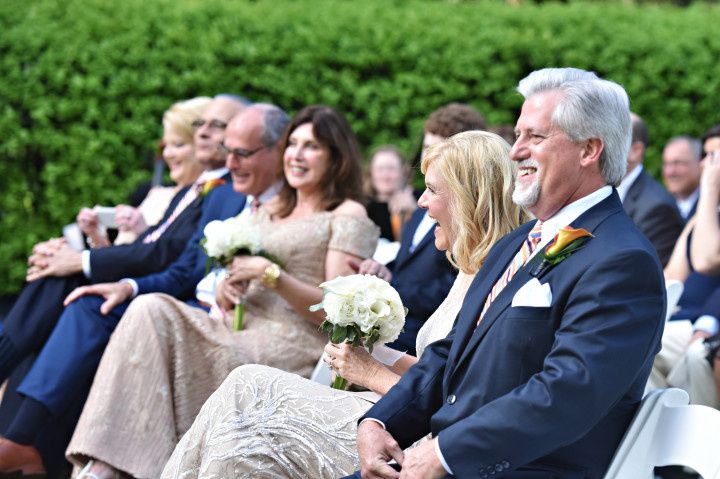 When it comes to breaking wedding guest list etiquette, parents and in-laws are often the worst offenders. On the bright side, they're probably super-excited about your wedding—but that may mean that they want to invite everyone they know, even if you're hoping for a smaller, more intimate celebration. It's impossible to make everyone completely happy during these guest list debates, but with a bit of compromise and tact, you can totally make it happen.
Here's how to follow wedding guest list etiquette, and keep your parents happy in the process.
Remember Money = Power
When it comes to wedding guest list etiquette and parents, there's really one essential rule: If your parents and/or in-laws are contributing money to your big day, they get a say on who's invited. That means if you and your partner are paying for the whole shebang, you have full veto power. If that's not the case, you, your partner, your parents, and your in-laws will all have to work together on the guest list. That doesn't mean that everyone can invite whoever they want, but you'll have to tread more carefully if your parents are shelling out major cash.
Come Up with a Budget First
It's a fact: The more guests you invite, the more expensive your wedding will be—it turns out that couples pay, on average, $216 per wedding guest (seriously!). Set your wedding budget before creating a guest list (you can use this tool to figure out how much weddings typically cost in your area), and if your budget is on the tighter side, you'll want to keep your guest list small. This can be an important point to bring up with parents who are hoping to invite everyone they've ever met. Simply ask the question: "Can we really afford that?"
Be Fair and Equitable
Once you and any contributors have come up with the amount you can spend on the wedding in total, you can work on a creating an early draft of your guest list. While this list doesn't have to be final, you'll need an estimated guest count before you can look at venues. Work with your partner to figure out a target number—how many guests you'd like to invite. If your parents and in-laws are contributing money to your wedding, you should divide the guest list into thirds—one-third for you and your future spouse, one-third for your parents, and one-third for your in-laws. Of course, you can divvy things up however works best for you, but we recommend keeping things as equal as possible to avoid drama.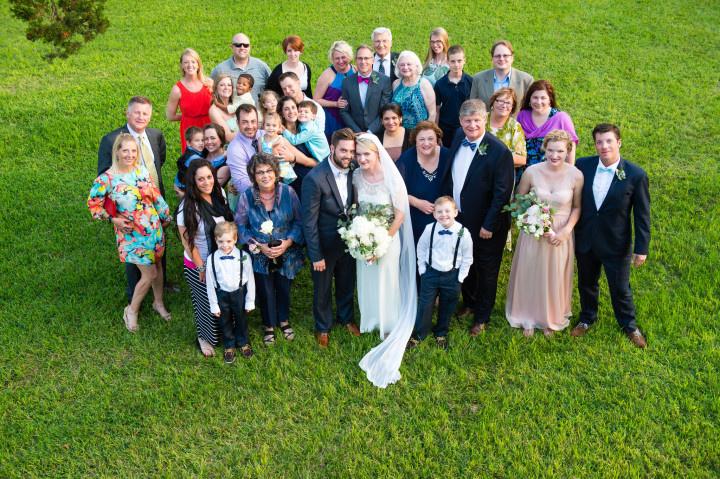 Set Ground Rules
When you're ready for your parents and in-laws to create their guest lists, ask them the following: "We'd like to invite [target guest count] people to our wedding. Can you come up with a list of [1/3 of said guest count] guests from your side?" By giving them a target number, you're leaving less wiggle room. Also, don't be shy about (politely) sharing your vision for the wedding, particularly if you want to keep things small. "We're really hoping to keep the wedding to our closest friends and family members—people who really know us. We hope you'll keep your side of the guest list to just our dearest loved ones." If your parents are concerned about their allotted number of guests, talk about it calmly (no yelling!) and try to come up with a compromise.
Keep Things Consistent
If you've decided not to invite children or allow plus-ones, these rules should be clearly communicated to your parents and applied to their guests as well. Wedding guest list etiquette issues can be tricky for parents, so don't just give them a directive—explain why you've made that choice. For example: "We've decided to keep our wedding adults-only for budget reasons."
Choose Your Venue Wisely
The wedding venue you select will play a major role in the number of guests you can host. Your venue's capacity isn't just a random figure; it's set in place to ensure your guests' safety and comfort. Once again, if your parents are paying for the wedding, they have a say in the venue you select—and you'll all have to agree that the capacity works for everyone. When the venue contract is signed, you're agreeing to keep your guest count within that capacity—and that leaves less room for wedding guest list etiquette to be broken by parents and in-laws. If your guest list starts to get out of control, blame your venue. "Mom, we can't invite your co-workers from two jobs ago—they'll take us over our venue's capacity."
Keep Your Wedding Guest List in a Central Location
Your guest list shouldn't be a secret. To avoid any confusion, create your guest list document online and allow your parents the ability to view it. If possible, you and your partner should be the only ones with editing privileges so you'll be able to "approve" any changes. Creating an accessible guest list will allow your parents to check on the status of their guests' RSVPs so they won't have to ask you.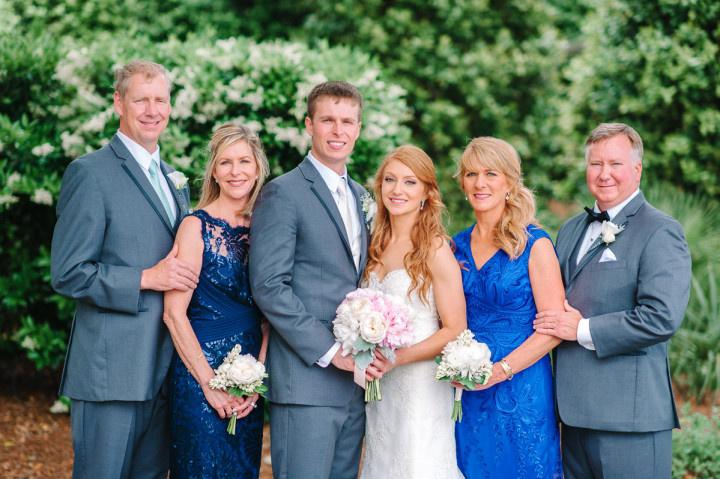 Final is Final
Be sure to clearly communicate a firm deadline for your guest list to be finalized. After this date, no changes may be made—guests cannot be added or removed. Your final guest list should be created before your save-the-dates go out. We don't recommend creating "A" and "B" lists. This will only cause confusion and the potential for hurt feelings. Make sure your parents are aware that whoever receives a save-the-date is invited to the wedding, and no additions to the list may be made after the save-the-dates are sent. This will prevent your parents from the dreaded: "Oh, I just ran into my old friend Judy at the market. Can we add her to the guest list?"
Don't Assume People Won't Come
Your parents may try to get around wedding guest list etiquette rules by saying, "Just add your second cousin Paul to the guest list—he won't come." Actually, he very well may come. In a recent WeddingWire poll, nearly half of weddings had fewer than 10 "no" RSVPS—that's not very many at all. If you're having a destination wedding, you may see a higher "no" rate, but for hometown weddings, you should assume that all of your invited guests will attend.
Let Your Partner Manage Your In-Laws
If your future in-laws are trying to break wedding guest list etiquette, have your partner handle the situation. Your goal should be to maintain a good relationship with your in-laws during the wedding planning process. Even if your parents are contributing more money than your partners, they should still be allowed to invite a certain number of guests. While there may be disputes as to who those people are, let your partner work with his or her parents to handle disagreements.
If Problems Arise, Don't Freak Out
Even after taking these steps, proper wedding guest list etiquette may escape your parents or in-laws. This isn't reason for you to totally lose it and risk ruining your relationships. If your parents are trying to invite unwanted guests to your big day and your budget and venue can accommodate these additions, ask yourself the question: "What's really the harm if they come?" If you think they'll cause drama, make that strong case to your parents. But if they're perfectly nice people whom you may not know that well, remember that they'll be only a tiny part of a big group of loved ones. Look on the bright side and be honored that these people want to take time out of their busy lives to celebrate with you. It's definitely something to be grateful for.