The Most Popular Bachelorette Party Ideas, Ranked
From hitting the clubs to hitting the spa, there are so many fun bachelorette party ideas to choose from. Check out some of the top activities your crew will love.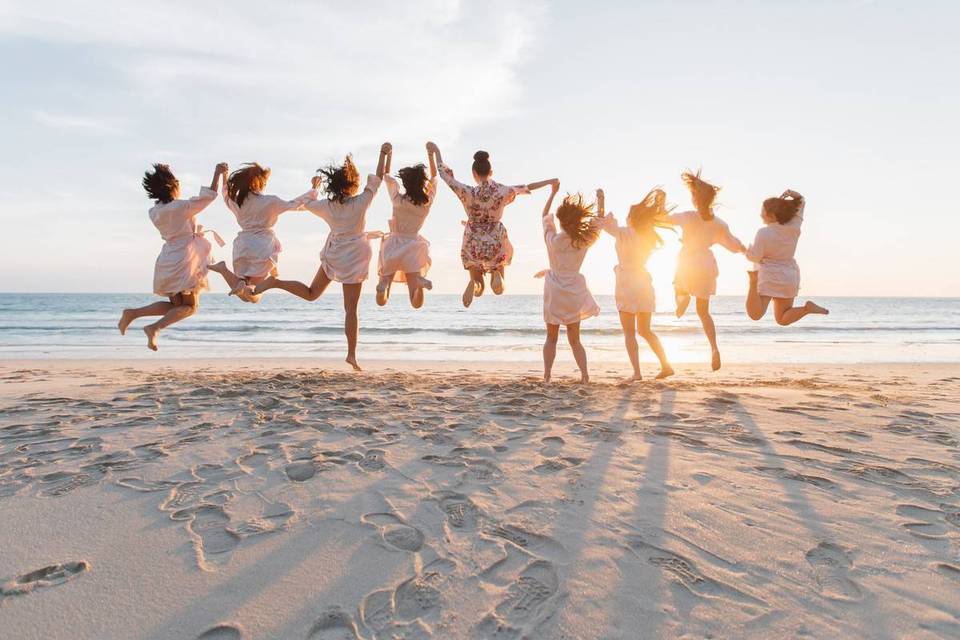 If you're determined to make your BFF's bachelorette party as memorable and distinctive as possible, you'll want to think up some fun bachelorette party ideas to celebrate her last fling before the ring. Lucky for you, we've got you covered! While it's tradition for the maid of honor and the bridesmaids to plan everything from start to finish (just check out our ultra-detailed maid of honor duties and bridesmaid duties checklists), the bride-to-be herself may prefer to get involved. Our insider tip? Welcome and include the bride in the planning; she may have things she specifically does or does not want to do on her bachelorette party.
When it comes to choosing activities for the bash, there are lots of options—and according to a recent WeddingWire study, there are several fun bachelorette party ideas that are most popular and worth considering. Yes, the pandemic did indeed have an impact on bachelorette party activities: More bridal parties are skipping the casual night in (we had plenty of those in 2020!) and opting for bachelorette party ideas like visiting wineries, dancing, and going to the spa. Check out some of the other most popular bachelorette party ideas and activities so you can start planning your own celebration!
Most Popular Bachelorette Party Ideas
Dinner and Drinks
Whether you're hosting a hometown celebration or planning a fun bachelorette weekend getaway (or even a trip to Las Vegas or Miami!), it's likely that dinner and drinks will be on the agenda. According to our study, 56% of bachelorette parties included dinner and drinks as part of their plan, whether it's to kick off a long weekend of celebrating or as the main event. And by being selective about the restaurant, you can pick something more low-key or a more raucous dinner out. Note: Dinner and drinks is also the most popular activity for bachelor parties, according to our study!
Dancing and Clubbing
Perhaps not surprisingly (or maybe it is!), 40% of bridal parties choose to hit the clubs for their girls' night. There's nothing quite like letting loose on the dance floor—plus it's good way to get those moves ready for the big day! Of course, it's super-important that the guest of honor wants to go dancing—don't force the issue if she's prefer a more casual bachelorette party.
Spa Day
According to our study, 36% of bachelorette parties included a trip to the spa for a massage or other service, and 32% included manicures and/or pedicures—which was actually a pretty significant increase from past years (I mean, after the year we've all had, we could all use a trip to the spa!). Again, a spa day can be a nice precursor to a night of clubbing, or it can be the main activity. And while visiting a spa is certainly an option, there are companies that bring spa services right to your house, Airbnb, or hotel room—fun for a slumber party or casual night in. Looking to travel? Check out some of the top spa bachelorette party destinations.
Beach or Pool
Break out those matching swimsuits! Turns out that 34% of bachelorette parties include a day at the beach, and 33% include a trip to the pool. What could be a more fun or relaxing break from wedding planning than lounging by the pool or in the sand with your best friends? And since more bachelorette parties than ever are occurring in the summertime, it makes sense that the beach and pool are hotspots these days. Check out some of the most popular beach bachelorette party locations here.
Brunch
Mimosas, anyone? There's nothing quite like gabbing with your besties over eggs benedict and Bloody Marys. According to our study 34% of bachelorette parties include brunch as one of their activities. This may be a post-night-out hangover brunch or an early morning breakfast before a day of sightseeing—it all depends on your bach party style!
Winery or Brewery
Among the biggest changes in the top bachelorette party activities is the rise of the brewery and winery. While these activities didn't make the top 10 in 2019, they're now among the most popular (and fun!) bachelorette party ideas, with 30% of bridal parties hitting breweries or wineries during a bach weekend. Whether you opt for a wine tasting complete with charcuterie or testing out some beer flights, visiting a winery or brewery combines laid-back with a boozy celebration.
Less Popular—but Still Fun—Bachelorette Party Ideas
Bar Hopping
Visiting some of the bride's most favorite watering holes (or checking out the bar scene in a bachelorette party destination, like Nashville or NYC), is a fun bachelorette party idea. While this was a particularly popular activity in 2019, it's less so now. Again, the vibe of your bar crawl can vary depending on the locations your choose—you could go classy with some upscale cocktail spots or play some drinking games at your favorite hole-in-the-wall spots.
Casual Night In
While some of us are craving a night out after over a year of staying at home, others are excited by the idea of an old old-school sleepover with their besties. Take your night in to the next level by choosing a party theme, DIY-ing some fun decor, creating a killer playlist, and playing some favorite bachelorette party games.
Karaoke
Whether you're a budding Celine Dion or completely tone deaf, there's nothing like singing at the top of your lungs to some of your favorite tunes. Hitting a karaoke bar is a fun bachelorette party idea, or you could bring the activity home by purchasing or renting a karaoke machine.
Party Bus
Not only is renting a party bus is a fun bachelorette party idea, it's also a smart safety move—we all know drinking and driving don't mix. Whether you're hitting bars, clubs, wineries, or breweries, if you'll be traveling from place to place during the weekend, renting some form of transportation is certainly worth considering.
Other Unique Bachelorette Party Ideas
​While the above lists the most popular bachelorette party activities and ideas, there are lots of other options! Check out some of our favorites:
Cooking Class: Looking for a low-key bachelorette party idea? A cooking class is a fun activity that's a real crowd pleaser. Whether you host a class at your home or an Airbnb, or take a Zoom cooking class, it's definitely a creative—and educational—activity. Bonus: A cooking class makes a bridal shower activity, as well!
Scavenger Hunt: Liven up a hometown bachelorette party by planning a scavenger hunt. You can set up the hunt yourself or hire a company who will take care of all of the logistics.
Photo Shoot: Spend the morning primping and then hire a local photographer to take some photos of the gang. Not only will everyone get some new photos to share on the 'gram, the images will make special keepsakes from the weekend.
Camping or Glamping: If your crew loves the great outdoors, why not take a camping trip? You can set up camp at a local campground or make it a road trip. And if you've got some hardcore campers and others who prefer a more luxurious setting, glamping resorts are the best of both worlds.