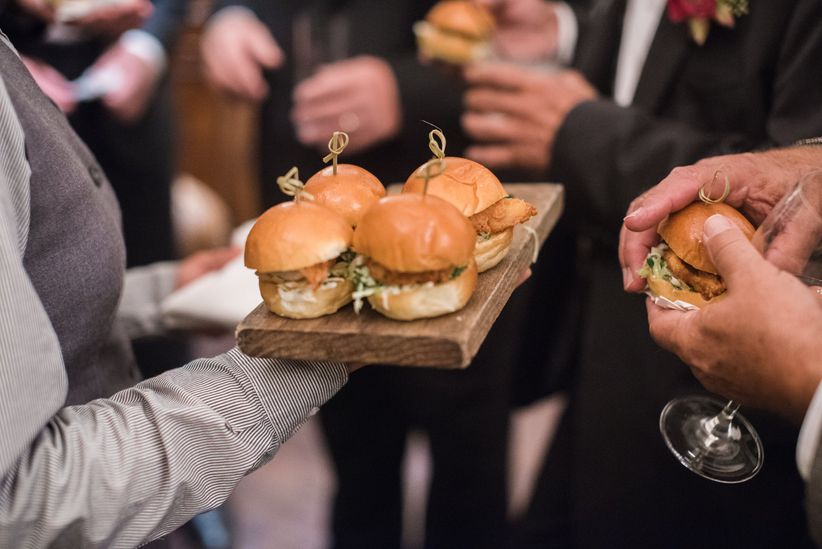 Photo: Victoria Johansson Photography
Our number one no-no at a wedding is to let your guests leave hungry! Caterers have carefully prepared and served an assortment of appetizers, entrees, and desserts. Not to mention late-night snacks too! Tired of the typical cheeseburgers and french fry cones?


We asked the experts to share their late-night snack specialties.
"A recent favorite is Chef Russ'
Duck confit shiitake mushroom pot stickers
. This late-night bite is served with a warm hoisin-sesame dipping sauce. The blend of flavors mixes well with white wine, and is always a hit since it's a social food like dim sum," says Heather Thomas of
Two Cooks Catering
in San Luis Obispo, California.
"
Lobster corn dogs
with a habanero lime mustard dipping sauce, and
bacon-wrapped bratwurst dogs
served in scratch-baked brioche buns – after all who doesn't love bacon?" says Thomas of Two Cooks Catering.
"We turned to our travels for inspiration. Lucky for us, we've experienced post-party snacks around the world. In Europe, it was kebabs, which we know as shawarma. These inspired our
falafel flatbread wraps
, which are more like a gyro, but just as good after an evening of excess. They have handmade tender flatbreads wrapped around crispy falafel with a thick tzatziki sauce, garlic hummus, sriracha, and fresh vegetables. We wrap the bases in foil and serve them street-style," says Simi Hansen of
Wanderlust Catering
in Concord, California
"Another one of our favorite snacks from our travels through Southeast Asia was a fresh banh mi. We took inspiration from those tasty little sandwiches for our
Vietnamese-inspired pork belly sliders
. Ours have savory pork belly, a fried quail egg, quick pickles, maple chile aioli, and fresh basil and mint," says Hansen of Wanderlust Catering in Concord, California.
"We also love our
Philly cheesesteak sliders
with shaved sirloin, a rich cheese sauce, hot peppers, sauteed mushrooms, and crispy herbed breadcrumbs for a nice crunch," says Hansen of Wanderlust Catering in Concord, California.
"On the sweet side, we're fans of freshly-fried churros drizzled in salted caramel and sprinkled with applewood-smoked bacon," says Hansen of Wanderlust Catering in Concord, California.
"
Carry-out boxes filled to the brim with Pad Thai
(stir-fried thin rice noodles, scallions, bean sprouts, peanut dust) or
Khao Pad
(fried rice.) We have even had some of our servers change into some traditional Thai dresses that I picked up on a recent culinary tour there to wear while serving!"says Melissa Benson of
Eleven Courses Catering
in Columbia, Maryland
"
Handmade crepes
made right on-site filled with combinations like pit beef, caramelized onions, horseradish cream and black lava salt (which gives it a nice hint of charcoal) or blackened shrimp with roasted corn, avocado mousse and mango gazpacho drizzle.," says Benson of Elevent Courses Catering in Columbia, Maryland.
"I had a couple that loved sandwiches, so we came up with a
duo mini sammie bar
. We took the bride's favorite sandwich, the groom's favorite sandwich, and made versions of each, wrapped them beautifully and placed them in two baskets. There was a bride sammie and a groom sammie, and they were a great late-night treat to take with you to enjoy later or a tasty snack to enjoy right then and there," says Lisa Clark of
A Wild Thyme Catering and Events
in Denver, Colorado.
"If the reception goes on long enough, breakfast foods can make a great late-night snack like
egg mcmuffins
or
stacks of pancakes on skewers
," says Ryan Brown of
Ryan Brown Catering New York
in New York, New York.
"We recently offered
popsicles
as a late-night snack for a summer wedding, and have done milkshake bars in the past as well,
says Jaclyn Conlogue of
Exchange Events & Catering
in Gordonsville, Virginia.
"A Texas favorite:
frito chili pie
! Royal Fig puts a spin on it, and serves it with bison and passes it out as a fun and savory late-night option," says Kristen Stacy of
Royal Fig Catering
in Austin, Texas.
"
Chicken and waffles
. This is a Southern treat. It's a small waffle topped with a freshly-fried chicken popper then drizzled in spicy honey," says Drew Corcelli of
Lowcountry Eats
in Charleston, South Carolina.
"We own a wood burning pizza oven that we bring on-site, which allows us to cook
individual pizzas
in five minutes. Guests love to be able to pick their toppings, and watch the pizza cook, and if the show doesn't get you, the smell will," says Corcelli of Lowcountry Eats in Charleston, South Carolina.
"We like to see the late-night snack as a way to provide something personally meaningful to the couple like
Virginia ham biscuits
for a bride, who grew up in the Virginia area," says Rochelle Myers of
Rochelle Myers Catering
in Leesburg, Virginia.