Photo: Fia Forever Photography
Every couple should consider hosting an energetic after-party once the DJ or band has played the last song! Why? Because it keeps guests moving to the music until the wee hours of the morning.

Check out these 25 awesome tunes that will appeal to all ages.

"I Wanna Dance With Somebody (Who Loves Me)" by Whitney Houston
Start the afterparty with this 80s classic hit. It'll keep everyone on the dance floor long after the actual festivities are over.

"I Want It That Way" by Backstreet Boys
Need a dance break? This 1999 jam is sure to have your friends and family singing along at the top of their lungs.

"Mambo No. 5 (A Little Bit of…)" by Lou Bega
Another great dance song, it's the perfect addition to your afterparty playlist that'll guarantee people will keep the party going into the night.

"Hey Ya!" by OutKast
This might not make the list of most romantic songs but as Outkast says, "y'all don't want to hear me, you just want to dance."

"Evacuate The Dancefloor" by Cascada
Playing at every party since its debut in 2009, we still love dancing to it. With a great beat and catchy lyrics, we think you will too.

"I Gotta Feeling" by The Black Eyed Peas
This is another party jam that's been played nonstop since its release but that doesn't mean it we still don't want to jump around and shake our butts every time it comes on.

"NIght Of Your Life" by David Guetta ft. Jennifer Hudson
Jennifer Hudson's soulful voice perfectly complements David Guetta's dance beats.

"We R Who We R" by Ke$ha
Oh Ke$ha we love how you make songs that us want to dance!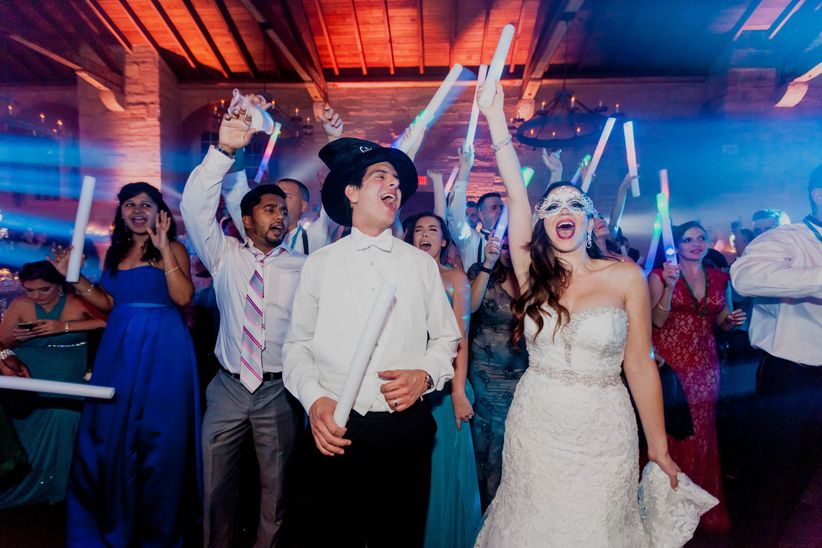 Photo: Photography by Santy Martinez
"Don't Stop The Music" by Rihanna
Any song by Rihanna will surely get the party started, but this is one of our favorites.

"House Party" by Sam Hunt
This Sam Hunt song will have your post-wedding afterparty rocking out. He reminds us that it's not the place that makes a party but the people.

"Can't Hold Us" by Macklemore & Ryan Lewis ft. Ray Dalton
With personal lyrics and a fun beat, listening to this song always feels like a celebration.

"I Really Like You" by Carly Rae Jepsen
Just because you've just said "I do" that doesn't mean everyone is ready to take the leap. But they can totally dance to this upbeat song.

"Mirrors" by Justin Timberlake
Justin Timberlake should be present at every party. Fact.

"All Day and All of the Night" by The Kinks
For any older folks who have hung around for the afterparty, this is a song that will have them singing along.

"Gettin' Jiggy Wit It" by Will Smith
Before Will Smith became a huge star he was gettin jiggy wit it and we think you should too.

"Footloose" by Kenny Loggins
Dancing is definitely not against the law at any afterparty, so cut loose with this classic rock hit!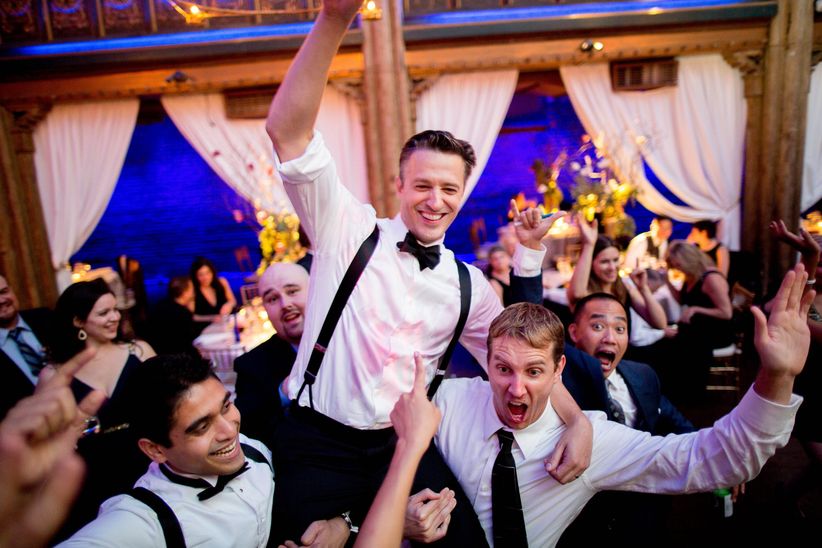 Photo: Joseph Lin Photography
"Don't Go Breaking My Heart" by Elton John ft. Kiki Dee
A pop hit from the early 90s, this is great wedding song for couples.

"Sweet Dreams (Are Made of These)" by Eurythmics
Just another fun and upbeat song perfect for dancing on one of the best days of your life.

"Cake By The Ocean" DNCE
A more modern hit, this song's silly title is based on the band's Swedish producers kept confusing the phrase "sex on the beach" with "cake by the ocean".

"Love Me Now" by John Legend
John Legend quickly became part of every wedding playlist with his sweet and soulful song "All of Me". This is another song that Legend knows how to make beautiful love songs.

"P.Y.T (Pretty Young Thing)" by Michael Jackson
Most of MJ's songs have become instant classics and should most definitely be included on your wedding playlists.

"More Than a Feeling" by Boston
This rock throwback is a wonderful combination of great lyrics, a mellow beat, and some awesome guitar riffs.

"Just Dance" Lady Gaga
We agree with Gaga on this one, when you hear this song just dance.

"24K Magic" by Bruno Mars
Bruno Mars is back at it again. If you love "Uptown Funk" you're going to want to dance along to "24K Magic"

"Easy Love" by Sigala
We seriously can't get enough dance remix of The Jackson 5 hit "ABC".