24 Engagement Party Songs For a Love-Filled Playlist
You're engaged—congrats! Celebrate the occasion with our engagement party playlist full of happy love songs.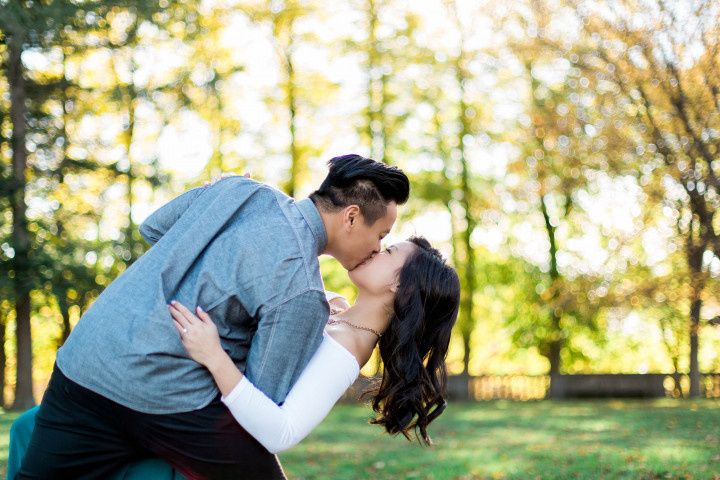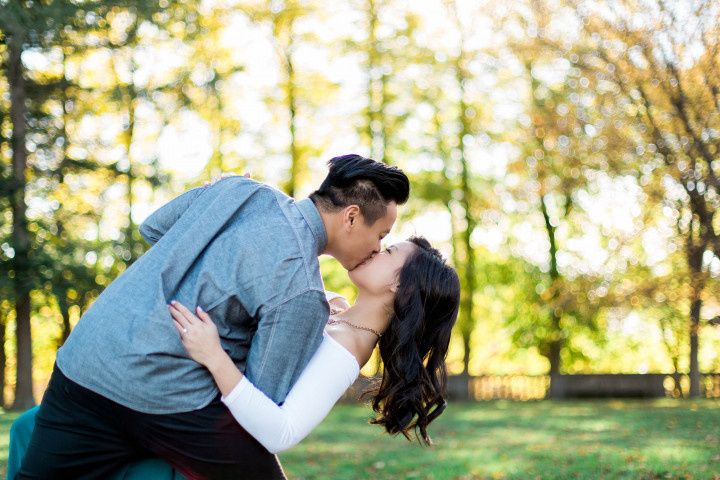 After you get engaged, the first order of business is to celebrate with an engagement party! (After sharing your #justsaidyes moment on Instagram, of course.) These engagement party songs are romantic and upbeat, but most importantly, they'll remind you and your brand new fiancé(e) why you fell in love and will get you excited for what's to come next. So pop a bottle of bubbly, queue up this love-fueled playlist full of engagement party songs, and prepare to party!
Take a listen to our favorite engagement party songs below.
"Best of My Love" by The Emotions
It's time to celebrate! Kick the party off with this song that's guaranteed to have people dancing and singing along.
"Let's Stay Together" by Al Green
You can't go wrong with this classic Al Green melody. It's a song that everyone knows, so it's perfect for getting guests mixing and mingling with each other.
"Northern Sky" by Nick Drake
This romantic, mellow tune is from the Serendipity soundtrack. It plays during that magical ice rink reunion scene and is one of our favorite engagement songs for setting the mood at a party.
"Craving You" by Thomas Rhett ft. Maren Morris
Country music fans already know that this is one of the top songs of the year, so it only makes sense to add it to our engagement songs 2017 list.
"Be My Baby" by The Ronettes
Go old school with this timeless love song. We love the lyrics, "I'll make you happy baby, just wait and see / For every kiss you give me, I'll give you three / Oh, since the day I saw you / I have been waiting for you / You know I will adore you, 'til eternity."
"Waiting For a Girl Like You" by Foreigner
If you're an '80s rock fan, you'll definitely want to include this Foreigner hit on your engagement party playlist. The message of the song is about finally finding The One—how romantic is that?
"Cant Get Enough of Your Love, Babe" by Barry White
It wouldn't be a love song playlist without Barry White. "Can't Get Enough of Your Love" is a must-have for your list of engagement party songs (it also makes a great karaoke song if your engagement party is more low-key and casual).
"Oh, Pretty Woman" by Roy Orbison
If you don't immediately know this song, you'll recognize it from the scene in Pretty Woman when Julia Roberts goes shopping on Rodeo Drive. It's a fun addition to your engagement party playlist!
"I Do" by Colbie Caillat
Colbie Caillat is known for her cheery, catchy love songs, and "I Do" is a perfect choice for any newly-engaged couple. Get excited about your upcoming wedding with lyrics like, "You can trust I never felt it like I feel it now / Baby there's nothing, there's nothing we can't get through / So can we say / I do, I do, I do."
"Something In the Way She Moves" by James Taylor
We can always count on James Taylor to make us feel at ease. "Something In the Way She Moves" is about that happy, calm feeling you get whenever you're with the one you love.
"Is This Love" by Bob Marley
We think this upbeat reggae tune would be perfect for an outdoor engagement party by the water. Bob Marley captures the true meaning of love with the lyrics "I'm willing and able / So throw my cards on your table / See, I want to love ya, I want to love and treat ya / Love and treat ya right."
"Perfect" by Ed Sheeran
Ed Sheeran is the king of modern love songs. His most recent single, "Perfect," is a slow and heartwarming song that's quickly becoming a popular choice for first dance songs and processional songs.
"Can't Take My Eyes Off Of You" by Frankie Valli
If you want to get up and dance with your brand-new fiancé(e), this song is the perfect choice. We hope there's a lot of twirling involved! "Can't Take My Eyes Off Of You" also gives us throwback memories of Heath Ledger's iconic serenade scene in 10 Things I Hate About You.
"Who You Love" by John Mayer ft. Katy Perry
Even though Jaty aren't a couple anymore, this sweet tune is a laid-back and romantic addition to your list of engagement party songs. We love the stripped-down version of Katy Perry's vocals paired with John Mayer's guitar.
"Still Falling For You" by Ellie Goulding
Ellie Goulding always knocks it out of the park with her love songs, and "Still Falling For You" is another catchy hit. The song ends with the lyrics, "All I feel is you / You are all for me / No one can lift me, catch me the way that you do / I'm still falling for you."
"Bright" by Echosmith
This indie song has country and acoustic influences. It's an upbeat tune about falling in love and would be a cheerful addition to any engagement bash!
"Feeling Good" by Jennifer Hudson
This sultry song has been covered by a lot of major artists, but Jennifer Hudson nails her version with strong vocals and a modern take on the background horns. We picture this song playing at a swanky rooftop party overlooking a city skyline.
"Grow Old with Me" by Tom Odell
The best part about getting married is spending the rest of your life the one you love. Tom Odell's sweet and simple song is about exactly that—growing old together. Just try not to cry at these lyrics: "Grow old with me / Let us share what we see / And oh, the best it could be / Just you and I."
"Symphony" by Clean Bandit ft. Zara Larsson
Some people say that when you're in love, it's like hearing music wherever you go. This song captures that feeling with the lyrics, "And now your song is on repeat / And I'm dancin' on to your heartbeat / And when you're gone, I feel incomplete / So if you want the truth / I just wanna be part of your symphony."
"I've Got Love On My Mind" by Natalie Cole
It's no surprise that Nat King Cole's daughter became famous for her love songs. While we love her most popular R&B hit, "This Will Be," we think that "I've Got Love On My Mind" is just as worthy for an engagement party playlist.
"In Case You Didn't Know" by Brett Young
Even if you're not a country music fan, the lyrics of this thoughtful song will have you swooning: "In case you didn't know / Baby I'm crazy 'bout you / And I would be lying if I said / That I could live this life without you."
"For Once In My Life" by Stevie Wonder
Another timeless song that we couldn't resist adding to the list. This Motown classic perfectly captures the joys of love: "For once I can touch what my heart used to dream of / Long before I knew / Someone warm like you / Would make my dreams come true."
"Love Me Tender" by Norah Jones
Norah Jones' cover of this Elvis Presley original is romantic and beautiful all around. It's a slower song, so you could even use it for your first dance later down the road.
"Call Me When You Get This" by Corinne Bailey Rae
Maybe we love this song because the opening violin notes feel like something out of a movie. But the lyrics are magical, too: "And I have often wondered who / Who could love you, the way I do? / Now I just want you to know / How I'm touched deep in my soul / Just being with you/ And I need you more each day." So romantic!