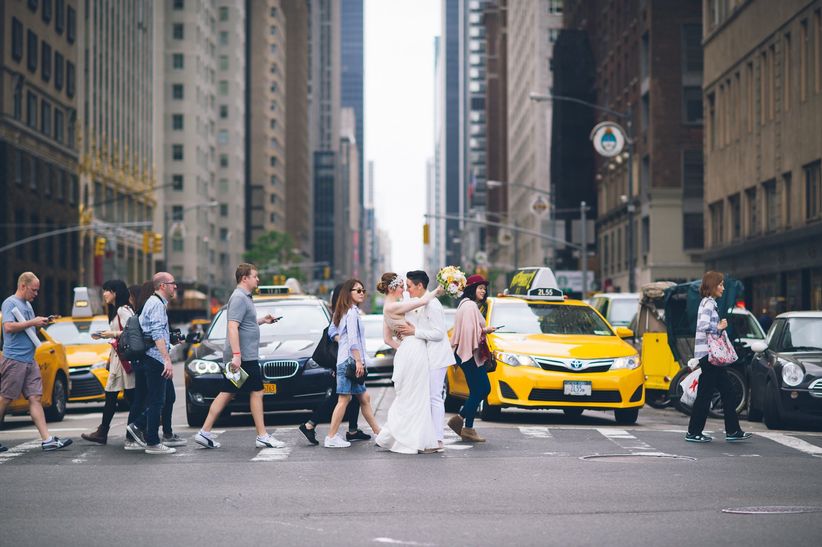 Photo: Sascha Reinking Photography
While we love to feature same-sex weddings from all over the country, we've noticed certain cities pop up much more frequently than others as desirable places for LGBTQ couples to marry and call home. According to a review of tax documents and Census Bureau data published in The New York Times, there are some places where married same-sex couples are more likely to form communities. Big coastal cities, like New York and San Francisco, won't surprise you, but other hotspots, like Atlanta, might. If you're a newlywed looking for cities with lots of other LGBTQ couples, be sure to give these locations a shot.
Check out these uber-popular cities for same-sex couples!
Photo: Deborah Coleman Photography
San Francisco Bay Area
San Francisco and its environs, including Oakland and North Bay, aren't just number one for tech giants like Apple and Uber. Same-sex couples, both two groom and two bride couples, choose to settle in this area more than any other place in the United States. Data from The Times was segmented by male-male and female-female couples, and San Francisco came in first for guys and third for women. Oakland, a city in the East Bay that's home to the Raiders' football franchise, was sixth for male-male and first for female-female couples, while North Bay, where the Sonoma and Napa wine countries are found, was #20 for male-male-couples and #14 for female-female couples.
Photo: Robin Shotola Photography & Design
Washington, DC Metropolitan Region
The Nation's Capital region is the second most popular place to settle down for married same-sex couples. Beltway politics aside, Washington, DC along with two of its densely populated suburbs — Silver Spring, Md. and Arlington, Va. — rank #2 (for male-male couples), #6 (for female-female couples), #12 (Silver Spring, for female-female couples) and #16 (Arlington, for male-male couples), respectively, among hotspots for same-sex couples. LGBTQ culture is rich in the region, with the nation's oldest lesbian bar, Phase 1, setting up shop in the Capitol Hill neighborhood in 1970 along with Dupont Circle, which, along with neighborhoods in San Francisco, New York and Los Angeles, became a part of the burgeoning out-and-proud gay movement of the 1970s.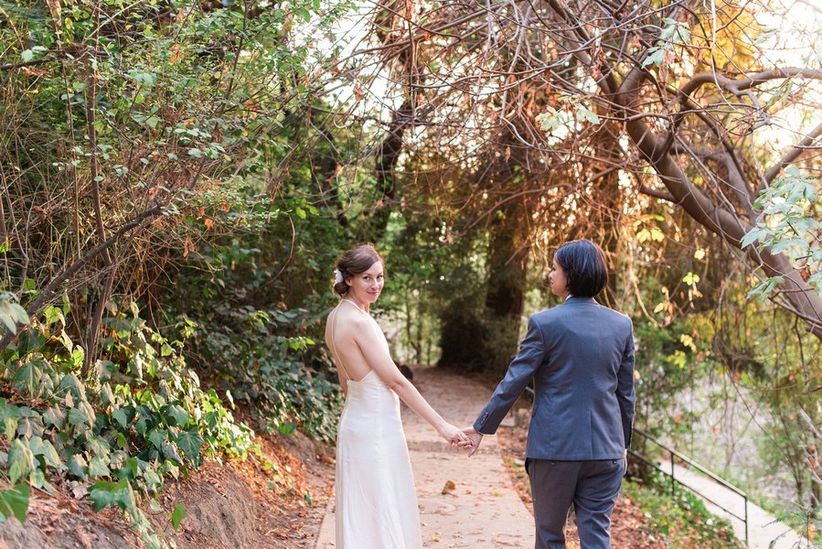 Photo: C Wagner Photography & Design
Seattle
Did LGBTQ-friendly sitcom "Frasier" influence same-sex couples flocking to this rainy city in the Pacific Northwest? We'll never know, but data shows both male-male and female-female couples can't get enough of Puget Sound region, with Seattle coming in #5 for male-male couples and suburb Tacoma coming in #17 for female-female couples. Couples have much to indulge in, from the many destinations for nature lovers to the culinary delights offered by the city's diverse population.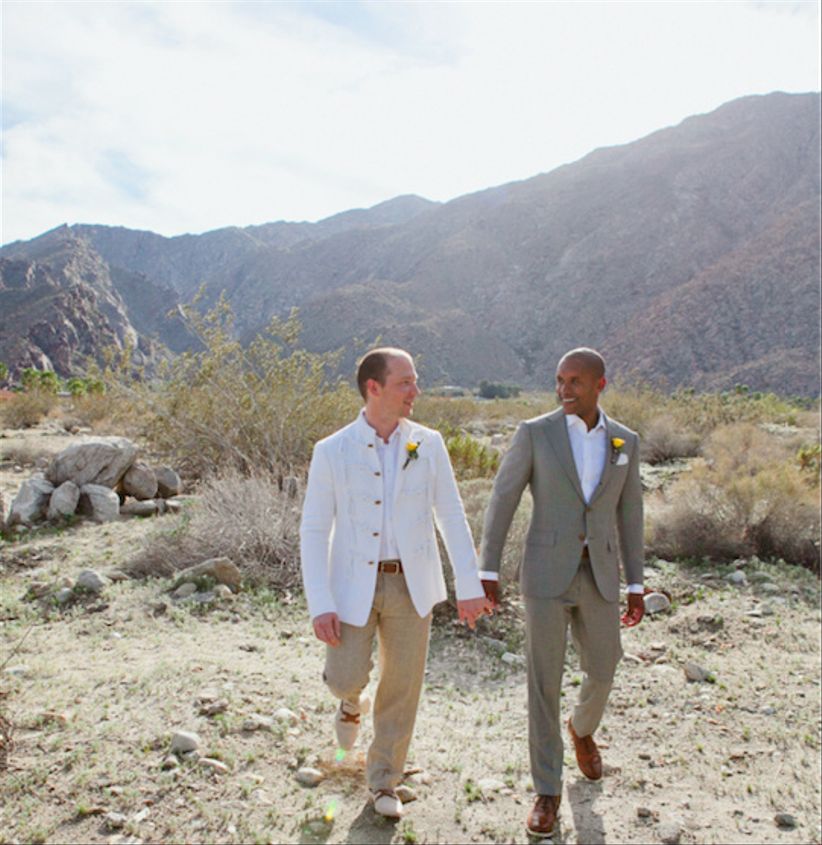 Photo: Christine Arnold Photography
Los Angeles Area
Who can resist the perennial sunshine, nearby beaches and laidback attitude of Los Angeles? Same-sex couples choose this vibrant, LGBTQ-friendly city (along with nearby cities Long Beach and Palm Springs) over and over again. Palm Springs came in #4 for two groom couples, while Los Angeles was #7 for this group. Long Beach, a town just south of LA, was popular for both two bride and two groom couples, coming in #4 and #8, respectively.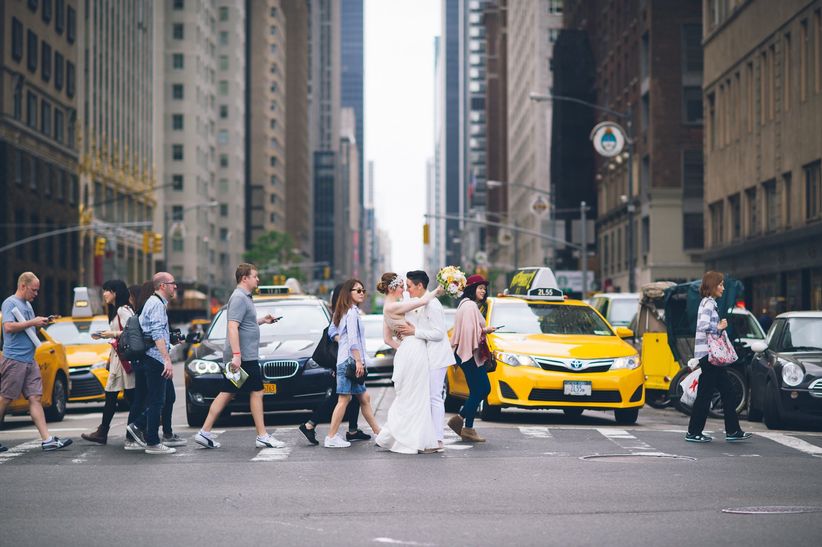 Photo: Sascha Reinking Photography
New York City
Home of everything from the storied Stonewall Inn — the location of a series of encounters between members of the LGBTQ community and police in 1969 that sparked the beginning of the gay rights movement — to the famous Greenwich Village, of course New York is an epicenter for same-sex married couples. Favored by both gay and lesbian couples, the city is the second most popular for male-male couples and nineteenth most popular for female-female couples.
Photo: Kim Chapman Photography
Boston
Although most closely associated with baseball, there's good reason that same-sex couples flock to Boston and the state of Massachusetts at-large. Boston landed at #10 for gay married couples while the Western Massachusetts city of Springfield was the fourth most popular city for lesbian married couples. Back in 2004, Massachusetts became the first state in the United States to recognize same-sex marriage, thanks to the vocal LGBTQ community of the state.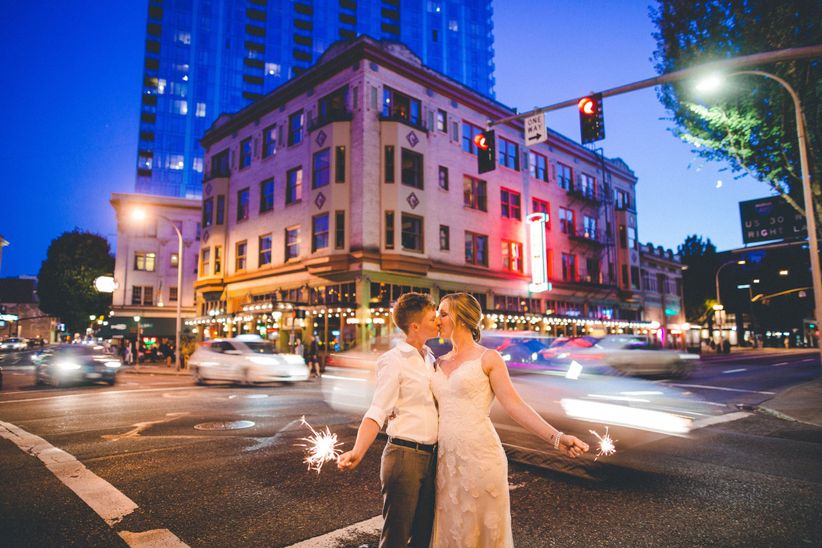 Photo: Sarah Babcock Studio
Portland
This uber-cool, progressive Pacific Northwest port city has long been a haven for LGBTQ people. Recently, Census data showed that more than five percent of the popular identifies as LGBTQ, so it's no surprise that it's the eighth most popular city for female-female married couples and 18th most popular city for male-male married couples.
Photo: Six Hearts Photography
Atlanta
The Peach state's largest city was one of only a handful of Southern cities to top the lists for same-sex married couples (Durham, NC and Arlington, Va. are the others). For male-male couples, Atlanta is the 13th most popular place to settle down as a married couple —and for good reason. The city routinely ranks as one of the most gay-friendly locales and sizable percentage of the city population identifies as LGBTQ.