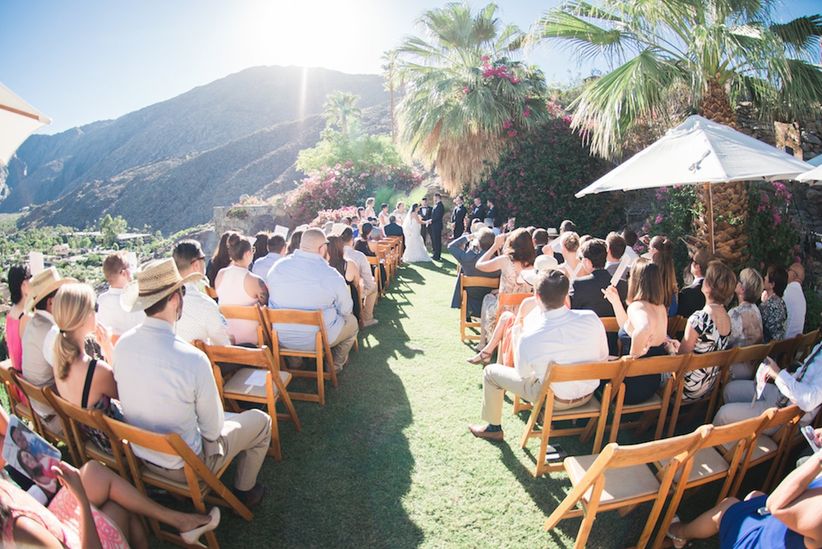 Photo: Randy + Ashley
When you think of desert wedding venues, Palm Springs, the trendy Southern California hamlet in the Coachella Valley, may not be first on your list. That should really change. The formerly sleepy desert town that burgeoned into the stylish playground for mid-century Hollywood elite — and still hosts many A-listers — is a short drive from Palm Desert. Because of that, many of the places to get married in Palm Springs feature amazing views of the desert. The region is full of desert wedding venues that include private estates, stylish resorts and hotels and Old Hollywood homes. Whether you're planning a traditional wedding with tons of classics, a bohemian affair fit for a flower child or anything in between, these gorgeous Palm Springs venues are perfect wedding locations for your upcoming nuptials.


Take a look at a few of our favorite Palm Springs wedding venues with sick desert views!
Photo: The Saguaro
The Saguaro
It's not so much that The Saguaro, one of the impossibly cool Palm Springs wedding venues, has great views of the desert. It's more like The Saguaro just
is
the gorgeous Palm Springs desert. This ultra-modern, millennial dream wedding venue is located on Palm Canyon Drive, the main drag of Palm Springs, with access to enviable views of the desert, mountains and hoards of swaying palms. A brightly painted hotel with both indoor and outdoor space for stylish ceremonies and receptions, couples will love the mid-century furniture that's expertly mixed with technicolor chairs, hanging greenery and exposed beams. The Saguaro is an incredibly popular Palm Springs destination that's equal parts Instagram eye candy and unforgettable experience for your special day.
Learn more about The Saguaro »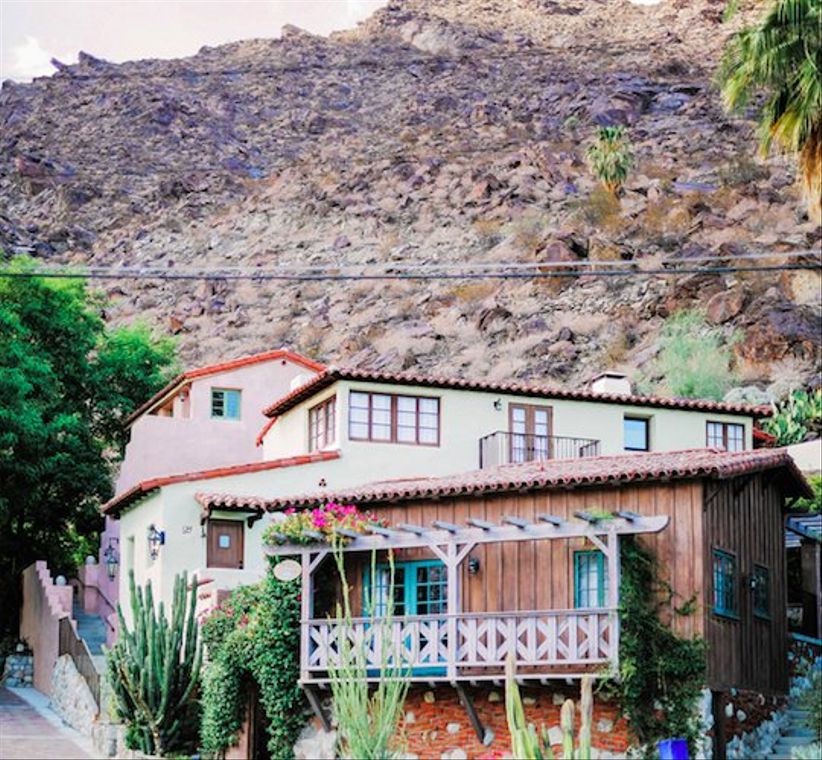 Photo: Gideon Photography
Colony 29
One of several Palm Springs wedding venues set high up so as to give optimal views of the desert, Colony 29 is a converted Spanish colonial style mansion with the capacity to host up to 1,000 wedding guests. From the moment couples and guests enter the property, bright flowering trees, tall cacti and cobblestone structures beckon. Most couples choose the expansive garden for their wedding location, which offers up splendid views of the San Jacinto mountains as ideal scenery, but the property also features a glamorous pool and other areas for
cocktail hour
or the reception activities. For more inspiration, look to Kate and Brian's playful
Palm Springs wedding
at Colony 29!
Learn more about Colony 29 »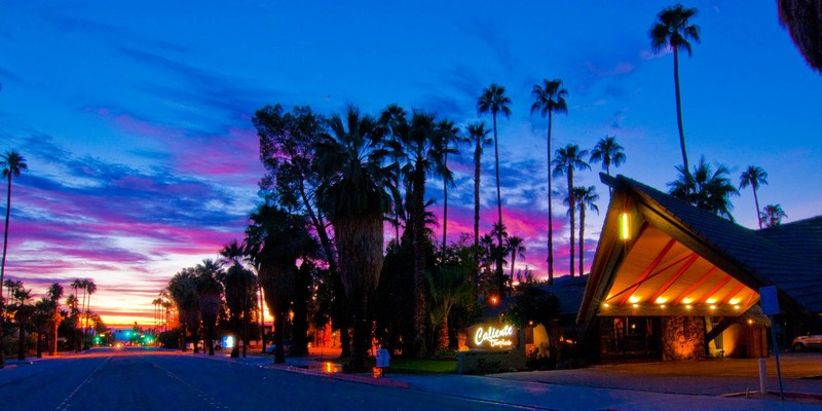 Photo: Caliente Tropics Resort
Caliente Tropics Resort
It may be hard to imagine a wedding venue that combines the best of Old Hollywood aesthetics with a dash of the Pacific Islands' tiki culture and a bit of desert cool for good measure, but Caliente Tropics Resort blends the three beautifully. Located in the heart of Palm Springs, on Palm Canyon Drive, the resort enjoys pretty amazing views of the mountains and desert for couples who want to spring for photo opportunities. In fact, the garden area — perfect for scenic outdoor ceremonies — allows couples to exchange vows overlooking the mountains. And, while the 1960's-styled Caliente Tropics is awash in bright flowers, wooden tiki accents and gold plating, couples with a variety of
wedding styles
will find the grounds and pool can be molded to fit their vision. The resort can hold up to 1,000 guests through its three spaces.
Learn more about Caliente Tropics Resort »
Photo: Randy + Ashley
The O'Donnell House
A Palm Springs estate situated far above sea level, The O'Donnell House was built to fully appreciate the natural gifts of the Coachella Valley. From the sloping hill where couples can wed with the Palm Desert as a natural backdrop to the terrace where guests can dine on wedding reception fare while overlooking the many mansions and palm trees of the city, it's no wonder the property was first named
Ojo del Desierto
, or Eye of the Desert. Ideal for weddings of all size, The O'Donnell house is situated on 15 acres of land with a 4,200 square foot home built nearly 100 years ago to serve as the winter home of a wealthy couple from Long Beach. The Mediterranean Revival-style home is just as beautiful as the land it sits on, with Spanish stucco tiling, elaborate balconies and French doors.
Learn more about The O'Donnell House »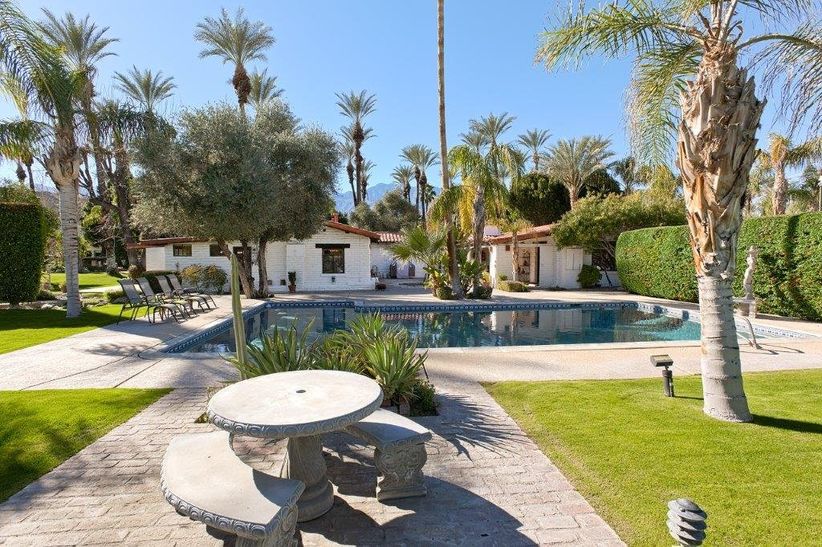 Photo: Cree Estate
Cree Estate
Experience the next best thing to an authentic Mexican hacienda in a remote desert with the expansive Cree Estate, a Spanish colonial style mansion that's perfect for weddings. A beautiful bungalow on two-and-a-half acres of land, this wedding venue accommodates up to 200 guests. Whether you choose to use the home for the full wedding weekend, or just the ceremony and reception, Cree Estate is fully equipped with six bedrooms, three kitchens and two massive black-bottomed pools. Set high above the valley, this venue offers views upon views, both man-made and natural. The desert is on full display during outdoor ceremonies (like Jennifer and Barry's
Palm Springs wedding
at Cree Estate) while the ornately styled grounds offer plenty to delight couples and guests, like the antique Spanish fountain that greets guests as they enter the property.
Learn more about Cree Estate »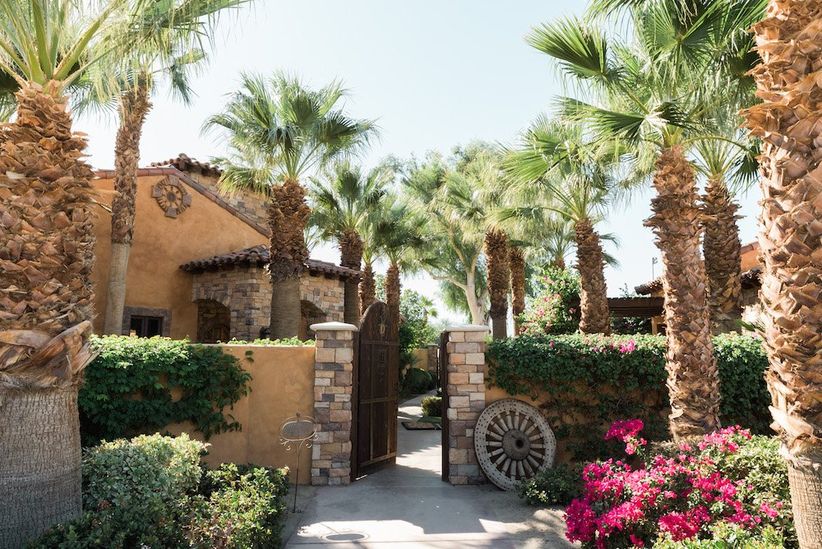 Photo: Randy + Ashley
Desert Ridge Estate
It's a sad fact of life that desert wedding venues usually don't also feature lakes. But, Desert Ridge Estate isn't just any wedding venue. The private home with more than 5,000 square feet of living space is situated on 10 acres of land and includes two acres of a spring-fed lake that also includes fish. Couples enjoy the best of the desert — and its gorgeous, awe-inspiring views — while having lots of opportunities to take advantage of the peaceful lake. Weddings of up to 500 guests can be accommodated at this large venue. The property also features two pools, a stone-tiled sitting area and acres of lush, manicured grass for outdoor ceremonies. There's also an outdoor dance floor flanked by palm trees for hours of post-wedding grooves.
Learn more about Desert Ridge Estate »