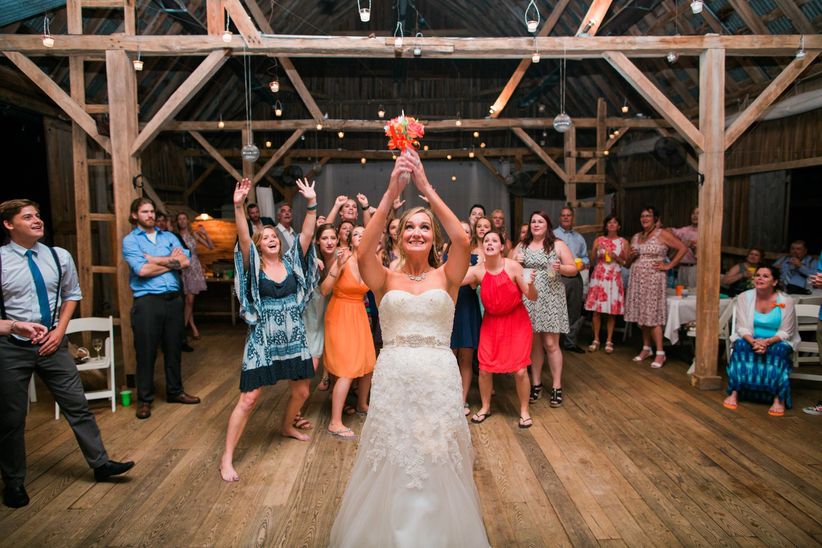 Photo: Eileen K. Photography
The bouquet toss is a classic tradition where single female guests line up to catch the bridal bouquet—legend says the winner will be the next to marry. Bouquet toss songs help kickstart this wedding activity and are also a great way to liven up the crowd. So, if you're browsing through tunes and are trying to find a song that will get your participants into position, then we're here to help. Just check out these bouquet toss songs that are perfect for this LOL wedding moment.


Get your gals excited to catch the bouquet with these top bouquet toss songs.
"Single Ladies (Put a Ring on It)" by Beyonce
An anthem for single ladies, this upbeat song by Queen B is guaranteed to get your ladies lined up and ready to catch the bouquet.
"Filthy" by Justin Timberlake
Justin Timberlake's
new pop single
is a provocative pick that has been killing it in the charts lately. With a few risque lyrics, this is a great bouquet toss song choice to grab everyone's attention.
This classic bouquet toss song is a total crowd pleaser. Not only will everyone recognize the hit as soon as it comes on, but the song is filled with feel good vibes and #girlpower.
"Man! I Feel Like a Woman" by Shania Twain
If you want want a bouquet toss song that has
country twang
and a 90s throwback vibe, then this Shania Twain track is perfect.
"Shape of You" by Ed Sheeran
The iconic openic opening notes of
this party starter
by Ed Sheeran is a great pick if you've been searching for non traditional bouquet toss songs.
"It's Raining Men" by The Weather Girls
A go-to 80's classic, "It's Raining Men" will be an LOL-worthy song choice for your bouquet toss moment.
"Little White Church" by Big Little Town
A country fan favorite, "Little White Church" will have everyone singing and tapping their shoes along as you toss your bouquet into the crowd.
"Pretty Girl Rock" by Keri Hilson
Get your girls doing the "pretty girl rock" while they try to to catch your bouquet with this R&B bouquet toss song.
"Chapel Of Love" by The Dixie Cups
A sweet and timeless classic, "Chapel Of Love" is a great bouquet toss song if you want something that's well known and cheerful.
"Let's Get Loud" by Jennifer Lopez
Spice up your bouquet toss and make your guest actually "get loud" with this J.Lo pop song.