10 Garter Toss Songs to Tastefully Up Your Sultry
Calm your garter removal jitters with these banging garter toss songs to hype up that wedding reception tradition. (Spoiler alert: This top garter toss songs list even includes The Little Mermaid!)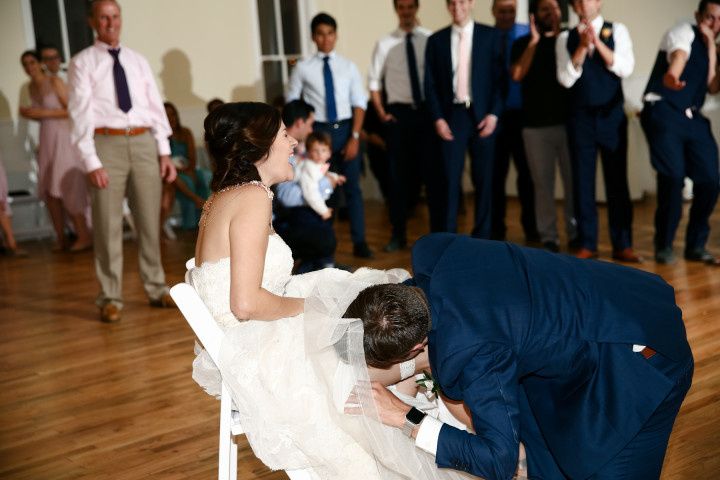 Hey, we get it. Garter toss songs are some of the most difficult wedding songs to source for your big day. There's the fact that you'll have the highly appropriate audience of your parents and in-laws. Then there's the possibility of general wedding day stress that might be even more intense if you're an introvert. All of this to say a tasteful list of garter removal songs will go a long way to ensuring you really enjoy this fun tradition, whether you put the "m" in modest or the "c" in cray.
Here are 10 garter toss songs to suit every couple.
"A Little Less Conversation" by Elvis Presley
Let the King help you overcome your stage fright with this sexy, but not even remotely offensive garter toss song.
"Boombastic" by Shaggy
'90s babies are sure to remember this reggae-inspired hit that doubles as one of the most perfect garter toss songs for couples looking to keep it light and upbeat.
"Buttons" by Pussycat Dolls
Garter removal songs not only help you tap into a sultrier version of yourself — they can also help get the party started! This danceable jam will definitely have guests of all ages bopping along.
"Don't Wanna Be a Player" by Joe
Celebrate the end of singledom with this smooth ode to settling down.
"Girls Just Want to Have Fun" by Cyndi Lauper
Who says garter toss songs are all about the menfolk? Women can take the lead and join the fun with this classic ditty. Bonus: Every single person will know the words and happily sing along.
"Let's Get It On" by Marvin Gaye
Some garter toss songs keep it light and fun. Anything by Marvin Gaye does the exact opposite. This is for those ultra-confident couples who don't mind letting their wedding guests in on intimate moment.
"Kiss the Girl" from The Little Mermaid Soundtrack
In case you hadn't thought about them before, Disney songs make clutch garter toss songs. Take you and your love back to the days of puppy love with this sweet song.
"SexyBack" by Justin Timberlake
The title of this tune says it all. Embrace your inner sexy with this futuristic groove for your garter toss song.
"Superfreak" by Rick James
If you're going the Rick James route, you're probably taking a jokingly sexy approach to your garter toss songs or you're comfortable getting steamy. Either way is a surefire good time, though.
"You Can Leave Your Hat On" by Joe Cocker
A classic song with sultry lyrics, this is a smooth song to set the tone for your garter toss.