How to Keep Calm the Morning of Your Wedding
Check out some of our favorite stress-busting tips for your wedding morning!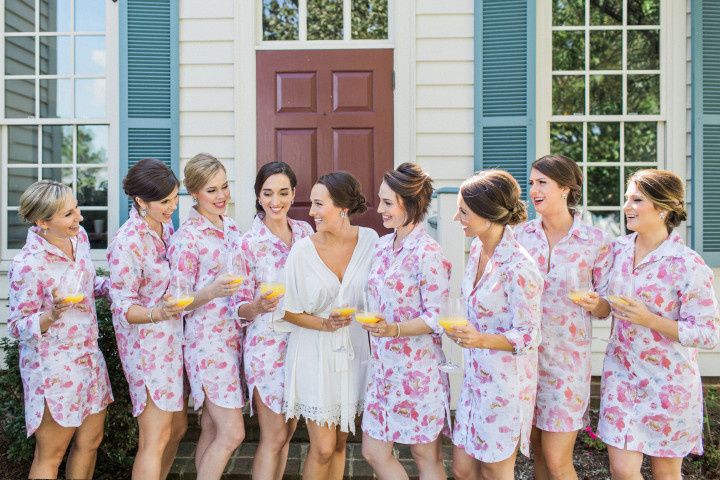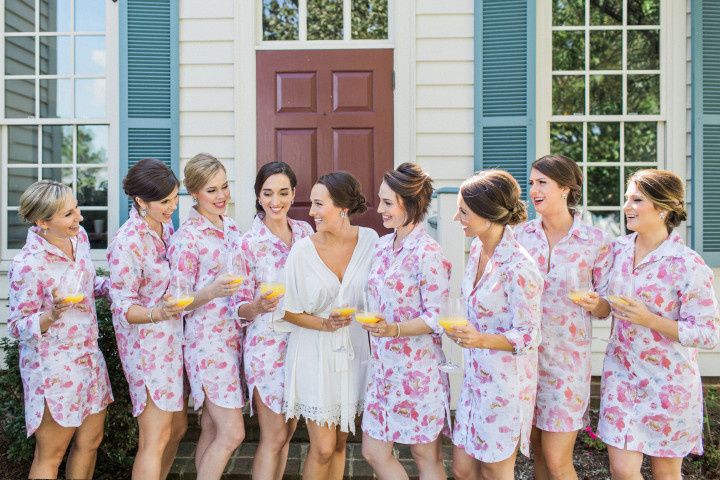 Photo: Flora + Fauna
Even the most laid-back gal or guy may end up a ball of nerves on their wedding morning. Maybe you've had nightmares of tripping during the processional or visions of messing up your vows. Whatever your wedding fear may be, you can't let stress ruin your amazing day. Fortunately, there are lots of (super-easy!) ways to help yourself relax so you'll be the picture of serenity and confidence as you walk down that aisle.
Check out some of our favorite ways to keep calm on your wedding morning.
Designate a point person to handle any drama.
We've said it before and we'll say it again: Hiring a planner may be the best wedding-related investment you'll make. Along with helping you stay on task and on budget, your planner will serve as point-person on your big day—answering any vendor questions and handling any issues that may arise so you can focus on enjoying your wedding morning. If a full-service wedding planner isn't in your budget, a day-of coordinator is a great option, too.
Create a timeline in advance.
Running late can be a major source of stress on the morning of your wedding. Work with your venue and planner to create a wedding-day timeline that schedules both the major events (the start of the ceremony) and the seemingly smaller moments (the serving of the first course). Once the timeline is complete, send it around to all of your vendors and your wedding party so that everyone knows where to be and when.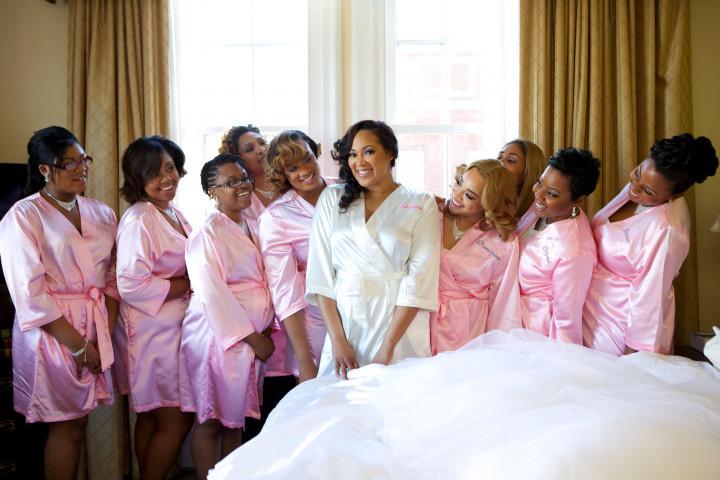 Photo: Arden Photography
Stop worrying about the weather
You've probably checked your weather app of choice about every five minutes in the days leading up to your wedding. Well, the day is here and there's no use stressing about it now. If the weather's great, awesome. If it's not, let your vendors take the lead and work to make your Plan B just as fabulous as your Plan A—that's their job. Rain or shine, you're going to have an incredible day—it's a waste of time to fret about what might have been.
Get moving
Even if you're more into Netflix than Soulcycle, you probably know that working out can help relieve anxiety. So take some time on your wedding morning to move your body—whether it's taking a yoga class, going for a run, playing a game of basketball, or even just dancing in your hotel room. Don't do anything too strenuous (a wedding-day injury is not ideal!) but you'll find that a little bit of exercise will go a long way when it comes to relieving wedding morning jitters.
Find a comfortable space to prep.
When planning for your wedding day, it's important to decide where you'll get ready. Whether it's at your venue, in a hotel, or at home, look for a place that's big enough to comfortably host your crew—if you have a huge bridal party for example, a single standard size hotel room probably won't cut it. If you're having your hair and makeup done on-site, make sure there's enough space for your pros to set up and work their magic.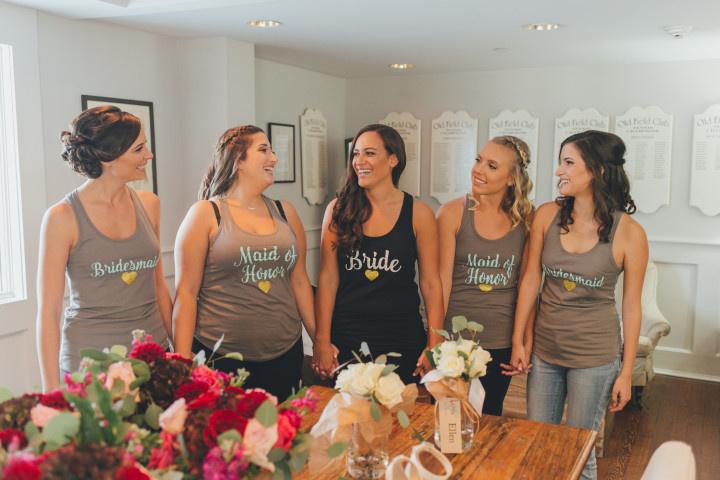 Photo: Olli Studio
Surround yourself with your VIPs…
It's so vital to surround yourself with loved ones on your wedding morning. They'll know when to crack a ridiculous joke to make you laugh, or if you're starting to get hangry and need a snack (see below for more on that). Try to keep your getting-ready crew as small as possible—a big, loud group may be more stress-inducing than calming.
...but take some time for yourself
You are going to be surrounded by people throughout your wedding day, so it's a good idea to get some downtime before the madness begins. If at all possible, try to take a few minutes of solo time, whether it's having a cup of coffee in bed before everyone arrives or taking a walk around the block while the rest of the crew is prepping. You'll be glad you had some private time to collect your thoughts.
Think comfort over cute
Yes, we've all seen those photos of bridal parties in adorable matching rompers or robes. If you're into matchy-matchy looks for your crew, be sure that they're both comfortable and cute. If skimpy attire isn't your thing, choose cozy pajamas or athleisure-inspired looks. You don't want be uncomfortable even before getting into your wedding-day attire!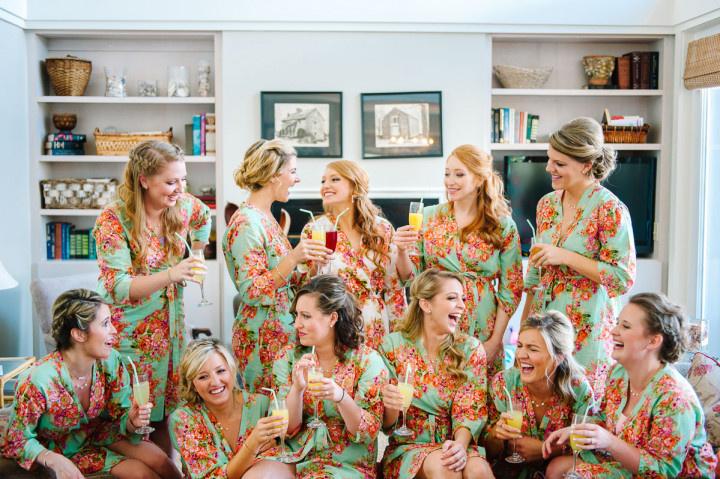 Photo: Pasha Belman Photography
Keep the music playing
The right music can really set the tone for your wedding morning—so choose your tunes wisely. Create a playlist that includes upbeat, fun songs that will keep the mood joyful and celebratory. Here's a sample song list to help inspire you.
Eat (and drink) something
It's super-easy to skip breakfast or lunch on your wedding morning—don't do it. If you're hangry, you'll likely be more prone to freak out over minor things, so be sure to eat meals, enjoy healthy snacks, and drink water. While we hope you find time to eat during your reception, you may not—so take advantage of your free time now. And while the mimosas may be flowing on your wedding morning, don't hit the booze too hard. It's not ideal to get totally wasted before you even walk down the aisle.
Remind yourself of what's important
We adore the tradition of writing a love note to your almost-spouse on your wedding morning. While it might not be easy to find the time to write said letter, it's a great way to center yourself and focus on what the day is all about. And when reading your fiancé(e)'s love note, you'll likely feel all those pre-wedding jitters melt away and turn into pure excitement. The big day is here, you're marrying the love of your life—so stop worrying!