The Pros and Cons of a Big Wedding Party
There are some good reasons to keep your wedding party small, but there are lots of advantages to having a bigger squad, too. Let's weigh the pros and cons here.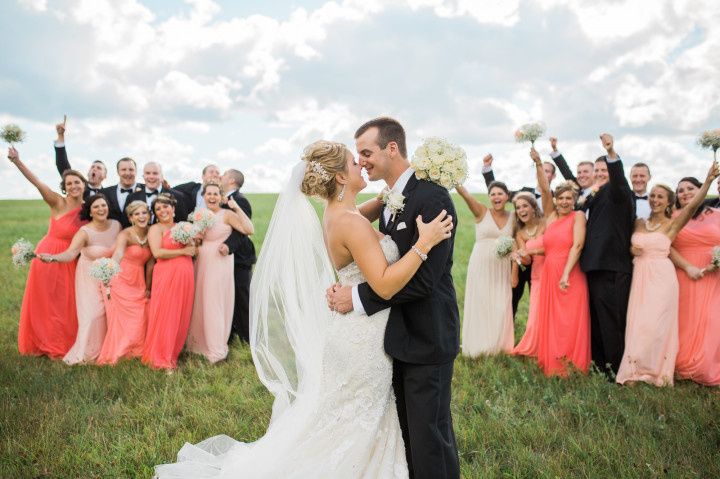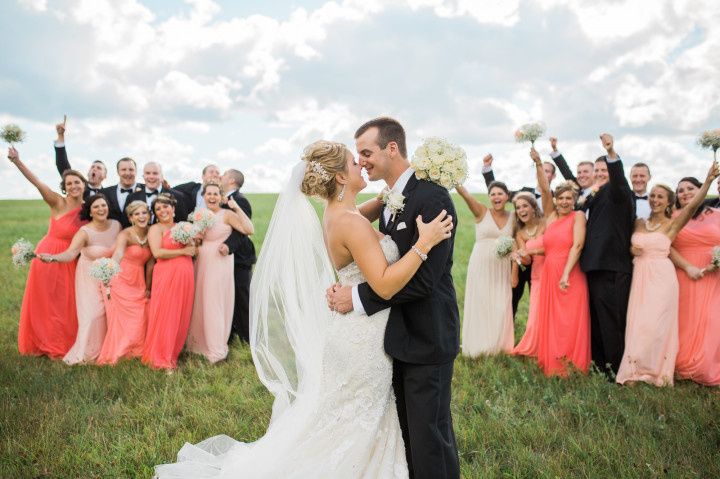 Photo: Rockhill Studio
So, you and your future spouse have lots of siblings, tons of close cousins, and an insane number of besties. Looks a large wedding party is in your future! Some couples balk at having a lot of bridesmaids, groomsmen, bridesmen, groomladies, attendants, or whatever you choose to call 'em. And maybe there are some good reasons to keep your wedding party small (the average wedding party includes nine people, so we'll consider anything less than that "small"). But there are actually lots of advantages to having a bigger squad, too.


Let's weigh the pros and cons of a big wedding party here.
Pro: No hurt feelings
Often, a small wedding party means lots of hurt feelings. With a larger wedding party, you likely won't have to disappoint too many people because everyone's included! So while the choice of who's included is really between you and your future spouse, if you're super-concerned about causing drama by keeping things intimate, a bigger wedding party might mean less stress for all.


Con: Lots of personalities.
Yes, a bigger wedding party means there's the potential for more drama. And the old expression "one bad apple spoils the bunch" certainly applies here, as a problematic wedding party member can put a damper on the whole experience. That's why it's so important to choose your wedding party members wisely. And if there's a non-negotiable wedding party member (your sister, for example) who has a flair for the dramatic, be sure to keep constant tabs on how the group is getting along and handle any problems before things get out of control.


Pro: You can have (even more) fun with their attire.
We love when wedding parties mix and match their attire—it can look much more visually interesting than everyone wearing the same thing. There's even a greater opportunity to mix up a wedding party's attire when there are more people. Think bridesmaid dresses in a variety of shades, or mixing solids with patterns, or groomsmen in different ties or suit styles.


Con: All. The. Opinions.
If you're looking for opinions on everything from your attire to your flowers, we're sure your wedding party will be happy to provide 'em. But too many opinions can make things even more confusing. Our recommendation: Choose an "inner circle" of your closest family members and friends to help you with those really important decisions. There's no need to crowd-source every detail of your big day.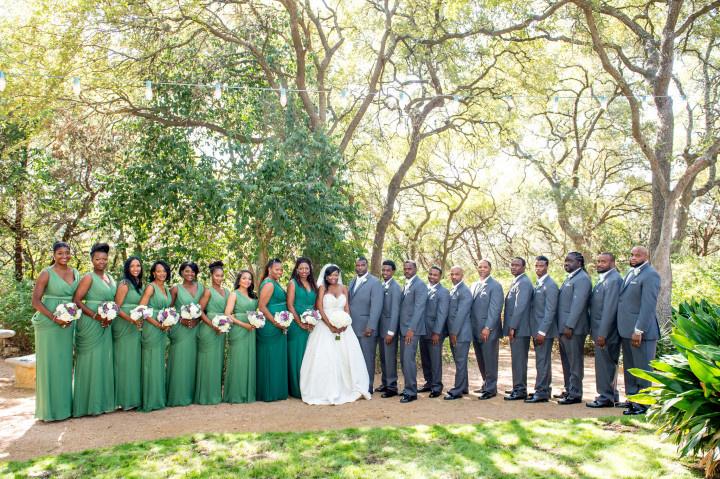 Photo: Svetlana Photography
Pro: Lots of help.
Need someone to pick up your Great Aunt Paula from the airport? Your groomsman's got it. Struggling to assemble all of your favors? A bridesmaid will pick up the slack. Lots of wedding attendants mean lots of helping hands. While you shouldn't treat your wedding party members like your personal assistants, you can certainly ask for help with small tasks.


Con: Coordinating pre-wedding events can be a pain.
Lots of people mean lots of schedules, budgets, and, as we mentioned earlier, opinions. This can make getting a consensus on plans for bachelor and bachelorette parties and showers quite complicated. Make sure that the people who are heading up the planning process (likely, your maid of honor and best man) are great planners and peacemakers.


Pro: Really amazing pre-wedding events.
With so many people planning and attending, you can bet that your actual bachelorette and bachelor parties and showers will be planned the nines and full of exciting details and surprises. And it's always fun to celebrate with lots of loved ones even before your wedding day!


Con: Staying organized won't be easy.
From ordering attire to booking travel arrangements, making sure your wedding party members take care of important tasks can be a pain. And this hassle can be multiplied if you have a lot of people to coordinate. This is why choosing a super-organized maid of honor and best man is essential. They can assist with (politely) hassling the other wedding party members to make sure they do what they need to do in a timely fashion.


Photo: Paula Bartosiewicz Photography
Pro: Getting ready will be a blast.
Worried about those pre-wedding jitters? A large wedding party can make the pre-ceremony getting ready process feel like just that, a party. A big boisterous group playing music, joking and laughing, and helping you get dressed, can be just what the doctor ordered in terms of keeping your mind on what the day should really be about—celebrating!


Con: Getting everyone in the right place—on time.
Your wedding party members have quite a few responsibilities on the day of your wedding. They have to show up on time, be present for the photo session, walk down the aisle in order, and more. If there are a lot of folks in your wedding party, it can be even more difficult to corral the group. There are a few ways to help the situation though—have a rehearsal the day before the wedding, send a wedding-day timeline in advance, assign a point person to keep things moving on schedule (likely your maid of honor and/or best man), and provide transportation. Also, make sure that there is ample food and drink while the crew is getting ready so no one misses photos because they're grabbing a bite to eat.


Pro: Amazing photo ops
Your wedding party photos will likely be among your favorites from your big day. And a bigger wedding party means a unique opportunity to have some fun with these portraits. Talk to your wedding photographer about creative posed and candid shots of your squad.


Pro: All the love
It's truly an amazing feeling to be standing at the altar facing your almost-spouse, surrounded by your loved ones. And when it comes to close family and friends, more can certainly be merrier. Seeing all of the faces of your wedding party members who have chosen to stand by your side on this most important day is a very clear display of just how many people love and support you. And that's pretty powerful.