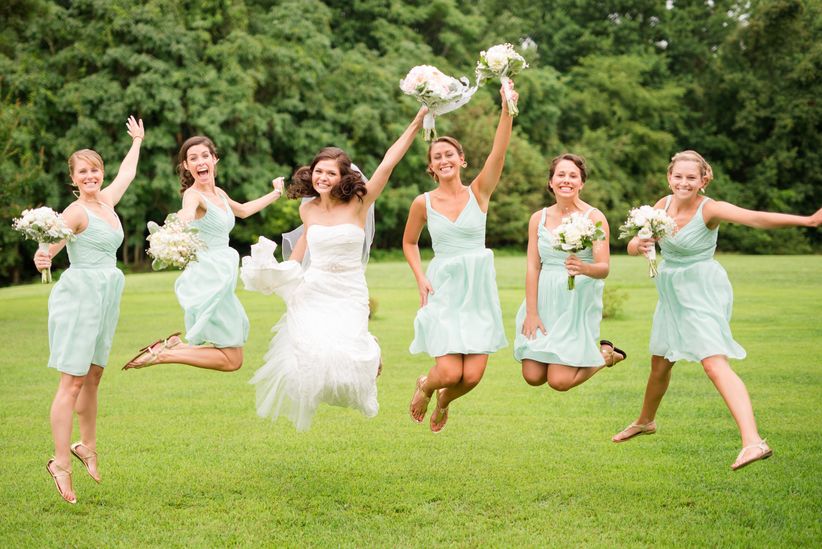 Photo: Audrey Rose Photography
For your bridesmaids, many responsibilities come before the actual big day – planning the bridal shower and the bachelorette party, dress shopping, helping with wedding-related projects, and more. And even though the wedding day is a time to celebrate, the bridesmaids do have several important tasks to do and roles to play.
Check out the 10 things your bridesmaids need to help out with on your wedding day.

Help keep things on schedule
Usually, a wedding planner or venue coordinator will be make sure that everything is running smoothly, but it's a good idea to give your wedding party members a copy of the wedding-day timeline just in case. That way, the bridesmaids can gently nudge the appropriate people if things start to get delayed.

Always stay calm
There may be some stressful moments throughout the wedding day, and it's a bridesmaid's job to make sure you don't get swept up in the potential madness and remembers why you are there in the first place. Whether it's telling jokes, dancing around, or simply being a listening ear, your nearest and dearest should best know how to calm you down if you get those pre-wedding jitters.

Hold your stuff
Even if you do have the forethought to prepare a clutch filled with your essentials (phone, lipstick, dental floss, etc.), there's no way you'll be able to keep track of it during the ceremony and reception. Assign a responsible bridesmaid to hang on to your "emergency kit." If you need any of the items during the wedding day, you'll know exactly who to turn to.

Be the personal mirror
The sign of a true friend is someone who will immediately pull you aside and tell you that you have food stuck in your teeth. And that's exactly what a bridesmaid needs to do for the bride, who should look her best at all times. So whether it's a lipstick smudge on your cheek, your dress is out of place, or your hair needs a bit of smoothing, your 'maids should let you know - ASAP. Because come on, you know you'd do the same for her.

Help the bride go to the bathroom
Going to the restroom in a big ol' wedding gown isn't easy – so you'll certainly need an assistant or two to help you, er, relieve yourself if necessary. There's no need to be shy – these are your best pals and are there to help you no matter what!

Run interference
There are going to be a lot of people who want to talk to you on your wedding day, but your focus should be on your new spouse and guests. Your wedding party members should serve as point people for questions (for example, "Where's the restroom?") or help move you away from anyone who might be causing you stress or anxiety.

Dance like no one's watching
Your bridesmaids and groomsmen act as the epitomes of "party people" throughout the celebration and serve as examples to your other guests. They should be mainstays on the dance floor, but also listen attentively to the speeches and be present for the cake cutting and other important events.

Make sure you eat
Eating may be the last thing on your mind during the reception, but it's important that you not party on an empty stomach. Your bridesmaids should steal you away for a few moments to make sure you get a few bites in, and of course, sample the delicious cake!

Keep track of gifts
Whether you set up a gift table or not, there is a strong likelihood that guests will be handing you gifts throughout the day. Assign a bridesmaid the role of "gift keeper," making sure that all the gifts get to a safe place. You can give her any gifts you receive, and trust that they'll be stored safely and properly so you can easily get them home later on.

Be there 'til the end
If possible, your wedding party members should be among the last to leave the celebration and should make sure any end-of-the-night details are taken care of before heading home.