9 Things No One Tells You About Wedding Dress Shopping
Wedding dress shopping—and all the surprises and advice that comes with.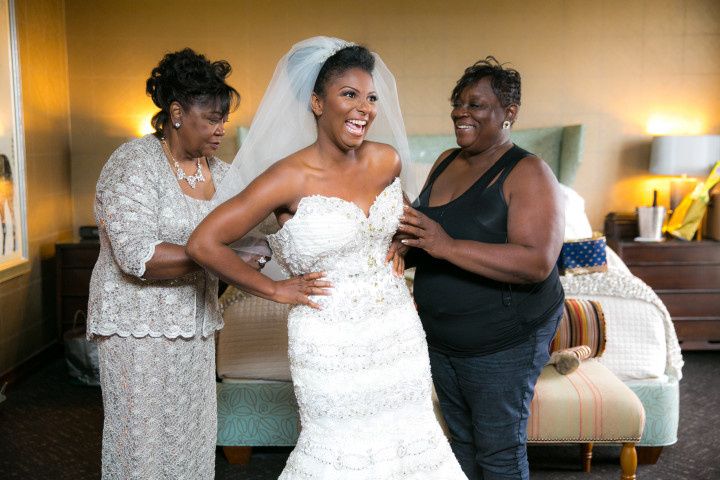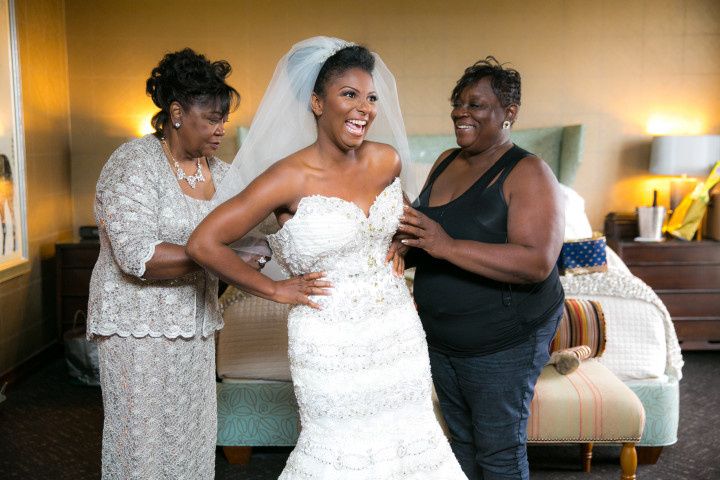 If you've watched any of the wedding dress-related reality television shows, you probably know that shopping for a wedding dress can be an experience fraught with emotion. Of course, there's the absolute joy of finding "the one," but there can also be stress, confusion, doubt, and even intense disagreements.
From the perspective of a real bride, here are some words of wisdom to help as you begin your dress shopping adventure.
Shop on a weekend.
Yes, you may think going on a weekday will be less busy, but on weekends, there are often designer trunk shows and discounts. Bonus!
Family first.
Only bring your very nearest and dearest to your appointment: mom, grandmother, sister, cousin, or even dad. Keep it to a maximum of five people. Otherwise, there won't be enough seats in the fitting room!
Wear proper support.
Because after all, you will be changing in front of everyone, and wearing very, very little clothing at times. You'll need a nude strapless bra (that's not as old as mine from high school, oops!), shapewear to slim and smooth out any unwanted bumps, and shoes (preferably heels around the same height you might wear on your wedding day) so you can get an idea of an appropriate hemline.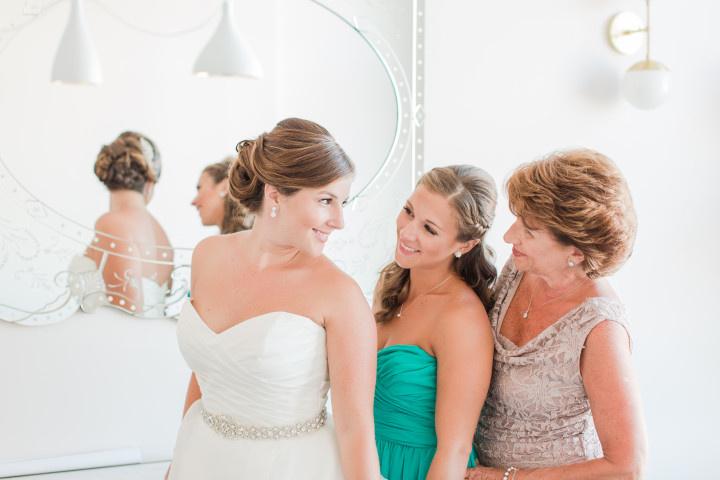 Be vocal.
Tell your consultant up front what your budget is, pick out sample wedding dresses that you want to try on, and give your honest opinion. It's okay to hear from family, but once you've tried on a dress, you should be the first to speak. Say out loud what you like and don't like about each gown, and then rank them in order of your favorites. Also, ask to try on accessories, too. It becomes more real wearing a veil and sash.
Get movin'
Don't just stand on the pedestal! Walk around in each wedding dress—it's not like you'll be standing still on your wedding day. Try sitting, walking quickly, even dancing in the bridal salon! I found that some fabrics and silhouettes made me waddle like a duck! No thanks.
Eat beforehand.
Trying on wedding dresses is physically and emotionally draining. Since my appointment was a 1 p.m., I decided to eat breakfast but not lunch only because I knew I would go out to eat afterwards to celebrate. My stomach was growling the entire time.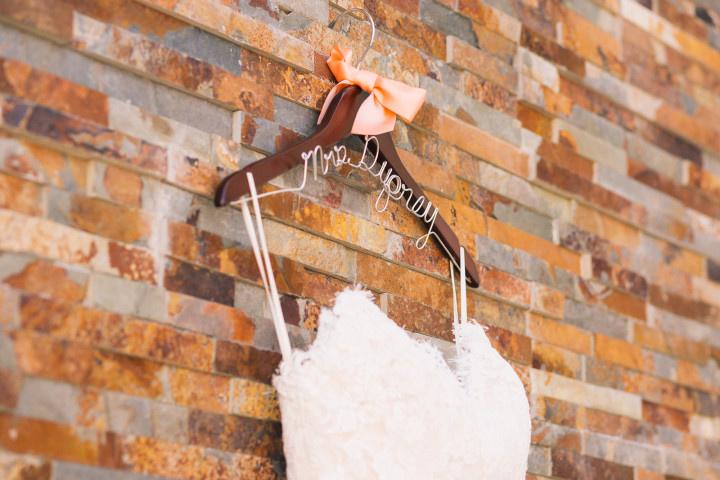 Never underestimate your consultant.
I must admit that I was a little hesitant about my bridal salon consultant at first. She strangely resembled Edna from The Incredibles, complete with thick black-rimmed glasses. In a way, she was the perfect match though. Her enthusiasm was contagious, (the opposite of my reserved shyness), but not overbearing. She listened to what I wanted: lace, no strapless, fit 'n' flare, v-neckline and illusion back, and in the end, it was her pick that had it all. It was the one.
No cameras!
Many bridal salons won't let you take pictures. I was only allowed to take a picture of the wedding dress I planned to purchase, not the ones I tried on. But that's okay. If I did take a photo, I would have been secretly afraid my fiancé would find it.
Shop sooner rather than later.
Even though my wedding is in late-September, my wedding dress doesn't come in for another 22 weeks—that's approximately five months. I thought I was trying on wedding dresses too early. Wrong. Make sure you go at least seven months or more before your big day. Otherwise, you may not have enough time to get alterations. Rush delivery, please?