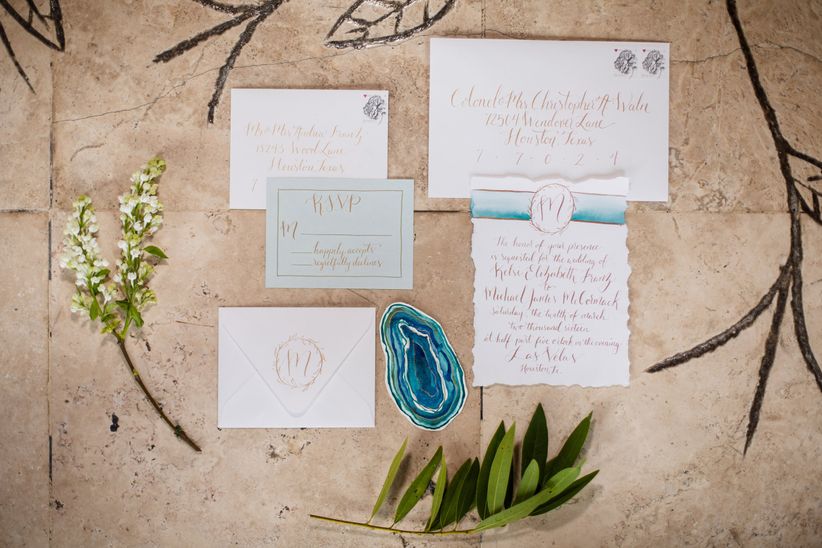 Photo: Stacy Anderson Photography
Hi my name is Jacqueline and I am an Editorial Assistant here at WeddingWire. Last year I attended my sorority sister's wedding in Mississippi and it was AHHMAZING. Not only was I able to revisit my college town but I was invited with a plus-one. Engaged couples have the option of not allowing single guests to bring plus-ones, but sometimes they do. Were you given the option to bring a plus-one to an upcoming wedding? Here are some helpful tips for you to use that I picked up.

Single people get plus-ones too.
I didn't think I would be invited with a plus-one, so I was very surprised to see the "and guest" on my invitation. Even though my friend still lived in Mississippi and I had moved back to Virginia after graduation, she and I FaceTimed quite frequently. Therefore, she knew very well that I had no one serious in my life besides my pet dog, Guster, (even though he is quite a looker!). Anyway, I was somewhat shocked and then excited that I was given the gracious option that so many guests hope for. But then, there was the hard part, who the heck am I going to ask?

Bring someone you're close with.
Being single, I knew I wanted to bring someone who I could have fun and it not be awkward with. So I went through options in my head and finally decided to call up my best guy friend… and I am so thankful I did. Bringing a friend was the best decision because I felt comfortable with him. We had known each other since freshman year and it was an extra bonus that he lived near the wedding venue. I could introduce him to everyone and on occasion leave him to fend for himself while I mingled with the girls. It was nice not having the stress of bringing someone who I was dating or had a crush on. I could dance, eat as much as I want and not have to worry if he thought this meant we were "next."

How to ask your date.
The best option I think for asking your plus-one would be a phone call. A text is a more informal way to ask but I also wanted a response right away. People make plans and therefore I didn't want my date to already be busy, especially since it was a summer wedding. A phone call, I think, was the perfect way to get quick answer and to fill him in on all the deets.

Who buys the gift?
Since my date didn't know the bride or the groom, I didn't want to make him chip in. The bride and groom were my friends and so I wanted the gift to be from me. I suppose I could have asked my date to go half and half but in the long run I'm glad I didn't. I was able to easily go online and see what they registered for and have it delivered to their home address. I ended up going with a wooden cheese board serving set (perfect for our wine and cheese nights).

Make sure to reiterate the dress code.
I learned the hard way that you HAVE to remind your plus-one what the dress code is… multiple times. As I pulled up to his house he walked out not wearing a tie or jacket to a formal wedding...my reaction? Palm to face. Thankfully with a little persuasion we were able to solve the problem. He ran back inside and changed into the suit he had from his brother's wedding. Phew!

Have fun!
Remember that this is your friend's wedding and you should have fun! Even if I did get a lot of unfortunate questions like "so is this your boyfriend?" or my favorite "Omg I didn't know you had a boyfriend!" I didn't take it personally. I wanted to have fun, dance a lot and celebrate my two friends finally being Mr. and Mrs.