The 2018 Wedding Songs You Need to Know
Experts share their top picks for the 2018 wedding songs you'll need to add to your reception playlist.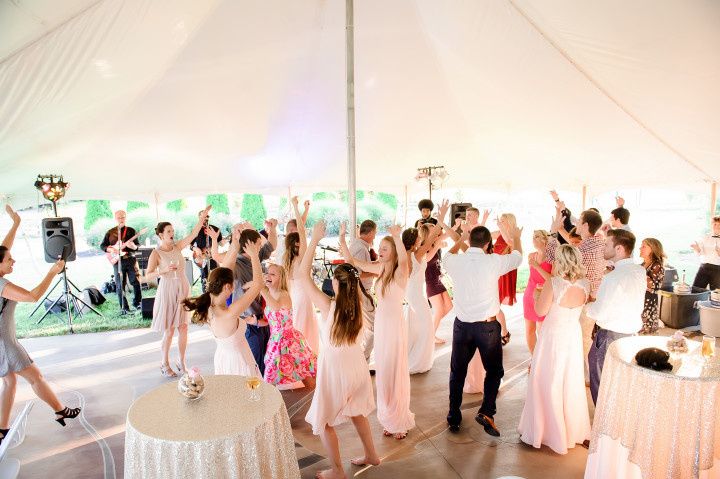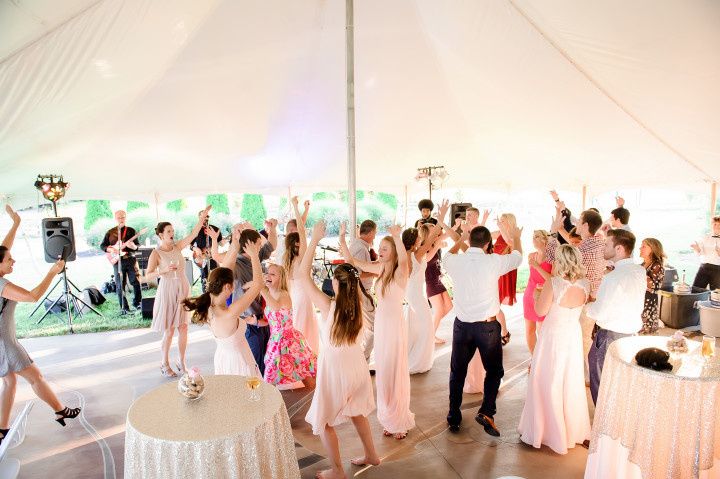 One of the surest signs of an amazing reception is a packed dance floor—and knowing the top 2018 wedding songs will ensure that your guests have an absolute blast dancing all night. Whether you're looking for a first dance song that will bring tears to your guests' eyes or the hot chart-topper that will get everyone out of their chairs, there are lots of weddings songs for 2018 that are perfect for your big day.
We asked experts to share their picks for the top 2018 wedding songs you'll definitely want to hear on your big day.
"Perfect" by Ed Sheeran
Expect this to be one of the top wedding songs of 2018, particularly when it comes to first dances. According to Jon Smithfield of District DJ in Washington, DC, Ed Sheeran will remain one of the most-played artists for slow dance songs in 2018. We love this song's utterly romantic feel—particularly ideal for couples who met as children.
"Havana" by Camila Cabello (feat. Young Thug)
Looking for a song that will draw all of your guests onto the dance floor? This new tune has a Latin beat that's both sexy and smooth. "Fun, catchy and melodic - this song would be the perfect complement to your dance floor set," says Nick Spinelli of SCE Event Group in West Long Branch, New Jersey.
"Good Old Days" by Macklemore (feat. Kesha)
While you may be focusing on the music for your ceremony and reception, don't forget about your cocktail hour! There are many 2018 wedding songs that are best suited for the pre-reception festivities—tunes that aren't necessarily the easiest to dance to, but are catchy and celebratory just the same. "The content and meaning of the song is just as amazing as it's catchy melody, which makes for the perfect complement to your cocktail hour," says Nick.
"I'll Name the Dogs" by Blake Shelton
Country music fans, this is the among the must-play wedding songs for 2018! It's an obvious choice for a first-dance song (just watch the wedding-themed music video!), and with lyrics like "I'm talkin' you and me with the same street name, same last name, same everything," it's perfect for couples ready to spend the rest of their lives together.
"Tip Toe" by Jason Derulo (feat. French Montana)
If you want your wedding reception to have a club-like feel, this 2018 wedding song is a must. "Boasting a catchy dance-hall vibe, this super fun track will be guaranteed to energize your dance floor," says Nick.
"How Would You Feel? (Paean)" by Ed Sheeran
While "Perfect" is the more expected choice for an Ed Sheeran first dance song, this tune is an equally romantic and special choice. "This song will give you all the feels," says Nick. "A little less known love song off of his newest album, it's a touching and meaningful ballad that would be an amazing choice for your first dance."
"What Lovers Do" by Maroon 5 (feat. SZA)
We love the unique vibe of this new song. According to Nick, this funky hit is slated to be one of the biggest 2018 wedding songs.
"There's Nothing Holdin' Me Back" by Shawn Mendes
This upbeat song will have your all of your guests groovin'—we love it as a fun entrance song, a tune to bring guests back onto the dance floor after dinner, or even during the after-party. Definitely one of our favorite 2018 wedding songs!
"That's What I Like" by Bruno Mars
According to Jon, Bruno Mars songs are surefire favorites at weddings. This tune is among his newest, so expect it to be one of the top 2018 wedding songs. Here's hoping that Mars will come out with more new music in 2018 to give us more wedding dance hits!
"Everybody (Backstreet's Back)" by Backstreet Boys
Yes, we know this song is not particularly new, but hear us out: Many of the couples who will be marrying in the coming year grew up in the '90s and will likely want to add a little nostalgia to their reception, according to Jon. Expect to hear this tune on the dance floor along with other '90s classics like "Wannabe" by Spice Girls, "Mo Money, Mo Problems" by Notorious B.I.G., "No Scrubs" by TLC, "This is How We Do It" by Montell Jordan and more.