51 Wedding Video Songs We're Listening to on Repeat
If you're looking for the perfect wedding video song, just check out this list of our favorite picks. Whether you're searching for a pretty acoustic tune or an upbeat dance track, we've got the song for you.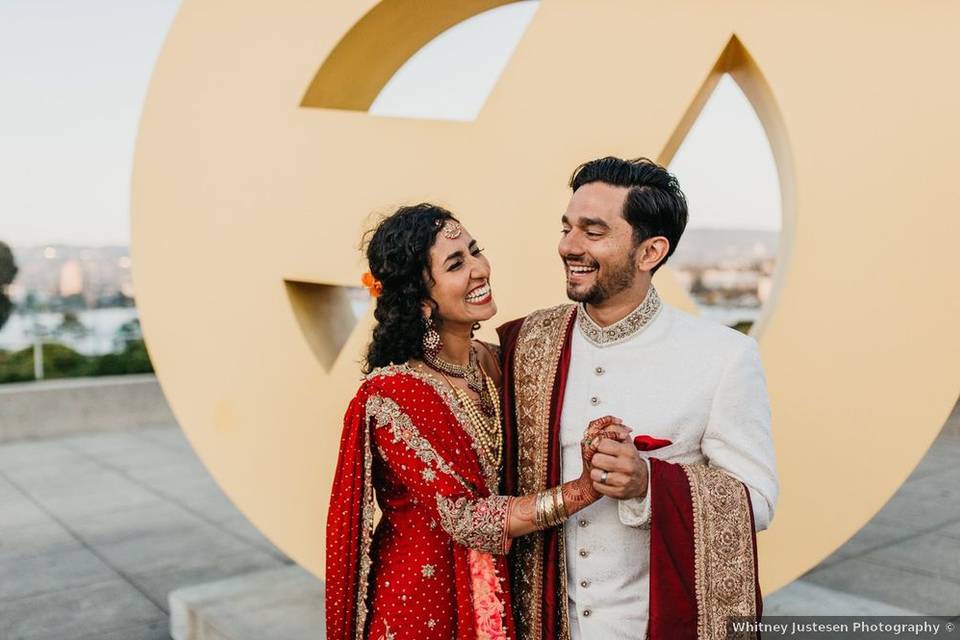 Now that you've hired a videographer and decided on your vision for your wedding video, it's time to consider music. Just like your first dance song, mother-son dance song or father-daughter dance song, your wedding video song is a great way to show the love you feel both for your partner and your wedding guests. With the right soundtrack, you'll be able to capture the joy you felt that day, which will make it all the more fun to rewatch year after year. Plus, selecting a meaningful song for your video is yet another creative way to personalize your wedding. But with so many songs out there, how can you find the perfect one? We rounded up 51 wedding video songs that you'll want to steal for your own, below.
These wedding video songs will make your nuptials look straight out of a movie.
Best Wedding Video Songs
You can't go wrong with a classic love song when it comes to your wedding video. Here are our favorite tunes that will make your wedding video downright stunning.
"All Of Me" by John Legend
The pretty piano in this song will set the stage perfectly for your wedding video footage.
"Can't Help Falling In Love" by Kina Grannis
This gorgeous cover was featured in the Crazy Rich Asians wedding scene, which means it's a Hollywood-approved wedding video song.
"Best Part" by Daniel Caesar & H.E.R
This gorgeous love song has a soft acoustic guitar and stunning harmonies by Daniel Caesar and H.E.R—both of which will take your wedding video to the next level.
"Tenerife Sea" by Ed Sheeran
If you're looking for a song other than "Perfect" for your wedding video, check out "Tenerife Sea" by Ed Sheeran. It's a beautiful acoustic love song that will accent your video footage perfectly.
"Speechless" by Dan + Shay
Dan and Shay both used their own wedding footage for this classic love song's music video. Spoiler: it's absolutely dreamy.
"XO" by Beyonce
Your wedding video song doesn't have to be acoustic guitar. Use Beyonce's pretty electronic ballad, XO, to capture the love at your nuptials.
"Say You Won't Let Go" by James Arthur
This is hands-down one of the most romantic songs ever, which is why it'll make the perfect wedding video song.
"Better Together" by Jack Johnson
With mellow guitar and soft vocals, "Better Together" is a simple and sweet wedding video song.
"Ho Hey" by The Lumineers
Couples throwing a rustic-themed celebration will appreciate setting their wedding video to The Lumineers sweet folk tune "Ho Hey."
"Elation" by Isbells
Prepare to obsess over the folksy, falsetto notes in this moving song.
"Yours" by Russel Dickerson
This iconic country love song is quiet enough in the beginning to set the stage and builds enough by the end to make your wedding video an unforgettable masterpiece.
"Bloom" by The Paper Kites
The beautiful simplicity of this song makes it a great choice for wedding videos—particularly if a couple is aiming for a laidback, simple tone.
"Tum Ho" by Mohit Chauhan & Suzanna D'Mello
Looking for a romantic Indian wedding video song? Check out this romantic ballad that gives us all the feels.
"Fighting For You" by Quinn Erwin
This ballad serves as great background music for a wedding video, complementing the getting-ready excitement, vows, reception entrance, and other memorable moments of the big day.
"Like A Star" by Corinne Bailey Rae
The delicate vocals in this song will give your wedding video a dreamy vibe.
"Change Your Name" by Brett Young
Brett Young actually used this sweet and sentimental song for his own wedding video, which means it's celebrity-approved.
"Tum Hi Ho" by Arijit Singh
Another classic Indian love ballad, this tune will add romance to your wedding video.
"Like Real People Do" by Hozier
If you and your partner love folk music, consider this tune by Hozier, which will give everyone who watches your wedding video chills.
Fun Wedding Video Songs
If a quiet, acoustic song doesn't feel right for you and your partner, consider these upbeat choices instead.
"Sweet Disposition" by The Temper Trap
We love this indie track because it builds throughout the song, making your wedding video feel absolutely epic by the end.
"I Like Me Better" by Lauv
This sweet pop song is upbeat and fun, but it's quiet enough to allow your wedding day to still shine.
"Don't Take The Money" by Bleachers
Imagine footage of you and your partner walking down the aisle set to this sweet indie tune. Instant chills.
"Somebody Loves You" by Betty Who
You can't help but smile when you hear this Betty Who song.
"Somebody Like You" by Keith Urban
Looking for the perfect country love song for your wedding video? Consider Keith Urban's "Somebody Like You" for an upbeat and sweet track.
'Feelin' Kinda Free" by Aaron Krause
The bright, lightheartedness of this lovey-dovey jam makes it one of our all-time favorite songs for wedding videos.
"Fire and the Flood" by Vance Joy
This folky pop song has sweet lyrics, stunning vocals and a catchy beat—perfect for your wedding video.
"Dog Years" by Maggie Rogers
The unique indie track by Maggie Rogers will make your wedding video feel epic. Psst: drone shots will look especially awesome set to this tune.
"Yours If You Want It" by Rascal Flatts
This feel-good country tune will give you all the feels while watching your wedding video.
New Wedding Video Songs
Looking for something a little more modern? Here are our favorite of-the-moment tunes that will make your wedding video feel like a movie.
"Stuck With U" by Ariana Grande and Justin Bieber
If you're having a wedding amid COVID-19, this sweet song will capture the moment in time perfectly.
"The Bones" by Maren Morris
A quiet intro and powerful chorus make "The Bones" a lovely soundtrack for your wedding video. Plus, the lyrics are super sweet.
"I'm With You" by Vance Joy
This soft acoustic song slowly builds to a powerful ending chorus, which means you can time it perfectly to the processional, sharing your first kiss or your first dance.
"I'll Be The One" by Noah Schnacky
Everything about this song—from the pretty intro to the sweet lyrics—is perfect for a wedding video.
"Just You and I (Acoustic)" by Tom Walker
With beautifully honest lyrics and a pretty tune, "Just You and I" will turn your wedding video in a tear-jerking masterpiece.
"Bigger Love" by John Legend
Legend released this upbeat dance track during the pandemic to remind everyone how powerful love really is. Whether you're slow dancing to the beat or dancing with your friends, this track will capture the joy on your wedding day perfectly.
"Born to Love You" by LANCO
Play this catchy love song in the background of your wedding video for a sweet vibe.
"Truly Madly Deeply" by Yoke Lore
This acoustic cover is great for couples who are having a boho wedding.
"Rich Man" by Hearts & Colors
Sweet and simple, this acoustic track will bring a feel-good vibe to your wedding video.
"Feel Good" by Gryffin, DAYA & Illenium
Calling all dance music fans. The beat drop on this track will make your wedding video absolutely epic.
"Simple" by Florida Georgia Line
We love this country tune as a wedding video song because the lyrics are adorable and the beat is undeniably catchy.
"Somebody" by Dagny
If you're looking for a fun wedding video song, consider this upbeat love song by Dagny.
Party Songs for Wedding Video
Looking for the right song for your reception video footage? Check out our favorite party songs for wedding videos, below.
"Marry You" by Bruno Mars
It's no surprise this iconic wedding song made the list. The dance-worthy beat and on-point lyrics make it a great choice for your wedding video.
"We Found Love" by Rihanna and Calvin Harris
This song never fails to get the party started. Watching your guests dancing to this electronic track will bring a smile to your face for years to come.
"Brand New" by Ben Rector
Footage of everyone grooving to this feel-good tune will look absolutely epic in your wedding video.
"A Good Night" by John Legend featuring BloodPop
This song makes you want to get up and move, which means it will complement scenes of your dancing guests perfectly.
"I Found You" by benny blanco and Calvin Harris
This sweet dance track would make the perfect background to your wedding reception dance party.
"Take My Hand" by Secret Nation
This upbeat folk song will give your wedding video a cinematic feel.
"Make It Sweet" by Old Dominion
You can't help but smile when you hear this song. The adorable lyrics and uptempo beat will give your wedding video all the party vibes.
"Swimming In The Moonlight" by Bad Suns
If you're looking for an alternative wedding video song, check out this catchy tune by Bad Suns.
"Best of You" by Andy Grammar & Elle King
Wait for the chorus to kick in, and you'll see why this cute track will make a great party song for your wedding video.
"Avalanche" by WALK THE MOON
The uptempo drums and fun guitar riffs in this song will capture the energy and fun at your wedding reception flawlessly.
"Sugar" by Maroon 5
"Sugar" by Maroon 5 is too catchy and sweet to exclude from this list. It will make your wedding video absolutely unforgettable.