The Right Wedding Videography Style for You
Learn the differences between the five main wedding videography styles and see which one suits you best.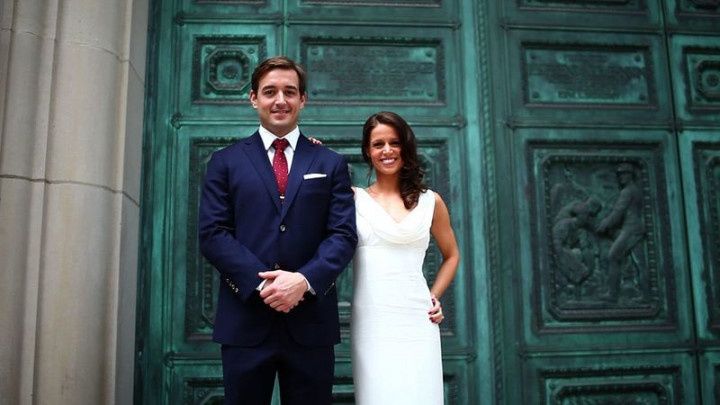 Now that you're sold on why you must hire a videographer, it's time to choose the company that's right for you and your wedding. Videographers typically work with one or two different wedding videography styles, so knowing the difference is a good way to sort through the video pros in your area.
Style isn't the only thing you should be looking for, though. Once you land on one or two wedding videography styles you really like, you'll also want to be sure the company is available on your wedding date and within your budget. According to the WeddingWire Cost Guide, American couples spend about $1,700 on videography, although that number may go up or down depending on your city.
Scroll to see examples of the five main wedding videography styles and find the one you like most.
Cinematic
Credit: Shutter and Sound Films
As its name implies, cinematic wedding videography styles mimic the angles, transitions and filters of movies. Videographers who use this style, which is often combined with short form or storytelling, are less concerned with a linear timeline and more intent on capturing the overall themes and emotions of your wedding day. Some of the hallmarks of cinematic wedding videos are moving voice overs, aerial shots of your wedding venue, and the use of slow motion.
Short Form
Credit: Old North Film Company
Short form is one of the wedding videography styles that is almost always combined with one of the other four. This style describes a short highlight video that is usually three to five minutes long. Many videography companies offer a highlight video in addition to a full feature video and raw footage of your wedding. Focusing on the three main segments — getting ready, ceremony, and reception — short form videos are shareable bites that you can easily send to friends and family or post to social media for those who didn't make the guest list. Not all videographers work in this form, or it may not be a part of every package, so as you're finding the perfect videographer be sure to ask, if this is important to you.
Storytelling
Credit: The Goodfolk Film Co
Storytelling is a popular wedding videography style that often relies on voiceover audio to narrate the story of the couple and the wedding day, but not always. Some videographers use text, music, or some combination to create a wedding video that is more focused on the love story than on aesthetic details or funny moments of the day. Storytelling is often combined with cinematic wedding videography styles as the two often produce a similar result.
Documentary
Credit: Rob Gore Media
Much like the relationship between scripted films and documentaries, documentary wedding videos may not feel as polished as cinematic videos. Videographers who work in this medium prefer the unstaged, unplanned real moments of a wedding. This can play out by using audio from personal moments, like the first look, in addition to audio from more formal moments, like ceremony readings or words from the officiant. Documentary is sometimes combined with storytelling.
Traditional
Credit: Elegant Occasions
Traditional wedding videos may focus more singularly on the ceremony and the reception, with less of a focus on the behind-the-scenes or wedding details. Some videographers who work in this style are more straightforward with their editing and use fewer of the more cinematic tools, like drones, instead preferring a handheld camera for most or all shots.