Drone Photography Is the Wedding Trend You Have to See to Believe
Want photos and videos that will make your jaw drop? Drone wedding photography and videography capture the aerial shots you didn't know you needed.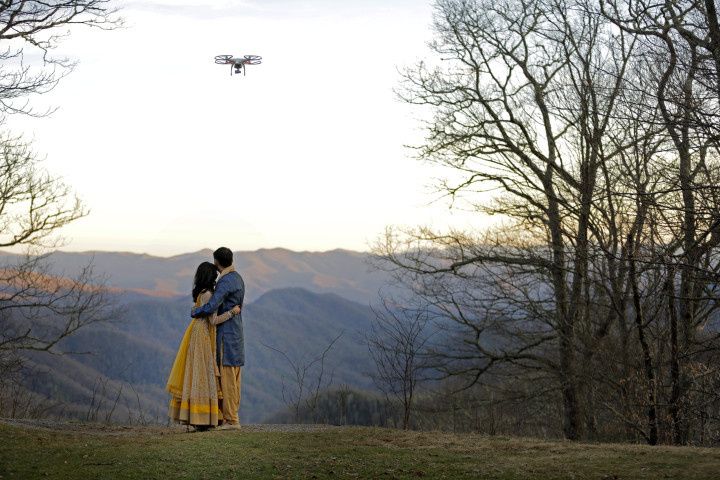 A drone, or unmanned aerial device frequently used in military operations, might not seem like a natural fit at a wedding. But, surprising as it sounds, drones are officially the hottest craze in wedding photography and videography, allowing pros to capture jaw-dropping footage of a wedding from above. In fact, couples are indeed taking notice and clamoring to include drone wedding photography and videography as part of their coverage.
"It's probably what I'm asked about the most," says Jordan T. Nagasako of Hi Focused Cinematography in Wailuku, Hawaii, of drones. And he's not alone. Many videographers, and also some wedding photographers, are utilizing this technology to unique and high-quality effect.
What do drones do?
Drones allow videographers in particular to capture sweeping footage from overhead—creating an extremely dramatic effect for a wedding video. Think of the opening "The Hills are Alive" scene of the film The Sound of Music—but imagine your venue in place of the Alps.

"Aerial photography and videography is stunning and cinematic and provides a perspective that is incredibly unique and even emotional," says John Jordan of John Jordan Films in Nashville, Tennessee.

"Many Hollywood movies will open with an aerial shot, which gives a nice feeling of anticipation," says Randy Markham of Celebrations Tampa Bay in Tampa, Florida. "We call these 'establishment shots,' as they establish the location of a film, or in this case, a wedding day."

While there are a variety of types of drones available, most videographers use either quadcopters (four blades) or octocopters (eight blades) to film weddings. They are able to attach a camera to the drone, and fly it with a remote control device to capture aerial footage of your big day.

"A drone can go 1.2 miles high, but we only fly it under 400 feet, which is the maximum height allowed by law," says Markham of Celebrations Tampa Bay.
Where does drone wedding photography and videography work best?
Drones work best at wedding venues with large outdoor areas to capture those grand, sweeping views. Examples include wineries, estates, and other private property, says Lindsey and Mike Schuman of Focus Bay Photography in Bel Air, Maryland. Waterfront venues are also particularly appropriate for aerial wedding photography.

Drone photography and videography can also be useful in capturing unique décor elements. F. Mike Henriques of Artistic Wedding Films in New Bedford, Massachusetts recalls a wedding where the florist placed flower petals in a heart-shaped pattern down the aisle. The aerial footage was able to capture the design in all its glory.
When can't you use a drone at a wedding?
There are a few instances when drones aren't suitable. Mother Nature is an important factor, as drones can't be used in bad weather like rain or intense wind.
"We do not fly our drone in inclement conditions, like rain, sleet, or snow, because of danger to the drone and the chance of losing control," says John Jordan. "It's against current regulations to fly in conditions where you do not have clear visibility of the craft as you fly it."

There's also the noise factor. "We definitely never recommend using drones during a wedding ceremony as drones can be quite loud, " says Henriques of Artistic Wedding Films. "It can sound like a hive of bees." As cool as drones are, you want your wedding guests to be able to hear every moment of your ceremony!

Drones aren't often used indoors, but sometimes they can be. "We use drones which can fly indoors," says Rick Lykov of Airwedding.co in Manhattan Beach, California. "If a wedding takes place in a building with high ceilings, the drone can make great shots. But when you hire a drone operator for an indoor wedding, make sure a videographer is very experienced for this job."

Adds Henriques of Artistic Wedding Films: "We used a drone indoors at an Indian wedding in March—the clients really requested it and it was at a venue with super-high ceilings. But usually, it's not practical—the wind the drone creates pointed directly at a tabletop isn't necessarily a great idea."

A happy medium can be shooting drone footage atop a clear-top tent, which Henriques learned first-hand last year. "We shot drone footage of the couple's first dance while we had a team inside the tent filming as well," he says. "It was a really amazing perspective."

Couples and their videographers should also pay special attention to where their venue is located. If it's near an airport, for example, flying a drone is probably a no-go due to FAA rules. The same goes for venues near stadiums where there's a special event taking place or in National Parks, among others. Professionals say it's always safest to check with your venue beforehand.
How much does drone wedding photography and videography cost?
If everything checks out, your videographer and/or photographer can capture some gorgeous aerial footage of your venue. Many pros include the use of a drone as part of their wedding package, but others charge extra (typically a few hundred dollars).

There's also the time cost. "To get some decent drone shots takes about 30 minutes per location," says Nagasako of Hi Focused. "You have to set up the drone, let it initialize, factor in flight time, and make sure your surroundings are safe."

That's a small price to pay for some truly beautiful and unique drone wedding photos and video—and technology that's sure to wow your guests. Just be sure that you're working with a professional drone photographer or videographer who is adept in using the technology and committed to safety, and who won't go overboard with using it.

"My advice to couples is, the aerial photos are like seasoning to food," says Markham of Celebrations Tampa Bay. "A little bit adds flavor to it, but too much can ruin it."
Real Wedding Videos
Want to see how drones can capture your special day? These are some beautiful examples of drone wedding videography.