Everything You Need to Know About a Wedding Photography Contract Before Making Things Official
Ready to make things official with your dream photog? Not so fast. Make sure to read that wedding photography contract before taking this big step.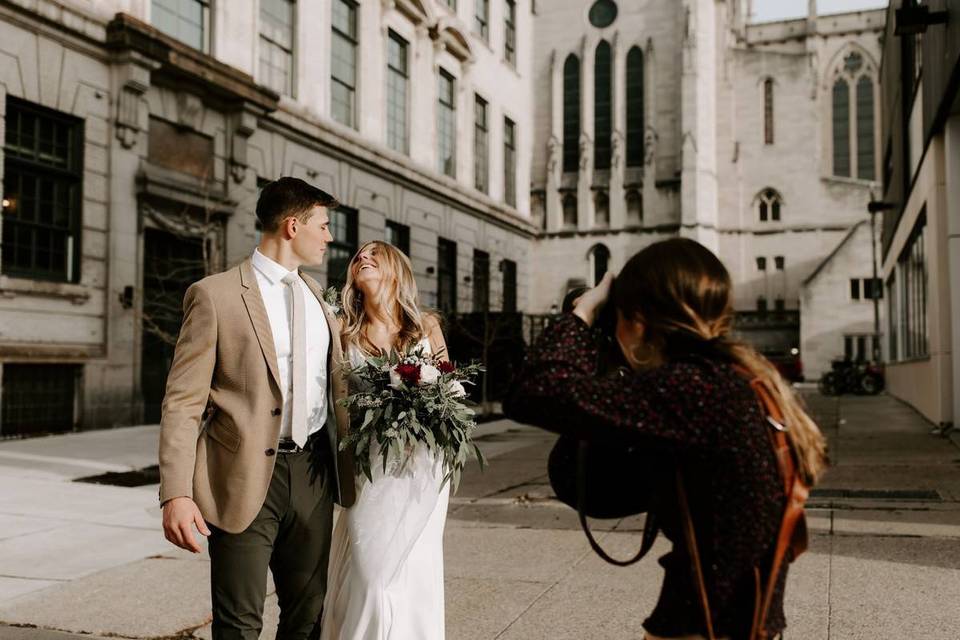 As you get further into your journey planning the perfect wedding day and start choosing vendors, there's one thing you'll learn very quickly: With lovely photos, flowers, and cake comes contracts — and lots of them.
But as you start looking over the paperwork before making things official with your favorite wedding pros, you'll likely notice that not only is each category's contract different (think caterer versus florist) but also each specific vendor you interview will have his or her own terms and paperwork to agree to. Having so many different versions of unique legal documents to look over can feel daunting, especially if you don't know what exactly you should be looking for. And when it comes to something as priceless as your wedding photos, it's essential that you understand exactly what it is that you're signing in your wedding photography contract and that you and your photographer are on the same page every step of the way. So before reading over the entire agreement and giving an in-person or electronic signature, here are the basics to look out for.
What exactly is the wedding photography contract?
A wedding photography contract gives clear details of the services offered for a specific wedding date as well as the pricing and contact information. "The contract protects the client, ensuring they receive the services and products requested for their wedding day," explained Julia Wade of Julia Wade Photography in Apex, North Carolina. "The contract also protects the photographer in the event those services are no longer needed at any point during the wedding process."
But before signing a wedding photographer contract, the first step is ensuring the couple understands all aspects of the terms and has read thoroughly through it. "They need to understand the contract's general 'BIG areas,' including cancellation, total cost, and what is being delivered by the photographer," said Meredith Ryncarz of Meredith Ryncarz Photography in Savannah, Georgia. "The biggest misconception we encounter is that clients think contracts are 'flexible.'"
Remember, once both parties sign, contracts are legally binding documents that can be upheld in a court of law. "The photographer can work with the client as it pertains to the situation, but they are only required to do what the contract says," she added.
Here's what to look for in a wedding photographer contract.
Unfortunately, there isn't a standard wedding photography contract template that all professional photographers use. However, according to Mandee Johnson of Mandee Johnson Photography in Los Angeles, California, you can typically expect to see three critical sections at the top of your wedding photography agreement:
Cancellation policy
Payment policy, expenses, and tax
Limit of liability
The cancellation policy
The COVID-19 pandemic taught both couples and vendors to pay close attention to the cancellation policy section of any agreement, especially when it comes to a force majeure (unforeseen circumstances that would preclude a vendor from doing their job) event. "Under the cancellation policy, it should clearly explain what happens if the client cancels the event and what happens to all monies paid to date," she said. "This section should also explain how rescheduling will work in a force majeure event such as COVID-19."

There may also be a note as far as if and the type of suitable replacement would be offered should an emergency cause the photographer to have to cancel last minute. "Of course, this is every photographer's worst nightmare," said Wade. "Rest assured, a seasoned professional will have a good network of other photographers who can photograph the wedding day in case of a major emergency and this process should be detailed out in the contract in case that emergency arises."
The payment terms and finances
In addition to giving a clear understanding of options should something happen and cancellation or rescheduling needs to happen, the photographer should clearly explain the payment schedule, possible additional expenses, and taxes. "Almost all photographers require a 50% deposit upon signing the contract and the remainder 30 days before the wedding," Johnson said. "The 50% deposit will secure the photographer from taking additional work on that day."
It's for this reason, she said that the deposit or retainer fee is typically nonrefundable and there's a clear time frame for paying any remaining balance. "This section should also outline how overtime works and explain any other expenses (for example, the photographer will bill back for any parking cost incurred, a non-waivable $10 processing fee, etc.)," she said.
The limitation of liability
This section is also fundamental because it defines what the client can hold the photographer liable for if a problem arises between the client and photographer. "For example, this section will typically state that the photographer shall not be responsible if the client is unsatisfied with the photographs, fails to photograph a specific moment or person," she said.
Other essential sections and details
The wedding photography agreement will also typically include any travel or dietary requirements, exclusivity, damages, deliverables, and usage. "Photographers are often particular in these sections because of previous jobs where things went awry," she said.
Exclusivity and priority: The photography business may also include a section about how they're the exclusive photographer for your wedding. This section, Johnson explained, will often state that photography placement is the top priority over the videographer. "It will prioritize the photography team for camera positioning, allowing them to request to move video cameras for cleaner photos of the ceremony, speeches, etc," she said. "When hiring a separate photo and video team, the client should be aware that each may have a similar clause in their agreement, and the client will need to mark out one of them."
Hours of coverage: Don't be surprised of exact timing details for the day of the event including the photographer's start time and end time are not listed. These details typically aren't clear for wedding day plans at the time of signing and aren't nailed down until closer to the wedding date. "However, it should be spelled out the number of hours the photographer will be on-site shooting your wedding and what the exact deliverables (digital images, prints, albums) will be, as well as additional services and shoots," explained Manda Weaver of Manda Weaver Photography in Annapolis, Maryland.
Travel: The contract will often also outline how the photographer prefers to handle travel and any additional fees associated with it. "For example, it will detail who is paying for the flight, hotel, what number of stars the hotel needs to be, and how close to the wedding venue," explained Johnson.
Copyright law and model release: this will protect both the photographer's work as well as the photography client by clearly outlining who owns what and what is allowed when it comes to commercial use and personal use of the images. "The release grants permission to publish the photos and is often found in the rights to ownership part of the agreement," she said. You can also expect that photographers will always include their right to self-promotion via a social media form as well as their website and this section often includes handling possible wedding publications. And the photographer will likely own the copyright to the images. "Copyright ownership shouldn't concern the client if they have full printing rights," she added. "Full printing rights will guarantee that the client can download and keep high-resolution copies of the photos and print them anywhere."

She added that photography clients should also feel free to ask for a copy of the digital negative (raw files), but it's important to note that not all photographers will share these files.

Catherine Guidry of Catherine Guidry Photography in New Orleans, Louisiana explained that some of the biggest misconceptions or misunderstandings that she's seen most often in her career are regarding the copyright for images. That's why it's important to understand that although these images are taken during a personal event, if the photography retains the copyright and you sign a model release, " those images can be used for commercial and professional use, advertisements, submissions, etc., once the release has been signed."
Potential add ons: This will list services not included in the package you selected but are available for an additional cost. Some of these options include: an additional shoot, engagement session, rehearsal dinner photo sessions, additional hours of coverage, printed albums, and high-resolution downloads.
Don't forget to ask these questions.
Will I be able to share and print my images?
How many images will I receive?
Will my images be fully edited?
When will the images be delivered?
If my state limits the number of wedding guests I can have at my wedding, does that constitute as force majeure?
What are your needs as far as meals for yourself and your team?
Who will be photographing my wedding if they are signing on with a photography team?
How will my images be delivered, and how long will I have access to download them?
Once both parties sign, you officially have a legally binding contract and are one step closer to a smooth wedding day.