The 40 Best Love Songs of All Time, Hands Down
Whether you're looking for a tune to dance to at your wedding or just something to put on your "best love songs" playlist, here's a list of our top picks.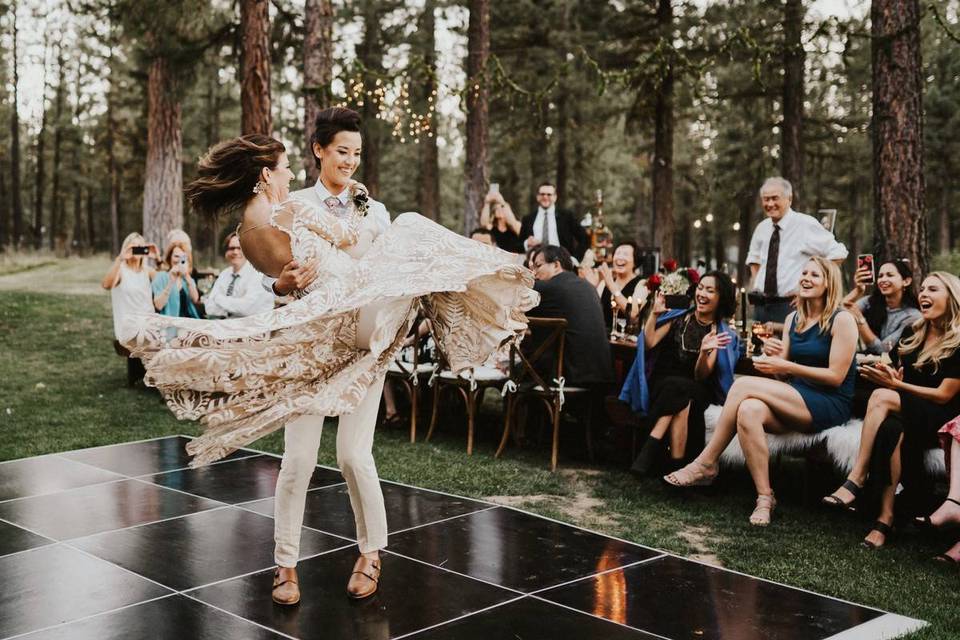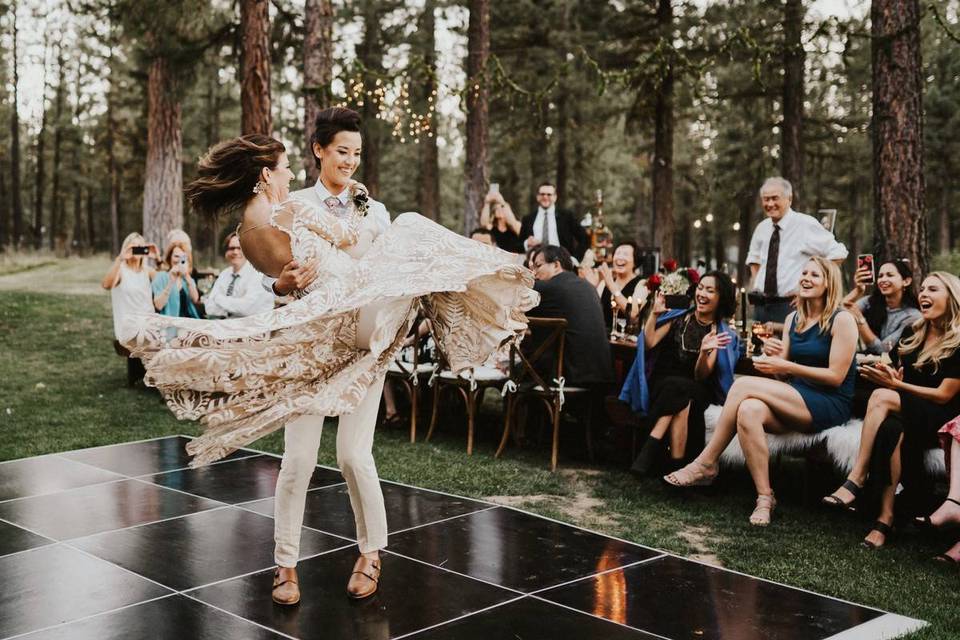 Love songs. They're a dime a dozen, sure, but the very best love songs? They stand out in history for a reason. Whether you're planning your wedding, getting your engagement party together, searching for the perfect jam to get the party started at your bachelorette, or simply dreaming of being on a dance floor somewhere with your one and only, consider this your end-all, be-all love song guide. We've even broken them down by decade for you, because, yeah, we love ya. So grab your hairbrush mic and let's get into it: The very best love songs of all time.
The Best Love Songs of the 1950s
"That's Amore" by Dean Martin (1953)
You know this one! Soaked in old-timey NYC vibes and big band drama, with the inimitable Mr. Martin's velveteen voice, it'll fit right in at any black tie affair (or pizza party). (Romantic pizza party, I mean.)
"Love Me Tender" by Elvis Presley (1956)
He may not be the first person who comes to mind when you think "edgy love song" but give this top Elvis hit and old love song a second listen and you just mind find it's got the coolest rockabilly vibe. Should your groom maybe wear a white leather suit? Just asking.


"You Send Me" by Sam Cooke (1957)
Long before people were tweeting that really good memes were "sending them," Sam Cooke was serenading at soda shops (and the tops of alllll the charts) with this sweet doo wop smash hit. You can't help but smile when you hear it.
"I Only Have Eyes For You" by The Flamingos (1959)
This is one truly timeless pick on our list of the best love songs—at nearly 60 years old, it still sounds fresh, cool and undeniably romantic. And it has the perfect tempo for sweet, easy waltz. And maybe a milkshake.
The Best Love Songs of the 1960s
"Unchained Melody" by The Righteous Brothers (1965)
Probably your parents' first dance at the middle school semi-formal, this beautiful doo wop ballad has the word "love" in the lyrics approximately 1,385 times. That's how you know it's romantic.
"(Your Love Keeps Lifting Me) Higher and Higher" by Jackie Wilson (1967)
Upbeat and so much fun, this song will get even the shyest couple out of their seats and onto the dance floor. It's the ultimate "movie montage of a couple being in love and having fun" tune. (Which, if that's not your wedding theme, it should be.)
"Ain't No Mountain High Enough" by Marvin Gaye and Tammi Terrell (1967)
This go-to feel-good love song has all the makings of a forever fave: it's a duet between two absolute legends, there's call and response, and Julia Roberts danced to it in Stepmom. Triple threat indeed.
"Can't Take My Eyes off of You" by Frankie Valli (1967)
This masterpiece, one of the best love songs of all time, has one of those choruses you can't help but shout along to. But beyond that, it's honestly quite sexy—for the sixties anyway. Like, tell me again how I'm too good to be true, Frankie.
"(You Make Me Feel) Like a Natural Woman" by Aretha Franklin (1968)
Speaking of one of those choruses you can't help but shout along to, this one? The ultimate. If you're looking for one of the best love songs ever that's also massive, sweeping and epic, stop here. Ms. Aretha is singing.
The Best Love Songs of the 1970s
"Wild Horses" by The Rolling Stones (1971)
One of the most enduring rock ballads of all time, this beautifully morose masterpiece will cause alllll the feels. Trying to figure out if you love someone? Sob-sing along to this track in your car while thinking about them to find out.
"A Case of You" by Joni Mitchell (1971)
Sweet and offbeat in the way only Joni can manage, this song (more of a musical poem, really) served as the first dance song at yours truly's wedding. And five years later, we're still married. Good omen!
"I Will Always Love You" by Dolly Parton (1974)
No disrespect to Ms. Houston (we'll get to you later, queen!) but sometimes you just can't beat the original. Especially when the original is by Dolly Parton. If you're used to the Whitney cover of this epic, give Dolly's a listen for a twangier, more pared-down vibe.
"Wonderful Tonight" by Eric Clapton (1977)
It was the song our moms always imagined our dads singing to them, and, even at 40 years old, it's the song all of us ladies want to be serenaded by our partners today (if only they had Clapton's pipes). Bonus points: the tempo is perfect for slow swaying.
"How Deep is your Love" by The Bee Gees (1977)
Hello, disco! It wouldn't be the 70s without this iconic hit from one of the seventies' most iconic bands. Also, when Barry Gibb sings: "We're living in a world of fools… and they all should let us be…." — that's true romance, baby.
"I Wanna Be Your Lover" by Prince (1979)
Listening to this as I write this and reader, it's the best song of all time. Perfect beat, perfect vocals, perfect lyrics. Timeless but with a hint of that late-seventies style we all could use more of. Listen to it now, propose to your lover, make out, repeat.
The Best Love Songs of the 1980s
"Keep on Loving You" by REO Speedwagon (1980)
The eighties live in this song. Everything about it: The dramatic lyrics ("I don't wanna eat / I don't wanna sleep / I just wanna keep on loving youuuuuu"), the power, the hair. If your heart beats in synth, this is your love song.
"Waiting for a Girl Like You" by Foreigner (1981)
Since I was a little kid, my mom has repeated this story to me about this song: "I wanted it to be your dad's and my first dance at our wedding, but Nana said it was way too sexy." That's all you need to know about this song (which is sexy, and belongs at your wedding.)

"Your Love is King" by Sade (1984)
If you're not familiar with the 80s-90s smooth jazz-pop prowess that is Sade, allow me to introduce you, with this super-sexy ditty that is 100% vibes. Pro tip: Sing it (poorly) to your partner when they ask, "Should we get wings tonight?" They'll love it.
"Take my Breath Away" by Berlin (1986)
This song is just tender. No other word for it. Soft, delicate, but still synthy, it's the go-to 80s love ballad. And, sure it sounds dated as heck, but it's still really beautiful. Not everything has to be timeless to work. Take shag rugs, for example.
"(I've Had) The Time of my Life" by Bill Medley and Jennifer Warnes (1987)
The hallmark song of the most romantic movie of all time, Dirty Dancing, this quintessentially eighties track might inspire the sudden lifting of your betrothed over your head. Hope you've got the bicep strength!
The Best Love Songs of the 1990s
"El Amor de Mi Vida" by Ricky Martin (1991)
The title is translated to "Love of My Life"—and one of our favorites of Martin's early songs.
"I'd Do Anything For Love (But I Won't Do That)" by Meatloaf (1993)
First of all… what is it that you won't do, Mr. Loaf? We have questions. Second, while we have you on the line: Thanks for making this banger whose music video is also a cinematic masterpiece. Lovers, if you need date night inspo, catch this video ASAP.

"I'll Make Love to You" by Boyz II Men (1994)
The nineties (finally) are when music got real, real sexy. The buttery smooth stylings of this iconic group will, without fail, get you feeling some type of way about your significant other (and/or your date to 9th grade homecoming).


"Crash Into Me" by Dave Matthews (1996)
If the lyrics to this puppy were in your Away Message in 2005 because you "liked classic rock" and had a crush on this guy who wore Birkenstocks with socks, congrats, you're me. Sure it's not "cool," but this is a safe space, so let's be real: This is a hot song, and always will be.
"Kiss Me" by Sixpence None the Richer (1997)
Betcha sixpence you've had this earworm stuck in your head nonstop for the past 23 years... and that you're not even mad about it. Because this is a categorically excellent love song. Still unclear on what "bearded barley" is, but, anyway, kiss me!
"I Don't Want to Miss a Thing" by Aerosmith (1998)
This was the tentpole track for Armageddon, the most romantic sci-fi film of all time (huge honor), and reader, Steven Tyler does not disappoint. The yearning in his voice as he serenades… it's almost as if it was his girl up there trying to explode an asteroid to save the world.
"Tu" by Shakira (1998)
A Latin love song, this hit has been the backdrop for many a couple's first dance. Such a sexy vibe, too!
"My Love is Your Love" by Whitney Houston (1998)
Toldja we'd get to Whitney. Not only is this song a whole vibe and beautifully dance-able, the lyrics are also (not even being funny here) so crazy beautiful. There's like an entire history textbook embedded in there. Educational and romantic? What else could you need.
The Best Love Songs of the 2000s
"A Moment Like This" by Kelly Clarkson (2002)
For this, one of the most romantic love songs of all time by one of the most badass singer-songwriter ladies of all time, we have to thank the least romantic person of all time: Simon Cowell. Thank you for discovering Kelly, rude king!
"My Boo" by Usher and Alicia Keys (2004)
Before any of us were baes, we were boos. Or at least, wannabe boos, dreaming of this song by the prince of 2000s R&B being dedicated to us by our crushes over the radio while our moms drove us to soccer. PSA, boos: Usher still makes bangers to this very day. Go lend him your ear.
"We Belong Together" by Mariah Carey (2005)
When I realized Mariah hadn't made this list yet I audibly screamed. But we waited till the perfect time, because this, in my humble opinion, is the crown jewel of her incredible love song oeuvre. And I can recite every single lyric with 96% accuracy, 92% of the time.
"Crazy in Love" by Beyonce feat. Jay-Z (2003)
I have this theory that this is the best pop song ever made. It's just got everything: incredible energy, sexy lyrics, a rap from Jay-Z, Beyonce, an amazing video. I mean, sure, this is true for like, every Beyonce song, but this one's the OG!
"Bleeding Love" by Leona Lewis (2007)
Another crying song. (Song that sounds amazing when you sing along to it while crying.) Warning though: try not to actually get into a relationship that makes you feel like this song, because it sounds kind of like it'd be a medical emergency.
"Love Story" by Taylor Swift (2008)
Remember when we were all young and naive and Taylor Swift made simple, easy, algorithmically perfect love songs about princesses and princes? And released albums that didn't come with matching cardigans? Me neither.
The Best Love Songs of the 2010s
"A Thousand Years" by Christina Perri (2011)
This song was created in a lab to sell more weddings.

"Young and Beautiful" by Lana Del Rey (2013)
She's not everyone's cuppa tea, but dangit, this is my best songs of all time! And even the least Lana-licious of us out there have to admit, this sweeping ballad from the Great Gatsby soundtrack really does get the heart racing.
"All of Me" by John Legend (2013)
John wrote this for Chrissy Teigen, but was nice enough to share it with all of us. And we are so lucky, because that voice plus those deeply beautiful lyrics just might be the next best thing to being married to either of them. (No, really, I'd like to marry either of them.)
"Thinking Out Loud" by Ed Sheeran (2014)
When I mentioned my "curate the best love songs of all time" quest to the husband, he was like, "Ah yes, Ed Sheeran." That's all he said! And he's right: Ed Sheeran. Ginger-haired hero of aisle-walks and first-dances everywhere. We salute you.
"Like I'm Gonna Lose You" by Meghan Trainor (2016)
No wait, this song was created in a lab to sell more weddings!
"7 Rings" by Ariana Grande (2019)
After ruminating over how to end this very important list of the best love songs of all time, I scrolled past this song, and felt a jolt: This is it. It's the perfect last song, I said to me. Because, dear reader, not only is it a no-holds-barred bop, but even more importantly, it's about the most essential love of all: loving your damn self. Amen, Ari!