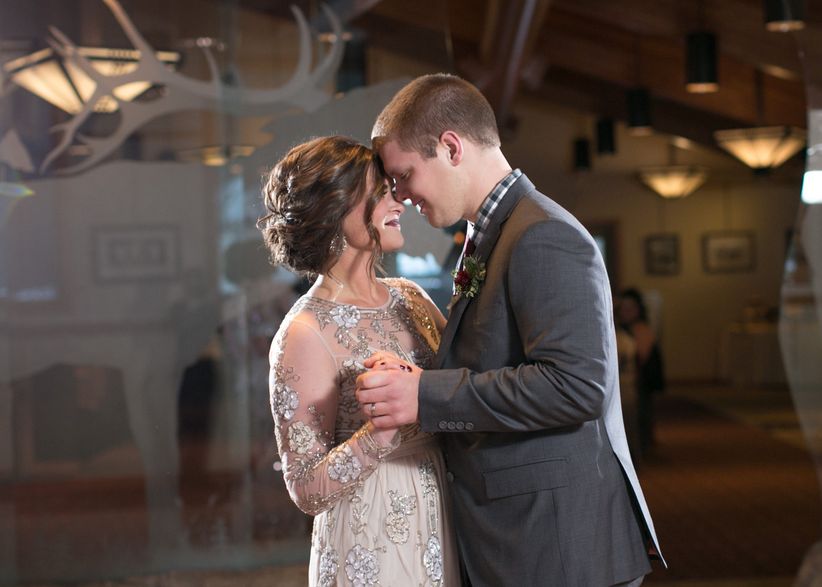 Photo: Cadey Reisner Weddings
DJ or Band or Both: That is the question!
Your reception music selections will set the mood for you and your guests throughout the entire event. Take a moment to think about the genre and style of music that best suits your personalities and that will work well with the overall wedding theme you've created.
The rich sound and direct interaction with your guests are just some of the benefits of hiring a live band. Assuming they have a variety of songs in their repertoire, this could be a great option if it fits with your style. Although the lead singers may not sound exactly like the original song artist, you still have the feeling of an intimate performance just for you and your guests.
Before starting your search, think about the available space at your venue to ensure you have enough room and resources for a band. Consider the possibility of needing a stage, extra power supplies, and room for band equipment. Also, check with your venue about power restrictions or noise limitations that would affect your decision.
If you choose to hire a DJ, you have the benefit of thousands of songs at your fingertips. DJs are also, typically, less expensive than a band and don't require quite as much physical space.
If possible, ask your DJ or band if they have any upcoming public performances where you can see them in action before you sign the contract. Take note of their style, the way they interact with the crowd and the music they play to ensure it works with what you want for your wedding day. It's also always a good idea to check their reviews from past clients. Advice from real newlyweds who have used the vendor's services can be extremely helpful in narrowing your vendor options.
Whether you choose to have a DJ, a band (or both!), take your guests and their music tastes into account. If your guest list includes a variety of age groups, you may consider playing music that will appeal to everyone. Just be sure they play a combination of slow and fast songs, and old and new music to encourage different generations to start dancing!