Who Should You Get Ready With on Your Wedding Day?
The pre-wedding festivities can be almost as fun as the wedding itself! But the people who join you as you're getting ready for the wedding can really make or break this experience.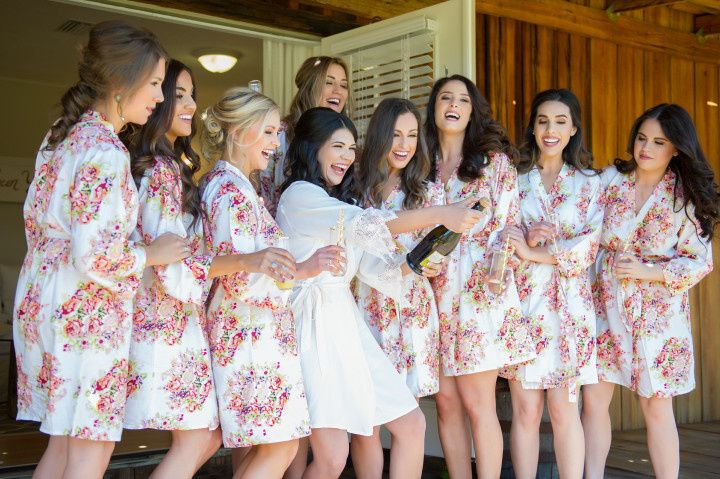 Whether you prefer upbeat music and champagne or a more serene and Zen-like environment while getting ready for your wedding, the people you invite to the pre-wedding festivities can make or break the experience. You want to ensure that the loved ones who join you as you prepare for this momentous occasion will keep you calm, cool, and collected and not increase the stress level. They'll be there with a drink or snack when you're starting to get hangry, your favorite tunes when you need to bust a move, and be able to help with a wardrobe malfunction should any issues arise. If you tend to be an introvert, you can try to keep the guest list relatively intimate, but be aware that a lot of these people are essential-invites for a variety of reasons (see below).
Who should you invite to join you as you're getting ready for the wedding? Here are the traditional invite lists for brides and grooms—you may be surprised at how many people will be joining you on the morning of your wedding!
For the Bride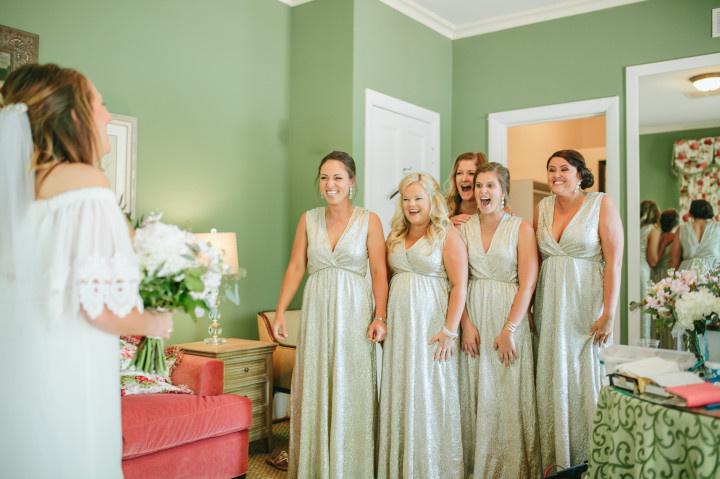 Bridal Party
Part of the fun of getting ready for your wedding is spending quality time with your bridal party. Whether your party is all-female or consists of some bridesmen and a man of honor, all of the members of your bridal party should be invited to spend the pre-wedding hours primping and prepping with you. Part of your bridal party's responsibilities include organizing the pre-wedding festivities, including decorating the space where you're getting ready (often a hotel room or a dedicated room at your venue), ordering food and drink, and providing the right mood-boosting playlist. The morning of the wedding is also an ideal time for the bride to give her 'maids their thank-you gifts, which may include robes or other matchy-matchy attire to wear while getting ready.
Hairstylist and Makeup Artist
When it comes to getting your hair and makeup done before the wedding, you have two options: You and your crew can go to a salon to get primped, or you can have your hair stylist and makeup artist come to your getting-ready space so you can get ready on site. The latter option tends to be a bit more seamless and stress-free, so if it's possible to hire a mobile hair stylist and makeup artist, they'll be an essential part of your getting-ready crew. You'll also have to decide if your bridal party is getting their hair or makeup done professionally (if you're going this route, you'll want to pay for everyone's services), or if they can do it themselves. You'll also want to make sure that the space where you're getting ready can accommodate your hair and makeup pros with appropriate lighting, mirrors, and the like.
Mother of the Bride
If you're fortunate enough to have your mom present on your wedding day, she can be an important part of your getting-ready festivities. Your mom will likely want to get her hair and makeup professionally done, so be sure that she is included as part of your hair stylist and makeup artist's schedules. Don't forget to take a few quiet moments among the craziness of your wedding morning to spend some private time with Mom. This is as important a day for her as it is for you, and she'll so appreciate sharing this special time with you. If you're giving Mom a thank-you gift, this is a good time to present it to her, too.
Wedding Planner
Your wedding planner will likely be quite busy making final preparations while you're getting ready for the wedding, but he or she will likely stop by your suite, as well. Aside from ensuring that everything is happening according to schedule, wedding planners are often pros at handling any last-minute wardrobe snafus, such as a snagged zipper or a torn hem. While your bridesmaids are usually responsible for preparing and bringing an emergency kit to help with these potential issues, your wedding planner will likely have his or her own, too—and have the years of experience to calmly assist you.
Photographer
While your photographer's main role is photographing your ceremony and reception, he or she will likely take photos of you as you're getting ready for your wedding. Your photographer will capture your mom helping you zip up your dress and your bridesmaids' reaction to seeing you in your dress, as well as detail shots of your dress, shoes, and other accessories. Be sure to discuss the pre-wedding schedule with your photographer to ensure that he or she arrives at the right time.
Optional: Flower Girl
Depending on your flower girl's age and personality, she might enjoy getting ready for the wedding with the rest of the ladies—or It might be a disaster. If you're including a flower girl in your wedding, talk to the girl's mother to see where the little one would be most comfortable dressing for the big day.
Optional: Mother of Your Partner
If you have a close relationship with your future spouse's mom, you may certainly invite her to join you for the pre-wedding festivities—and even if you're not super-close, you probably should invite her, too. She may enjoy spending some quality time with you, or she might prefer to spend the pre-wedding hours with her own relatives. Don't be offended if she prefers to get ready independently.
For the Groom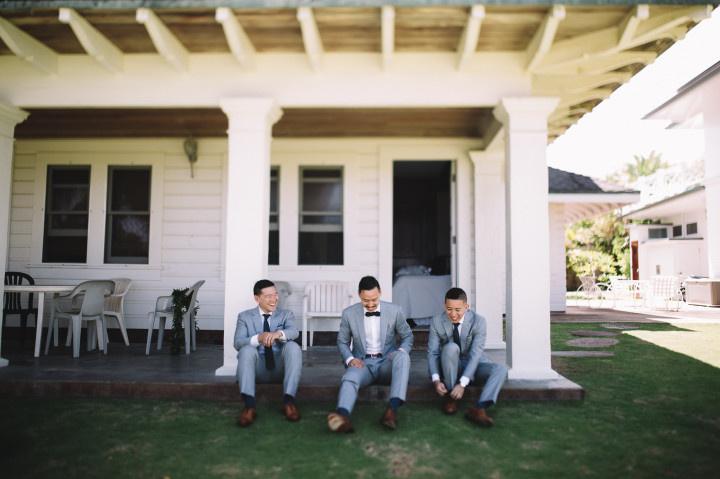 Groom's Party
You'll likely want to spend the morning of your wedding with your side of the wedding party, whether that includes groomsmen, groomsmaids, a best man, or a best woman. You may invite this group to partake in a morning activity, such as golf, shooting some hoops, group breakfast or lunch, or trip to the barbershop for fresh cuts before starting the pre-wedding prep in earnest. Your crew will ensure that you remain relaxed as you get dressed and primped, and be able to assist you with tying that pesky tie! If you're writing a letter to your future spouse on the morning of your wedding, your pals can ensure that the note is properly delivered. The pre-wedding hours are also a good time to give your crew their thank-you gifts.
Father of the Groom
Grooms who are close with their dads will likely want them present as they prep for the big day. Your dad can be invited to participate in any pre-wedding activities, as well as the actual dressing and final preparations. Remember to take a little one-on-one time with your dad to thank him for his role in the day, present him with a gift, and allow him to give you any last-minute advice (cringe-worthy as it may be).
Wedding Planner
Your wedding planner or one of his or her associates will likely check in to provide any assistance as you're getting ready for your wedding. Whether you need a second pair of hands to tie your tie or fasten your boutonniere, your wedding planner is there to help. He or she will also make sure that everything is running on schedule, and that you're on time for your first look or the ceremony, depending on your wedding timeline.
Photographer
The wedding photographer or his or her assistant may also stop by to take some shots of you prepping for the big day. Be sure to talk to your photographer to ensure that he or she shows up at the appropriate time to capture you making those final pre-wedding adjustments and sharing some fun moments with your crew and family members.
Optional: Ring Bearer
As with the flower girl, it may or may not be appropriate for your ring bearer to join you as you get ready for the wedding. An older ring bearer might enjoy spending time with the guys, while a younger one might feel uncomfortable. It also greatly depends on the style of the pre-wedding festivities. If the environment will be calm and relaxed, a little one might feel right at home, but if you're basically having a pre-wedding rager with free-flowing adult beverages, it might be best to ask your ring bearer's parents to get the little guy ready elsewhere.
Optional: Mother of the Groom
Your mom might ask to join you as you prepare for the wedding, and your decision on this really depends on your relationship and style. As a compromise, you might ask your mom get ready nearby and join you toward the end of the getting-ready festivities so that she can see you in your final look (and provide help if needed) before you head to the ceremony.
Optional: Father of Your Partner
Your future spouse's dad may or may not wish to get ready with your crew. He may prefer to prep for the wedding with his own family members or friends—and that's totally okay. Just be as welcoming as possible to start your relationship with your in-laws off on the right foot.