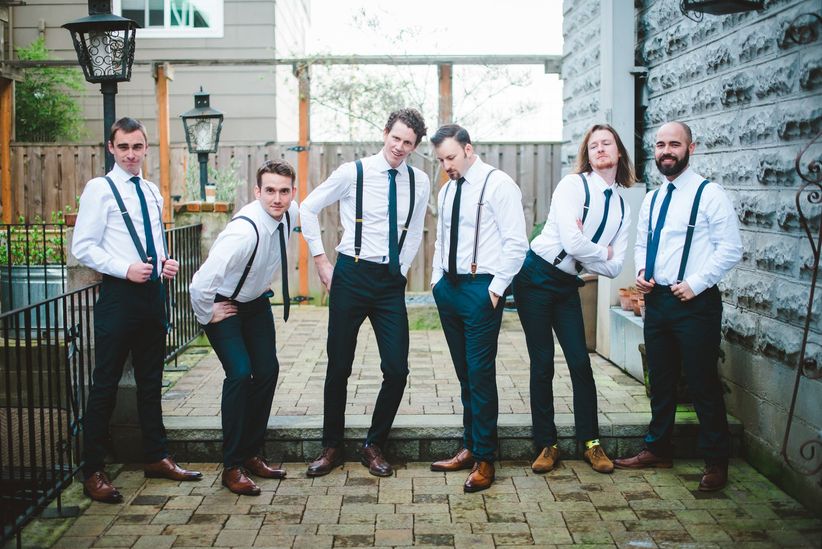 Photo: Patrick Nied Photography
If your wedding isn't scheduled to start until the late afternoon or evening, you might be wondering what you're supposed to do with all those hours before the ceremony. Once you've double-checked that your attire and accessories are in order (including the rings), why not spend some quality time with your best buds? Not only will it be a great way to keep any pre-wedding jitters at bay, but you're bound to create a few memories too.


Here are some of our favorite morning-of activity ideas for the groom and groomsmen.
Do something active
Hit the green for a round of golf, drive to a nearby lake for a bit of fishing, or go for a run through the park. Another option that's guaranteed to be a good time? Go-karts! Whatever activity you choose, keep a very close eye on the clock and leave plenty of time to shower/clean up before you walk down the aisle. Avoid doing anything that's too adventurous — you don't want anyone to end up with an injury at the very last minute. If you'll be outside, don't forget to load up on sunscreen.
Treat yo' self
Grab your groomsmen and head to a local barber shop for some wedding day pampering. A hot towel shave is the ultimate guy time luxury. Plus, you'll be left with baby-soft skin. This is also a good opportunity for any last-minute haircuts or touch-ups. Be sure to call ahead to make an appointment, especially if you're with a larger group.
Grab a drink
If your wedding venue is in a downtown area, check out a nearby brewery or pub. Before you set foot inside, create a game plan and limit your group to a maximum number of drinks. This isn't the time to overdo it on alcohol. You can party later on at the reception!
Eat lunch
It's easy to overlook meals when there's so much else going on, but food is crucial on your wedding day to keep you energized and feeling your best. Make it a point to eat lunch as a group, whether that means heading to a new hotspot in town or ordering pizzas and wings from your favorite sub shop. You can even plan to cook out, depending on your venue and wedding season.
Stay in
You don't have to leave your house or hotel to have a good time. Stock up on drinks and food, put on an awesome playlist, and then get the guys together for poker, video games or watching the big game on TV.
Put your feet up
You and your fiancé(e) have spent months and possibly years planning the wedding, and now the big day is finally here. After all your hard work, sometimes a bit of R&R is exactly what you need. If you'd rather chill out before heading to the altar, spend the morning lounging with movies and snacks. You'll feel extra energized and well-rested when the time comes to say "I do."