How to Make Amends With an In-Law Before the Wedding
If you're on the outs with an in-law, here's how to patch things up well in advance of your special day.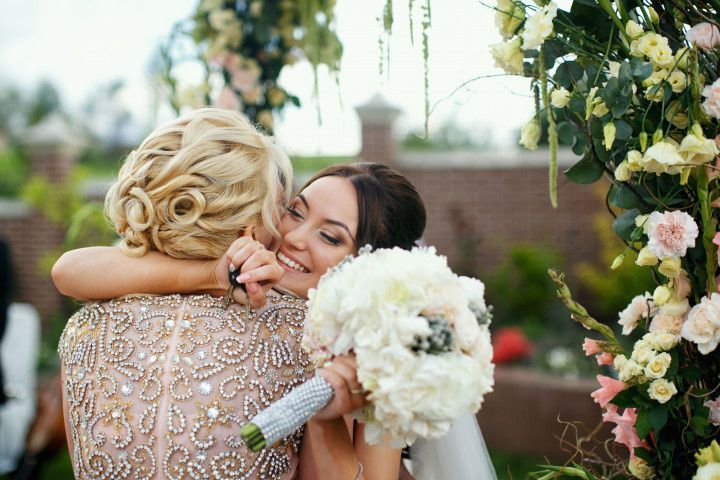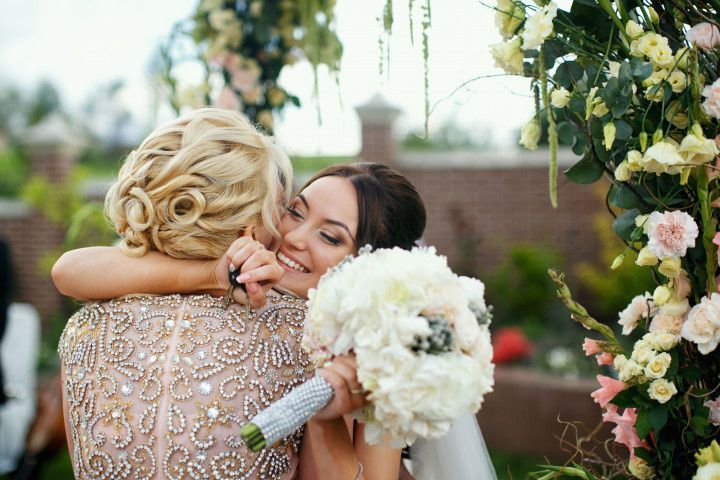 There's no denying that wedding planning can be stressful, especially considering the fact that it involves so many people, many of whom are playing important roles in the big day itself. Chances are, your parents and in-laws have strong opinions about how they'd like things to go down. This can naturally create some drama and tension, not to mention arguments and disdain, within the family.
"Tensions tend to rise during the wedding-planning phase due to high levels of stress, heightened emotions and conflicts about traditions or even finances," explains Shelley Sommerfeldt, Psy.D., clinical psychologist who specializes in relationships. "And when we experience increased tension and stress, this can impact our relationships as well as communication, boundaries and flexibility."
Additionally, as Dr. Sommerfeldt points out, parents may feel protective over traditions they wish to be carried out at their children's wedding. And if they're contributing financially, they may assume that these wishes be held at a higher standard. "All of these factors can drastically impact the expectations of the big day, causing increased tension and disagreements with in-laws during this wedding-planning phase," she says.
If you're on the outs with your in-laws, it can create tricky waters to navigate. While you might be more vocal, open and honest with your own family, communicating with your significant other's parents might feel more uncomfortable or more distant. Rest assured, it is absolutely possible to amend any issues or discrepancies you might be having in time for your big day.
Give these expert-approved in-law drama solutions a try with time to spare before your wedding.
Clue in your partner.
In marriage, it's going to be important for you and your partner to stay on the same page and create a united front in terms of your feelings, beliefs and wants as a couple, so there's no time like the present to both get on board. Dr. Sommerfeldt suggests being open and honest with your partner in regards to the tension and strain you're feeling towards your in-law. "This gives him or her the chance to mediate the situation and be able to be a bridge and facilitate the rekindling of the relationship," she explains. "If you do not feel comfortable approaching your in-laws on your own, then perhaps your partner can assist in facilitating that discussion."
Set aside time to talk.
Having a conversation with your in-laws about some of the wedding planning challenges and how you are feeling is an important step towards making amends. "It's important to share how you are feeling and communicate about the issue, simply by calling them up and saying that you'd like to clear the air or talk about the subject," says Dr. Sommerfeldt. "Talking about things will also allow for an opportunity to share your perspective and feelings, understand your in-laws' perspective, include your partner in the discussion and share your expectations and boundaries moving forward."
Explain your expectations.
When working to make amends in any relationship, but especially with in-laws during the wedding planning phase, Dr. Sommerfeldt explains that it can be essential to share your expectations and hear theirs as well. This allows everyone to express their point of view and what they expect of the wedding and the relationships. "You may not all end up agreeing, but by simply having a better understanding, you will have an opportunity to explore different options and possibly find a compromise in the situation," she says. "Working to find some sort of resolution will then allow you to focus more on your big day, rather than tensions and disagreements."
Try to understand where they're coming from.
Although this may be challenging, Dr. Sommerfeldt urges couples to recognize the reason why in-laws might become overly involved, cross boundaries, and make decisions about their child's wedding: because they care and they love their family member. "In-laws also have an investment in the relationship and the wedding and they may get overly involved simply out of the desire to be a part of the special occasion," she says. "The reason for having this insight into their motivation is important, is because it allows for empathy of the other person's perspective and it can calm frustrations with a little bit of understanding."
Compromise.
As with any disagreement, compromise is the key step towards resolution. Maybe there's an opportunity for you to give your in-law a role in the wedding planning so he or she feels a part of the process. "For example, put your mother-in-law in charge of decorating with lights or of the seating chart or something that doesn't matter much to you," suggests Paulette Sherman, Psy.D., psychologist, director of My Dating & Relationship School and author of Dating from the Inside Out. "Then thank her for making a difference and helping."
Emphasize how much you love their child.
At the end of the day, it can't hurt to remind your in-law of your shared higher purpose: that you both love their child and want him or her to be happy. "Keeping this shared territory in mind can motivate both of you to act in loving ways, share stories and memories about him or her and build some common ground."