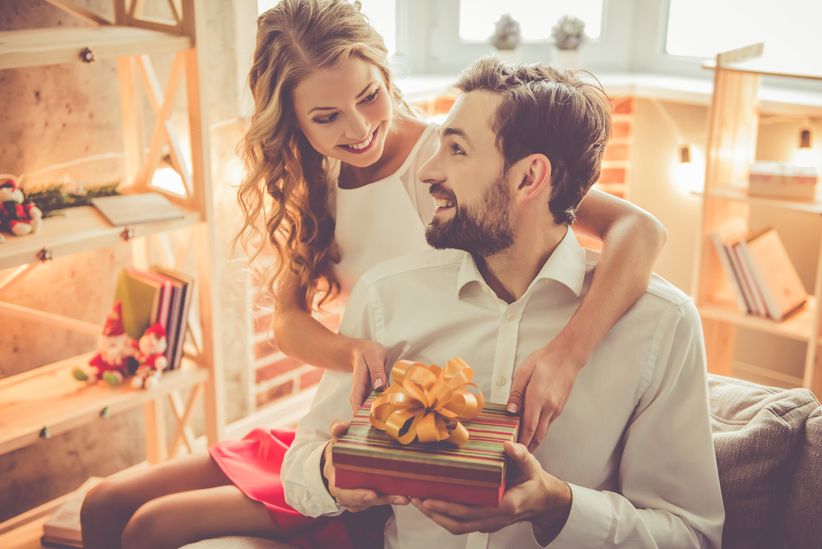 Whether you've just started dating or have a few years of marriage under your belt, finding the perfect gift for your partner can be harder than it sounds. You may know one another better than anyone else, but it can still take a bit of inspiration to find the best gift to mark the occasion! If you're not sure where to start, these suggestions will help you find the best gift to get your boyfriend or girlfriend, whether it's your brand-new beau or you've got a marriage milestone on the calendar.
Check out our top picks for the best gifts to get your boyfriend or girlfriend, no matter where you stand in your relationship.
Newly Dating: A Book
Buying a gift can be a little awkward when your relationship is in its infancy. You might be in a totally-smitten phase where you're spending all of your free time together, but how well do you really know one another at this point? That being said, you still want the gift to feel personal - no generic scarves here! Instead, seek out a book that's related to something your new S.O. really loves. It will keep you squarely in the under-$50 category, but is still thoughtful. If she loves to bake, scoop up the latest publication that's all about cookies or cakes. If he's really into sports, nab a memoir by a renowned sportscaster. It's a great way to show you were paying attention, help broaden your partner's horizons, and give yourselves something to talk about once all the pages have been turned.
Six Months: An Activity
Now is the time to step it up a little bit. After six months, you'll have a great idea of your partner's likes and dislikes, and will have also developed a few traditions or habits as a couple. The best gift to get your boyfriend or girlfriend at this stage is one that you'll be able to enjoy together to keep building your bond. Love to cook? Book a class to learn how to make something brand new, or grab a few new cookbooks and specialty ingredients to experiment at home. Regulars at your neighborhood wine bar? A wine-tasting kit with a few fun bottles or a tasting class will greatly improve your ability to pick up those subtle flavors. Famous for your game day get-togethers? Spring for tickets for an upcoming game and watch the action in person. Date night just got a major upgrade!
First Anniversary: Something Sappy
Congratulations! You've made it an entire year. This might be your first big milestone gift, so use it as an opportunity to look back on how far you've come. Don't be afraid to get sappy when coming up with the best gift to get your boyfriend or girlfriend! Put together a book of photos and memories from your first year together. Frame maps showing where you met, had your first date, or first said "I love you." Better yet, go back to that restaurant or bar to celebrate! If you've opted for a more traditional gift, such as a pendant necklace or a watch, have it engraved with your anniversary or a sweet saying to mark the occasion.
Just Engaged: Something Affordable
With a wedding on the horizon, gifts exchanged around when you get engaged should probably be a little more budget-friendly — after all, engagement rings (and weddings!) are expensive! Pick a gift that will encourage the two of you to spend more time together as the planning gets underway, whether it's a fun board game or puzzle you can work on together, or personalized coupons for an evening when you don't talk about the wedding. No matter the gift you choose, this is also a good time to make a pact that you'll keep your regularly scheduled date nights as a much-needed break!
Just Married: Something Sentimental
Hello, milestone moment! Finding the perfect gift for your partner on your wedding day can feel almost as stressful as writing your own vows, but there are a few things that should help you narrow it down. 1. Agree on a budget. Decide how much you'll each spend so no one wishes they'd splurged a little more. 2. Pick something sentimental. It could be a second wedding band, a beautiful watch, a carefully crafted photo album, or the promise that you'll head to the animal shelter to adopt a dog as soon as you're back from your honeymoon. 3. Include a love letter. This might be all you exchange, or it could be the card that accompanies the gift, but take every moment you have on your wedding day to tell your soon-to-be spouse why you love them and can't wait to get married!
First Wedding Anniversary: Something Personal
The first year of marriage can be a roller coaster. It's hard to put your finger on it, but after you say "I do," there's a shift in your relationship, and it can take some adjusting! When it comes time to celebrate your first anniversary, make a point to choose a gift that will honor the person you married - and the person they're becoming as your relationship evolves. You could go with a traditional first anniversary gift (paper) and pick out a book they'll love, design customized stationery, or have your favorite wedding photo framed (or finally get your album finished and ordered!). If you're looking for a little more, like jewelry or another larger purchase, splurge on an item that fits seamlessly into your partner's life, but maybe with a little added sparkle!
Fifth Wedding Anniversary: Something for Your Home
Wood is the traditional fifth anniversary gift, and thankfully it comes in all shapes and sizes. Whether you're renting or have taken the plunge into ownership, it's high time you made an investment in those everyday items that fill your home. Celebrate five years of marriage with a piece that will last you for decades to come. Invest in beautiful artwork (in a wood frame, perhaps), find that perfect leather sofa to go with your wooden coffee table, or give your bedroom a makeover with a new (maybe bigger?) bed with a wooden frame that perfectly fits your style as a couple.
Tenth Wedding Anniversary: An Adventure
Give the gift of travel. With so many years together under your belts, you might be feeling like you've run out of "things" your partner might want or need. So skip the material items and focus on experiences, instead! Pick a destination you've both dreamed of visiting, call Grandma and Grandpa to watch their grandkids (whether human, furry, or plants), and get out of town. Studies show that doing something new together and having adventures with your partner can really serve to keep the love alive, so plan an amazing experience that you'll be reminiscing about until your next milestone gifting opportunity arrives.