If you're looking to celebrate your favorite lovebirds, what better way to show your appreciation than with a present that's unique and tasty? From healthy meal subscriptions for busy parents to flavorful spice blends for the budding home cooks, we've thought of everyone. These food gift ideas for couples will work for any occasion, whether you need an anniversary gift for your parents or you're shopping for the holidays. That said, you definitely don't need a reason to treat someone you love to one of these awesome (edible!) presents.
1. Chef-Approved Spices
For the couple who prefer life with a bit of spice, this deluxe gift set is an unbeatable option. It includes all of The Spice House's most popular blends loved by chefs and home cooks alike, from classic ground cinnamon to unique maple garlic.
The Spice House best sellers deluxe collection, $68, The Spice House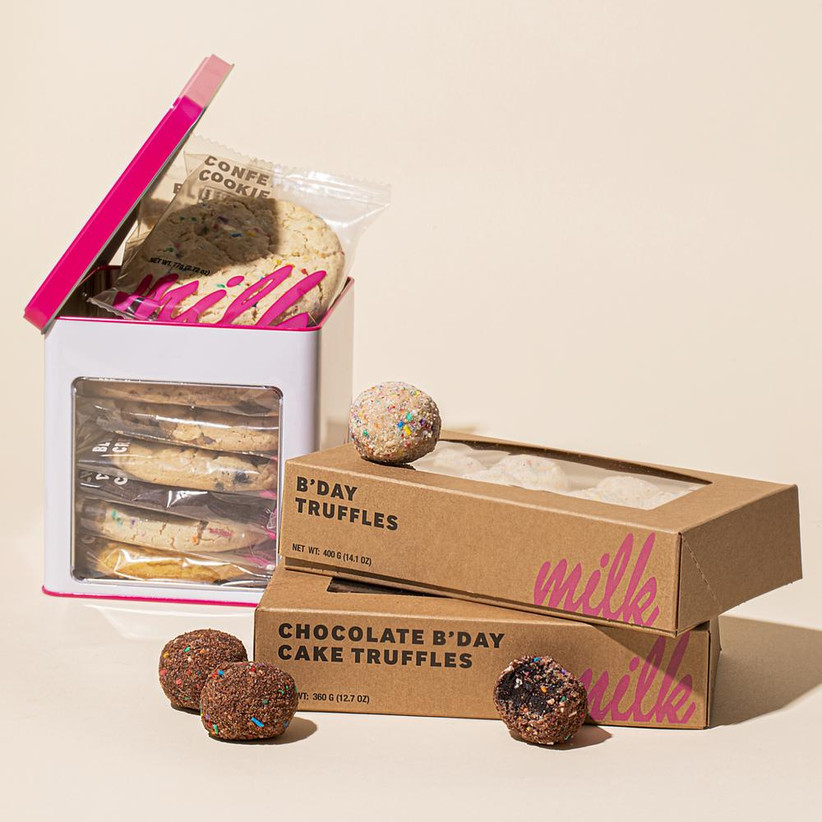 2. Decadent Desserts
Foodie gifts for couples are easy to find once you know where to look. Milk Bar is the brainchild of talented pastry chef Christina Tosi, the ingenious creator of cereal-milk-flavored soft serve. Pretty much anything from their mouth-watering range of desserts is destined to be a hit.
Milk Bar The Little Somethings, $65, Milk Bar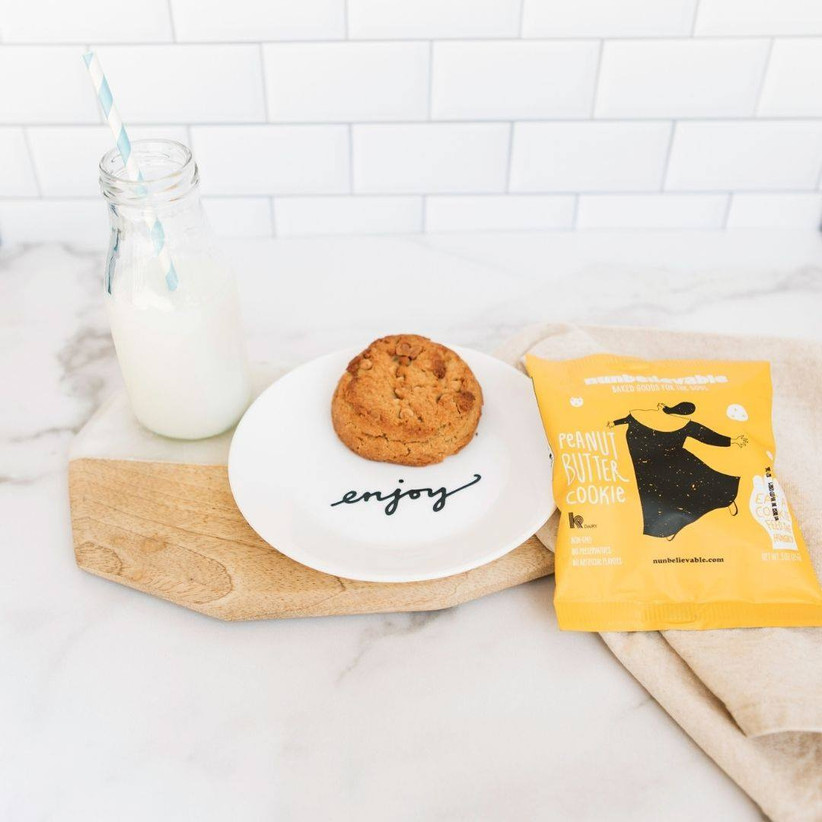 3. A Charitable Cookie Subscription
Shopping for a last-minute present? If you're short on time, we've got the solution: a monthly couple's subscription box. It'll be delivered straight to their door, and if it doesn't arrive on time, we're pretty sure three months of gifts makes up for it anyway. Still not sold? Every purchase of Nunbelievable's classic cookies goes toward providing meals for those in need.
Nunbelievable Samaritan three-month cookie subscription, $90, Nunbelievable
4. Award-Winning Cheeses
When it comes to food gift ideas for couples, cheese can be overdone. That's why we looked high and low to find (and taste) the best cheeses out there. This award-winning selection is lovingly made at Jasper Hill Farm in Vermont with milk from local cows.
Jasper Hill Farm cheese tasting box, from $60, Food52
5. Fresh Cinnamon Buns
Here's another foodie gift for the couple with a sweet tooth. If you'd rather stick with something you know they'll love, you can't go wrong with a box full of cinnamon buns.
Cinnabon MiniBon rolls, $50, Harry & David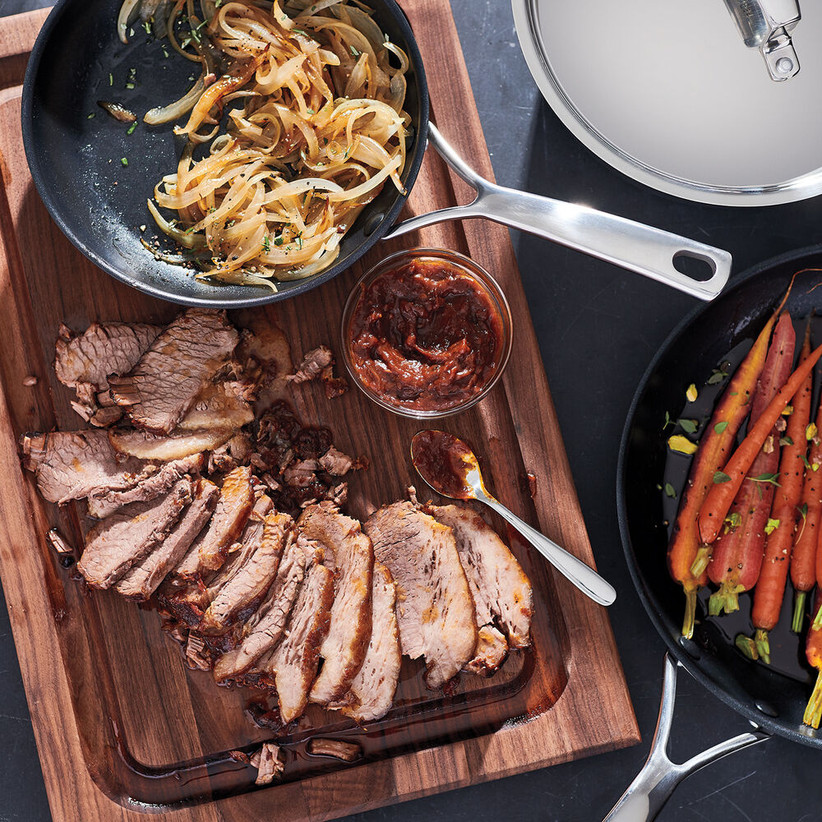 6. A Virtual Cooking Class
Think outside the box and gift your favorite couple an online cooking lesson they can do together. It's a unique present they'll 100% appreciate—roll on date night!
Sur la Table online cooking classes, from $29, Sur la Table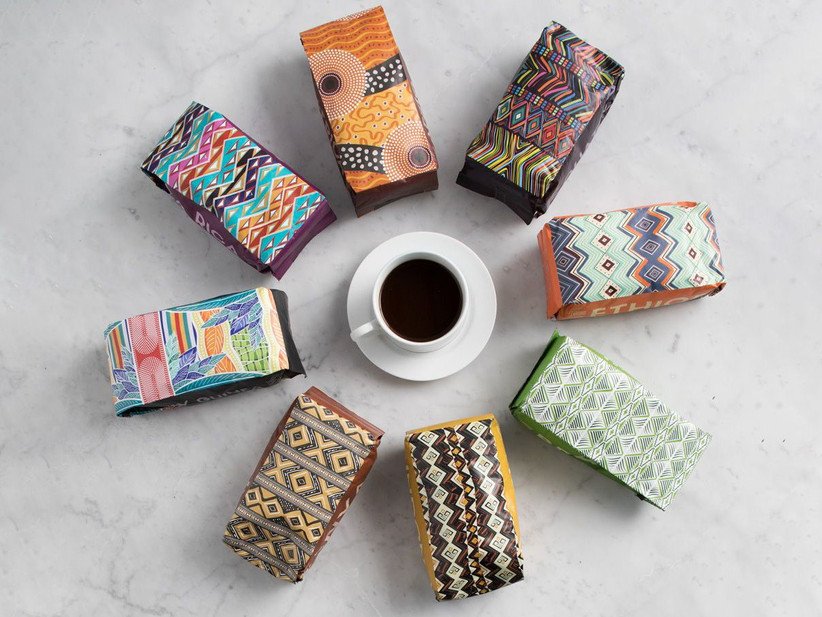 7. An International Coffee Subscription
There are so many directions you can go in with food and drink gifts for couples. The gourmet coffee trend has reached far beyond millennials and their Starbucks to go. Almost anyone would appreciate a monthly caffeine delivery with blends from across the globe.
Atlas Coffee Club gift subscription, from $60, Atlas Coffee Club
8. Champagne and Chocolates
Speaking of food and drink gifts for couples, why not combine the two? We certainly wouldn't say no to a box of flavorful, exotic truffles and a luxurious glass of bubbly. It's a little on the pricey side, but keep in mind you're crossing two people off your gift list.
Vosges Chocolate Piper Heidsieck rosé sauvage champagne and exotic truffles, $175, Vosges Truffles
9. A Tasty Steak Subscription
If they're more of a main course kind of couple, they'll love receiving a monthly delivery of top-notch steaks, ranging from filet mignon to New York strip. We sense another romantic night in!
Omaha Steaks monthly steak box, $129 per shipment, Omaha Steaks
10. Classic Candies
Anyone would be excited to find a Candy Club delivery on their doorstep. Choose a gift set with some of the couple's childhood favorites, like caramel taffy or strawberry wheels. Or, if they're sweet enough already, go for a selection that's mostly sours.
Candy Club gift box subscription, from $30 per month, Candy Club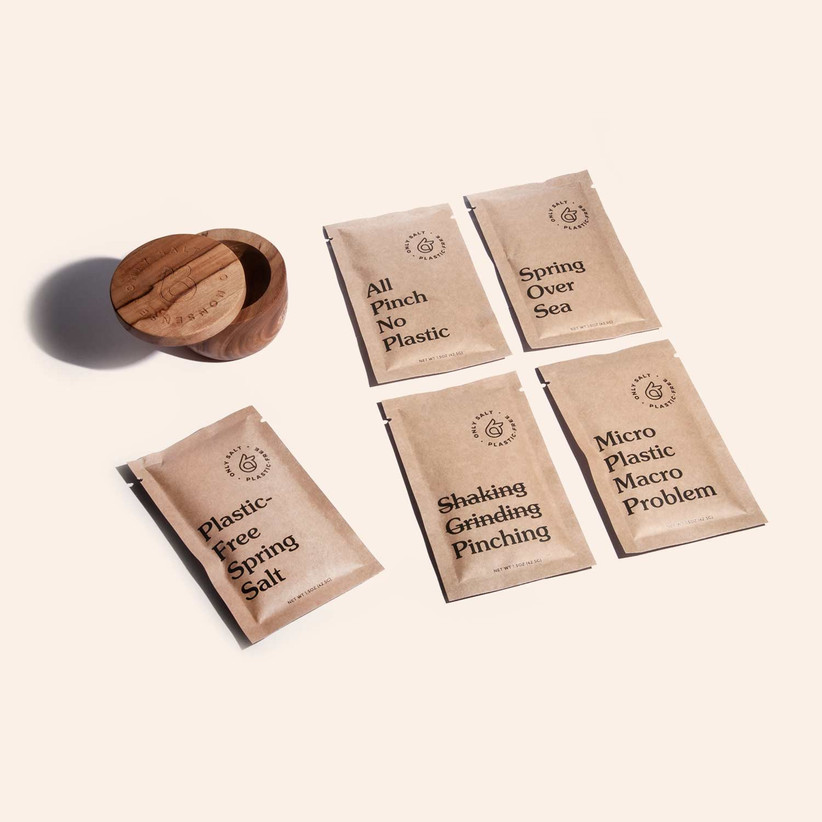 11. Sustainable Spring Salt
On the hunt for eco-friendly food gifts for couples? Your friends with a passion for going green will wholeheartedly appreciate this natural, sustainably-sourced spring salt. It has a unique and fresh flavor, plus it comes with a pretty, handmade bowl. We think it'd make an excellent housewarming gift for a couple.
Only Salt starter set and refills, $50, Only Salt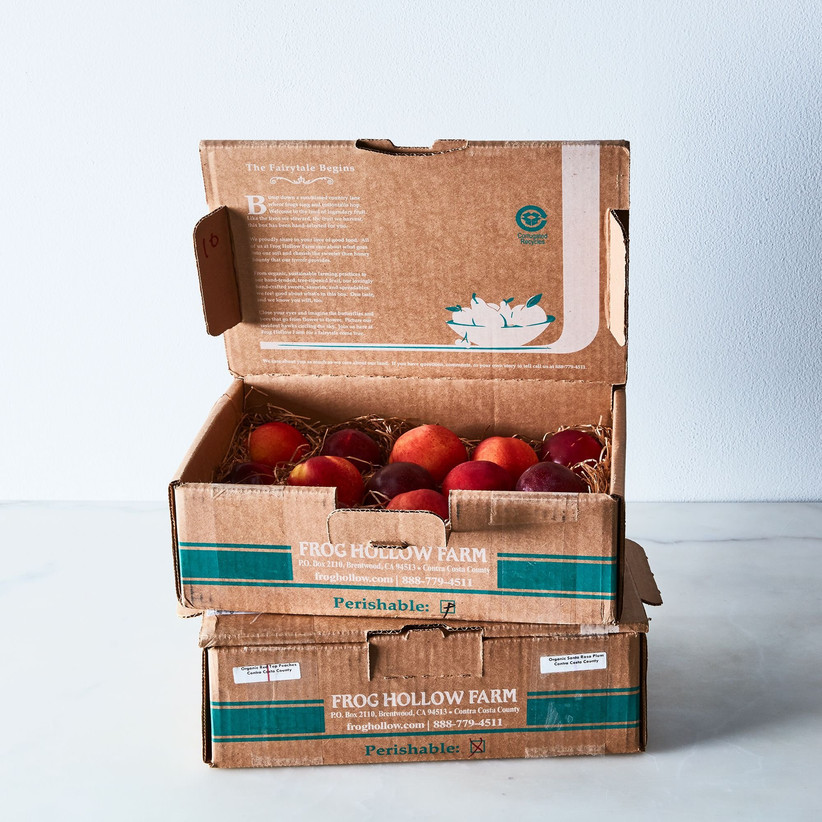 12. A Fresh Fruit Subscription
An organic fruit delivery is the perfect present for the couple too busy to make it to the farmer's market. Frog Hollow Farm will send a variety of delicious seasonal goodies, from peaches and plums to pears and pomegranates.
Frog Hollow Farm Fruit of the Month Club, $211 for 3 months, Food52
13. An Exciting New Recipe
Here's another excellent food gift idea for the couple who loves to cook together. With a Hello Fresh gift card, they can order a delivery of fresh, seasonal ingredients with a recipe for something new and delicious.
Hello Fresh gift card, from $65, Hello Fresh
14. Wine Delivered to Their Door
A bottle of wine is always a welcome gift for couples who like to drink a glass of vino with their dinner. If it's a special occasion, take it up a notch by treating them to a monthly subscription.
Winc wine subscription, from $60, Winc
15. Gourmet Hot Sauce
They've never tasted hot sauce like this. Any couple who appreciates a meal with a kick will adore Truff's luxurious truffle-infused hot sauces. Plus, the elegant black and gold packaging will look right at home under a Christmas tree, making it an excellent holiday food gift for couples.
Truff variety pack, $70, Truff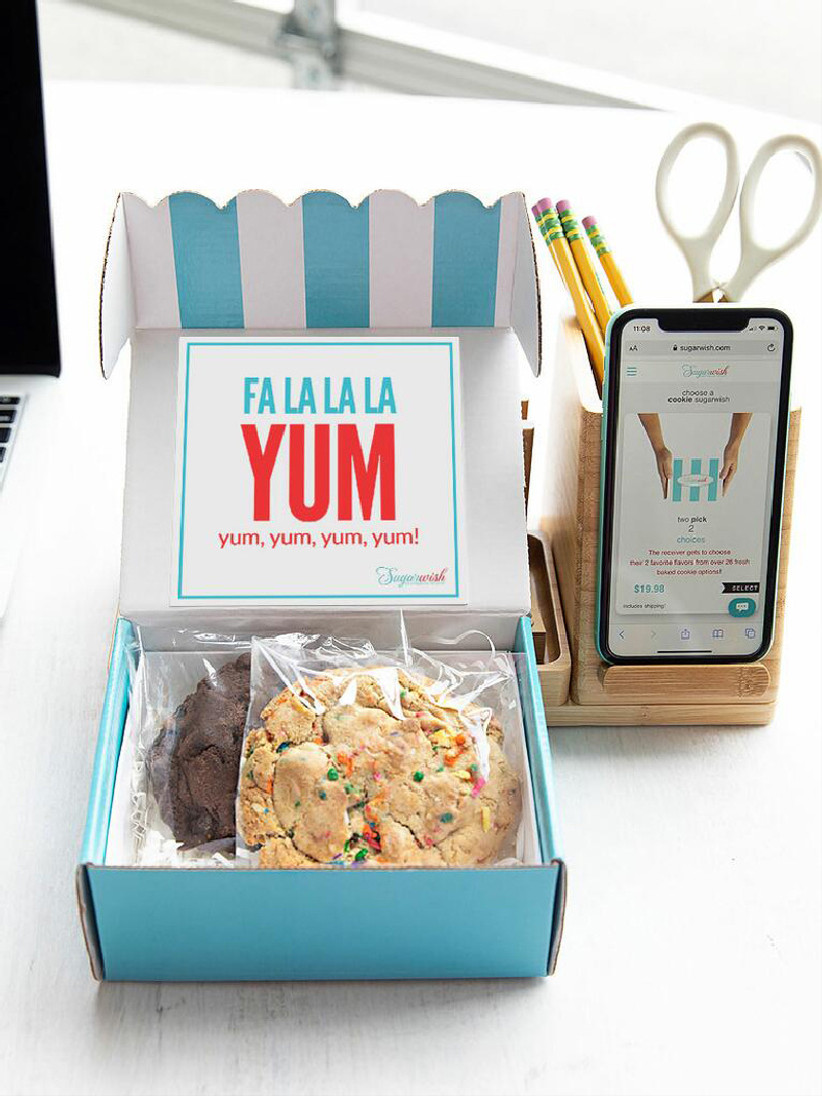 16. A Thoughtful Cookie Gift Card
Last-minute gifters rejoice! With Sugarwish, the recipient gets to choose exactly which treats they want delivered. All you need to do is email them the gift card.
Sugarwish cookie delivery, from $22, Sugarwish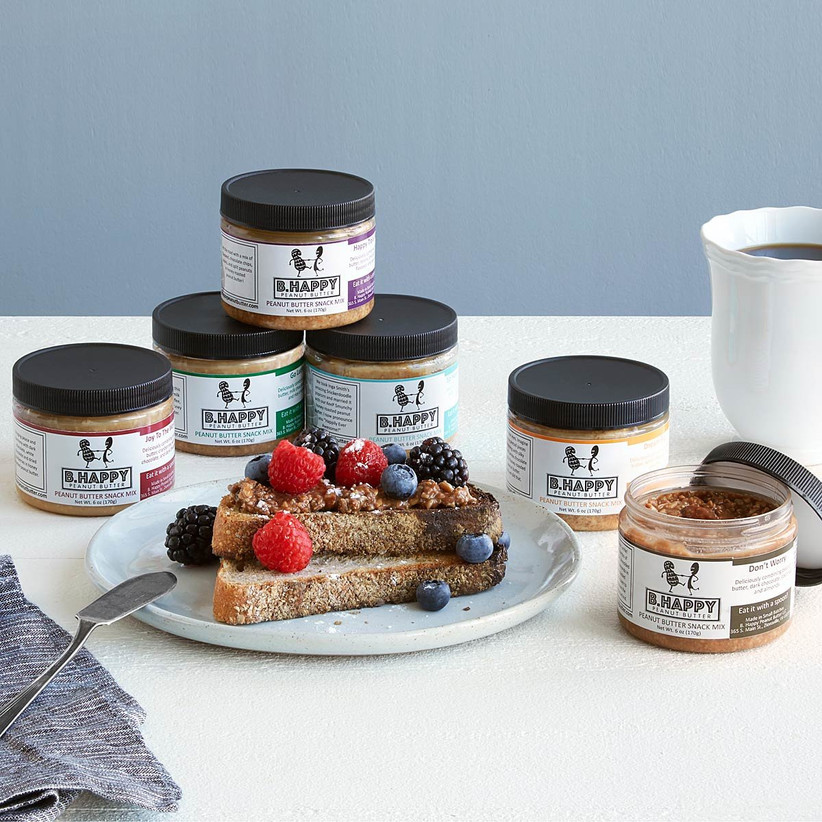 17. Mini Peanut Butter Samplers
This isn't just any peanut butter. These adorable miniature jars contain six amazing blends you'll want to try out for yourself too. If the couple loves to experiment (or just appreciates a good PB&J), they'll want to dig right into these samplers with goodies like pretzels, popcorn, and chocolate chips.
Kathy Weed peanut butter sampler, $40, Uncommon Goods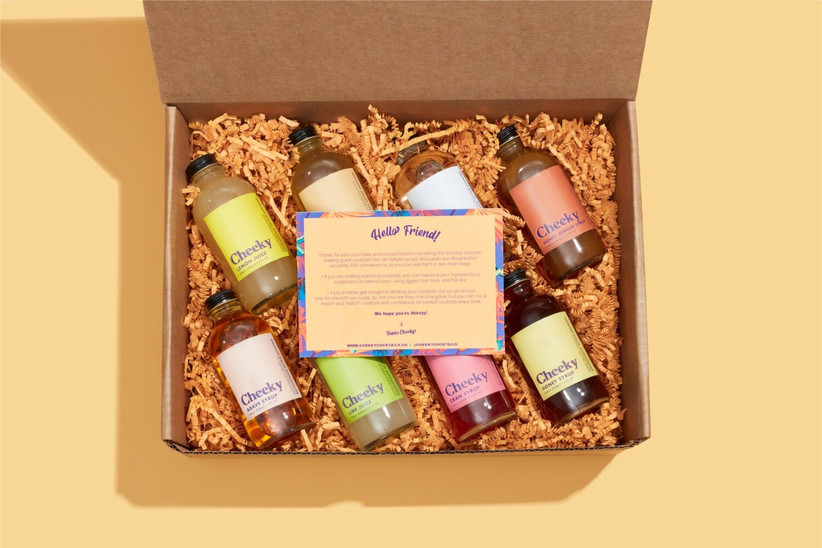 18. A Celebratory Cocktail Kit
This cocktail-making set is one of the best drinking gifts for couples who like to celebrate with a signature beverage. It includes a selection of juices and syrups for mixing over 50 different types of cocktails.
Cheeky Cocktails 8 bottle kit, $60, Cheeky Cocktails
19. A Playful Ice Cream Collection
Still not sold? We've got plenty more great food gift ideas for couples, like this delicious selection of ice cream from eCreamery. Each tub features a cute or funny comment like "better than flowers" and "just to sweeten your day."
eCreamery Just Because classic collection, $70, eCreamery
20. A Foodie's Dream Subscription
Mouth is a surefire winner when it comes to foodie gifts for couples. With this one-of-a-kind subscription, they'll receive a selection of unique items to sample each month. Expect to find things like truffle-infused popcorn, cocktail mixers, and bread-and-butter pickles.
Mouth Best of Mouth subscription, from $54 per month, Mouth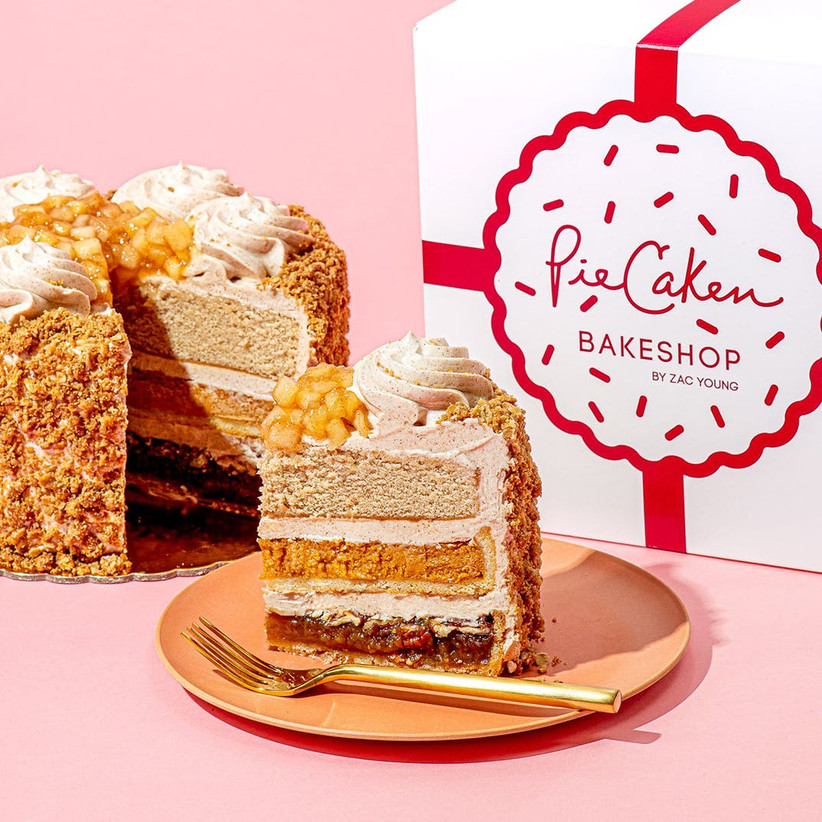 21. A Show-Stopping Family Dessert
Spice cake meets pumpkin and pecan pie in renowned pastry chef Zac Young's celebrated PieCaken. Add this one to the list of Thanksgiving- and Christmas-worthy food gifts for couples. Just imagine how amazing it would look as the centerpiece of their dinner table.
PieCaken Bakeshop The PieCaken, $99, Goldbelly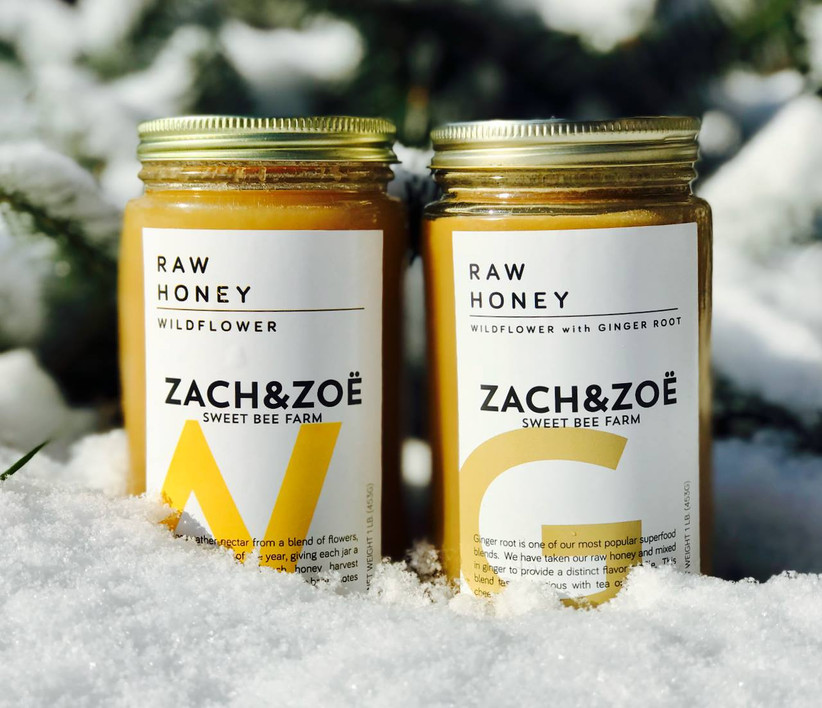 22. Farm-Fresh Honey
This one's for the couple who loves trying new things from their local market. This small family business sells a range of interesting blends, from matcha raw honey to lavender and ginger root.
Zach & Zoë Sweet Bee Farm wildflower honey, $46, Zach & Zoë
23. An Organic Chocolate Subscription
Who knew chocolate could be so adventurous? If the couple you're shopping for loves to experiment with their food, they'll fully appreciate a monthly delivery of chocolate with interesting flavors like Pretzels & Mustard or Green Tea Crunch.
Raaka Chocolate small-batch organic chocolate subscription, from $98 for 3 months, Food52
24. Small-Batch Marinara Sauces
A selection of homemade Italian sauces is the perfect food gift for couples who love to recreate classic dishes at home. Each unique flavor is made from premium Italian olive oil and fresh basil, garlic, and onions.
Yo Mama's Foods fresh sauce collection, from $38, Yo Mama's Foods
25. Convenient Home-Cooked Meals
Mosaic combines health and convenience with their plant-rich veggie and oat bowls, frozen to lock in freshness and nutrients. Their ingredients are expertly seasoned and cooked by professional chefs before being carefully packaged and shipped off. We can't think of a busy couple who wouldn't appreciate high-quality home-cooked meals shipped right to their door.
Mosaic gift delivery, from $70, Mosaic Foods
26. A Craft Sake Subscription
Maybe they're already big fans of Japanese rice wine, or maybe they've never tried it before. Either way, a sake subscription is one of the most unique drinking gifts for couples we've seen. Sign them up for a delivery every month, every three months, or every six months to try Brooklyn Kura's signature American craft sake.
Brooklyn Kura Kura Kin membership, from $65, Brooklyn Kura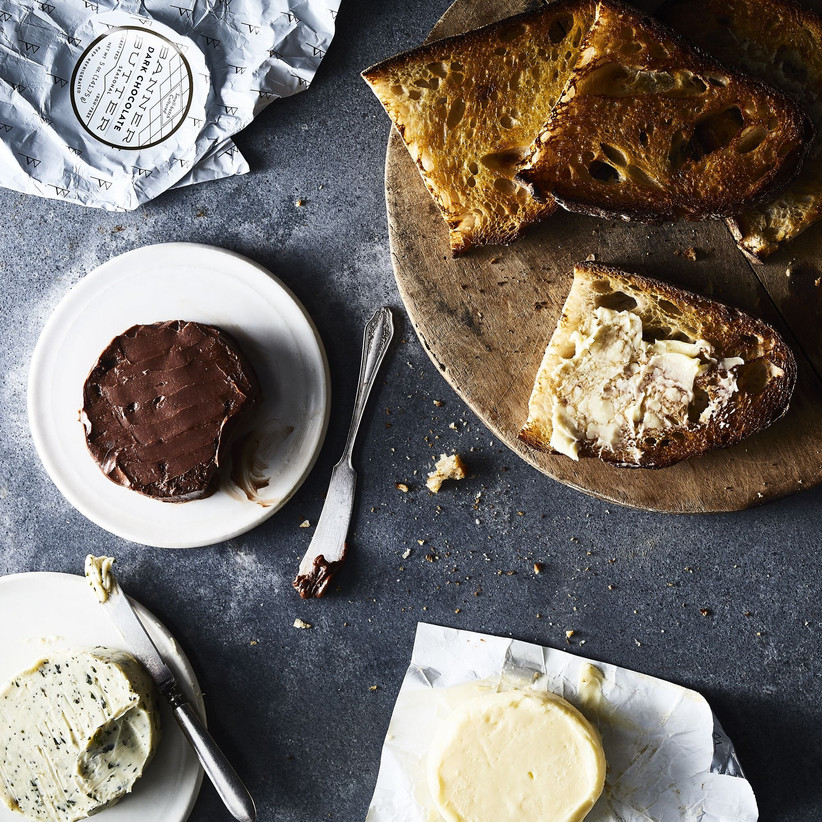 27. The Best Butter They've Ever Had
This cultured cream butter subscription will make sure no aspect of their meal is boring ever again. Every three months for a year they'll receive four blocks of the stuff, including one salted, one sweet, one garlic, and one seasonal.
Banner Butter grass-fed cultured cream butter quarterly subscription, $235, Food52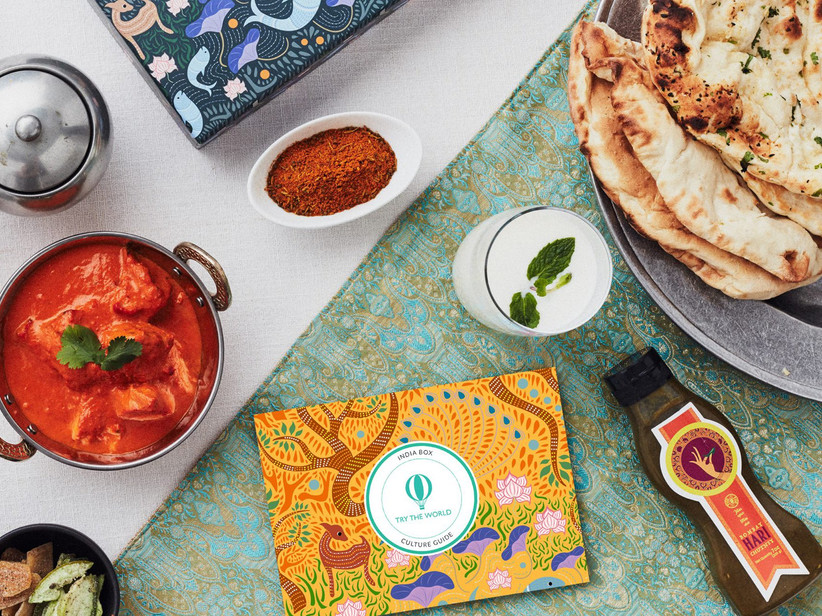 28. Food From Around the World
For the couple with major wanderlust, bring the excitement of travel to them with a subscription box chock full of delicious goodies from around the globe. Past examples include tapas from Spain, Korean seaweed, and dried fruit from Ecuador.
Try The World gift subscription, from $19, Try The World
29. A Monthly Salami Subscription
Last but not least, this one's for the meat lovers. Every month they'll receive a different type of salami as well as detailed tasting notes to complete the experience.
Olympia Provisions Salami of the Month Club, $240 for 12 months, Food52