30 Adventurous Food Gift Ideas for Couples Who Love Trying New Things
Shopping for a special couple? These food- and drink-themed presents will wow the gastronomes in your life no matter the occasion.
We have included third party products to help you navigate and enjoy life's biggest moments. Purchases made through links on this page may earn us a commission.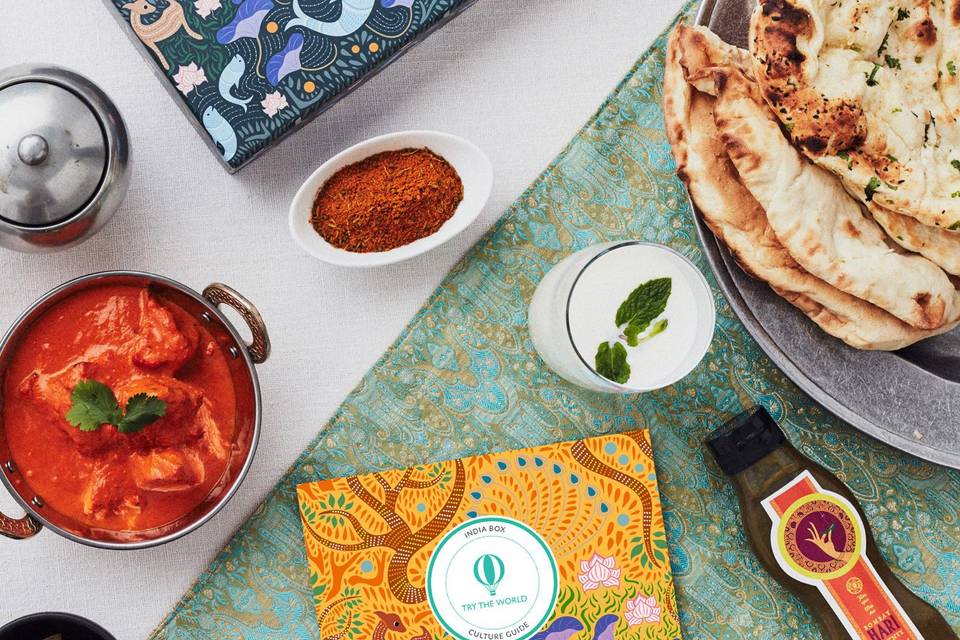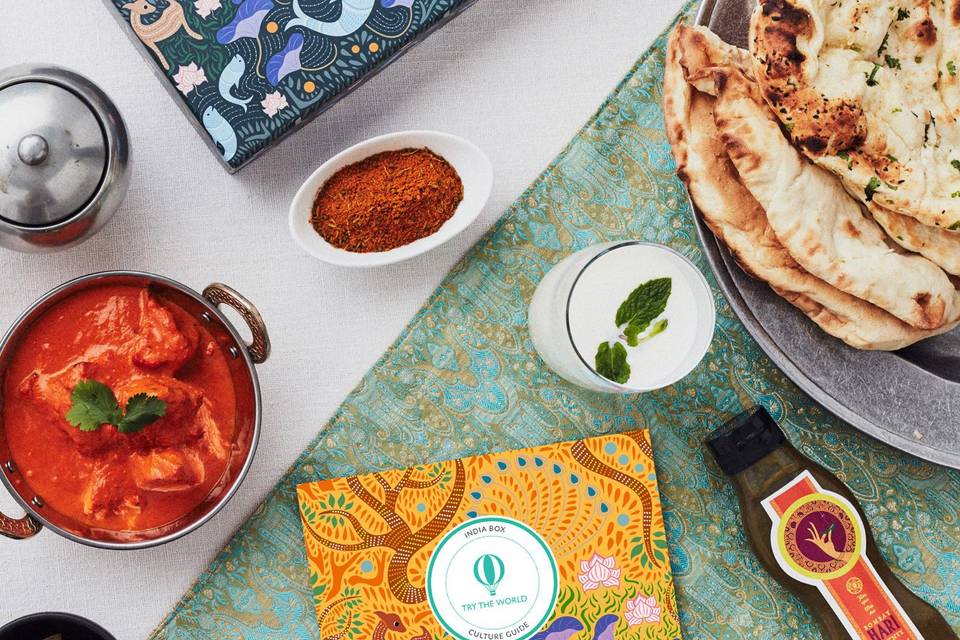 If you're looking to celebrate your favorite lovebirds, what better way to show your appreciation than with a present that's unique and tasty? There are so many different routes you can take when it comes to food gift ideas for couples. From convenient meal kits for always on-the-go to duos to insanely delicious desserts inspired by their childhood favorites, there's something for everyone to love on our list. We've even found online cooking classes they can take together for their next date night.
These food-themed gift ideas will also work for any occasion, whether you need an anniversary gift for your parents or you're shopping for the holidays. That said, you definitely don't need a reason to treat someone you love to one of these awesome (edible!) presents. Keep reading for 30 of our favorite food- and drink-inspired presents to give the hungry—er, we mean, happy—couple in your life.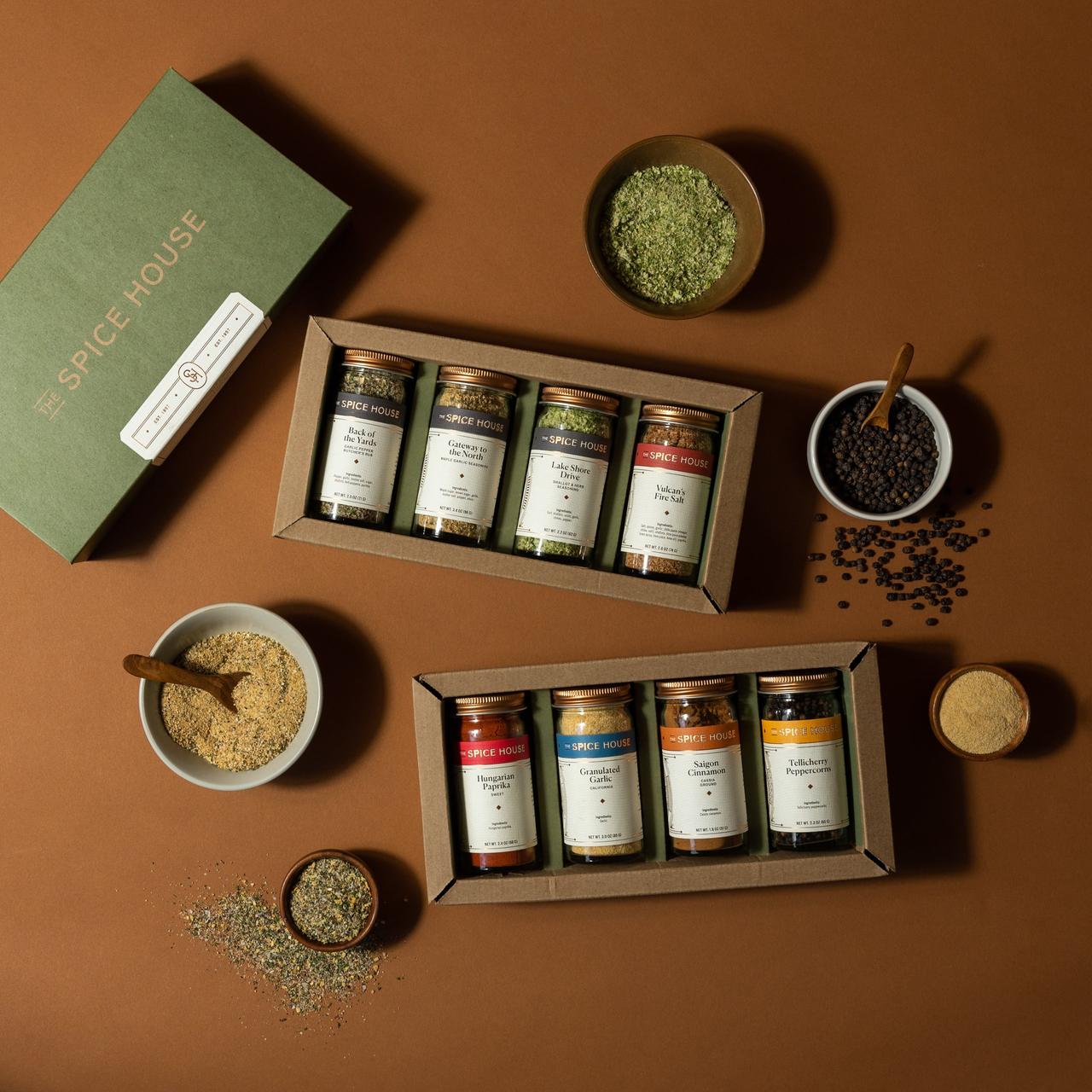 1. Chef-Approved Spices
For the couple who prefer life with a bit of spice, this deluxe gift set is an unbeatable option. It includes all of The Spice House's most popular blends loved by chefs and home cooks alike, from classic ground cinnamon to unique maple garlic.
The Spice House best sellers deluxe collection, $72, The Spice House
2. Decadent Desserts
Foodie gifts for couples are easy to find once you know where to look. Milk Bar is the brainchild of talented pastry chef Christina Tosi, the ingenious creator of cereal-milk-flavored soft serve. Pretty much anything from the site's mouth-watering range of desserts is destined to be a hit. This gift set lets the couple try a little bit of everything, including two different types of truffles and six assorted cookies.
Milk Bar The Little Somethings, $70, Milk Bar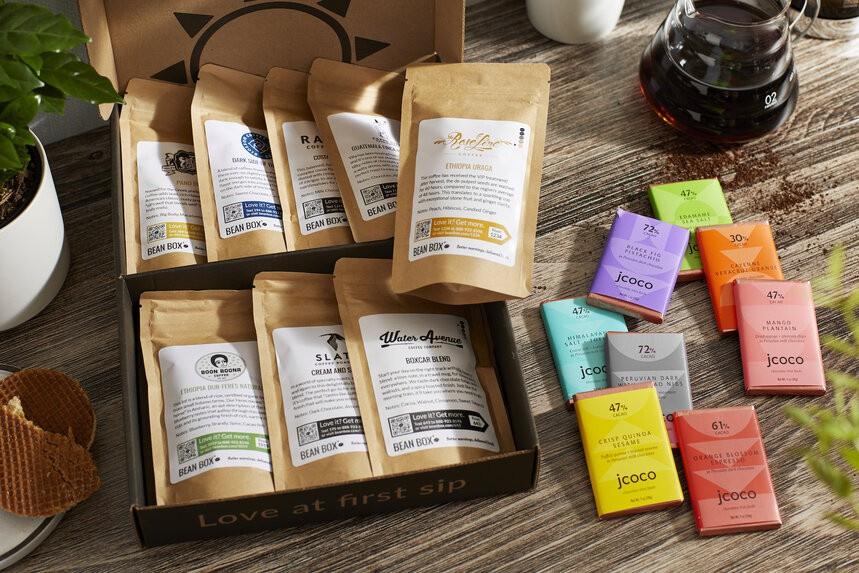 3. Their Two Favorite Things in One Box
There are so many directions you can go in with food and drink gifts for couples. For those who can't decide whether coffee or chocolate tops the list of their all-time favorite flavors, consider this clever tasting box. It includes a selection of four or eight artisanal coffees and culinary-inspired chocolate bars depending on the option you choose.
Bean Box coffee and chocolate tasting box, from $40, Bean Box
4. At-Home Gourmet Cookies
Who doesn't love making chocolate chip cookies? Help elevate the couple's home baking experience with this cookie-making gift set by the one and only Jacques Torres. And who knows, maybe they'll even invite you over to try some—after all, you know they're going to nail it.
Jacques Torres Chocolate cookie mix, $40, Goldbelly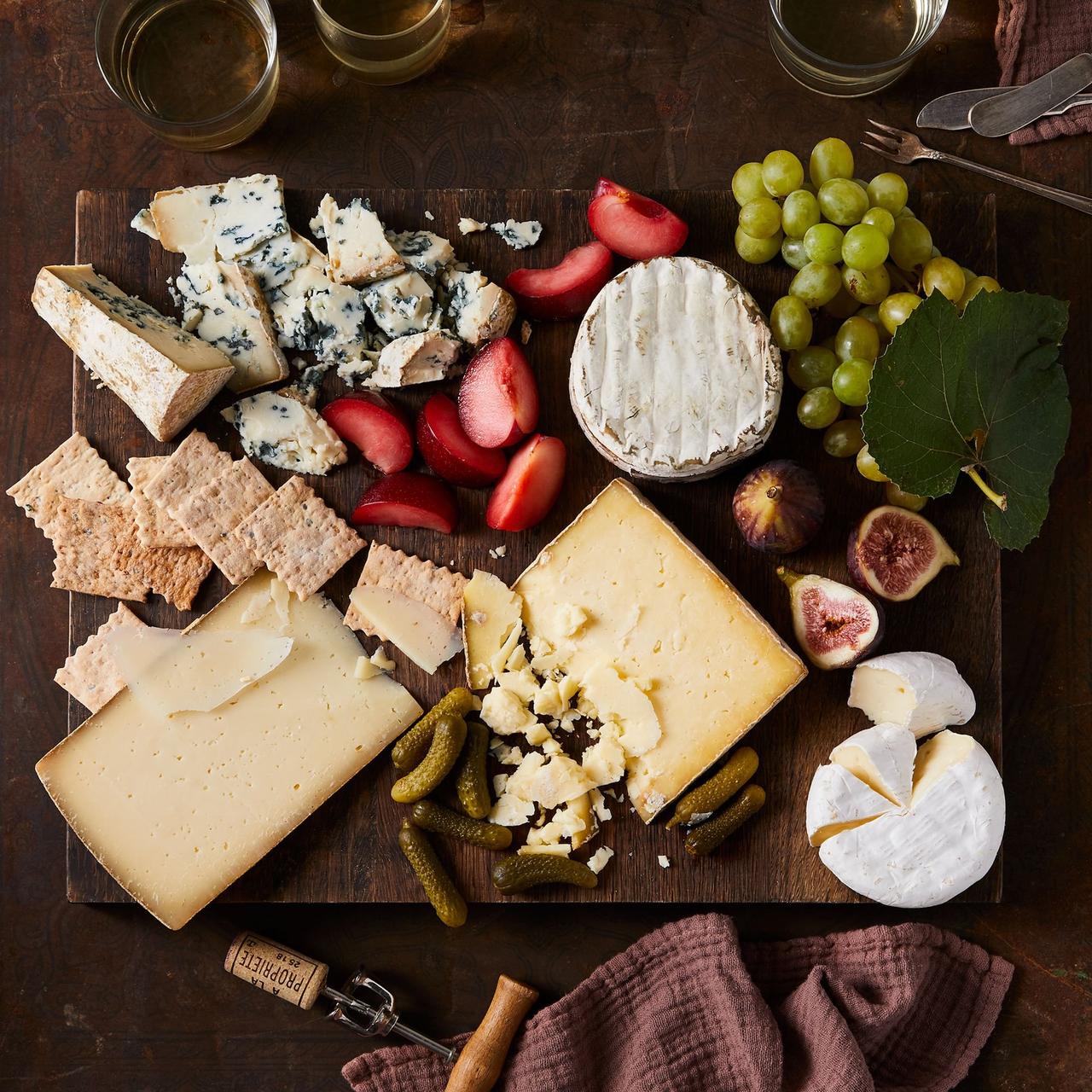 5. Award-Winning Cheeses
When it comes to food gift ideas for couples, cheese can be overdone. That's why we looked high and low to find (and taste) the best cheeses out there. This award-winning selection is lovingly made at Jasper Hill Farm in Vermont with milk from local cows.
Jasper Hill Farm cheese tasting box, from $60, Food52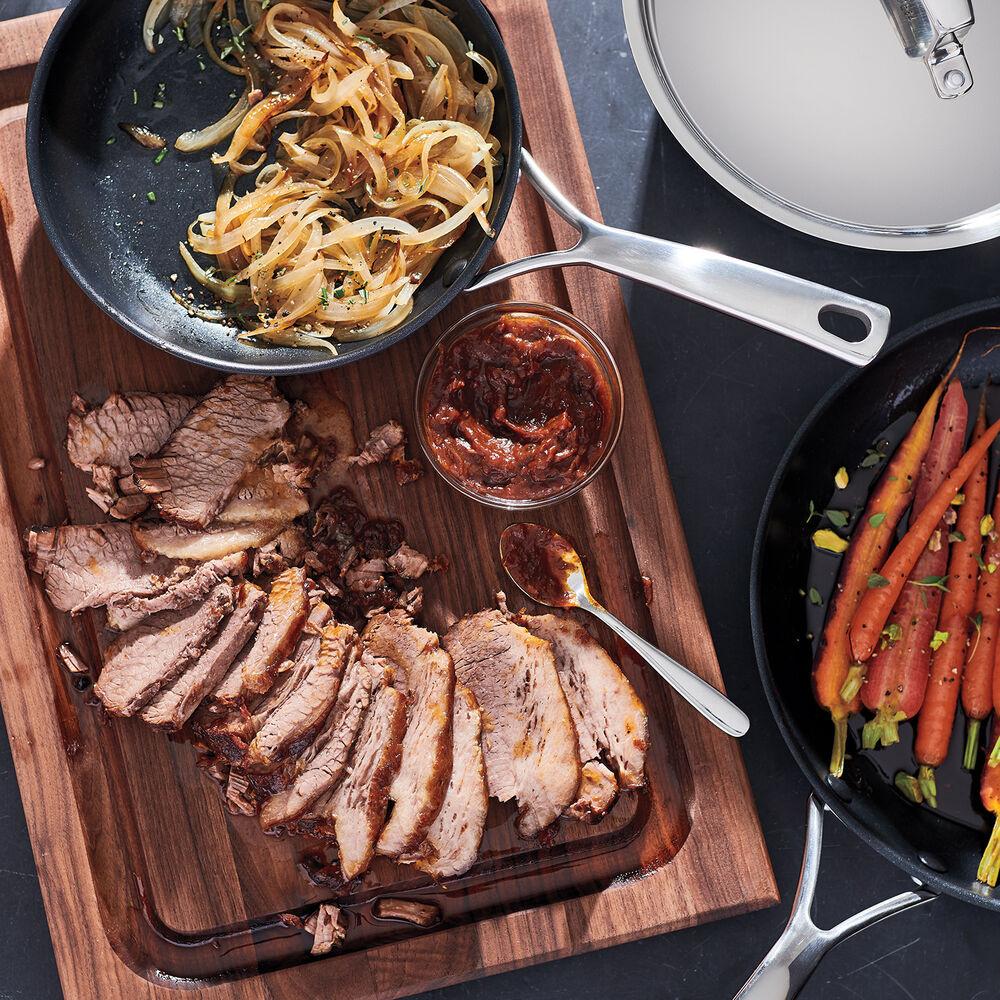 6. A Virtual Cooking Class
Think outside the box and gift your favorite couple an online cooking lesson they can do together. Sur la Table has a selection of classes on offer, including both seasonal and classic recipes. Think: gnocchi, tiramisu, cocktails, and more. It's a unique present they'll 100% appreciate—roll on date night.
Sur la Table online cooking classes, from $29, Sur la Table
7. Mouth-Watering Wagyu Beef
If they're more of a main course kind of couple, they'll appreciate pretty much anything from Snake River Farms. This restaurant-worthy gift set consists of two different cuts of melt-in-the-mouth Wagyu beef, including two whopping 8-ounce sirloins. To top it all off, there's a jar of Jacobsen black pepper-infused salt. We sense another romantic night in...
Snake River Farms American Wagyu prized pack, $157, Snake River Farms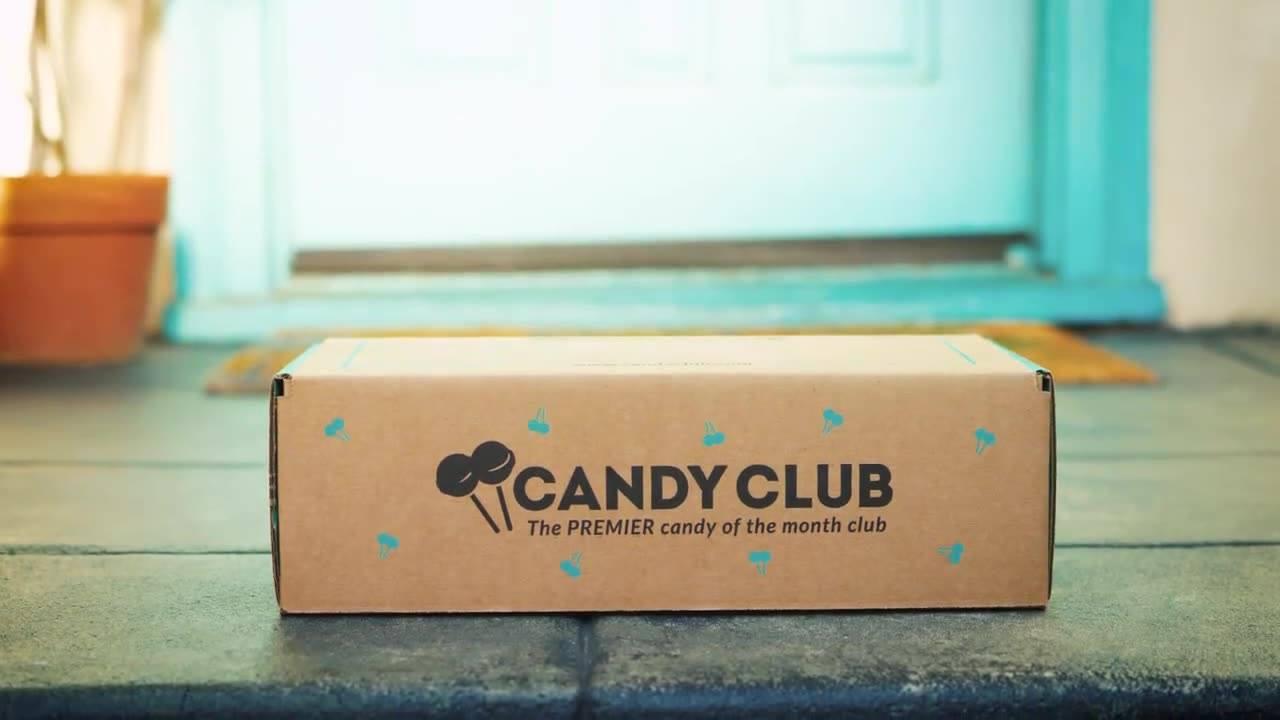 8. Classic Candies
Anyone would be excited to find a Candy Club delivery on their doorstep. Choose a gift set with some of the couple's childhood favorites, like caramel taffy or strawberry wheels. Or, if they're sweet enough already, go for a selection that's mostly sours.
Candy Club gift box subscription, from $30 per month, Candy Club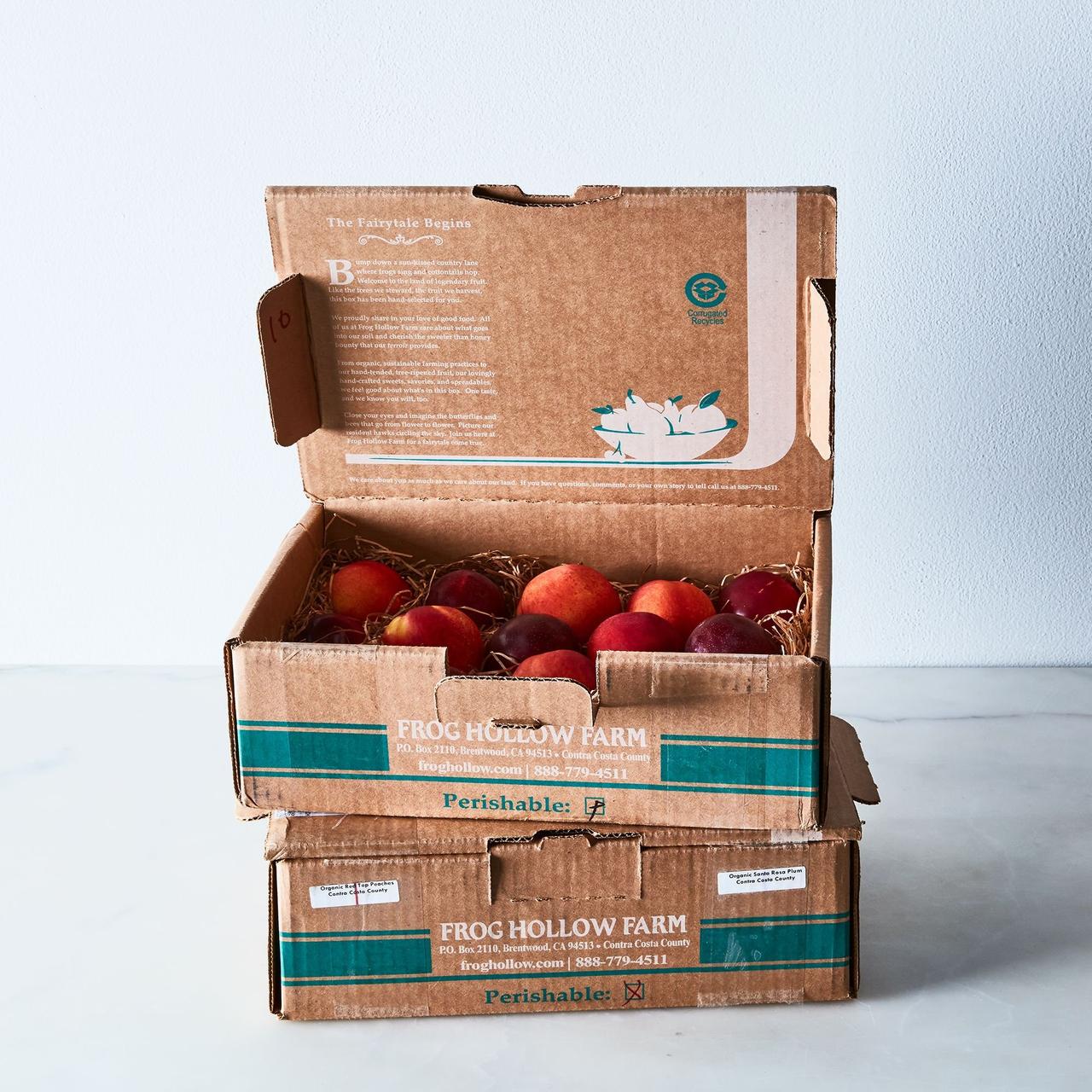 9. A Fresh Fruit Subscription
An organic fruit delivery is the perfect present for the couple too busy to make it to the farmer's market. Frog Hollow Farm will send a variety of delicious seasonal goodies, from peaches and plums to pears and pomegranates.
Frog Hollow Farm Fruit of the Month Club, $211 for 3 months, Food52
10. A Delicious (Gluten-Free) Layer Cake
Just because one or both of them can't eat gluten doesn't mean delicious desserts are off limits. Here's a gluten-free foodie gift for the couple with a sweet tooth. This showstopping sweet treat has three layers each of vanilla and rich brownie cake, complete with velvety smooth vanilla and chocolate buttercreams, chocolate ganache, and cookie crumbs. Now that's what we call a celebration cake.
Mini Melanie gluten free black and white layer cake, $89, Goldbelly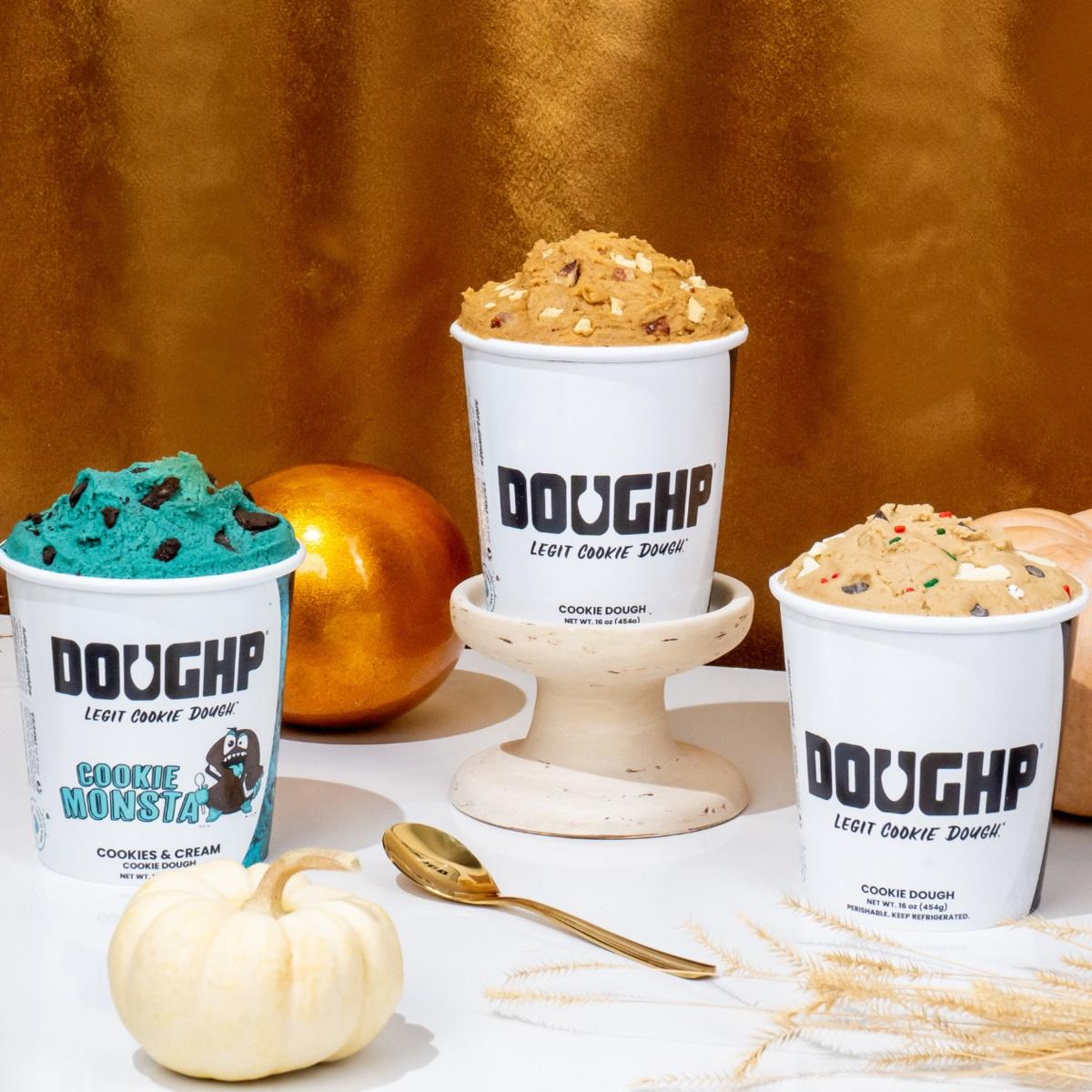 11. Chrissy Teigen-Approved Cookie Dough
This isn't just any edible cookie dough, it's been hand-picked by celebrity (and everyone's favorite home cook) Chrissy Teigen and her team at Cravings. The gift set includes three uh-mazing cookie dough flavors: Cookie Monsta, Santa's Doughp, and Chrissy Pie. What's not to love about this festive delight?
Doughp Cookie Dough Cravings by Chrissy Teigen, $54, Doughp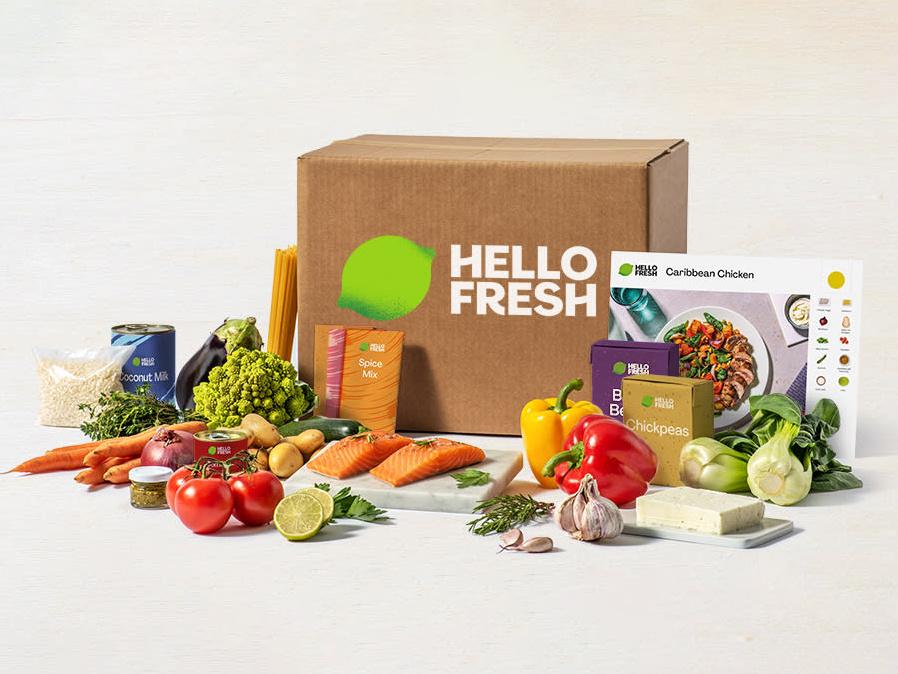 12. An Exciting New Recipe
Here's another excellent food gift idea for the couple who loves to cook together. With a Hello Fresh gift card, they can order a delivery of fresh, seasonal ingredients with a recipe for a delicious new meal. It's a great way to expand their horizons, work on their cooking skills, and spend quality time with each other in the kitchen.
Hello Fresh gift card, from $70, Hello Fresh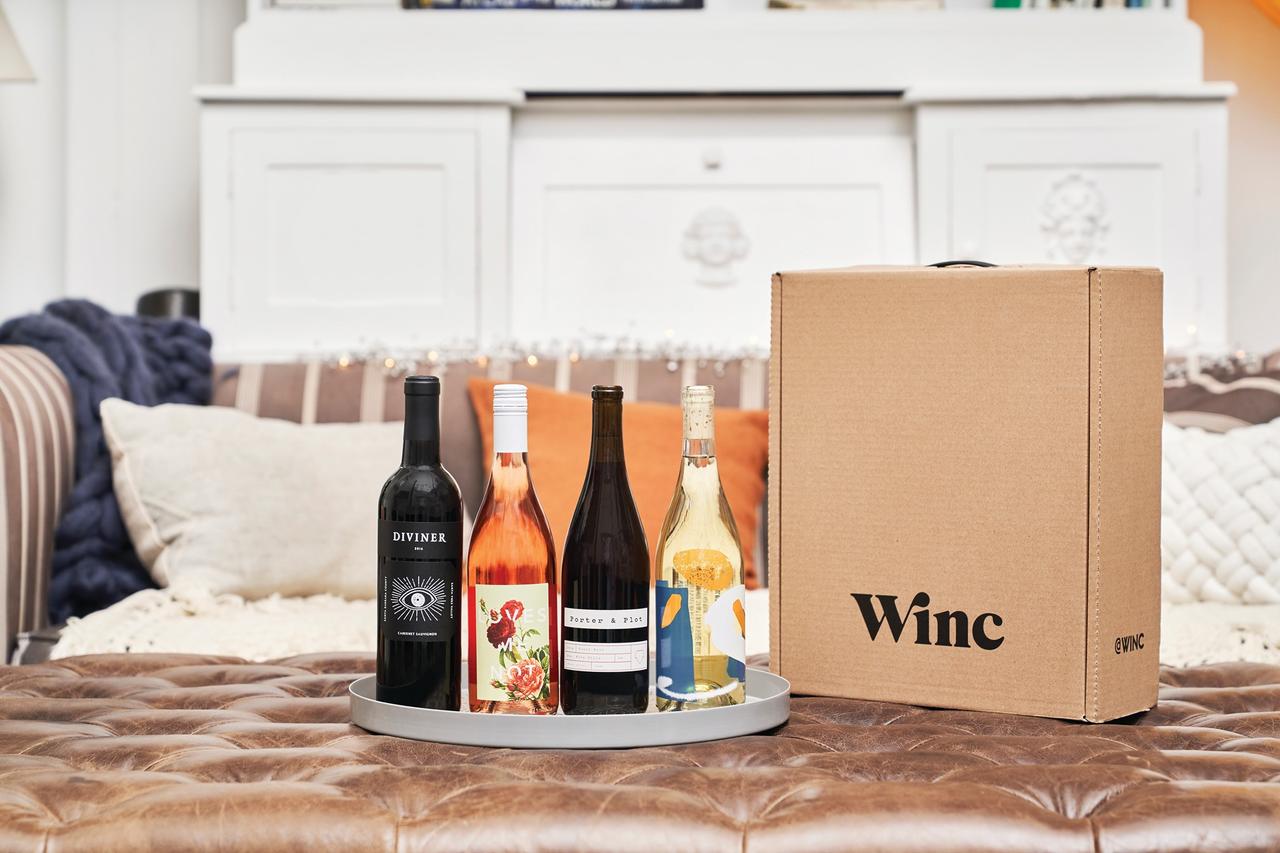 13. Wine Delivered to Their Door
A bottle of wine is always a welcome gift for couples who like to drink a glass or two with their dinner. If it's a special occasion, take it up a notch by treating them to a monthly subscription. Once they receive their gift card and complete a short quiz, the experts at Winc can begin curating the perfect wines for their first delivery.
Winc wine subscription, from $50, Winc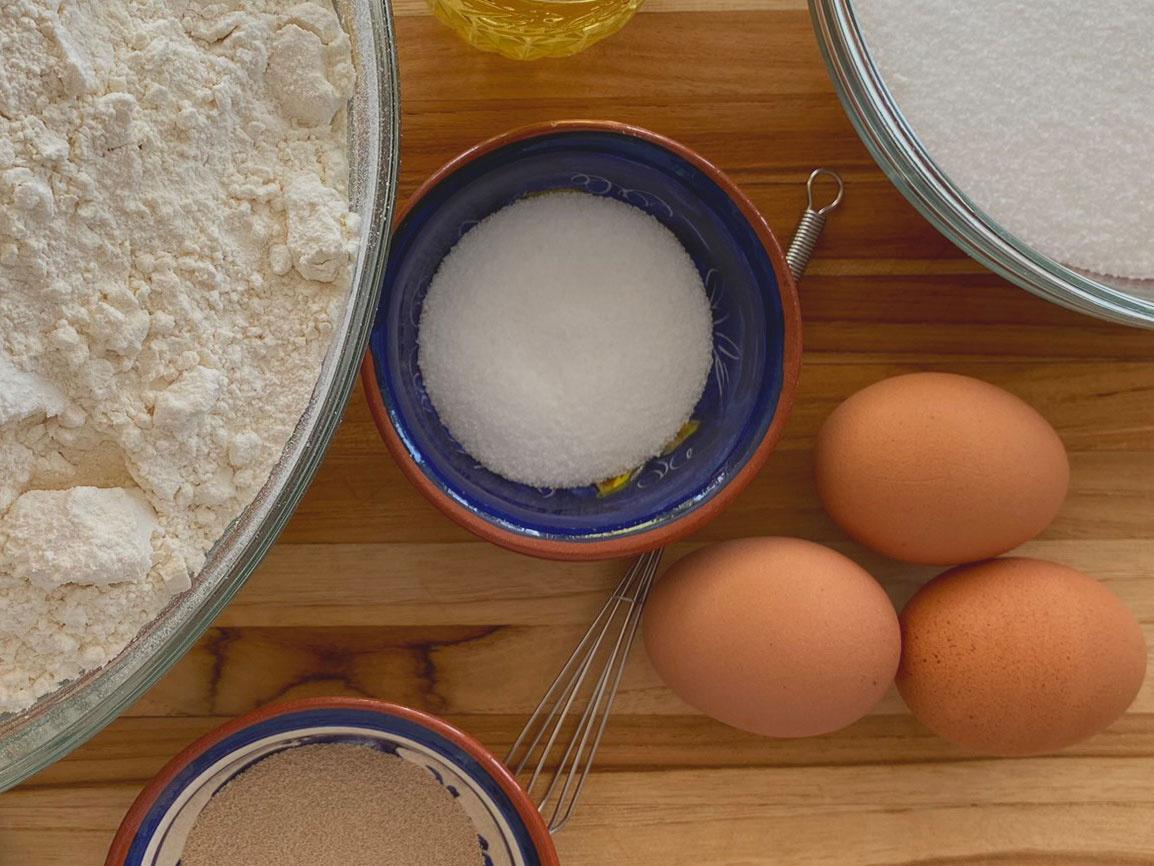 14. DIY Challah Bread
The Challah Box is one of our favorite cooking and dining gifts for couples celebrating Hanukkah. Each box includes all the necessary ingredients (pre-measured for extra convenience) and instructions to make a unique challah recipe (think: mini challah rolls, apple cinnamon challah, and beyond). Gift the couple a one-off box or sign them up for a three- or six-month subscription.
The Challah Box gift subscription, from $45 for a box, The Challah Box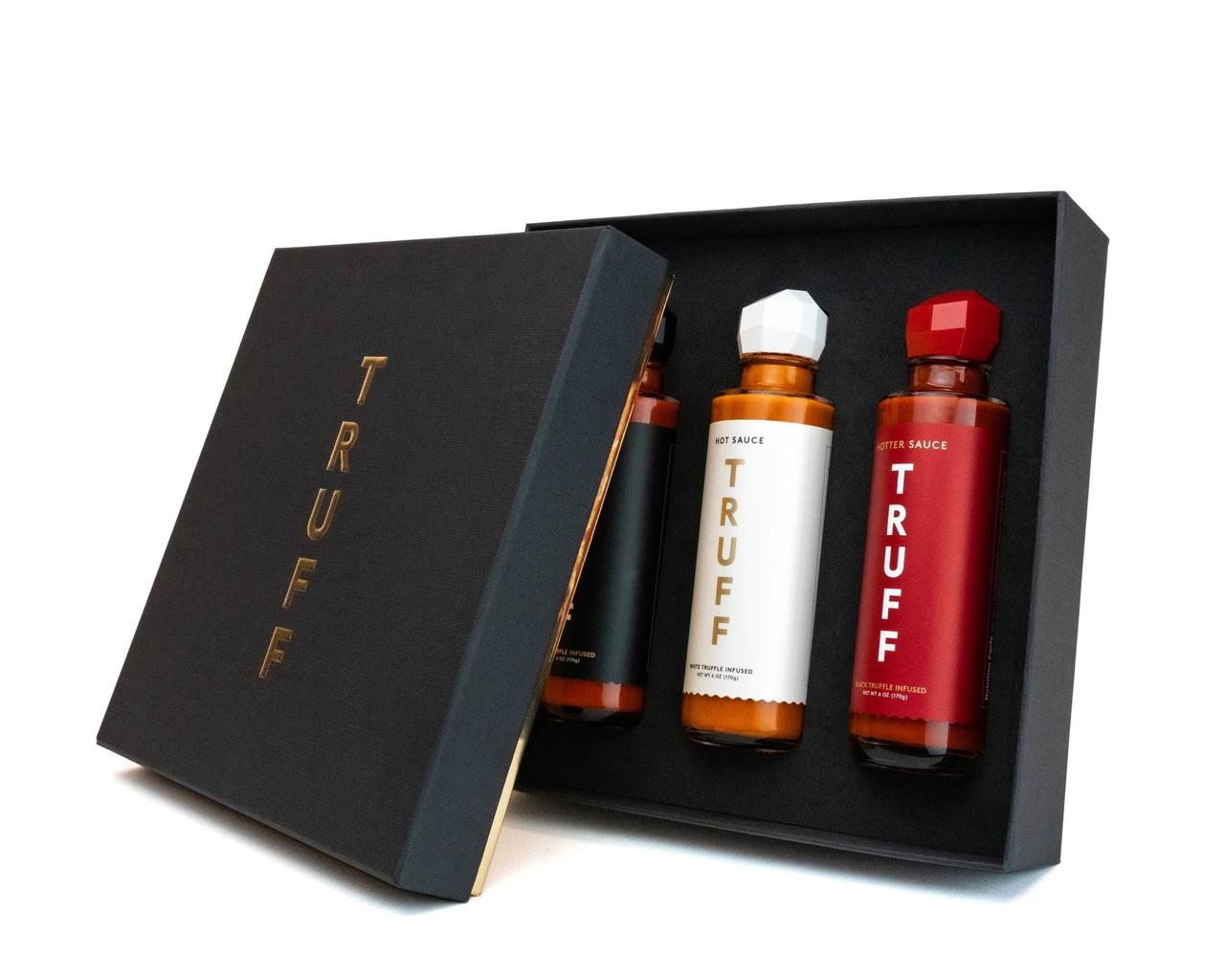 15. Gourmet Hot Sauce
They've never tasted hot sauce like this. Any couple who appreciates a meal with a kick will adoreTRUFF's luxurious truffle-infused hot sauces. Plus, the elegant black and gold packaging will look right at home under a Christmas tree, making it an excellent holiday food gift for couples.
TRUFF variety pack, $70, TRUFF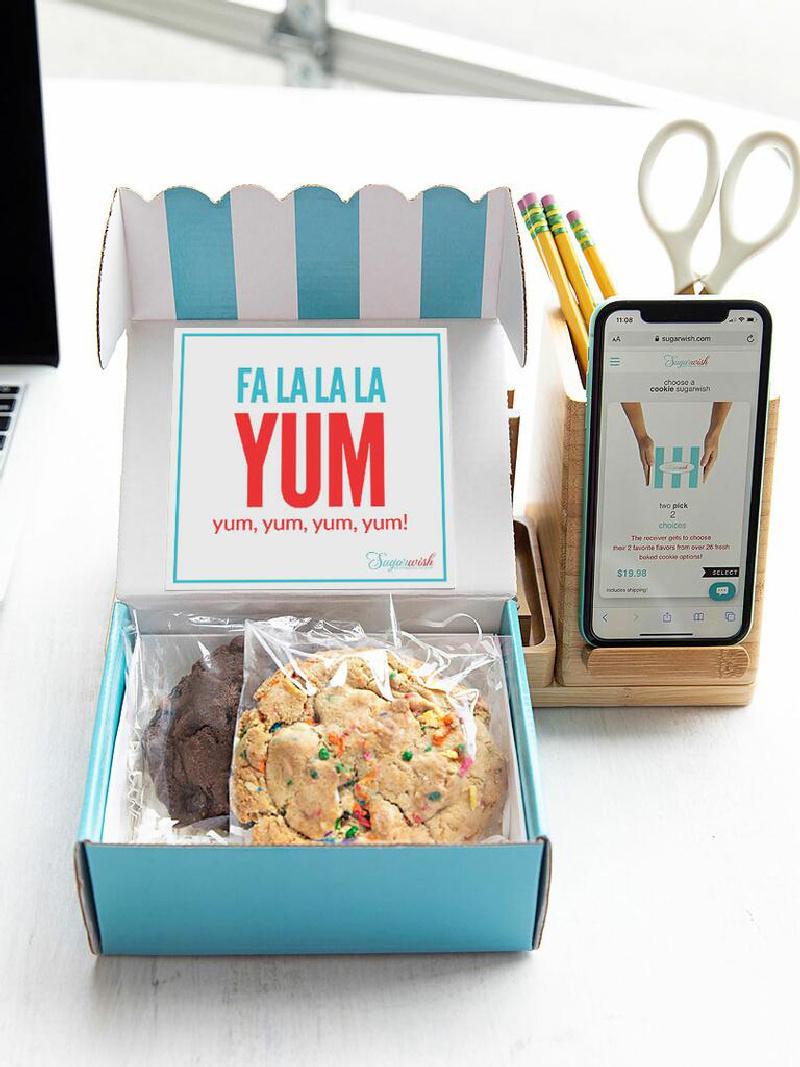 16. Thoughtful Cookie Gift Card
Last-minute gifters rejoice! With Sugarwish, the recipient gets to choose exactly which treats they want delivered. All you need to do is email them the gift card.
Sugarwish cookie delivery, from $22, Sugarwish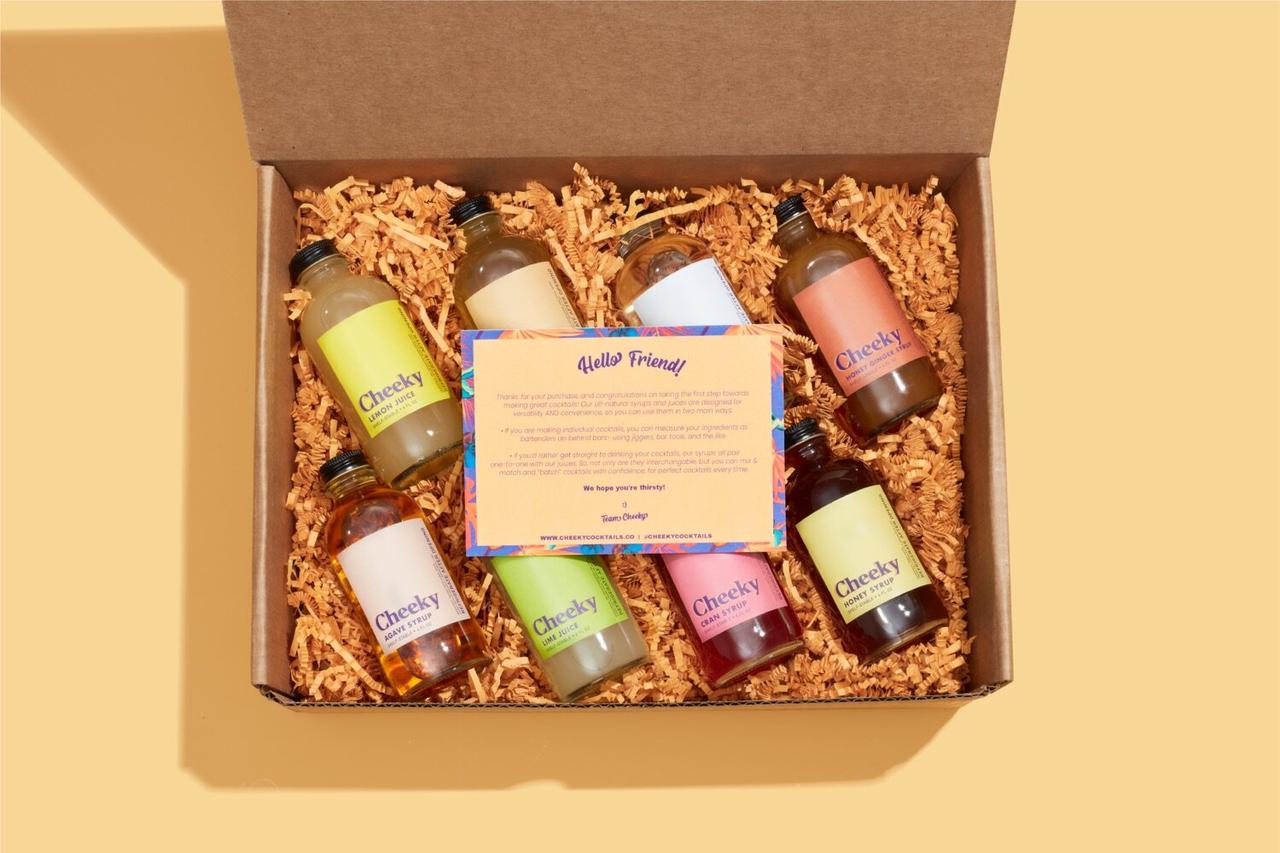 17. Celebratory Cocktail Kit
This cocktail-making set is one of the best drinking gifts for couples who like to celebrate with a signature beverage. It includes a selection of juices and syrups for mixing over 50 different types of cocktails. It's a must for any duo whose bar cart is the heart of their home.
Cheeky Cocktails 8 bottle kit, $60, Cheeky Cocktails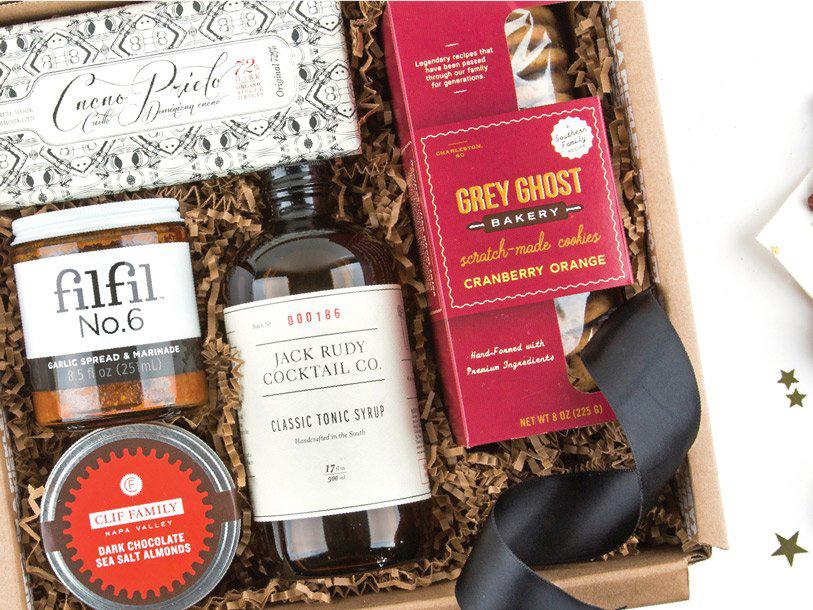 18. A Foodie's Dream Subscription
Mouth is a surefire winner when it comes to foodie gifts for couples. With this one-of-a-kind subscription, they'll receive a selection of unique items to sample each month. Expect to find things like truffle-infused popcorn, cocktail mixers, and bread-and-butter pickles.
Mouth Best of Mouth subscription, from $54 per month, Mouth
19. Creative Ice Cream Collection
Still not sold? We've got plenty more great food gift ideas for couples, like this delicious selection of ice cream inspired by their favorite alcoholic beverages. Flavors include Modern Times' Nola Coffee Stout, Breakside Brewery's Half & Half Crunch, and Wynwood Brewing Mango Habanero IPA Sorbet.
Salt & Straw Cold Ones pack, $98, Salt & Straw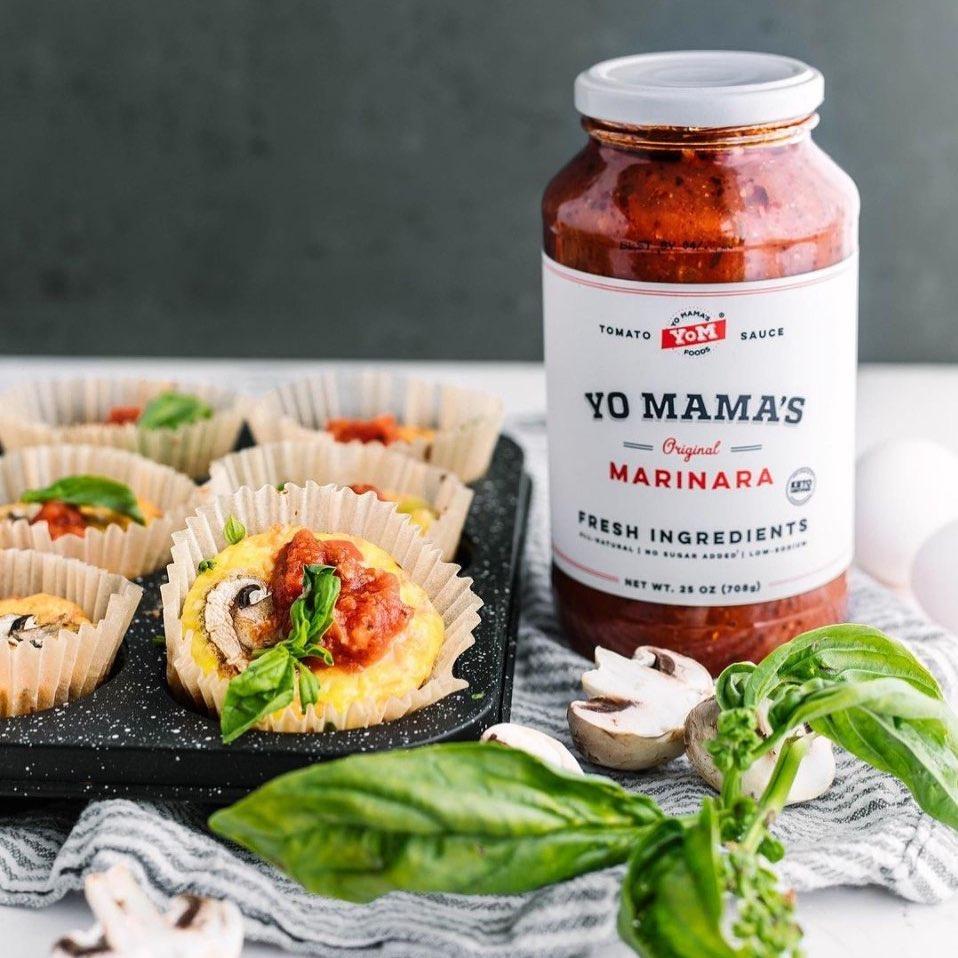 20. Small-Batch Marinara Sauces
A selection of homemade Italian sauces is the perfect food gift for couples who love to recreate classic dishes at home. Each unique flavor is made from premium Italian olive oil and fresh basil, garlic, and onions.
Yo Mama's Foods fresh sauce collection, from $38, Yo Mama's Foods
21. Food From Around the World
For the couple with major wanderlust, bring the excitement of travel to them with a subscription box chock-full of delicious goodies from around the globe. Past examples include tapas from Spain, Korean seaweed, and dried fruit from Ecuador.
Try The World gift subscription, from $29, Try The World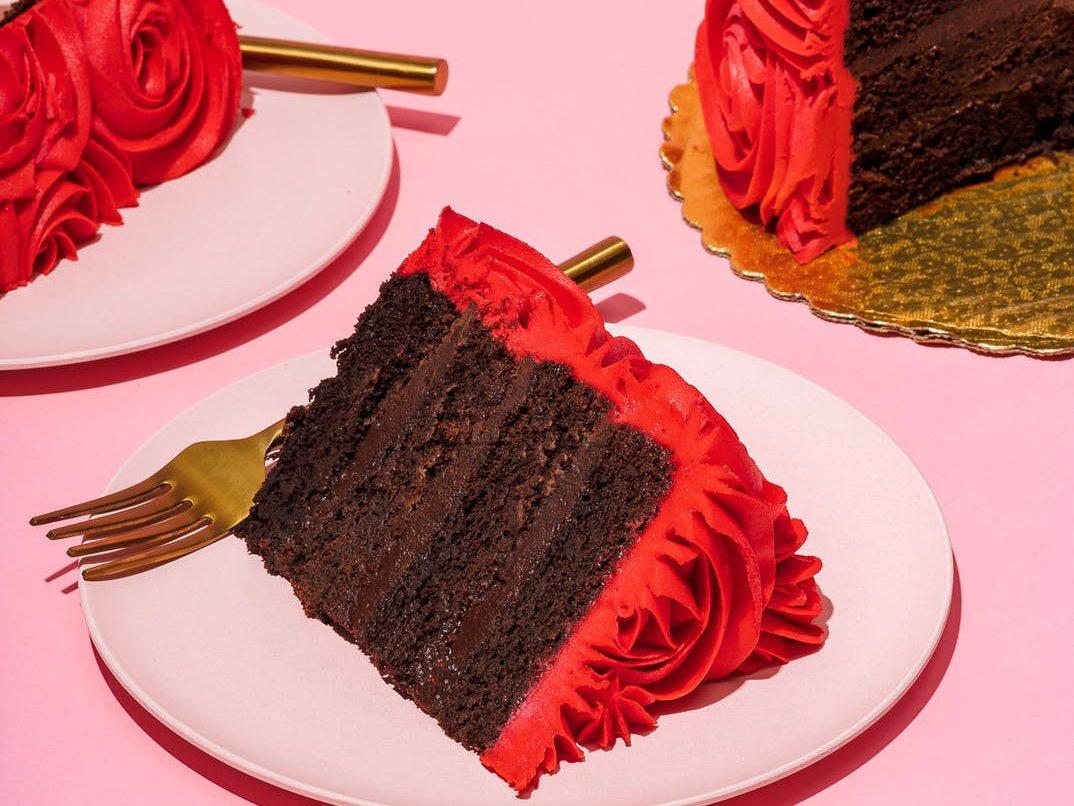 22. Romantic Rose-Themed Cake
Searching for a unique wedding gift for foodies? Or maybe you're on the lookout for an edible anniversary gift? Whatever the occasion, this rich chocolate cake is just the ticket. Layers of rich chocolate cake and chocolate cream cheese frosting make up the inside, finished with vibrant red buttercream iced in the romantic form of roses. Just imagine how amazing it would look as the centerpiece of their dinner table.
We Take the Cake red rose chocolate cake, $79, Goldbelly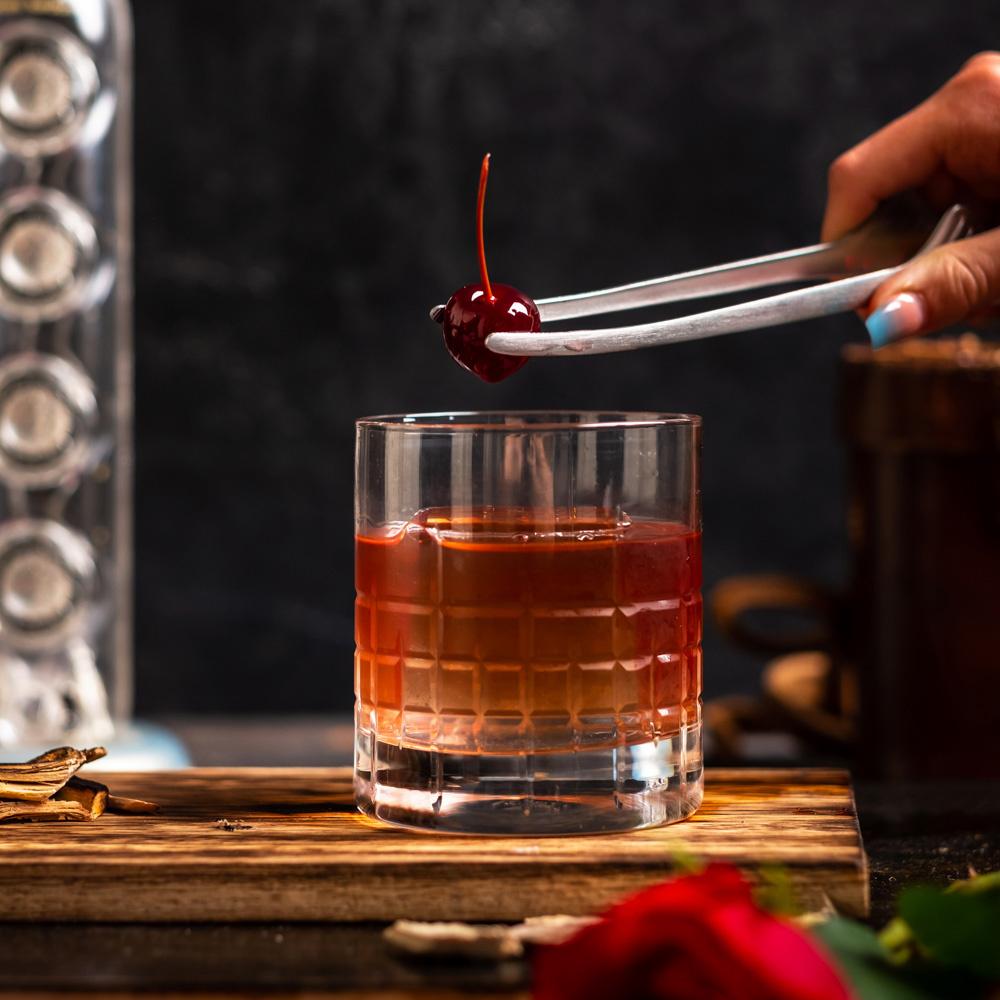 23. A Hands-On Cocktail Subscription
Does the couple love making their own cocktails? If so, they'll really appreciate a subscription to Shaker & Spoon. Each month, they'll receive a box of goodies for making tasty craft cocktails from the comfort of their home. Each box is curated around a specific type of liquor. All they have to do is pick up a bottle and they're good to go. Looking for a one-off gift box? You can do that too.
Shaker & Spoon gift subscription, from $50 for 1 month, Shaker & Spoon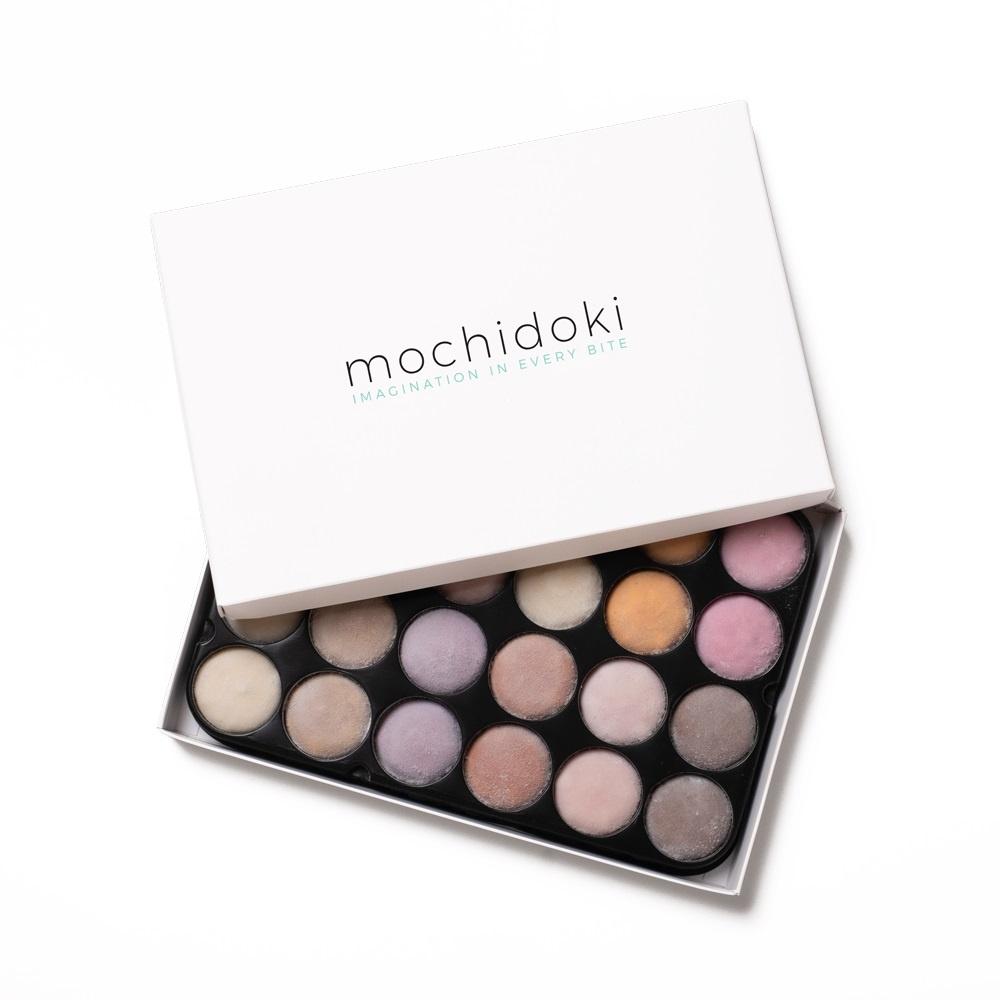 24. Mochi They'll Want More Of
Next on our list of gift ideas for people who love food: this seriously fancy selection of mochi. Mochidoki's mochi ice cream is super giftable, thanks to the unique selection of flavors and sleek presentation. There are 12 different flavors in the box including three vegan options. Bonus: There's two of each flavor, so they won't have to fight over their favorites.
Mochidoki signature collection, $70, Mochidoki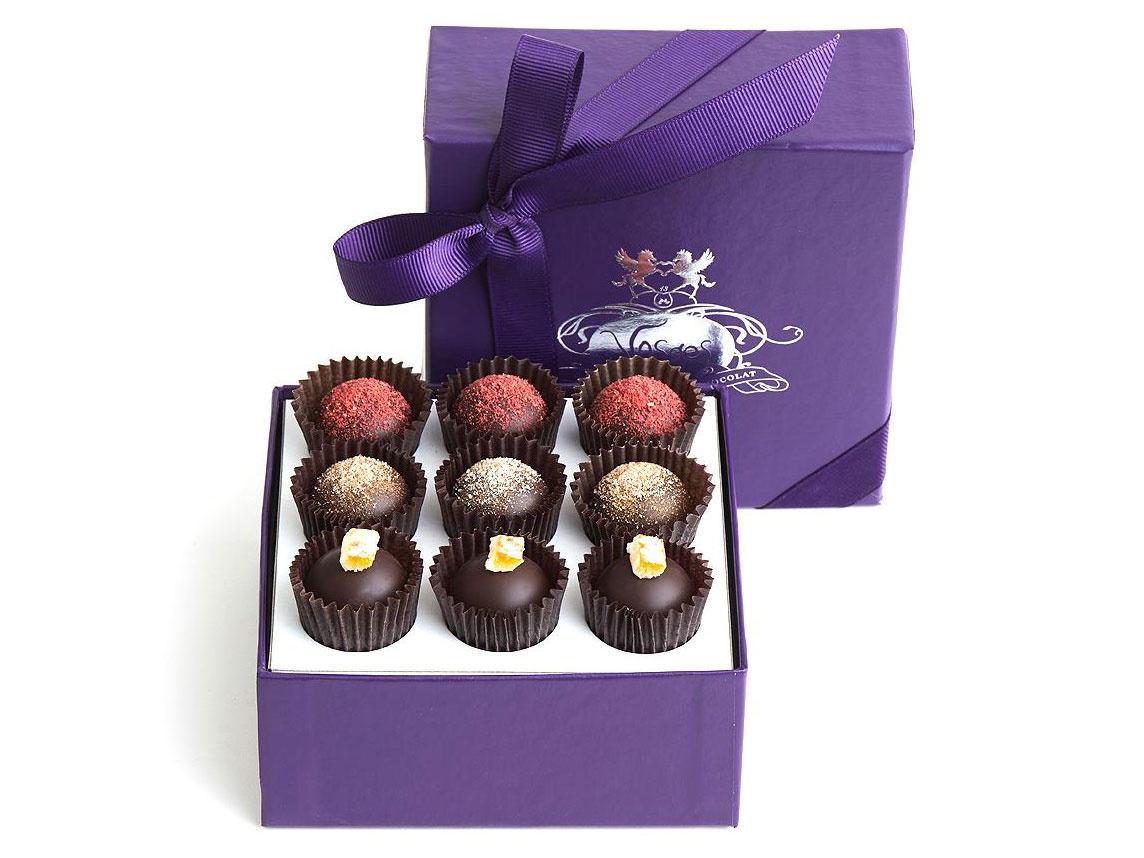 25. Luxury Vegan Chocolates
Vegan chocolates? Yes, please. Vosges are known for their tasty truffles, and the vegan variation does not disappoint. They're a lovely token of appreciation or congratulations, making them a sweet holiday or anniversary food gift to give your favorite couple.
Vosges Chocolate vegan truffle collection, $34, Vosges Truffles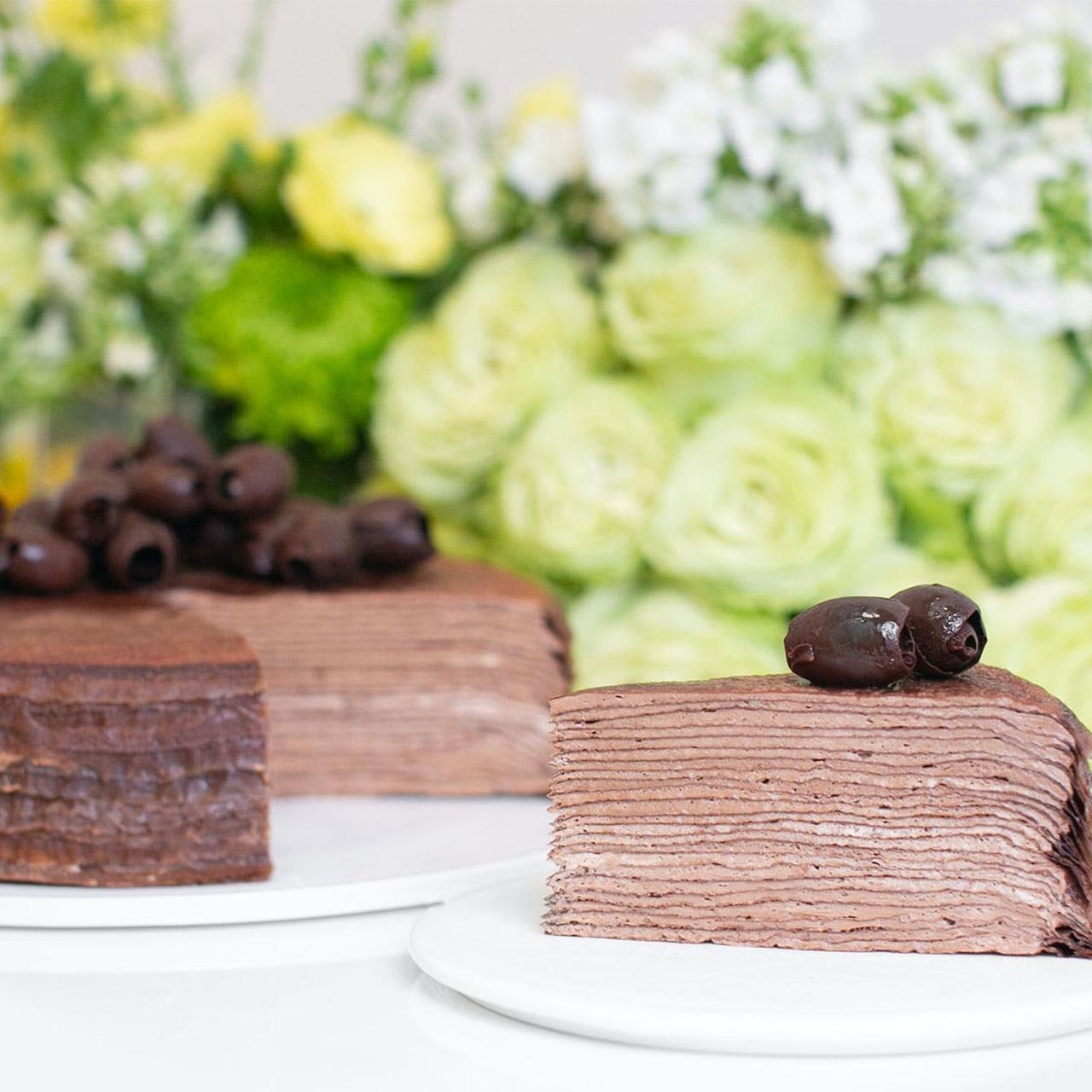 26. Artisanal Crepe Cake
We'd wager they'd be happy to receive any kind of cake, but a mille crepe cake makes an extra-unique statement. This tasty creation by the iconic Lady M contains at least 20 wafer-thin chocolate crepes topped with smooth chocolate pastry cream. Decorative chocolate curls add a dramatic finishing touch.
Lady M Confections chocolate mille crepes cake, $95, Goldbelly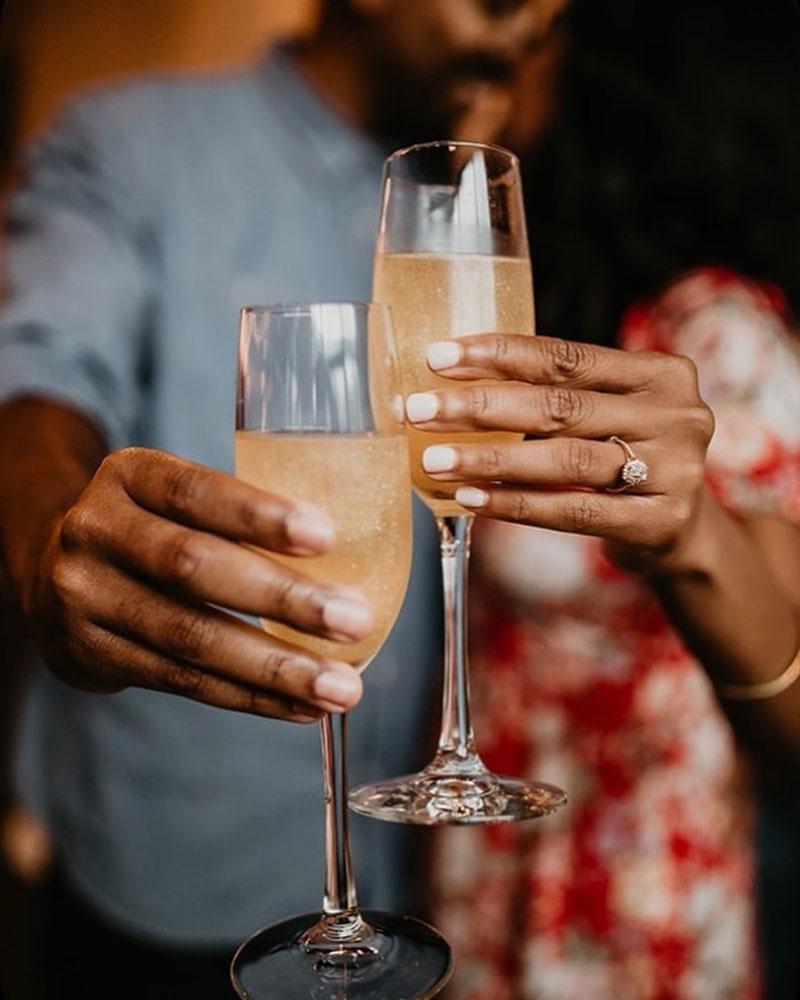 27. TikTok-Famous Cotton Candy
Who knew cotton candy could be so cool? This TikTok-famous treat is meant to be placed in liquid (hello, champagne), which will cause it to dissolve for a big reveal: sparkly edible glitter. Trust us, the only thing better than a glass of bubbly is a glass of gold, glittery bubbly. The couple can toast to whatever it is they're celebrating with this romantic food-themed gift.
Art of Sucre Sucre Shimmer gold glitter bombs, $20 for a pack of 4, Art of Sucre
28. Luxury Hot Chocolate
A gift that the couple can drink is also a nice gesture, especially if it's a gourmet version of something they already love. This delicious hot cocoa will seriously elevate their next cozy evenings on the couch. It includes three in-house blends, including Holiday Spices, Peppermint, and Hot Smoky.
Vesta Chocolate Hot Chocolate Luxe, $45, Vesta Chocolate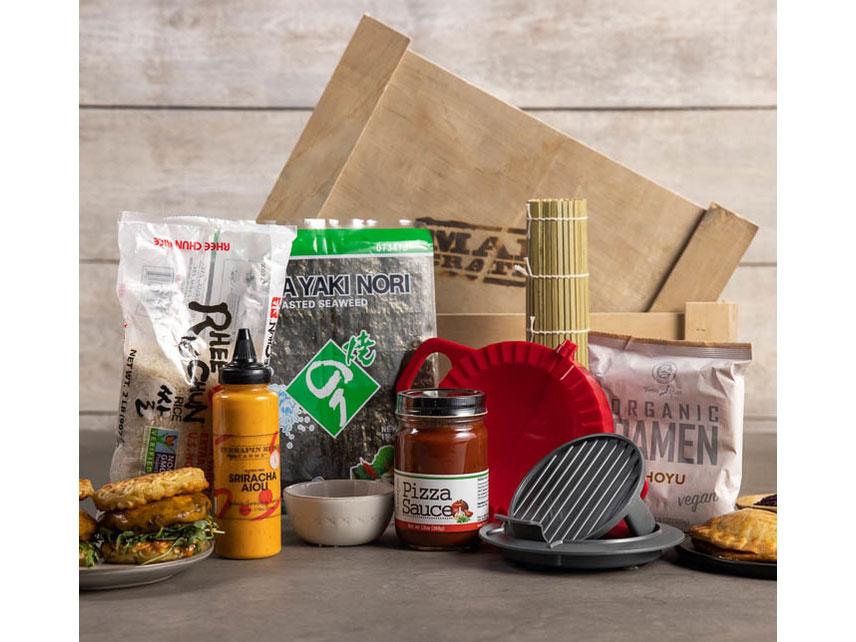 29. A Crate of Fusion Flavors
Shopping for a couple who love to mix it up in the kitchen? If experimenting with flavors from around the world is their bread and butter, they'll enjoy this crate full of amazing fusion cuisine. It includes ingredients for making pizza empanadas, sushi burritos, and ramen burgers.
Man Crates Flavor Fusion food crate, $80, Man Crates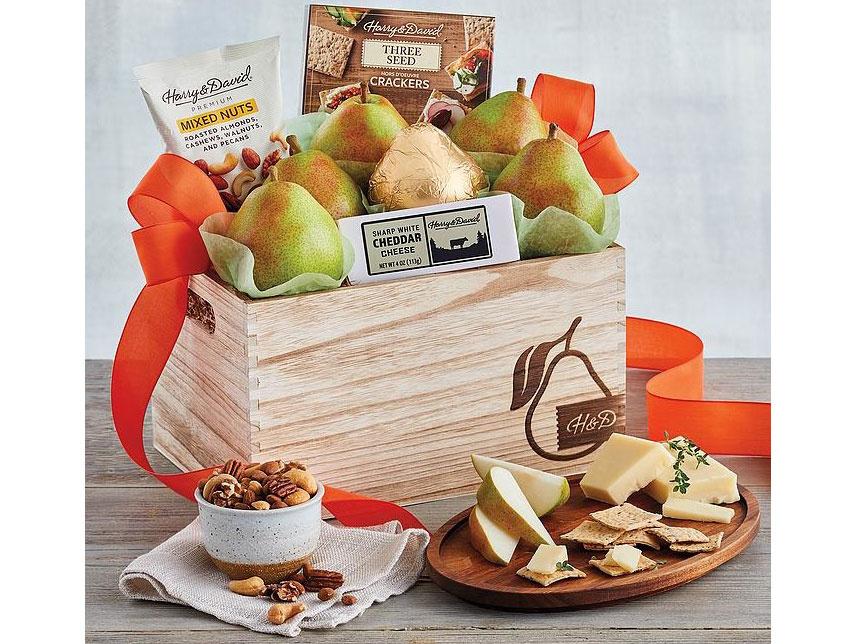 30. Extra-Fancy Food Basket
A gourmet food basket is a great gift for any occasion, from Christmas food gifts for couples to presents for Chinese New Year. This one is filled with savory treats including pears, mixed nuts, cheese, and crackers. If you're feeling extra generous, you can add a nice bottle of wine to the mix.
Harry & David classic signature gift basket, $50, Harry & David