32 Creative and Cute Anniversary Gift Ideas for Your Boyfriend
Looking for some unique anniversary gift ideas for your boyfriend? We've got some great suggestions, whether you're celebrating a few months together or a few years.
We have included third party products to help you navigate and enjoy life's biggest moments. Purchases made through links on this page may earn us a commission.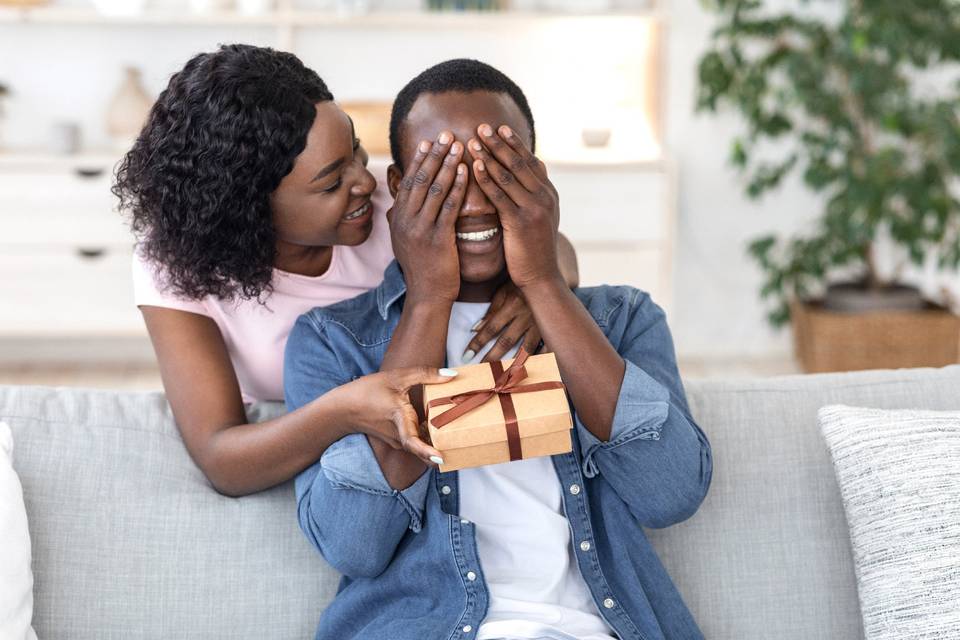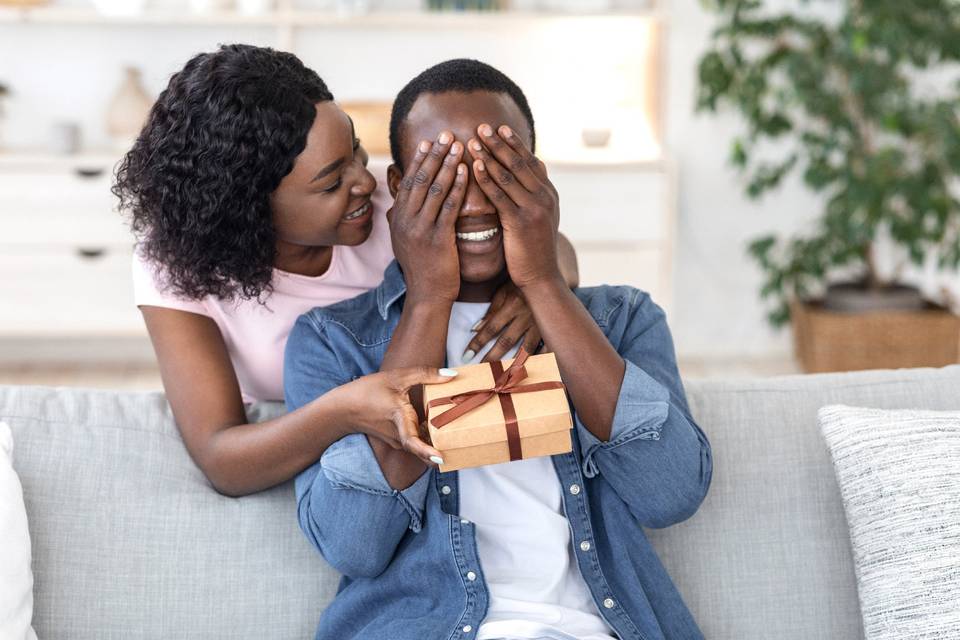 Buying an anniversary gift for your S.O. is a lovely way to let them know just how much you appreciate them. Plus, celebrating dating milestones is a fun opportunity to look back on some of your favorite moments together. Searching for some cute anniversary gift ideas for your boyfriend to let them know how you feel? These romantic picks are the perfect way to do just that. Whether you're celebrating months or years together, we've got tons of great ideas, from sentimental keepsakes they'll treasure forever to practical presents they can use on the regular. The best part? You can have it all delivered right to their door.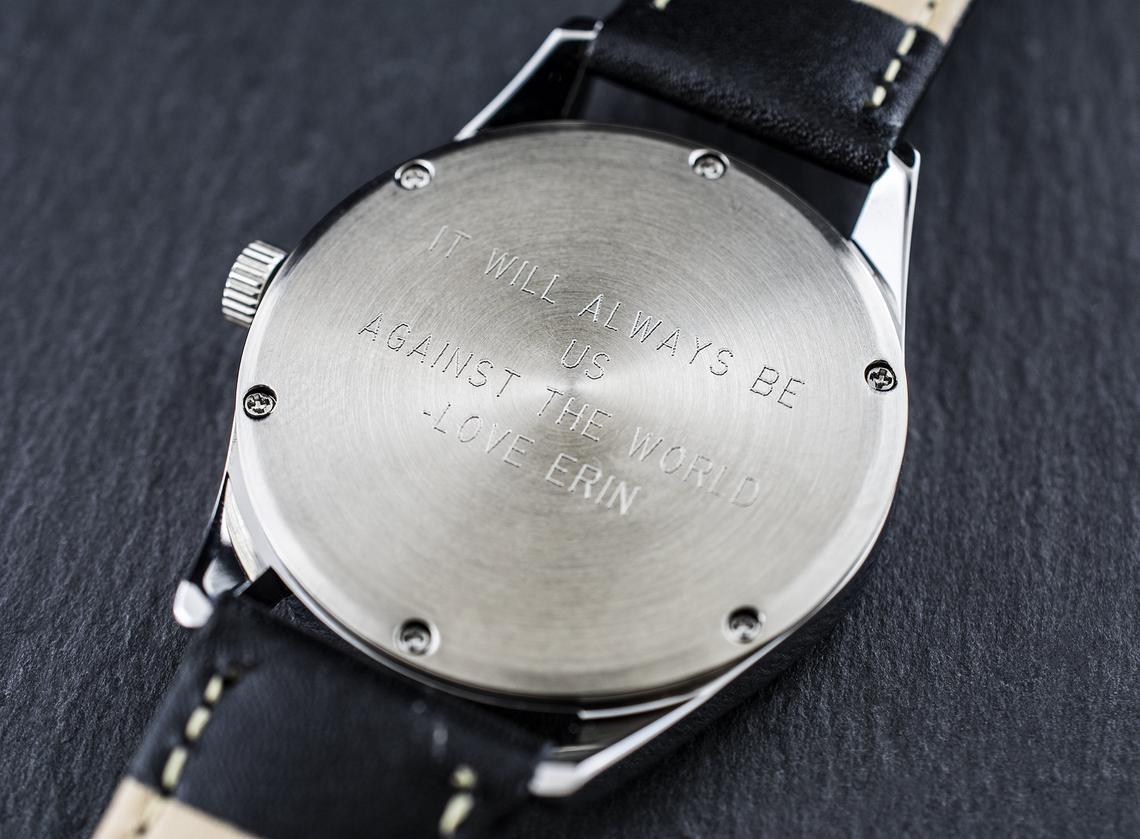 1. Engraved Watch
Watches are a popular anniversary (and engagement!) gift, and you can't go wrong with a minimalist leather-strap option like this. Bonus: The back can be engraved with a meaningful message to your S.O. in honor of this special occasion.
Windsor Watches engraved watch gift, $128, Etsy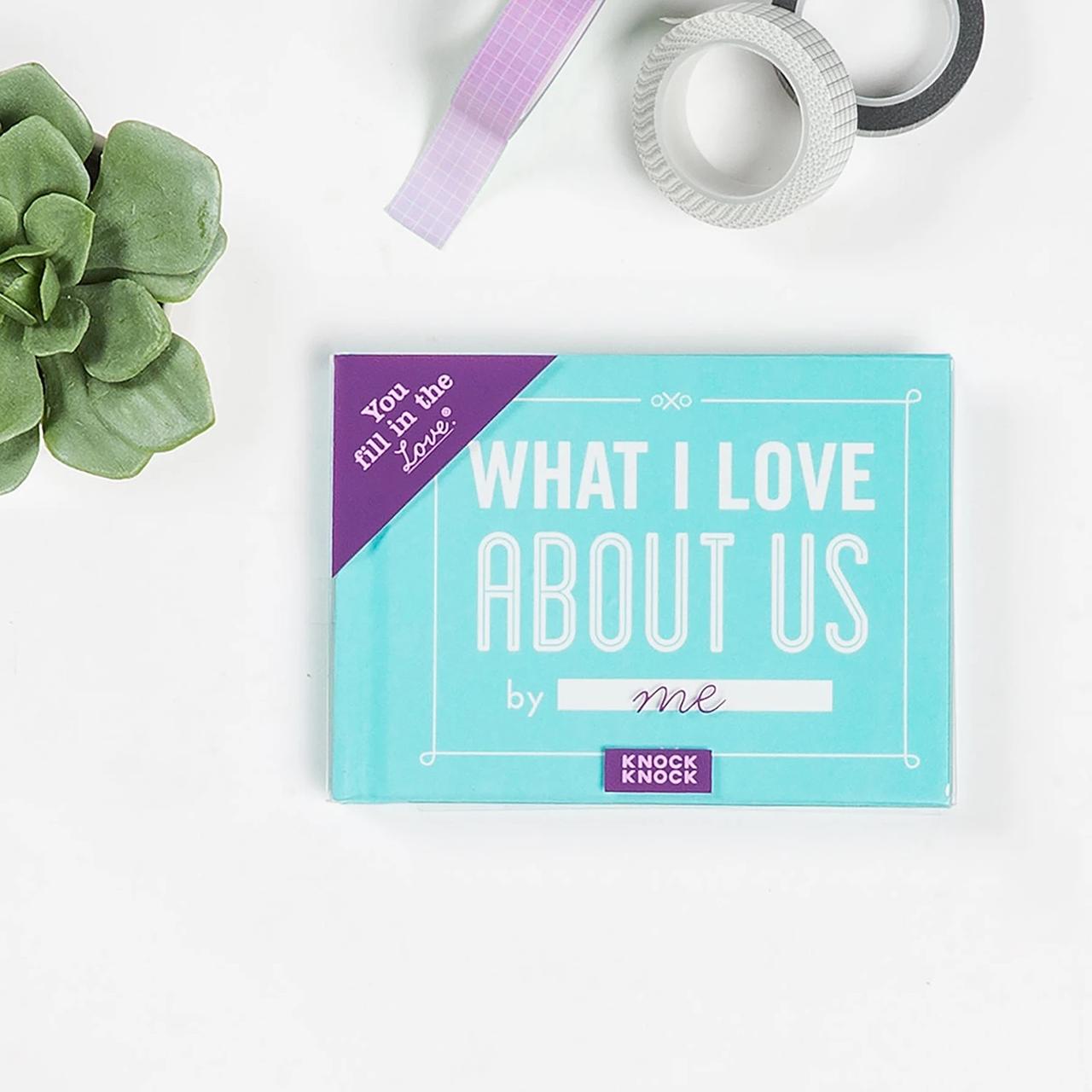 2. Sentimental Book
Celebrate your awesome relationship with this fill-in-the-blanks book titled What I Love About Us. It's one of our favorite anniversary gift ideas for any boyfriend.
Knock Knock What I Love About Us Fill in the Love book, $10, Knock Knock Stuff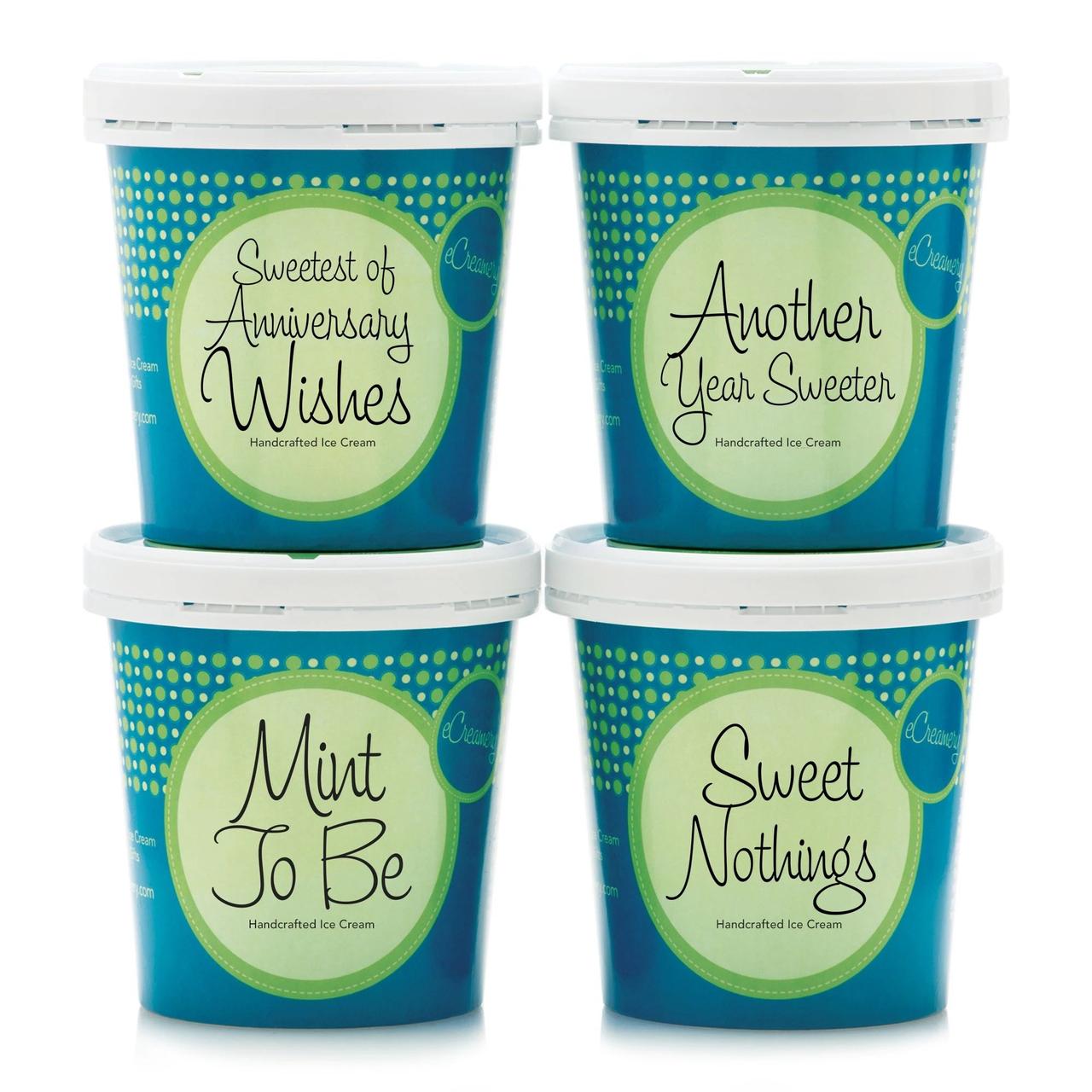 3. Anniversary Ice Cream
Okay, but seriously, who doesn't love ice cream? Treat your other half to a gift set of four delicious flavors in these on-theme tubs with fun titles like "Another Year Sweeter" and "Mint to Be."
eCreamery anniversary premium collection, $70, eCreamery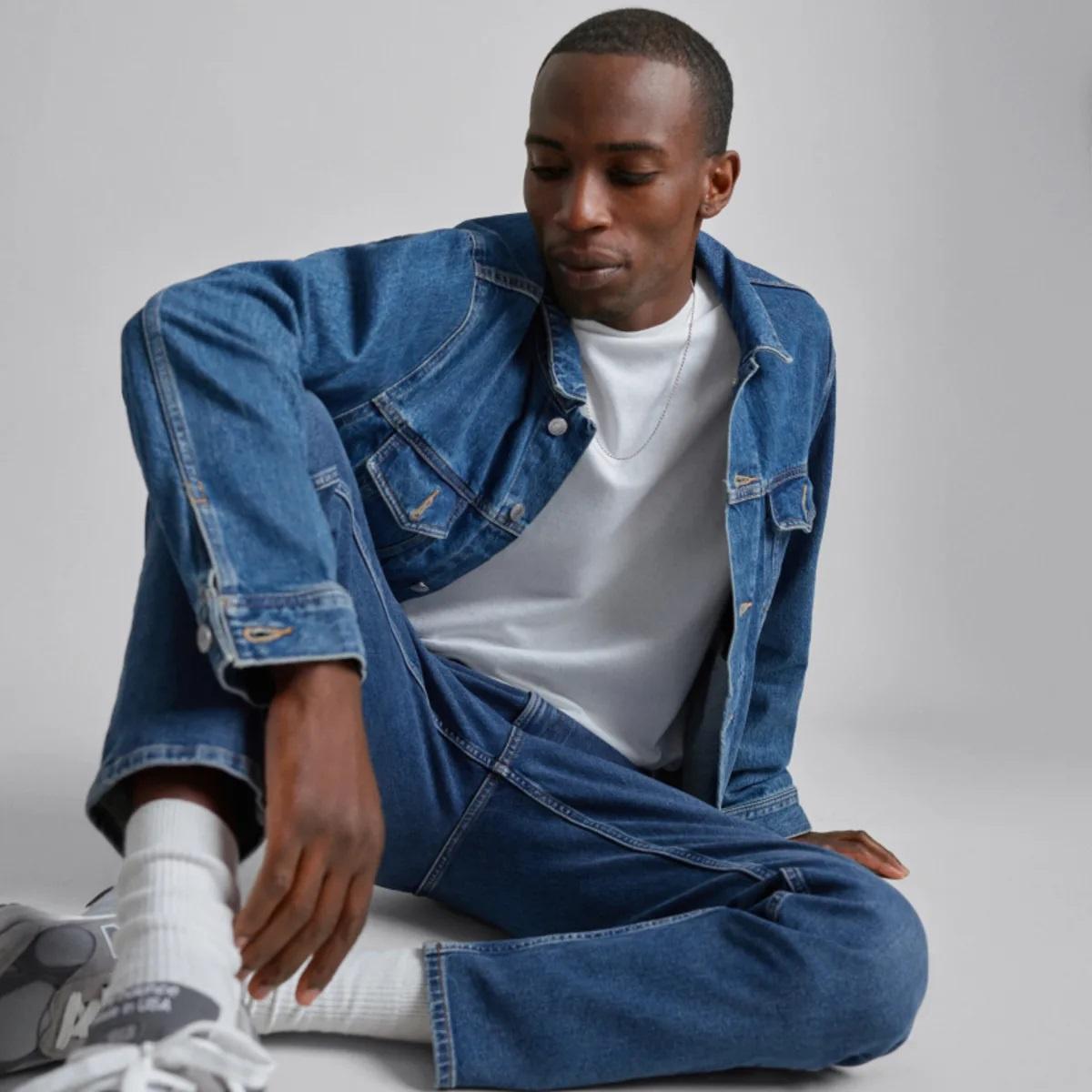 4. On-Trend Jacket
Personalized anniversary gifts for your boyfriend are great, but that's not to say practical presents can't be even better—it all comes down to who you're shopping for. This versatile jean jacket will go with pretty much anything, and it's been wash-tested 50 times, so it's easy to take care of.
Everlane The Denim Jacket, $98, Everlane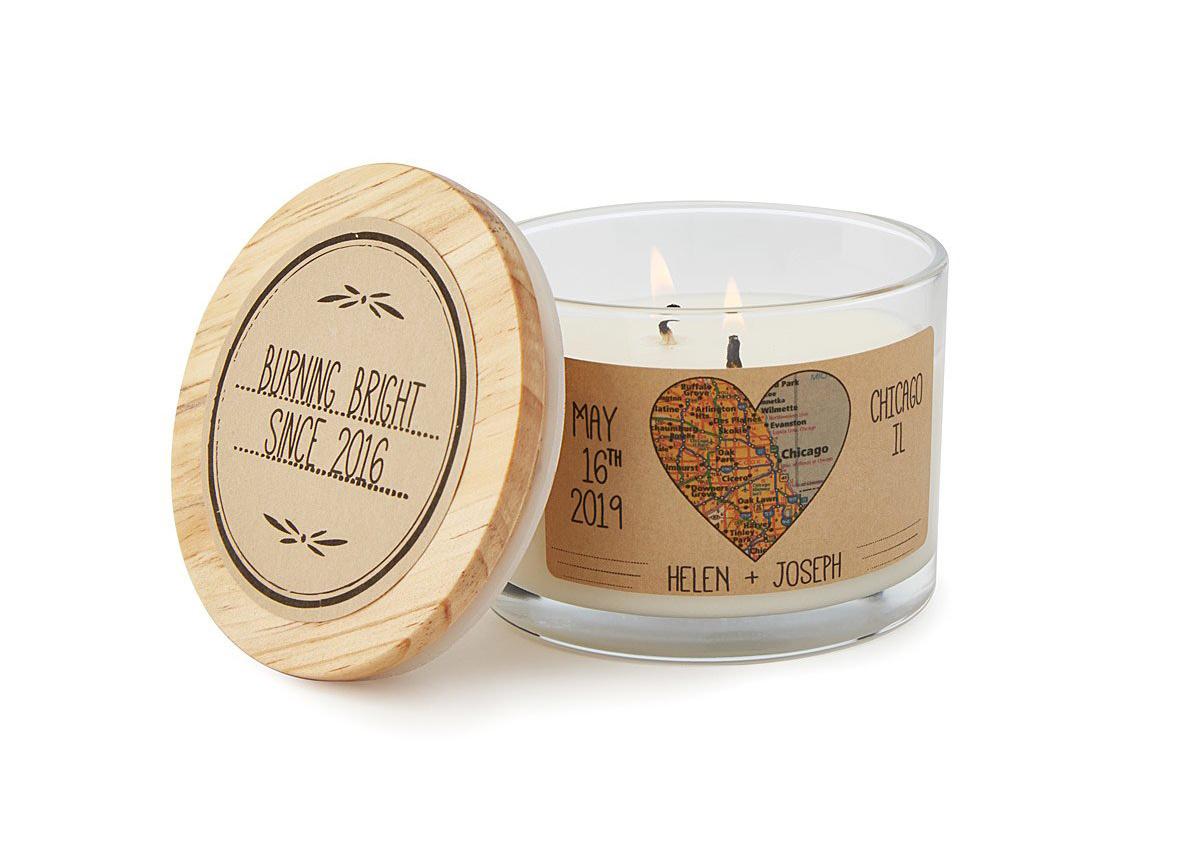 5. Commemorative Candle
Personalized with your names, anniversary date, and a location of your choice, this champagne-scented candle will instantly let your significant other know how much you burn for them.
Sandrine Froehle anniversary map candle, $45, Uncommon Goods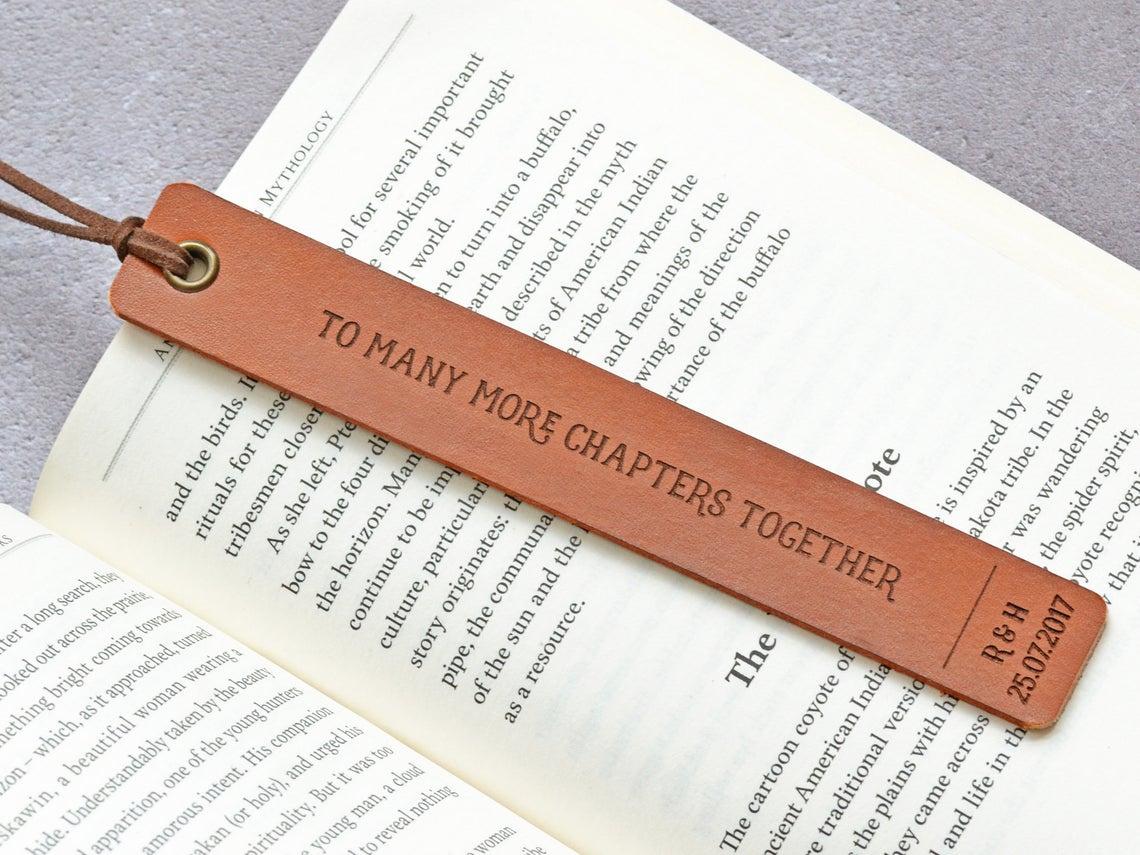 6. Sentimental Bookmark
If your boyfriend is an avid reader, go with anniversary gifts for him that reflect his interests. A stunning Italian leather bookmark engraved with the phrase "to many more chapters together" will give him all the feels.
Showstopper Supplies leather bookmark personalized gift for boyfriend, $31, Etsy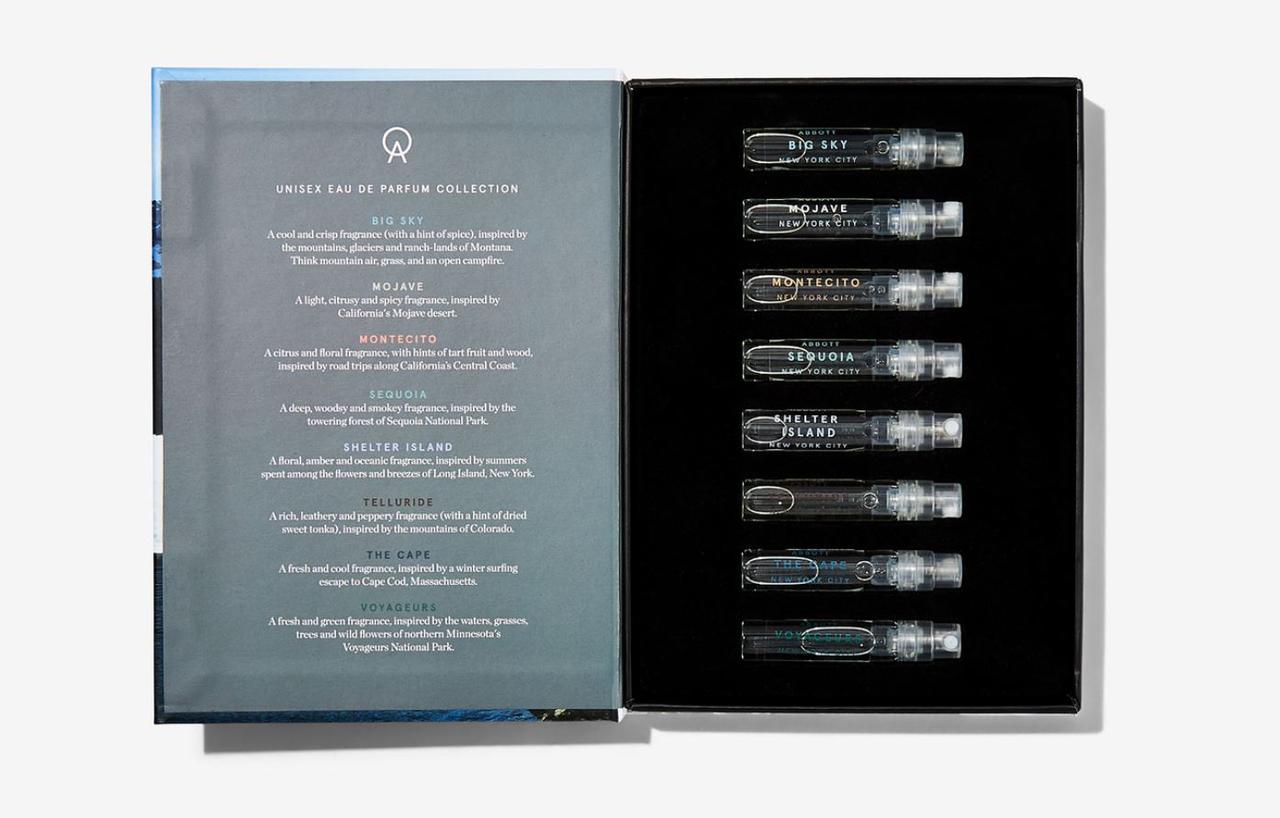 7. Nature-Inspired Cologne
Whether they love the outdoors or just appreciate good cologne, a gift box of eight nature-inspired scents is sure to please.
Abbott Exploration cologne sampler set, $28, Bespoke Post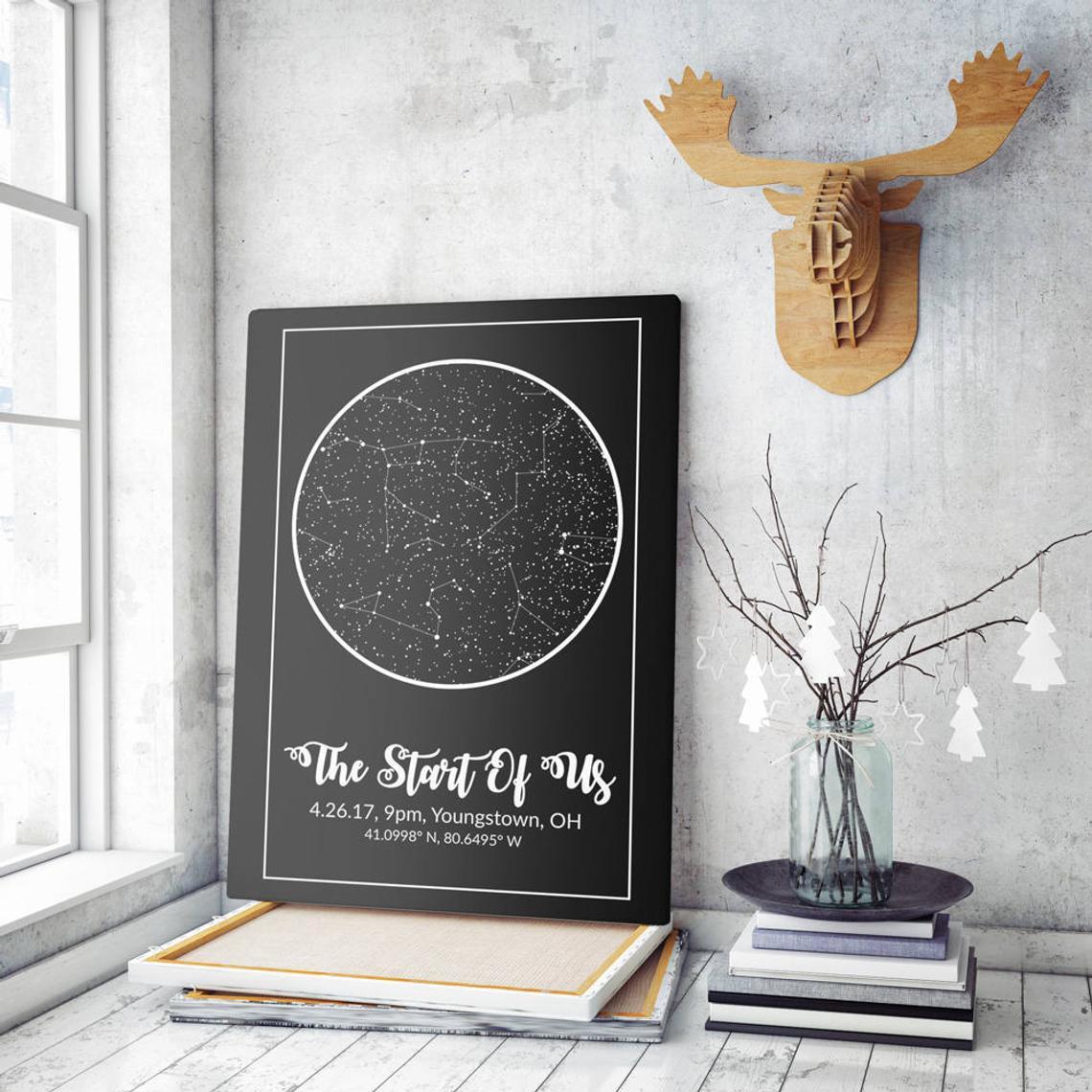 8. Custom Star Map
There are so many cute anniversary gifts for your boyfriend out there, but this custom map of the night sky has to be one of our favorites. It's a snapshot of the stars from a time and place of your choice (think: where you had your first date or shared your first kiss).
Modern Map Art anniversary gift for boyfriend, from $25, Etsy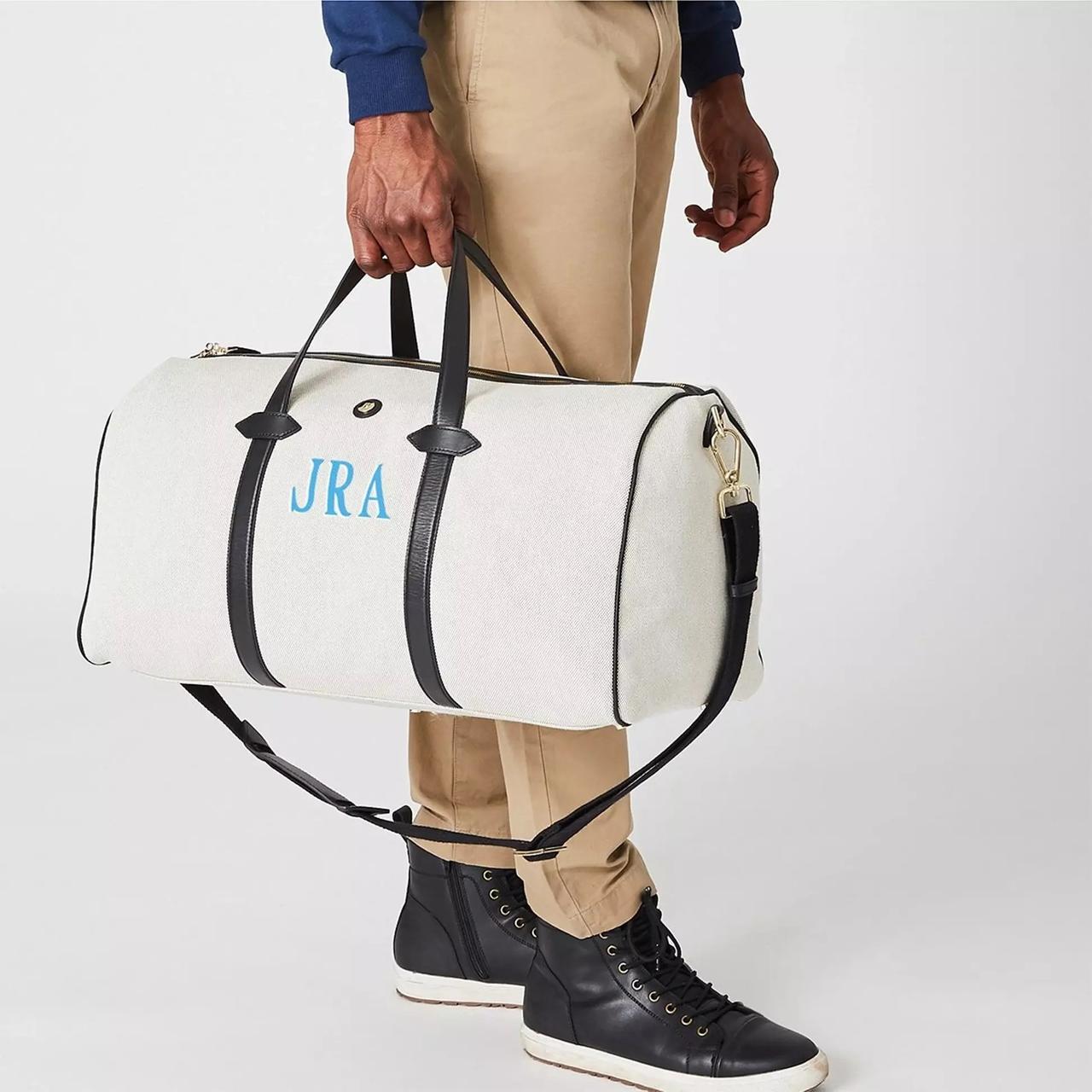 9. Stylish Duffel
Everyone needs a good duffel bag. If your boyfriend travels a lot to see you (or you're planning a surprise weekend away together), why not treat him to this stylish weekender personalized with his monogram? It's lightweight, spacious, and sustainably produced.
Paravel Main Line duffel, from $285, Paravel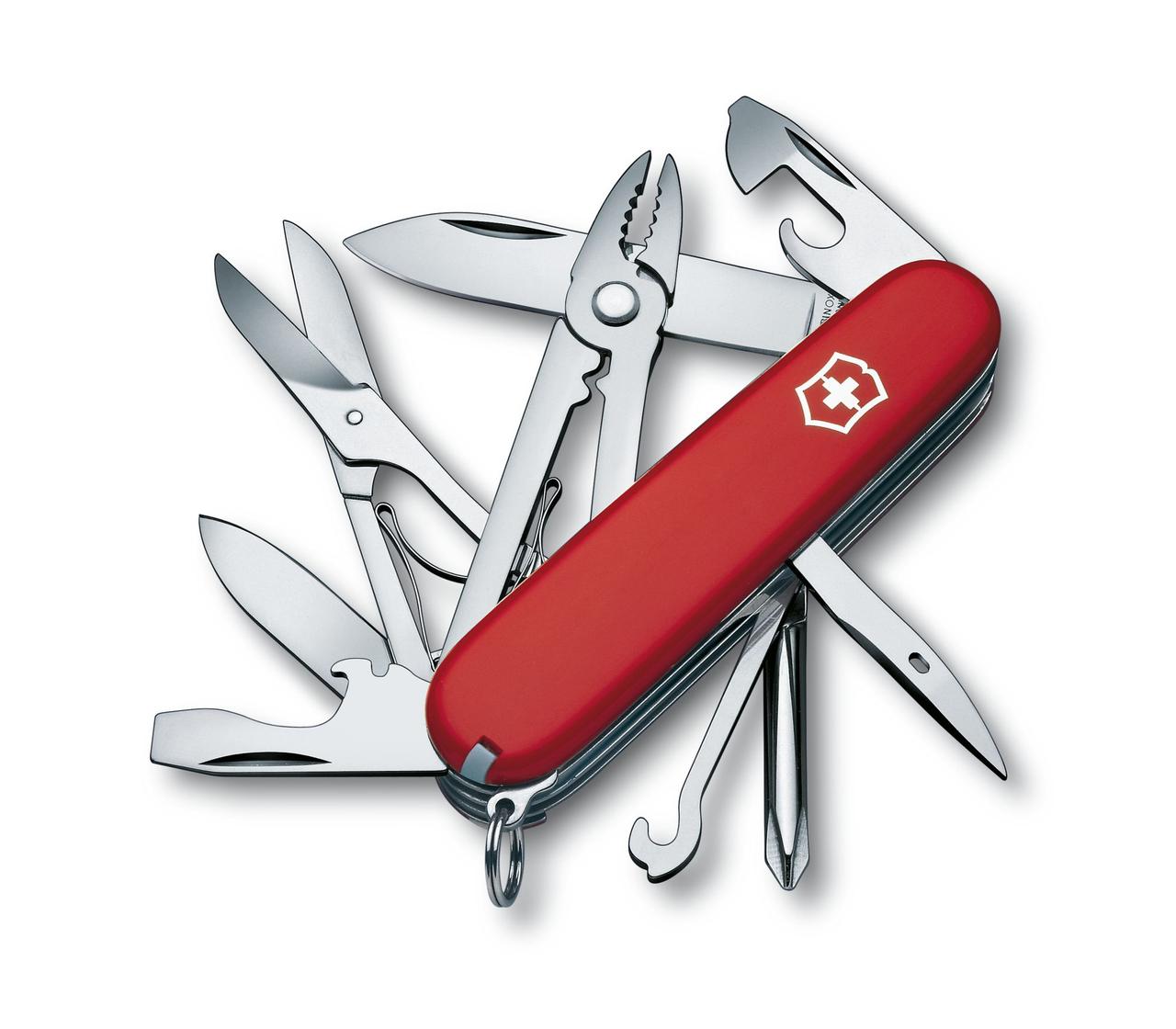 10. Engraved Swiss Army Knife
If your S.O. is a little more serious than sentimental, don't worry. We've got lots of cool anniversary gift ideas for every kind of boyfriend. A chic Swiss army knife is undeniably useful. Have it engraved with a sweet, personal message to make it an even more special gift.
Victorinox Swiss Army Deluxe Tinker knife, from $51, Victorinox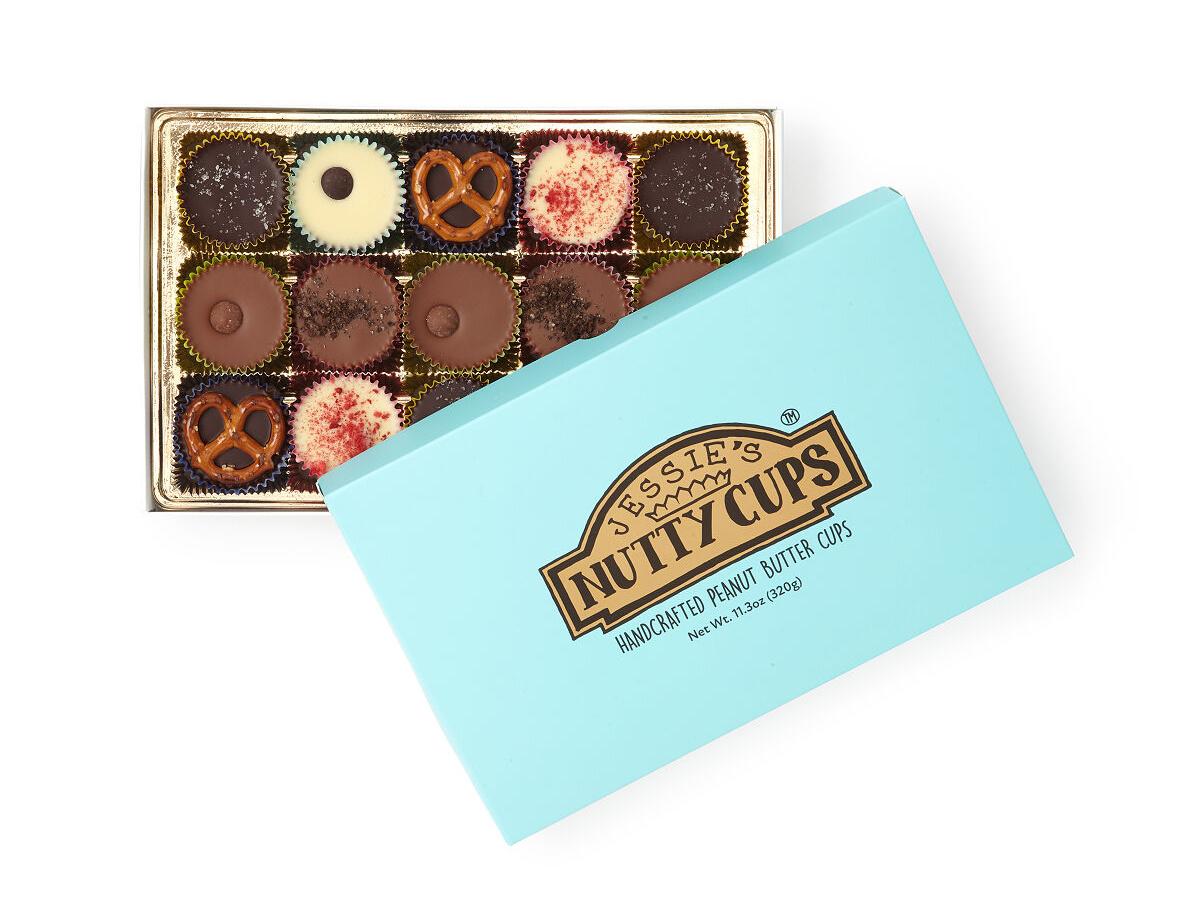 11. Handcrafted Chocolates
Shopping for a guy with a sweet tooth? Nothing says "I love you" like a tasty box of chocolates. These gourmet peanut butter cups come in a selection of delicious flavors, from Oreo to PB&J—just don't forget to remind him that sharing is caring!
Jessica Taige gourmet peanut butter cups, $30, Uncommon Goods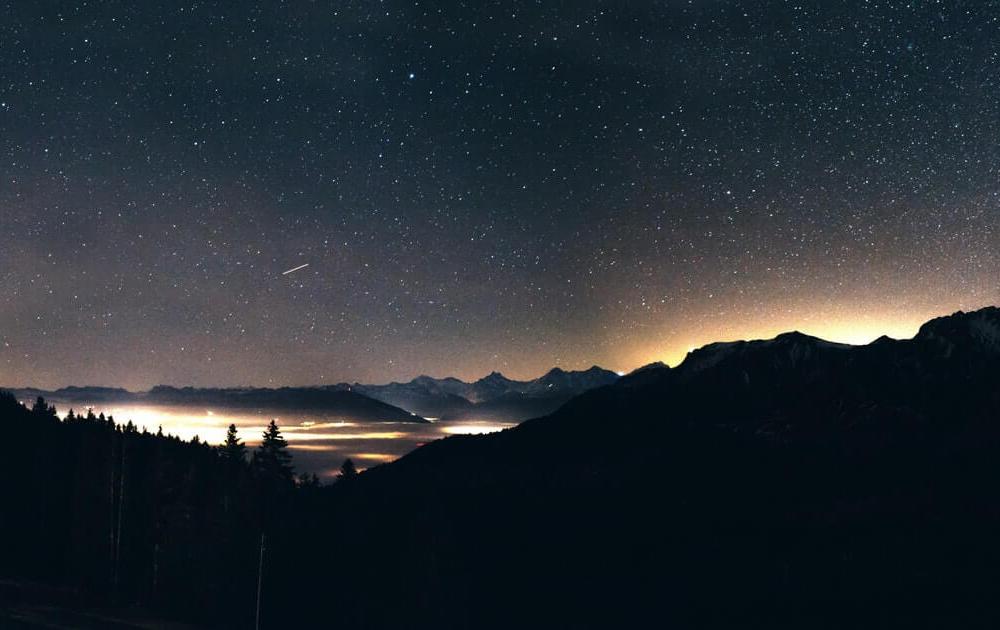 12. Registered Star
If you're looking for something truly unexpected, we've got you. Show your boo you love them to the moon and back by buying them an actual star in the sky. Can you think of a more romantic gift?
Star Registration Buy a Star, from $40, Star Registration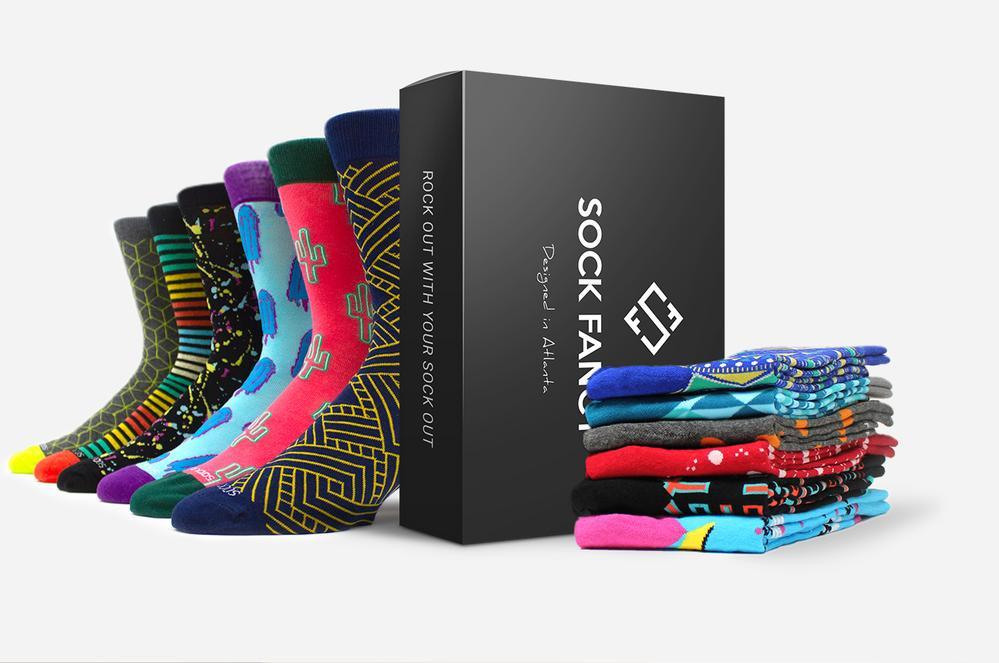 13. Sock Subscription
Whether they love upstyling their outfit with some colorful socks or they're always running out of matching pairs, a monthly sock subscription is a great idea. It's a funny anniversary gift for your boyfriend that he'll 100% appreciate.
Sock Fancy sock subscription, from $57 for 3 months, Sock Fancy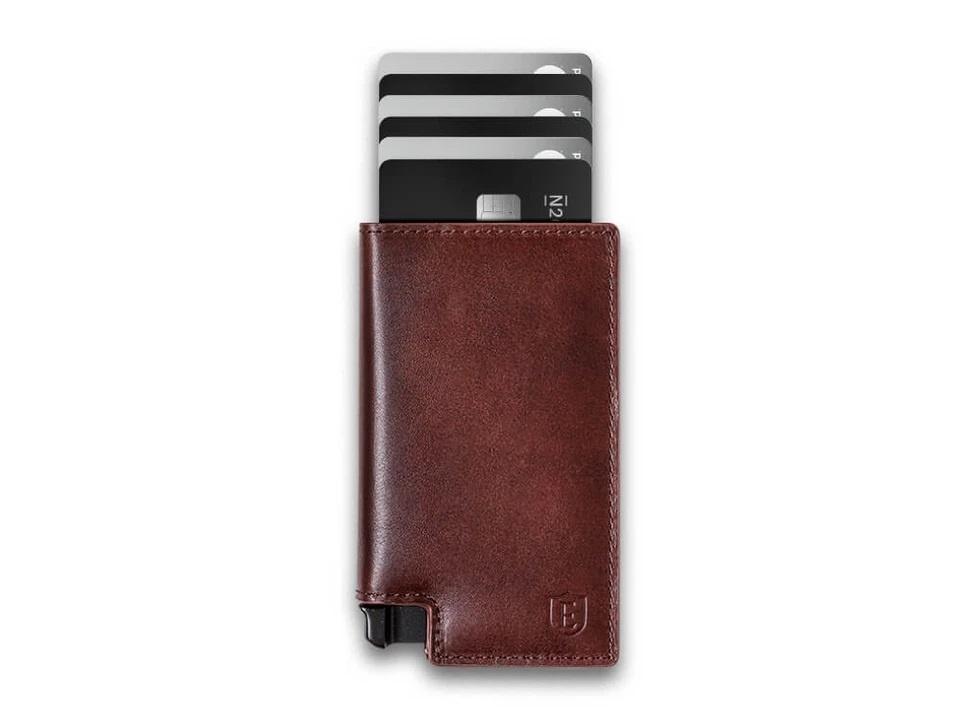 14. Smart Wallet
When it comes to finding the perfect gift for a guy, wallets can sometimes be overdone—but not this one. We love everything about this sleek accessory, from the premium leather material to the clever ejectable cardholder.
Ekster Parliament wallet, $89, Ekster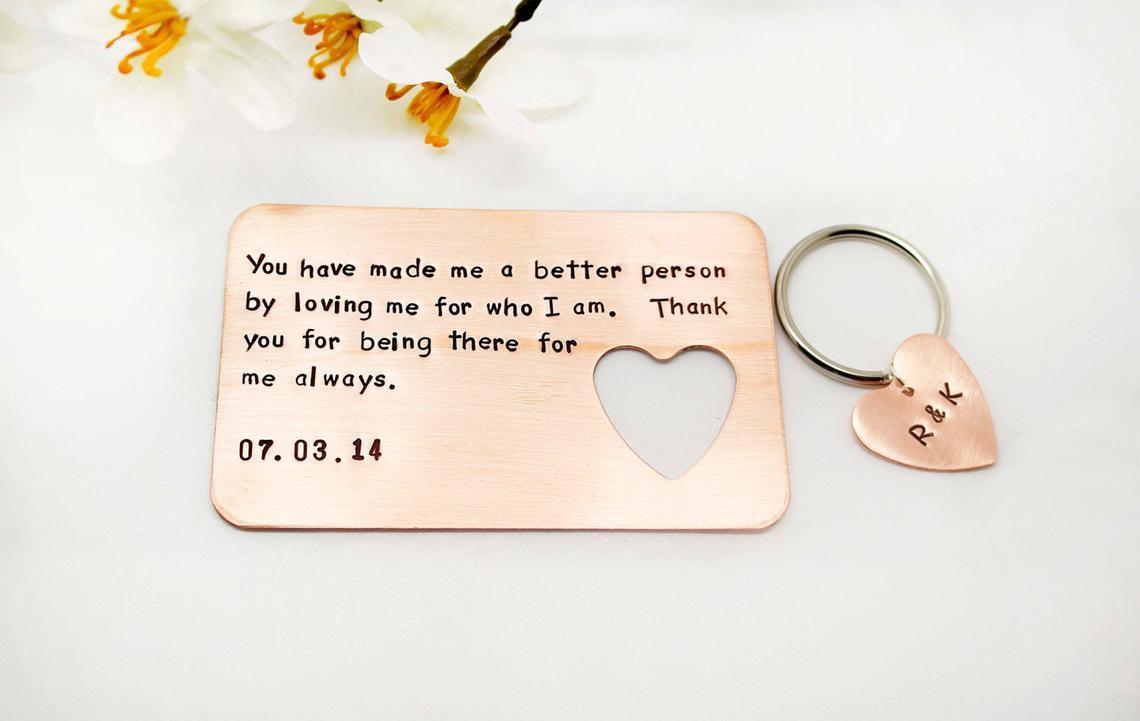 15. Cute Wallet Insert
Speaking of wallets, this engraved metal insert is a sweet surprise anniversary gift for your boyfriend to keep safely stowed inside his favorite cardholder. It also comes with an adorable heart-shaped key chain engraved with both of your initials.
Metal and Idea wallet insert card & key chain set boyfriend anniversary gift for him, from $25, Etsy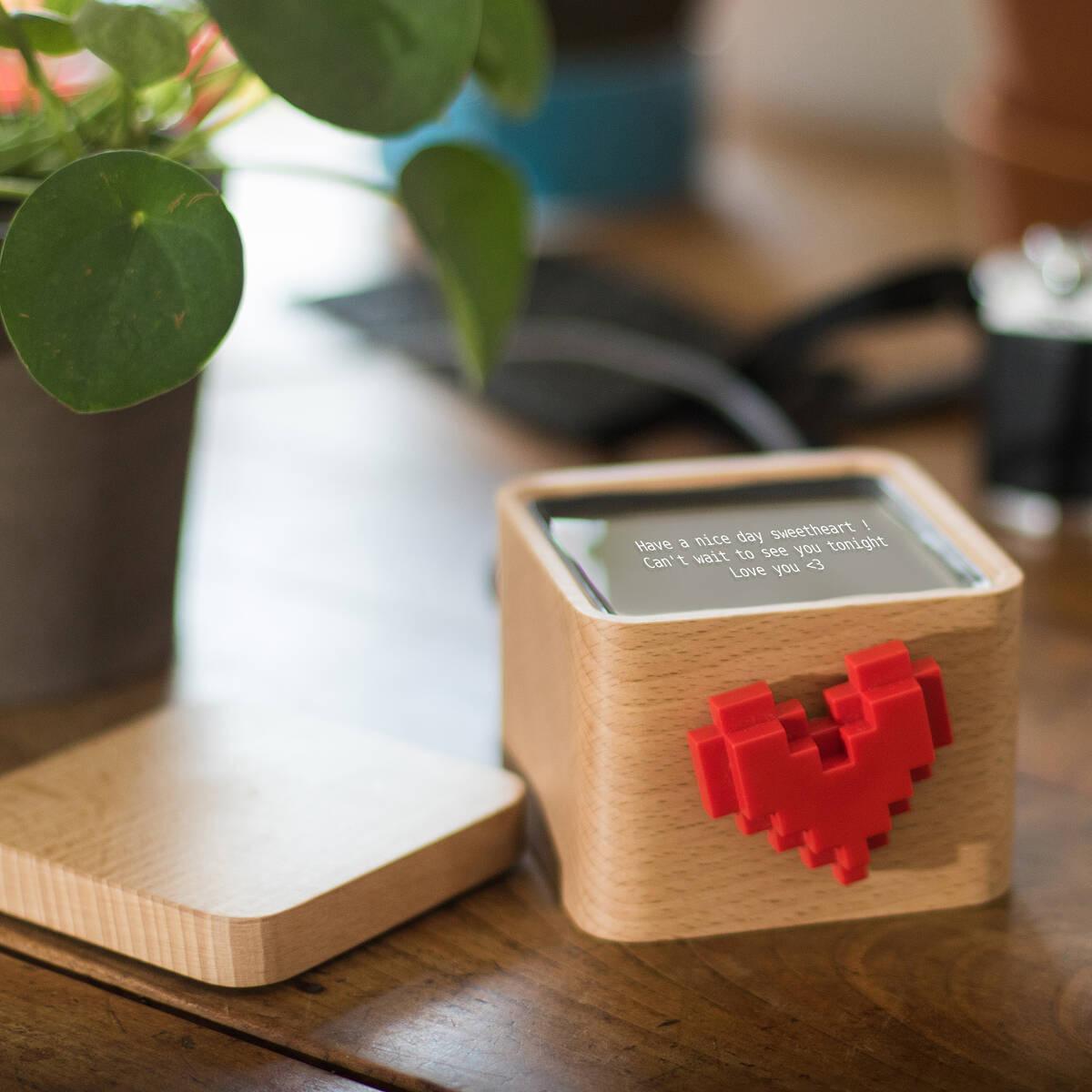 16. Electronic Love Note
This amazing gadget lets you send love notes to your bae through an easy-to-use app. Once you hit send, the heart on the box starts to spin and the message will show up on top. It's the perfect anniversary gift for long-distance relationships.
Marie Poulle and Jean Gregoire Lovebox spinning heart messenger, from $100, Uncommon Goods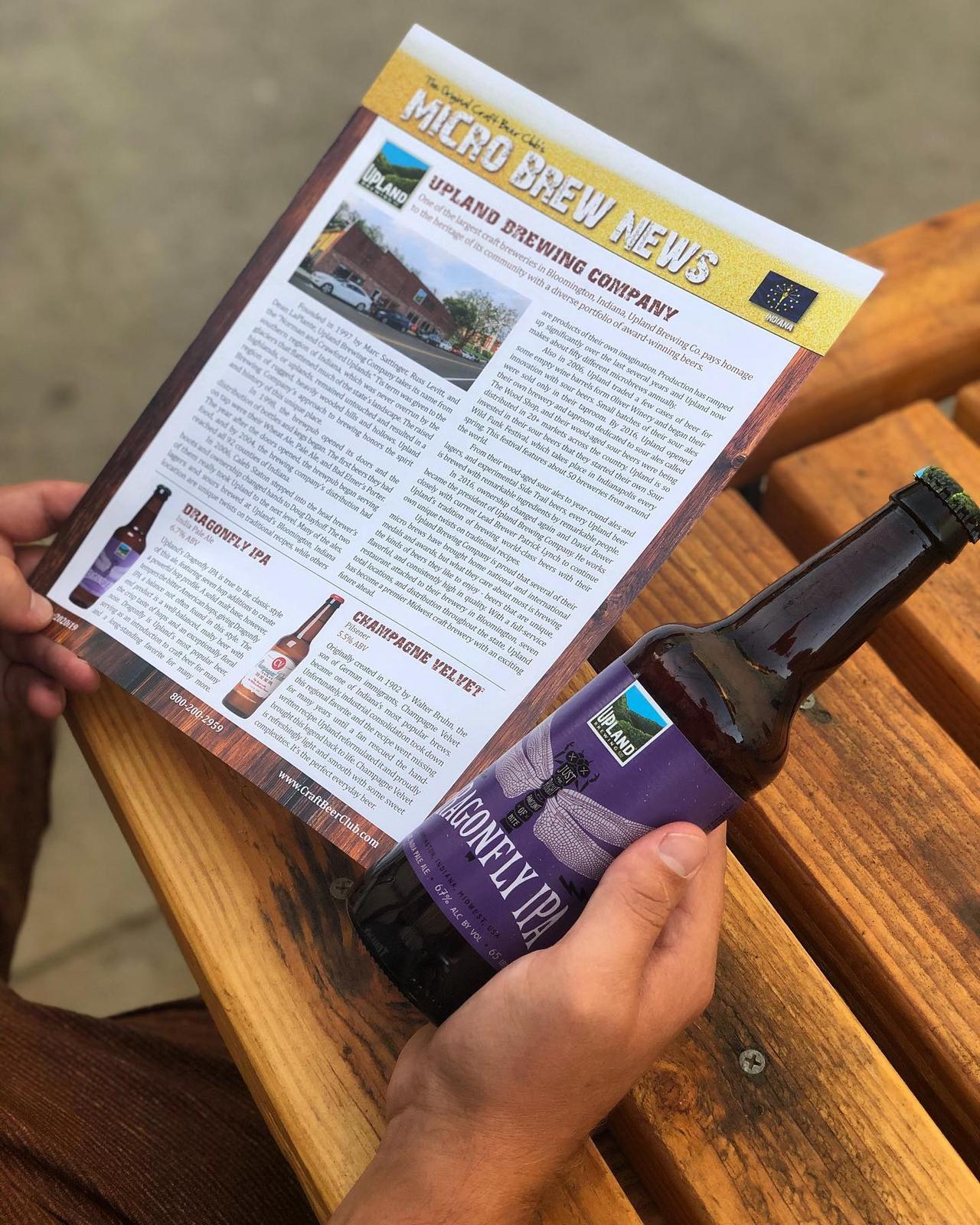 17. Craft Beer Subscription
On the hunt for an anniversary gift basket for your boyfriend? Switch it up by sending him a box of delicious craft beers instead. This unique gift subscription can be delivered monthly, bi-monthly, or quarterly.
Craft Beer Club monthly subscription, from $45 per shipment, Craft Beer Club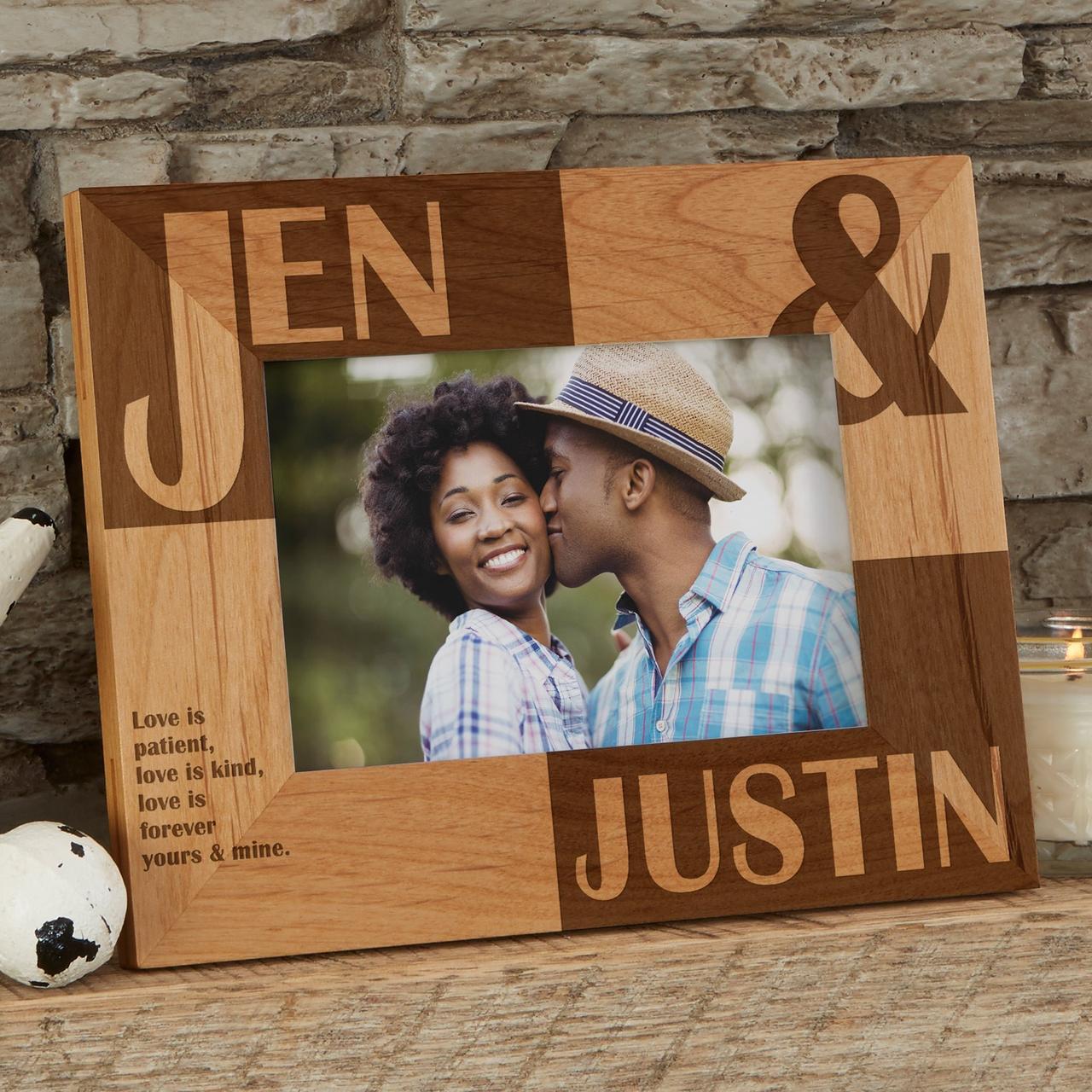 18. Wooden Picture Frame
Shopping for the nostalgic type? Give your man a personalized photo frame for your anniversary. This one has a modern wooden design and romantic quote. Talk about sentimental anniversary gifts for your boyfriend!
Personalization Mall Because of You personalized frame, from $27, Personalization Mall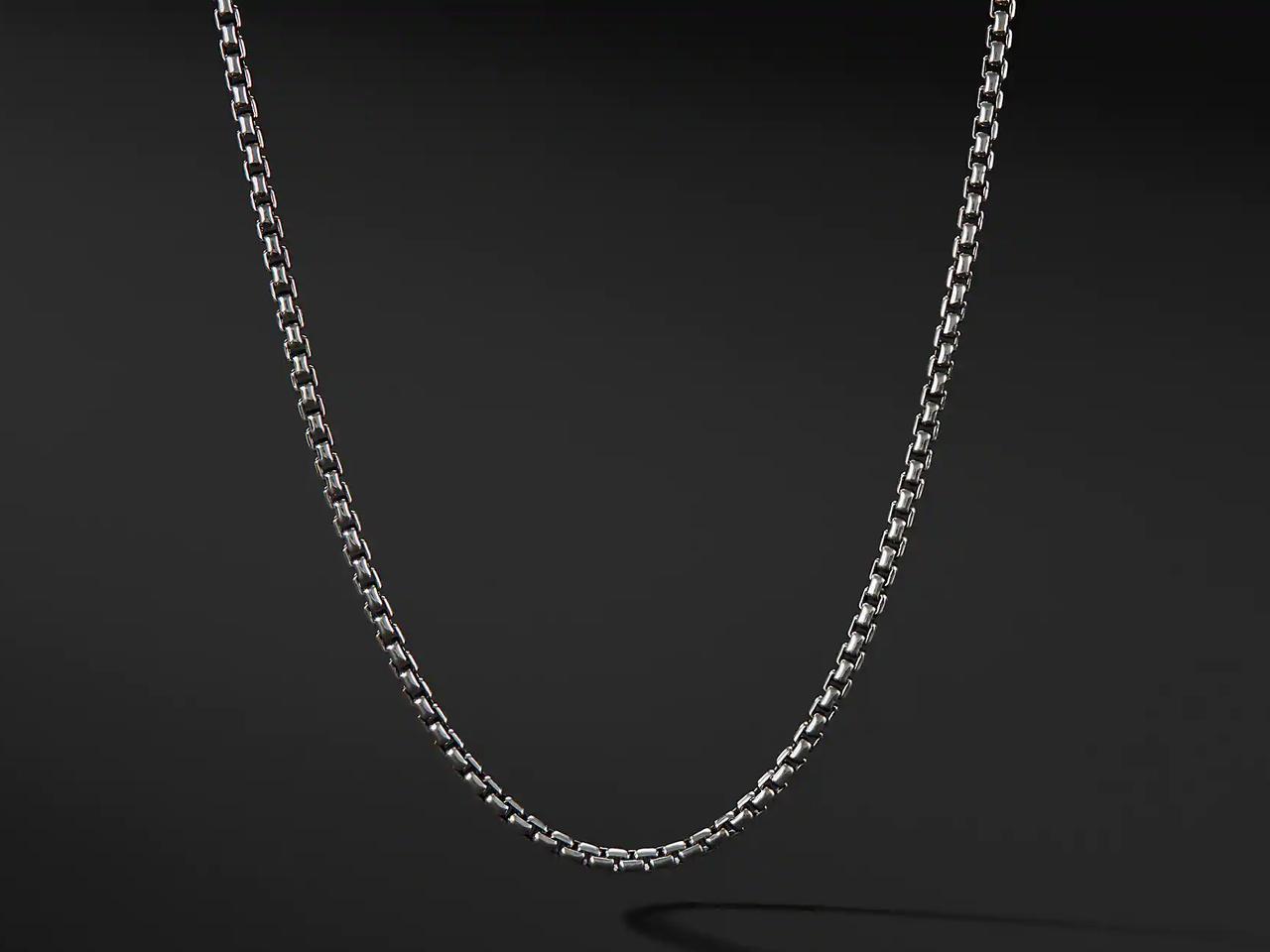 19. Sleek Chain
If your S.O. was a fan of Connell's chain from Normal People, they'll love this on-trend accessory that strikes a delicate balance between edgy and understated. Choose between high-quality silver, stainless steel, titanium, or white gold.
David Yurman small box chain necklace, from $225, David Yurman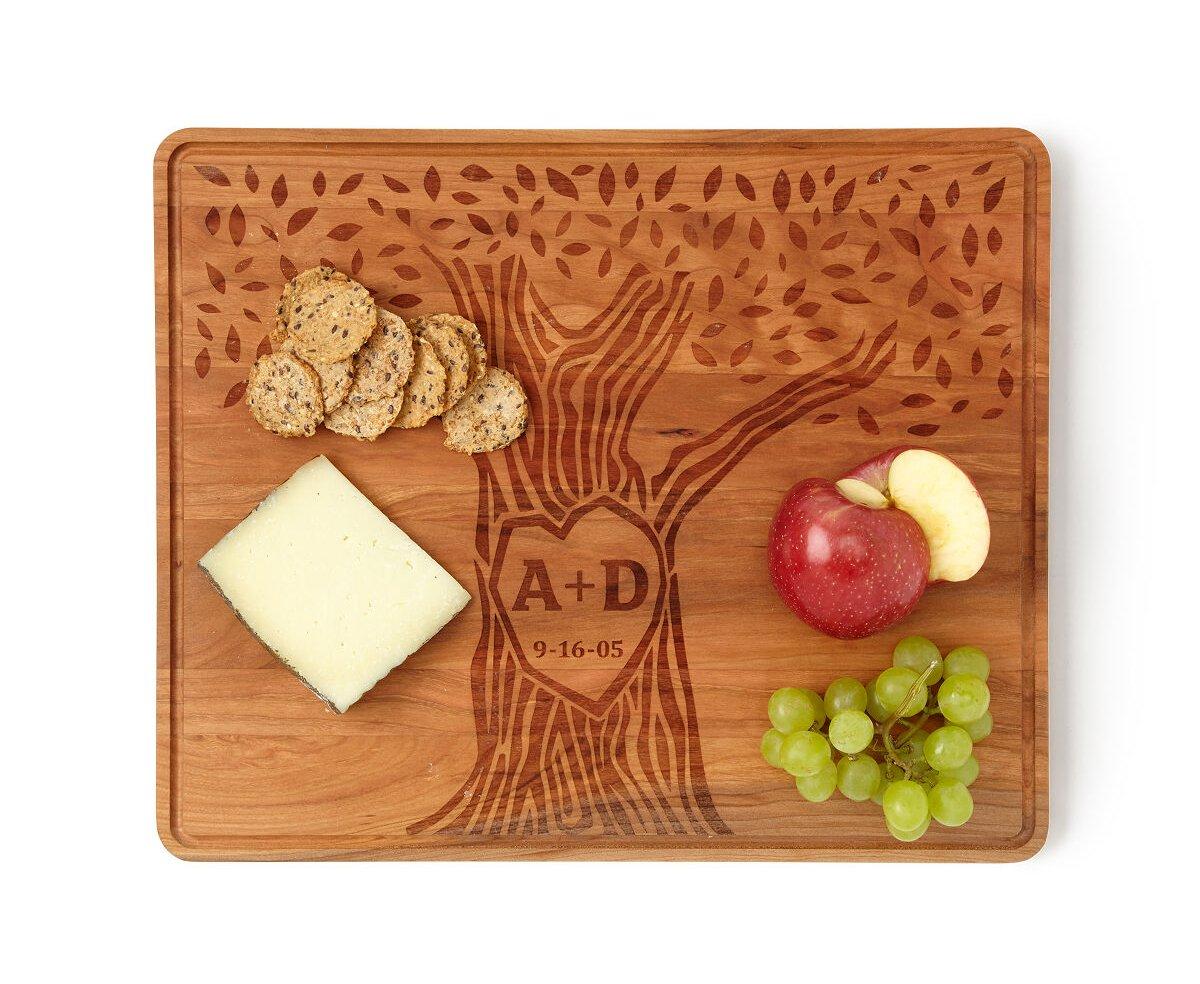 20. Romantic Serveware
Some of the best anniversary gifts for your boyfriend are both practical and personal. This gorgeous wooden serving board doubles as a sweet keepsake carved with your initials and a meaningful date.
Rachel and Jared Ergo Carved With Love personalized serve board, $85, Uncommon Goods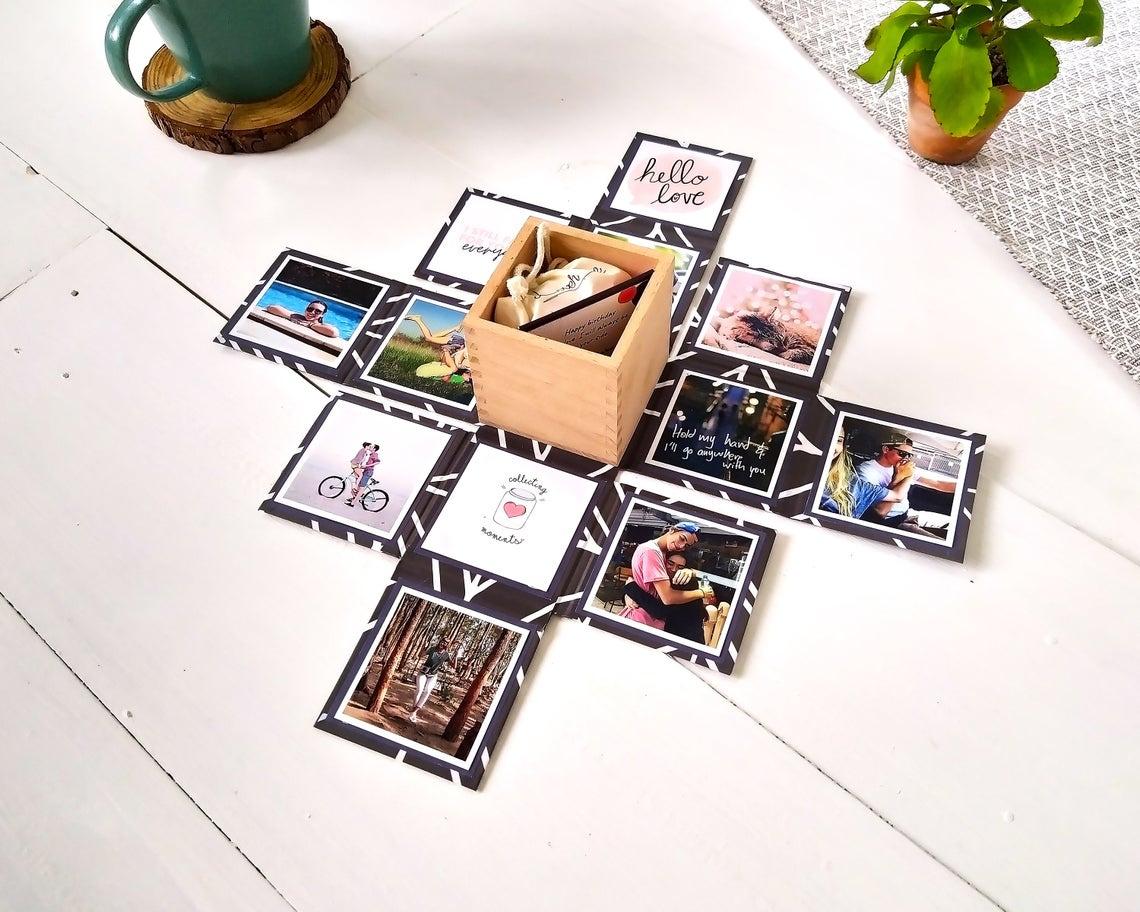 21. Fold-Out Photo Box
Sit tight, because we've got lots more fun and creative anniversary gift ideas for your boyfriend to come. This sweet and simple present will fold out to reveal some of his favorite memories as well as an optional pocket-size gift. The best part? The box is magnetic, so once it's laid out flat he can keep it on his fridge.
Lovin Box anniversary gift for boyfriend, from $42, Etsy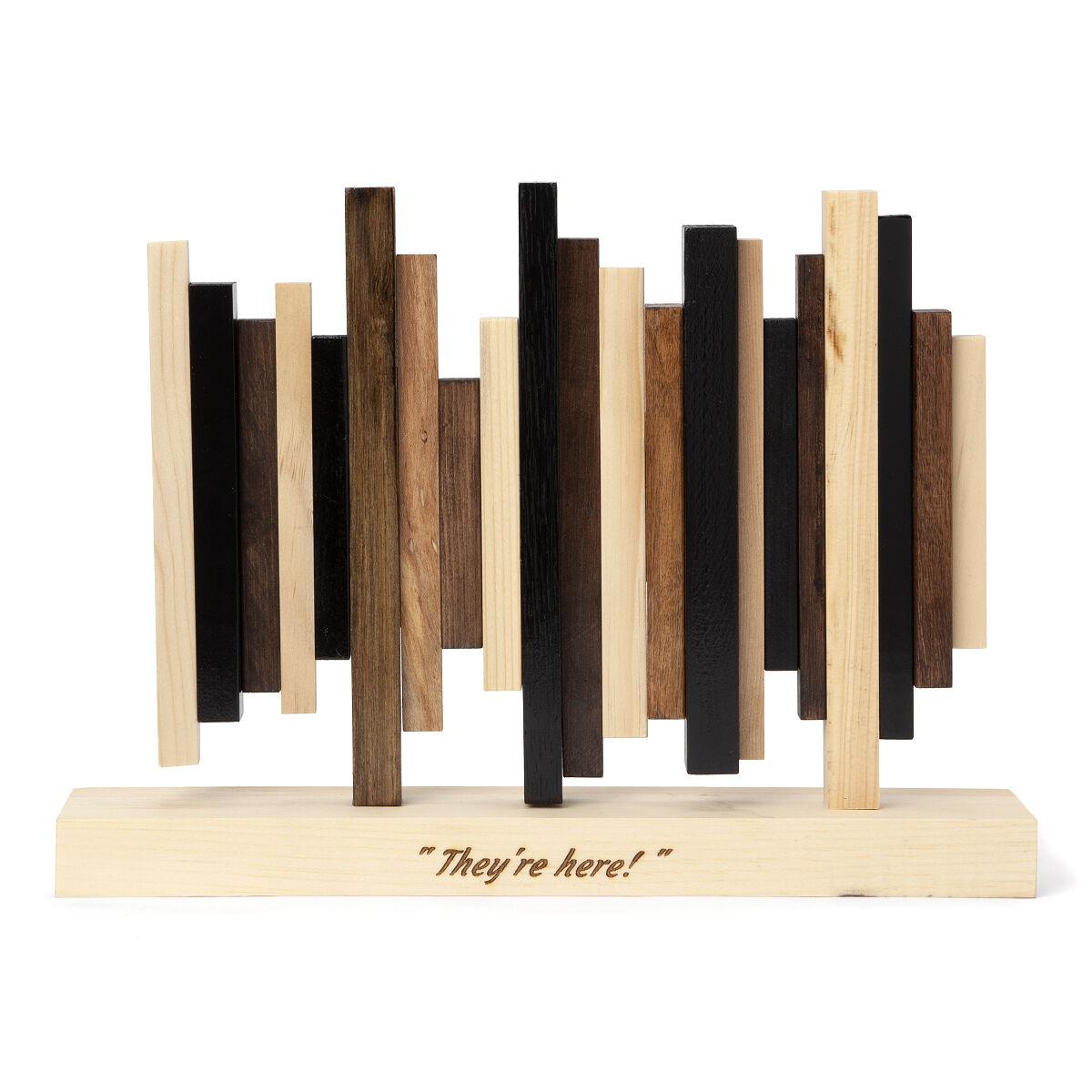 22. Meaningful Movie Quote
If you're shopping for a movie buff, we've got the gift for you. Present your other half with this beautiful wooden sound-wave sculpture of a quote from their favorite film.
Claudia Moldovan custom movie line sculpture, from $160, Uncommon Goods
23. Retro Hiking Boots
Still wondering what to gift your boyfriend for your anniversary? A stylish pair of trail boots is a necessity in any adventurer's wardrobe. The high-ankle design offers extra protection, while a lightweight mesh lining promotes breathability. You could even plan a romantic David and Patrick-style hike to celebrate.
Danner Jag dry weather boots, $150, Huckberry
24. Sweet Spreading Knife
Whether they're a big PB&J fan or the first thing they reach for in the morning is a toasted bagel, they'll appreciate one of these vintage-style spreading knives. Each one comes hand-stamped with a cute quip like "you're the PB to my J" or "you're my butter half." Trust us, it's a creative anniversary gift for your boyfriend he won't see coming.
The Woodsy Way handstamped vintage butter knife, $19, Etsy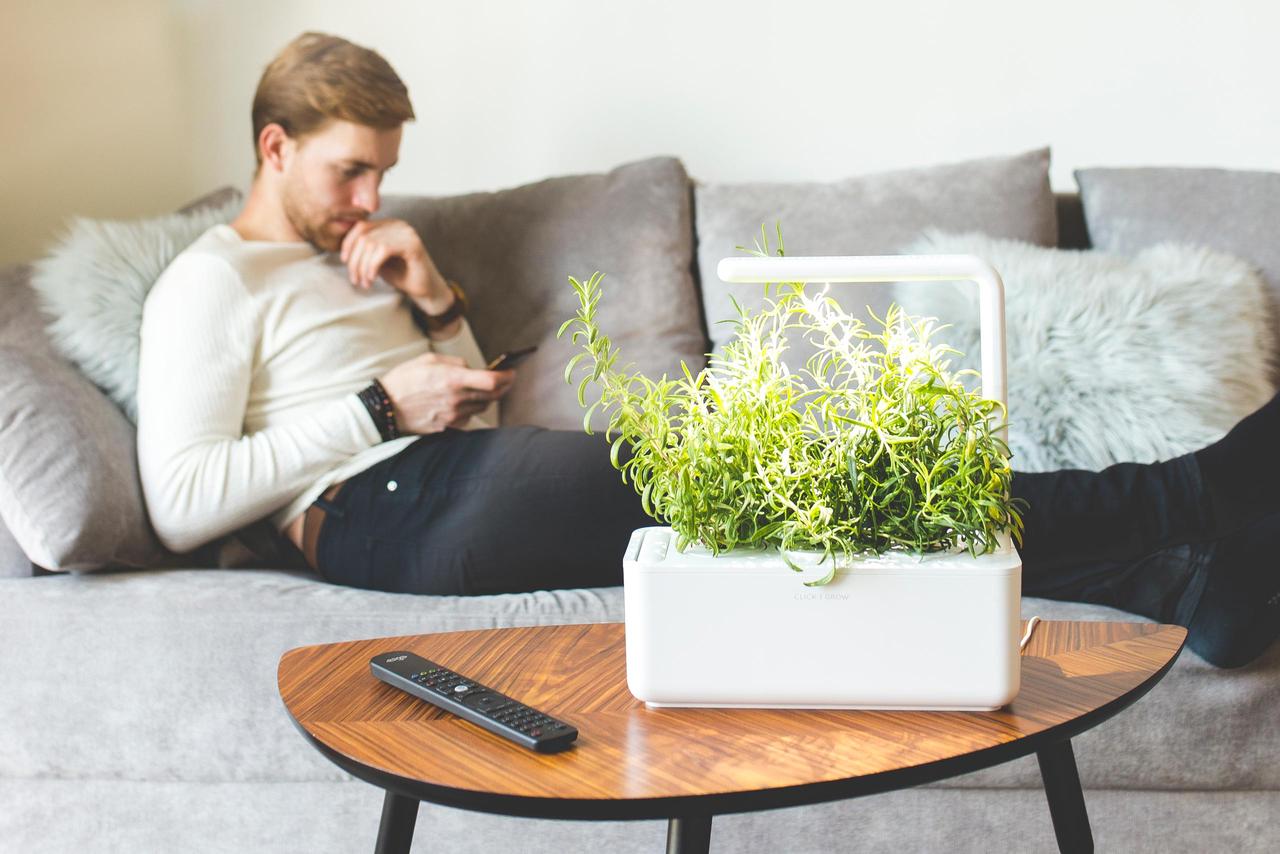 25. Innovative Planter
This stylish indoor garden will make growing his favorite greens easy pea-sy. Designed to provide the perfect amount of water, light, and nutrients, it's a fitting anniversary present for anyone who has a green thumb (or just wishes they did).
Click & Grow The Smart Garden 3, $100, Click & Grow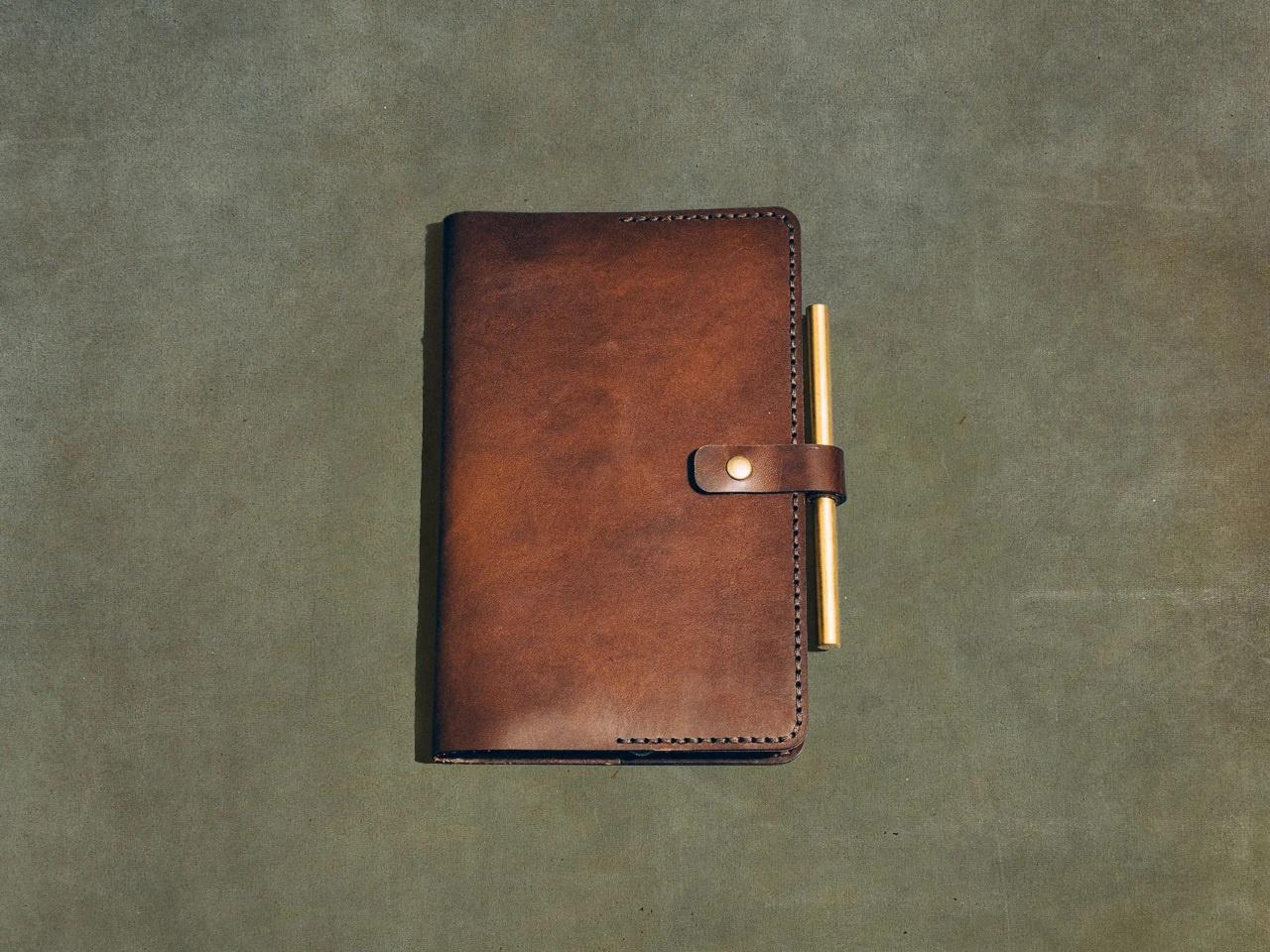 26. Luxe Leather Cover
If your boyfriend never goes anywhere without his planner or journal, this beautiful leather notebook cover is definitely a good anniversary gift.
Satchel & Page journal cover, $75, Satchel & Page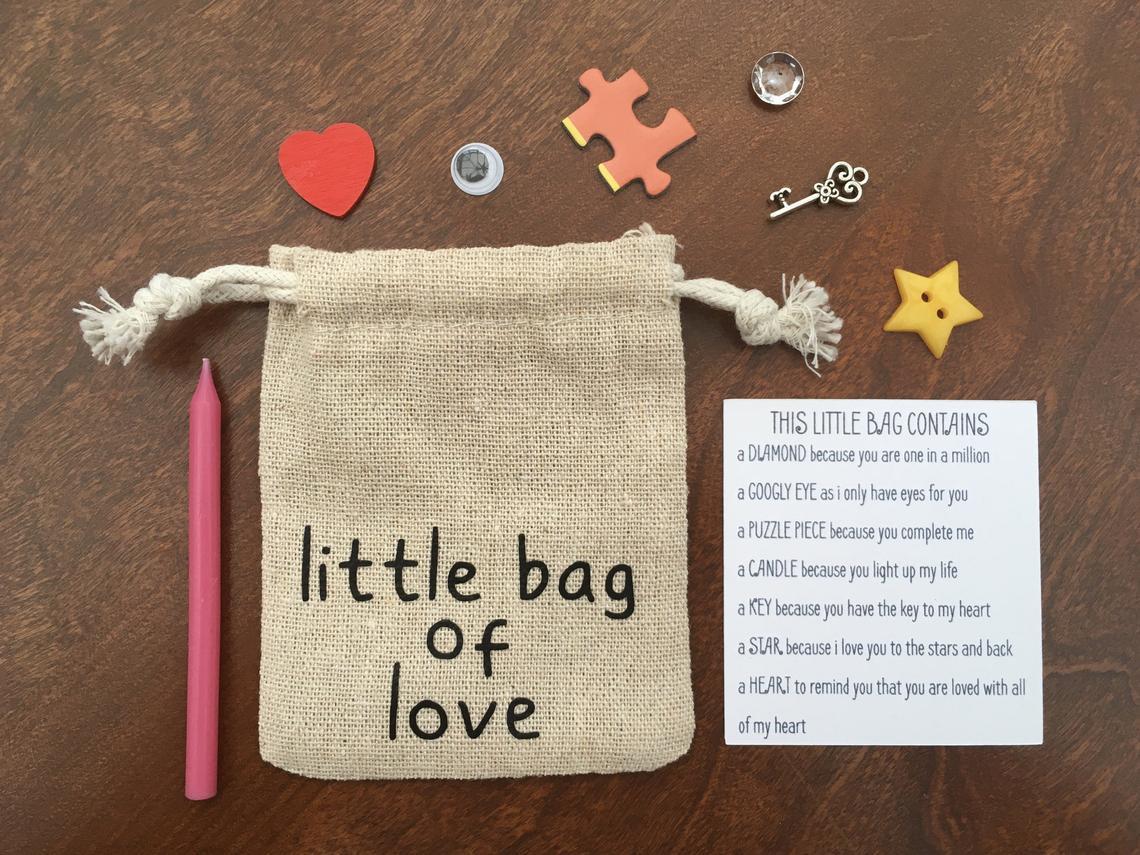 27. Heartfelt Tokens
Anniversary gifts for your boyfriend don't have to cost an arm and a leg to be romantic. This adorable "little bag of love" is full of small tokens that represent just how much your S.O. means to you.
That Little Bag Shop boyfriend anniversary gift, $8, Etsy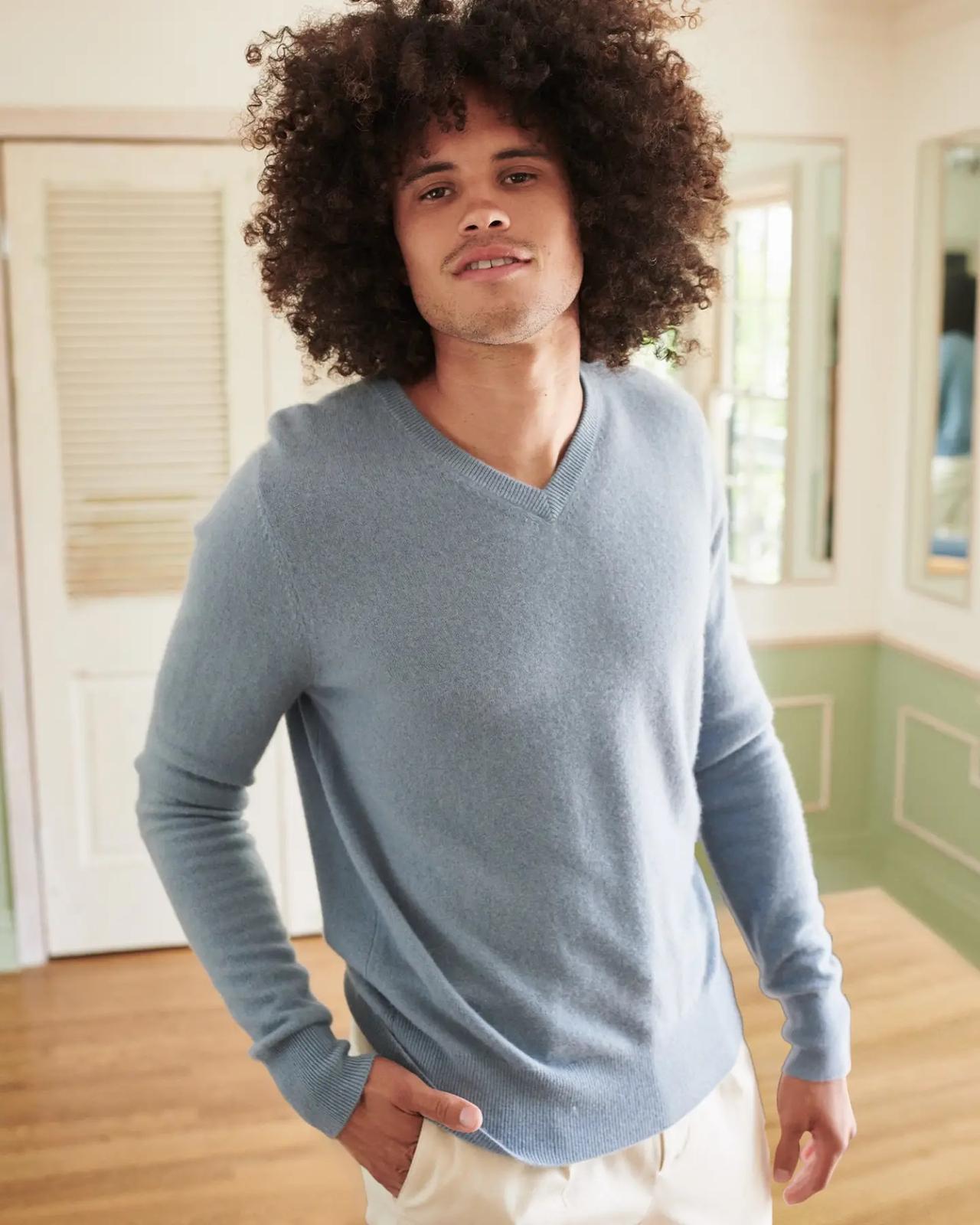 28. Super-Soft Sweater
Stylish wardrobe staples always make for cute anniversary gifts, and that's even more true when they're made out of cashmere. This cozy V-neck sweater comes in a range of stylish colors, so pick your other half's favorite. If you're not sure which they'd prefer, this dusty shade of blue is so on trend right now.
Quince Mongolian cashmere V-neck, $60, Quince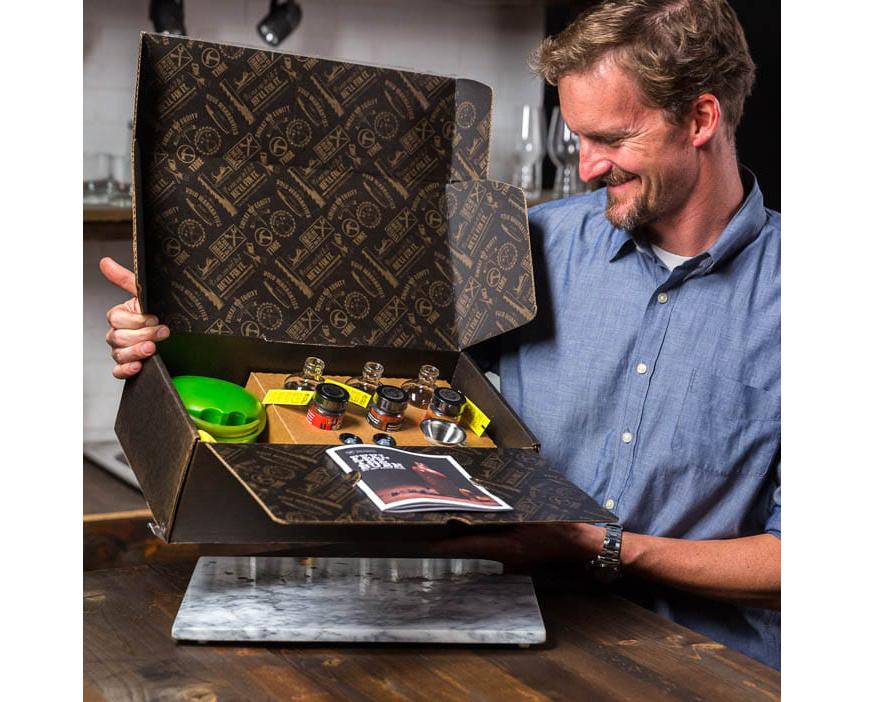 29. Fun Hot Sauce Kit
For the guy who likes his meals served with a healthy dose of spice, this DIY hot sauce-making kit is a great gift idea. It comes with everything he'll need to make his own signature sauce, including pepper purees, a manual food processor, and three storage bottles. Fun date night idea, maybe?
Man Crates hot sauce making kit, $80, Man Crates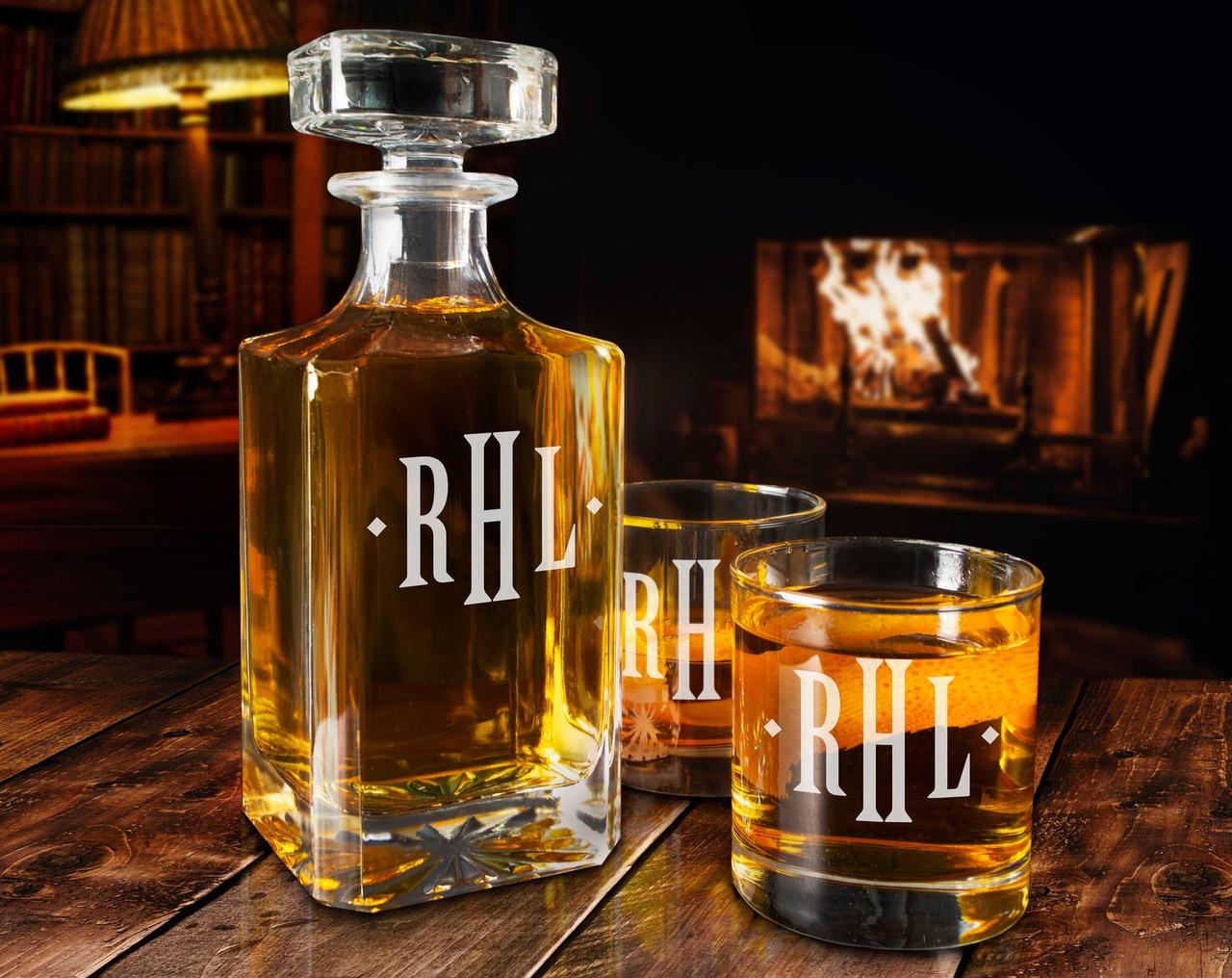 30. Personalized Decanter Set
A set of whiskey glasses with a stylish decanter is a great gift for bigger milestones like your one-year anniversary. Have it personalized with your boyfriend's monogram and pick up a bottle of his favorite bourbon to complete the present.
Create Your Own Gift whiskey decanter set with glasses anniversary gift, from $70 with 2 glasses, Etsy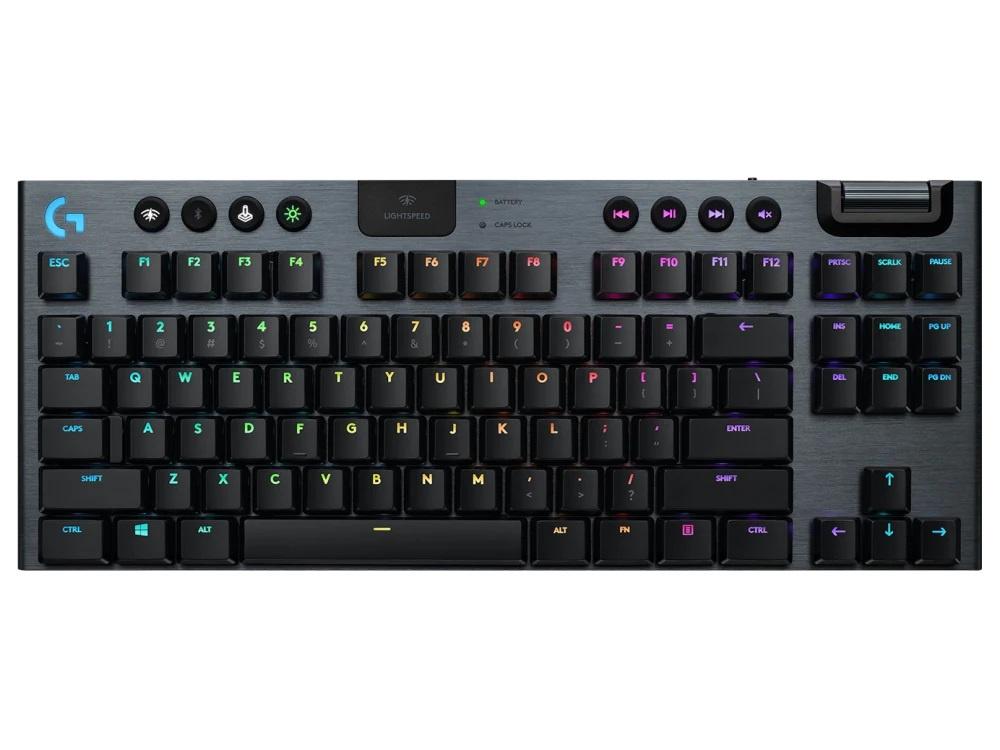 31. Cool Wireless Keyboard
Level up their gaming gear with a fancy new wireless keyboard that's fast, compact, and stylish to boot. Light-up keys and a thin, tenkeyless design give this practical gadget an undeniably refined appearance. It's a thoughtful anniversary gift for a gamer or anyone obsessed with their home office.
Logitech G915 TKL tenkeyless lightspeed wireless RGB mechanical gaming keyboard, $230, Logitech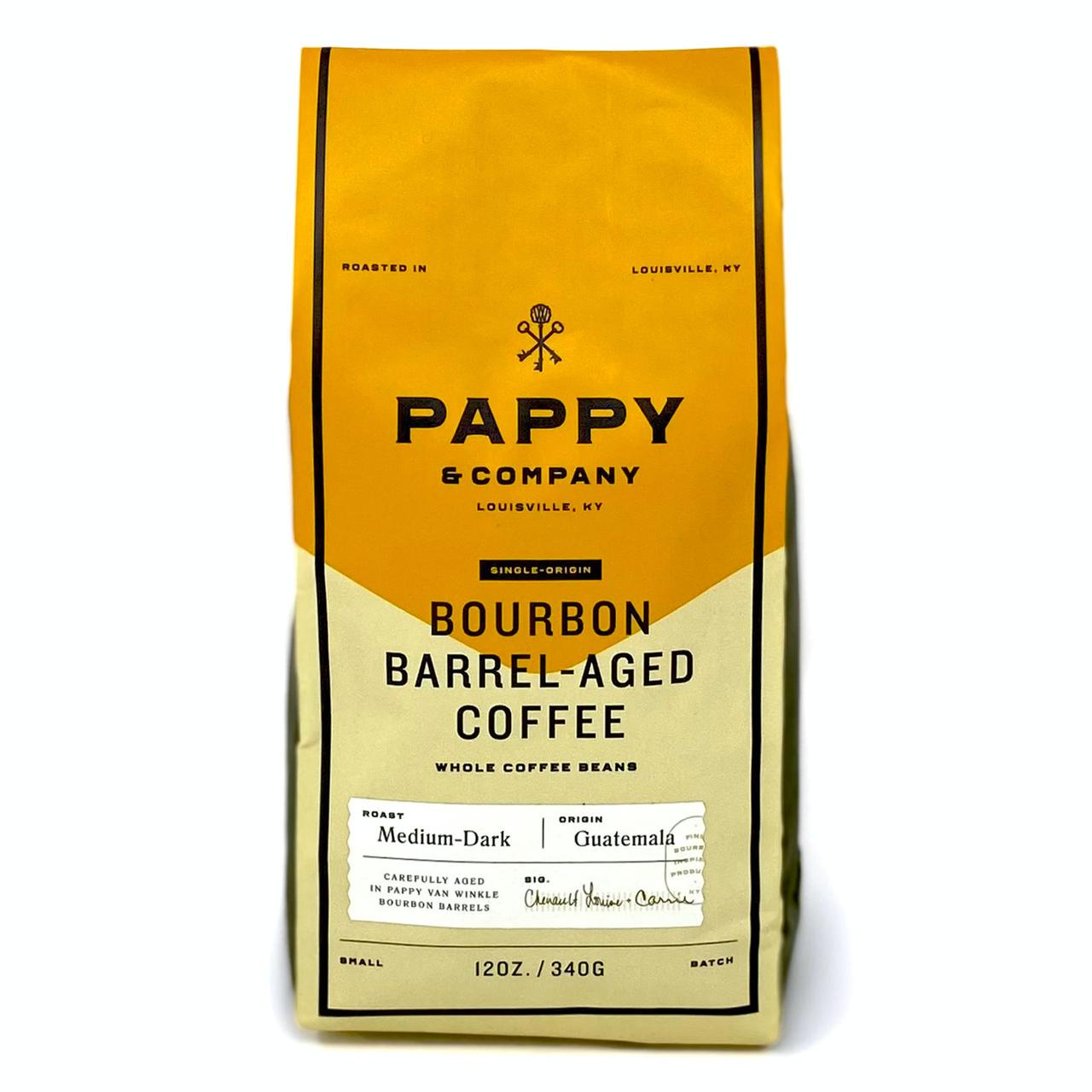 32. Bourbon-Flavored Coffee
Last but not least on our list of great anniversary gift ideas for your boyfriend: bourbon barrel-aged coffee. Because who doesn't want two of their favorite drinks in one?
Pappy & Company bourbon barrel-aged coffee, $22, Huckberry