This Bohemian Wedding Color Palette Is Killing It in 2019
There's a new way do a bohemian wedding theme this year. See how we used one of the Pantone Color Institute's trendiest palettes to showcase the latest bohemian wedding ideas.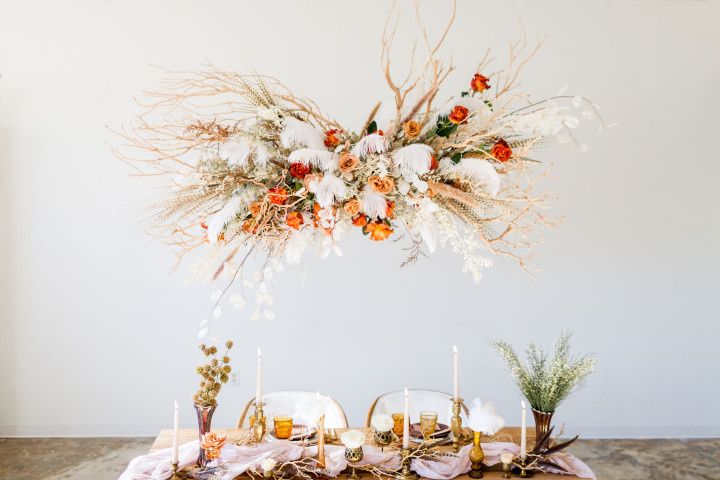 The bohemian wedding theme is one of the biggest 2019 wedding trends. And while this free-spirited wedding aesthetic isn't new to the scene, it's constantly evolving, which is why it continues to be so popular year after year. For 2019, the Pantone Color Institute has created 'Golden Hour,' a rich wedding color palette inspired by the beauty of nature. (P.S.: See the rest of the wedding color palettes here!)
Because natural elements are so fundamental to boho wedding style, 'Golden Hour' inspired us to create a styled shoot filled with the newest ideas for a bohemian wedding theme. This shoot features all of our favorite 2019 wedding decor trends, including rattan, velvet, pampas grass, and hanging floral installations. And while we think this color palette would be amazing for a boho countryside wedding or a desert elopement (at sunset, obviously), our vision for 'Golden Hour' is just one way to use this color palette. We actually see these colors working for a variety of styles, from rustic barn weddings to formal autumn soirées. It all comes down to what you make of it!
Keep reading to see exactly how to nail your bohemian wedding theme in 2019.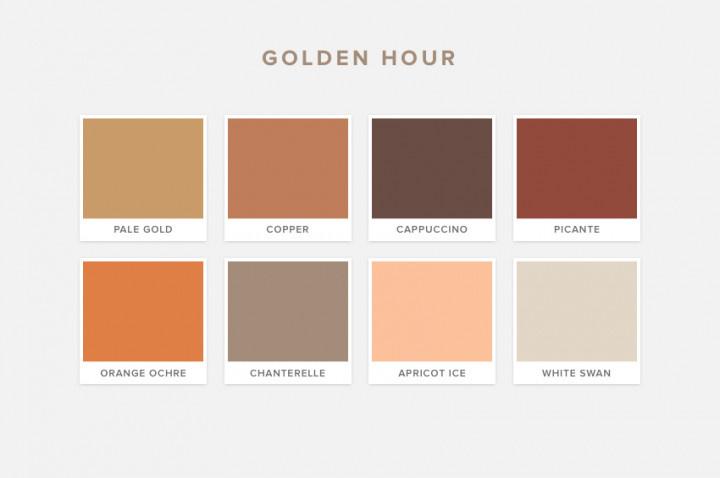 'Golden Hour'
Pulling inspiration from the great outdoors, the 'Golden Hour' palette is a fresh take on incorporating neutrals and muted colors into your wedding decor. The reddish orange hues — Picante, Orange Ochre, and Apricot Ice — give the palette a spicy twist, while two brown shades — Chanterelle and Cappuccino — tone down the bolder colors. Three neutrals, White Swan, Pale Gold, and Copper Metallic, help bring the color palette into balance. Overall, 'Golden Hour' is soulful and warm, just like its namesake: a fiery sunset.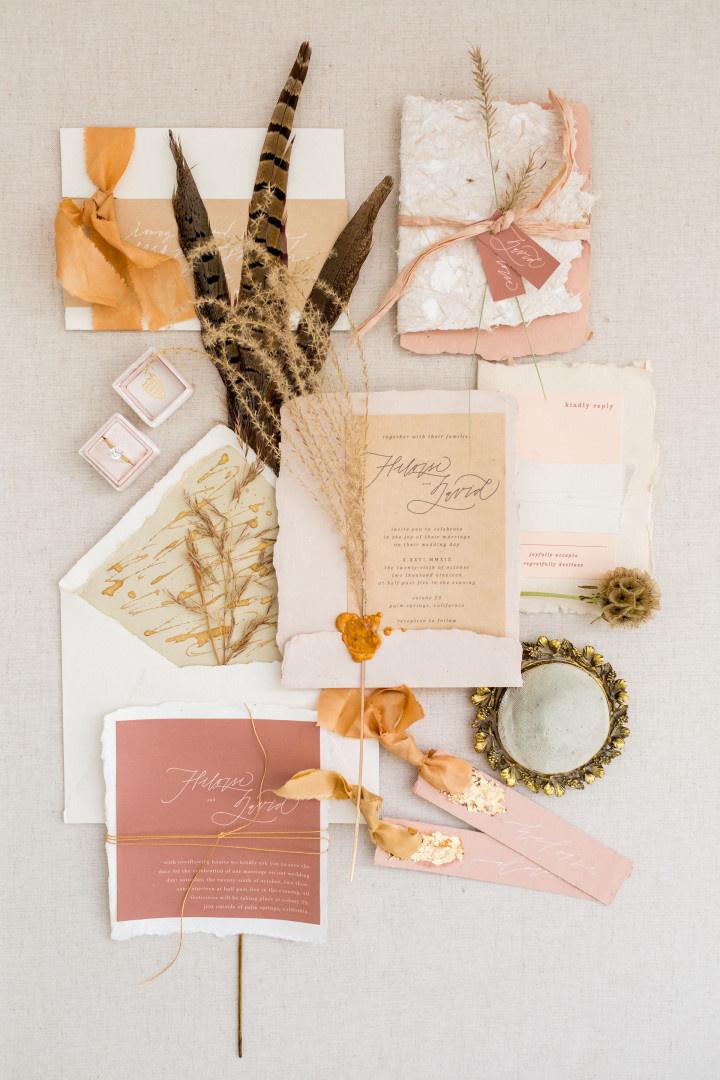 Stationery
For the most updated take on a bohemian wedding theme, think texture versus color. This stationery suite features an array of subtle neutrals, putting the textural details front and center. Wax seals, ribbons, and even touches of dried grass are all alternative ways to tap into your boho wedding colors and customize your stationery suite.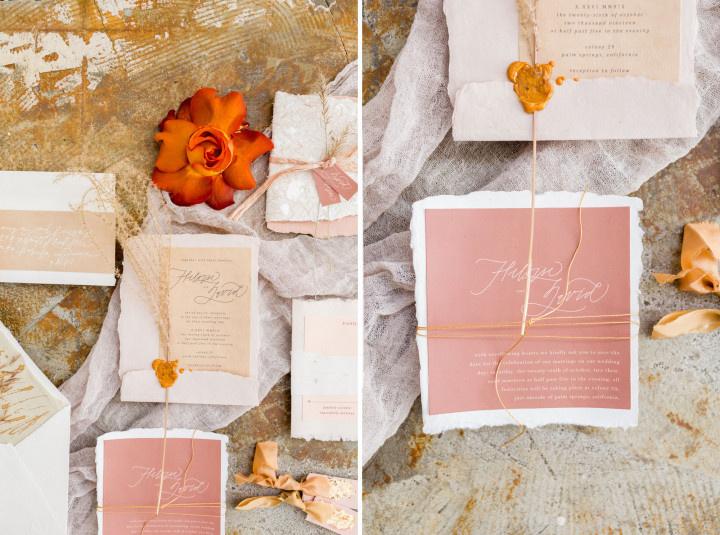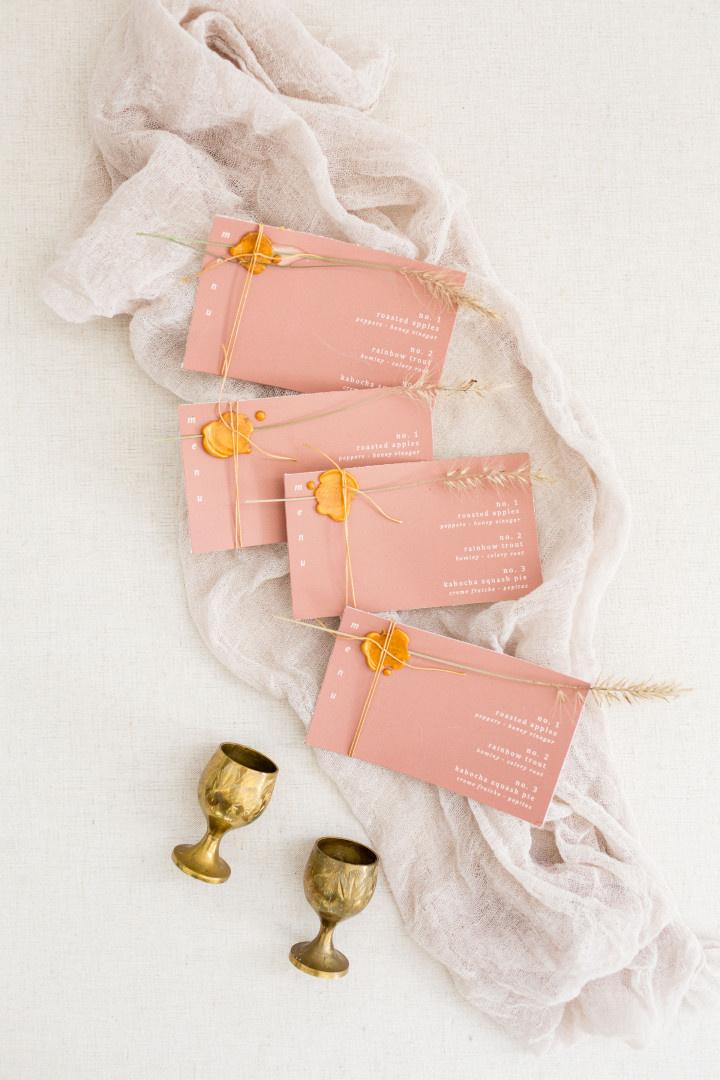 Menu cards
We love individual wedding menu cards as a way to create a curated, memorable experience for your guests. This small (but powerful) detail is key in making your guests feel extra-special that they get to be a part of your big day. Colorful paper and decorative wax seals give the menu cards a bespoke look.
Place cards
Along with menu cards, don't forget about another small yet impactful detail: wedding place cards. These decorative accents are different than the escort cards that show your guests' table assignments — think of them as name cards for your place settings. Place cards are ideal if you want to have assigned seats (in addition to your assigned tables), but they're also another way to showcase your boho wedding colors. For a bohemian wedding theme, this blush and gold style is pretty and understated.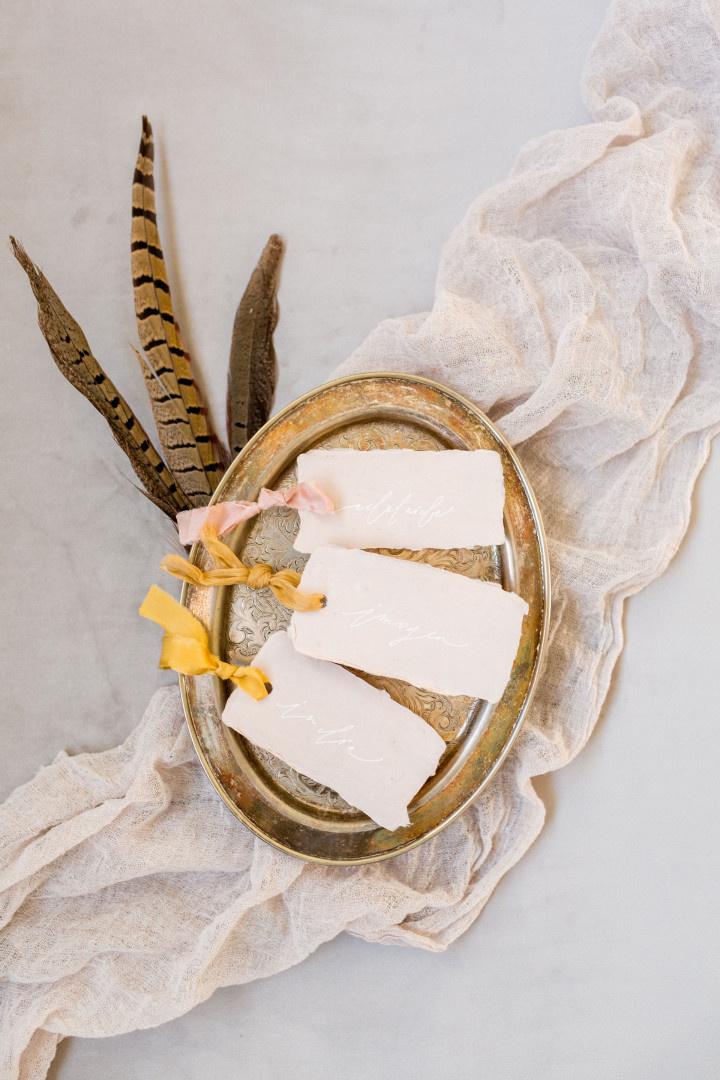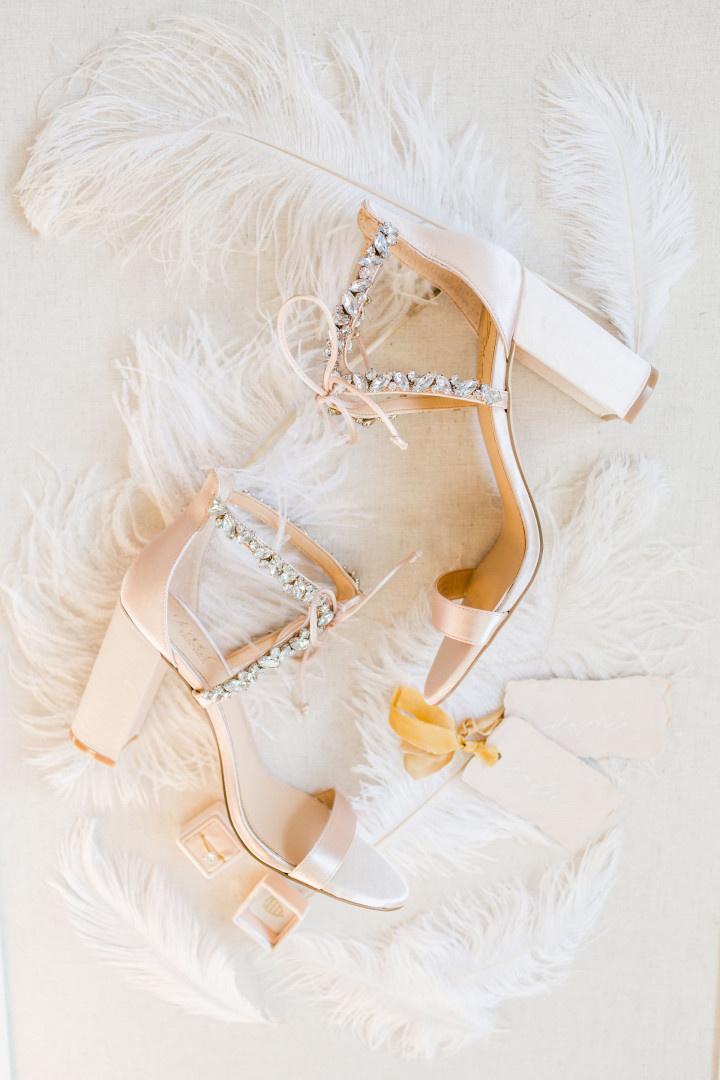 Bridal shoes
In years past, we might have said that flats and beaded sandals were some our favorite bohemian wedding ideas. But the bohemian wedding aesthetic, which was once all about kitschy details and rainbow colors, is now shifting toward a new "boho glam" vibe that mixes low- and high-end elements. The open toe and wide heel on this pair of shoes makes them a bit more casual — ideal for a laid-back bohemian wedding — while the rhinestones give you a bit of bling. We chose these satin heels for their shimmery neutral color, which is a perfect mix of Apricot Ice and White Swan from the 'Golden Hour' palette.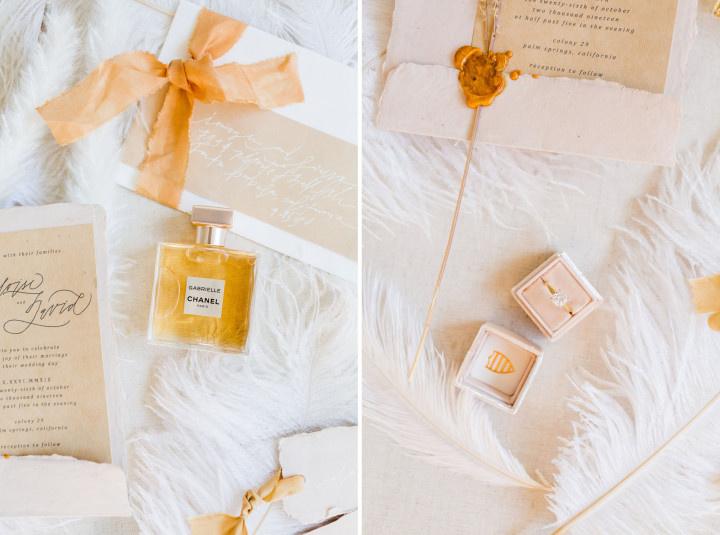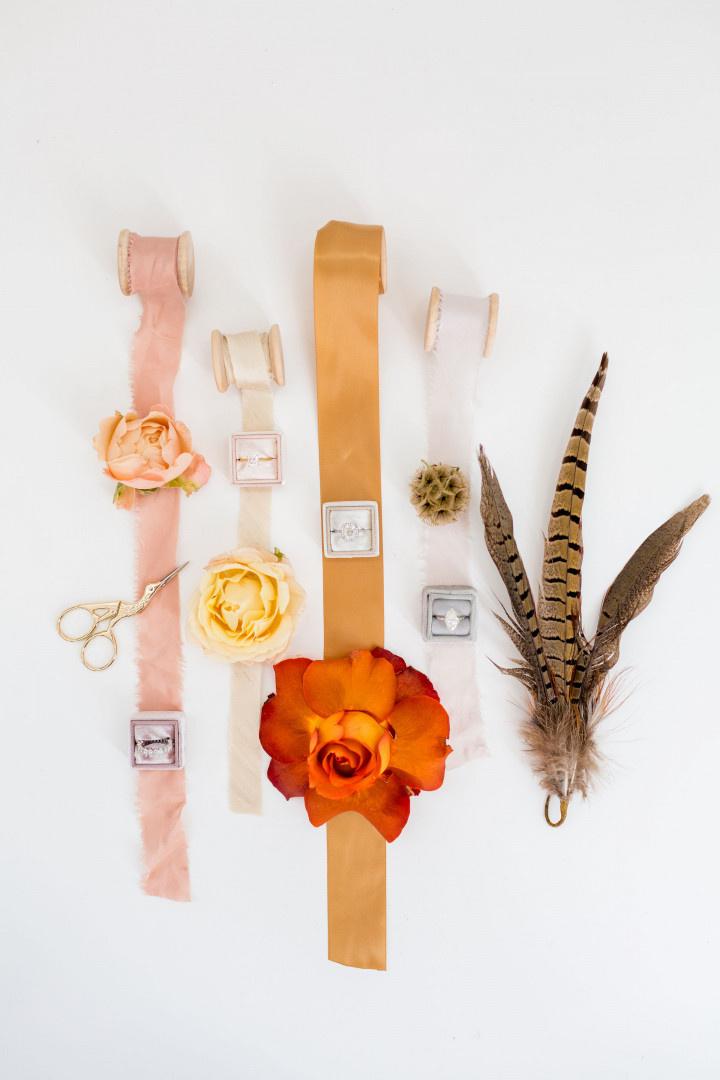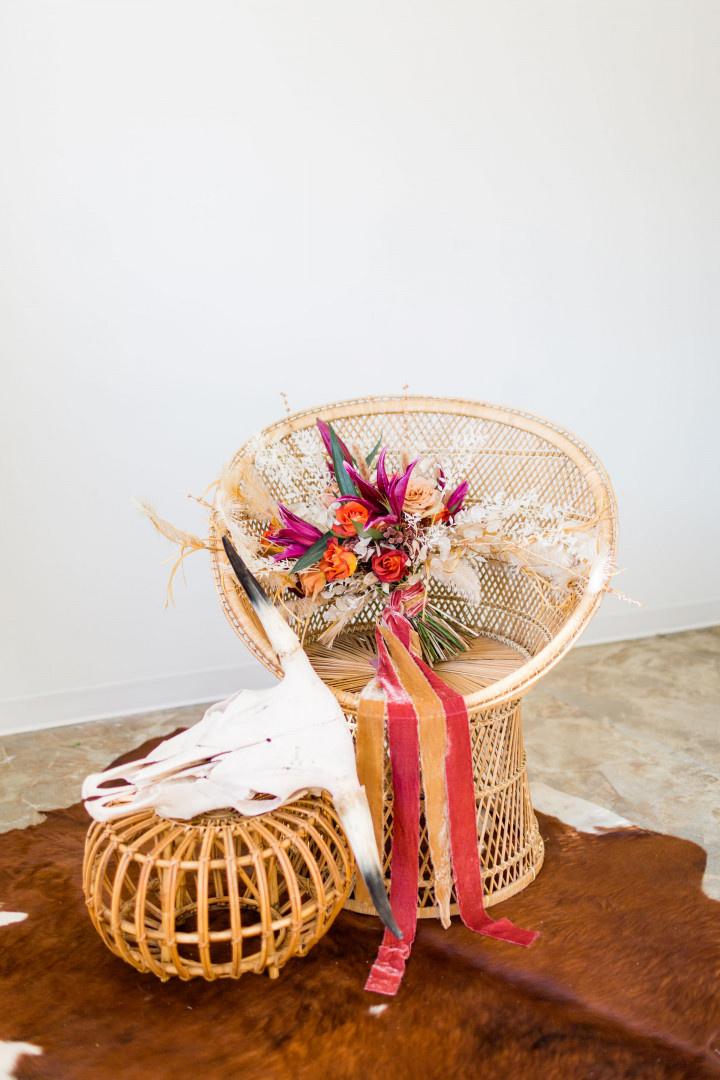 Wedding bouquet
One of the most important elements of a bohemian wedding theme is the floral arrangements. From the bouquets to the centerpieces, this is an opportunity to really showcase your wedding colors. If you're using nature-inspired elements in your decor, like feathers, branches, or dried grasses, you can add those to your floral arrangements to make everything cohesive.
For 'Golden Hour', we created an oversized wedding bouquet featuring flowers and other accents complementing the palette colors. The bouquet includes blossoms like burgundy Asiatic lilies and Sahara spray roses paired with ostrich feathers, bleached Italian ruscus, and lunaria. Boho queen goals!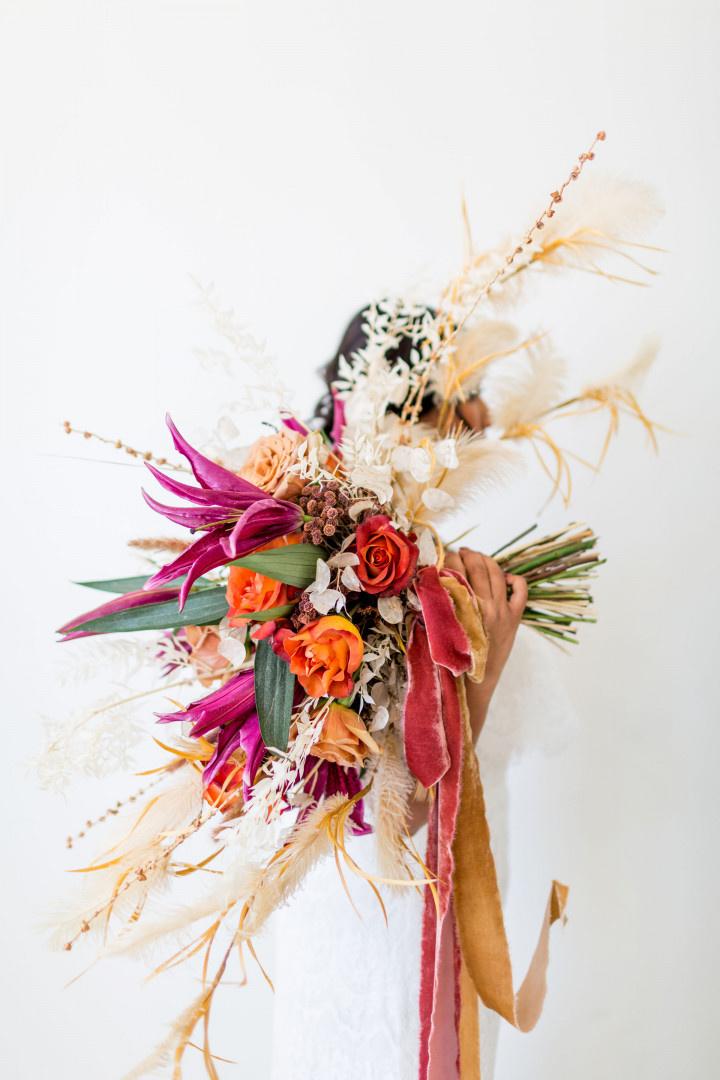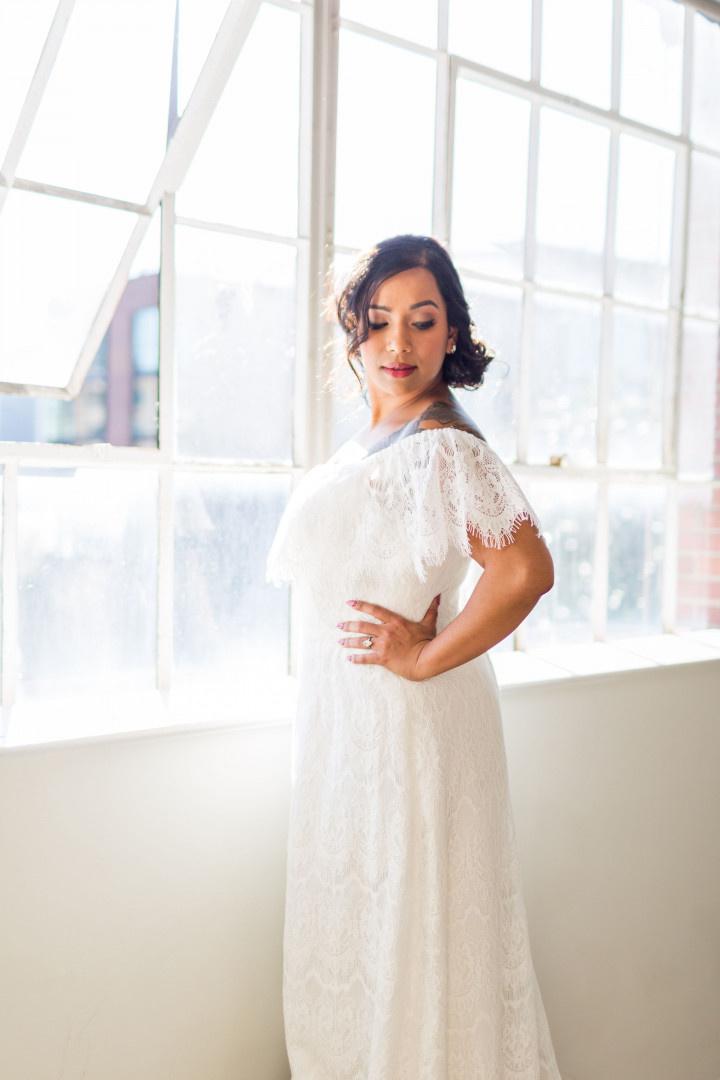 Lace wedding dress
While lace is typically associated with classic wedding style, it's also a popular choice for bohemian wedding dresses. Depending on the style of your dress and the type of lace used, the effect is ethereal and romantic while still being totally appropriate for a more casual dress code. This off-the-shoulder number from David's Bridal would definitely work for a bohemian or outdoor wedding, thanks to the comfortable sheath silhouette. With an off-the-shoulder style, you can rock a statement necklace and complete your ensemble with a low, loose updo.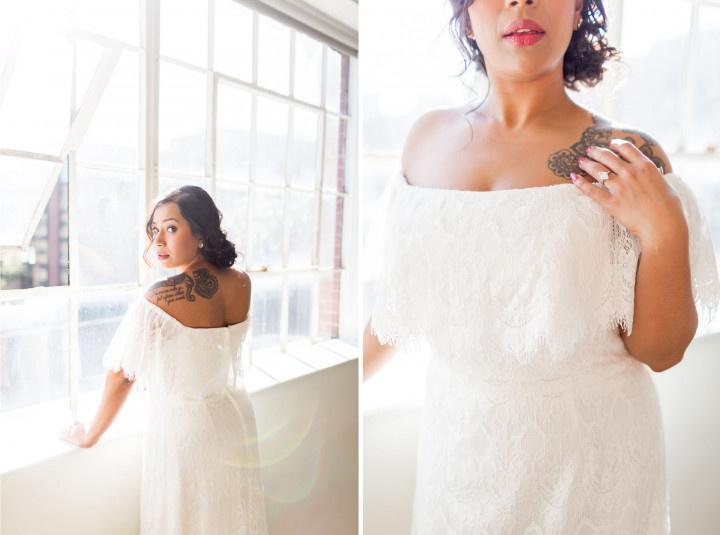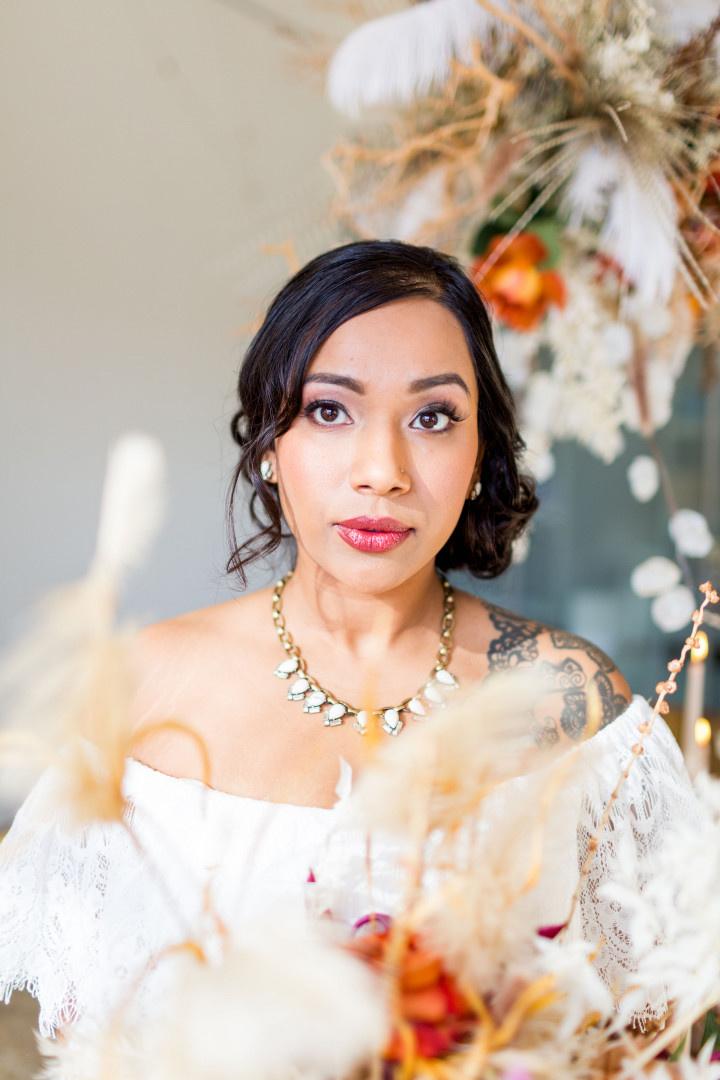 Bridal makeup
For 'Golden Hour,' we wanted the bridal makeup to be mostly neutral with a pop of color, which we achieved by using a touch of dark pink lipstick. Lash extensions and smokey eyeshadow kept the overall look from falling flat by adding drama to the eyes.
A simple makeup look is ideal for a bohemian wedding theme, especially if you're getting married at an outdoor venue (temperature, sunshine, and inclement weather can all affect your makeup). We know it's a cliché, but when it comes to wedding day makeup, the goal is to feel like the best version of yourself without having to run to the bathroom every hour for a touch-up!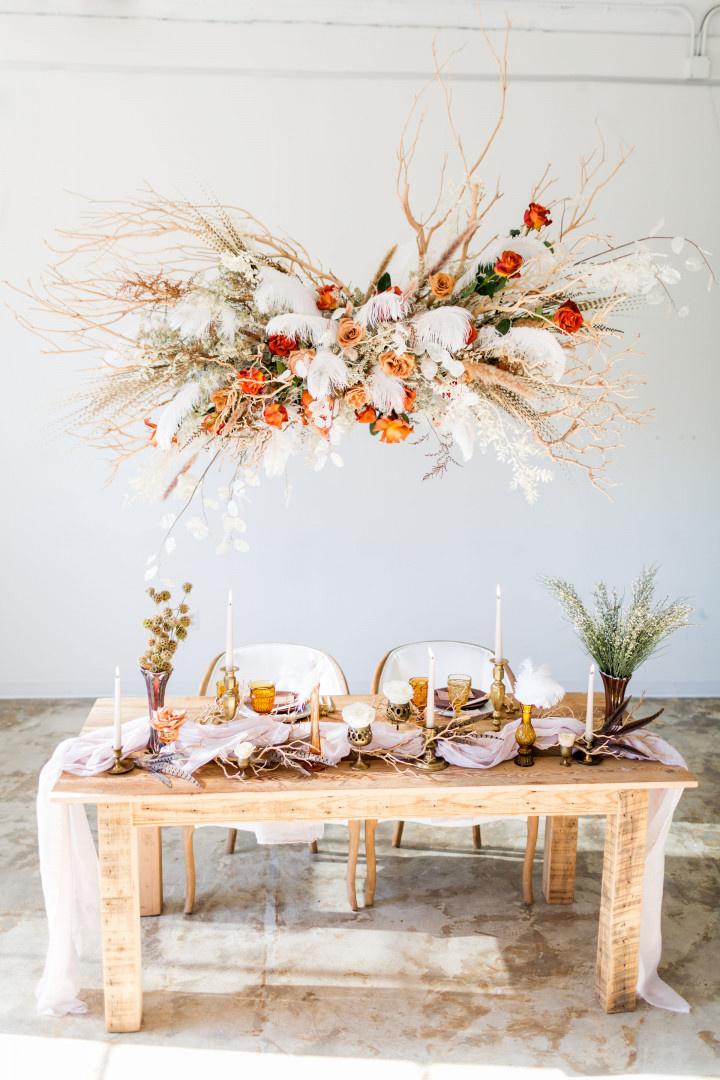 Hanging centerpiece
Are you ready for this? Because we're still not over it. Hanging centerpieces and floral installations are one of the coolest wedding decor trends for 2019, and *this* is the one to beat in our book.
We hung this massive floral installation above our sweetheart table in lieu of tabletop centerpieces. The base structure was created using bleached manzanita branches, with orange and red roses added for bursts of color. The installation was finished off with decorative accents including ostrich feathers, pheasant feathers, lunaria, and the ultra-trendy pampas grass.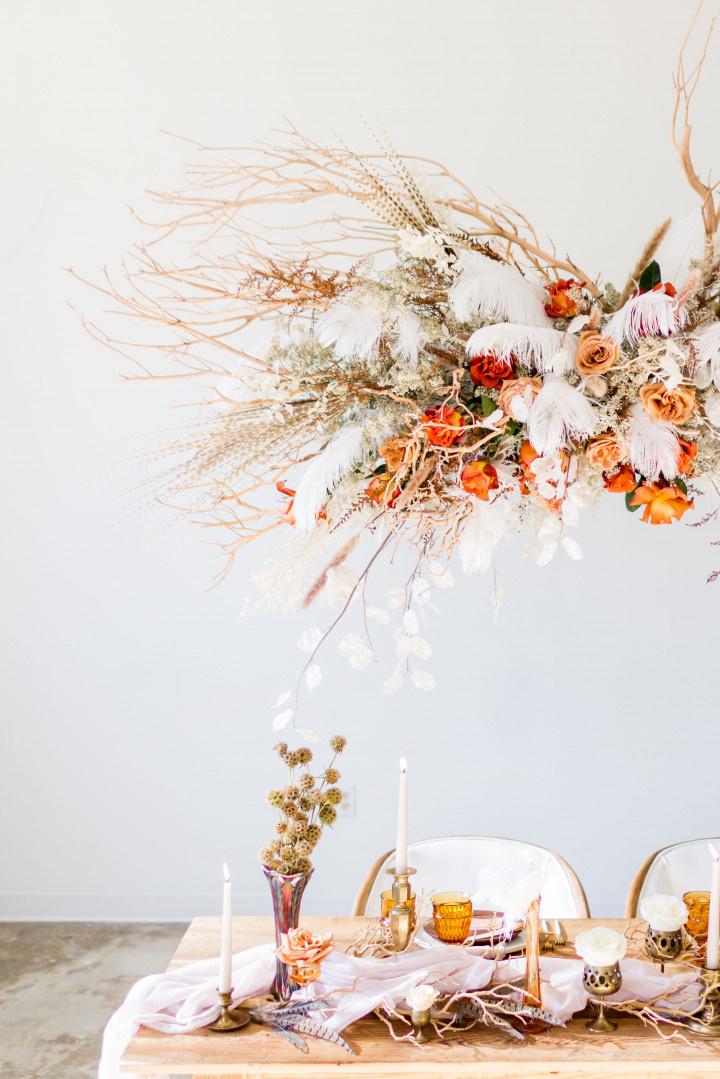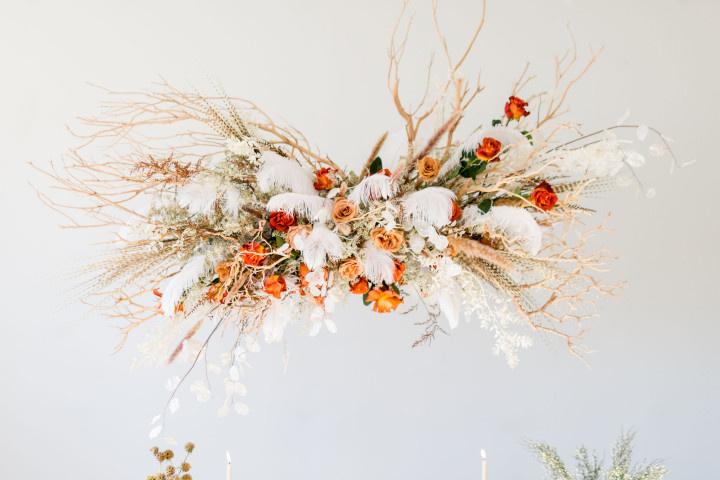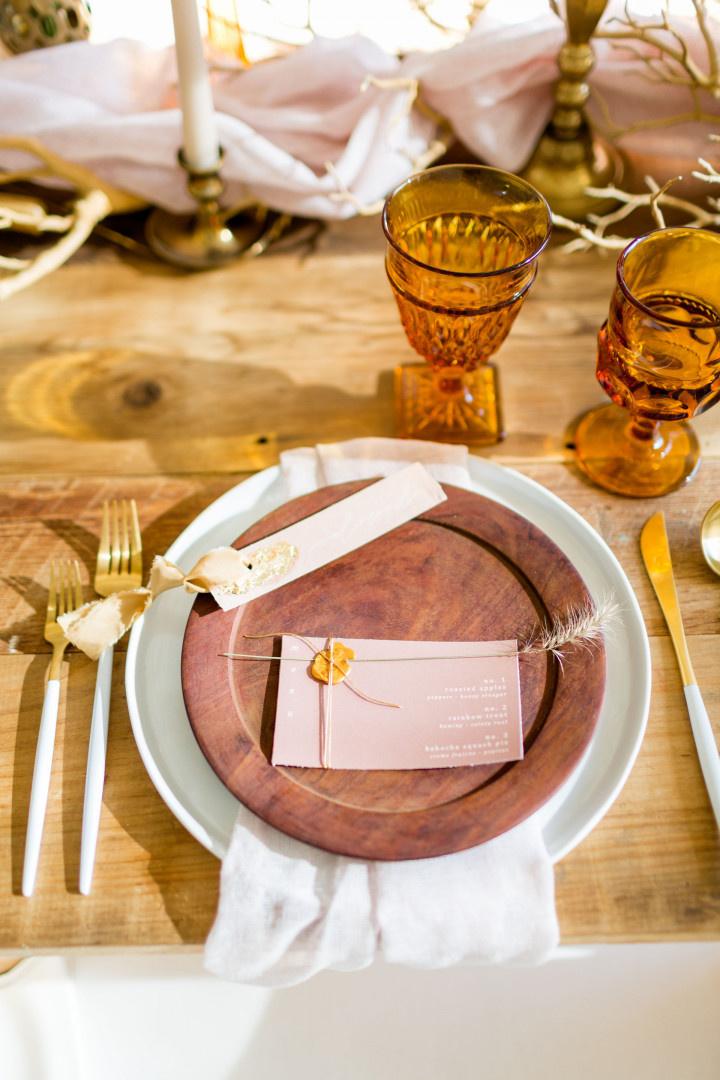 Place settings
Tying into the nature-inspired vibe, we left the sweetheart table bare and used wood charger plates for our place settings to bring warmth and contrast to the tablescape. One of our favorite details about this place setting is the white and gold silverware, which has a slightly retro feel. The amber glassware, cream-colored gauze napkin, place card, and menu card all helped showcase the 'Golden Hour' color palette.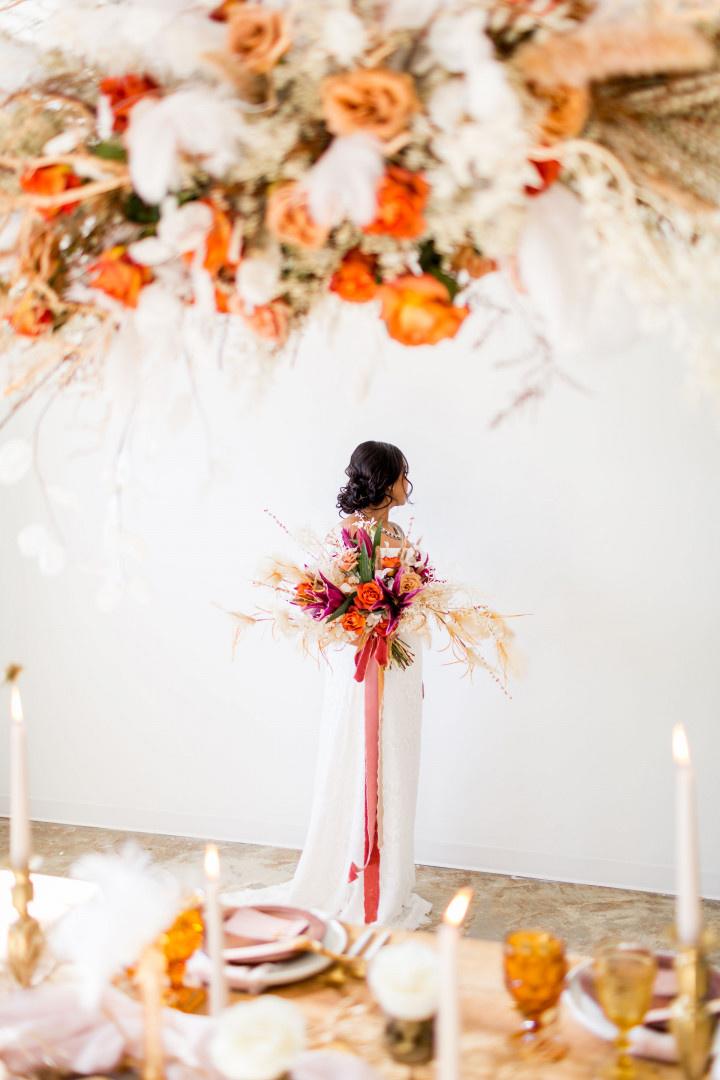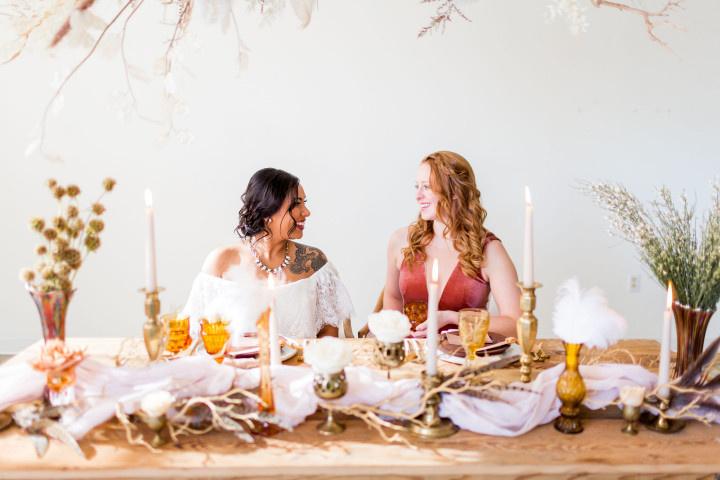 Taper candles
Taper candles are another detail that made our list of 2019 wedding decor trends. These once-traditional candles are now popping up at weddings of all styles. What we love most about them is that they're versatile and relatively affordable, allowing you to instantly boost your wedding decor and add a bit of ambience to any space. We paired ivory candles with gold vintage candlesticks in mismatched styles to create a relaxed unfussy tablescape.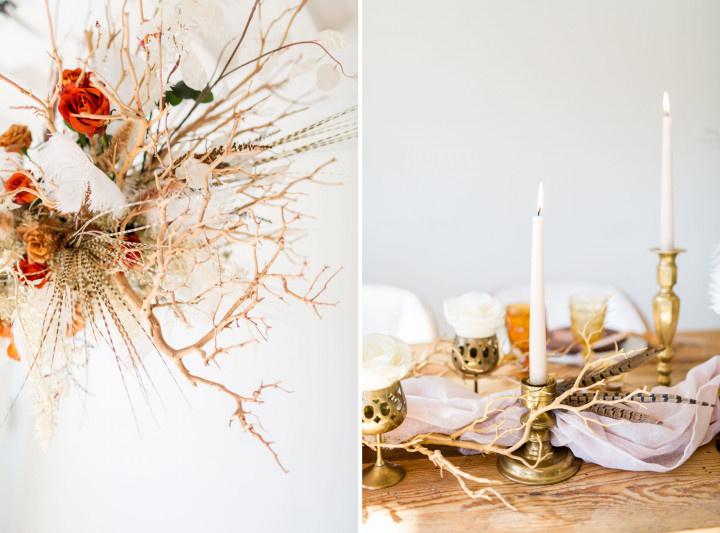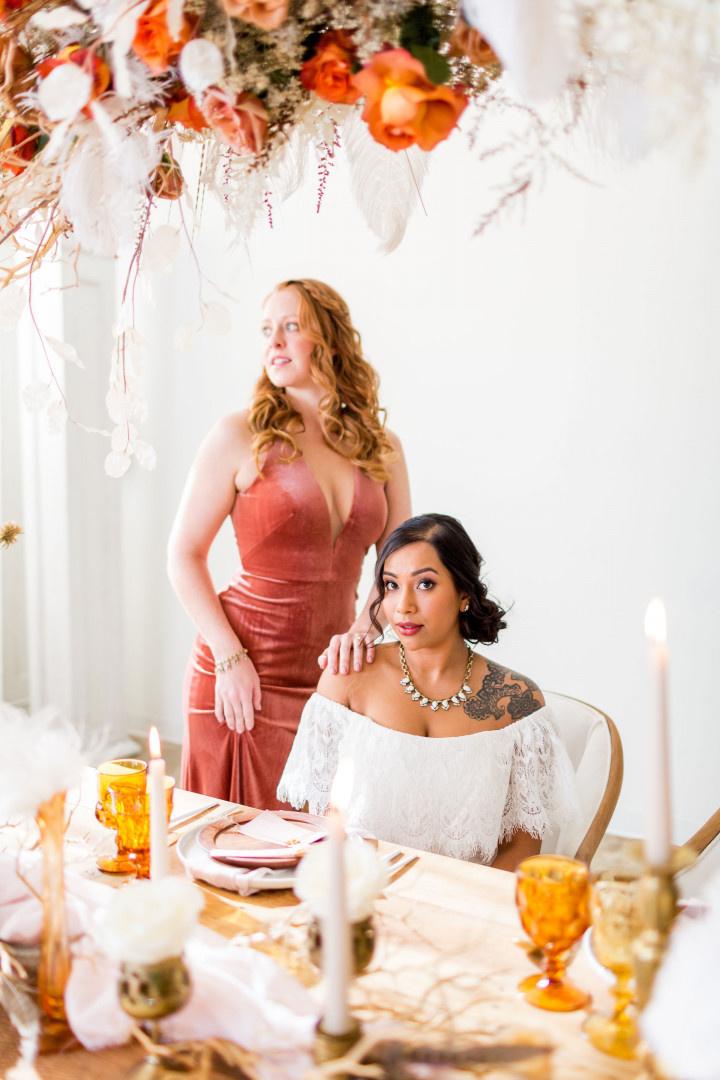 Velvet bridesmaid dress
If you want to make your 'maids feel like a million bucks, put them in velvet bridesmaid dresses. Not only is this fabric super flattering (it smooths and hugs your curves beautifully!), but it's ideal for bringing a bit of luxury to your bohemian wedding theme. We're head over heels for this velvet Jenny Yoo bridesmaid dress that we used in a dusty rose color to complement the 'Golden Hour' palette.
Velvet is a major wedding trend right now, and it's not just for bridesmaid dresses. You can incorporate velvet into your wedding decor through vintage furniture, table linens, and even ribbons on your stationery suite.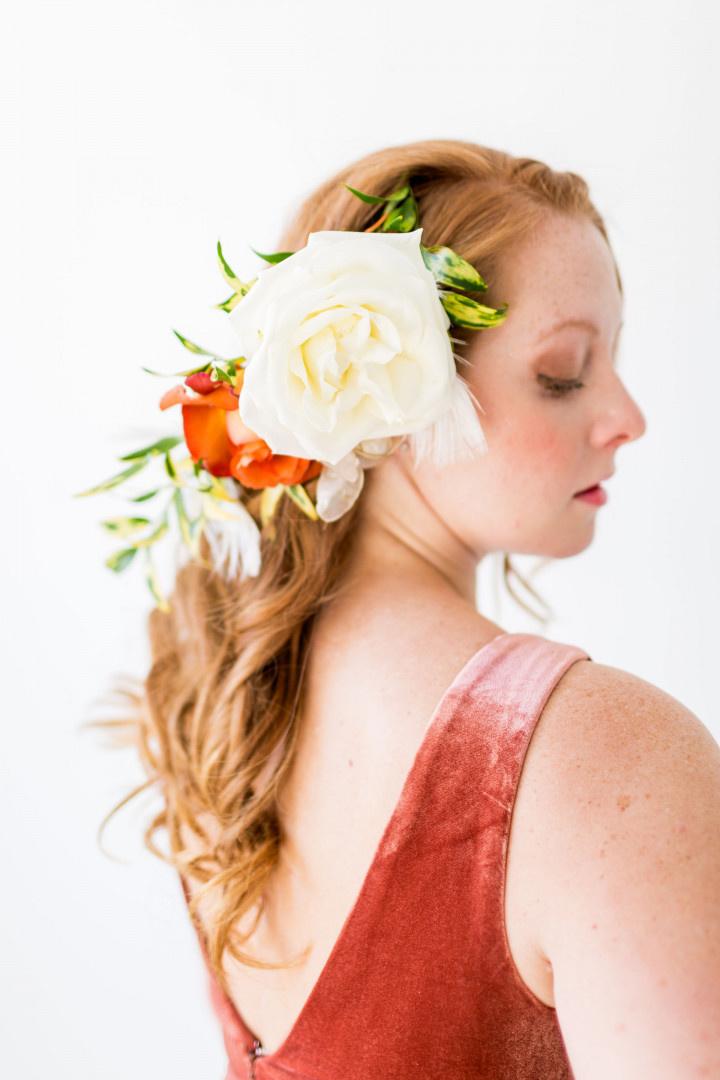 Floral hair accessory
Flower crowns are nothing new to the bohemian wedding theme, which is why we wanted to put a slightly different spin on our hair accessory for 'Golden Hour'. Instead of an entire flower crown, we opted to create a floral headpiece that's worn to the side. A large playa blanca rose was paired with orange Leonidas roses, feathers, and greenery.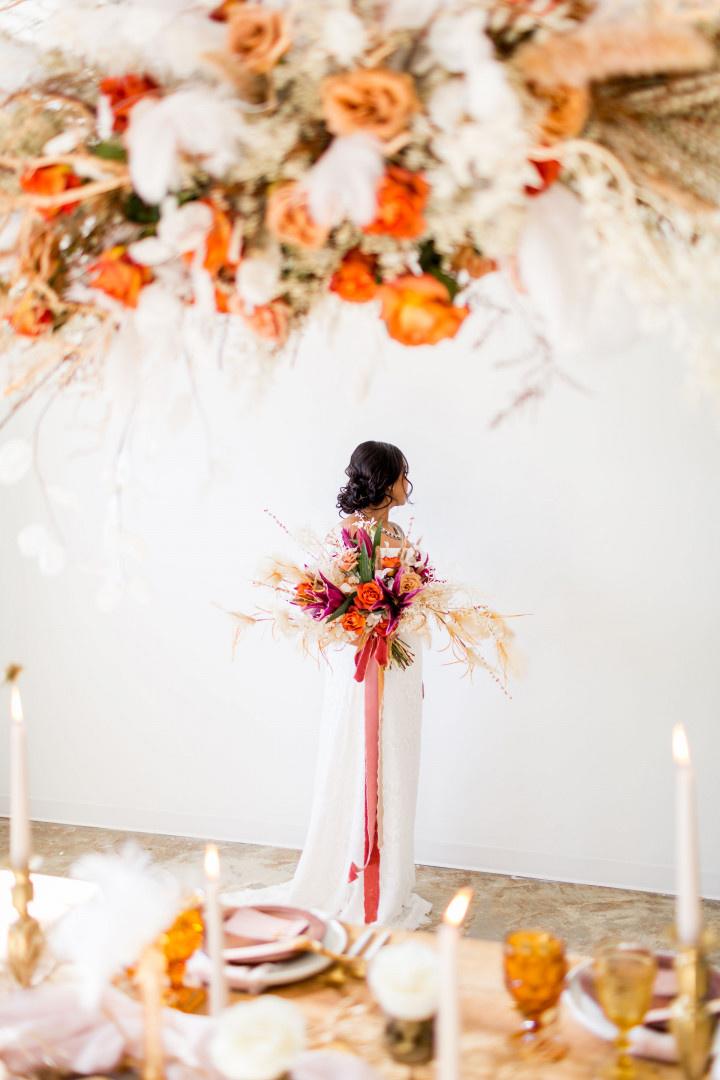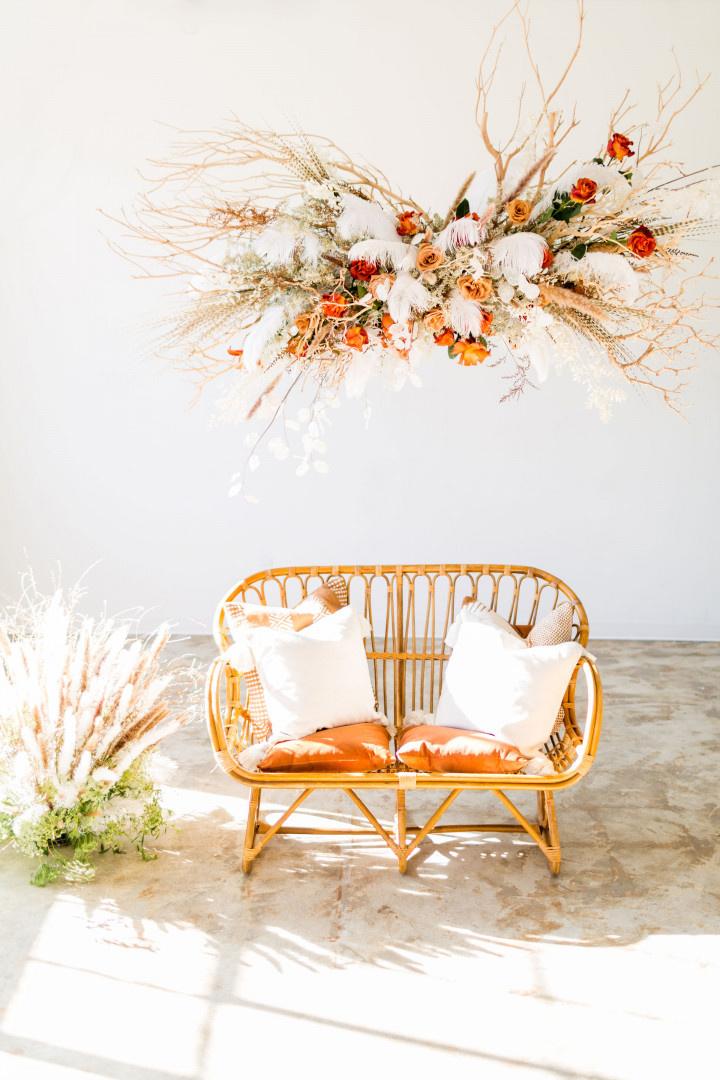 Rattan accents
No bohemian wedding is complete without the latest boho chic trend: rattan anything. One of the best ways to incorporate this '70s-inspired trend is through rental furniture, like the settee seen here. Peacock chairs, stools, and baskets are all other ways you can use rattan for a bohemian wedding theme.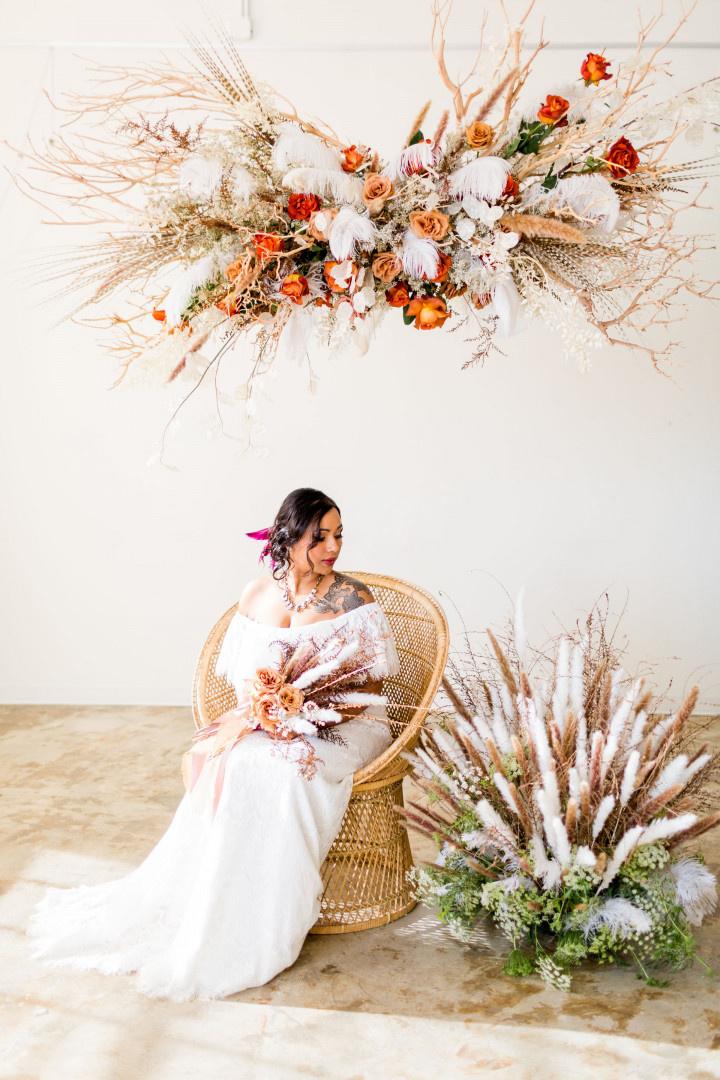 Photography: Kir2Ben | Venue: Fostr Collaborative | Styling: Sincerely Pete Events | Stationery: Alchemy Calligraphy and Design | Floral Design: The Rosy Posy | Rentals: Something Vintage Rentals | Wedding Dress: David's Bridal | Bridesmaid Dress: Jenny Yoo Collection