How to Create Your Wedding Seating Chart
It may feel a bit daunting, but once you figure out how to make a wedding seating chart, the process is sure to be a breeze!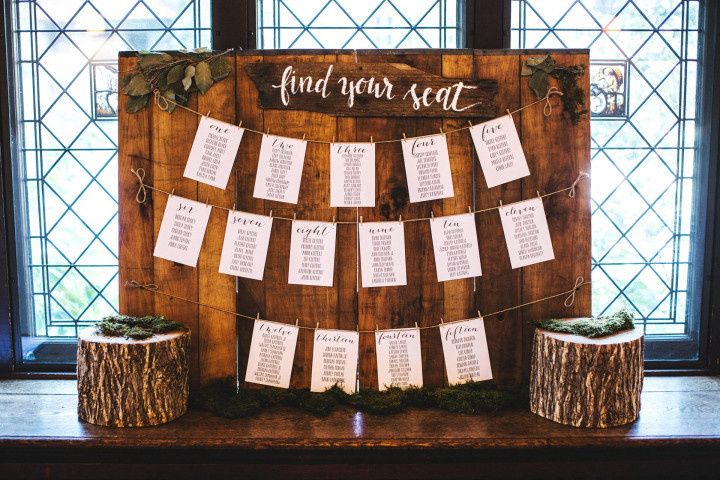 It's one of the biggest issues you'll face during wedding planning: how to make a wedding seating chart. The task of creating a seating chart for your reception, which you should tackle once your RSVPs are in a few weeks before your big day, may seem quite daunting at first, but once you get started, you'll find that the process actually isn't that time-consuming at all. Yes, you and your future spouse may get into a table-related tiffs along the way, but that's par for the course.
Here's our step-by-step guide to how to make a wedding seating chart that is clear, organized, and makes everyone happy.
Find a Seating Chart Tool
If you're trying to figure out how to make a wedding seating chart, sign up for a free online tool to easily design your floor plan without covering your entire apartment in Post-It Notes. You'll be able to easily create a floor plan of your reception venue (including noting details like where the band will be set up, the cake table, etc.), sync the tool with your guest list to ensure everyone's accounted for, and then share the completed seating chart with your vendors so that you're all on the same page.
Learn Table Shapes and Sizes
You'll also need to decide what types of tables you'll have at your reception – round tables that seat eight to ten guests are the most common, but more and more couples are choosing long or square tables. Talk to your venue, caterer, and/or rentals company to choose the tables that would best fit in your reception venue's space. You can customize the shape and capacity of your tables on an online seating chart tool.
Start with Yourselves
When figuring out how to make a wedding seating chart, think about where you and your future spouse would like to sit—it's totally your call, but an important detail to work out. You can sit by yourselves at a sweetheart table, or with your wedding party, or with your immediate families. Once you've decided on your seating situation, you can move on to everyone else.
Consider Your VIPs
If you choose not to sit with your immediate families, ask both sets of parents who they would like to sit with (you may be surprised by their answers, so don't assume you already know!), and create their tables next. Your wedding party members should sit together, with their significant others and plus-ones – though you can have separate tables for bridesmaids and groomsmen.
Seat Everyone Else
From there, you should be able to group the rest of your guests into table "categories" based on something they all have in common. For example, "relatives on Mom's side" or "college friends." If your groups are too big to fit at your tables, split them into multiple tables.
Remember Special Needs
When it comes to how to make a wedding seating chart, there are certain groups of people who may require some extra thought and care. Pay special attention to elderly guests, who should not be seated close to the band or any speakers (too loud!), but perhaps closer to the exit so they don't have far to walk to the restroom. Also, remember that children should be seated near their parents—or at a kids' table if they're old enough and if there will be enough children present. And when it comes to single friends or family members, don't create a "singles table"—it will feel like awkward forced matchmaking. Instead, seat single guests next to people they already know.