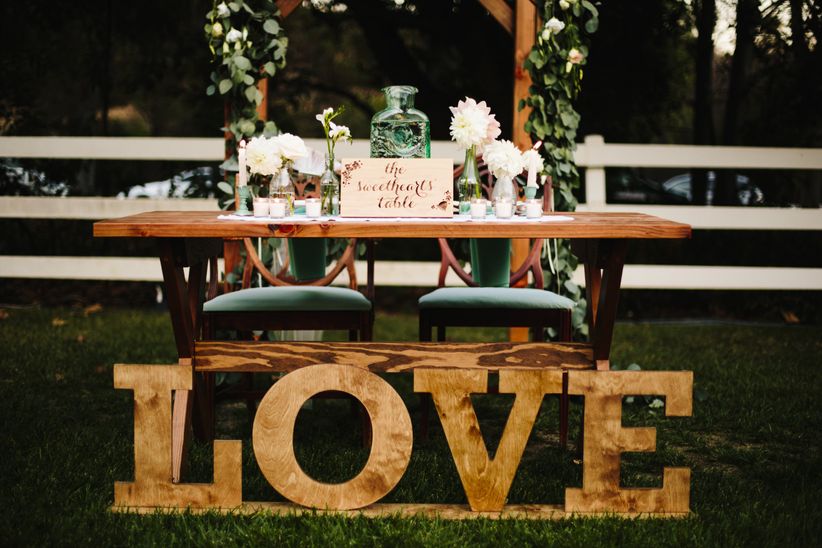 Photo: Cory Kendra Photography
Creating your seating chart isn't the most fun-filled task, but thankfully, WeddingWire has a FREE tool to help! You can easily drag and drop guests at tables of different shapes and sizes to stay organized. What should your reception floor plan look like for an intimate winter wedding? Our Decor Editor suggests to opt for a combination of square and rectangle tables in lieu of circle. She even asked real event planners to share their opinions.


Still on the fence for choosing your reception seating style? Don't worry, we've worked out the pros and cons just for you!
PROS
"I love the look of them, of course. Farm tables are so popular for a reason. They foster the feeling of sitting at your family dinner table and sharing stories and laughs over a good meal. To me, this is what a wedding reception should feel like." - Gilded Lily Events, Red Bank, NJ
"It is easier to decorate long tables. You can line votive candles and vases or bottles of wildflowers down the center, and instantly, it is a lush tablescape that isn't as easy to master at a round table." - Gilded Lily Events, Red Bank, NJ
"Rectangular tables are great for a large wedding in a tight space. You can usually fit more people into the room if you use them." - Rosetree Weddings & Events, Minneapolis, MN
"Depending on your venue, the longer tables can provide for a great dance floor in the middle of the space and better utilize the perimeter of the space." - Amore Events by Cody, Charlottesville, VA
"Being in the middle of a long table, the bride and groom can feel as though they truly are sitting with all of their guests." - Amore Events by Cody, Charlottesville, VA
"To me, it gives a more modern or fresh take to a space. I prefer angles and straight lines over a curve." - Invision Events, Atlanta, GA
"From a design perspective, square and rectangular tables also allow from more flexibility in the layout. The tables can be connected to one another to create one large table, or they can be set up in unique shapes that work perfectly for an intimate setting. They can be setup in one large square or in a horseshoe or next to one another." - Jove Meyer Events, Brooklyn, NY
CONS
"You may run into those in your family that are more traditional when it goes to reception seating and I understand that." - Gilded Lily Events, Red Bank, NJ
"It can be uncomfortable with one's legs or knees bumping into the table legs. Ouch!" - Rosetree Weddings & Events, Minneapolis, MN
"While guests can have more meaningful conversations, they truly are limited to speaking just with those immediate beside or across from them, instead of with the 8-10 others at a round table." - Amore Events by Cody, Charlottesville, VA
"For those couples who plan to greet their guests at the tables, longer tables can prolong that portion of the evening, as the couple can only speak with a few people at a time, as opposed to visiting one round table of 10-12 and visiting all together." - Amore Events by Cody, Charlottesville, VA
"Half of your guests will always be facing the 'wrong' direction. It's likely that half of your guests will be facing away from the dance floor/cake/speeches/etc." - Amore Events by Cody, Charlottesville, VA
"Consider the catering service and how it could be affected by too many people seated at one table and how they would figure out menu options for serving and maneuvering about the room to refill wine. If 50 people are in a row, that becomes challenging, and every filet should arrive to the guest at the proper temperature!" - Yoj Events, Charleston, SC
"If you have an odd-sized table, finding a linen for it will be difficult."
Invision Events, Atlanta, GA