7 Unique Wedding Ideas That Use Texture
One of the hottest and most unique wedding ideas right now is using texture in your wedding decor. Here's how to add texture to your wedding-day style.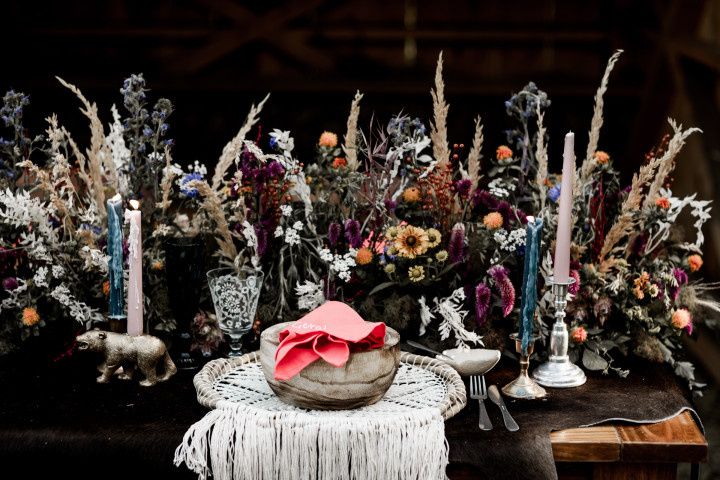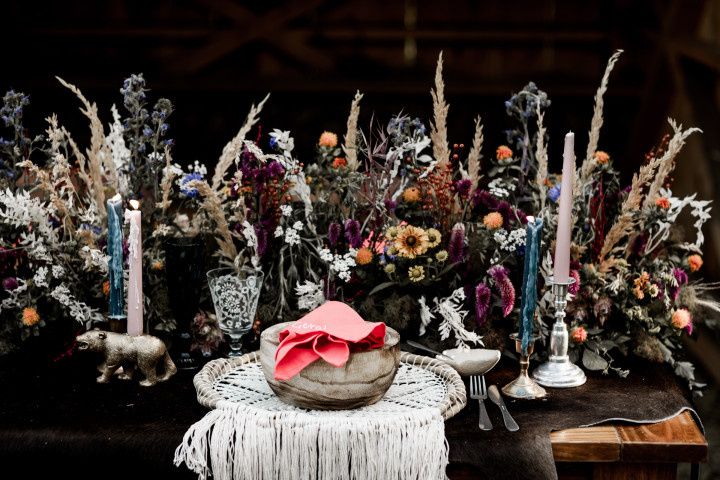 One of our favorite hot trends for 2018? Texture! From unexpected 3D elements on cakes and stationery to mix-and-match ceremony seating and reception tablescapes, we can't get enough of this fun and playful way to liven up wedding décor. Seriously, great wedding style is all in the details, and the key to great and unique wedding ideas and details is texture. The best news about this is that many of these details are having a major moment right now — think touches of greenery, macramé accents, and metallic finishes. Intersperse them together, and you'll create some seriously unforgettable looks that are anything but boring.
These unique wedding ideas will get you playing with texture in no time.
Invitations and Stationery
Kick off your texture-filled wedding with rich stationery. Instead of opting for your standard card stock, pick a paper that aligns with your wedding style to initiate texture — acrylic for a modern wedding, or thick parchment with rough edges for an indie or Old World romantic feel. Patterns or designs, like the burgundy mandala design above, help create the illusion of texture, while surprise elements can mix up the invitation's feel. Think metallic foil calligraphy or a fun bohemian inspired tassel for a 3D effect.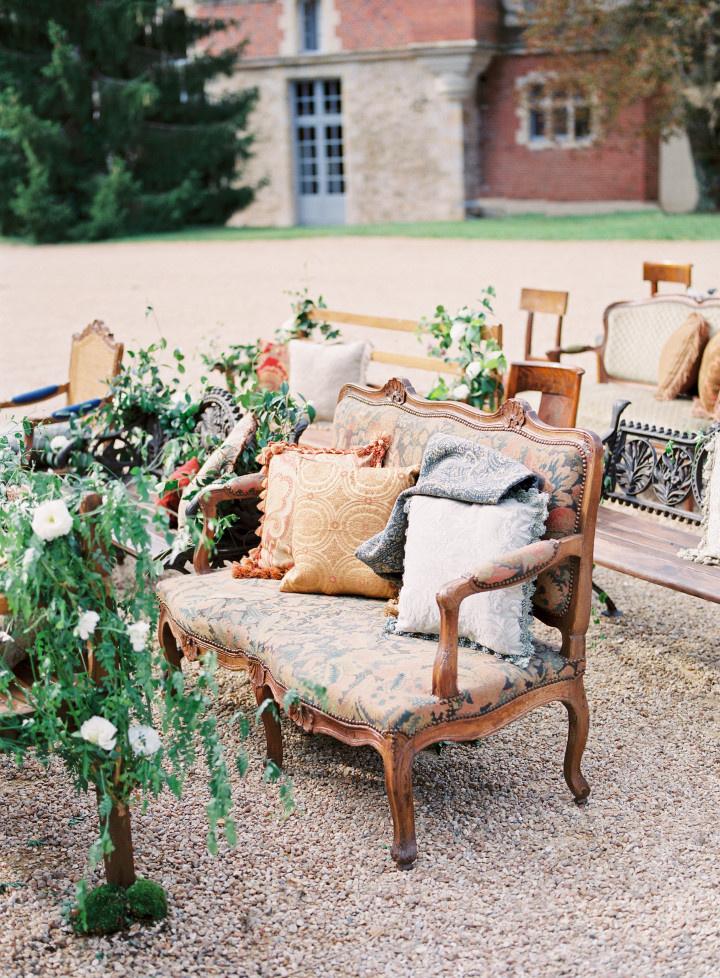 Furniture
Forget your standard benches and chairs — mixing and matching ceremony seating is the perfect way to create texture in your ceremony! Put together an eclectic mix of wooden chairs and industrial seats to juxtapose timber and metal, or intersperse varying pieces of furniture; vintage loveseats and chairs bring unique finishes and contrasting patterned fabrics to play — add pillows and blankets to heighten the texture even more. The vintage countryside seating in this photo has everything from polished, engraved wood and black iron to fringe and lace.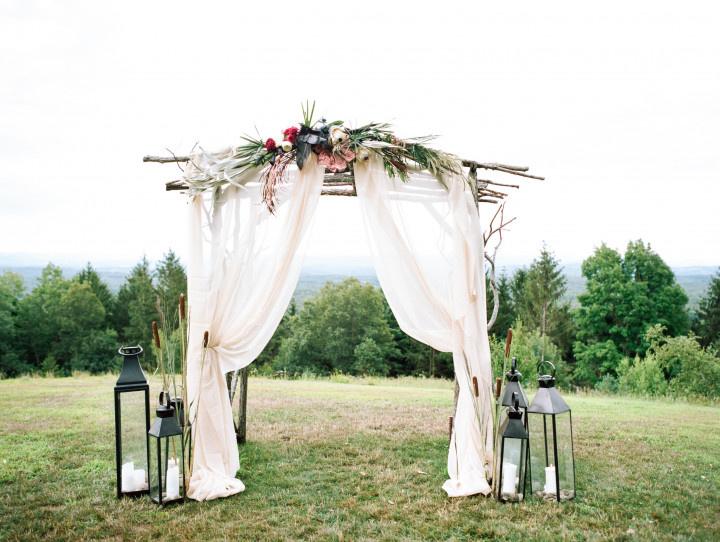 Ceremony Altar
When it comes to designing your altar or chuppah, don't confine the design to one material. Interweave different unique wedding ideas and details together for a cohesive look of complementary finishes. This altar masterpiece nails the look with a structure fashioned from natural branches and adorned with cascading linen curtains and a swag of diverse flora, from wildflowers to rubber and feathery-like leaves for a refined rustic romance vibe.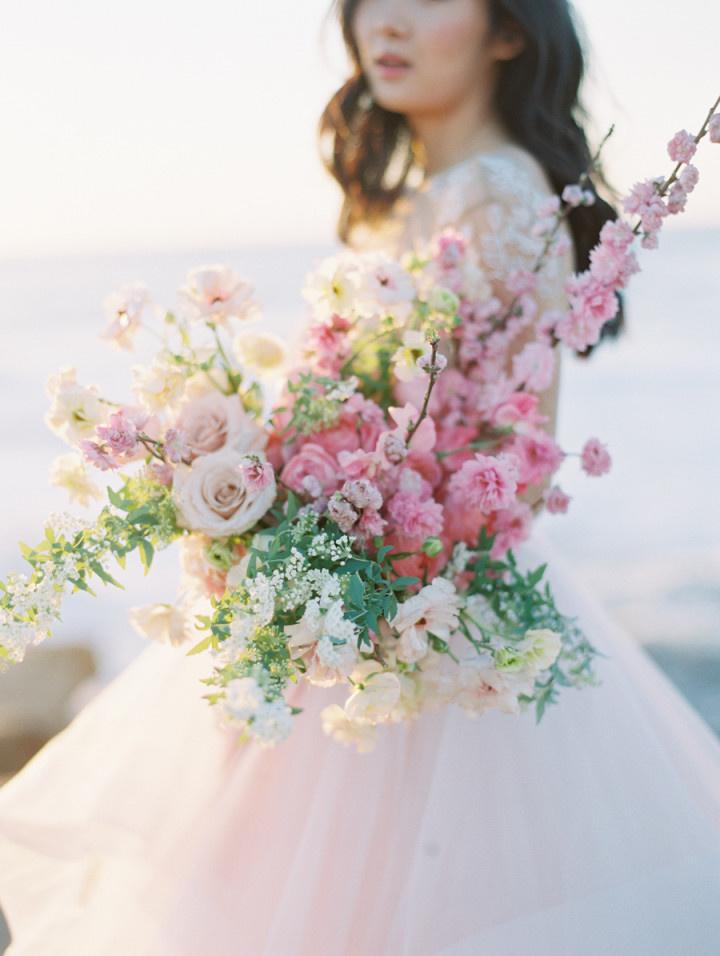 Bouquets
While a more traditional bouquet calls for a classic gathering of a single flower, combining more than one floral, especially when they're from different flower families, is a great way to bring your bouquet alive with texture. You can go heavy on the contrast, mixing different unique wedding ideas and styles such as desert-inspired succulents and romantic peonies, or light on the contrast, mixing flowers of a similar vibe such as the carnations, roses, baby's breath, and soft greens in this airy, feminine bouquet. Varying sizes and colors will also help create the impression of texture — and you can always add in unexpected touches that fit with your wedding theme to take your bouquet to the next level, like feathers or pinecones.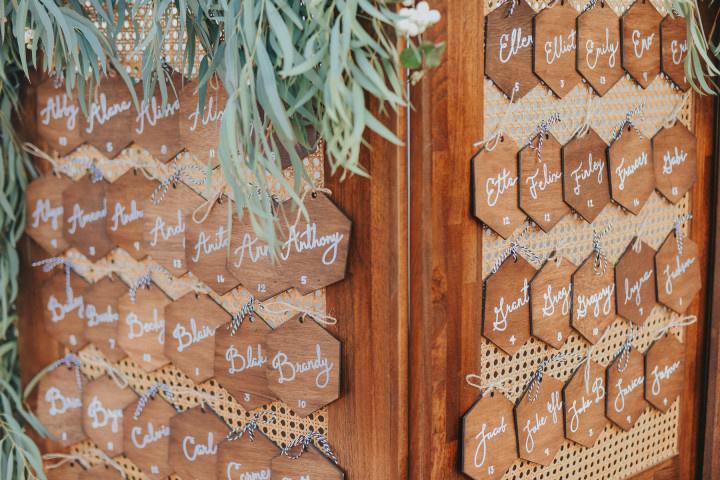 Photo: Jenny Smith & Co.
Escort Cards
Typical paper escort cards are so last decade. Your seating chart or escort card display is the perfect opportunity to get creative and accentuate your wedding's style, so why not do it with a bit of texture? This wooden room screen sets the tone with a textured background, complemented by wooden hexagons announcing each guest's seat. A topping of greenery brings in another element, combining for a California cool look that perfectly fit the bride's Spanish ranch-inspired wedding. If that's not your vibe, we also like agate stone escort cards for a bohemian bash or gilded oyster shells for a seaside affair.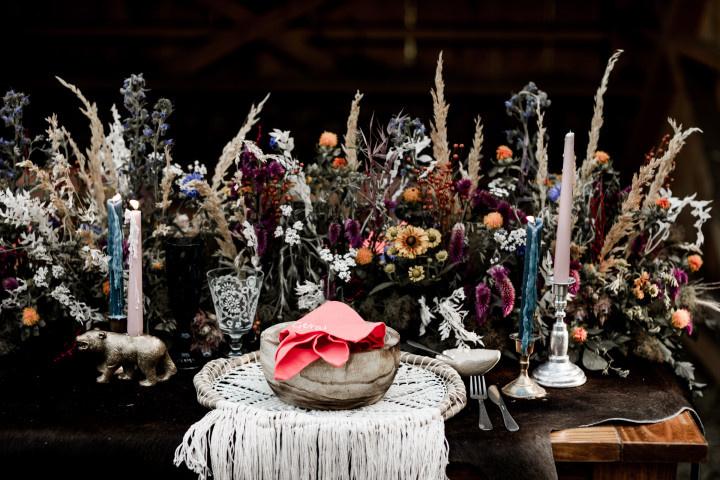 Tablescape
The key to a textured tablescape is fusing distinctive elements together. This setting rich in moody romance begins with an oak table, adding surprising décor with varying surfaces to create its dark bohemian vibe. A linen table runner is swapped for a faux fur tablecloth and a macramé fringe dreamcatcher serves as a placemat, topped with a handmade wooden bowl. Meanwhile, a bed of lush wildflowers and pampas grass creates one fantastic centerpiece, and dripping candles in metallic holders bring two more finishes into the scene. Another trick to creating texture in a table setting is to layer plates upon plates in varying styles—think a miniature white square with floral pattern on top of an aqua china plate on top of a larger wooden slab over a gilded circle with grooved edges.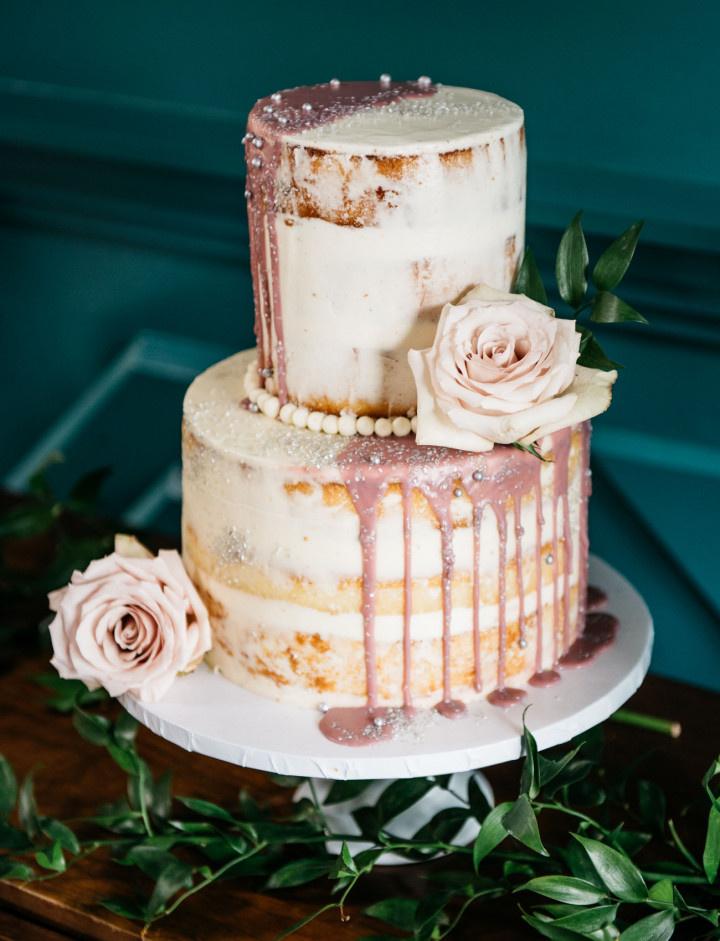 Wedding Cake
With so many creative and unique wedding ideas when working with fondant, frosting, and icing, there are endless ways to bring texture into your wedding cake! Make each tier a different design for a striking juxtaposition (try a bottom ruffle tier, layered with a watercolored middle tier, and agate designed top tier flecked with metallic foil) or pick a few styles to focus on throughout the whole cake, like this English garden inspired beauty. Strawberry rose ice drippings create a shiny glaze against a semi-naked cake that peeks through a thin layer of frosting, all speckled with edible silver crystals and fondant silver pearls for a subtle shimmer.