The 2018 Wedding Trends That May Surprise You
Pastels, rustic decor, sequins—they're all being phased out in the 2018 wedding trends. Curious as to what's overtaking these staples? Prepare to be obsessed (and a little taken aback!) by the details, decor and wedding trends for 2018.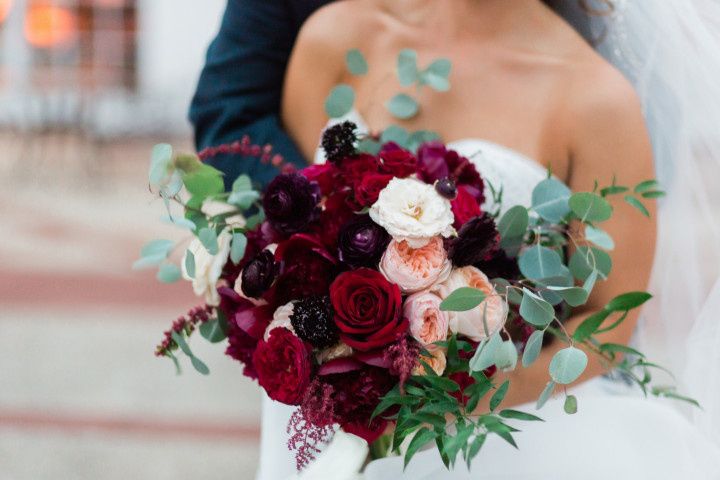 Over the past few seasons, we've seen our share of weddings with pastel color palettes and romantic, ethereal vibes. For 2018 wedding trends, expect a shift away from this light and airy feel. In fact, we're predicting 2018 weddings will take on a more dramatic and almost edgy vibe in the form of deeper colors and richer textures. Two major 2018 wedding trends, bohemian and "New Age" styles, will replace rustic, and couples will be more relaxed in their approach to planning—it's less about honing in on a specific wedding theme or color combination and more about creating a vibe or mood for your big day.
Check out our picks for 2018 wedding trends—some of them may surprise you.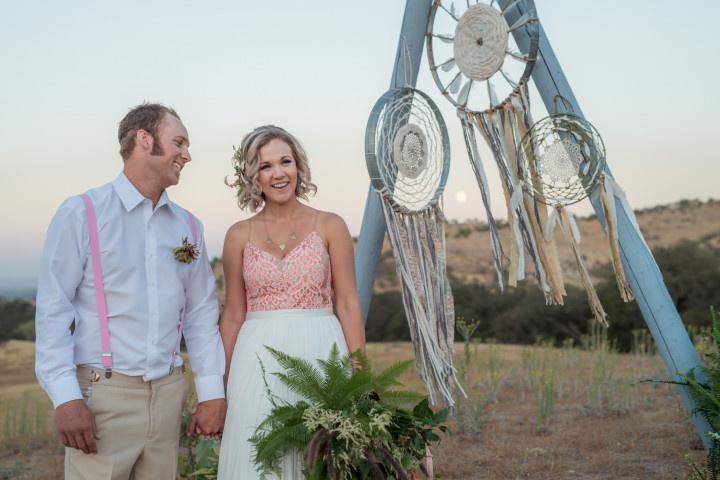 Style: New Age Bohemian
For the past several seasons, the rustic look has been all the rage—a wedding held in a barn with DIY-style floral arrangements, casual food, and more. For 2018 wedding trends, bohemian will be the new rustic—a look that's still somewhat relaxed, but a bit more elevated than the down-home rustic feel. Think Stevie Nicks as your style muse (and not just for hair and makeup)—an undone look that's edgy but still romantic.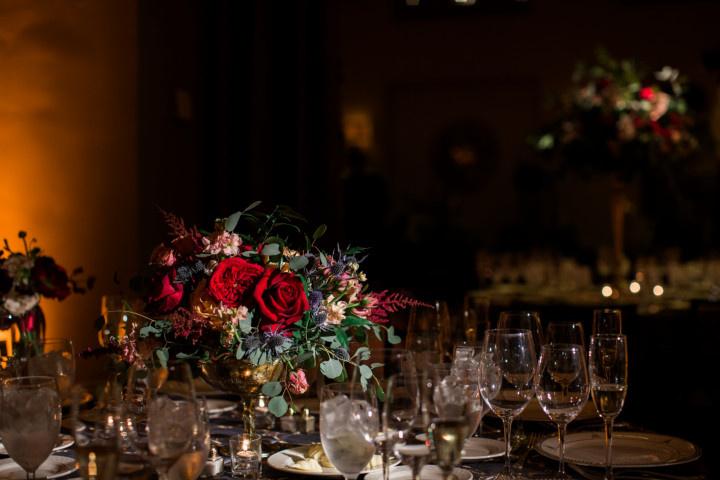 Colors: Deep, Rich Hues and Black Accents
Light and airy colors, including blush, mint, and peach, have been popular for a while (and not just for a spring wedding!). When it comes to 2018 wedding trends and ideas, we're going to see color palettes start to deepen. Richer, more dramatic hues like burgundy will appear in floral arrangements, and edgy black accents will make an appearance as well. In terms of metallics, gold and copper have been in-demand for a while now, and while that likely won't change, we'll start to see more silver and chrome.

Keep in mind that couples won't be sticking to strict color schemes in 2018 weddings. It's less about providing vendors with exact paint chips and more about giving general guidelines on colors—a mood rather than a picture-perfect palette.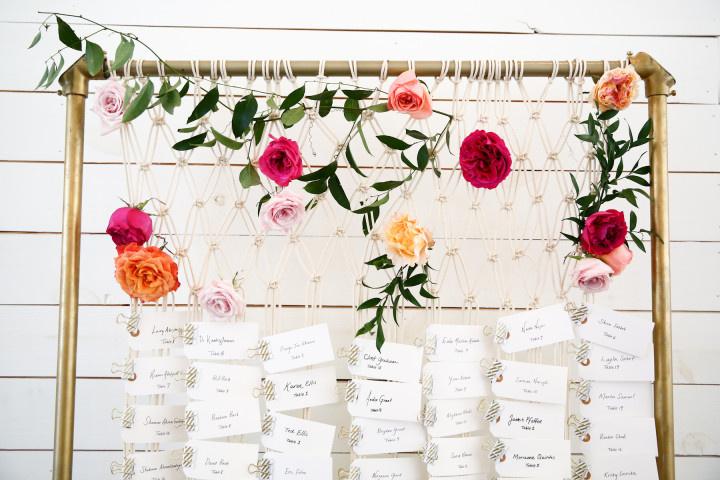 Décor Details: Macramé and Crystals
Going off the whole bohemian, new age trend, it's not surprising that macramé and crystals are a big part of 2018 wedding reception trends. Expect to see macramé table runners, bouquet wraps, chair décor, and more. We'll also see crystals scattered on tablescapes the way that typewriters and other knickknacks were present at vintage weddings in years past. Stone elements like marble that were popular in 2017 will remain big in 2018 wedding trends, as well.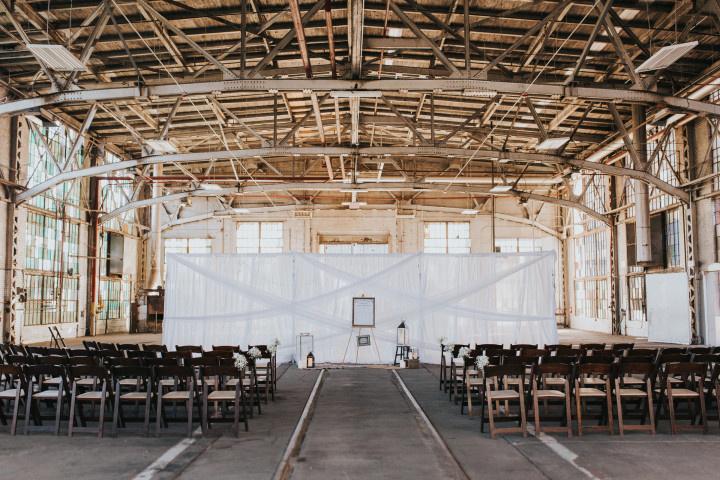 Venues: The Industrial Space
While couples will always love outdoor weddings, indoor venues, industrial spaces in particular, are the new "it" spaces for 2018 weddings. They have that same relaxed feel and "blank slate" vibe as barn venues (which aren't going anywhere!), but with an edgier, hip feel that's oh-so 2018. And the fact that they're indoors make coming up with an alternate plan for bad weather a moot point.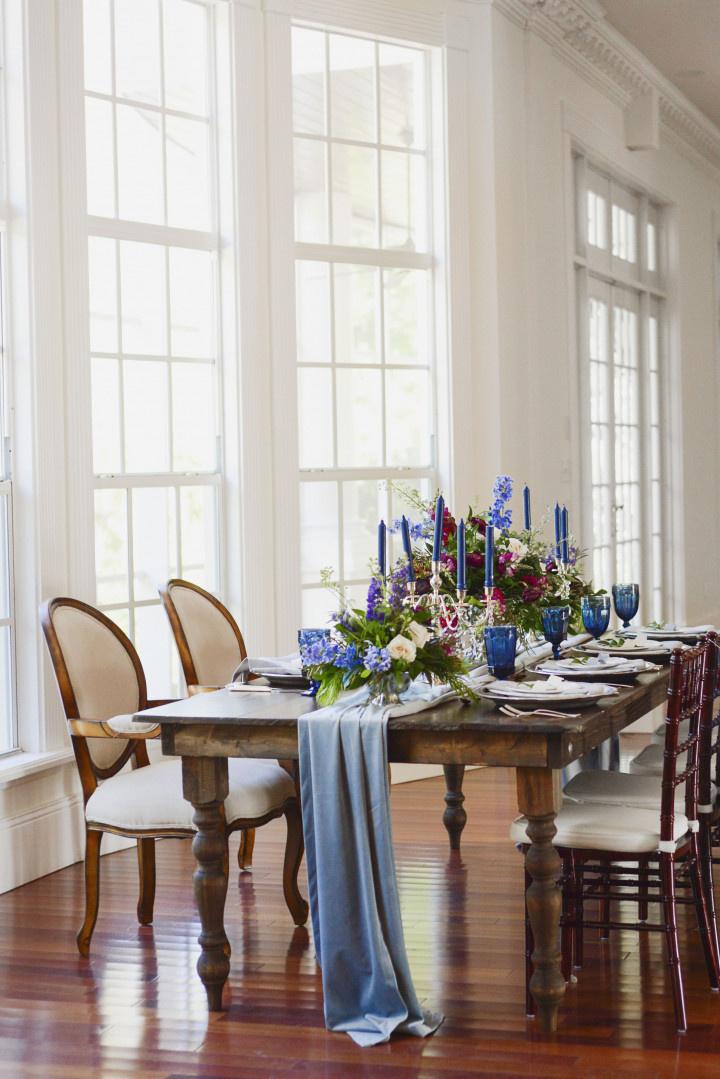 Fabric: Velvet
Say buh-bye to sequins! These days, couples want their weddings to not only feel personal, but also very comfortable, even cozy, for their guests. This 2018 wedding trend isn't just about providing a visual experience, but also a tactile one. In addition to being oh-so soft to the touch, velvet evokes warmth and luxury—perfect for a winter wedding (and beyond).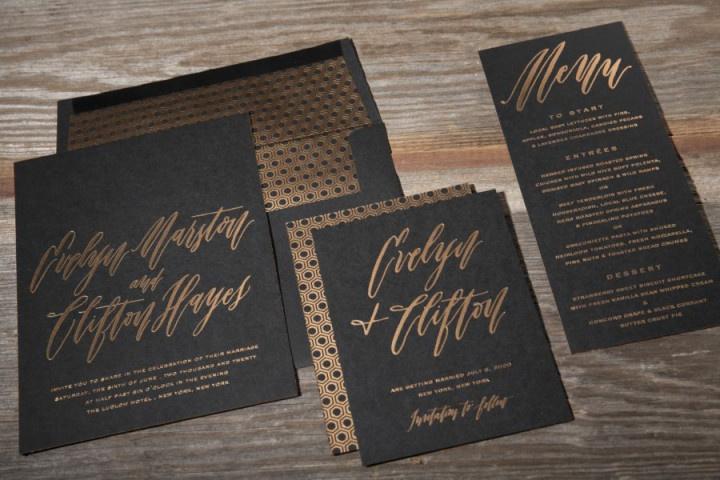 Stationery: Black and Gold
The pairing of black and gold pairs elegance with edginess—and that's really the definition of what 2018 wedding trends are all about. You'll also find more wedding invitations with textural elements, again infusing weddings with that tactile experience from the moment guests receive their invitation.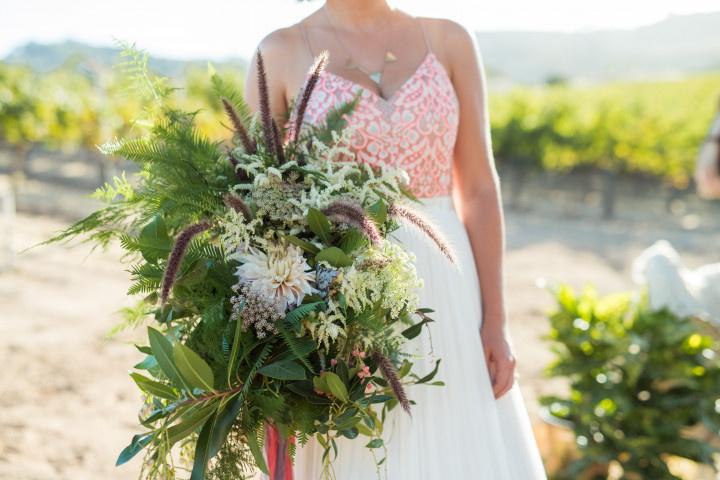 Flowers: The Cascading Bouquet
A decade ago, bouquets were petite and sweet. For 2018 wedding trends, the bigger the bouquet, the better. While cascading bouquets may evoke images of Princess Diana's massive arrangement, we're talking a more modern look here—and an opportunity for your florist to mix lots of favorite blooms in an array of hues, as well as all that greenery that will still be on-trend for 2018.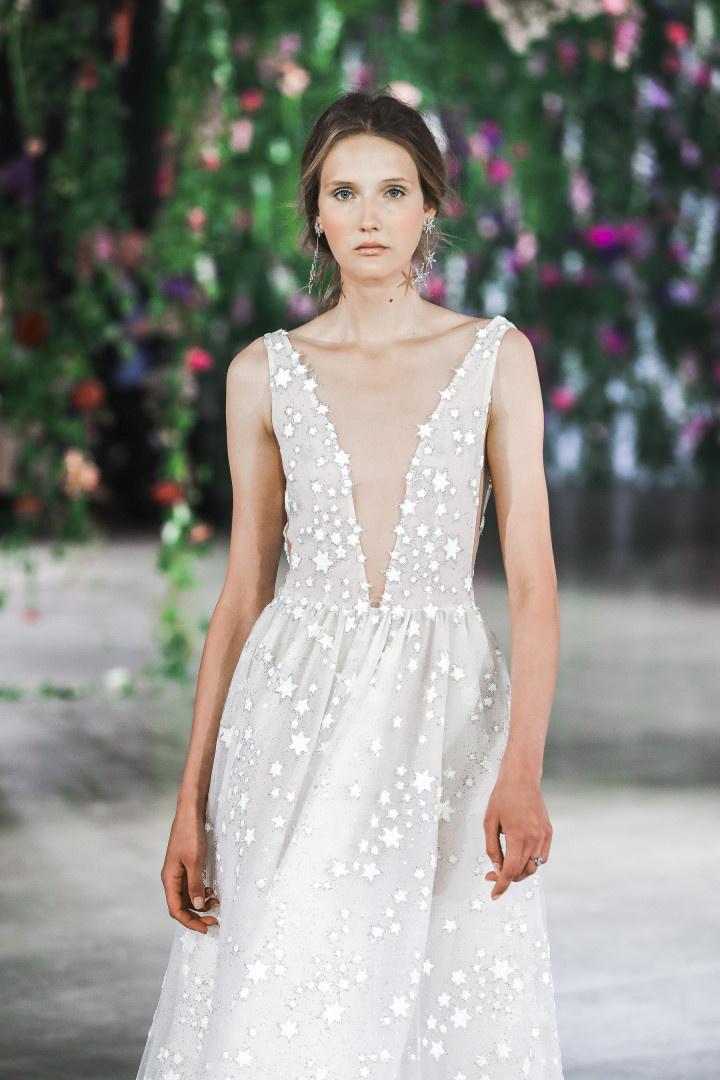 Wedding Dresses: Celestial Chic, Puff Sleeves, Edgy Jackets, and More
Bridal designers were definitely feeling the bohemian-meets-edgy vibe when presenting their 2018 wedding dress collections. From dresses with starry elements (like the gorgeous Galia Lahav gown pictured) to rocker-chic jackets, 2018 wedding dresses certainly complement the wedding décor of the moment.
Bridesmaid Dresses: Velvet and Pants
Okay, so the bridesmaid dress doesn't actually have to be a dress anymore. Bridesmaid pants (both separates and jumpsuits) will be the on-trend 'maid look for 2018 weddings. And if you're still opting for dresses for your gals and are hosting a cooler-weather wedding, velvet is the must-have fabric. Other trends for bridesmaid dresses include wrap dresses (so versatile!) and jewel-toned hues (so flattering!).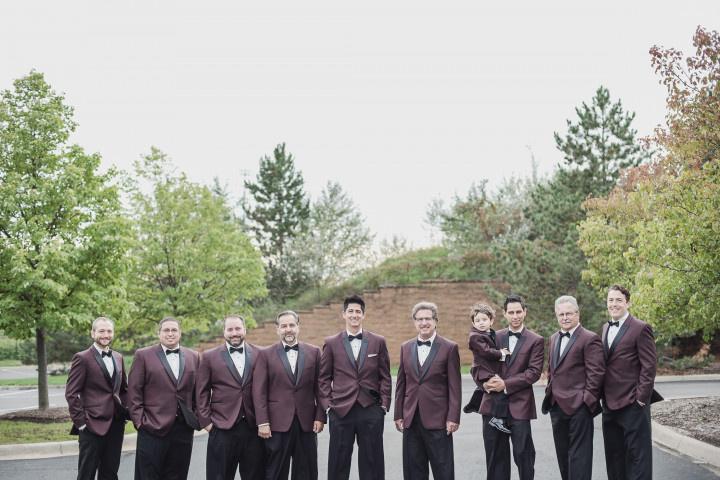 Menswear: Burgundy is the New Blue
While we don't think the blue suit is going anywhere just yet, expect to see more burgundy suits at weddings in 2018. As wedding colors are moving in a deeper direction, this hue will certainly fit right in. And burgundy does look great on many a guy (and not just for fall weddings), so it's a total win-win.
Cakes and Desserts: Drip Cakes and Doughnuts
This is a bit of a holdover from 2017, but we imagine that drip cakes will still be a big wedding trend for 2018—they pair quite well with the relaxed, bohemian look. We probably won't see as many naked cakes in 2018, but cakes with a thin layer of buttercream (the semi-naked look) will still make many an appearance at wedding receptions. And don't worry, the doughnut trend won't be going anywhere, though 2018 weddings make take more creative twists on desserts with ice cream, dessert cocktails, and more.